Van Cleef & Arpels, known lovingly as VCA among its many admirers, is a storied jewelry designer. Our estate Van Cleef and Arpels jewelry has a fan club all its own. Famous for its haute joaillerie and fine jewelry alike, this jeweler has a century of beautiful creations under its belt. Founded in 1906, the Maison opened at 22 Place Vendôme. After the 1895 wedding of Estelle Arpels – the daughter of a precious gem dealer – and Alfred Van Cleef – the son of a stone cutter, the love story began. 110 years later it continues!
The Maison sprang to prominence with its Art Deco creations like the Egyptian bracelet and Daisy Fellowes' Manchette diamond cuffs. From there, VCA pioneered techniques and styles like the "mystery setting" and the zip necklace. Before long they were commissioned to create crown jewels, Hollywood starlets' precious baubles, and Grace Kelly's engagement set.
Related: Estate Tiffany jewelry
Vintage VCA is a red carpet staple, and even the jewelers' current high jewelry collections frequently stud the elite at Cannes and the Oscars.
We snap up any vintage VCA we can possibly get our hands on, as the creations from the maison's rich history are pretty much priceless. But their  more current creations are what capture the hearts of many of our clientele.
Related: Estate Diamond Jewelry
In 1968, the very first Alhambra necklace was created. The balance of delicate gold with precious (and often colorful) stones carved into the iconic clover emblem was a hit from the start. And in Boca, it's a wardrobe staple. Boca Babes wear VCA Alhambra like it's their favorite pair of blue jeans.
Related: Van Cleef and Arpels Buyers with Experience
Maybe it's all the Spanish inspired architecture, or the Mizner style homes, resorts and shops in Boca, but Alhambra fits right in here. So we pay a premium for it, as one of the most prominent VCA jewelry buyers in South Florida. And we sell it as fast as you can blink – on more than one occasion an Alhambra necklace won't even make it into the showcase before a lucky client buys it.
But we do have a few in our current inventory – just don't take too long to stop by (or hit the add to cart button.)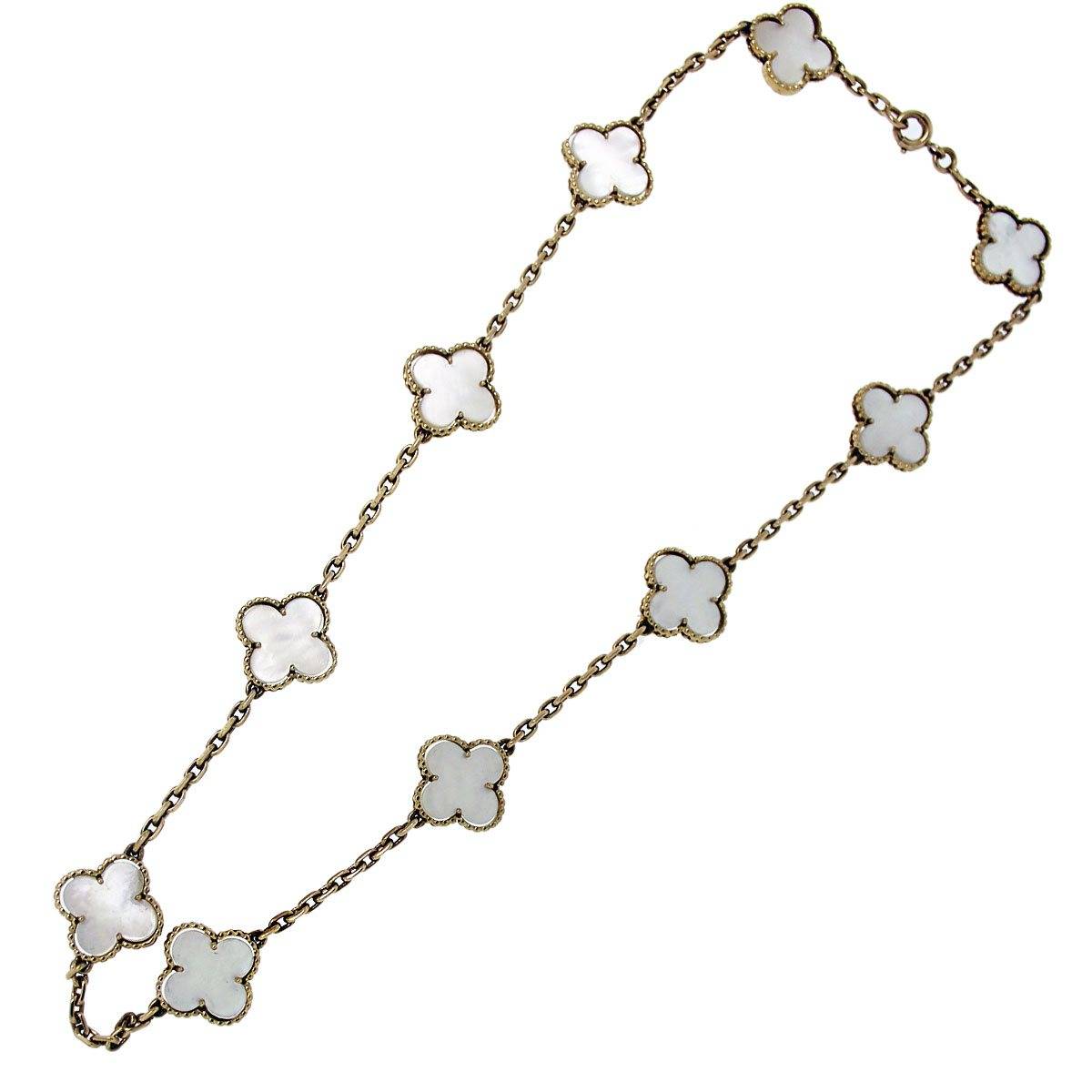 Let's start with the Mother of Pearl Alhambra necklace, with 10 motifs (that's what the clover emblems are called) it's a 16″ necklace perfect to wear alone or layered with longer chains and pendants. The metal is 18 karat yellow gold.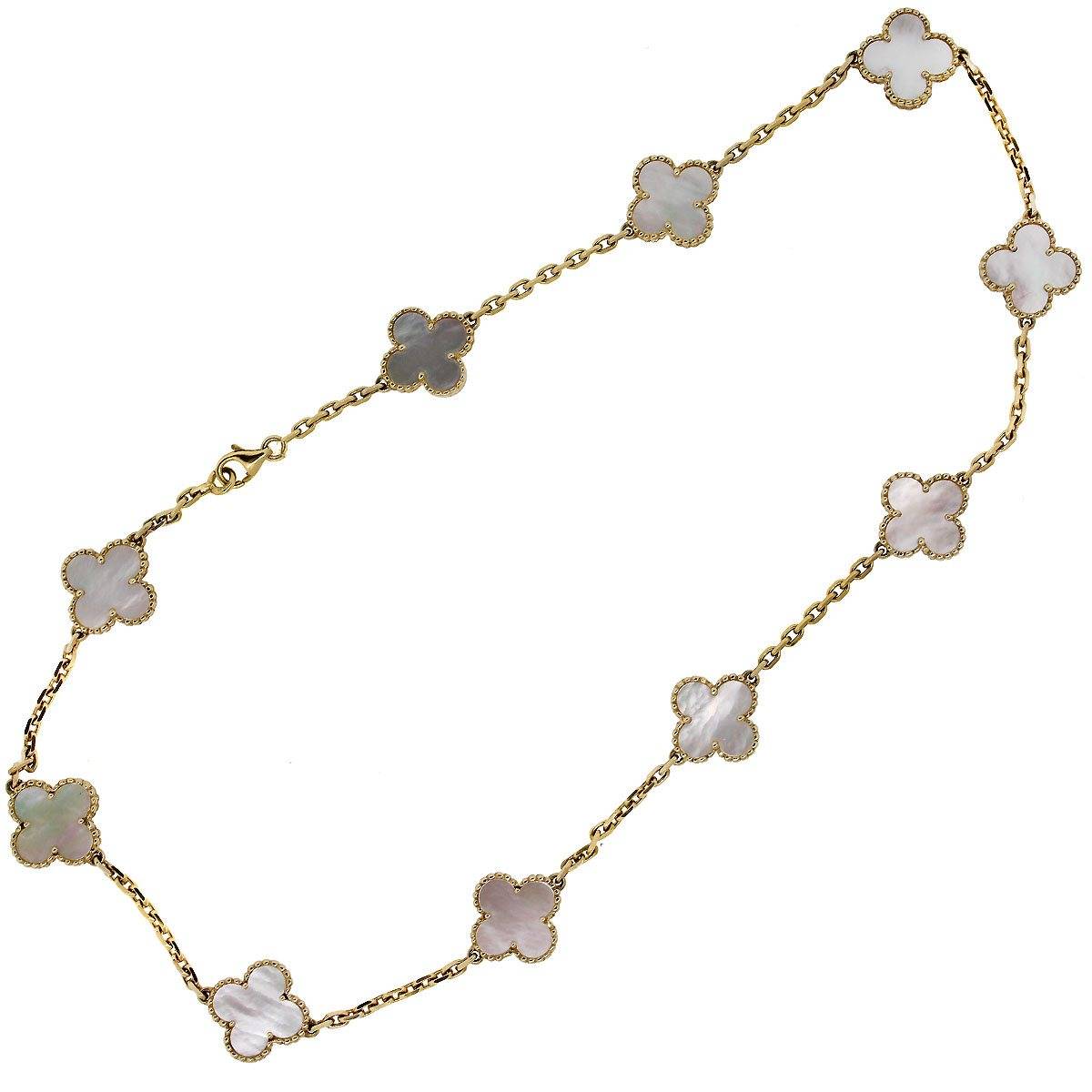 We actually have two of the mother of pearl 10 motif necklaces in stock, which is a rare occurrence. This particular style matches everything, and is light enough to wear through spring and summer, but warm enough that it still works for fall and winter. Not that those seasons exist here!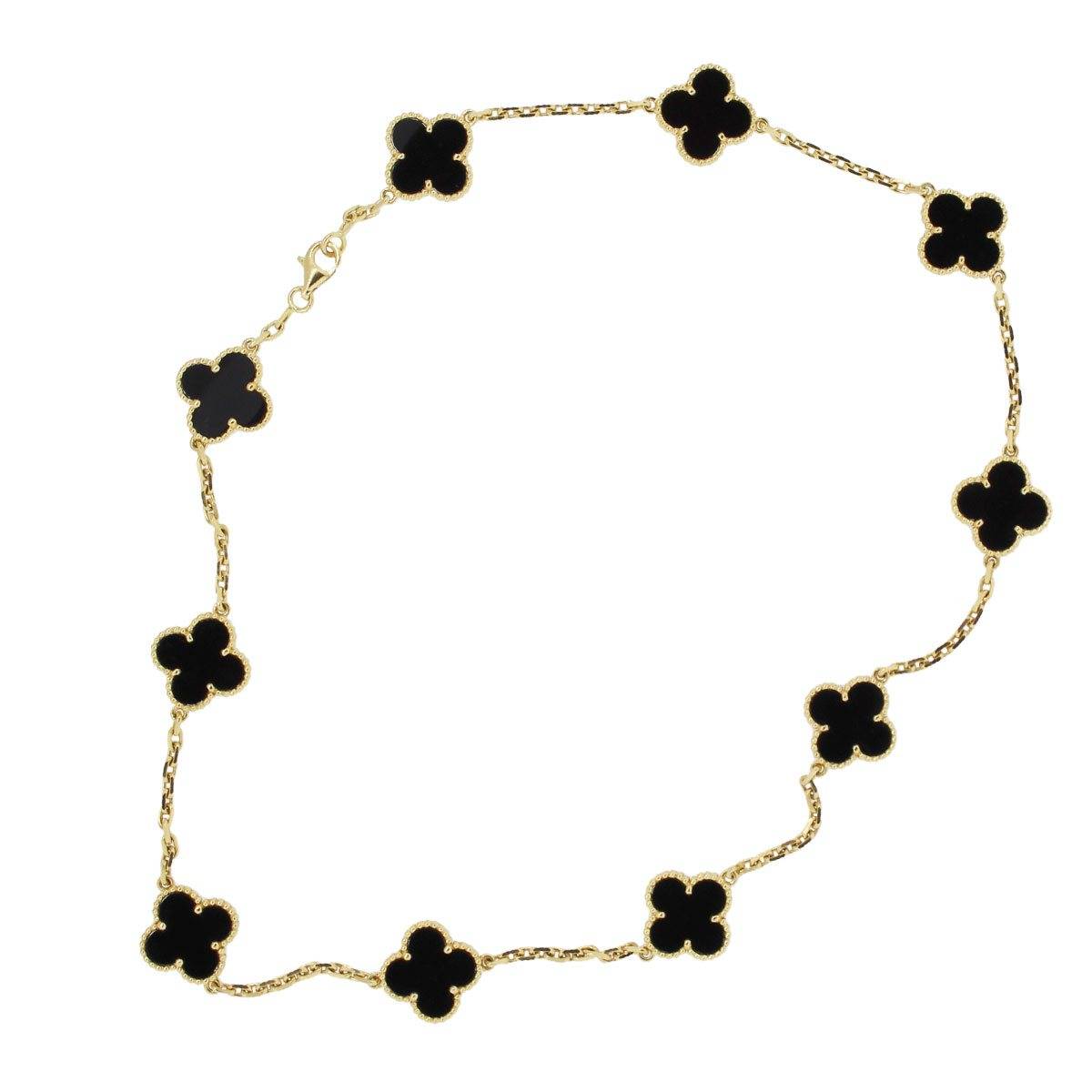 We also have the moodier version, another popular color. The onyx Alhambra necklace gives this style a totally different feel that anchors your accessories in a completely different way. It also has 10 motifs, in 18 karat gold, and the necklace is 17 inches.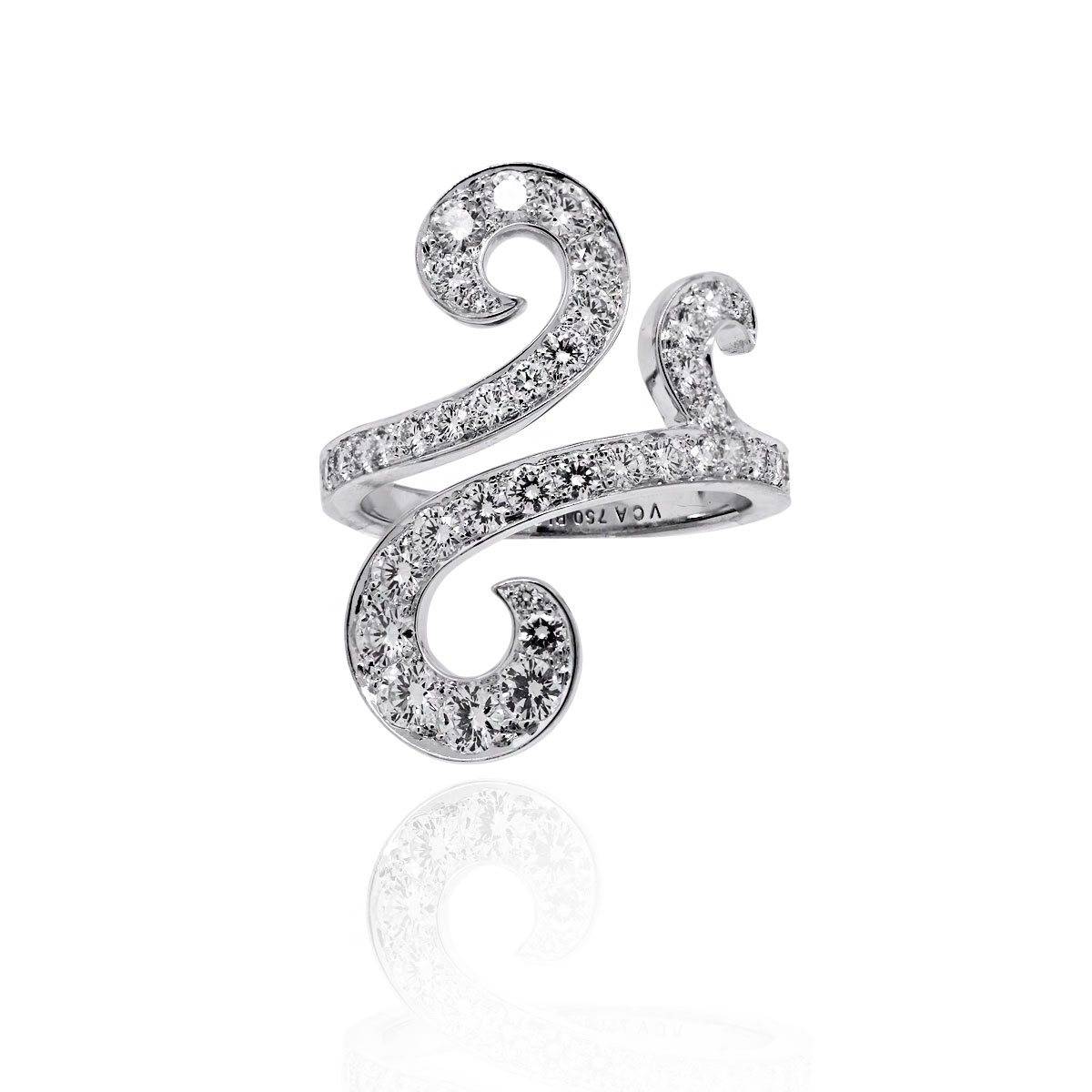 Finally, this Oiseaux de Paradis ring strays from our Alhambra theme, but we think it's worth the detour. It features approximately 1.1ctw of 41 round brilliant diamonds D,E,F, in color and IF to VVS in clarity. All set in bright 18kt white gold!
Want to accessorize with Van Cleef & Arpels for less than retail? Estate is the way to go! You can shop more VCA in our online store, and sign up for our newsletter to be notified when we get our hottest new pieces.