What does a $ 10000 Engagement Ring Look Like?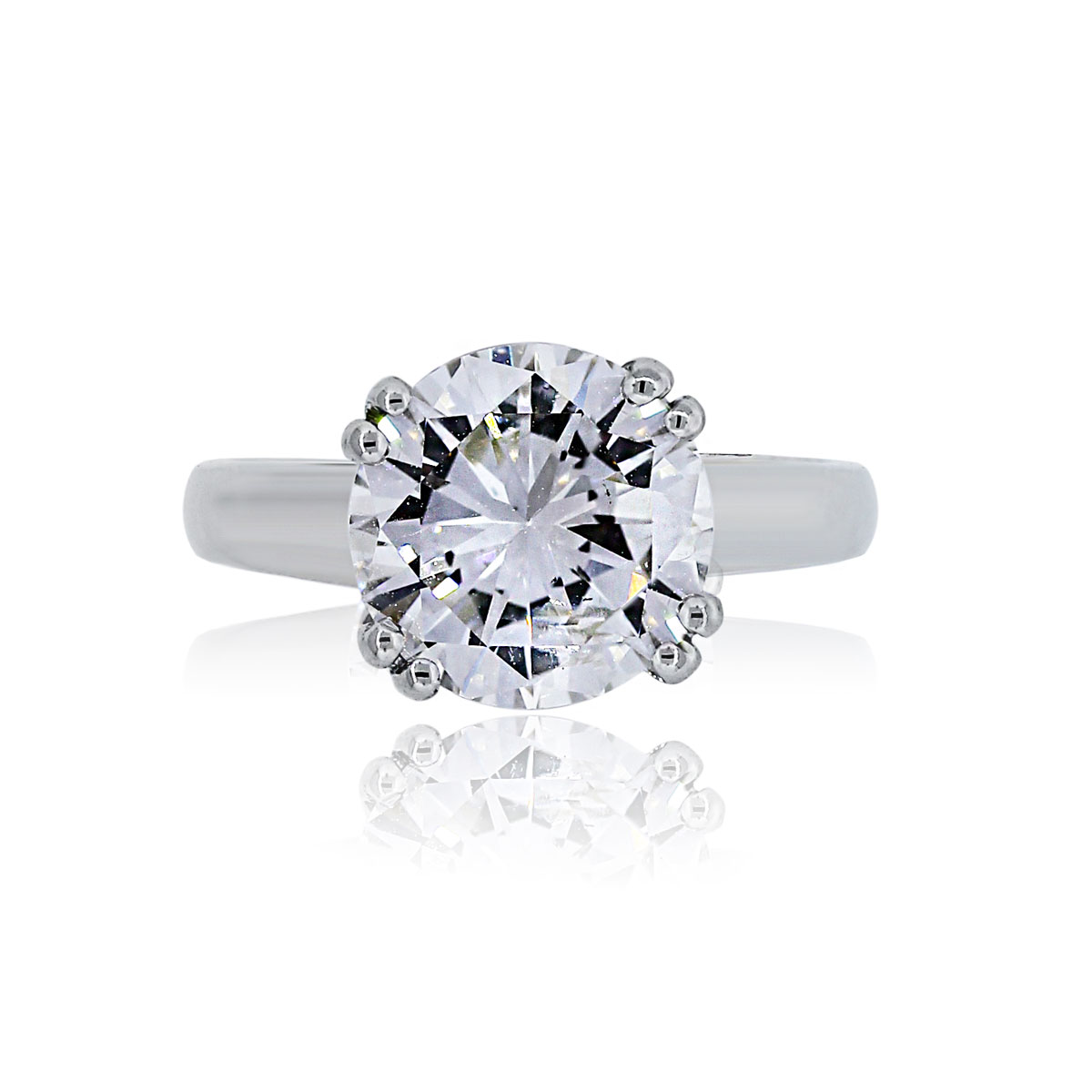 Many people keep asking us "What does a $10,000 engagement ring look like?" and "How big of a diamond can you get for $10,000?". So, we are here to answer those questions succinctly and with examples from our collection of stunning $10,000 engagement rings at Diamonds by Raymond Lee.
If you're looking for a $ 10000 engagement ring then you are in good company. Maybe it's the nice, rounded number. Perhaps it's the last stop on the sanity train for many young couples. As long as it's not the figure you've arrived at thanks to any sort of jewelry-industry-issued formula, you're doing alright.
And recently, we've seen this popular engagement ring budget popping up in reader questions.
What does a $10000 engagement ring look like? How big of a diamond can I get for $10,000?
We think you'll be pleasantly surprised. This is a generous budget that will get you an amazing ring, and easily a designer engagement ring setting should you choose.
For today's show & tell purposes, we wanted to demonstrate the difference the designer makes. Some of these are rings our jeweler handcrafted, others are some of our stunning estate jewelry engagement rings. Of course, Diamonds by Raymond Lee has a ton of *settings only* that are fabulous deals (start with Gabriel & Co. and Verragio's Classic Collection) – and leave plenty of room in your budget for you to add the center stone of your choice from our diamond database. So, we will also tell you about how big (and the quality) of a diamond you can get to fit into the $10k diamond engagement ring budget
As a reminder, you're paying for more than just a fancy name engraved on your designer setting's interior. And if you're looking to maximize your budget, but you (or your intended) have a heart set on a particular name brand, don't get discouraged. In addition to the designers who specialize in artisan design with moderate pricing, even the high luxury lines we carry are available with financing options.
But enough about money – this whole post has a price tag under $10k! Let's show off some gorgeous $ 10000 engagement rings – or rings for even less. After we go through this, we will show you some loose diamond pricing as well, so you can see how big of a diamond you can get if you choose to buy a setting only.
What Does a $10,000 Engagement Ring Look Like?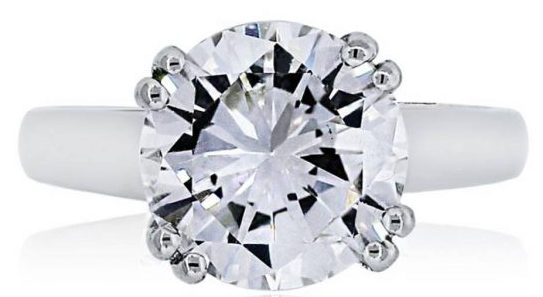 Let's dive right in with some solitaires. When it comes to a solitaire, the bulk of your budget is going towards that one, whopping center diamond! Because one whole stone is much more expensive than a cluster of smaller stones totalling the same carat weight (Oh, hey Halos) the solitaire is an investment in quality. You can choose a larger center stone with lovely color but visible internal characteristics, like this 1.93 carat J color I1 clarity round brilliant ($9,000)…

…or you can shave nearly an entire carat off to arrive here. This 1.03 carat round brilliant is significantly smaller but carries premium color and clarity grades. It's a beautiful E color grade (from the colorless bracket) and an impeccable VVS2 clarity grade (very nearly Flawless.) Despite the lighter carat weight, this beauty costs more – $10,350.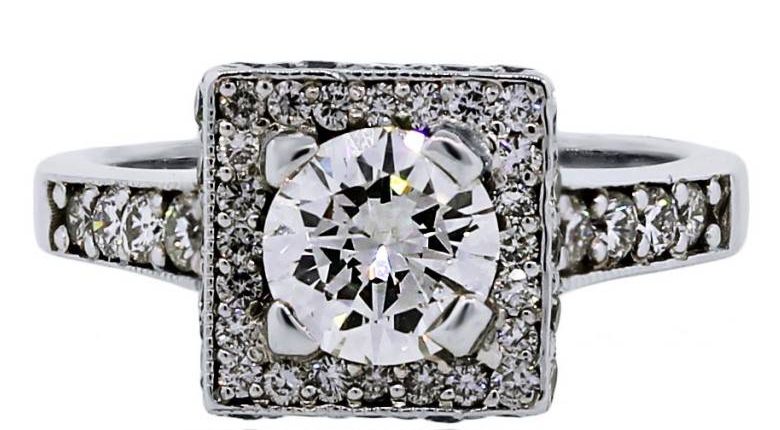 Off to halo land, where we'll stretch that budget with added carat weight. This pretty, antique-styled number weighs in at 1.68ctw, plus the weight of its gorgeous 14 karat white gold setting. But the center stone only accounts for 1 carat; its brilliant cut and gorgeous F/G color grade – plus all those glittering accent diamonds hide its SI/Included clarity grade skillfully, and you get a very sparkly ring for $8,995.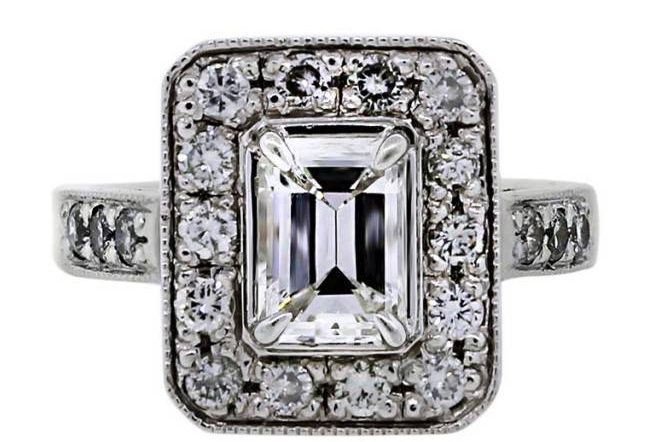 Here, we used the same setting style but with larger accent round brilliant diamonds. They embrace an emerald cut center stone – which demands more from its color and clarity grades, thanks to fewer facets. It's a G/H color and we used oversized prongs perfectly aligned with the facets to disguise the SI/I clarity grade. The 1.10 carat center stone looks even larger because of its elongated cut and surrounding .50ctw of round brilliant accent diamonds. Total: $7,995 (because a "fancy" cut emerald costs less than a round brilliant with similar specs and carat weight. Read more here.)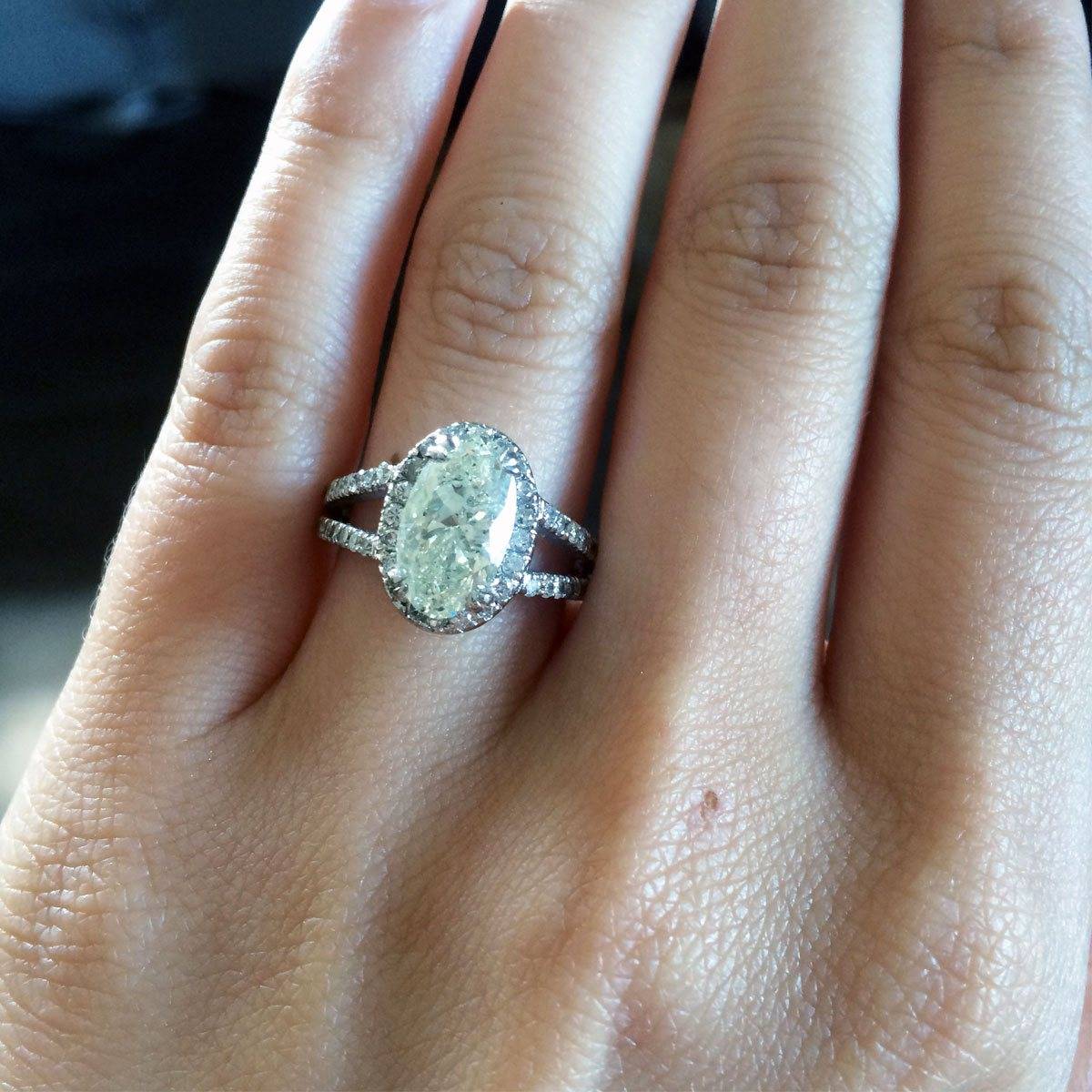 So you know how when your favorite show started filming in HD your TV crush went from a 10 to a 9.5 (until the makeup artists recalibrated for the new cameras?) We shoot in HD. Macro, actually. In a light box, so you can see absolutely every detail of all our diamonds, for better or worse. Some are more photogenic, this one isn't. Which is a shame because it is BEAUTIFUL in person. The warm, K color is less pronounced, the inclusions at the center of this diamond (which earned it an I1 because they're dark in color and in the middle of the diamond) are approximately 9 billion times less visible IRL. You can read  more about diamond clarity and how it affects price here, and here. Anyway, this beautiful oval is 2.51 carats, and looks even bigger thanks to its long shape. The split shank diamond pave halo also enhances its presence on your finger and adds about .85ctw more diamonds to the 18kt gold setting. We will update this post with a better pic as soon as we post this baby on Instagram. Oh! And it's $7,500.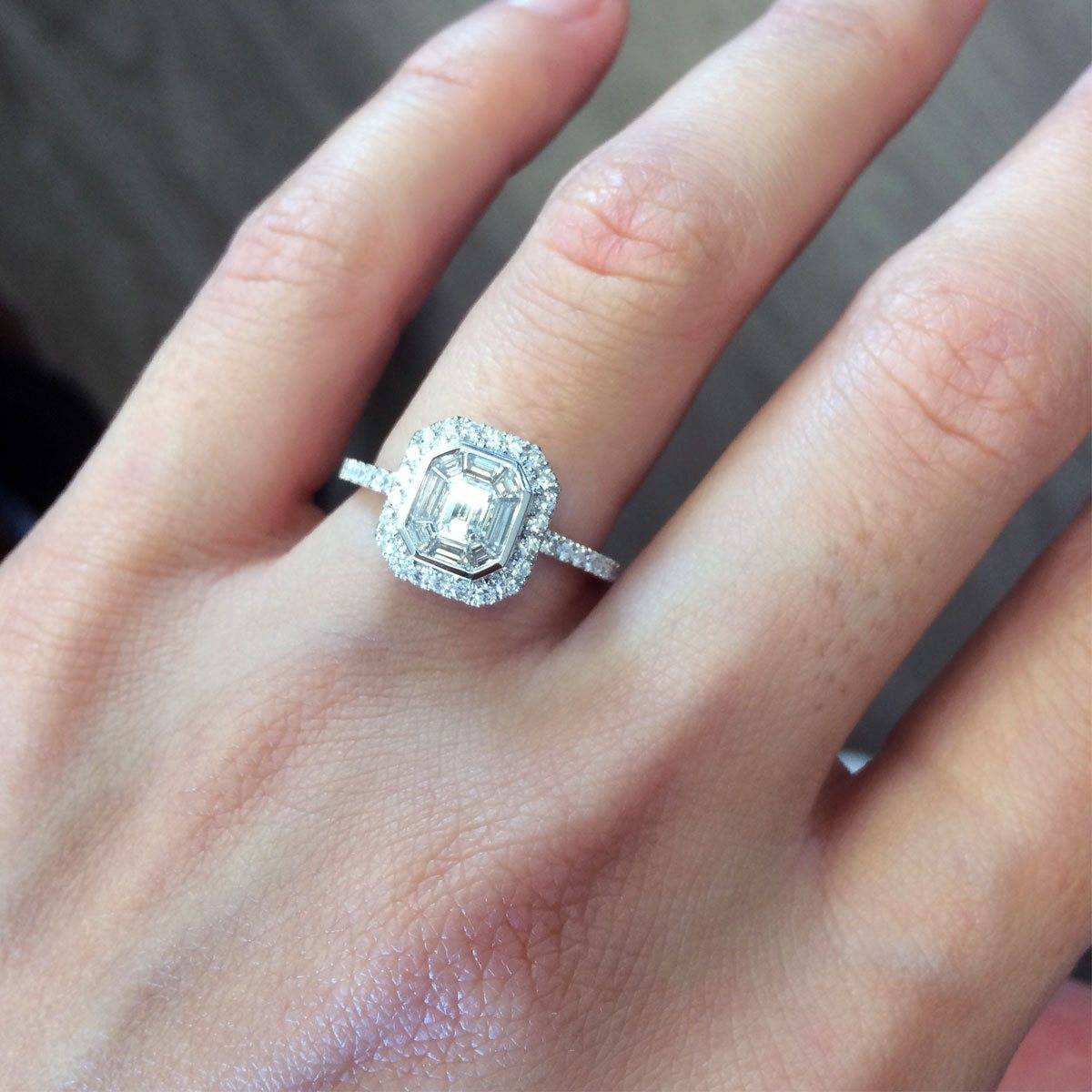 Yes! Onto the #ringselfies – we will update this post with hand pics of all those rings, not just that last oval, promise. While this mosaic-style halo "only" boasts .90ctw, it looks a lot bigger. And each of those diamonds – a mix of emerald cuts and round brilliants – are all awesome G/H color and VS clarity. The best part? This ring is $3,695, not even half your budget.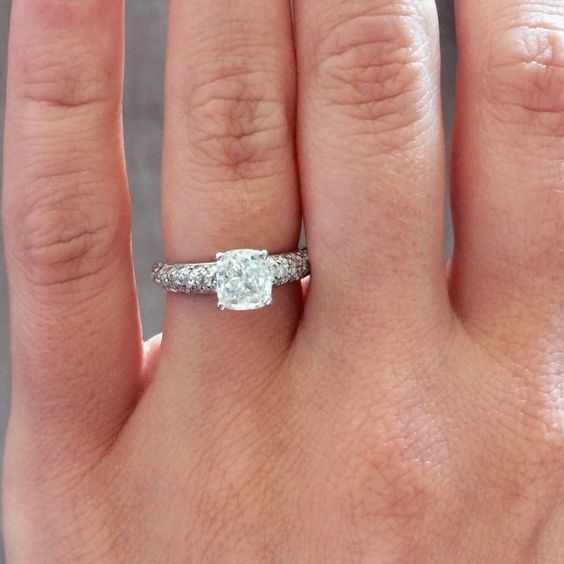 This beautiful cushion cut is a 1.01 carat GIA certified I color and SI1 clarity. We set it on a generous .40ctw of diamond pave set in a 14kt white gold band. The price: $5,631 just over half your budget. Save the rest for your honeymoon & send us a postcard, lovebirds.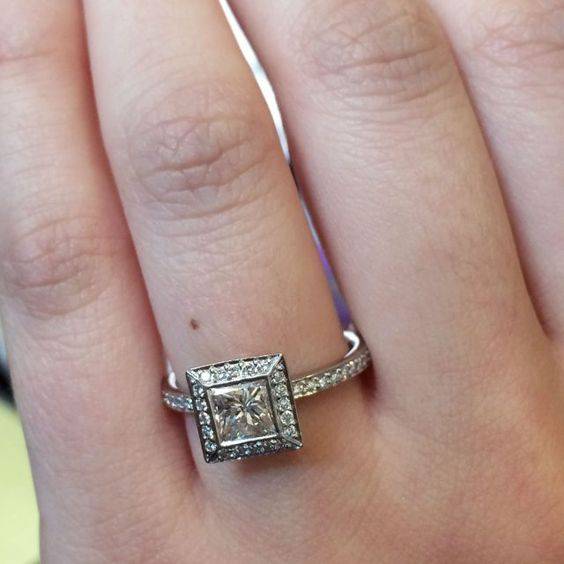 Last, but not least, let's end on a designer note. This Ritani setting is bold & modern, but with classic sensibility. The bezel set princess cut establishes the ring's clean lines, with .90 carats of EGL certified G color and Si2 clarity. The accent diamonds add another .28ctw of G/H VS diamonds to the 18kt white gold setting, and it too clocks in well under budget. Only $6,035.
How big of a diamond can I get for $10,000?
It's not all about size when it comes to diamonds. You need to consider the 4Cs if you want a diamond worth showing off. Cut, Clarity and Color are all important factors in the beauty of a diamond, with cut being the most important for most diamond shapes/cuts, especially round brilliant cut diamonds. So, with that being said, we will show you some sample loose diamond prices that are large but also a good quality (higher on the diamond grading scale).
Round Brilliant Diamond – 1.07 Carat with an Excellent Cut, F Color and VS1: $8,025 
As you can see this isn't a big diamond but the quality is superb.
Round Brilliant Diamond – 2.04 carat with a Good Cut, M Color, SI1 Clarity: $7,956
This one is much bigger but the quality isn't as good. The price is even less. So the choice is yours if you want to simply go big.
Cushion Cut Diamond – 1.21 Carat with G Color and VS1: $6,671
This is a good quality cushion cut diamond and a very respectable size.
So to sum this up. You can get a very high quality 1 to 1.5 carat diamond that will meet a $10,000 engagement ring budget. If you want to go big, a 2 carat diamond, even slightly bigger, and with a lower grade, is also doable.
Verragio is a great designer brand that sells setting only engagement rings. Definitely check out Verragio if you go the loose diamond and setting only engagement ring route.
What diamond shape looks the biggest?
If you want the appearance of a bigger diamond, fancy diamond shapes like pear, oval and marquise will give the appearance of being bigger than a round brilliant diamond of the same carat weight. That's a little trick of the trade for you.
Looking for more $10000 engagement ring ideas? This is like a fraction of a fraction of the goodies we have at Diamonds by Raymond Lee and Raymond Lee Jewelers– or can custom design. E-mail or call us today to find the perfect ring for your budget.