What Makes Chandelier Watches So Popular?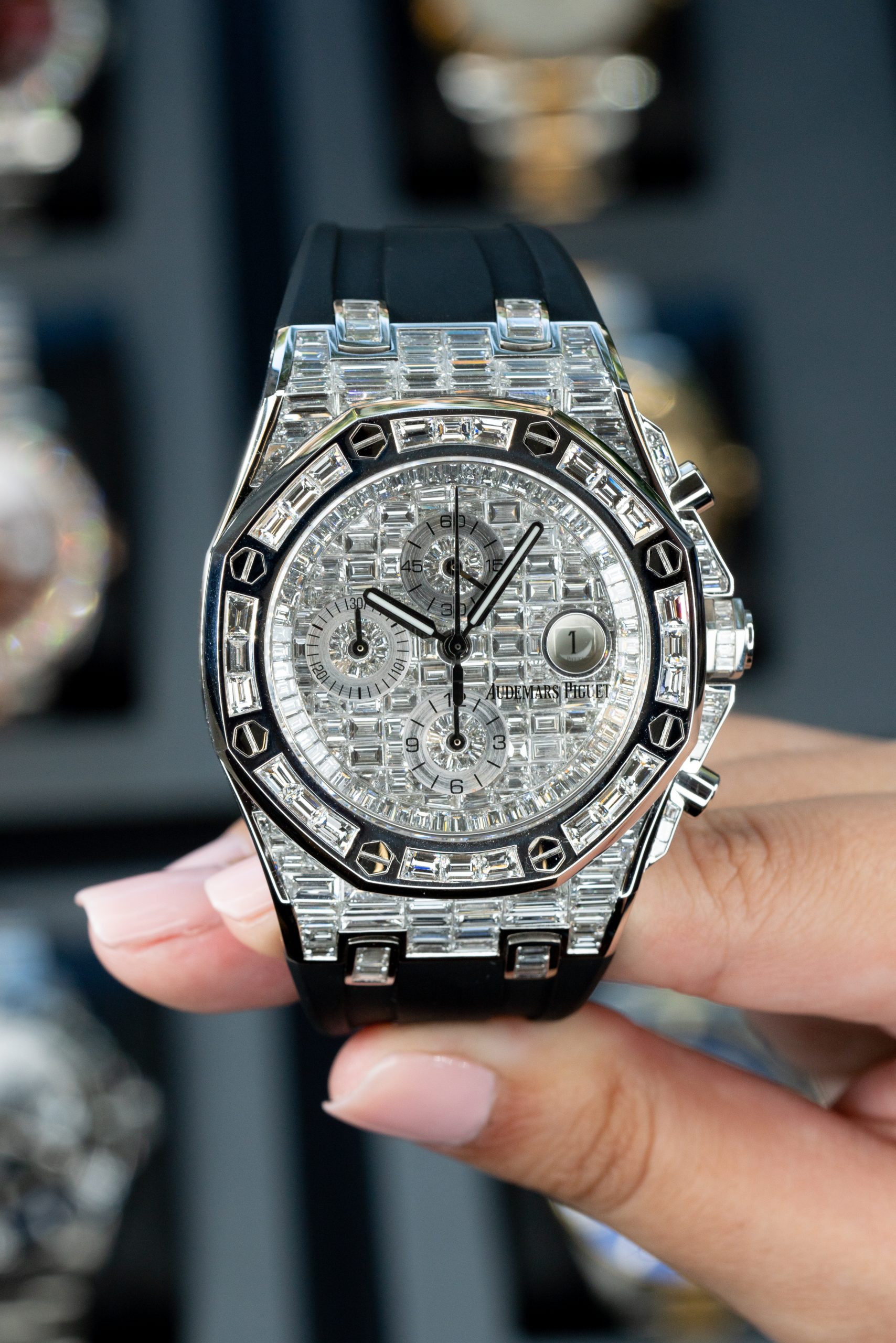 An elegant and bold timepiece like a chandelier watch is a great accessory for those who like trendy and edgy fashions. High-end watchmakers like Cartier, Patek Philippe, and Audemars Piaget make watches like this for those with discerning tastes and high style. This is not a watch for the faint of heart. It is an accessory to be seen. When most people think of watches, they probably think of the boring watch their dad wore. This is a huge mistake.
The watch is actually one of the most versatile accessories available. And, it is one of the only accessories that combine form and function into a single piece. Most accessories just look good. There is nothing wrong wtih choosing something purely for aesthetics, but the watch is a little different. Not only do they look great, but they also allow you to be punctual and timely. In the world of business and pleasure, it is important to be where we need to be when we need to be there. 
So, when we choose a chandelier watch, we have something that is truly unique. It allows us to be punctual, but it isn't stodgy and boring like our father's watches. These watches are pure bling and sparkle. They feature only the highest quality materials. The finest diamonds and metals feature in these pieces and they are really stunning to behold. There really is nothing that can compare to a chandelier watch. They combine the elegance of a high-end watch with the sparkle and shine of tons of high-grade diamonds. This creates a piece that is bold, eye-catching, yet also elegant and stylish. 
Timepieces Don't Have to be Boring
Too often when we think of timepieces, we think of boring silver watches like those our fathers wore. However, watches are actually incredibly varied. You can find them in a ton of different designs, even high fashion designs. The thing about the watch is that it is one of the most versatile accessories out there. Watches look good with pretty much any attire. Whether you are spending a day in the office or a night out with the boys, a high-end timepiece will look great. 
And with a chandelier watch, you get a timepiece that is eye-catching, bold, and incredibly elegant. High-grade diamonds attract the eye to the piece immediately. Watches like this have a sparkle and shine that is unlike anything else you'll see. Not only are they sparkly and elegant, but they also tend to have masculine lines and design elements. This is a great combination of sporty and elegant. Whether you are wearing sports attire or a nice suit, a chandelier watch makes an excellent accessory.
There is nothing boring about a watch that features high-grade diamonds around the entirety of the piece. They say diamonds are a girl's best friend, but why should girls have all the fun? Diamonds are for everyone – men, women, and gender non-conforming alike. And with a timepiece like a chandelier watch, you have an accessory that will catch the eye of anyone who sees it. 
The Elegance of the Diamond
When we think of high class and style, chances are we think about diamonds. And for good reason. These are rare, gorgeous stones that have long had an association with luxury and glamour. Not only do these stones have this association, they just look great. There is just something about a clear, high-grade diamond that is attractive to most people. And the diamond is incredibly versatile.
Since it is one of the hardest stones we know of, it can be cut into pretty much any shape or style you can imagine. In fact, with modern computer software, new cuts and shapes are created regularly. If you can't find the perfect cut or shape for your tastes, jewelers can create something custom and exclusive for you. Who doesn't want a piece of jewlery that is truly one-of-a-kind?
In chandelier watches, you'll see diamonds of a variety of shapes and sizes. The diamond that appears on the dial and bezel of the watch tends to be smaller and is often more round in shape. For the bracelet of the watch, larger stones will often feature. These may be in rectangular or square cuts, or you may choose to use round diamonds for the whole piece. The cut and style of the diamonds you choose will affect the amount of light refraction and thus the shine and sparkle the piece will ultimately have. 
A Lot of Sparkle and Shine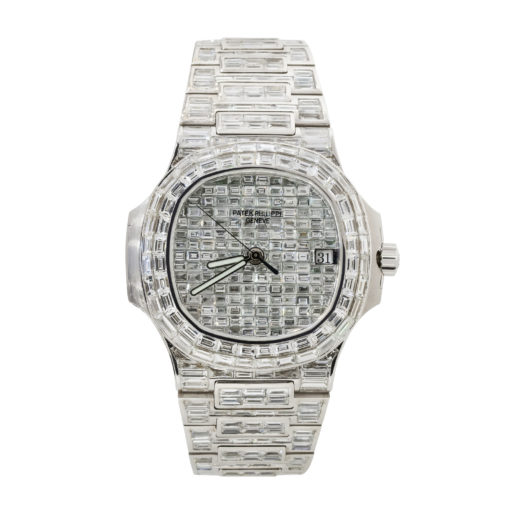 One thing is certain about a chandelier watch, regardless of the brand, and that is that it will have a lot of sparkle and shine. This is because the piece will have diamonds around the entirety of the piece. The cut and shape of the diamonds will affect the amount of sparkle and shine the watches have. So, for example, if you want a ton of sparkle and shine, you might choose stones that are round brilliant-cut. Or, you might choose tiny pave stones that create an elegant sparkle and shine that no other shape can create.

Whatever shapes and cuts you choose, you have a timepiece that is meant to shine. Standing in the sunlight on a bright sunny day will cause gorgeous and stunning light refraction in the stones. This will lead to a glint and shine that is hard to beat. Of course, this type of sparkle is going to catch the eye of anyone who sees it. These are watches that we want others to see and appreciate for their luxury and quality. 
The Chandelier Watch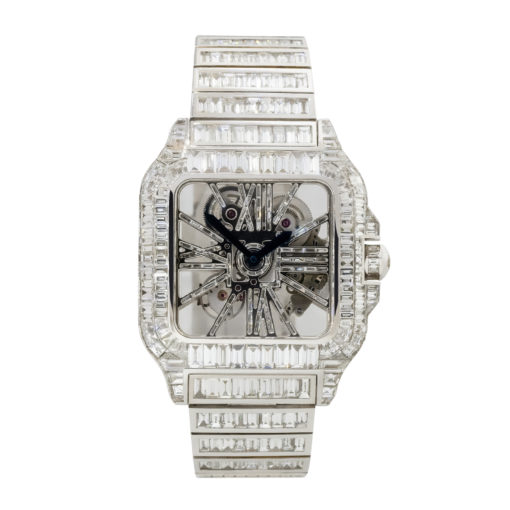 Chandelier watches might also be called all-diamond watches. They feature diamonds on every element of the timepiece. The bezel of the watch will have diamonds around its entirety. The dial of the watch may also have diamonds across its breadth. Some watches may have diamonds in places of certain time markers, or the entire background of the dial may feature diamonds. There are a lot of choices out there for you to choose from.

The bracelet of the watch will also feature diamonds around its entirety. Though you have choices, most often larger stones will feature on the bracelet of these watches. However, if you prefer smaller stones, you can find this as well. These stones may feature more rectangular or squarish shapes, or they may be round like the stones around the bezel and on the dial.

Another common feature of these watches is that they feature an oversized dial. This gives the watch a masculine and sporty profile. When you combine this sporty profile with all those diamonds, you get a timepiece that is truly one-of-a-kind. You have a sporty watch that is also elegant and glamourous as well. This makes it a pretty versatile timepiece. It will look great with sporty attire or more formal attire. Anything you pair one of these watches with will instantly take on a look of elegance and class it wouldn't otherwise have. These are truly unique timepieces that are both stylish and elegant, while also being edgy and bold. 
Celebrities Love These Watches
It really shouldn't come as a surprise that celebrities are fond of chandelier watches. Since they tend to be the style icons of our time, many of us look to them for cues on what is trendy and popular. There are actually a few celebrities that have made this type of watch quite popular. From athletes, movie stars, and musical personalities alike, the chandelier watch is popular amongst those that set the style trends of our modern times. 
While these timepieces are popular amongst celebrities, trendsetters, and style icons, there are a few rappers that have really made this type of watch a popular option. Rappers such as DJ Khaled sport these eye-catching and bold watches and have made them more popular than ever. Khaled's $300,000 chandelier watch might be outside of your budget, but there are options that are a lot more affordable than the one he sports. Another rapper Juice Wrld also wears one of these watches. His watch features rose gold and some 70 carats of high-grade diamonds. Again, while we might not have the means to have a piece quite like this, it doesn't mean we can't take a page from their proverbial book of style.
With so many famous personalities sporting these watches, it isn't surprising that they continue to rise in popularity amongst those who want a bold and trendy look. 
Elegant and Stylish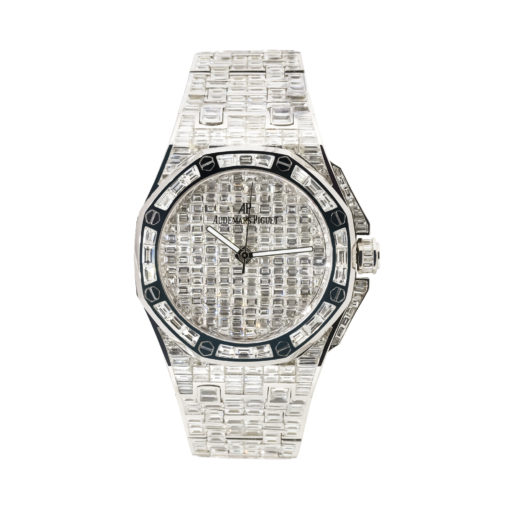 Not only are these watches bold and eye-catching, but they are also elegant and stylish as well. Just think about the brands that make these pieces. High-end brands like Cartier and Patek Philippe. These are brands that are known for making some of the most elegant and stylish timepieces in the world. So with a chandelier watch, you get the style and elegance of a high-end timepiece, as well as the trendy and bold style of this type of watch. It really is a great blending of style and elegance.

You can easily wear these pieces with an elegant and well-fitting suit as you can with sporty attire. There really aren't many accessories that have this kind of versatility. So not only is this a really attractive watch on its own, but the number of different types of fashions you can wear it with also makes it even more attractive. You can easily take any outfit to a whole new level of glamour and luxury with one of these watches. Whether you are wearing something casual, sporty, or formal, a chandelier watch will elevate your style like nothing else. 
Eye-catching and Bold
For those who want a look that will draw attention, chandelier watches are a great accessory. People can't help but look when they see all the sparkle and shine coming from your wrist. These elegant timepieces are stunning and high-end pieces that look great with so many different types of fashions. Not many pieces that are this formal can be worn with casual clothing, but this type of watch can be. You can pair it with something sporty, something casual, or something formal and it will never look out of place.
And, these are bold and eye-catching pieces. You'll easily become the talk of your social group any time you are seen sporting one of these high-end watches. The sparkle and shine of the diamonds naturally attract the eye. It is a piece that is meant to be seen. It is an accessory for those who have bold senses of style and personality. It is not for the meek or the modest. This is a piece for those who want to get stares and looks of amazement. A lot of us like the idea of turning heads with the way we look and these timepieces can do just that.
In Closing
The unique and elegant style of the timepiece is, well, timeless. However, too often, when we think about watches, we think of boring, plain watches that are dull and not very stylish. However, this is not the case with all watches. There are tons of high-end watches that are made for those with high style and who want something eye-catching and trendy. High-end watchmakers like Patek Philippe, Audemars Piaget, and Cartier make bold, stylish pieces that are perfect for those who want their accessories to make a statement.
The chandelier watch features high-grade diamonds across the entirety of the watch. There are diamonds on the bezel and dial, as well as on the bracelet of the watch. Celebrities have made this type of watch a lot more popular. Famous rappers like Juice Wrld and DJ Khaled sport these watches and have helped to enhance their popularity even further.
With a high-end watch like this, you get an accessory that combines form and function into a truly unique and bold accessory. It looks great with a wide range of fashions and is sure to draw the eye of anyone who sees it. These bold and eye-catching pieces are perfect for those who like trendy, high style.