Verragio engagement rings are some of our favorite designs – obviously. Not a day goes by that we don't admire them. And not a week goes by that we don't show off at least one of these gorgeous engagement ring settings. Today is no exception, and we'll be sharing with you our top 10 most recent favorites from our Verragio engagement rings.
What makes Verragio engagement rings so special? Every single one is designed with beauty in mind. Each ring calls to mind the beauty of the woman who will wear it, which means plenty of feminine details, intricate designs, and attention to the small details that work together to make something beautiful.
Every Verragio collection is different.
The Parisian collection has 4 rose gold bands on the ring's foundation leading around to its resting point.
The Insignia collection has the Verragio logo nestled into the ring's crown with two diamond pave scrolls leading to that diamond-accented "V".
The Couture collection is lined with large French beading that culminates with a diamond accented tapered resting point.
Verragio's Classic collection has shared prong set diamonds on its shoulders and the interior is lined with simple, micro-French beading. Just beneath the crown the ring displays a mini version of the Insignia's trademark scrolls and just the accent diamond, rather than the diamond-studded "V".
The Paradiso collection, the newest addition to the Verragio family, features scrolls of diamonds that line the rings' inner faces. This creates room for air to flow through the setting while it's worn, making it more comfortable. It also keeps them from spinning.
The Venetian collection is the "fanciest" aka most intricate. The ring's inner face features lace scrollwork surrounded by French beading all the way around. The ring's resting point is marked by a tapered diamond accent.
Today we're showing off ten rings from the different collections, demonstrating just how beautiful every last one is.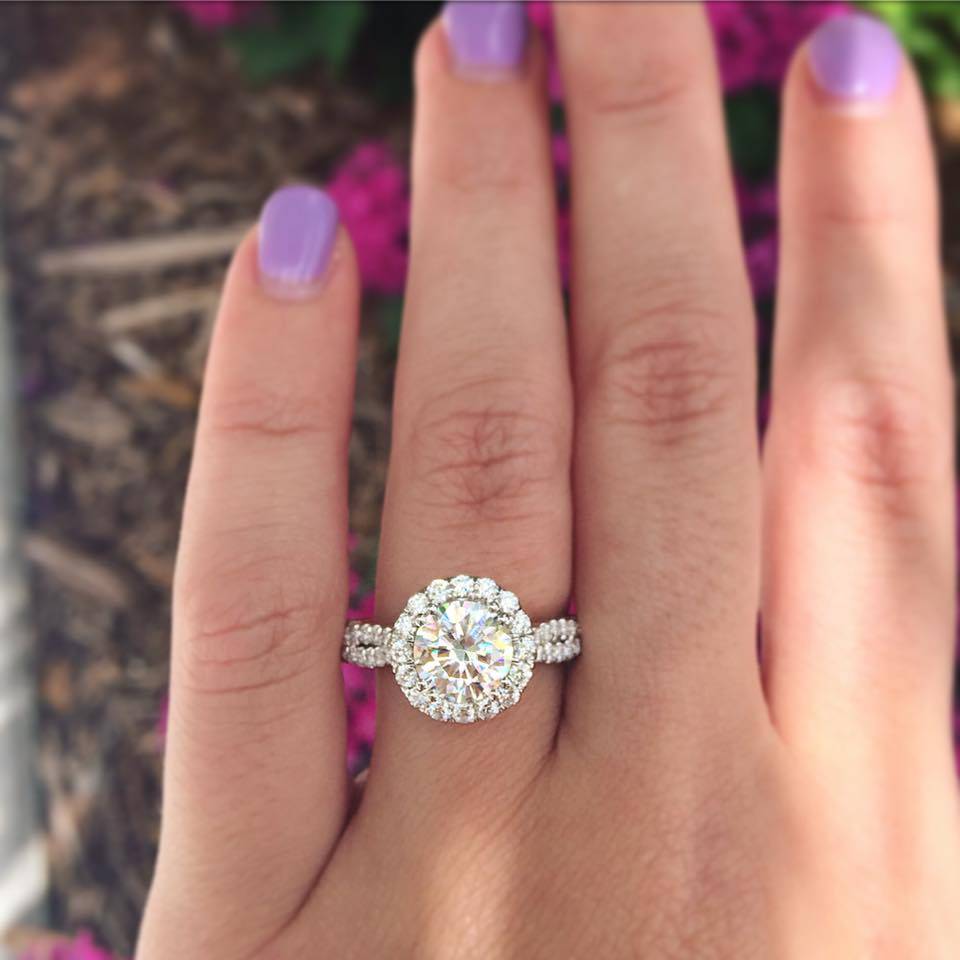 This beautiful Verragio halo features its famous lace shanks with a generous scalloped single halo.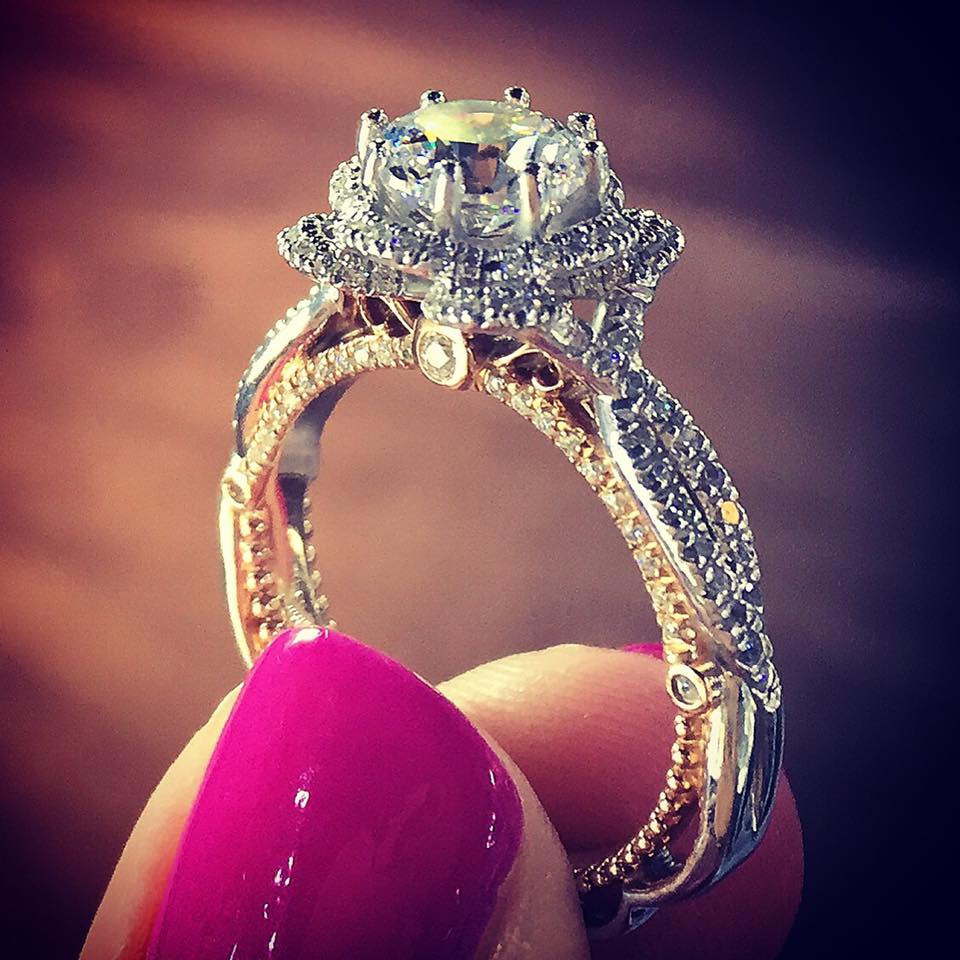 This floral inspired halo from the Insignia collection is one of our most popular Verragio engagement rings on Pinterest.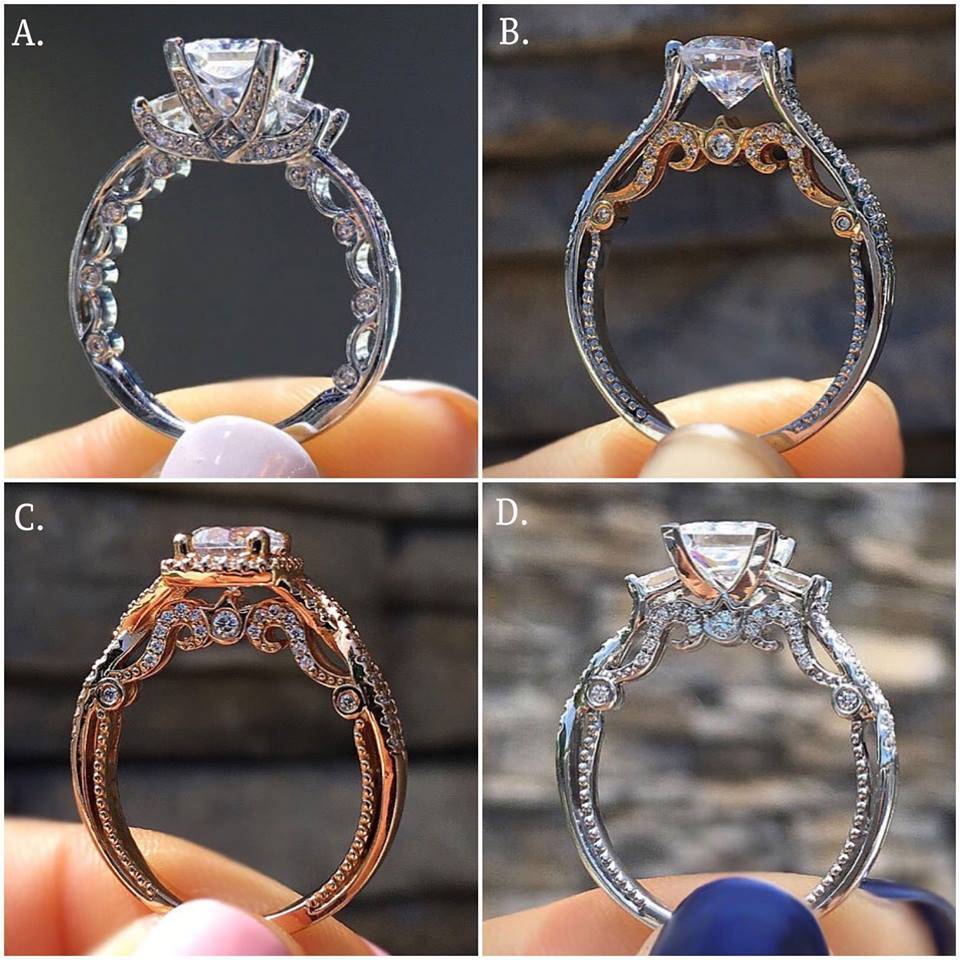 This shot shows off (from top left) a ring from the Paradiso collection, the Couture collection, and two from the Insignia collection.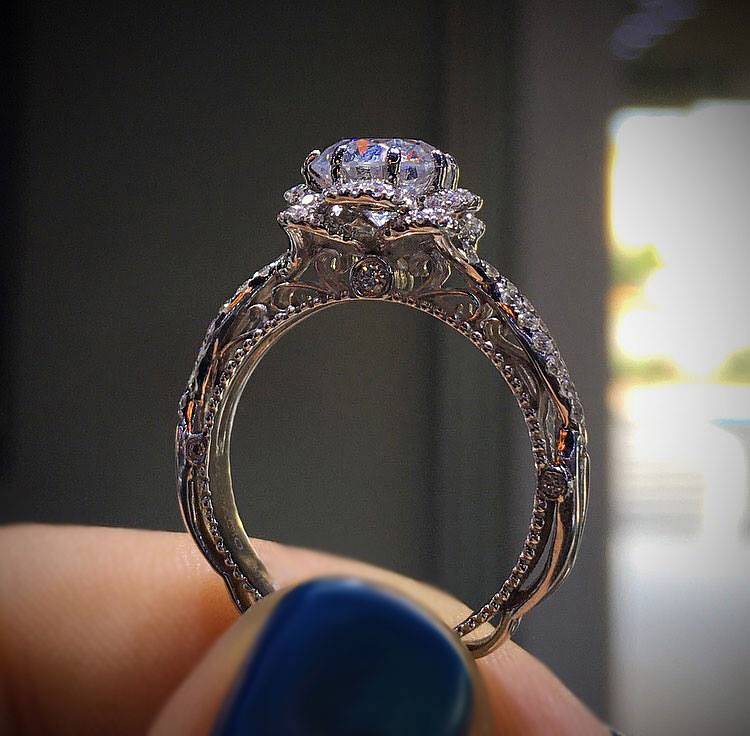 A Venetian collection beauty.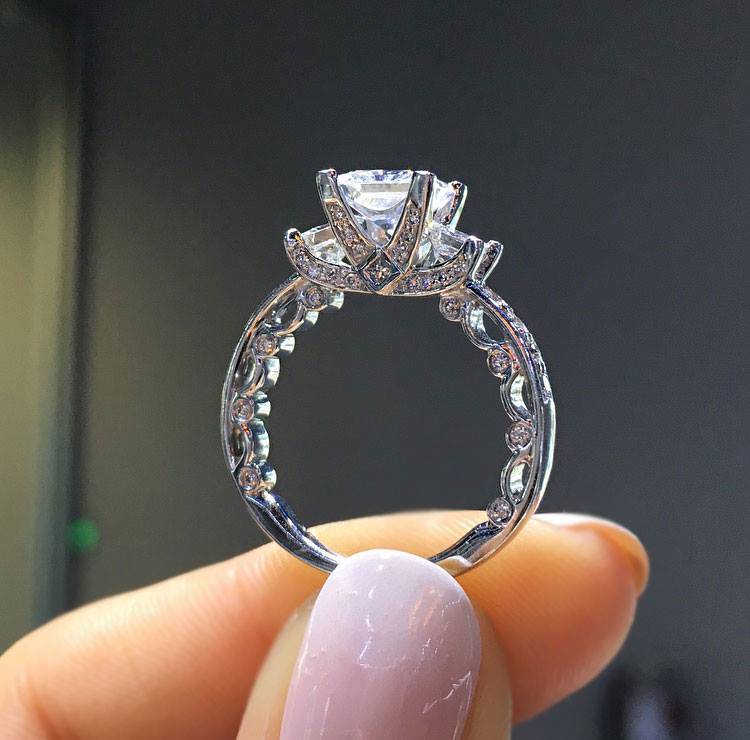 Here is the Paradiso engagement ring from the quad pic above – look at those open and airy diamond scallops!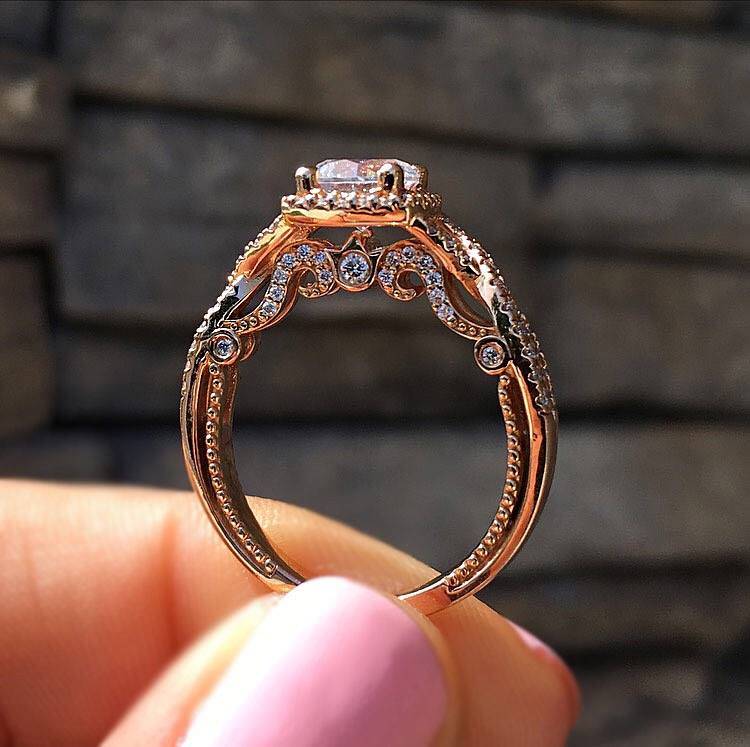 And here, a solo shot of the rose gold Insignia setting from above. It also comes in white gold and yellow, but we're mildly obsessed with this version.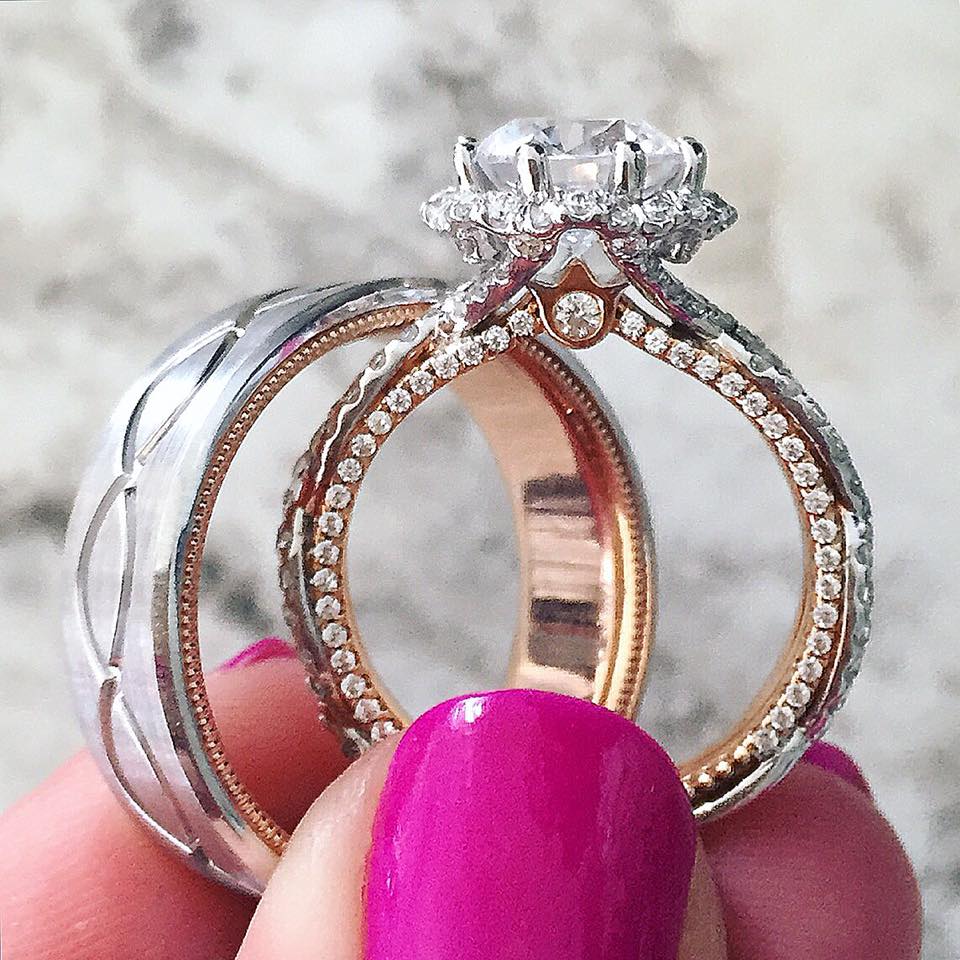 Did you know Verragio also makes men's rings? They do! And each one is designed carefully with the same attention to detail that subtly mirrors the brighter, more obvious beauty of the ladies' rings.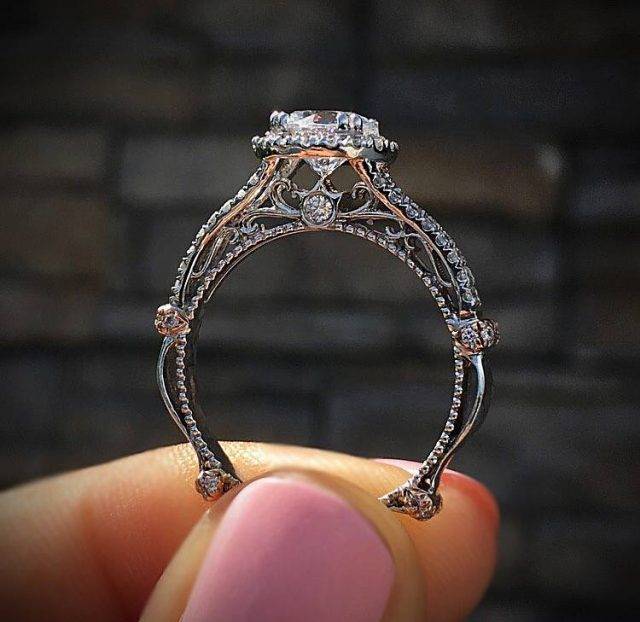 The Parisian collection's charm in full force.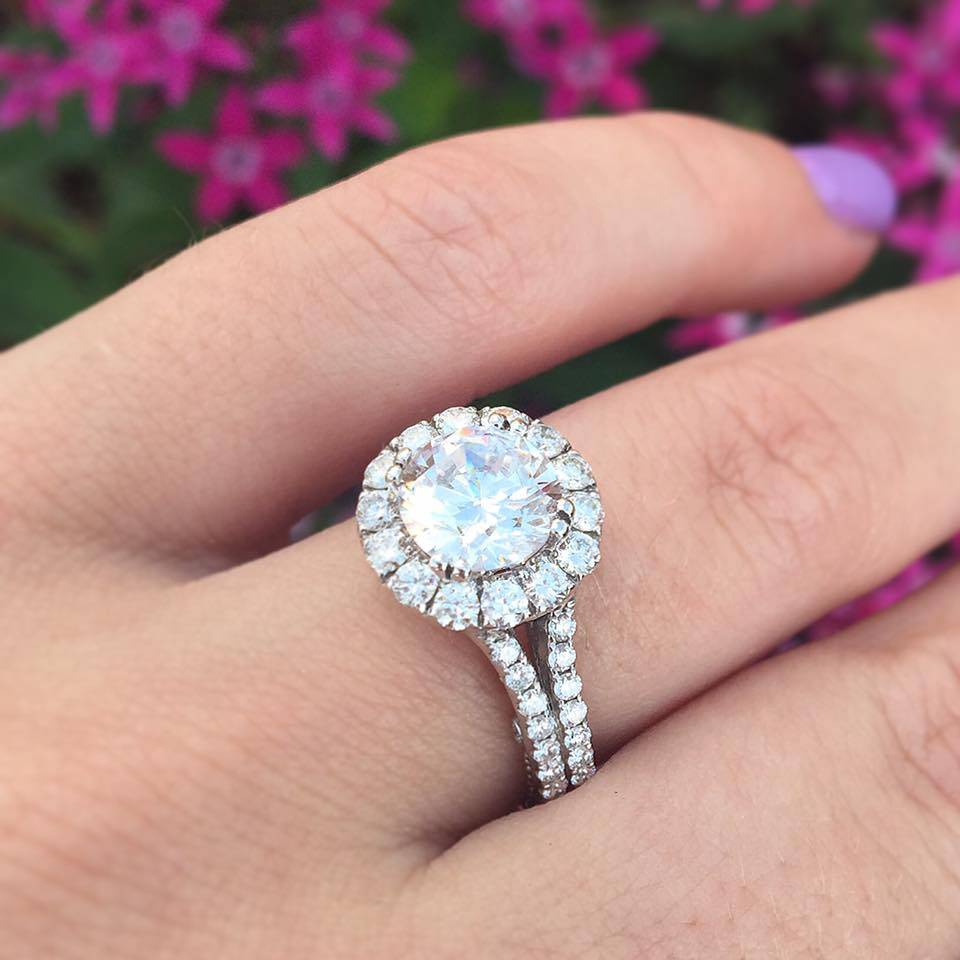 The beauty of a Verragio halo comes from its gorgeous diamonds, but also the stunning choice of shanks. Here, we have smaller shared prong diamonds in a split shank white gold setting.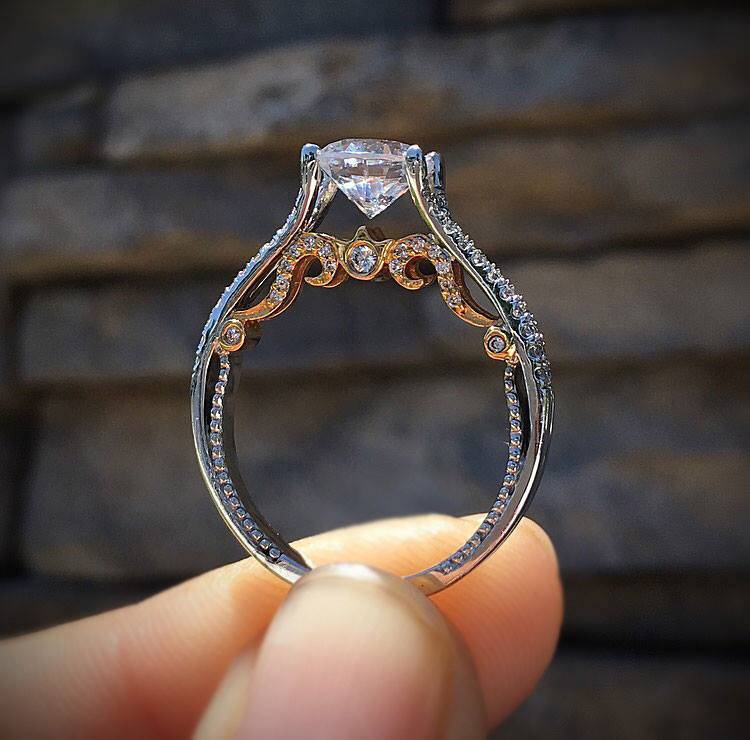 Finally, how gorgeous is this Insignia solitaire? Yes – solitaire! Not all Verragio rings have those gorgeous halos, and not all of them need it. Place the center diamond of your choice in this simple setting and watch it shine.