Verragio Engagement Rings Boca Raton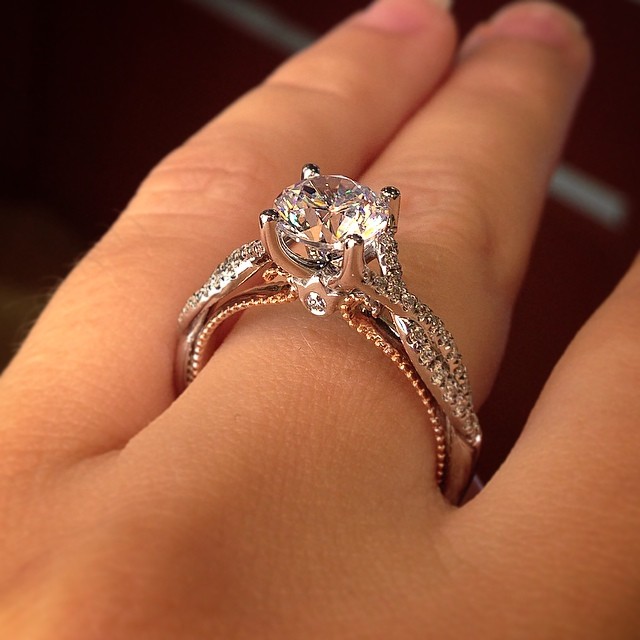 We keep growing our fabulous collection of Verragio engagement rings, and if our social media fans & followers across Facebook, Tumblr and Pinterest have anything to say about it, it's "YES!" Consensus: you guys love Verragio and most of you would adore a Verragio proposal! So, because it's Friday and we're in a TGIF kind of mood, we're sharing some of our most popular Verragio designs of all time. You can read more about why we started carrying Verragio – our first ever designer line that we're an authorized dealer for – and you can read more here about why Verragio rings are truly bespoke. And now, let's indulge in some eye candy!
First up is this beautiful white gold and rose gold confection from the Couture collection. We love the inner, beaded rose gold ring on the band, and the lovely intertwined white gold pavé shanks.
This beauty from the Insignia collection also shows off those intertwined diamond shanks – we love the symbolism here, it represents the two of you, and it's vaguely reminiscent of the infinity symbol.
This three stone princess cut is a beautiful example of the intricate white gold scroll work that accompanies Verragio's Insignia collection.
This three carat radiant cut diamond gets an assist from the Verragio mounting and wedding band set we mounted it in. This is a gorgeous example of the endless customization you can use to make every Verragio ring your own unique treasure.
We love to show off the difference that a setting can make – these place holder cz's are the same size, and the rings might be the same style (pavé halo) but the square frame looks worlds away from the classic round halo.
This double halo from the Insignia collection is a gorgeous 1-2 combo of the Verragio rose gold so many modern brides love and the classic white gold pavé that will hold true for a lifetime.
Another fabulous demonstration of the difference a halo (or two!) can make. All the same size cz's, but look how HUGE the bottom ring looks compared to the top ring!
And here's a close up of the center ring.
And finally, one of our – and your – all time favorites: this amazing double shank (that opens into a split!) oval halo engagement ring.
Which Verragio ring is your favorite? Be sure to follow us on Instagram to see more!