Let's talk about Rolexes. We've been chatting for the last few weeks about the top 5 ways to spot a fake watch, and this week we want to really dial it in. So far we've covered:
Today we want to focus on just one brand, and it's one of the most quickly counterfeited luxury brands, and definitely one of the most proliferate. Counterfeiters love making and selling fake Rolexes, and the market, unfortunately, is huge.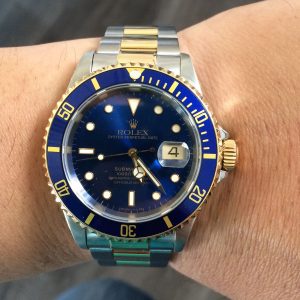 But you, gentle reader, are here because you want the best. You won't settle for a cheap impersonation of a Rolex, and if it means saving, waiting, and scouring the net and your favorite estate jewelers until you find your (authentic!) Rolex, you're willing to wait. Besides, why would you shell out a couple hundred dollars (the minimum for an even passable fake Rolex) on a crap watch you'll have to replace at the same rate Tom Brady wins Super Bowls? Brady rocks a TAG most of the time, by the way. He's their celebrity spokesperson.
And it's not just your bottom line that suffers when you buy a fake watch. To quote some beautiful geniuses we know:
"The counterfeit industry is now inextricably linked with money laundering for major criminal activity (human trafficking, class A drug trade, terrorism, to name a few.) Add to this the abhorrent and inhumane working conditions of the people making these awful replicas and you've got genuine reasons to feel bad about buying a fake Rolex Daytona. This isn't about having sympathy for the poor Swiss luxury watchmakers in Geneva missing out on their cut of a $30,000 watch."
But Rolex, let's talk Rolex. Obviously having a brand – or better yet a model of watch – gives you more details to look for when trying to spot a fake. If you know your model should have an engraved rehaut, for instance, there's a dead giveaway if you see a fake right there. So we hope that this list, in combination with last week's checklist for features, helps you suss out the real from the fake.
Case Back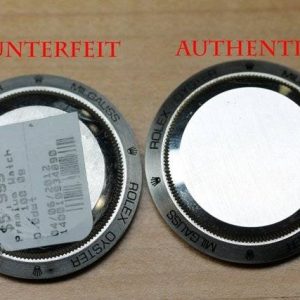 Rolex with a skeleton case back? You've either found one of the only production models from the 1930's made to show off the movement or you're holding a Kree8t*ve new design by a counterfeiter. Authentic Rolexes don't have clear case backs, with literally two exceptions. They should be smooth, un-engraved, and as translucent as a brick wall. Check out some more detailed shots of this Rolex Milgauss case.
Date Window
The date window, or the Cyclops, should magnify the numbers by 2.5x and it should be skewed when you look through the bubble at any angle besides straight down.
Crown at Six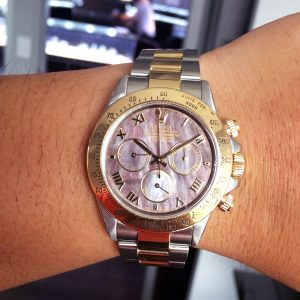 If it's a newer-model Rolex (post-2002) you should find a micro-engraved Rolex Crown logo etched into the crystal at the 6 o'clock marker. You'll probably need a loupe to spot it, but it's a tiny detail that easily gives away a fake when it's missing.
Check The Rehaut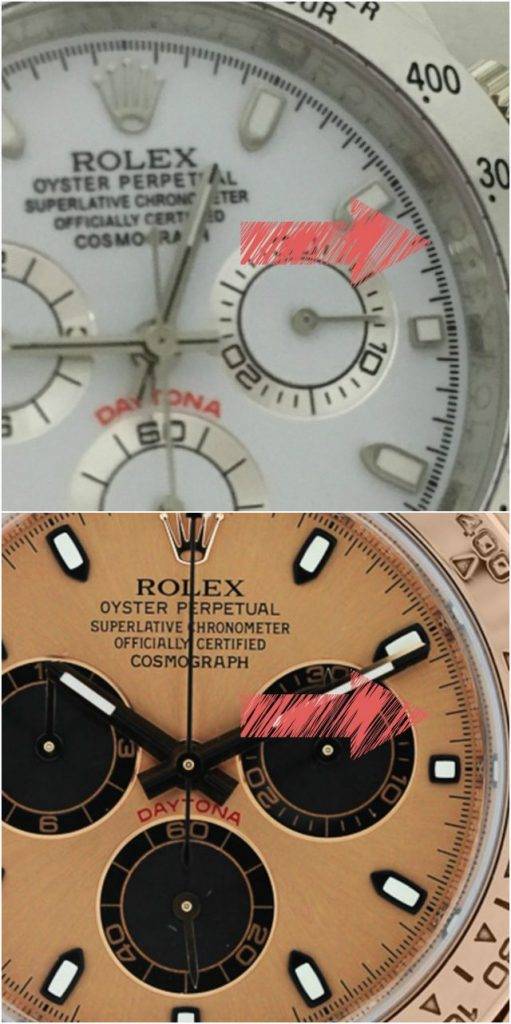 The rehaut is a Rolex's inner bezel. Rolexes from late 2007 – early 2008 (late Z serials and M onward) should have a clean, sharply engraved rehaut that you that repeats ROLEX ROLEX ROLEX around the entire perimeter of the watch, with the serial number laser engraved at the 6 o'clock mark.
Triplock Crown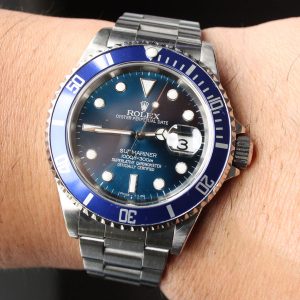 An authentic Submariner, Daytona or Sea-Dweller has a Triplock crown. This is just an extra seal in the tube of the crown that further protects the hardware. If you take a look at the crown (the knob on the side of the watch) you should see a tiny o-ring gasket when you fully unscrew the crown. Fake Rolexes don't bother with the seal because it' a superfluous detail that costs the counterfeiter money and they're really not that concerned with details. The crown is just an approximation of a real Rolex's anyway so they only care about the aesthetic (barely) and not the actual function.
There are more ways to spot fake Rolexes, especially some features that are model-specific, but these are easy giveaways. And if you're ever in doubt, just ask the seller to open up that case back – there's no way to fake an authentic Rolex movement convincingly.