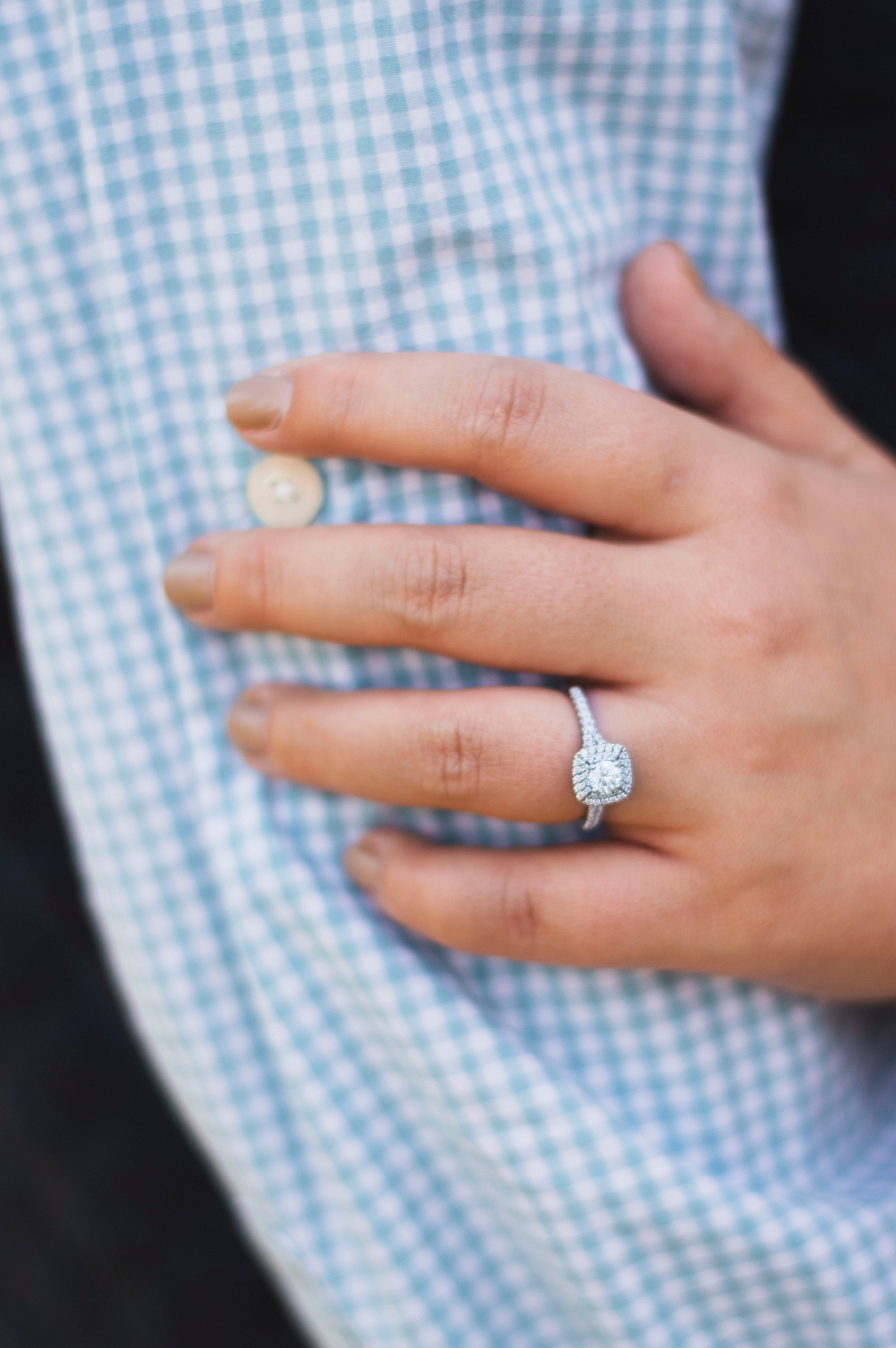 A lot of people, when they are shopping for an engagement ring, want to know if there is an average size diamond. They want to know if there's an average so they can decide on a price point and find the perfect diamond ring for them. 
So while every budget is different, we think it's helpful to understand the average weight of a diamond before you start shopping. Let's start by talking about how a diamond is defined and how the average weight of a diamond is calculated. 
How to figure out the average weight of a diamond engagement ring
Diamonds occur naturally in a wide range of colors. Some of these colors are more valuable than others which makes them harder to grade. And some colors are easier to grade using a letter system. Each letter serves as a different color grade and just as the size of a carat can vary in price. An average diamond is a natural stone without a clear color.
Another important aspect of choosing the perfect diamond is choosing the cut. Some of the most common stud cuts include round, square, and asscher, and princess. While some of the lesser common cuts include pear-shaped, and marquise.
Now the moment you've been waiting for. The average weight of a diamond engagement ring. In the U.S. the average carat weight of a diamond weighs in at just over 1 carat, at roughly 1.08 carats. 
A range of 1.0 to 1.9 carats is by far the most popular, but there have been noticeable peaks in the 0.70 – 0.79-carat range, the 0.90 – 0.99-carat range, and the 1.50 – 1.59-carat range. Which is a great valuation for those of you who are wondering what the average weight of a diamond engagement ring is.
It's also important to remember that carat weight is far from the only measure of value. The color grade, its clarity, and the quality of the cut will also affect its price. The cut grade is the factor that most strongly affects the sparkle and beauty of your diamond. At Ritani, we feel that every aspect of a diamond is important, but if you have to pick two to achieve the most sparkle, focus on cut and clarity.
We are located in southern Florida in the city of Boca Raton. We proudly serve Boca Raton and the surrounding following areas: Palm Beach, Fort Lauderdale, Miami, Broward, and Miami-Dade. Stop by and talk to one of our experts about finding the perfect engagement ring today. 
You can also chat online, or email one of our diamond advisers at in**@di******************.com. Or feel free to visit us at 2801 N Federal Hwy, Boca Raton, FL 33431. Our hours of operation are Monday through Friday 11am-7pm, Saturday  10am-5pm, and Sunday 12pm-5pm.