Luxury watches are often associated with the finer things in life as well as providing accessories and style that is simply not available at commonplace product levels. However, that doesn't usually mean a luxury watch can then be used in the same unforgiving environments as wristpieces specifically designed to be used outdoors, in rugged conditions, or under hard impact prone situations. Then along comes a number of models that combined both toughness as well as high-end quality in their designs and make. Here are some examples.
Pro-TRek – Casio is often a watch name that's going to be found at the average product level, but for ruggedness and higher-end quality, the Pro-TRek PAG240T-7 can't be ignored. This watch boasts temperature, weather prediction, a titanium frame, a barometer, solar powering, and a bezel that just won't chip or scratch unless smacked with a hammer. While far more affordable at $300, the Pro-Tec does give some higher brands a run for their name and reputation.
Citizen Eco-Drive – Citizen gets some mention with its Eco-Drive watch, which serves and meets the classic expectations of a metal wristband watch and an analog time display. Four dials are included in all, providing time, chronograph, calendar dates and second tracking. The watch is solar-powered, doing away with batteries, and it is expected to last a user up to 30 years. The item retails at about $1,000.
Casio G-Shock MR-G 7600/7700 – Go up the scale a little bit and behold, Casio appears again with the G-Shock. This wristpiece rings in at around $1,800, and comes with a hardened titanium shell that easily holds up without burping at 200 meters underwater. It comes with all the standard expectations of time, chronograph, automated calendar setting and more, and the crystal is high grade impact resistant.
The SISU Guardian – Taking a first look at this watch, one is going to wonder if it was designed by the same fellow who invented zen gardens. This watch has a sleek, cool style to it with a very eye-catching look. It doesn't boast any fancy tools or calendars; all this watch does is tell time. However, with almost a pound in weight, it's a durable beast that is going to withstand a lot of wrist use for years to come, looking smart and devilish at the same time. Sometimes simplicity is the better way to go. This watch will retail for over $800.
The Rolex Submariner 116610LN – Rolex underwater? You bet. For a cool $9,000, a buyer gets a Rolex watch that is designed to be ritzy as well as durable and tough. It boasts a scratch-resistant glass as well as cool and soft-feeling metal band that ensures the watch will never fall off on its own. Lots of standard time features are packed into the item, including a few that some folks probably don't need. And hey, if the world order collapses, a Rolex alone can probably still be traded for a month worth of food and water in a black market economy.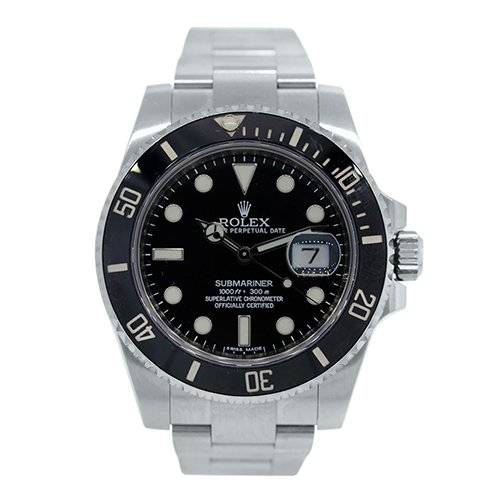 Related articles