Rolex vs Cartier (Watch Comparison) – Which Watch Should I Buy?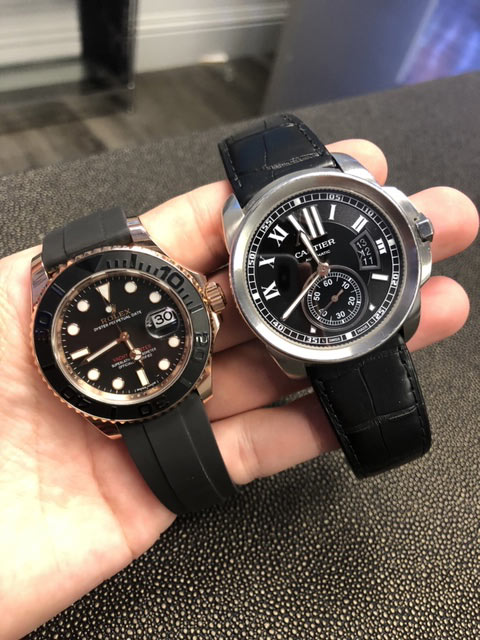 The desire for high-end luxury watches goes far beyond simply telling time accurately. Watches of such caliber convey fashion, functionality, elegance, and taste. They are an "in" to a certain horological club, and as such, not everyone wants to join the same club. Both men and women have discriminating preferences. When it comes down to it, it's really just that, a matter of preference. But we can use data and history to qualitatively and quantitatively make judgment on which brands of luxury watches are "best".
So, with that, today we will be setting up a battle of two luxury watches – Rolex and Cartier. This is a luxury watch comparison that we like to call: Rolex vs Cartier – The Battle of the Luxury Watches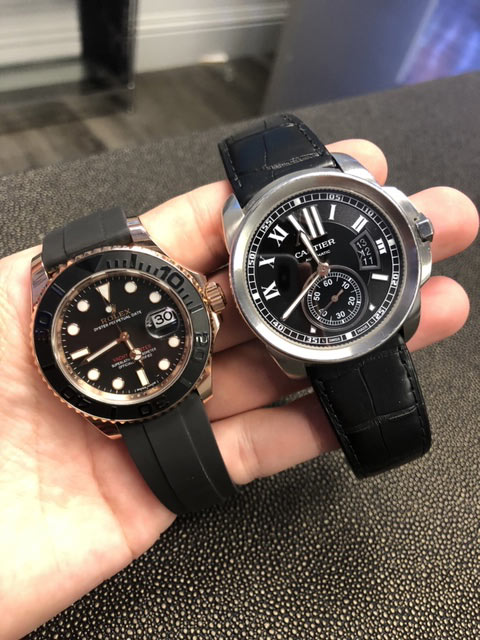 This is one of many editions we've written. If you'd like to read the other's you can check them out here:
How we make our comparison
Some companies focus on the quality of materials and style, some focus on accuracy and precision. Some focus on complication innovations, some focus on prestige and brand recognition.
However, the best watch brands focus on all of the above. So, to say which is best, we must compare them on multiple levels. Here are the following ways we will be comparing Rolex and Cartier…
History/Innovation
Brand Recognition
Versatility/Style
Price (and Materials & Accuracy/Precision)
Resale Value
Without further ado…let's get started.
ROLEX VS CARTIER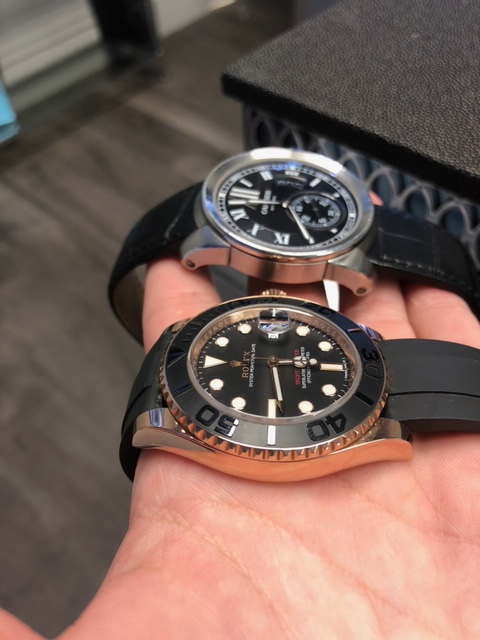 HISTORY & INNOVATION
Rolex has a long history, but Cartier has an even longer one.
Let's begin with Rolex.
Rolex was founded in 1905 by Hans Wildorf, but he didn't actually start producing wristwatches for a couple decades. That being said, when Rolex did begin developing wristwatches, they took the world by storm. In 1926, the company introduced the first waterproof watch called the Oyster, in 1931 they invented (and patented) a self-winding mechanism. Then, in the early 1950s, Rolex began to introduce to the world some of the most iconic models (iconic even to this day), such as the Datejust in 1945, the Submariner in 1953 (first dive watch with water resistance up to 100 meters), GMT Master in 1954 (multiple time zone tracking), and the Day-Date in 1956 (both date and day of the week complication). Years later they invented a deepsea diving watch that had a patented helium gas valve. The watch could go thousands of feet underwater, for long periods of time. This watch is called the DeepSea, another one of their most coveted watches.
We could go on and on with Rolex's innovations, but that's a whole series of posts on its own. Put simply, Rolex was and always has been an innovator. Rolex makes watches for specific purposes within specific niches for extreme conditions: Race Car Drivers, Pilots, Deep Sea Divers, Explorers, Scientist, and more.
Now, Cartier's turn.
Cartier, dates all the way back to France, 1847. Louis-Francois Cartier made jewelry, and he made watches. The company is associated with both royalty and celebrities, they are known as "the jeweler to kings and the king of jewelers". These words were issued by King Edward VII of England himself. But, the main keyword in there is "jeweler". Not to take away from Cartier's impressive history, but there focus has never been solely on watches, and as this is a watch comparison, we will have to leave out a lot of their impressive feats.
Cartier's first wristwatch was a men's watch called the Santos. It was released in 1904 for a Brazilian aviator named Alberto Santos-Dumont. He wanted a practical watch for flying, rather than a pocket watch. Alberto got just that, and the watch was design was a hit, still being produced to this day, albeit in different variations. The Cartier Tank is another long-running line of Cartier watches. It was inspired by the mechanizes military equipment during the Western Front in WWI. It was introduced in 1917. Cartier watches have always been thought of as impressively designed and aesthetically pleasing.
WINNER of History & Innovation:
If you had to compare the companies as a whole, not just on watches, this would be a tough choice, but since it's a watch comparison. Rolex takes the W. They are easily more innovative when it comes to functionality. This is unquestionable. In terms of designs, Cartier is a jewelry brand after all, so they do have a strong history of having solid, iconic watch designs, but still not compatible with Rolex. In the world of watches, Rolex has done much more to change the world than Cartier.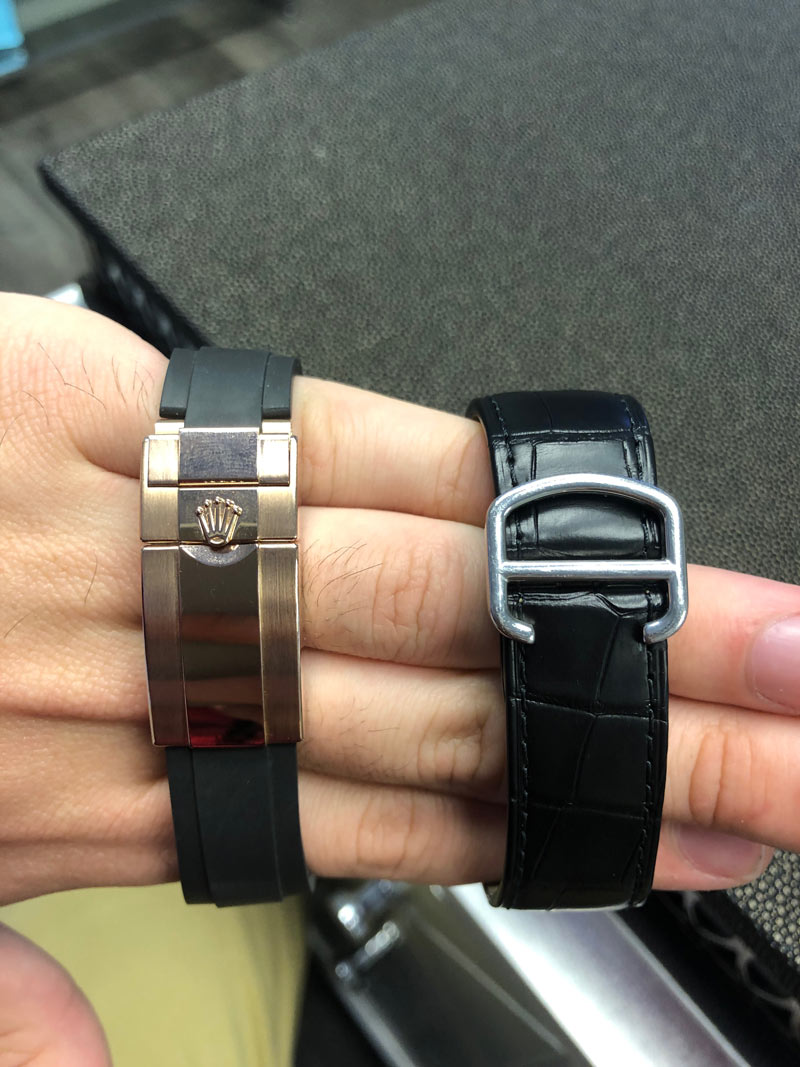 BRAND RECOGNITION & PRESTIGE
This is a tough one. Both Rolex and Cartier have virtually 100% brand recognition internationally. But again, we are talking watches here, and Cartier watches, although many are popular, they don't have the same prestige as Rolex. It's just plain fact. From average joes to watch collectors, you are far more likely to get praise for wearing a Rolex than you are for a Cartier watch.
Moreover, although Cartier watches like Santos and Tank are favorites among certain celebrities, there are far more celebrities promoting their favoritism for Rolex. Now and throughout history. Cartier has the jewelry industry in the bag on that with pieces like the Love bracelet, but watches will be watches.
That's not taking anything away from Cartier watches, it's just how the watch world perceives watches. Cartier is considered more of a jewelry brand to the average person who doesn't know the history of watches. If you compare one of Cartier's most iconic watches, the Tank, with one of Rolex's, the Submariner, you will get a much higher recognition for the model name for the Rolex than the Cartier.
Why is that? Because Rolex has done massive media stunts throughout their history.
This is why Rolex is the #1 most recognizable watch brand in the world. From product placement in massive media stunts like one of the first people to climb Mount Everest, to the person who stayed underwater the longest and the deepest, to the woman who was the first person to swim the English Channel. Rolex has always made their way into the spotlight being the watch that survived the challenge with those people during those iconic moments. In fact, Rolex did so well, that most people are more likely to remember the Rolex model than the person who was actually wearing it. Over the years, this has paid off big time. No one can compare to Rolex's brand recognition.
WINNER of Brand Recognition & Prestige:
Rolex. The above says it all.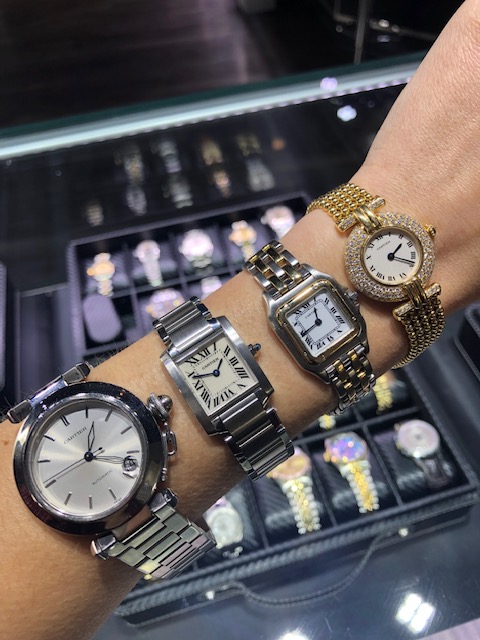 VERSATILITY & STYLE
When it comes down to style, it is a matter of taste. However, there are some points to consider.
Rolex is a sporty watch, Cartier is dressy.
In terms of versatility, Rolex has a lot more of it. You can wear a model like the Sub with jeans and a shirt or with a suit and tie. You can even wear them to the gym.
Cartier, well, they do have some dive watches that are supposed to be sporty, but in the world of high-end sports watches, they are still pretty dressy.
Conversely, Rolex has some dressy models that are still quite sporty.
SO, the big question is, how do you dress, OR, better yet, how do you want to dress? How do you want to be perceived?
No but seriously, think about what you wear on a regular basis. If you are a suit and tie guy, maybe Cartier is best. Furthermore, is aesthetics your thing? Cartier does have the jewelers eye.
That said…if you are more sporty, Rolex is probably your thing.
Moreover, if you want the status symbol though, going back to the last section, as it does relate to style, then Rolex is, again, your best option.
WINNER of Versatility & Style:
Rolex is more versatile when it comes to how you dress. However, Cartier comes in pretty much every case shape, which Rolex only comes in round. So we have to give the overall versatility a tie.
And, Style, well the comes down to personal preference.
Therefore, we have to give this one a big fat TIE.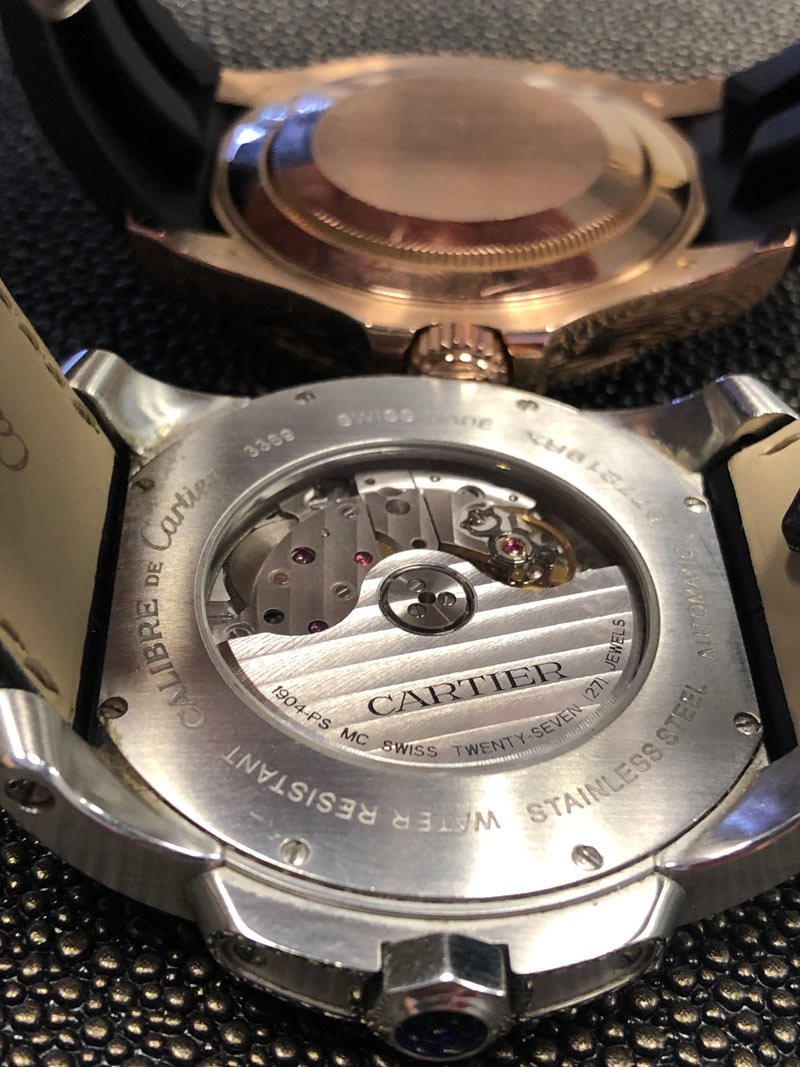 PRICE
It's hard to choose who is a winner of price because it depends on a few factors. Thus, we are going to factor in materials and accuracy and precision of the movement.
Let's start with straight up price…
If we are looking at a retail price of $10,000, which could be difficult, but let's just say for Rolex, you have:
Stainless Steel Submariner 116610LV – approx. $9,050
Datejust 41 Stainless Steel with White Gold Gold Bezel 126334 – approx. $9,350
Stainless Steel GMT-Master II 126710BLRO – approx. $9,250
Those are some classic, iconic, status symbol watches right there.
For Cartier, for $10,000 you could potentially get:
Steel and leather strap Tank MC – approx. $9,950
Two-tone steel and yellow gold Santos – approx. $10,400
Two-tone steel and pink gold Calibre de Cartier Diver – approx. $10,200
These are also some iconic, classic models.
Now, let's look at Materials…
Materials
If you compare Rolex vs Cartier watches of the same price, you will likely get more precious metals from Cartier.
Furthermore, their chronograph models will be less expensive than Rolex's.
Remember though, these are just suggested retail prices. Many Rolex watches are going for much, much more as they are highly coveted. So, for Cartier watches, you could be paying actually much less.
Moving on, as we are done discussing materials.
When it comes to steel, Cartier steel is much poorer than Rolex's patented 904L steel "corrosion-resistant superalloy." This is because Cartier's steel easily oxidizes, as does most steel. That being said, compare Cartier steel with cheaper brands and it's far superior. Rolex is just on another level when it comes to steel. They make the alloy themselves and they have strenuous and very, very high self-expectations.
Let's talk about Accuracy & Precision now, as that is another important factor when you pay for a watch.
Accuracy & Precision
Rolex watches undergo very rigorous testing to ensure the highest accuracy compared to most mechanical watches. This includes the already well-respected COSC chronometers. Rolex achieves a level of accuracy that is +2/-2 seconds per day. Therefore, they are given the designation of Superlative Chronometer.
Cartier watches simply don't have the same superior accuracy as Rolex.
Preowned vs Retail – Take note…
Before we decide on a winner, let us quickly note that pre-owned Rolex's and Cartier's are a different story in terms of price than current retail models.
You can get a host of both Cartier and Rolex watches for under $10,000. But to really compare the two, we need to look at which ones has a wider range, and Rolex wins on that front. Rolex has had some pre-owned watches sell in the millions. Yes, that's millions of dollars for a Rolex watch.
WINNER of Price:
We are going to give this one to Rolex. They have accuracy in the bag, and all other things considered, it's really a tie. Therefore, they have the one up on this one. So, kind of as a cheat by design of this watch comparison, Rolex takes another W.
RESALE VALUE
We will make this one short and sweet. No other watch brand has a resale value like Rolex. It's essentially gold for the entire world.
In our experience, Cartier watches do not hold their values well. They typically lose 40-50% right after purchasing them.
WINNER of Resale Value
An easy win for Rolex.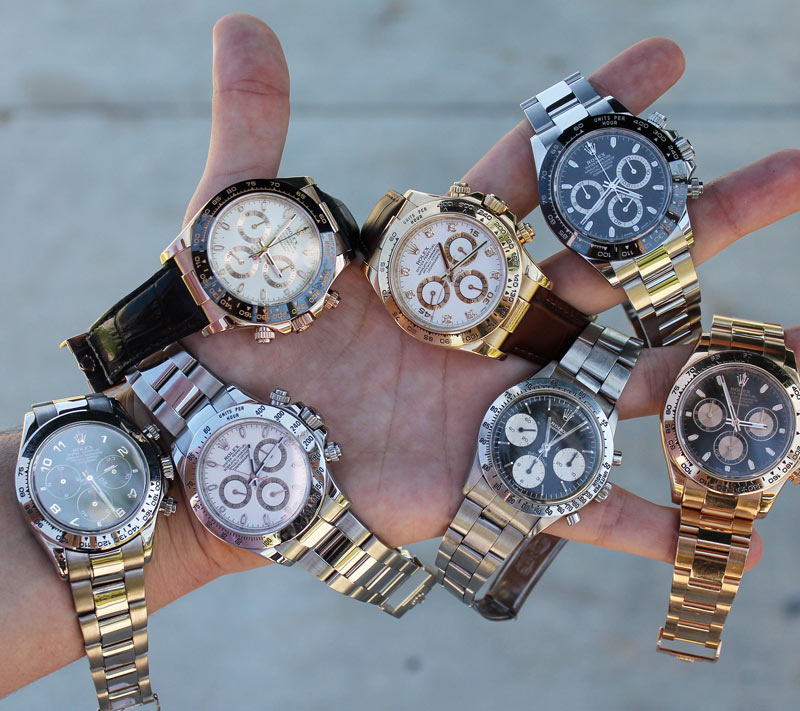 FINAL SUMMARY
As respectable as Cartier is, and they are really, really, REALLY respectable, Rolex is the better watch brand. So, in our opinion, if you are to choose between Rolex or Cartier, go for a Rolex…
Note: We don't want to take anything away from Cartier as they truly do make fantastic watches, and we all know as a jewelry company and brand as a whole, they are seriously top of the world. We are just giving our honest opinion and view on watch companions. It's hard to beat Rolex when it comes to watches.
Who are we? Raymond Lee Jewelers
Raymond Lee Jewelers is one of South Florida's best sales and service centers for luxury watches, diamonds, and high-end jewelry. We are a family business that has spent the last 30 years building a solid reputation selling luxury watches and jewelry at wholesale prices.
Our goal is to meet the needs of our customers at our Boca Raton retail store and online. We also aim to provide our community with the best possible experience when it comes to any fine jewelry dealings. We combine value, quality and the ability to meet and understand the needs of people of all ages.
Raymond Lee Jewelers has one of the largest collections of Rolex watches in all of South Florida.
Have a look at some of our favorite watches from both brands. All are available for purchase online or in store.
Diamond By Raymond Lee's Showroom in Boca Raton, Florida:
2801 N Federal Hwy, Boca Raton, FL 33431
Our hours of operation are:
Monday-Friday – 11 am to 7 pm
Saturday – 10 am to 5 pm
Sunday – 12 pm to 5 pm
Feel free to contact us if you have any questions.