Rolex vs Breitling (Comparison) – Battle of the Luxury Watches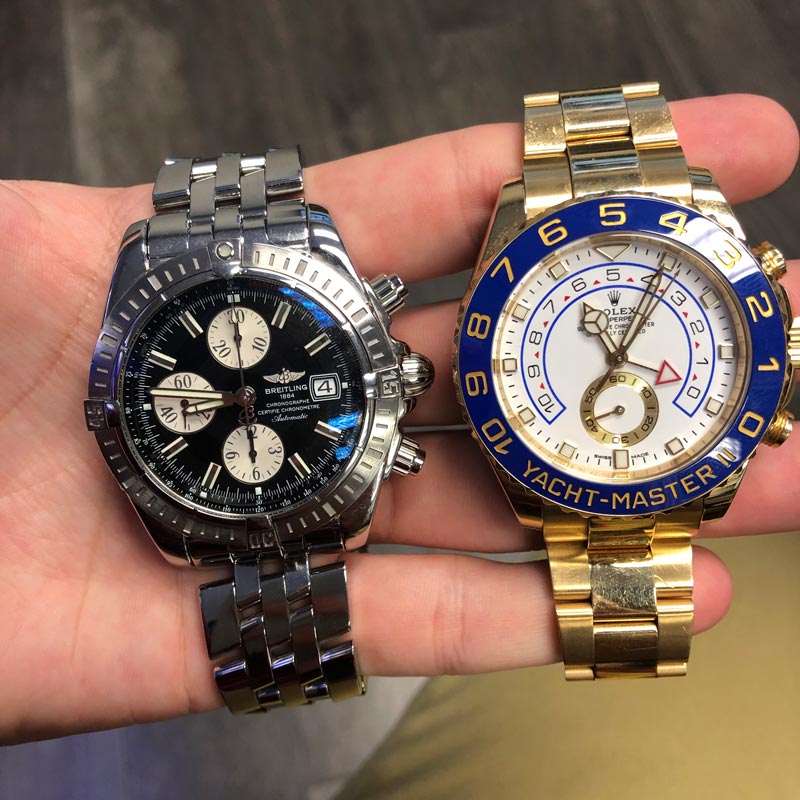 Today we are featuring another "Battle of the Luxury Watches" – ROLEX vs BREITLING edition. 
Rolex vs Breitling – You might be surprised by how often people ask, "which is a better watch, Rolex or Breitling?" This question can be answered depending on several factors, but when it's all said and done, it really comes down to personal preference.
In this Battle of the Luxury Watches – Rolex vs Breitling edition, we are going to break down the comparison and choose a winner based on the following factors:
History
Brand Recognition & Prestige
Price
Movement
Resale Value
Then to end it all, we are going to decide on the final winner. We are also going to tell you our (Raymond Lee Jeweler's) personal favorite between the two brands and show you a few models from each brand that we sell at Raymond Lee Jewelers in Boca Raton.
Rolex vs Breitling – Story & History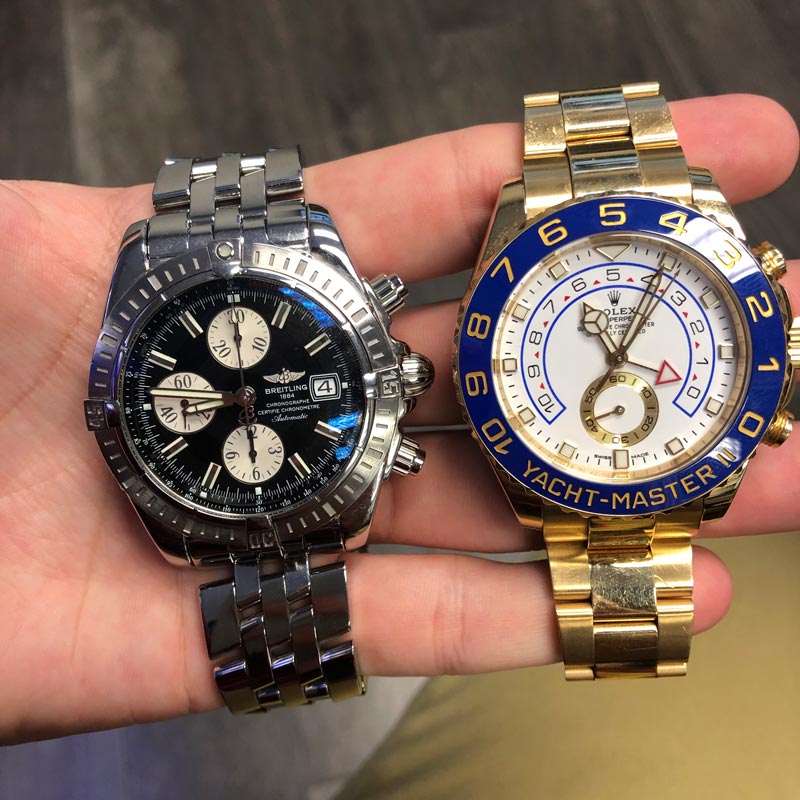 Both luxury Swiss watch brands are prestigious trailblazers in the watch industry. Since their founding, both Rolex and Breitling have worked incessantly to establish their brand as a leading watchmaker. Both brands have also built a strong name within watch culture.
Although both brands are excellent, over the past century, they have taken their own unique approach and path in the business and fine craftsmanship of watchmaking.
Rolex
Rolex was founded as a watch distribution business in 1905 by Hans Wilsdorf. Although it wasn't called Rolex at that time. The name "Rolex" didn't actually come about until Wilsdorf created his first timepiece. Wilsdorf focused his efforts on crafting extremely high-end movements, complications, and materials.
It wasn't until the late 1940s and early 1950s that Rolex began to release some of their most iconic models, which would go on to become household names to this day. First, they introduced the Datejust in 1945. It was the first self-winding wristwatch that could display the date on the dial. Next was the Submariner in 1953, which was the first dive watch, water-resistant up to 100 meters. Then the GMT Master in 1954, a watch made for pilots that could tell the time in multiple time zones simultaneously. Two years later, the Day-Date, which could display the date and day of the week on the dial.
Rolex was an innovator, and they made watches for specific purposes within specific niches. They made a watch for deep-sea divers, pilots, car racers, scientists and more. And, they used this fact incredibly well for marketing purposes. They made huge product placement stories in the media
Rolex was, and still is, the best at marketing. A huge reason why they became the most iconic watch brand in the world. In recent years, Rolex has continued to expand, spreading their attention to pop culture and sports by creating sponsorships with influencers and building strong ties in various industries, including golf, motorsports, tennis, and sailing.
Breitling
Established by Leon Breitling in 1884, Breitling began humbly in a small workshop that specialized in creating chronographs and precision watches. Similar to Rolex, their designs had a specific purpose. For Breitling, it was sports and science, and other niche industries. One of the initial focuses of Breitling was the creation of precision instruments for aviation.
Breitling put out their most noteworthy models in 1952. They released the Navitimer, which is also known as the Super Chronograph. The Navitimer came equipped with state-of-the-art "navigation computer" functionality. This feature allows for precise calculations during flight plans. Breitling progressed their work on chronograph function through the 1960s. During this time, they invented the self-winding chronograph movement. This revolutionary innovation in the world of horology came about in 1969 in collaboration with watchmakers Buren, Heuer, and Dubois-Depraz. It was s secret partnership that was coined "Project 99". Over a decade later, Breitling came out with another one of their most iconic watches, the Chronomat.
In recent years, Breitling has never wavered in the dedication to develop the best choreograph watches. In 2009, Breitling debuted their Caliber 01, Breitling's most precise self-winding chronograph movement ever.
To Sum it Up
Both Breitling and Rolex have left their mark in the history of horology thanks to their relentless pursuit to develop the finest caliber watches the world has ever seen. Both iconic brands have a strong dedication and continue to pursue innovations and improvements.
WINNER…
This is a tough choice as both Rolex and Breitling have an extremely respectable history. However, we have to choose Rolex as they have left a greater mark on the world in terms of prestige and brand recognition, which is now the next comparison that we want to discuss.
Rolex vs Breitling: Brand Recognition & Prestige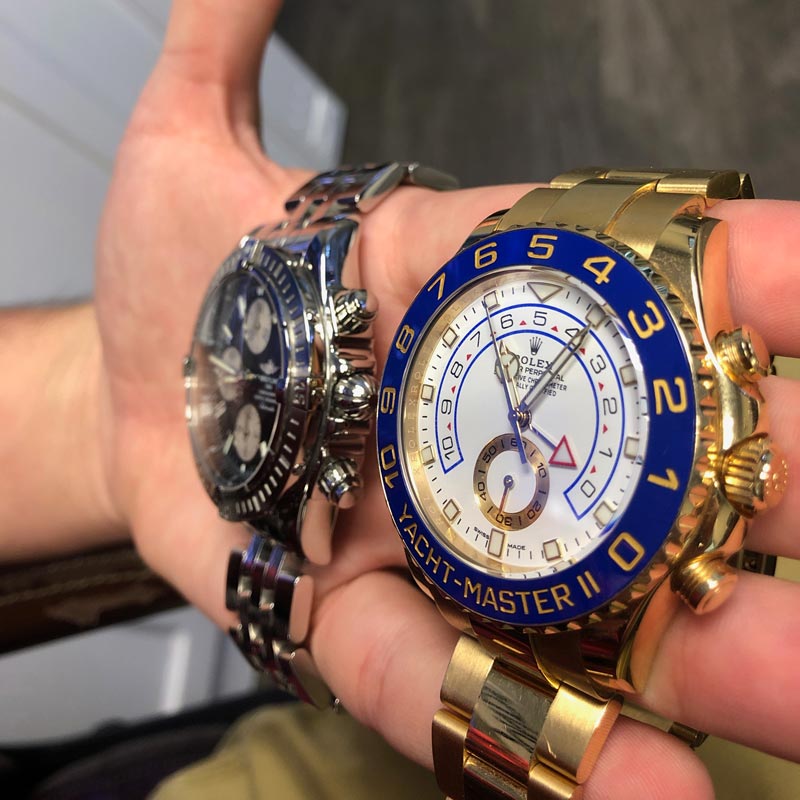 Rolex
Ranking as the #1 most recognizable Swiss watch brand in the world. Essentially, Rolex has 100% brand recognition globally.
Breitling
Ranking in at #15 on this same list of most recognizable Swiss watch brands in the world.
So, when it comes to brand recognition, Rolex wears the crown, literally. Although Breitling is a major brand, they don't have nearly the same brand recognition. For the vast majority of people, when someone says "luxury watch", Rolex is going to pop in their head first and Breitling likely won't even come to mind until they run down a list past other luxury watch brands like Audemars Piguet and Patek Philippe.
It's like saying coffee, it's almost synonymous with Starbucks. Rolex is the Starbucks of watches.
Again, that's not to say Breitling isn't a major player, because they are. With a simple Google search of 'top luxury watch brands', you will see Breitling in the search results.
Not many other brands have the same prestige as Rolex. When you wear a Rolex, you are going to get compliments on it. And if you are wearing a Breitling, you will get a small fraction of the compliments you'd get by wearing a Rolex. Unfortunately, this just goes to show the lack of knowledge the average person has on luxury watches because Breitling is a marvelous watch brand and anyone who knows watches will agree with this. So when you get that compliment wearing your Breitling, you can be almost sure that person who complimented you knows their watches.
WINNER of Prestige: ROLEX…by a long shot.
Rolex vs Breitling – Price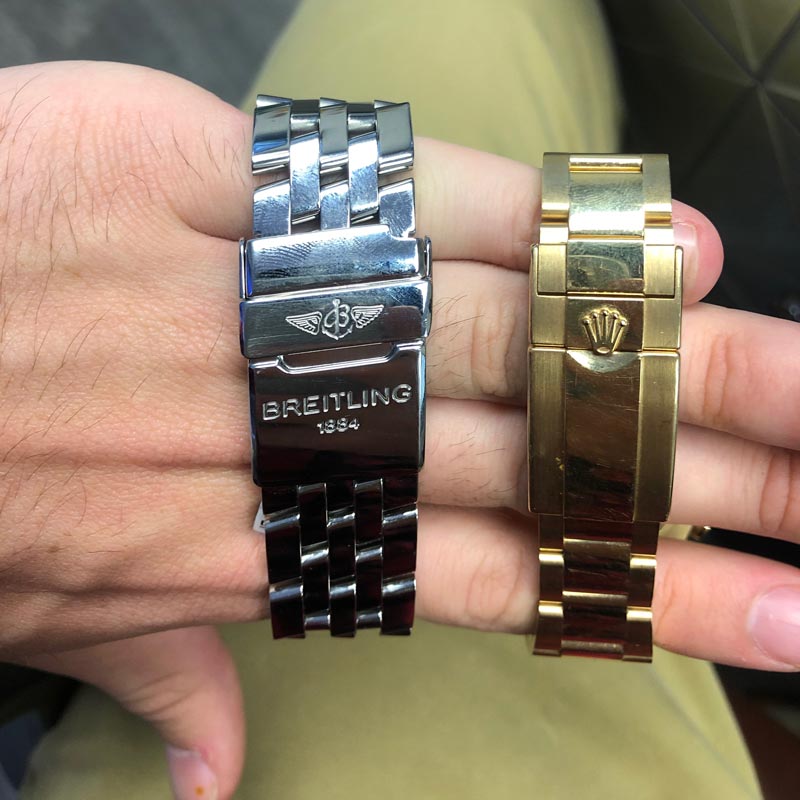 Rolex
The cheapest Rolex is about twice the price of the cheapest Breitling. Right now, to enter into the Rolex world, it will cost you $5,700. This is the price for their new Rolex Oyster Perpetual 39mm men's watch. The next cheapest Rolex is their ladies watch, the Rolex Datejust 33mm, which costs around $500 more than the Oyster Perpetual. Rolex's most iconic watch, the Submariner, has an entry-level price of around $8,000 for the standard model.
Breitling
Entry into the Breitling club will cost you about half of what an entry-level Rolex costs. For men, this will get you Breitling's 44mm Breitling Colt Quartz. For women, you can get the 33mm and 36mm Colt Lady watch.
MOVEMENT
All Rolex watches have mechanical movements made in house by Rolex themselves. Mechanical watches are considered to be the most prestigious types of movements by watch collectors. This is something Rolex prides themselves on.
The entry-level Breitling watches use Quartz movement, which is cost-effective and battery-powered. So, when determining price, this is a big factor in why Rolex is more expensive than Breitling…they only use high-end, high-precision mechanical calibers. So, you get what you pay for.
Note: Rolex did use quartz movements in the past. The Rolex Oysterquartz was last featured in a 2001 catalog but has since been removed completely as Rolex wants to only focus on the best of the best in all regards to watches, and this includes movement.
They take the craft of horology very seriously. Rolex wants the most reliability and accuracy and will only use a caliber with a Superlative Certification. Furthermore, they even stated once that "go and make your own movement" which was a clear shot at any luxury watch brand that outsources their movements.
It should be noted that Breitling also creates their own in-house movements. And they take just as much pride in horology. Breitling makes all of their own chronographs, and they have some of the best the world has ever seen (as we've mentioned in more detail in the History section above).
WINNER of Price & Movement: ROLEX
Although their entry-level watch prices are more expensive, they are of a much high caliber. So we are giving Rolex the W here by factoring in the quality of movement and price.
However, when considering some of the brands more popular models, Breitling also uses high caliber chronograph watches, and many of their popular watches are still significantly less expensive than popular Rolex watches.
All in all, when it comes to price, there are a lot of factors to consider when choosing which brand is best. If you are giving the win to the more affordable option, then Breitling wins. If you are considering the price you pay for what you get, including prestige, Rolex is an easy winner…
But, if you are considering the resale value, that's a completely different story, and this leads us to our next comparison…
Rolex vs Breitling – Resale Value (Which brand holds its value best?)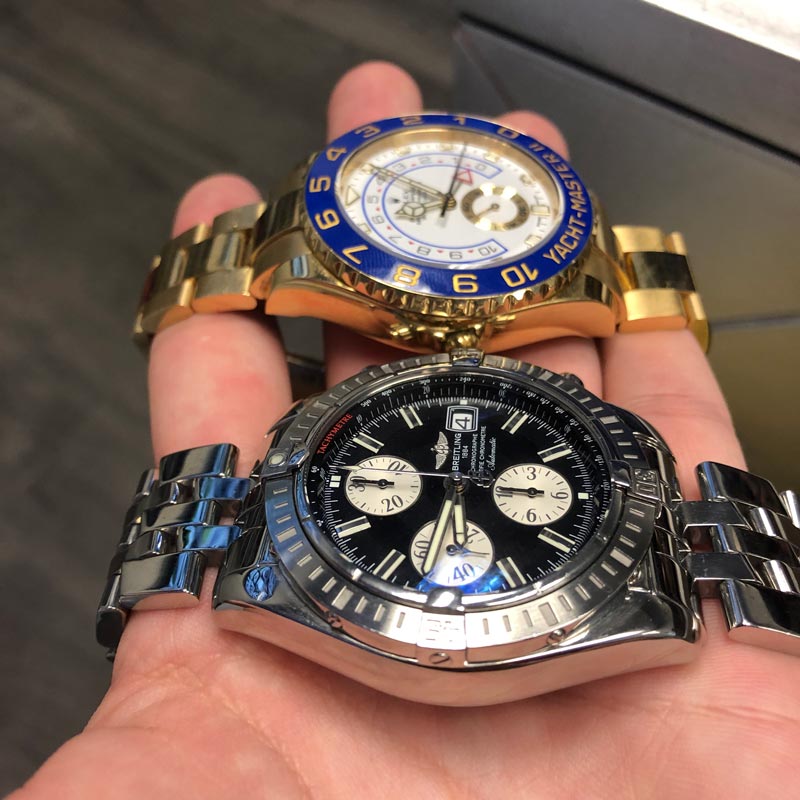 Rolex
A Rolex is pretty much as good as gold in terms of resale value. You can sell a Rolex no matter which part of the world you are in.
Rolex watches, on average, have the best resale value of all luxury watches. Why? This comes down to brand recognition and prestige. There is a direct correlation between resale value and brand prestige. People want watches that are iconic and rare so they will pay even if they are pre-owned. Rolex does a good job at marketing watches to become iconic and keeping production low to make them rare.
That being said, not all Rolex watches are created equally. The Rolex's with the best resale value are Daytona, GMT Master I and II, Sea Dweller, Submariner, Day-Date, Explorer and Yachtmaster models. Many of these models may even someday be worth significantly more than what you paid for it brand new. It's common to see a vintage Rolex sold for substantially more money than what the owner paid for it at MSRP decades ago.
For example, the Paul Newman's Rolex Cosmograph Daytona, which is one of the rarest and most highly coveted Rolexes, sold for $17.8 MILLION at auction.
Breitling
As excellent as they are, don't have the same resale value. The most expensive Breitling ever sold was their Breitling Bentley Collection (R4436563/A657), which sold for $173,500. So, as you can see, there is a huge difference between the two brands. Rolex has had many watches sell for over a million dollars.
With all luxury watches, you are going to take that initial loss from brand new to pre-owned. As soon as you buy a watch that is brand new and wear it, it drops around 20% in total value.
It's similar to cars, as when you drive one off the lot, a chunk of its value is gone. The difference in cars and watches are, from there the luxury watch won't lose much value, unlike a car, with more miles, it keeps going down. Many times, a watch with "more miles", meaning "more patina" will actually increase in value. And many of the popular models will reach their initial MSRP value at a 10-15 year mark. So the price drops, then slowly increases after time.
Buying a Rolex or Breitling Pre-owned
If you buy a Rolex or Breitling, or any luxury Swiss watch for that matter, pre-owned, the resale value won't be much different than what you paid for it. This is because the person who bought the watch brand new already took the initial hit from brand new to selling it, pending it was sold within a decade. Again, older models may even be worth more than MSRP when sold pre-owned.
So, if you are buying a pre-owned Rolex or Breitling, you shouldn't worry too much about resale value, and both will do well to retain value. However, Rolex is much more likely to increase in value.
WINNER of Resale Value: ROLEX
When it comes to reselling a Rolex or a Breitling, Rolex wins without a second thought. No other brand has the same resale value as Rolex. That being said, it does depend on the model. You can't compare a Rolex Oyster Perpetual 39mm with a Breitling Windrider Blackbird, for example.
Rolex vs Breitling – FINALE
Although Rolex has won each of the comparison sections above, it is still a hard choice to decide on which is a better watch as it really comes down to personal preference. Both brands have a long history and produce incredibly well-made watches. They are works of art with precise and accurate movements. It's like comparing a Lamborghini to a McLaren. It all matters on what YOU think is best.
That being said, in our humble opinion, Rolex is the winner. They have much larger brand recognition and better resale value. Moreover, as much as we like the style and craftsmanship of Breitling, we think Rolex has a greater variety of styles and we personally prefer the look of most Rolex watches over Breitling. So, as a whole, we choose Rolex to be the Winner of this Battle of the Luxury Watches – Rolex vs Breitling.
WINNER: ROLEX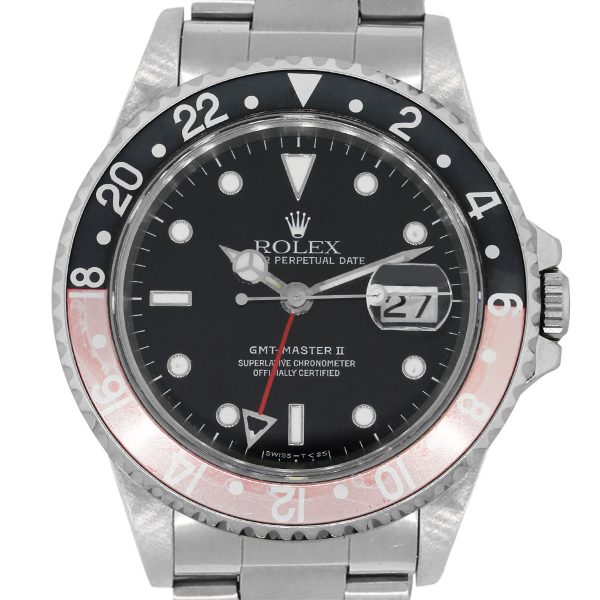 Other watch comparisons:
THIS ROLEX VS BREITLING COMPARISON WAS MADE BY RAYMOND LEE JEWELERS
Raymond Lee Jewelers is one of South Florida's best sales and service centers for luxury watches, diamonds, and high-end jewelry. We are a family business that has spent the last 30 years building a solid reputation selling luxury watches and jewelry at wholesale prices.
Our goal is to meet the needs of our customers at our Boca Raton retail store and online. We also aim to provide our community with the best possible experience when it comes to any fine jewelry dealings. We combine value, quality and the ability to meet and understand the needs of people of all ages.
Raymond Lee Jewelers has one of the largest collections of Rolex watches in all of South Florida.
Let's have a look at some of our favorite watches from Rolex and Breitling
Pre-Owned Rolex Watches For Sale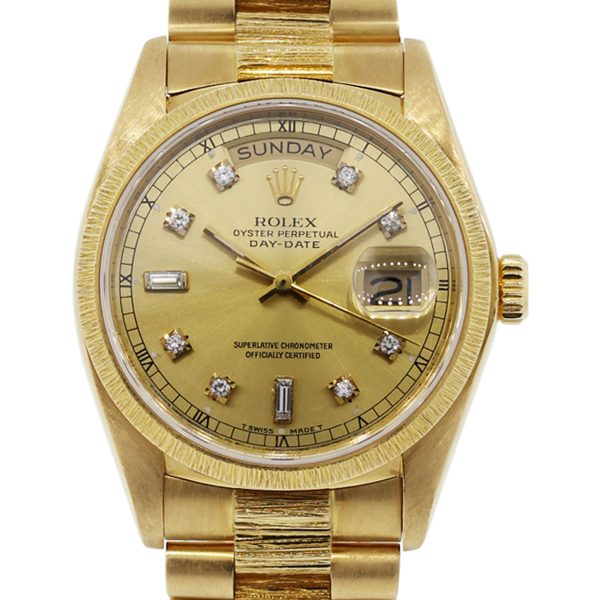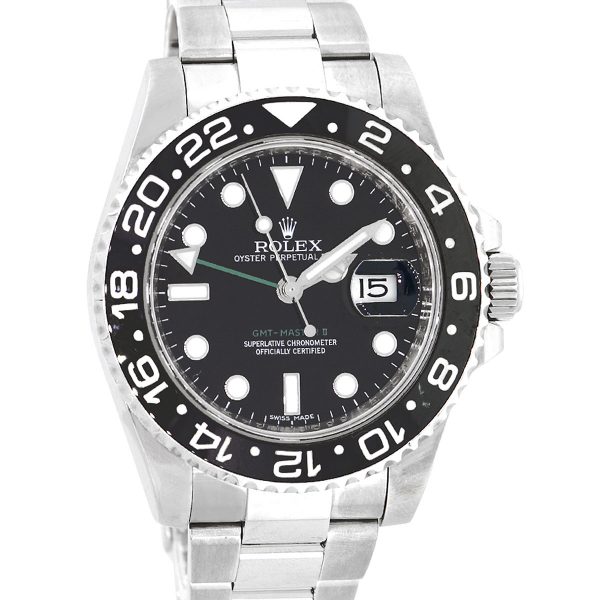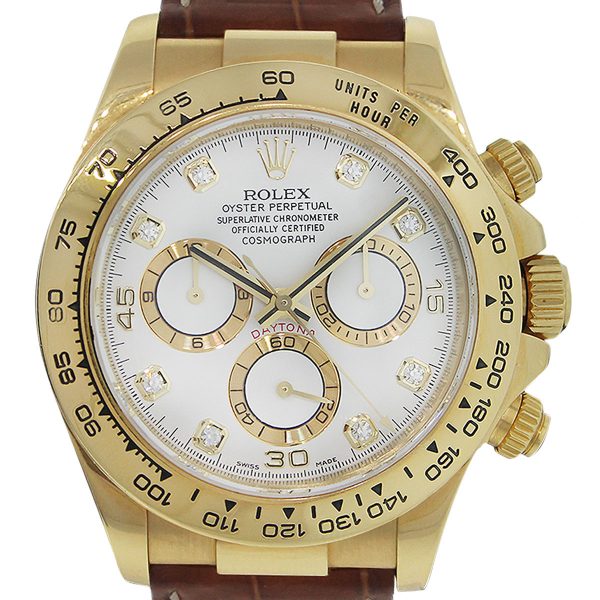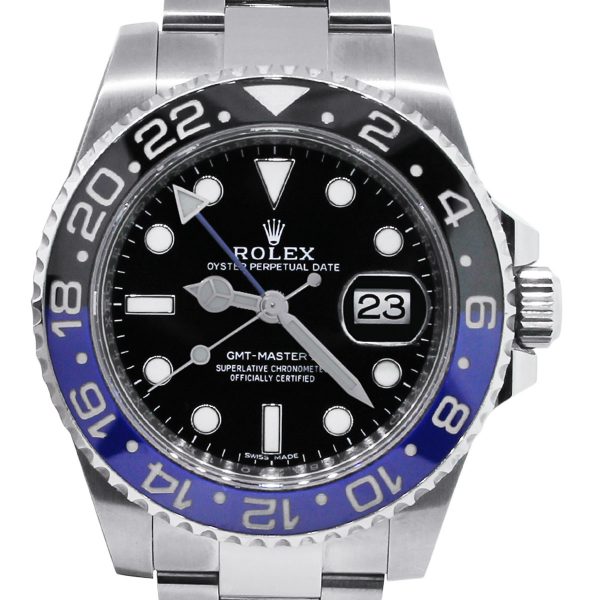 Pre-Owned Breitling Watches For Sale