Rolex vs AP: Which is the Better Watch Brand?

Today we are comparing two of the most coveted and iconic watch brands in the world – Rolex vs AP. We hope this comparison will help you in determining which brand is the better choice for you.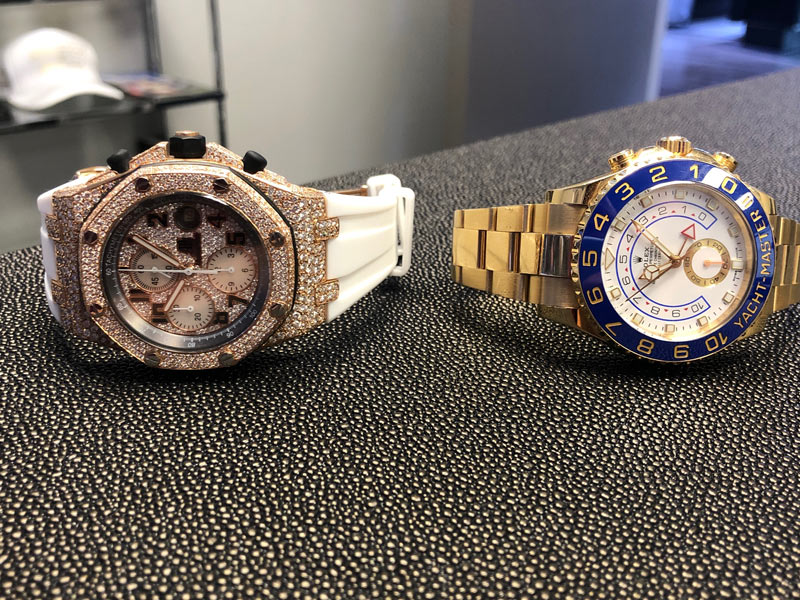 Before we begin, let's just make it clear that there are many exclusive watch brands out there and as with many things in this world it really comes down to a matter of personal preference.
That being said, there are ways to make a useful comparison by breaking things down into certain values, such as:
History (& Brand Focus)
Brand Recognition
Craftsmanship & Quality
Accuracy
Price
Investment & Resale Value
Then, when you look at these values carefully, you can decide which brand suits you best – Rolex or AP.
For example, maybe you want the brand with the strongest reputation and recognition,
or…
Maybe you want a watch that has the finest craftsmanship…maybe you want a watch that is extremely durable and accurate…or…maybe you want the brand that is more superior in the majority of these aspects.
All of these things are motivating factors, and when spending a lot of money on a luxury watch, they are important to understand fully.
Thus, today we are going to give you our opinion on each of the above aspects/values using our 30 years of experience in the luxury watch industry. Our hope is that you will be more informed after reading this. That way, you can make the right decision and be happy with your purchase.
Rolex vs AP
We figured the best way to start this comparison is to point out a few things these brands have in common:
Swiss watchmaking brands
Expensive high-end, luxury watches
Enthusiastic fan bases
Iconic watch models (i.e. Royal Oak and Submariner), which are highly recognizable to essentially everyone
In-house mechanical movements
Strong marketing, sponsorships, and brand ambassadorship
Independent companies (not part of a large conglomerate)
So, now that we understand the brand's similarities, let's discuss their differences. We have broken all of the aspects down into sections to keep things organized.
Let's begin…
HISTORY
Both companies have a long history, although Audemars Piguet's is 30 years longer.
AP was founded in 1875. Rolex was founded in 1905.
When comparing history, we shouldn't look at simply which brand is older, we should look at their achievements over the years to see who's history is richer.
AP's History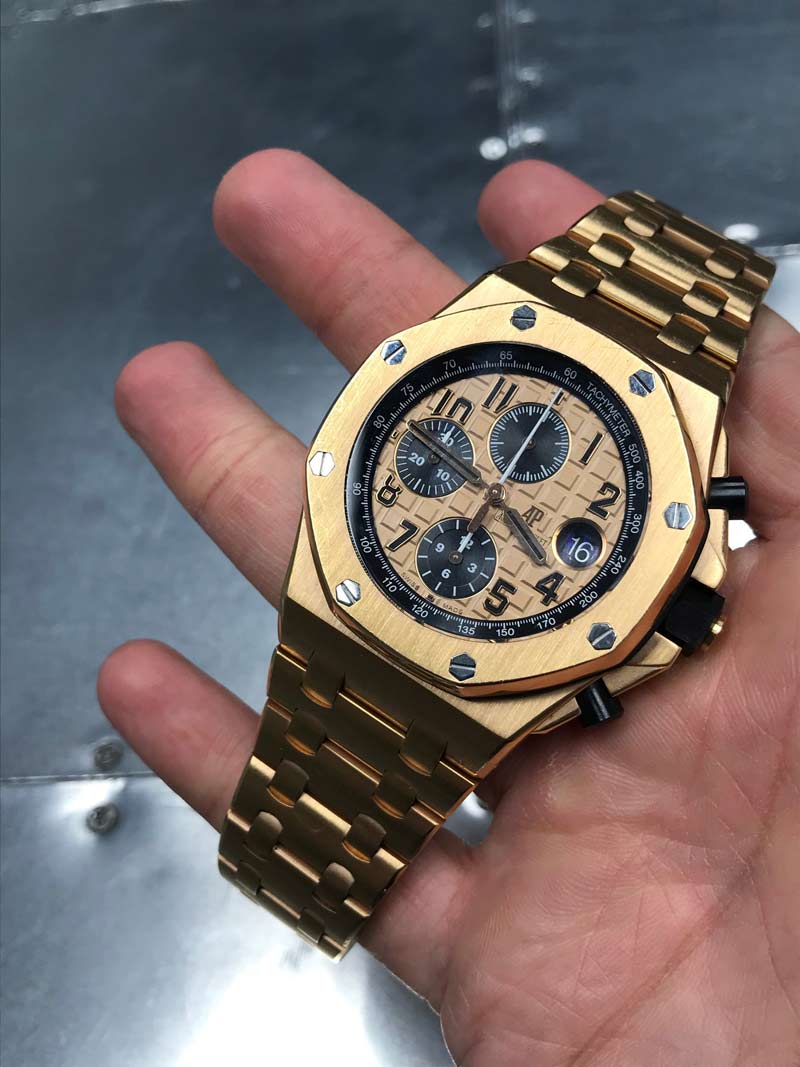 Audemars Piguet has a long history focusing on complications. For those who don't know what complications are, it essentially means functions beyond simply telling time.
A quote from AP's website says a lot to confirm their value in complications as a company:
"Striking mechanisms, chronographs and astronomical complications were and are the domain of Audemars Piguet. Of the approximately 1,500 watches produced by Audemars Piguet between 1882 and 1892, the company ledgers demonstrate that over 80% of them included at least one complication, and in many instances, numerous complications."
The proof is in the pudding, though. And they have that sweet, sweet pudding.
In 1882, Audemars Piguet released the world's first minute repeater wristwatch. Then in 1899, they came out with the ultra-complicated "Universelle" pocket watch. Over the years they had a few other "world's firsts", such as the first perpetual calendar wristwatch with leap year display and the first self-winding tourbillon wristwatch.
In 1972, AP made a major shift with the release of their Royal Oak. It was a robust steel sports watch that only offered the time and date. The Royal Oak was a big change from their usual highly complicated dress watches…and surprisingly, it was a major hit. The Royal Oak is now one of AP's most iconic watches.
The Royal Oak collection now has ultra-complex models, such as the Royal Oak Grande Complication, among many others.
Fast forward to the modern day and AP has many collections, like the Millenary, Jules Audemars, and Classique, but the backbone of their company is really the Royal Oak and Royal Oak Offshore collections.
Rolex's History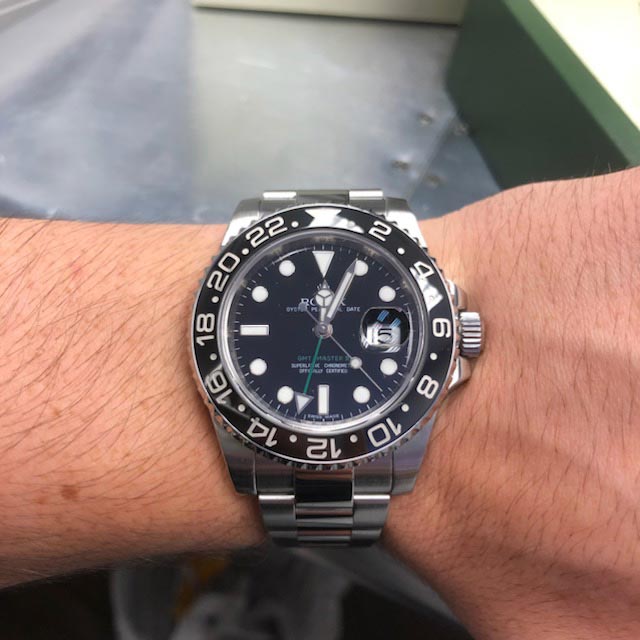 Throughout Rolex's history, they have been tremendously focused on waterproof watches.
A quote from Rolex's website can provide us some insight into this important value of theirs:
"In 1926, the creation by Rolex of the first waterproof and dustproof wristwatch marked a major step forward. Given the name "Oyster", this watch featured a hermetically sealed case which provided optimal protection for the movement."
However, Rolex is much more than a waterproof watch. They have produced many practical watches for different purposes and niches over the years. There is the Datejust, which was the first self-winding wrist chronometer that indicates the date. Then you have the Submariner (1945), which was the first diver's watch, waterproof to a depth of 100 meters. In 1953, the GMT-Master that could track two time zones and it was made for commercial pilots. The Milgauss which was made for scientists in 1956, it could withstand magnetic fields up to 1,000 gauss. The list goes on…race car drivers, deepsea saturation divers, sailors, and more.
So, it seems that many watch enthusiasts who state "Rolex is a workhorse (which it is) but they don't produce complications", are wrong. Although AP has a wider selection of complications, many of which are more sophisticated as well, Rolex has put out some really interesting complications too. The Sky-Dweller has an annual calendar, the Yacht-Master II has a regatta timer, the GMT-Master II has a GMT function with a jumping hour hand, and that's just to name a few.
Marketing & Media
Beyond both brands impressive histories in watchmaking innovations, they also made incredible collaborations with celebrity ambassadors.
Rolex and AP have done product placement very well, which is a major reason why they are so well known. Yet, when it comes to media stunts, Rolex has a leg up on AP. Rolex was featured in major stories via brilliant product placement, such as Mercedes Gleitze who swam the English channel with her Rolex Oyster or the expedition of Mount Everest with the Rolex Explorer being the first watch to make it to the top, and perfectly functioning at that. They put Rolex watches in extreme conditions, and Rolex became the "extreme" luxury watch because of it.
Not only did this make Rolex incredibly popular and recognized, it set the tone for people to consider the brand as more than just a watch, but also a tool.
Now, it's hard to determine which brand is better based on history alone, as it comes down to which of their histories and focuses appeals to you more. However, we can qualify it by which brand has a stronger brand recognition, which, of course, is greatly due to their history.
BRAND RECOGNITION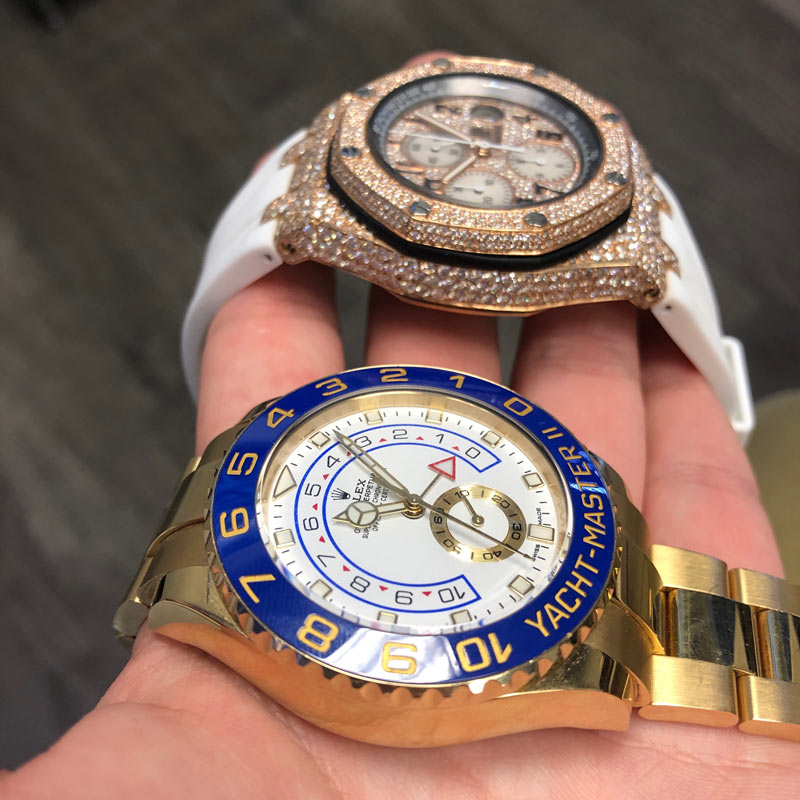 When it comes to brand recognition, Rolex is the most recognizable luxury watch brand in the world. They have pretty much 100% brand recognition.
AP, on the other hand, is a more exclusive watch brand, so the average person may not recognize just how special an Audemars Piguet is.
In terms of the watch community, AP is certainly considered the better brand between the two. In fact, Rolex hasn't even made it to the Big 3, which is Patek, AP and Vacheron.
So, to answer this question simply, if you are looking for absolute brand recognition for the general population, Rolex has much stronger brand recognition. However, if you are looking to impress the watch community, AP is the more impressive brand.
Regardless, both watches are FANtastic.
CRAFTSMANSHIP & QUALITY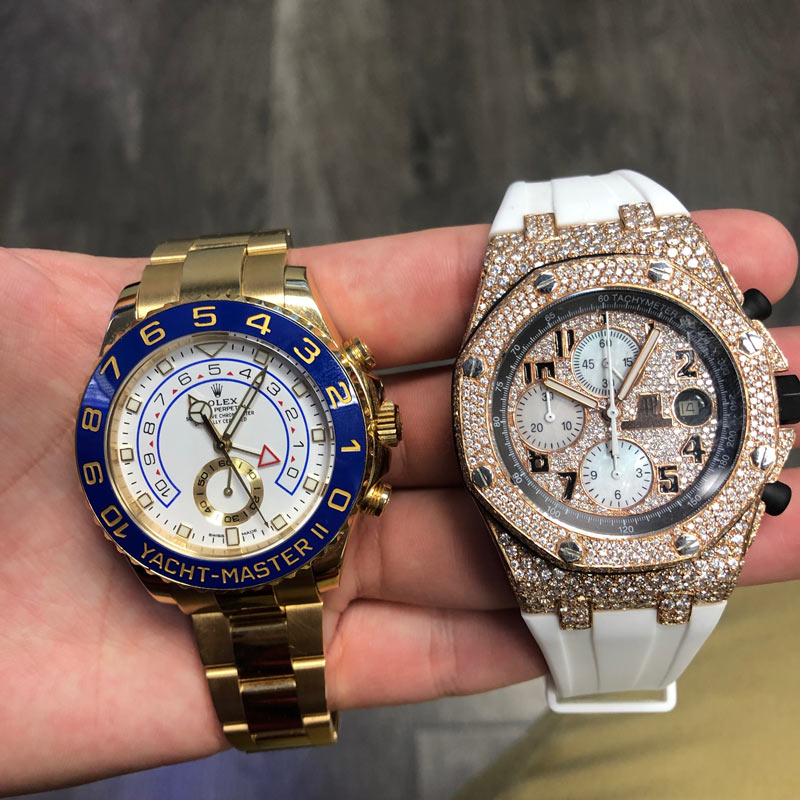 Both brands have spent over a century perfecting the art of watchmaking. So, the craftsmanship and quality of Rolex and AP are top-notch.
That said, the brands have different focuses when it comes to their craft. Rolex prides itself on accuracy and durability while AP is more focused on the artistic side of the craft. You can see the difference quite clearly just by looking at their movements.
AP is absolutely meticulous about every single component of the movement and they finish their watches to perfection. In this sense, they really are on another level than Rolex. Not that Rolex's caliber isn't high quality, because it is, very much so. It's just AP has that extra detail and supremely fine finishing. Audemars Piguet's motifs, engravings and over all feel just seems higher quality. And, again, that's saying a lot considering Rolex watches are truly superb quality.
To sum this up, if you are looking for a tool watch, Rolex can't be beaten. They are much more durable and their movements, although not the most beautiful, are that of a workhorse which will tick year after year.
Now, if you are looking for a prestigious watch that is a piece of art, AP is the way to go. AP is considered advanced craftsmanship even among the finest luxury watches.
It is said that AP is 80% jewelry and 20% tool, while Rolex is 60% jewelry and 40% tool. This statement makes it clear for most people that we discuss this with.
ACCURACY
Which brand is more accurate, AP or Rolex?
Rolex is known for their accuracy. Their watches achieve the highly respected Superlative Chronometer, which means they've been regulated and tested to an accuracy of -2/+2 second per day. Pretty much every Rolex of modern time meets this level of precision.
Audemars Piguet doesn't focus on or advertise accuracy the way Rolex does. This is because they don't have the standard minimum precision that Rolex has. When it comes to the accuracy of AP, it really depends on the model of the watch, the movement, and how long since its last servicing. Moreover, it also depends on how often the person wears it and what their level of activity is. AP isn't as durable so these points affect the accuracy of the watch.
So, if you are wondering, which is more accurate, a Rolex or AP watch? The answer is Rolex.
However, in all honesty, if you are looking at accuracy alone, mechanical watches are not the way to go. Accuracy is actually better on quartz watches, which are much less expensive. Quartz watches are battery powered and they have a level of precision that mechanical watches simply can't attain.
PRICE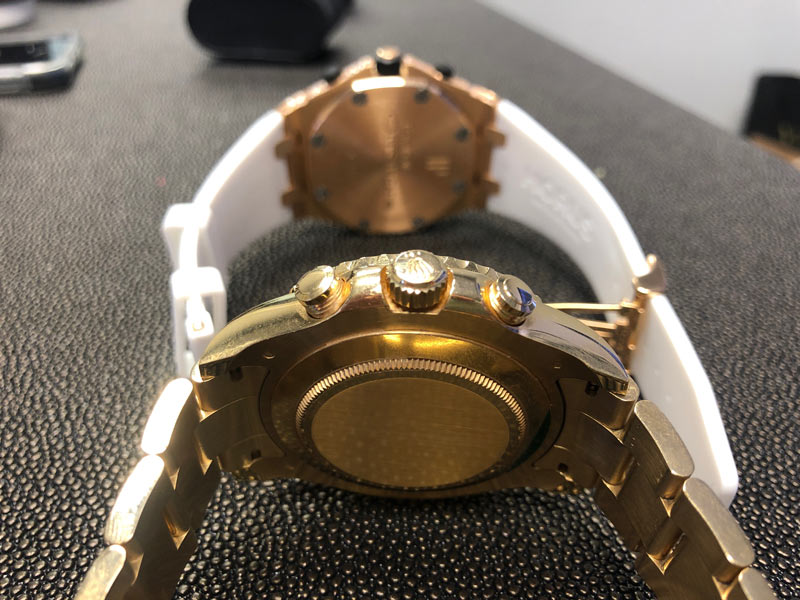 Which is more expensive Rolex or AP? The short answer is, they are both expensive and it depends on which model.
So, let's look at this from an entry point level. The entry point of a Rolex is much lower than an AP.
For example, a Royal Oak Self-Winding 41mm watch will run you around $17,800 while a Rolex Oyster Perpetual 39 will cost $5,800. However, let's compare the Royal Oak with a more iconic Rolex watch like the Submariner, which is still only $8,550. So, when it comes to entry price, you can pretty much get two Rolex watches for the price of one Audemars Piguet.
Let's wrap this up by making it clear that there are Rolex's that are much more expensive and that will compare in pricing with AP, especially those made of precious metals and set with gems. But, on average, AP is the more expensive brand, by far.
Remember, this means servicing is also more expensive on an AP too.
INVESTMENT & RESALE VALUE
Which is a better investment, AP or Rolex?
Well, they are both good investments in terms of watches as AP and Rolex hold their value well. In fact, the only other luxury watch brand that compares is Patek Philippe.
Nevertheless, not all AP and Rolex watches will hold their value well. On average, though, Rolex watches hold their value better than AP.
As a matter of fact, Rolex holds its value better than any other watch brand. This is because Rolex collectors are crazy about Rolex.
Moreover, the high demand goes beyond just watch collectors. A big reason why Rolex's resale value is so good is due to its brand recognition being the highest.
Rolex has such a high demand that most of their rarer watches will increase in value tenfold.
When looking at the most expensive Rolex and AP ever sold at auction, this becomes clear.
The most expensive Audemars Piguet ever sold is the Royal Oak Complication Audemars Piguet Watch: $ 869,000.
The most expensive Rolex ever sold is the Paul Newman's Rolex Cosmograph Daytona: $17.8 MILLION.
Rolex is like gold, so if you are looking for the better option in terms of resale value, Rolex is the safer bet.
Which should I buy Rolex or AP?

Now that we have run through some of the most important factors to consider, we hope your decision becomes a bit easier.
If you want an incredible tool watch that is extremely durable and that every single person is going to recognize, go for Rolex.
If you want the piece of horological art with gorgeous finishing and advanced complications, go for AP.
The choice is yours:
See more watch comparisons: