The Rolex Day-Date 18948 is a luxury wristwatch that is part of the iconic Day-Date collection. The day date first appeared in 1956 and has since become a classic timepiece. It is famous for its design and beauty. And one of the special models of this famous collection is the Rolex Day Date 18948.
The Day-Date 18948 has an 18k yellow gold case, with a round case measuring 36mm in diameter. The dial is also from an 18k yellow, rose, or white gold bracelet. It features Roman numeral hour markers, a date display, and a day-of-the-week display. 
Another notable feature of the Rolex pre-owned Day-Date 18948 is its automatic movement. The watch features a self-winding mechanical movement. As expected, the Official Chronometer Testing Institute (COSC) has certified it. This means that the movement has passed rigorous testing for accuracy and reliability.
The Rolex pre-owned Day-Date 18948 is a timeless and elegant timepiece that represents luxury. It is a favorite among collectors and enthusiasts alike. And it continues to be a sought-after model in the Rolex lineup.
What Is a Rolex Pre-Owned Day Date 18948 Watch?
A pre-owned watch means a second-hand watch that someone else wore before. We know that most people believe that pre-owned watches have seen a bit of use and might have scratches. Contrary to popular opinion, getting a pre-owned watch saves you stress. You would not need to deal with tears if you get them from the right source.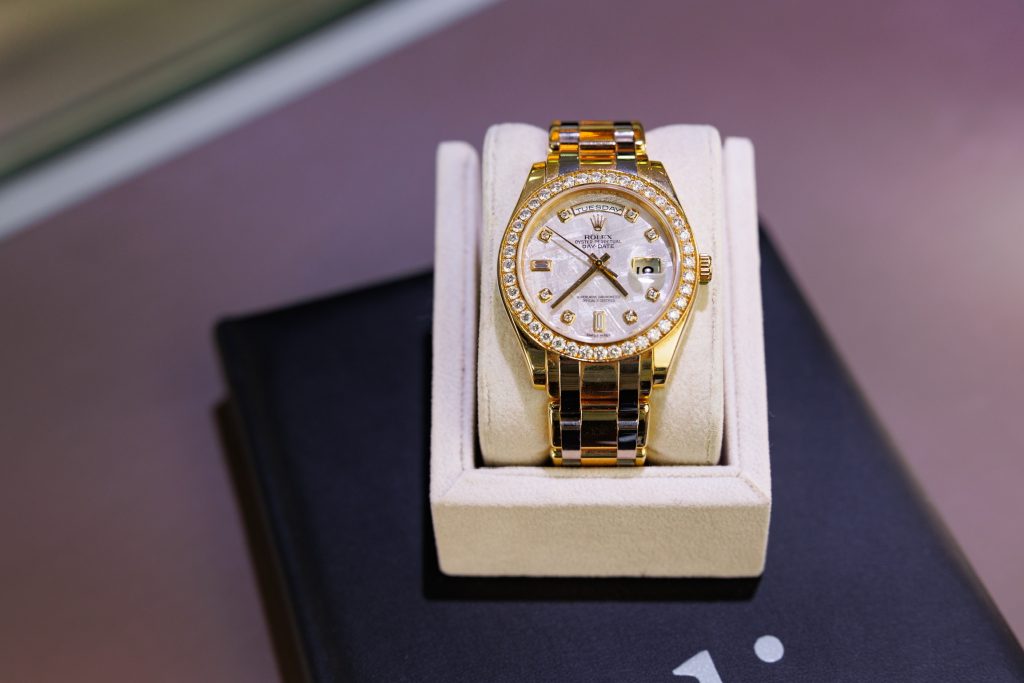 These watches are mostly still in good condition with minimal wear and tear. Pre-owned watches are a great option for people who want to own a luxury watch without breaking the bank. That's because you often get them for a much lower cost than buying a brand-new watch. Pre-owned watches can also offer unique models or vintage styles.
There are many reasons you should pick the Rolex pre-owned day date over others. One of them is because the Rolex Day date 18948 has a special place in history.
History of Rolex Pre-owned Day Date 18948
The first time anyone saw or heard of Rolex Day Date was in 1956. True to its name, it is the first watch to display the day and date in different languages. Outside its original name, this collection is popularly called the President. A nickname that people coined because of its association with the president.
Over the years, there have been many updates and improvements to the Rolex Day Date. Of course, these improvements have happened in form of references. When the watch first came out in the 1950s, it had the 6510, and 6511 references. After a year, the designers replaced the references with 661x. This focused on improving the accuracy of the watch.
In the early 1960s, the designers introduced the 180x references. This was about better caliber. It improved the beats of the watch per hour. In the late 1980s, another reference collection, with a 5-digit day date came around. With a new caliber and glass, this reference stood out among others. It is the reference that introduced other great things like a quick set date. Of course, there have been more improvements since then.
Today, Rolex's day date has attained unimaginable heights with Day date II. And this special one has ushered in a change in case diameter.
Why Consider a Rolex Pre-Owned Day Date 18948?
Are you in the market for a luxury watch? Perhaps you've heard of Rolex, one of the most prestigious names in the watch world. While Rolex watches are undoubtedly beautiful, they can also come with a hefty price tag. That's why many people are turning to pre-owned Rolex watches as a more affordable option.
Why consider a pre-owned Rolex? You have a lot of reasons to choose the Rolex men's pre-owned day date 18948, and here are some:
It is more affordable
Buying a pre-owned Rolex can be a much more affordable option than buying a brand-new one. You can find them for a fraction of the cost, which is great if you're looking to save some money. Plus, some pre-owned Rolex models may have increased in value over time. This makes them a potential investment.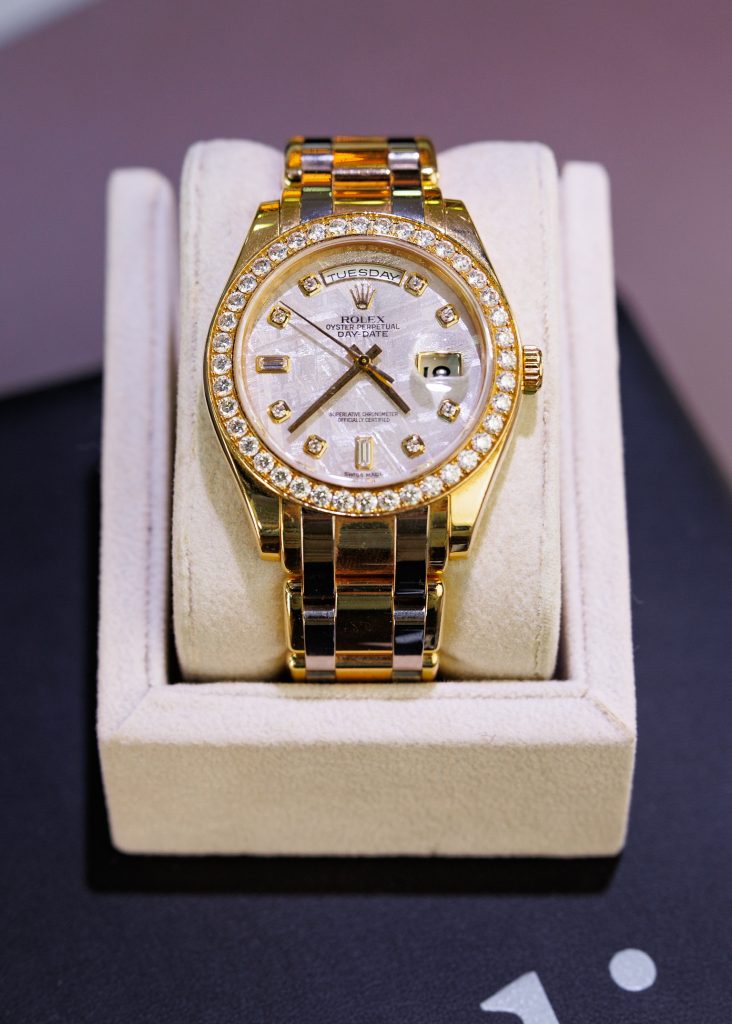 The history
Another reason to consider a pre-owned Rolex is that they often have unique histories. These watches have belonged to someone else before you. So, you can imagine all the possibilities. They have probably traveled to different parts of the world. Owning a pre-owned Rolex can be a way to connect with that history and add your own story to it.
Great Condition
Rolex watches are popular for their strength. The designers have created them to last. They're incredibly durable and can withstand some serious wear and tear. So even if you're buying a pre-owned Rolex that's a few years old, chances are it'll still be in great condition. Not only will you meet them in great condition, but they will also continue to function well for years to come.
Are you in the market for a luxury watch but don't want to pay full price? Consider a pre-owned Rolex. You might just find a unique piece with an interesting backstory that you'll love to wear for years to come.
Features of the Rolex Pre-owned Day-Date 18948
A Rolex Day Date 18048 is a unique model of the Day-Date collection. For a watch like this, it is not a surprise that the features are also special.
Material
The Rolex Day-Date 18948 is from 18k yellow gold, which is an alloyed gold. It has other metals such as copper and silver. This gives the watch a distinctive look, as well as excellent durability. The use of solid gold also means that the watch has some intrinsic value as a precious metal.
Dial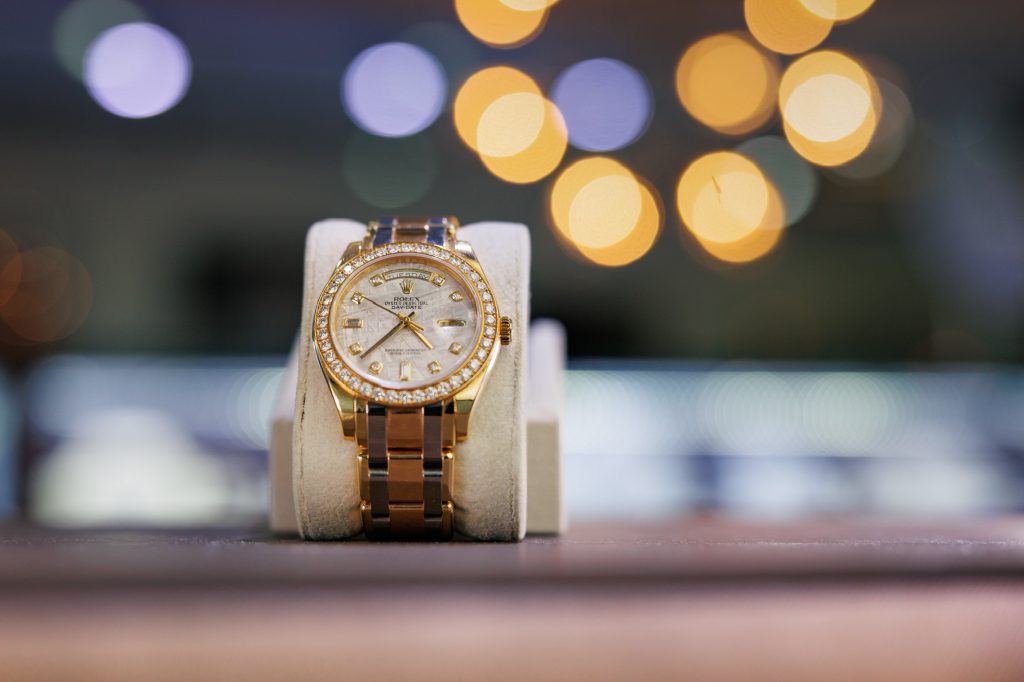 The dial of the Rolex Day-Date 18948 is a classic choice for a watch of this caliber. It makes the watch look unique from all angles. The diamond-set hour markers add an extra touch of luxury and sparkle. And, of course, this makes the watch stand out from the crowd.
Day and Date Display
Here is one of the stand-out features of this model of Rolex. You may find a similar dial or bracelet in other Rolex watches. But the day and date display are particular to the Rolex day date. The Rolex Day-Date 18948 is popular for its unique day and date display. It shows both pieces of information in windows on the dial. The day is in full, making it easy to read and understand. This function is useful for those who need to keep track of appointments or schedules.
Movement
This is another thing you enjoy when you go for a Rolex day date 18948. This movement is accurate and reliable. It ensures that the watch keeps time with precision.
Water Resistance
When you get the Rolex Day Date 18048, you do not have to worry about water damage. It has up to 100 meters of water resistance. With tight seals and gaskets, the watch stays protected from water damage.
The above features plus the unique bracelet and clasp all make Rolex Day Date 18948 a catch. Getting one for yourself and a loved one may just be what you need to do right away. We know that you can't wait to get your Rolex Day Date 18948. But you would need to wait to do the right things especially if you desire to get the pre-owned Rolex Day Date 18948.
Final Considerations Before Buying A Rolex Pre-owned Day-Date 18948
Purchasing a pre-owned Rolex can be a daunting task. How do you ensure that you are getting a high-quality watch at a fair price? It is simple. Make sure that you follow the processes below, and there is a guarantee that you get the best.
Authenticity
When purchasing a pre-owned Rolex Day-Date 18948, you should ensure authenticity. You don't want to end up with a counterfeit watch that looks like the real one. This is why you must buy from sellers who can provide you with a certificate of authenticity. If this is new territory for you, it is better to ask around. One way to ensure you are dealing with a reputable seller is to look for feedback and reviews from other buyers.
Condition
The watch's condition is crucial when purchasing a pre-owned Rolex Day-Date 18948. Make sure that it is in good working order and that the case, dial, and bracelet is free from scratches. If possible, you can have a professional watchmaker inspect it before you buy. This way, you can ensure that the watch is worth its price.
History
A watch's history can tell you a lot about its value and potential issues. When considering a pre-owned watch, you should learn about its previous owners. You should also learn its service history and all previous modifications. Knowing this information can help you determine if the watch is worth your money.
Price
The price for a pre-owned Rolex Day-Date 18948 can vary depending on its age, rarity, and condition. It's essential to do your research and compare prices from different sellers. Comparing sellers is necessary so that you can get a fair price. Don't forget that a higher price doesn't always mean better quality. Some sellers may inflate the price based on factors such as location, or marketing.
Warranty
Some sellers may offer a warranty or guarantee on the watch. This can provide peace of mind. Always make sure you understand the terms of any warranty before you buy. A warranty can give you confidence, and protect you in case of any unexpected issues.
Inspection and Verification Process When You Buy Pre-Owned Rolex Day Date 18948
It's important to ensure that the watch you buy is authentic, in good condition, and worth its price. Here are some things to check before paying for a pre-owned Rolex Day Date 18948:
Check the serial number
The serial number is one of the most critical factors in verifying a Rolex's authenticity. It's located on the case between the lugs at the 6 o'clock position. You can verify the serial number online to ensure that it matches the correct model. This step is essential because counterfeiters often try to replicate the look of a Rolex. But they cannot replicate the serial number.
Examine the dial and hands
The dial and hands are other critical components of a Rolex Day-Date 18948. Check for any signs of damage, wear, or discoloration. Ensure that the hands match the original design of the watch.
Inspect the case
The case of a Rolex Day-Date 18948 has high-quality materials. So, it can withstand years of wear and tear. However, it's still essential to inspect the case for any significant scratches. Check for any repairs or damage that could affect the watch's value.
Check the movement
The movement is the heart of the watch that handles keeping time. A professional watchmaker can inspect the movement for any signs of damage or wear. Ensure that all components are functioning, and the watch is running within the range.
Review the paperwork
A Rolex pre-owned Day-Date 18948 should come with paperwork. The paperwork must include a certificate of authenticity. Review the paperwork to ensure that it matches the watch and is legitimate. A lack of paperwork can decrease the watch's value and make it challenging to resell in the future.
Seek the opinion of an expert
If you are unsure about the authenticity of the watch, seek the opinion of a trusted expert. A professional watchmaker can help you determine the authenticity of the watch. It's always better to seek expert advice than to make a costly mistake.
Final Thoughts
A Rolex pre-owned Day-Date 18948 is an excellent investment for any watch collector. This iconic timepiece is popular for its classic design, durability, and accuracy. But before buying, it's essential to ensure that the watch is authentic.
When purchasing a Rolex pre-owned Day-Date 18948, keep in mind that the value of the watch can vary. The difference in value depends on factors such as condition, and market demand.
Also, remember that a Rolex pre-owned Day-Date 18948 can be as valuable as a new one. With proper care and maintenance, you can even use it longer than expected. So, why not invest in a Rolex pre-owned Day-Date 18948 today?