Rolex GMT vs Submariner – full guide on which to get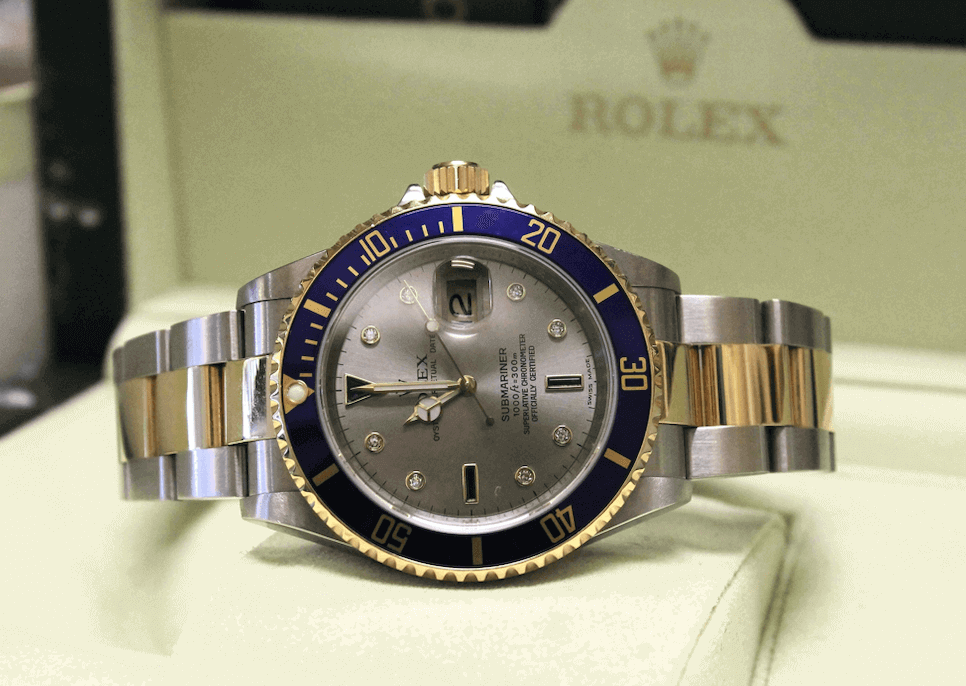 A Rolex watch is more than a luxury accessory. It is a statement of style and personal attitude. However Rolex is also a massive brand. The crowned king of luxury watches if you will. And they have an extensive list of different collections and models to choose from. So how do you know which Rolex fits for you? This week we are comparing two incredible watches to help you think about the choice. It is time for a Rolex GMT vs Submariner show down. Which one should you buy? In the face off between the limited edition Rolex Pepsi watch and Submariner what can you expect? First off the Rolex GMT Master 2 is a force to be reckoned with. Then we also have a strong contender in the Rolex Submariner blue. It is a true reference among all diving watches ever. So what will it be between these two?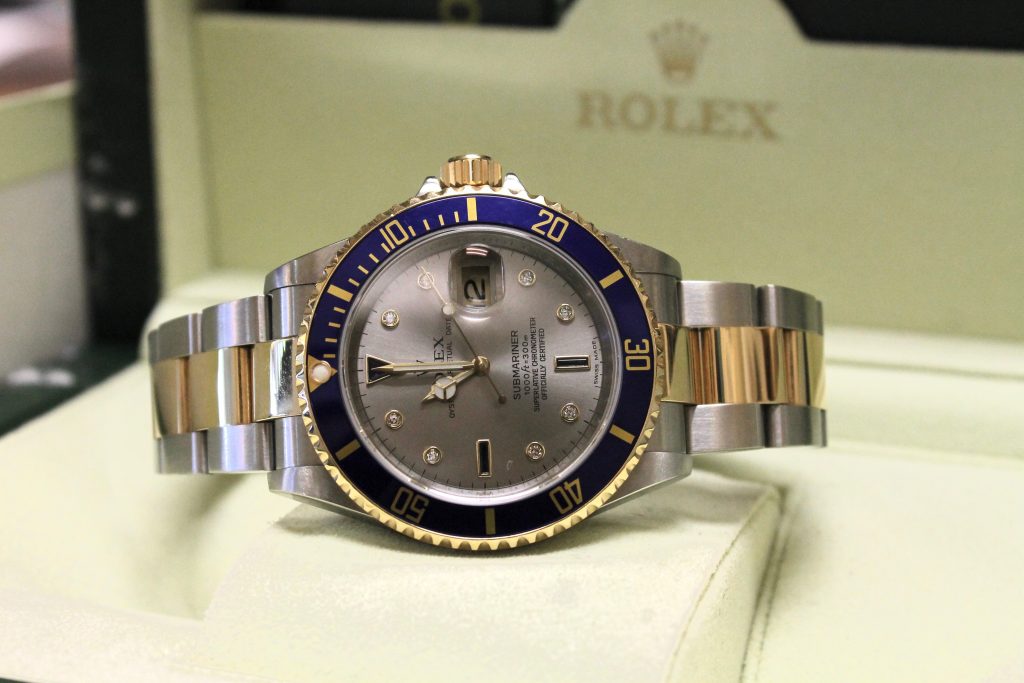 Well it all depends on your own personal lifestyle and what you are looking for in a new Rolex watch. Whether you are a collector or avid sportsman the Rolex Submariner blue is a true choice. However if you jet set more often than you dive down deep then the Rolex GMT Master 2 also known as the Rolex Pepsi is better for you. If like so many gentlemen who lead the exciting lives of those who say yes! Then you just might fall into both of these categories. Loving the Rolex Submariner blue reminding you of the ocean. Or keeping you on track 24 hours no matter where you have just landed or jetted off from. These are watches that are cornerstones of any luxury watch collection. Particularly if you are looking for something a little more magnificent than most. These are two watches that one should look for.
Rolex GMT vs Submariner – the Submariner Pepsi rivalry
First things first let us take a look at these two watches side by side. Before we go and take a high flying deep dive into each one of the models. And their intricacies within each.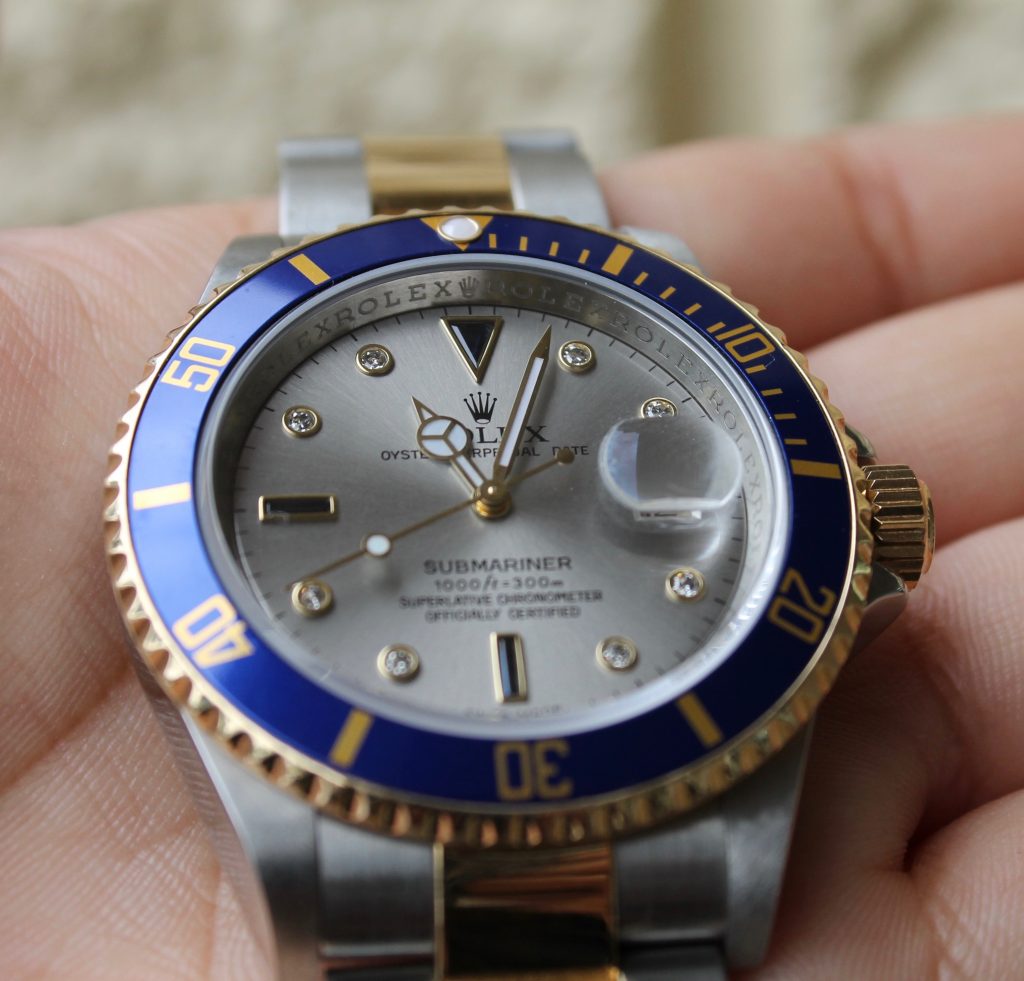 Rolex GMT Master 2
The Rolex GMT Master II is a watch for the world traveller. Making it particularly easy and with an incredible innovation accurate. Made specially for intercontinental travel the Rolex Pepsi has many innovative features. Starting with the new calibre 3285 movement. It is a totally new generation movement that is entirely developed and manufactured in house. The GMT Master 2 has 10 patent applications that were filed over the course of its development. A true marker of Rolex refinement in making. This particular movement features a Chronergy escapement and that guarantees you a power reserve of almost 70 hours. So no matter how far you fly your watch is ready to keep up with you. In a singular half blue and half red color this bezel is more than just decorative. It is actually an innovative 24 hour arrow tipped bezel. The arrow circles the dial once every 24 hours.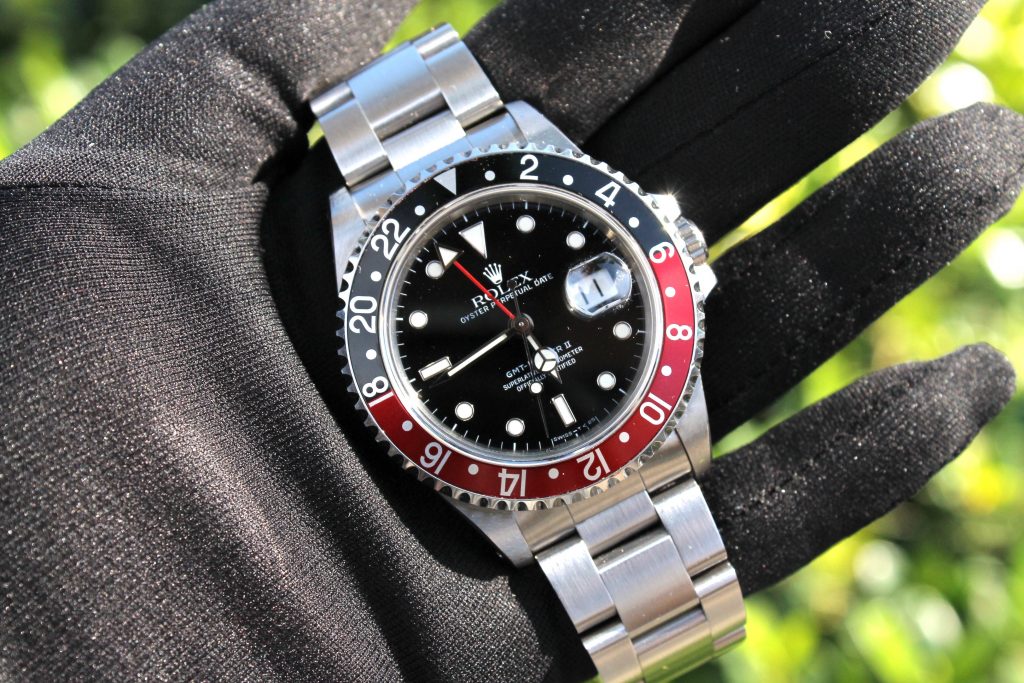 The distinct colours on the 24 hour hand shows you your home or reference time. This is the first time zone which you can read on the graduations that are on the bezel. Then your local time can be set easily. Just "jump" from hour to hour. How might one do that? Well thanks to Rolex's ingenious mechanism all you need to do is wind the crown. It works like this, the hour hand can be adjusted forwards or backwards independently of the minute and seconds hands. That means that you can adapt the time to your new time zone without affecting the precision of your timekeeping. It is all about going from one time zone to a new one without ever having to stop. Your Rolex GMT Master 2 is the watch that can keep up and move quickly when it counts. Wherever you are and wherever you go.
The Rolex Pepsi, a Rolex GMT Master II. This Oyster steel stainless steel watch gets its name from the unique bi directional rotating bezel. We have gone into some detail about the watch in general but there are still some details that need our attention. First is of course the incredible bracelet on this 126710 Rolex Master GMT II. It is not your usual or traditional three link Rolex bracelet. It is in fact a jubilee bracelet. These bracelets feature extra links with minimal space between them for ultimate comfort and fit. Really sought after by collectors the jubilee bracelet ups the ante when it comes to this watch. Totally in stainless steel patented by Rolex. The Oyster steel jubilee bracelet makes a gorgeous monochromatic jewelry level look for this watch. This more dress watch design is perfect for traveling. Comfortable for the long hours and unmatched aesthetics we love.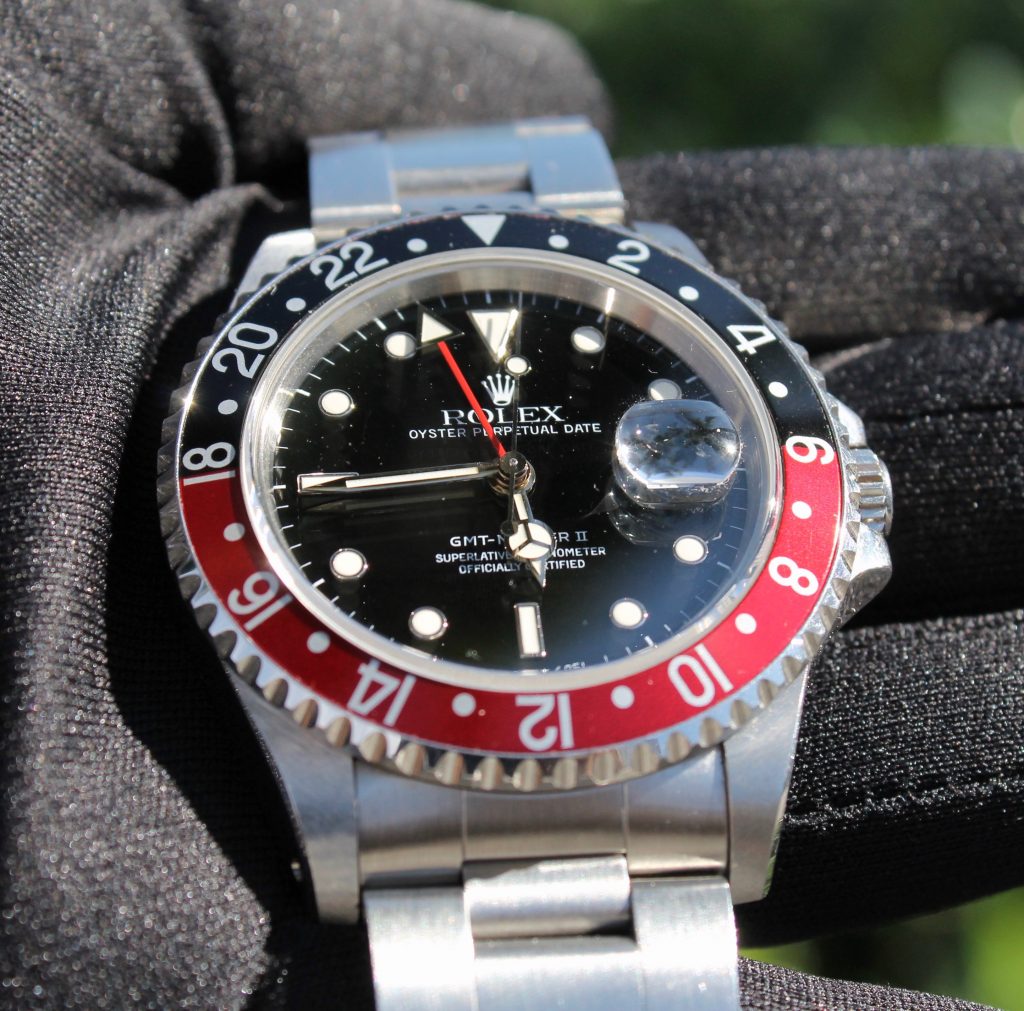 The five link jubilee bracelet aside though this Rolex Pepsi with a distinctive black dial is a perfect selection for your collection. A jet setter watch this is a dream find for exclusive Rolexes. Matched up this is one of those watches that truly set a collection apart with unique and wonderful colors. Not all Rolexes get a nickname after all. And this Rolex Pepsi has got everything to be an icon of the lesser known and so well made exclusive time pieces.
Rolex Submariner
A tool oriented sports watch the Rolex Submariner is a reference among diver's watches. One of the first in the world. Reaching depths deeper than any other before it. The Rolex Submariner is made to withstand pressure. It is not only a luxury time piece for gentlemen. This watch can dress up but it is also intended for sport. Not just recreationally but literally as a survival tool. For the most pronounced divers around the world the Rolex Submariner is an item of equipment. Used for calculating and making sure your time beneath the sea does not go beyond the limits. And with a 48 hours power reserve there is no worry no matter how long your dive is for. However powerful the watch it is also still a Rolex luxury time piece and comes with innovative features like the glidelock extension system. Allowing you to adjust the bracelet size.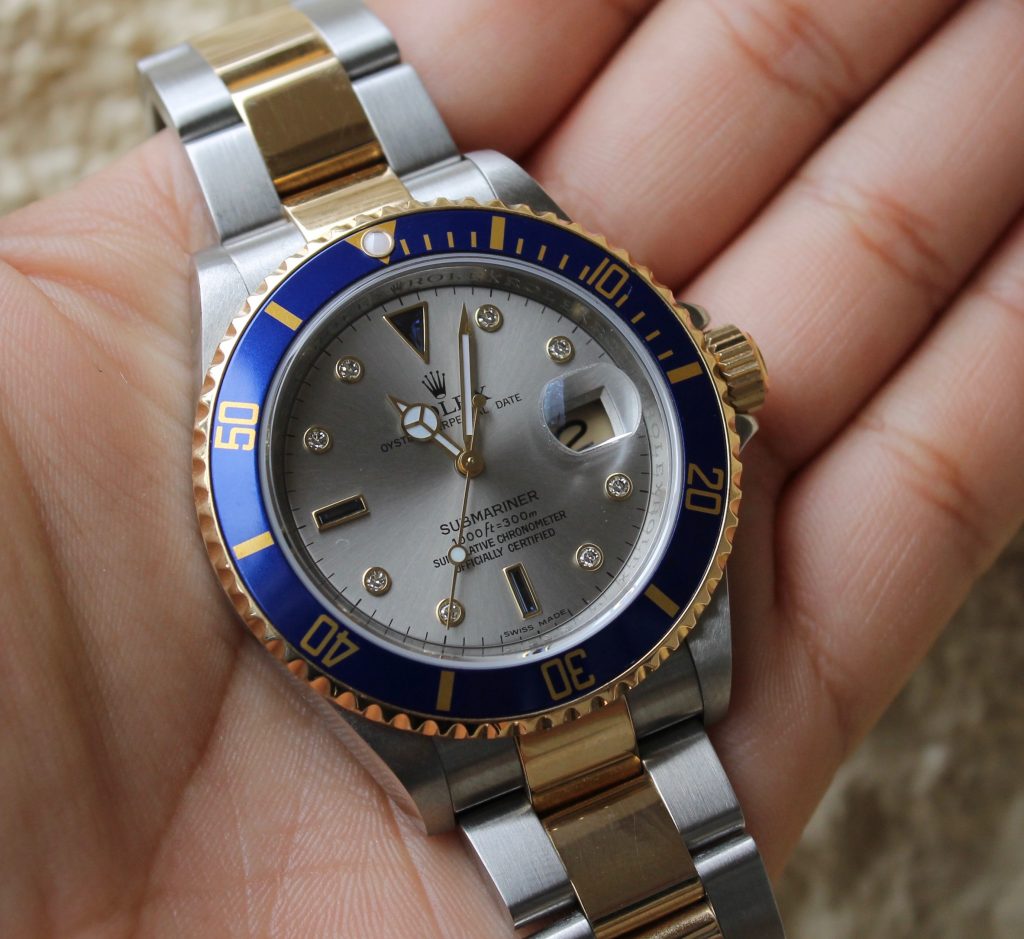 Now what is the Rolex Submariner price? It depends on the watch itself because there are so many specifications. Particularly when it comes to the dial and adding precious materials. For example the Submariner we are showcasing this week features a silver certi dial with precious stone inlays at the hour markers. But more on that in just a minute. The Rolex Submariner price can range from around $10,000 for a 116610 to north of $30,000 for 116619. Again it all depends especially when you start to look at adding diamonds and other precious materials. However you can check out our full collection of Rolex Submariner luxury watches online here or at our stores. Find out more about where to find us below! We have two locations in East and West Boca Raton. These are easily accessible from anywhere in South Florida as well.
Now for the incredible 16613 Rolex Submariner. This blue bezel beauty is a perfect example of the Rolex Submariner blue look. It pairs the exquisite and such a classic Rolesor color tones. This of course is the Rolesor blend of two tone matching for Rolex watches. A world renowned and iconic look. It features the Rolex foundry special 18 carat yellow gold band of links in the centre. These are then of course flanked by Oyster steel stainless steel links on either side. For these two tone beauties the three link bracelet is a stunning feature. To match with the stunning yellow gold that as we mentioned before comes directly from Rolex's own foundry. You have the smaller details of the watch to shine. Starting with the crown in a stunning yellow gold. As well as on the surrounding edge of the Rolex Submariner blue bi directional rotating bezel.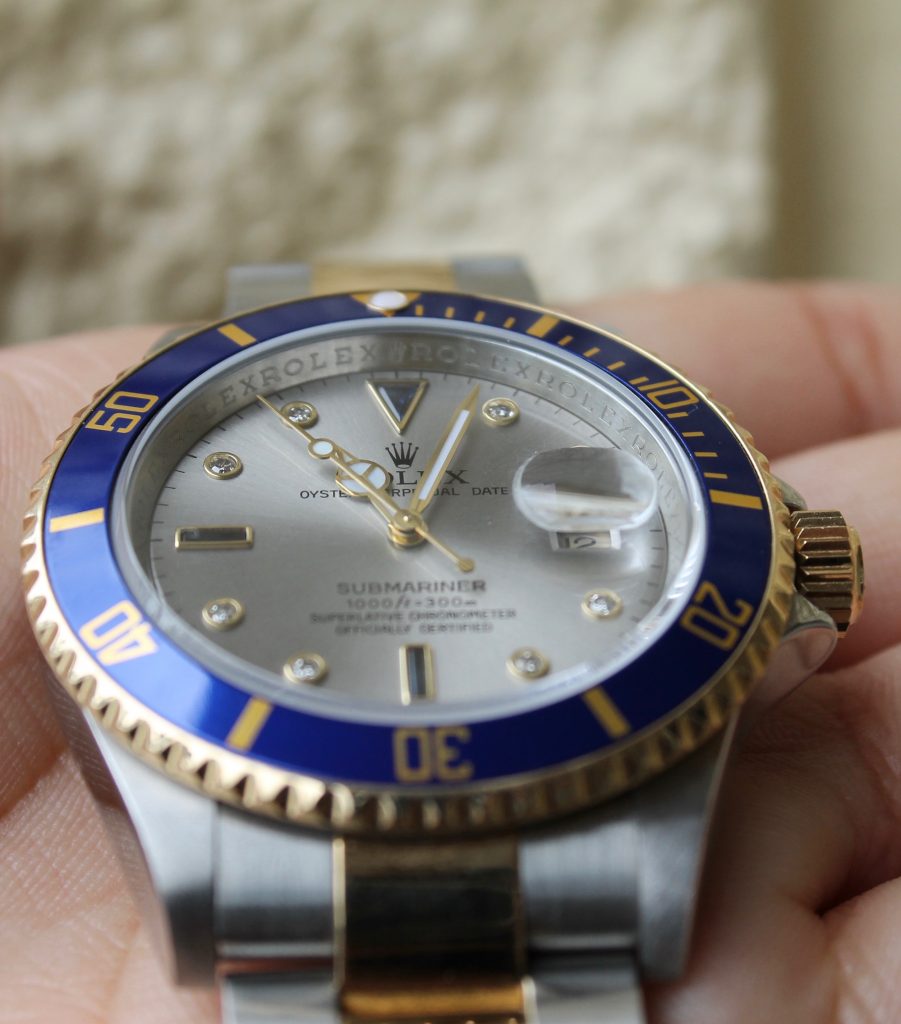 Then there is the dial. The stunning feature that makes this particular 16613 so special. First the silver precious metal dial. This disc on the face of the watch gives it a particularly unique color combination. For a stunning look reminiscent of the ocean. Further the dial has precious stones set at the hour markers. Particularly round cut brilliant white diamonds at 1, 2, 4, 5, 7, 8, 10, and 11 hour markers. The other three hours feature precious stone and of course there is the iconic date window with the cyclops eye located at the 3 o'clock marker.
Where to buy Rolex watches? At Diamonds by Raymond Lee in Boca Raton
If you are interested in buying any of the Rolex watches featured here in this article let us know. Both the Rolex Submariner blue with silver dial and the Rolex GMT Master 2 Pepsi are for sale at our stores. We also have a whole lot more top of the range Rolex and other luxury watches at in our widely curated collection. So you are sure to find your perfect fit no matter what. Whether you are looking for a specific style, color combination or special edition we can make it happen. With our dedicated master craftsmen and watch makers who have been in the business for more than three decades. Whether it is adding precious stone or metal dials or blinging up your piece with diamonds. Everything is possible at Diamonds by Raymond Lee. Further, if you're interested in upgrading your watch or selling your watch we got you.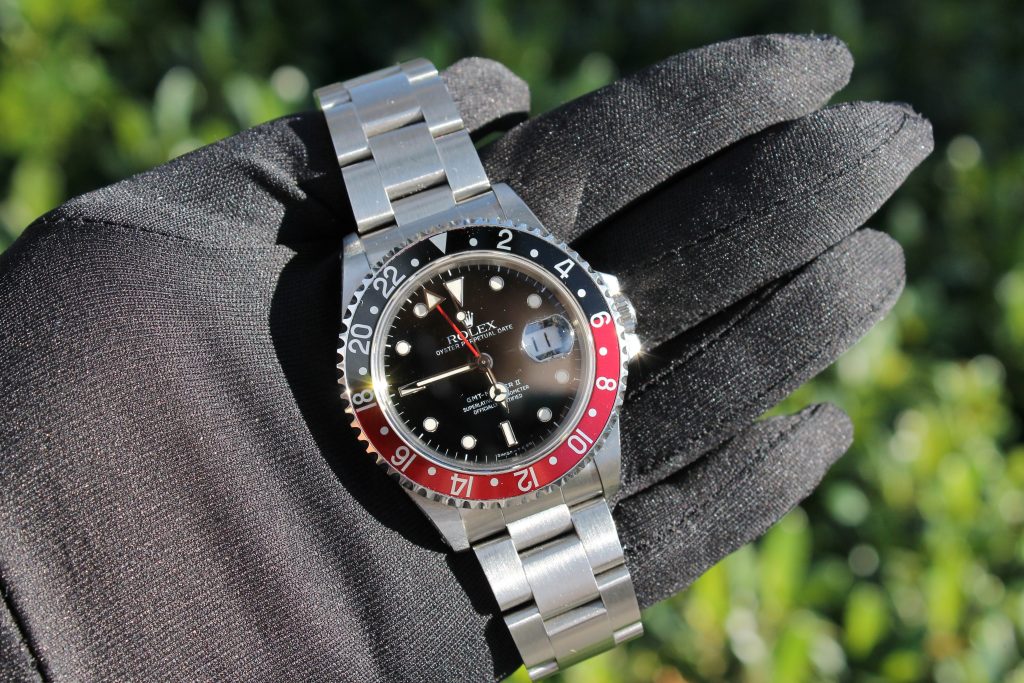 Our acquisitions team is happy to work with you in a private and discreet manner. Meeting one and one they will discuss with you the valuation of your watch. Then go into the different options available to you. Whether you are ready to part with your watch or upgrade it to another or not. It is always up to you. We are just here to help you make a confident decision with all of the knowledge. Our family owned and family run business is always focused on making sure our refined clientele are happy. With our selection of fine luxury accessories, superior service and abundant options. There is something for everyone from luxury watches and fine jewelry to loose diamonds and custom services. Whether you want to have your Rolex watch tuned up to run and look like new. Or celebrate a new milestone, we've got the gift for you.
Our locations:
Email: in**@di******************.com
East Boca:
East Boca Local Jewelers: 2801 N Federal Hwy, Boca Raton, FL 33431
Hours: Monday – Friday 11 am – 7 pm | Saturday 10 am – 5 pm | Sunday 12 pm – 5 pm
Phone: (561) 623 – 8205
West Boca:
West Boca Local Jewelers: 22191 Powerline Road #12b, Boca Raton, FL 33433
Hours: Monday – Friday 10am – 6pm | Saturday 10am – 5pm | Sunday Closed
Phone: 561 – 990 – 4977