Something as elegant and stylish as a rectangular-cut diamond ring with a hidden halo makes a natural choice for an engagement ring. And since it is a classic style, it works with a ton of different kinds of fashions and can even evolve with someone's look over time. We know that choosing the right engagement ring is a pretty difficult decision. Not only is this one of the more expensive purchases we make in our lifetime, but we are also being asked to choose something that our bride-to-be will wear every day for the rest of her life. So, it is no surprise that this is something that many men dread. Lucky for you, we have a ton of experience helping couples from all walks of life select the perfect ring.
Over the years, we have learned the things that you will need to take into account when looking at rings. Here, we lay it all out so as to make the process as easy for you as possible. First, we look at the main considerations you will need to take into account. Then, we will discuss the value of timeless and classic styles. Finally, we will look closely at a beautiful, but unique, ring that makes a great choice for an engagement ring that combines personality and classic design.
How to Select the Best Engagement Ring
One of the first things you will need to think about when looking for an engagement ring is the style of your bride-to-be. While we think that the rectangular-cut diamond ring with a hidden halo we feature here is the epitome of elegance, it might not be for everyone. So consider the types of materials she likes as well as any gemstone cut preferences she might have. You will also want to set a budget before you start looking at specific rings. The last thing you want is to find the perfect ring, only to realize that it is well outside of your price range. Having a preset budget can save you headaches and heartache.
Next, you will want to consider the lifestyle of your bride-to-be. Is she really active in her daily life? Does she use her hands a lot during the course of her work or hobbies? If so, you will want to choose something that is unobtrusive and that won't impede her ability to do her daily activities. If this isn't a concern, well the sky really is the limit when it comes to how big and eye-catching the piece can be.
The Best Place for All Your Jewelry Needs
Here at Raymond Lee Jewelers, we know that choosing a ring for your bride-to-be can be pretty daunting. Each woman is a unique individual and it can be pretty intimidating to try to choose the right ring for her taste and style. We are here to help you every step along the way. If you need more assistance than our guide provides, feel free to stop in any time and we will work with you in person. Quality and unique pieces are our forte. We don't want to stock pieces that you can find at any run-of-the-mill strip mall jewelry store. This is why we hire the most experienced buyers that have a ton of connections. It is through this experience and connections that we can source the rarest and finest pieces for our display cases.
We also offer custom jewelry design services as well. Using the latest in computer technology, our skilled jewelers will work closely with our clients through every step of the design and construction process. Together we can turn your dream into a reality. Additionally, we also offer a comprehensive range of jewelry repair services as well. From simple ring resizing to more in-depth projects, we have the tools and know-how for the job.
Why We Recommend the Classics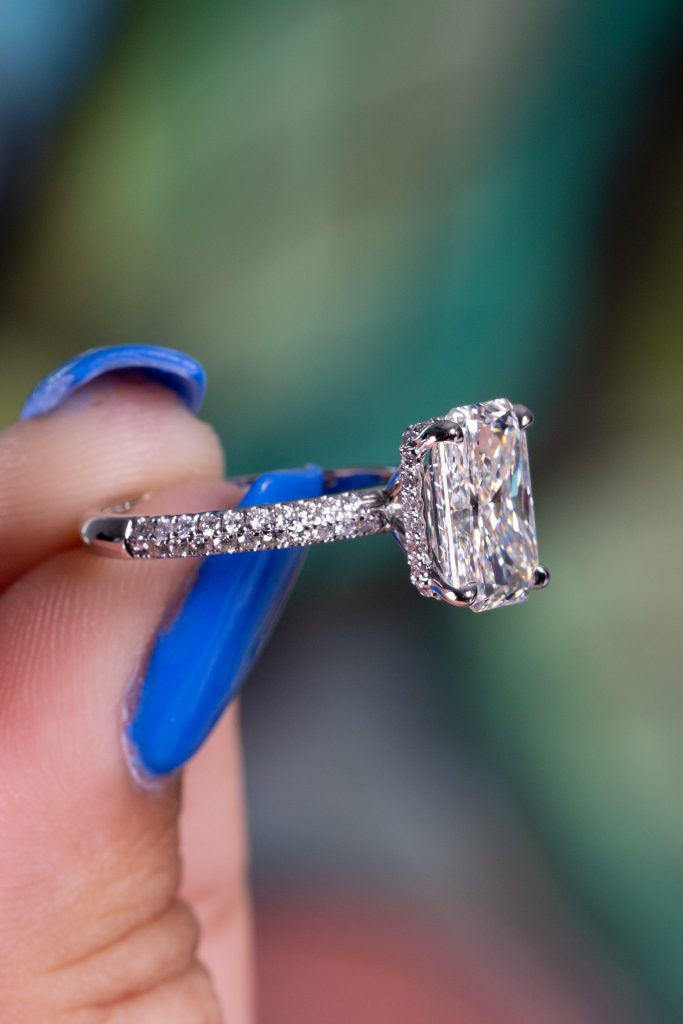 It can be incredibly tempting, especially if your bride-to-be is a trendsetter, to choose something bold and trendy for her engagement ring. Even if your bride-to-be is a fashion maven, we still would advise against this. Think about fashion trends – they come and go, sometimes pretty quickly. If you choose an engagement ring that is the current rage, when that trend subsides, you will be stuck with a ring that is no longer in style. This will mean she will either have to wear an outdated ring or you will have to make the expensive decision to buy something new. It is for these reasons that we recommend the classics.
Let's consider the little black dress. No matter what the current style rage, something like the little black dress is going to look great. There are jewelry styles that are similar to this as well. The rectangular-cut diamond ring with a hidden halo we feature here is a good example of this. No matter what is currently in style, these classic styles will stand the test of time and will continue to look great for many years to come.
Rectangular-Cut Diamonds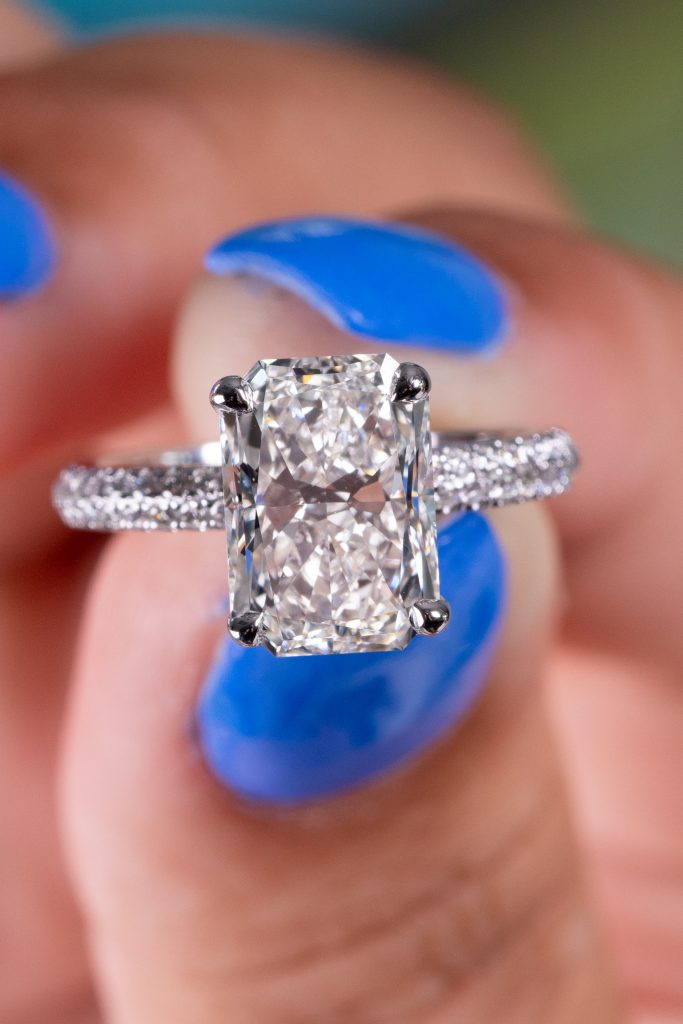 The rectangular-cut diamond is an elegant and popular style that looks great with both classic and modern styles. A lot of people like that these stones can have a slimming and elongating effect on the hands and fingers. It is a versatile cut that looks great on its own but also pairs well with other gemstone accents.
There are two main types of rectangular-cut diamonds: radiant and emerald-cut. The ring we feature here boasts a radiant-cut rectangular diamond. This is a cut that has a ton of facets cut into the surface of the stone. What this does is allow for the maximum amount of light to be reflected off the stone. This gives it a ton of sparkle. So you get what people love about a traditional round brilliant cut diamond, but with the sophistication of a rectangular-cut stone.
The emerald cut is, as the name implies, one that was originally used for brittle emeralds. It has a few long cuts that give it more depth and fire than brilliant sparkle. A step-cut stone, this is a great look for those who want vintage or classic pieces. 
White Gold
White gold is a popular metal that features in a wide range of jewelry and other applications. It has a cool, silvery hue, but with many of the properties that make traditional gold so popular. This metal was originally designed as a less expensive alternative to platinum, which is one of the most expensive metals available.
Though the color is quite different, there are a lot of similarities between white and yellow gold. Both types of gold are actually blends of gold and other metals. In its pure form, gold is far too soft for use in jewelry-making. If you tried to make a piece of jewelry with pure gold, it would not be able to keep its shape for very long.
For this reason, pure gold is mixed with other metals, such as zinc or nickel. This enhances the strength of the metal so that it is perfectly suited for jewelry applications. White gold has more silvery metals in its blending. For example, 18-karat white gold is 75% gold and 25% nickel, zinc, or another metal blend.
The Hidden Halo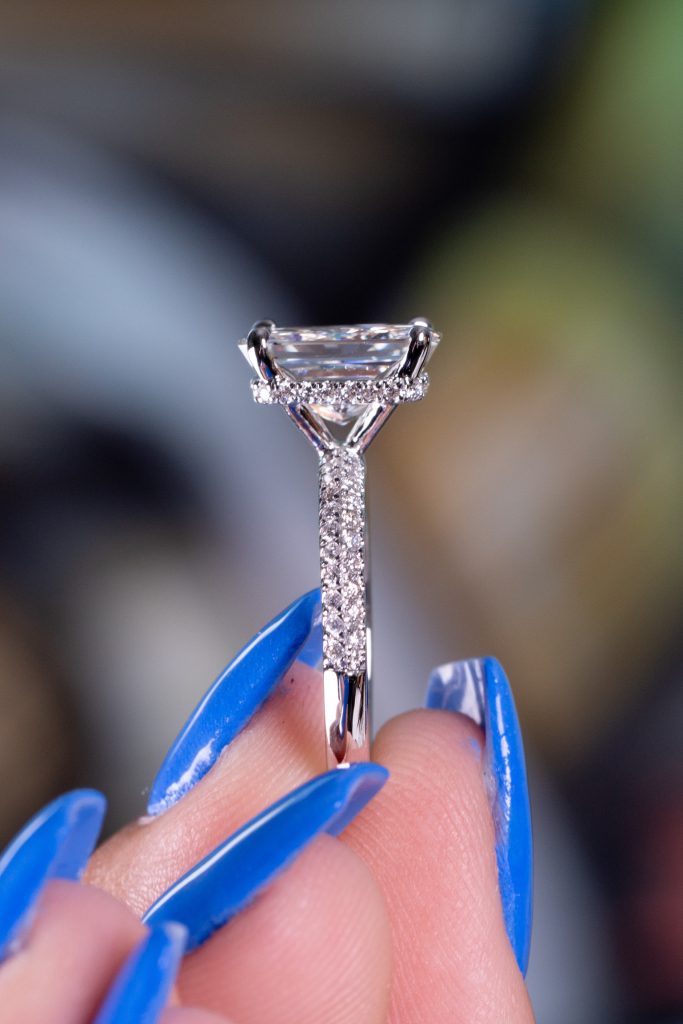 The halo is an accent you will often see on high-end engagement rings. It is a way to provide some extra sparkle and shine to the ring, while also accenting the main stone even more. This is a beautiful addition to any fine ring and is a great choice for those who want to add a bit of personality to a classic style. There are different kinds of halos to choose from. The most common type of halo is seen with round or oval-cut stones (though traditional halos can be seen with any cut of a gemstone). A small row of gemstones – in this case, diamonds – will encircle the main stone around the face of the stone.
But what we have here is a little different. This is a hidden halo. It is similar in that it is composed of a circle of small diamonds. But rather than encircling the face of the diamond, it is around the base of the diamond, closer to the band. This gives the ring a unique look but still adds that sparkle and shine that makes the halo such a popular style. You don't see hidden halos every day, but they are really elegant and beautiful additions to a classic style. 
A Half Eternity Band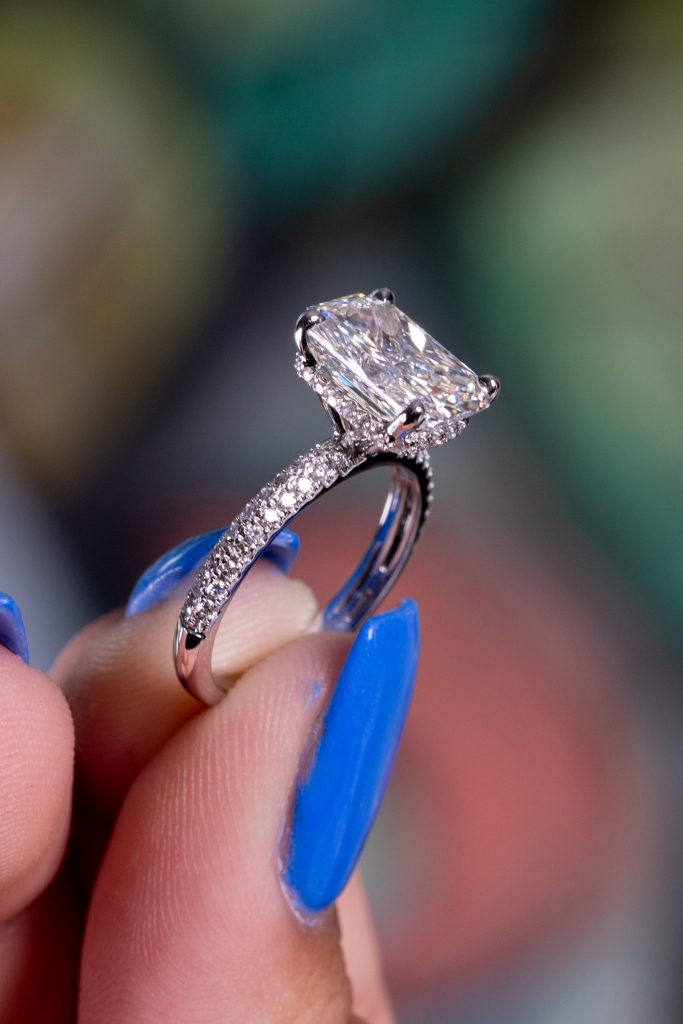 Eternity bands are another great classic and timeless style. We are most familiar with this style being used as a wedding band. However, it can also be a part of your engagement ring as well, giving it some extra style and glamor. People like the eternity band for far more than just its looks though. It also provides beautiful symbolism and meaning that will make the engagement ring even more special. This style is meant to symbolize two lives joining together as one for eternity. As a representation of a healthy relationship, it is hard to think of a better symbol. In essence, an eternity band consists of inset gemstones that go around part or all of the band of the ring.
Here, with our rectangular-cut diamond ring, we have a half-eternity band in diamonds. This means there are diamonds inset around the band about halfway. You can also find full eternity bands and two-thirds eternity bands. What will work best for you will be dependent on aesthetic preferences as well as comfort. There are some people who find that the full or two-thirds band causes chafing; the stones rub against their fingers. If this is an issue for you, the half eternity band is a really great choice. 
Versatile, Elegant, and Unique
When choosing an engagement ring, it is hard to find something more elegant, yet classic, than the rectangular-cut diamond ring with a hidden halo that we feature here. It is a blending of three different classic designs. This gives you all those benefits of the classic style, but with a more unique configuration that sets it apart from other classic rings. It is a stunning and elegant ring that is made from the finest diamonds and white gold. What we love most about this ring is that, while it is clearly made from the highest quality materials, it is also really versatile.
This is a ring that will look great with pretty much anything you pair it with. From fine dresses to a pair of sweatpants and a hoodie – anything will take on an effortless style and beauty when paired with this ring. And chances are, her style is going to evolve over time as she ages. By choosing classic and timeless styles, you are selecting a ring that will be able to evolve with her ever-changing style. We know she will love looking at this ring on her finger every day.
In Closing
Selecting the perfect engagement ring can seem like a really scary choice. And, in a lot of ways, it is. You are asked to choose something that someone will wear every day for the rest of their lives. So it isn't a wonder that so many men are terrified of this challenge. We have helped countless men and couples find the right engagement ring for their taste and style. This experience helps us know what it is that you will need to consider when choosing a ring. We discuss the importance of thinking about her taste and lifestyle, as well as the value of the classics.
Then, we take a closer look at a rectangular-cut diamond ring with a hidden halo and a half-eternity band. We look at each element in turn, discussing its composition and what it adds to the overall piece. Whether you choose this ring or some other classic style, we hope that this helps simplify the selection process just a little bit. If not, we are here to help you along every step in your journey. For those who need a bit more assistance, feel free to call or stop in today.