Rolex watches, whether you choose the Day-Date or some other model, are a class unto themselves. Not only is this brand one of the finest watchmakers in the world, but the timepieces they make are also the most cutting-edge and precise as well. The timepiece is one of those accessories that defies trends and time. No matter what is in fashion, a high-end classic watch is going to be a good look. It can give you that professionalism that can be so important in today's cutthroat world of business. Or, it can give you that effortless elegance that so many of us crave.
The Day-Date line is popular because of its classic and clean lines, as well as its stunning profile. There are a lot of iterations of this watch, but all of them will contain the day and date features that give this watch its name. There are classic versions that are all-metal and simple in their design. And, there are bold, eye-catching versions such as the yellow gold and diamond version we feature here. With this line of watches, there really is something for everyone.
The Timeless Elegance of the Timepiece
There is something about a high-end watch that is just plain timeless. Just think about it, when considering the most classic and stunning looks, chances are there is a high-end timepiece involved. Whether in the world of business or just the world of style, there is something about a watch that can give you that put-together look. Too often, we think about watches as boring and staid pieces that our parents would wear. This is selling this really versatile accessory short.
There are, of course, classic and simple designs, but there is a watch for every taste and every style. The Day-Date line of watches by Rolex is a really great illustration of this. Within this line, you can find simple classics as well as bold and ornate versions of the watch. They will all feature certain iconic design elements that give this watch its unique look, but the materials that are used can be widely varied. And we know that you will love the effortless elegance and instant style anything you pair with one of these watches will take on.
Versatile and Stylish
When we are thinking about high-end accessories, there is a good chance we aren't thinking about something that is known for its versatility. But there are some accessories that are both high-end as well as versatile. Timepieces such as the Day-Date line by Rolex are a great example of just such an accessory. This makes this accessory a great option for daily wear. We are all unique and as such, want to show off our unique, personal style. And we can do this through the clothing and accessories we choose.
A high-end watch like the Day-Date will show others that you appreciate the finer things in life. And, it will also show that you value your own, as well as other people's time. Whether you are in the world of business or just a social butterfly, people will appreciate this quality. Another great thing about this watch is that it works well with all sorts of different styles and looks. It will even pair well with other accessories, but more on that below.
Rolex Watches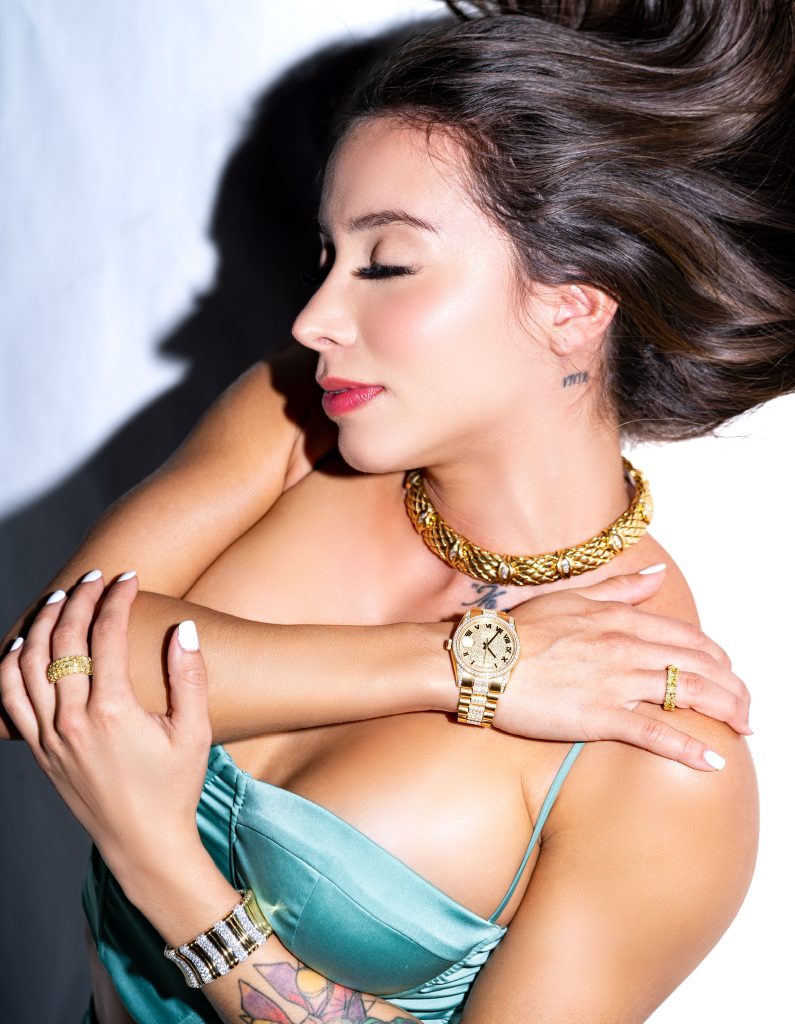 Rolex is a high-end, luxury watchmaker that hardly needs any introduction. When many of us think about high-end jewelry, chances are Rolex is one of those brands that come to mind. This is an iconic brand with models ranging from the classic Day-Date to the bold Daytona. The brand really does offer something for everyone. And there is often a lot of variation and choice within the different lines, which means you can find different materials and configurations pretty easily.
Another thing this brand is known for is its innovation. The company works with people from a wide range of extreme hobbies and professions and works to create timepieces that can withstand and assist people in these elements. These features then make their way into all Rolex watches. And Rolex prides itself on innovation so much that they even create many of the elements that feature in its watches in-house. The company holds a wide range of patents, from material blends to internal components. This means that what you get from Rolex really is one-of-a-kind. Many may try to imitate, but nothing is going to be a genuine article. 
The Day-Date Line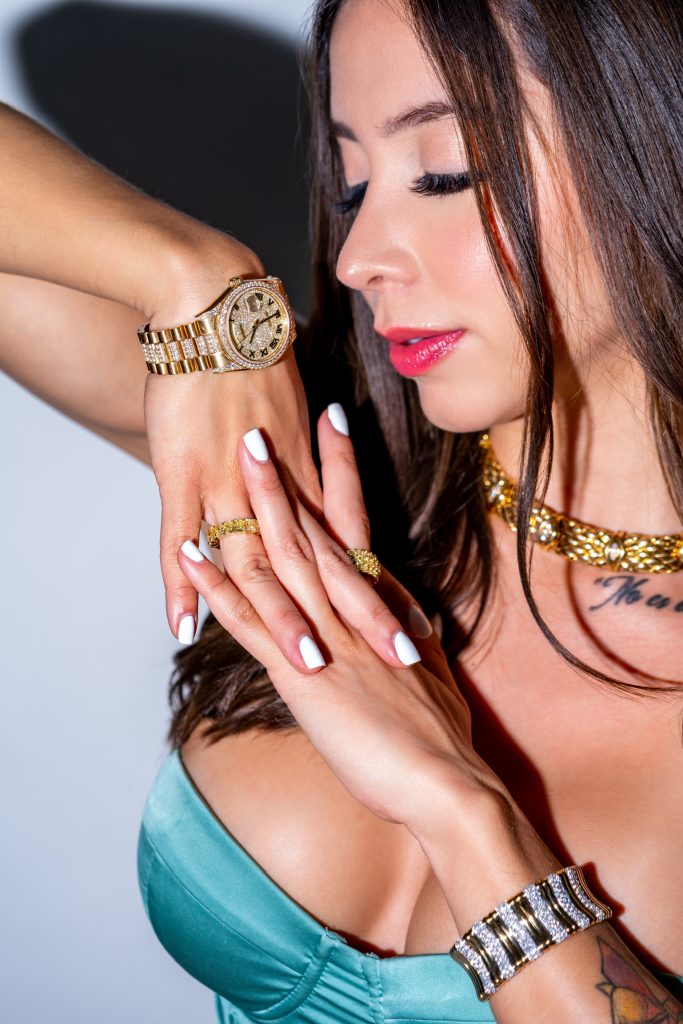 The Day-Date line of watches by Rolex also called the Oyster Perpetual Day-Date is a classic and timeless line of watches. Since its first introduction in 1956, this has been, and continues to be, one of the most popular lines that Rolex offers. The great thing about this watch is its seamless blending of old and new. 
It has classic lines and a really clean profile, which makes it well-suited for a wide range of looks. The classic Oyster bracelet, with its unique three-link design, is a common element that many love. It is a bracelet that is meant to be comfortable, so you can wear it all day.
Whether you choose a simple, classic version of the watch or one of the more bold and more eye-catching versions, you are getting a well-made watch that will stand the test of time in terms of looks and operation. These are precise and durable timepieces that are meant to go where you go.
The Oyster bracelet is one of the features that denote this watch line, but there are two others that will always feature on this watch, no matter what iteration you choose. The day of the week will be displayed at the top of the watch face. And, the date will be shown under a unique cyclops lens at the 3 o'clock marker.
No matter what version of the watch you choose, whether it is vintage or brand new, it will have these features.
Yellow Gold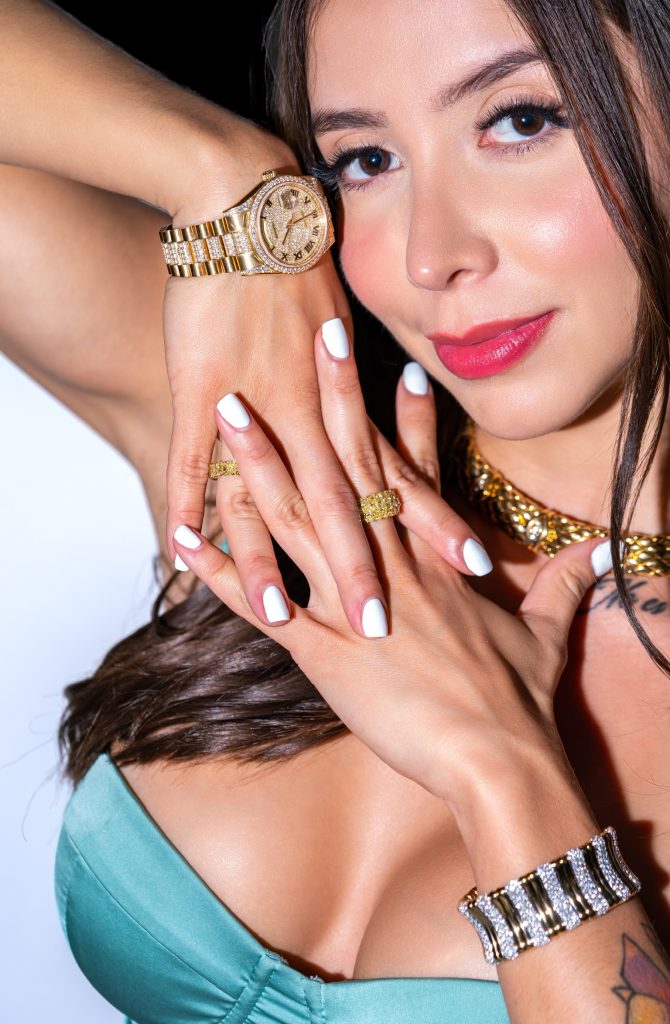 As we have mentioned numerous times, there are a lot of different versions of the Day-Date line of watches by Rolex. Some versions are more classic, while others are more bold and eye-catching. What will work best for you will depend on your personal style. But since there are so many differnet options to choose from, it is easy to find one that will work for your taste and style. The version of the Day-Date we feature here is a blending of a classic version of the watch with some bold and eye-catching accents.
This version of the watch is made from yellow gold. Yellow gold is a classic material for this line of watches as it was one of the original offerings. Here, we see a version of this watch in yellow gold with a classic Oyster bracelet. The yellow gold provides that rich, buttery yellow hue that so many of us love. And, it also offsets the flawless diamond accents on the watch. This is a good metal to use if you prefer more classic looks, but the great thing about yellow gold is that it is incredibly versatile style-wise. It looks great with pretty much anything. 
Diamond Accents
There are as many different styles as there are personalities, so it makes sense that when we choose accessories, we choose those that speak to us and our sense of style and fashion. The great thing about the Day-Date line of watches by Rolex is that there really are a lot of different styles. You will see versions of this watch that boast different metals, gemstone accents, different bracelets, and more. This allows you to choose the best version of the watch for your taste and style. There are some that like very simple accessories, as this pairs better with their personal style. But others like things that are a bit bolder, that draw the eye.
This version of the Day-Date is a good option for those who like something a bit more eye-catching. It features all the elements that make this watch so iconic. This version features yellow gold which is also a classic choice. But it also features flawless diamond accents on the bracelet and face of the watch. This gives the watch a bit of sparkle that it wouldn't otherwise have. The yellow gold offsets the diamonds brilliantly, enhancing the shine that they give off.
Pairs Well with Other Accessories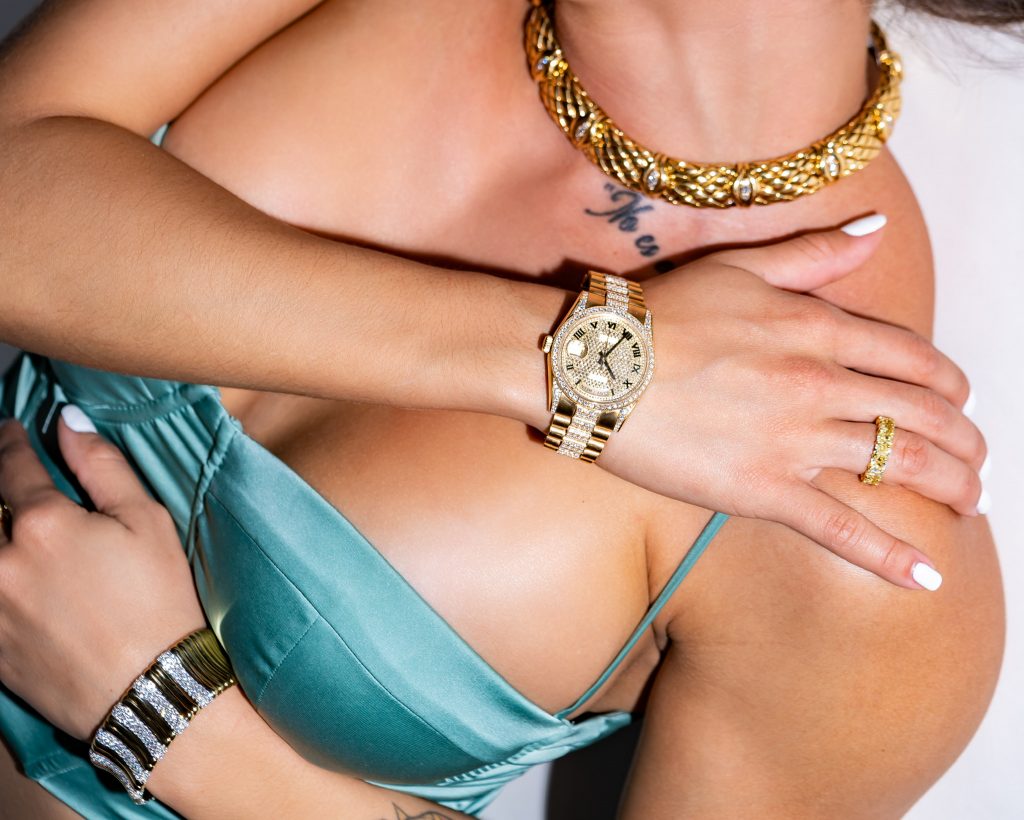 We have noted that this line of watches is versatile in that it can work with a lot of different types of fashions. This is why it is a great option if you are looking for something to add to your signature look. You create your signature look through the type of clothing you wear and the accessories you pair with said clothing. But this watch will also pair well with other accessories as well. It looks great with rings, bracelets, necklaces, and more.
The great thing about this watch is that you can pair it with different styles of jewelry and it will still look great. The biggest piece of advice we can give to those pairing accessories is to try to stick to the same metal. Since this timepiece is made from yellow gold, this means you would want to stick to yellow gold jewelry all around. While this watch has diamonds, that doesn't mean that it will only pair with other diamond jewelry. Colorless diamonds have the benefit of working well with any other kind of gemstone. Since they are clear, you will not have to worry about colors clashing. This means it is really versatile in terms of pairing options.
The Best Place for All Your Fine Jewelry Needs
At Raymond Lee Jewelers, we know that quality, selection, and style are the most important things we can offer. We want to provide the best selection of rare, high-end pieces in the Boca Raton area and beyond. You don't come to us so you can find pieces that you could find in any chain jewelry shop. You want unique pieces that can't be found just anywhere. Our buyers have a lot of experience as well as connections which allows us to source the most unique, high-end, and elegant pieces from sales around the world. You have the peace of mind that anything in our display cases is going to be of the finest quality materials and construction.
Additionally, we also offer custom design services. If you have something specific in mind, our experienced jewelers, with the latest in computer technology, will work closely with our clients to make their dream a reality. And, we also offer a comprehensive set of jewelry repair services. Whether you have a big job, such as an antique piece you would like to see in working order, or it is something as simple as a ring resizing, we have the tools and skills for the job.
In Closing
Whether you prefer classic styles and fashions or you like trendier and bolder looks, the timepiece makes a great accessory. This is a unique accessory that combines form and function into a stunning piece of jewelry you can wear on your wrist. And there is hardly a better example of a high-end timepiece than a Day-Date by Rolex. Rolex is one of the finest watchmakers in the world, boasting Swiss-born craftsmanship and engineering. With patents on many of the elements that make up a Rolex watch, these really are exclusive timepieces.
Here, we feature an eye-catching version of the popular Day-Date line. It, of course, features the day at the top of the watch face and the date at the 3 o'clock mark. The watch also features the classic Oyster bracelet and is in yellow gold. But it also has a ton of high-grade diamond accessories. A three-column row of diamonds encircles the entirety of the bracelet giving it sparkle as well as a lot of extra elegance. There are also diamond accents on the face of the watch. These are offset by the brilliant yellow gold to create a watch that is both timeless and eye-catching. And the great thing is, it pairs well with almost anything.