Square-Cut Diamond with Halo and Eternity Band
If you are looking for an engagement ring with a lot of elegance and the ability to stand the test of time, something like a square-cut diamond ring with a halo and a fully eternity band is a great choice. When you are looking for an engagement ring, you are looking for something that your significant other will wear every day for the rest of their life. We understand that this is a pretty daunting decision that can be really difficult. Luckily, we have a lot of experience helping couples from all walks of life find the perfect ring for their taste, lifestyle, and budget. With all this experience, we have learned many of the things that you will want to consider when choosing the right ring for your needs.
Hence the purpose of this guide. First, we will discuss some of the things you need to consider when selecting. Then, we will explain why it makes the most sense to stick with more classic styles. Finally, we will look closely at a specific ring – a square-cut diamond with a halo and eternity band – and discuss the details of its makeup.
Selecting the Right Engagement Ring
It might seem pretty scary being tasked with choosing an engagement ring, but it doesn't have to be. Our experience can save you a lot of hassle and effort. The first thing you will want to consider is the known style preferences. Does the bride-to-be have a particular material, style, or cut of gemstone they prefer? Next, you will want to set a budget for yourself in advance. The last thing you want is to fall in love with a ring, only to find that it is out of your price range. You can save a lot of time by establishing a budget beforehand.
Then, you are going to want to consider her lifestyle. Is she really active? Does her work or hobbies entail the use of her hands on a regular basis? If the answer is yes, you will want to choose something that is unobtrusive so it won't get in the way of her daily life. This is a ring that she has to be able to wear and live with. If this isn't an issue, then the sky's the limit when it comes to your choices.
The Beauty and Utility of the Classic Styles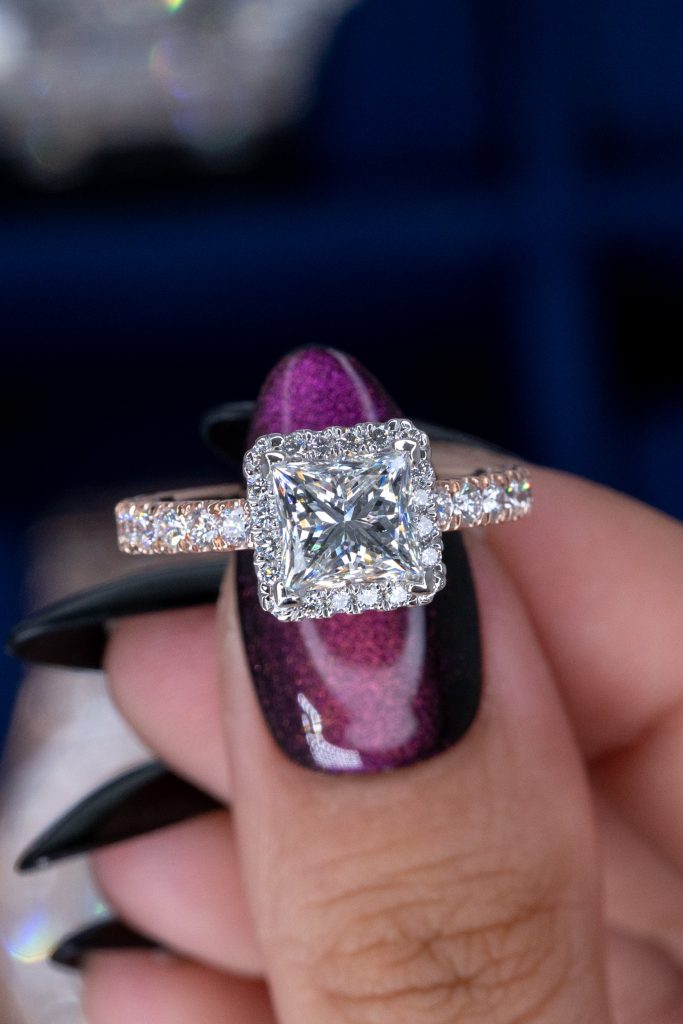 Choosing something trendy, bold, and eye-catching can be really attractive, especially if you are buying the ring for someone who is fashion-forward. However, this is one piece of jewelry that we would strongly advise against choosing for an engagement ring. Think about trends – they come and go, and sometimes incredibly quickly. This engagement ring is supposed to be worn every day for the rest of her life. When that still goes out of fashion, she will either be stuck with a style she no longer likes, or you will have to make the expensive choice to replace it. Neither of these is an ideal solution.
This is why we recommend the classics. Like the little black dress, classic accessories are those that always look great. No matter what is in fashion, these styles will continue to look stunning. The classics pair well with a wide range of looks and will never be out of style. There are many classics to choose from and some people will choose a pairing of different classics to get something unique, but that still retains the benefits of the classic style. Just because you are choosing a classic doesn't mean you have to give up your personal style.
Square-Cut Solitaire Diamond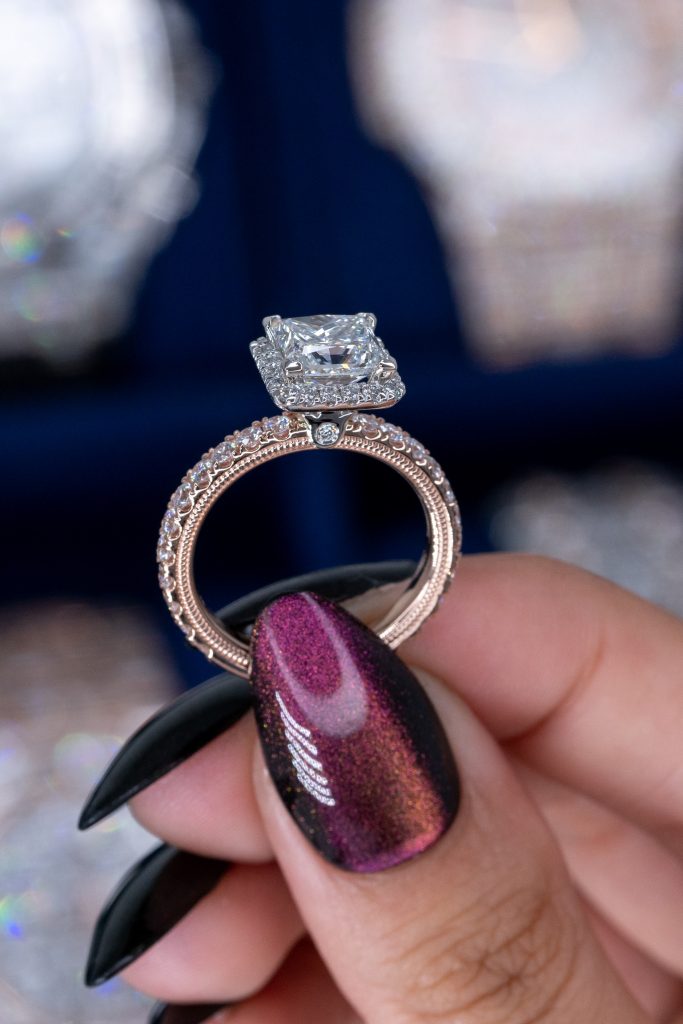 Thinking about the classics, it is hard to think of anything more fitting than a solitaire-style ring. These are elegant and stunning and really allow you to show off the simple and timeless beauty of a gemstone – in this case a diamond. One of the great things about this style of ring is that it looks great, whether the gemstone is large or more modest. This is why this is a popular style for people across all budgets and styles. And, with this style, you can choose from pretty much any cut or shape. If you choose diamonds, you really have a lot of options. As the hardest stone we know of, the diamond can be cut into any shape imaginable.
So, if you have a favorite cut that you really want to show off, this is a great style to do so. This kind of ring looks amazing with any cut, no matter how whimsical. And, this style will also pair well with other styles. Just because you are choosing classics doesn't mean you have to pick something boring. By combining different classics together into the same ring, you are getting the benefits of timeless style, while still getting something unique.
The Halo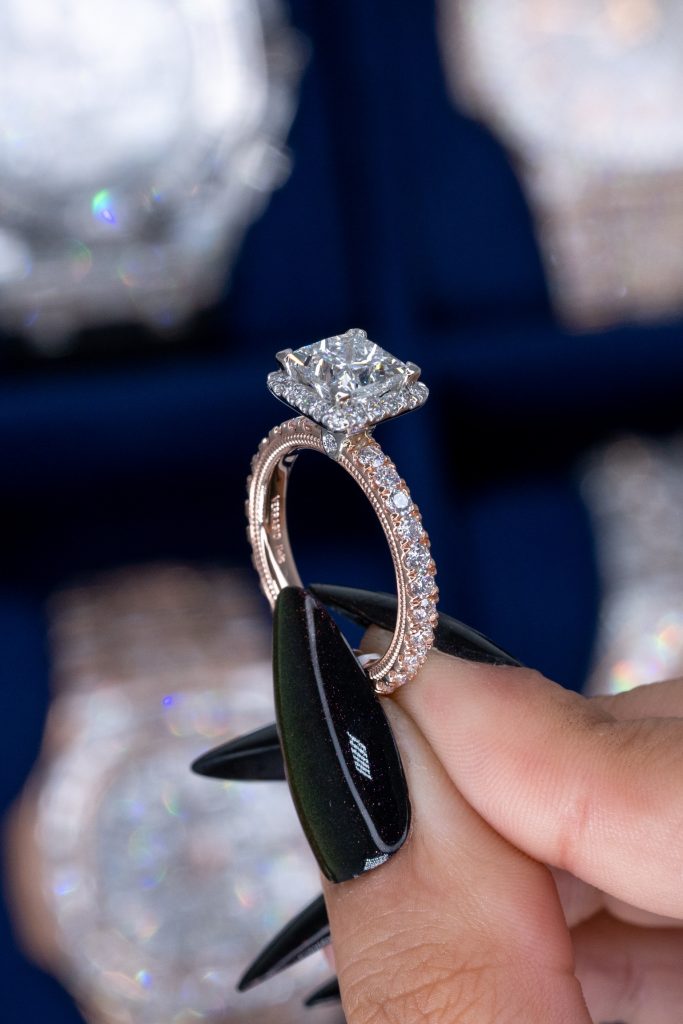 The halo is a great way to accentuate your diamond. In the case of our square-cut diamond ring with a halo and eternity band, the halo really does offset and emphasize the main diamond. This is a great style for those who want to accentuate the quality and elegance of the main stone in the ring. The halo style is one that works with a lot of different cuts of gemstones. You will often see the halo used with round-cut gemstones. This is because they naturally encircle the main stone, creating a halo-like appearance for the main stone.
However, the halo can be used with pretty much any cut of stone. It looks great surrounding the square-cut stone that makes up the focal point of this engagement ring. In essence, the halo is simply a row of smaller accent stones, in this case, diamonds, that surround the main stone. It gives the ring a bit of extra sparkle and shine and draws more attention to that main stone. The ring we feature here boasts a flawless and elegant stone that is made to be looked at.
Eternity Bands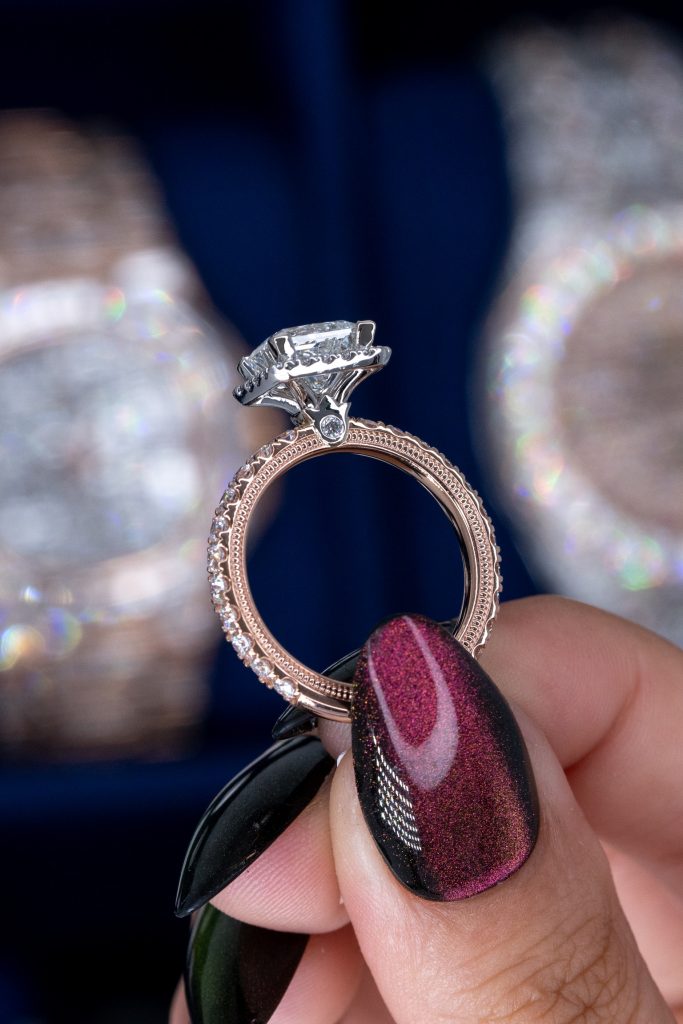 The eternity band is another great classic style. This style is often seen used as a wedding band because it will pair well with a variety of simple and classic styles. However, you can also use this style on your engagement ring, which is a really stunning look. It will add even more sparkle and shine to your ring. And, it will add some meaning which is important for a piece of jewelry meant to represent our relationship for the world. That will add even more personal meaning to your ring, making you cherish it even more. For all intents and purposes, the eternity band is a band that has gemstones inset into the band. These will most often be diamonds, but they don't have to be.
In the case of our square-cut diamond ring with a halo, the eternity band features diamonds. These gemstones go around the entirety of the band, making it a full eternity band. You will see full, half, and two-thirds eternity bands. The difference is simply how far around the band the stones go. The full band may be more elegant, but some people think it isn't as comfortable as the other styles. What works best is up to you. The ring also has a ton of meaning. The eternity band is meant to symbolize two lives joining as one for eternity. This is great symbolism for a happy, healthy, relationship.
Yellow Gold
When we think about classics and tradition, it is hard to imagine a metal that meets these parameters more than yellow gold. This really is a classic when it comes to fine jewelry. Yellow gold, with its rich, buttery hue, looks stunning with diamonds and pretty much any other gemstones. So it isn't a wonder that we see this material used frequently in engagement rings and other fine jewelry. It is the perfect material for those who want to stick to that really classic elegance and style. Something that is interesting about yellow gold, and any gold that is used in jewelry, is that it isn't pure gold.
Pure gold is far too soft to hold up to use in jewelry. If you were to make a piece out of pure gold, it would quickly lose its shape. So gold is actually blended with other materials to help increase the strength, toughness, and durability of the material. The carat weight, such as 18 or 24 carats, that is used to rate gold refers to the percentage of pure gold that features in the specific piece.
Versatile and Elegant
We do not often equate high-end jewelry with being versatile, but there are some that actually are. The square-cut diamond ring with a halo and full eternity band we feature here is a great example of this. What you have is something that is classic and timeless. As such, you know that it will look great with most styles – from classic to bold and eye-catching. And, it will also pair well with different fashions and other accessories. You can easily pair other pieces of high-end jewelry with this ring and it will look right at home. Our biggest piece of advice for pairing different pieces of jewelry is to try to stick to the same metal. Since this ring is yellow gold, you will want to pair it with other accessories that are also in yellow gold.
Our style is likely to change over time, as well. The way we dress and adorn ourselves when we marry is not likely to be the same style we maintain over the course of our life. With that in mind, the classics also have the ability to evolve with your ever-changing styles. Since these styles look great with pretty much anything, you know that even as you age, this ring will still look amazing.
Can Stand the Test of Time
It is important, no matter what you choose, that you select a ring that will be able to go where you go. As we mentioned in the section on considerations, the lifestyle of the person wearing the ring is an important consideration. The ring needs to be such that it doesn't impede upon one's ability to do their daily tasks and hobbies. But it also needs to be durable in terms of design and construction. You need this ring to last many years and if it is poorly made or uses subpar materials, it isn't going to be able to do this. This is why you really want to choose the best quality you can afford. And you have the peace of mind that any piece you choose from our stores is going to meet the highest and most rigorous standards of quality.
The square-cut diamond ring with a halo and eternity band that we feature here is a great example of the quality and craftsmanship we require.
In Closing
We know that choosing the right engagement ring can be a scary and daunting task. It is one of the more expensive purchases you will make and you are being tasked with choosing something that a person will wear for the rest of their lives. This is a big ask and can be pretty overwhelming. Thankfully, we have a ton of experience helping couples with a wide range of needs find the perfect ring for their taste and budget. Over the years, we have learned the things that you will need to consider when selecting an engagement ring. You will want to take into account the person's preferences and lifestyle, as well as your budget. We feel like we make a solid case as to why choosing a classic style makes the most sense.
Then, we took a close look at a square-cut diamond ring with a halo and a full eternity band. We broke down the different elements that comprise this elegant piece of jewelry. Then, we talk about how to pair the ring with other accessories as well as how it will need to evolve with your changing style. We hope that you are better prepared to find the right ring for that special someone, but don't hesitate to contact us if you have any other questions.