Oval-Cut Diamond with Full Eternity Band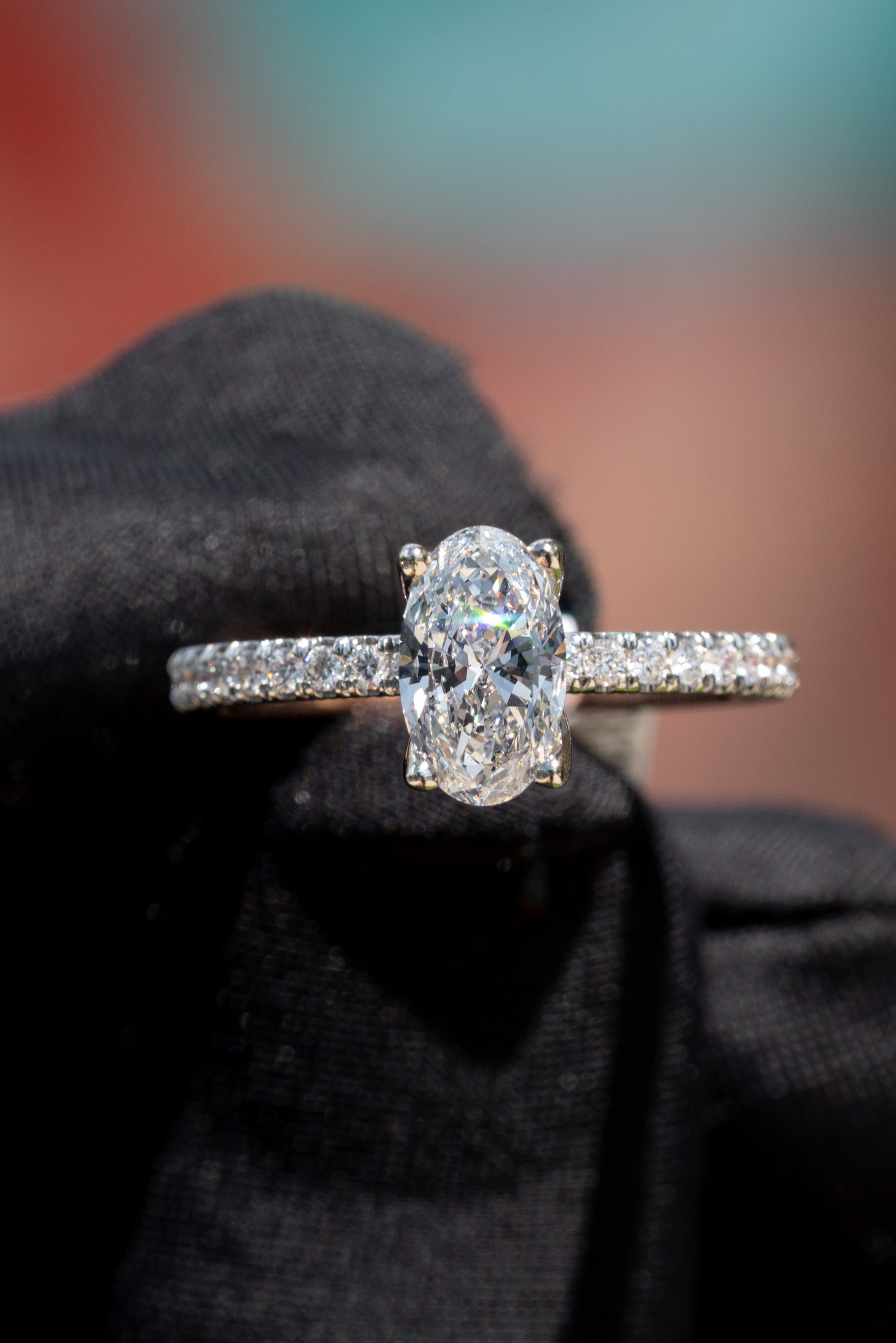 A beautiful ring such as the oval-cut diamond with a full eternity band is a really beautiful style and choice for an engagement ring. First and foremost, it is elegant and stylish. Yet, it is timeless in its design which means you will never have to worry about the ring falling out of fashion. That would be a disaster for an engagement ring. Another great thing about this style is that it can evolve with you. Even if your style changes over time, this classic and simple style will still look great. It works with vintage, modern, and pretty much any other look. That means it can really stand the test of time.
And, it is also comfortable and versatile. It looks great with formal attire, of course, but it will also enhance the look and feel of anything you pair it with. Your jeans and a t-shirt will take on an instant style it wouldn't otherwise have with this ring. The ring also has a lot of symbolism as well. This means it will also have a deeper meaning for your relationship.
The Best Selection for Engagement Rings

At Raymond Lee Jewelers, we have a long history of providing a wide selection of the highest quality accessories in the Boca Raton area. We pride ourselves on having a selection that no other jeweler can beat. The oval-cut diamond with a full eternity band we feature here is a perfect example of this. It features the finest materials and is incredibly well-made. We know that you have come to expect the best from us and we strive to continue to provide all the services we know you need. Whether you are looking for an engagement ring, need jewlery repair, or want a custom design, we have you covered.
We will work closely with you every step of the way to help ensure you have the best possible experience. Since looking for an engagement ring can be a pretty daunting task, our employees are incredibly knowledgeable and are here to help reduce the stress of the experience. It should be fun and exciting, not a headache-inducing experience. And we feel that with the information we provide, as well as the full services we offer, you will have a pleasant experience in searching for the perfect ring.
Our Quality Promise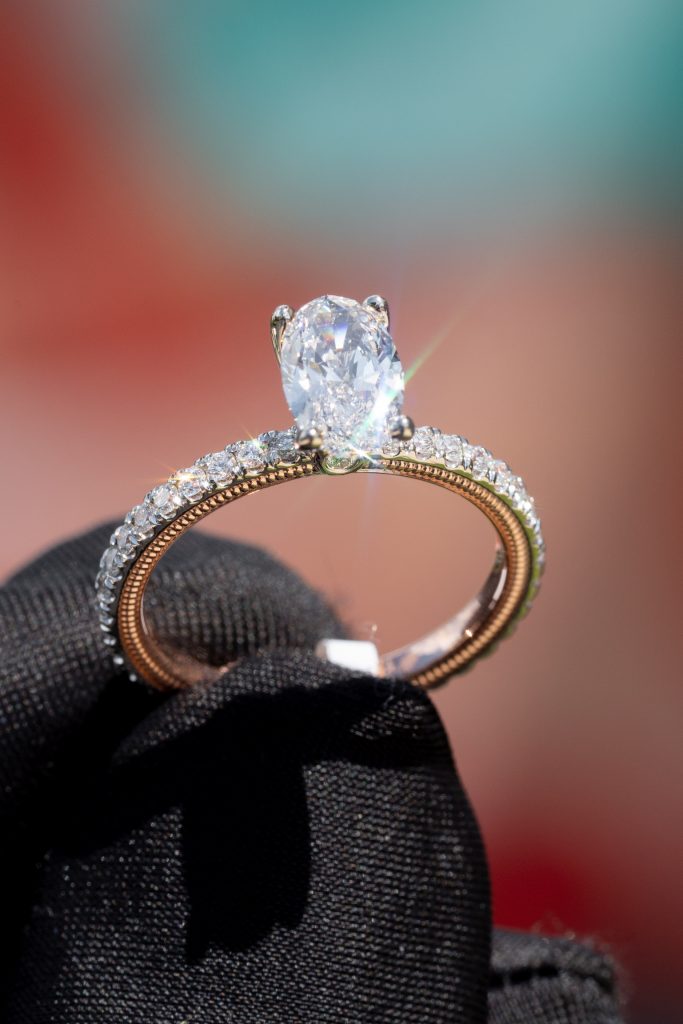 We know that choosing an engagement ring is a really important experience. The thing is, you or your significant other will be wearing this ring every day for the rest of their lives. It is easy to see why so many people feel like shopping for an engagement ring is actually pretty intimidating. But, it really doesn't have to be. In this article, we will go through the different considerations you will need to think about when choosing a ring. We will then give a description of the oval-cut diamond ring with a full eternity band that is the focal point of this piece. The information will help guide your choice, whether you end up choosing the ring we feature here or not.
But one of the main things you should expect from a ring such as this is quality. A ring that features high-quality metals and gemstones has a look that you can recognize. But there are more reasons to care about quality than looks. A well-made, high-quality piece is less likely to get damaged by daily wear and tear. This means it can stand the test of time. When it comes to a ring that you will be wearing daily, that's pretty important. 
Main Considerations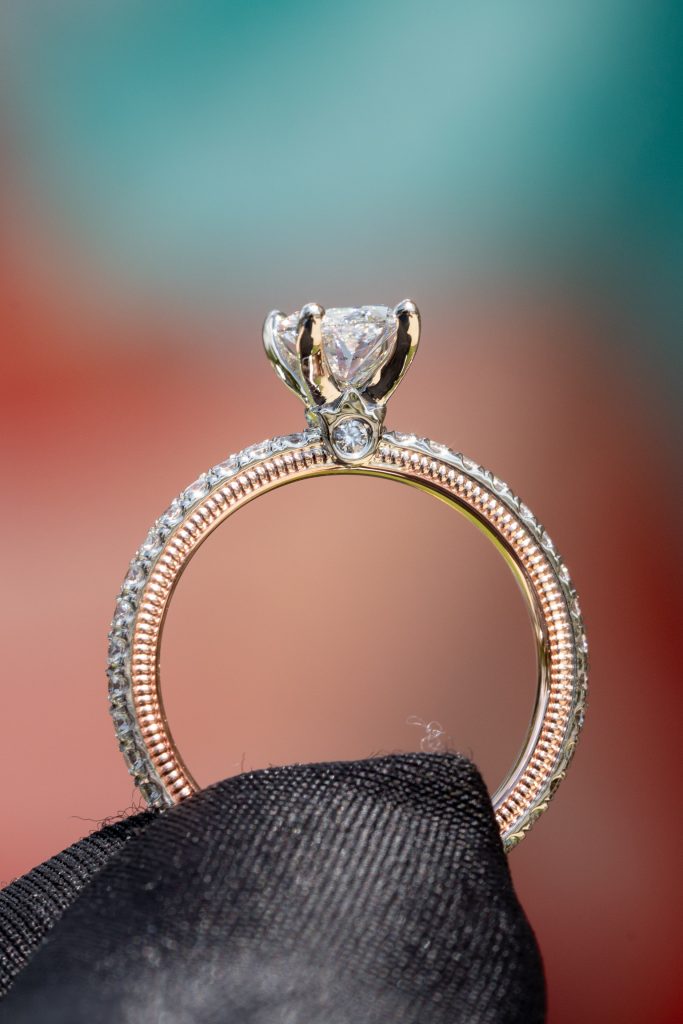 There are a lot of things to take into account when choosing an engagement ring. First and foremost is the look of the piece. The oval-cut diamond ring with a full eternity band we feature here is a classic and elegant style that looks great on pretty much anyone. Another great thing about it is that it will work with many different styles. You want to choose something that you will be able to love for many years to come. It's natural to find this daunting as who knows what we will be into a decade from now. But that is why we will posit that classic and timeless styles are the best to go with when it comes to an engagement ring. But more on that below.
You will next need to consider lifestyles. Do you (or your significant other) lead an active lifestyle? Are you hands-on in your daily work life or with your hobbies? If so, then you will want to choose something more simple and that doesn't have gemstones extending far beyond the band. If that's not a concern, you have a ton of choices. Whether you lead an active lifestyle or not, the ring we feature here is a great choice. 
Types of Diamond Cuts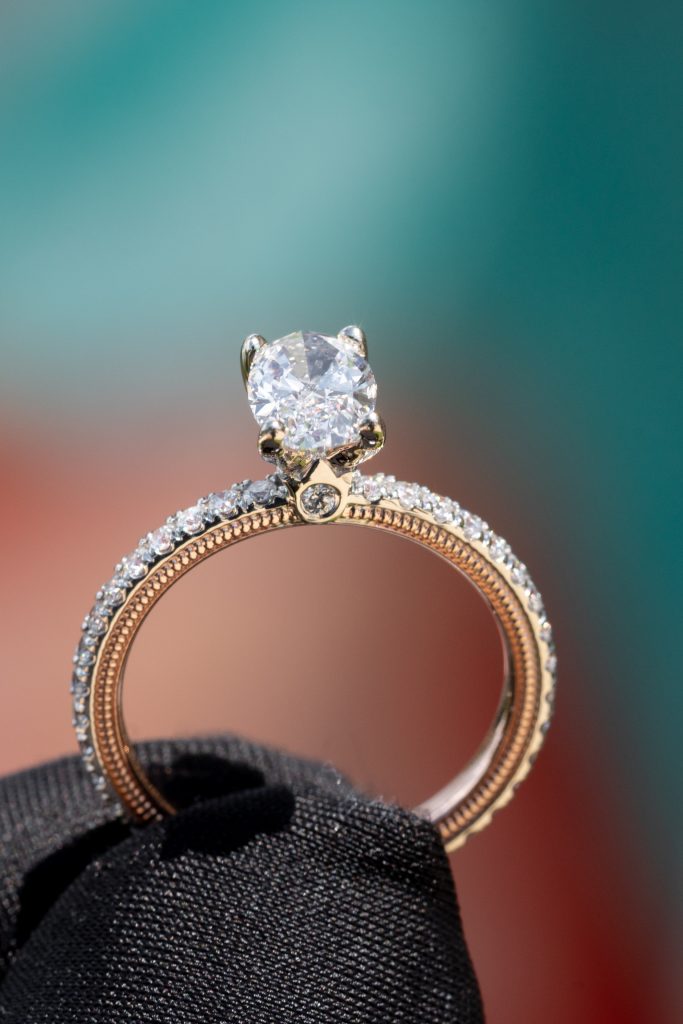 There are actually quite a few different cuts of diamonds. The ring we feature here has a main stone that is an oval-cut diamond. Accent stones that make up the eternity band feature another cut. These are in the round brilliant cut. So what is the big deal with all these different kinds of cuts? Obviously, they will look different. Some cuts are symmetrical and others are not. There are standard cuts and then there are specialty cuts. If you are choosing a diamond, you really have a ton of leeway as it can be cut into pretty much any shape you can imagine. To determine which cut will work best for you, you'll need to determine whether sparkle or fire is more important.
Many cuts, such as the brilliant cut or princess cut are made for maximum sparkle. They have a ton of facets cut into the surface of the ring, which causes a ton of light refraction. It is this light refraction that gives the ring its sparkle. Others feature something called step cuts. These give the stone more fire. Fire is the rainbow of colors that emit from a diamond when it is in sunlight. This cut will show the depth and quality of the stone, and provide a ton of fire. But, it will have less sparkle.
The Oval-Cut Diamond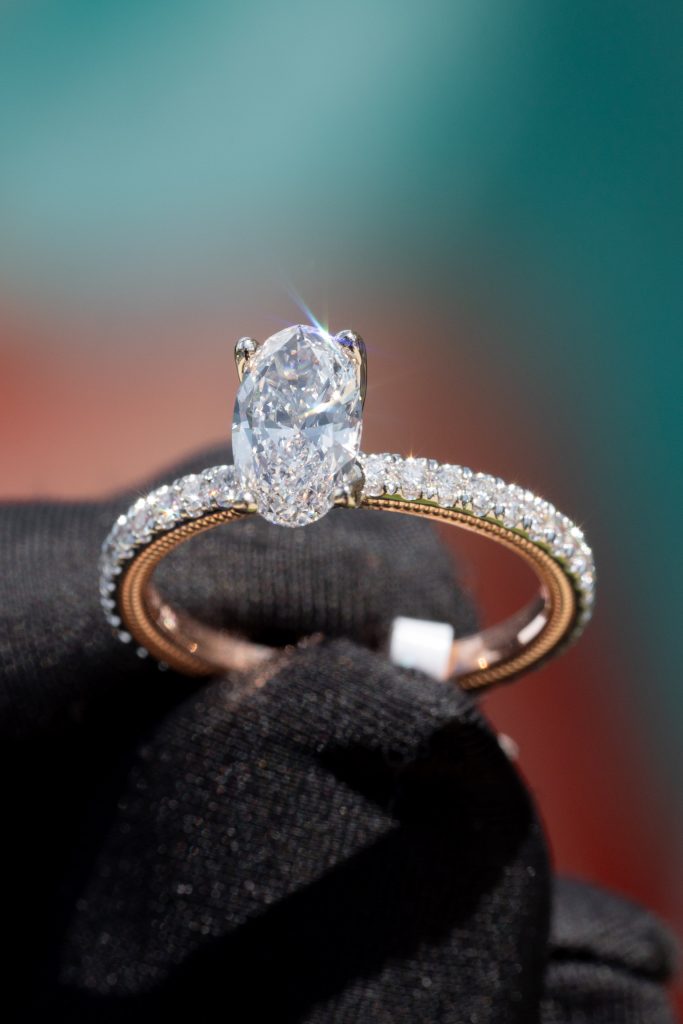 The oval-cut diamond is an elegant and popular cut. It looks great in engagement rings and can take on pretty much any kind of look. You'll see pieces that are classic or modern that feature the oval cut. It has the smooth, rounded edges that make the round cut so popular, but with a bit of a different look. Since it is more elongated, it has a much more unique look.
Many people love that the oval-cut diamond falls somewhere between the marquis cut and the traditional round cut. You basically get the best of both worlds! The great thing about the oval cut is that it features a ton of sparkle. You'll find that it has about as much sparkle and shine as a traditional round-cut diamond. But again, it has a much more unique look.
Another thing that people love about the oval-cut diamond is that it tends to look bigger than it actually is. You'll get a stone that appears quite a bit larger than its actual carat weight. It is also flattering to the hands and fingers. The cut can give a slimming effect which can be quite pleasant. 
Full Eternity Band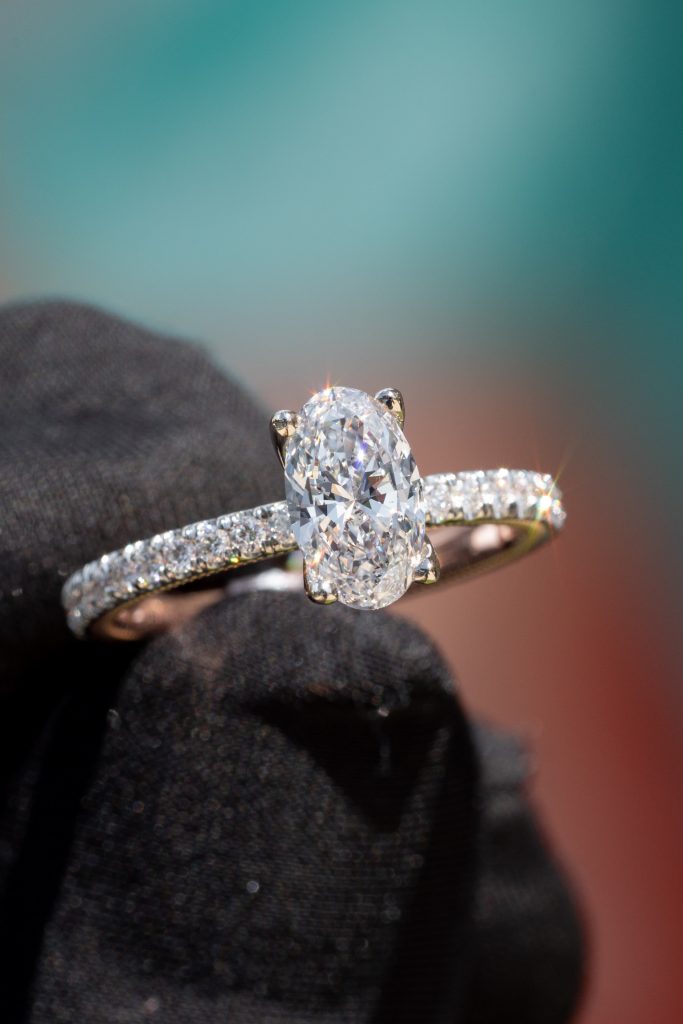 The oval-cut diamond ring we feature here is made even more unique with the addition of the eternity band. You'll often see an eternity band that features in a wedding band, but you can also easily incorporate it into your engagement ring with a beautiful effect. There is a lovely symbolism in the eternity band, which is why it makes such a great choice to add to your engagement ring or use as your wedding band. In essence, an eternity band is a band that features small accent stones (most often diamonds) inset around part or all of the band. There are three main types of eternity bands (though you can find more specialty versions as well). These are the full, two-thirds, and half eternity band.
The ring we feature here has a full eternity band. This means that the stones (diamonds in this case) go around the entirety of the band of the ring. A half and two-thirds eternity band simply refer to how far around the band the stones go. What will work best for you will be on the basis of aesthetic preferences and comfort.
Timeless and Classic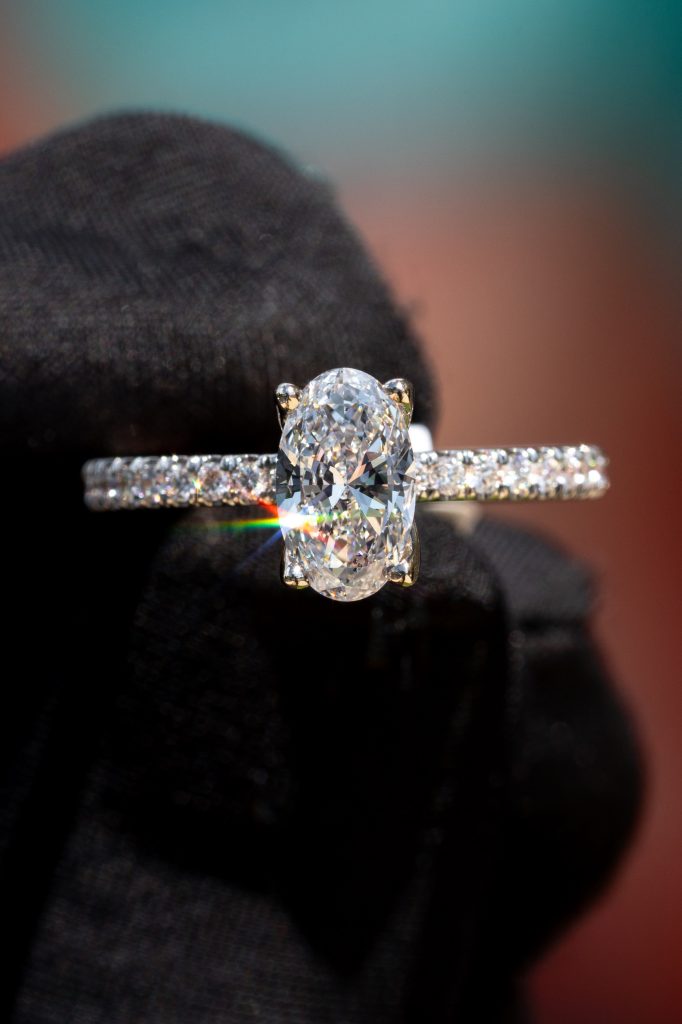 The oval-cut diamond ring with a full eternity band we feature here is a classic and timeless ring. There are a lot of reasons that we very strongly recommend that you choose something that is classic and timeless for your engagement ring. The thing is, classic styles are, well, classic. They are always in fashion. Think about that classic little black dress. It doesn't matter what is trendy or in vogue at a given moment, the little black dress always looks great. The same applies to accessories that are classic and timeless. And think about it – you will be wearing your engagement ring for the rest of your life.
Trends come and go. Sometimes incredibly quickly. But the classics will always be in style. The last thing you want is for your engagement ring to fall out of fashion. That can be an expensive and disappointing mistake. The best way to ensure that this doesn't happen is to choose one of the more classic styles like a solitaire ring, a halo ring, or an eternity band. You can also choose these in some combination, too, which will make the piece all your own.
Versatile and Beautiful
We cannot state enough how beautiful and elegant the oval-cut diamond is. The amount of sparkle and shine is incredible, but it is far more unique-looking than your traditional round cut. Using this more unique cut will give your ring, while definitely classic, a bit more personality. And since it is a classic and timeless style, you won't have to worry about it falling out of fashion in a few years' time. You get the peace of mind that the ring you choose will stand the test of time. And this is a great feature for an engagement ring.
The eternity band not only gives the ring a lot more sparkle, but it, too, makes the solitaire ring a bit more special. And it has that lovely symbolism of two lives joining together for eternity. That is a really lovely symbolism for a healthy and happy relationship. Since it is such a versatile look, it will also look great with anything you pair it with. It will work with a huge array of styles and look stunning at any event. Whether you are pairing it with jeans and a t-shirt, or something a bit more formal, we know you'll love the instant glamor.
In Closing
We hope that we are able to make choosing the right engagement ring a little easier. The information we provide here is meant to help guide your decisions. It can also take a lot of the stress out of the process. This is a big deal, but it doesn't have to be approached with trepidation. If you have the right information, you'll be good to go. After you've made the considerations we describe here, you will be ready to shop for the right ring. The oval-cut diamond ring with a full eternity band we feature here is an elegant, unique, and stylish option. The great thing about this ring is that it is also classic and timeless.
Since it is classic, you don't have to worry about the ever-changing trends. It is a style that simply never goes out of fashion. Even if your own personal style changes over time, you have the peace of mind that your engagement ring will still look great with it. Having a ring that can evolve with you is a really great feature in an accessory such as this. And, we know you will appreciate the fine design and quality craftsmanship the ring offers. It also features the finest materials so you know that you are getting a really great value as well.