Today we are going to be comparing two of our favorite Rolex GMT Master II watches – Rolex Batman (ref. 126710BLNR) vs Rolex Pepsi (ref. 126710BLRO).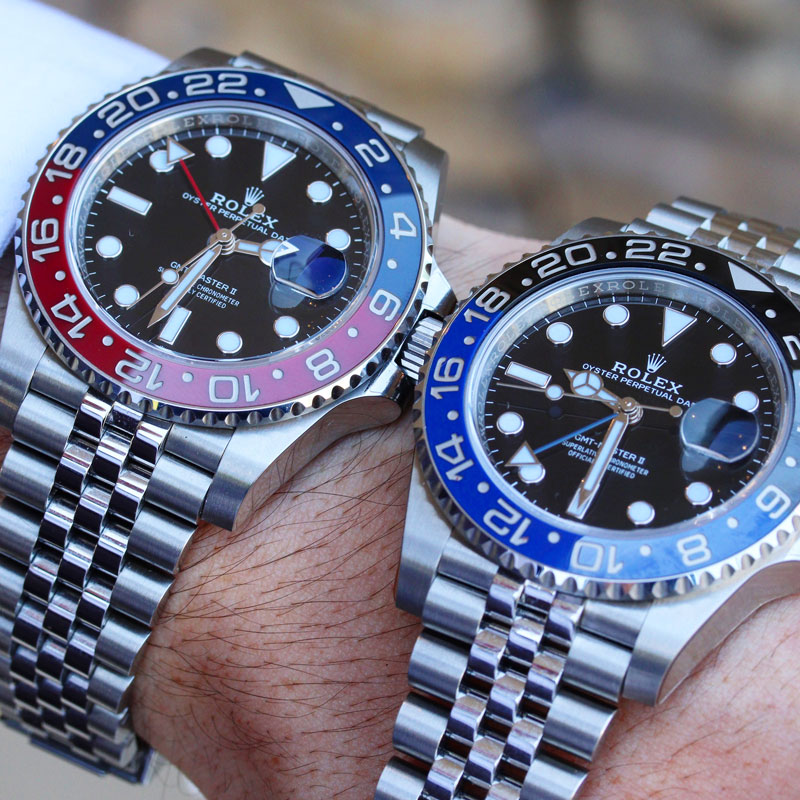 This comparison consists of the newest versions of the Rolex Batman (2019) and Rolex Pepsi (2018). Therefore, these two watches are identical, with the exception of the colors.
That said, we are going to base this comparison on the history of these two iconic watches (as this is what really separates the two). And then, we are going to discuss the finer details of their case, bezel, dial, bracelet, and movement. Finally, to wrap this up, we are going to provide some insight from the Rolex community.
Even though the watches are the same in structure and at heart, we still feel this is going to be an interesting and useful comparison that goes slightly beyond just personal preference. Many people ask the question, "should I get a Rolex Batman or a Rolex Pepsi?" so we hope this post can be helpful when deciding between the two.
Essentially, this comparison is going to contain everything you need to know all in one place. That way, you don't have to search Google endlessly trying to find some information or advice that you may be missing or overlooking when choosing between the famous American superhero or the famous American cola.
So, are you ready? Grab a Pepsi and your cape because this matchup is about to begin…
Note: Both watches featured in this article are brand new and for sale at our showroom, Diamonds by Raymond Lee, in Boca Raton. You can also purchase them from us online as well. View the full sales listings here:
Rolex 126710 Master Gmt Ii "Batman" Stainless Steel Watch
Rolex 126710 Master Gmt Ii "Pepsi" Stainless Steel Watch
New Rolex Batman vs Pepsi
Let's start by discussing the history of the Rolex 126710BLNR "Batman" and the Rolex 126710BLRO "Pepsi".
History
When it comes to history, the Rolex Pepsi dates much further back than the Rolex Batman…in fact, almost 6 decades back.
Rolex Pepsi History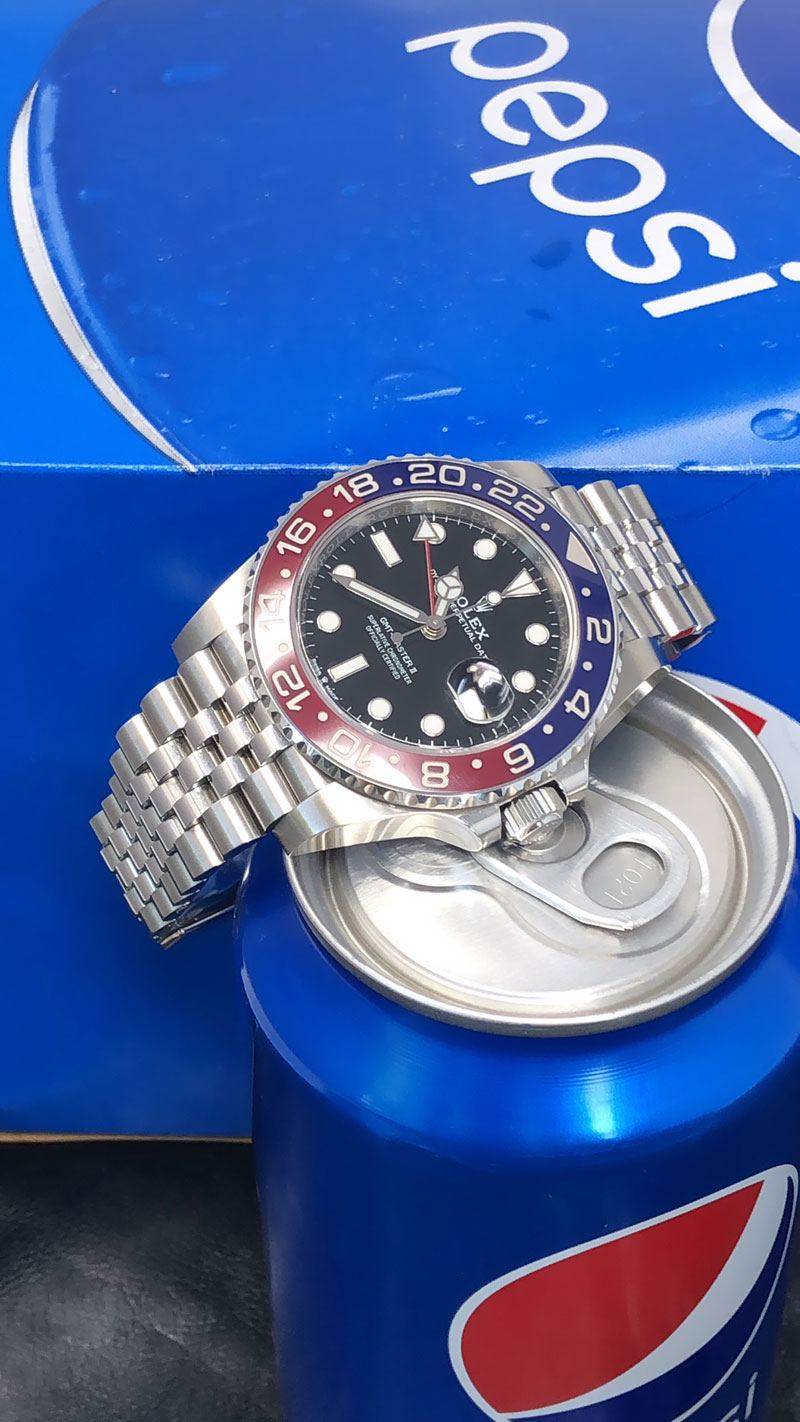 The first Rolex GMT Master ever created was a Rolex Pepsi.
In 1955, Rolex introduced a GMT-Master with a red and blue bi-colored bezel. This would later be coined the "Rolex Pepsi" by Rolex enthusiasts.
Since then, the Rolex "Pepsi" has undergone many upgrades.
Lets' take a look at four key Rolex GMT Master references that don the name "Pepsi".
GMT-Master reference 1675
Rolex Pepsi ref. 1675 was released in 1959 and is now a vintage watch that is highly collectible. This was the second model of the GMT-Master collection. It was a stainless steel model capped with a Pepsi bezel. It was in production for quite some time, from 1959 until 1980. This is one of the longest-running references in the entire Rolex catalog. If you find one of these today, it will likely have patina, which is essentially fading, on the bezel and dial. If you aren't familiar with the desires of Rolex collectors, then you might not know this is a good thing. Many Rolex collectors want the patina, as any replacement pieces devalue the watch.
GMT-Master reference 16750
Introduced in 1981, the GMT-Master 16750 is another vintage Pepsi Rolex. It was in production until 1988. It had a few upgrades from the ref 1675, such as a Quickset date function, new Caliber 3075, and a hacking feature. Moreover, the 16750 Pepsi had double the water resistance.
Most notably, this was when Rolex first used the Jubilee bracelet on the Rolex Pepsi.
GMT-Master II reference 16710 "Pepsi"
This was the second model of the GMT Master II collection and the first Pepsi GMT Master II. It had a long production run, beginning in 1989 and ending in 2007. Reference 16710 had a slimmer design and it came in a few color variations, one being, of course, the "Pepsi" blue and red bezel. Throughout the almost twenty-year production life, it underwent numerous modifications, such as new movements and the use of tritium for the lume (which was then followed by Luminova and SuperLuminova).
GMT-Master II reference 116710BLRO
This was the reference before the newest Pepsi. There were many updates to this reference, many of which are still utilized on the newest reference 126710BLRO. It had a bigger case size at 40mm, as the modern market calls for larger sports watches.  It had a Maxi dial and an impressive Caliber 3186 with a blue Parachrom hairspring. One of the biggest highlights, though, was that its the first Pepsi Rolex with a Cerachrom ceramic bezel. Cerachrom ceramic allows for the bezel to be much more scratch resistant.
Regarding the Cerachrom ceramic bezel, the Pepsi wasn't the first GMT-Master II to receive the new and improved bezel. In fact, it was the Rolex Batman that did.
Rolex Batman History
The first Rolex Batman was created in 2013, it was reference 116710BLNR. It was the first Rolex GMT-Master II to have the impressive Cerachrom (patented by Rolex) bezel, which replaced the aluminum, acrylic insert that was used since 1959.
The Rolex 116710BLNR was their first two-toned ceramic bezel and the first time Rolex made a black and blue bezel. It was dubbed the Rolex Batman shortly after, again, by the Rolex community.
What's interesting is why Rolex decided to create a black and blue bezel GMT-Master II instead of the existing, previous two-toned bezel colors. They did this because at the time, they couldn't produce the blue and red color to their satisfaction using the new ceramic technology. They could with the black and blue color, though. One year later, Rolex was able to create the blue and red ceramic bezel, which then lead to the GMT-Master II reference 116719BLRO
All in all, we are very thankful that Rolex couldn't initially produce the blue and red bezel, because we may never have had the Batman Rolex. And, we and the people, love the Rolex Batman. It was a hit straight out of the box…and the new better version, reference 126710BLNR, even more so.
Something to note regarding the Batman Rolex, the first reference was fit with an Oyster bracelet. It wasn't until the second and newest model (the one featured in this article – ref. 126710BLNR) that they started using a jubilee bracelet.
All in all, the Rolex Pepsi has a longer and richer history, and when it comes to collectible and vintage Rolexes, between the two, only Rolex Pepsi has achieved that status.
That said, we believe Rolex Batman will receive that fate one day, it's just a matter of time and production life…
And moreover, the new Pepsi and new Batman are both still being produced, so neither are vintage or collectible at the current time. Thus, unless you are choosing between a vintage Pepsi and a Rolex Batman, the decision shouldn't be affected based on vintage or collectible status…and today, we are comparing the newest versions, so neither have that stature.
Fun fact: The two tone color bezels are used to distinguish between the day and night times of the bezel's second time zone.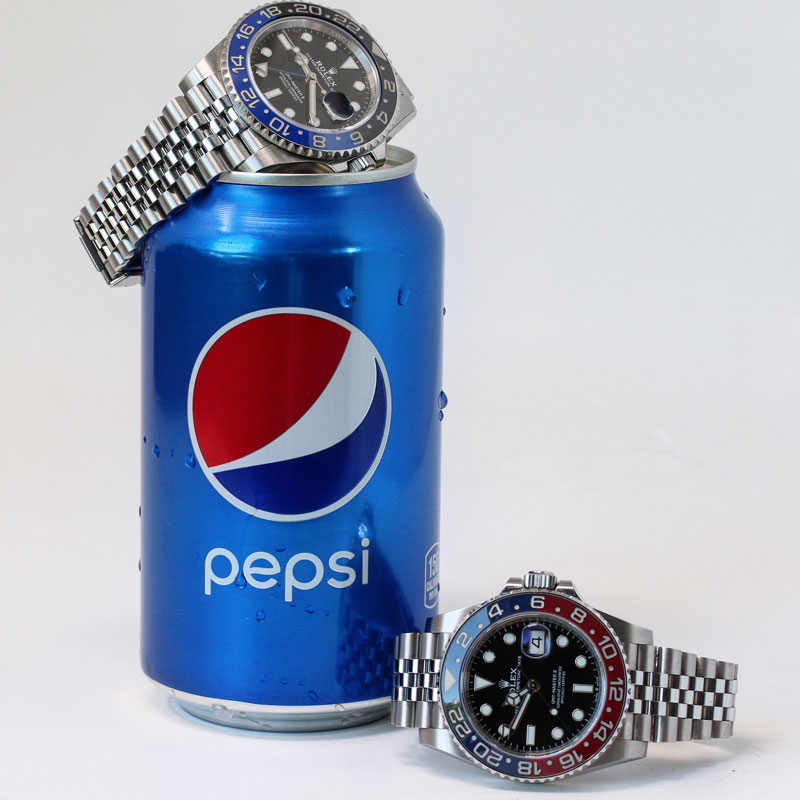 Rolex GMT-Master II 126710 Features
As you've probably noticed, both the new Rolex Batman and Pepsi have the same reference number. This means they are the same model, thus they have the same exact features, with exception to the color, as the end of the references suggest.
BLNR stands for: "Bleu Noir" which means "Blue Black" in French.
BLRO stand for: "Bleu Rouge" which means "Blue Red" in French.
So, we are going to do a quick description for the case, bracelet, bezel and dial for reference 126710 as a whole.
Oystersteel 40mm CASE
The GMT-Master II 126710 case is 40mm in diameter but it wears slightly larger. Overall, the Oyster Architecture offers the ideal proportions that most people desire.
The case is made from Rolex's patented Oystersteel. Oystersteel belongs to the 904L steel family, which is a high-tech alloy used in aerospace and chemical industries. It is known for being extremely resistant to corrosion. Thus, the Rolex watch is as well. Moreover, once Rolex polishes the Oystersteel with their remarkable finishing techniques, it keeps its beauty, even in the most extreme and harsh conditions.
The case is equipped with a screw down, triplock triple waterproof system, which is waterproof down to 100 meters (330 feet). It's not incredibly deep but it's more than enough for a typical dive.
Anyway, it's not about extreme waterproofness when it comes to GMT-Masters. This watch is made for intercontinental travel.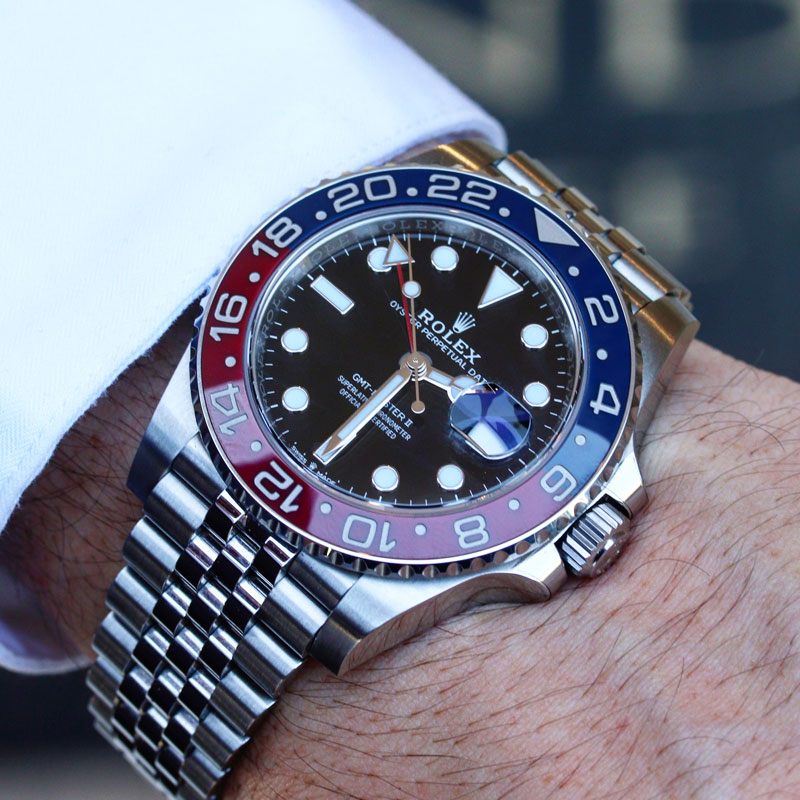 24-Hour Two-Toned Cerachrom Rotatable Bezel
Beyond the two-tone color Cerachrom bezel that makes these watches so well-known, the bezel has incredible functionality. In addition to your conventional hour, minute and seconds hand, the GMT-Master II features an arrow-tipped hand that circles the dial once every 24 hours and a bidirectional rotatable 24 hour graduated bezel. This function is what makes it a travelers watch. The distinctly colored, bezel-matching, 24 hour hand shows the home time via the bezel's graduations. Regarding the local time, you can easily set it by jumping the hour hand in one hour increments, which is made possible thanks to the remarkable winding crown technology employed by Rolex – the hour hand can be changed independently of the minute and seconds hands, both forward and backward, allowing for a quick adjustment of time without affecting the precision of the wearer's timekeeping when changing timezones.
And to reiterate, the Cerachrom ceramic bezel is extremely scratch and fade resistant. In fact, it's pretty much as scratch resistant as the sapphire crystal.
Black Dial
The face has a striking black color and large hour markers of different, coordinated shapes, which are white and completely filled with lume, making the watch super easy to read. What's more, the hour markers are crafted from 18ct gold to prevent tarnishing throughout the life of the watch.
The Rolex dial is completely designed and manufactured in-house and is meticulously crafted by hand to make sure each watch is made to perfection.
Oyster Steel Jubilee Bracelet
When it comes to luxury watches, aesthetics are key, and Rolex is one of the best when it comes to top-of-the-line aesthetics. This is because Rolex uses both advanced technology and the ultimate aesthetic control, the human eye. Every Jubilee bracelet is flawless and supple. Furthermore, Jubilee bracelets are incredibly comfortable. This five-link bracelet design has been around for a long time. Since the 1945 Oyster Perpetual Datejust as a matter of fact.
Caliber 3285 Movement
At the heart of the GMT-Master II is a new caliber 3285 movement. This new-gen movement is developed and manufactured in-house by Rolex.  It has 10 patent applications, which include Chronergy escapement, 70 hours of power reserve (incredible, right?), a Parachom hairspring for extreme resistance to shock and temperature changes.
And, of course, the 3285 movement has a Swiss chronometer certification, which means it is of the highest precision in the industry with only a +2/-2 seconds per day.
All in all, this is the best movement the GMT-Master II has ever received. It is the most reliable movement anyone could ask for or even expect.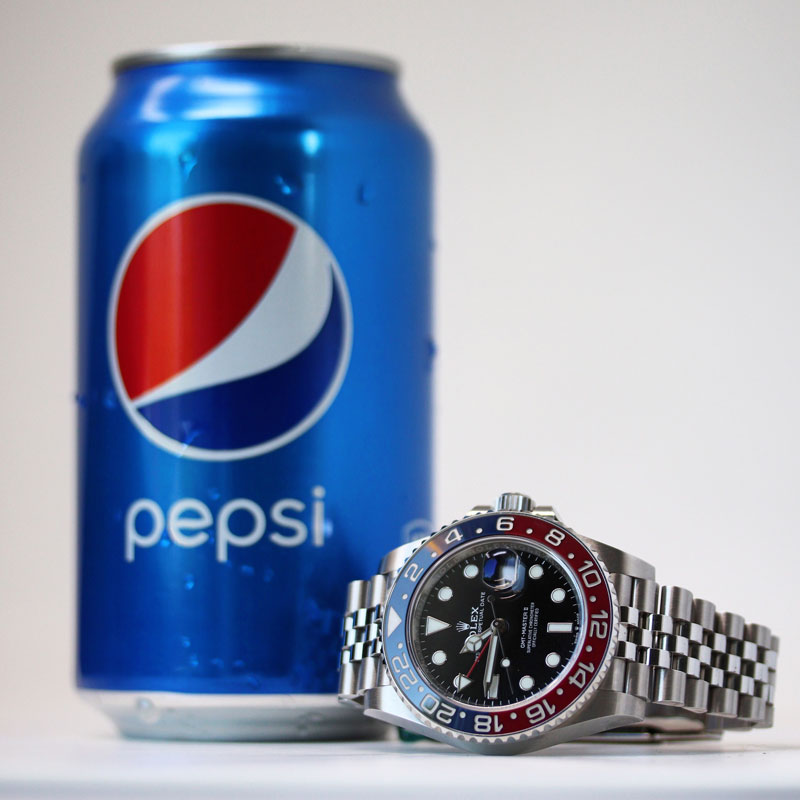 Insight from the Rolex Community – New Rolex Batman or New Rolex Pepsi?
We wanted to get a feel for the Rolex community's opinion on the matter. So we searched many threads on this topic on forums such as 'Rolex Forums'.
From what we researched and tallied up, about 70% of the Rolex community leans towards the Pepsi. Yet, those who love the Batman are not shy to make their points.
You'll often see people regarding the Batman as the new OG due to it being the first GMT-Master II to use the Cerachrom bezel technology with a two-toned color.
On the flip side, others will say Pepsi has the history, which makes it the true OG, for life. Plus, the Pepsi had to figure out how to create a blue and red bezel with its the new Cerachrom technology, and it did, which is impressive in its own right.
Another common thing we saw was many people don't like the Batman with the Jubilee bracelet and they prefer the previous reference which used the Oyster bracelet. We think they've just gotten to use to the look of it and as this watch is brand new, they will come around and stick around sooner than later.
All in all, the people make it clear that it really comes down to personal preference, and we agree. Neither are collector status and they have the same exact features and aesthetics, minus the color of the bezel and 24-hour arrow-tipped hand.
So, the only choice is what you prefer for color and if history means something to you, then go for the one with the history you prefer.
For us, it's impossible to choose between a classic drink and a classic superhero, and we'd recommend getting both if possible…and it is possible because both of these iconic, highly coveted watches are available at Diamonds By Raymond Lee. We can't guarantee they will still be available by the time you read this, but if they are, jump on it because the waiting list is typically quite long for both the Rolex Batman and the Rolex Pepsi.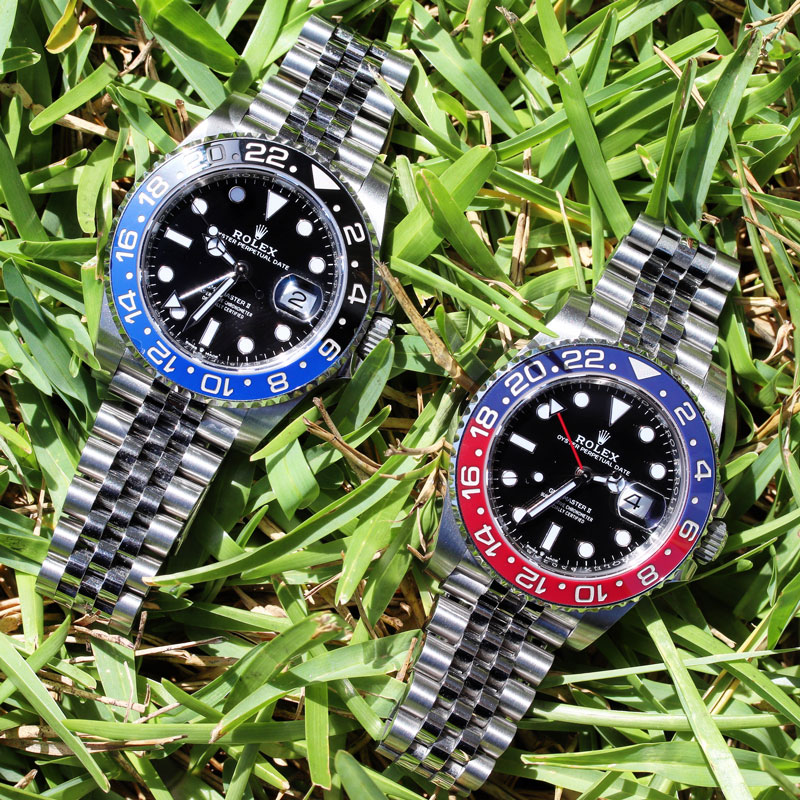 Both of these watches are brand new and for sale at our showroom, Diamonds by Raymond Lee, in Boca Raton. You can also purchase them from us online as well. View the full sales listings here:
Rolex 126710 Master Gmt II "Batman" Stainless Steel Watch
Rolex 126710 Master Gmt II "Pepsi" Stainless Steel Watch
About us – Diamonds By Raymond Lee
Diamonds by Raymond Lee is Boca Raton's most recommended sales and service centers for watches, diamonds, and high-end jewelry. Our business is family owned and operated. We have over 30 years of experience selling fine certified luxury watches and in that time we have built an unparalleled reputation for fair, quality dealings in South Florida.
Our goal is to meet the needs of our customers at our Boca Raton retail store and online and to provide our community with the best possible experience.  We combine value, quality, and cost with the remarkable ability to meet and understand the needs of the people we serve.
If you live in Boca Raton, please feel free to drop by our showroom anytime!
Diamond By Raymond Lee's Showroom in Boca Raton, Florida:
2801 N Federal Hwy, Boca Raton, FL 33431
Our hours of operation are:
Monday-Friday – 11 am to 7 pm
Saturday – 10 am to 5 pm
Sunday – 12 pm to 5 pm
Feel free to contact us if you have any questions about the Rolex 126710BLNR Batman or the Rolex 126710BLRO Pepsi.
We hope you've enjoyed this Rolex Batman vs Pepsi article. Tell us what other Rollie comparisons you want to read about in the comments below.