The 3 Best Tag Heuer Watches for Luxury Race Watch Enthusiasts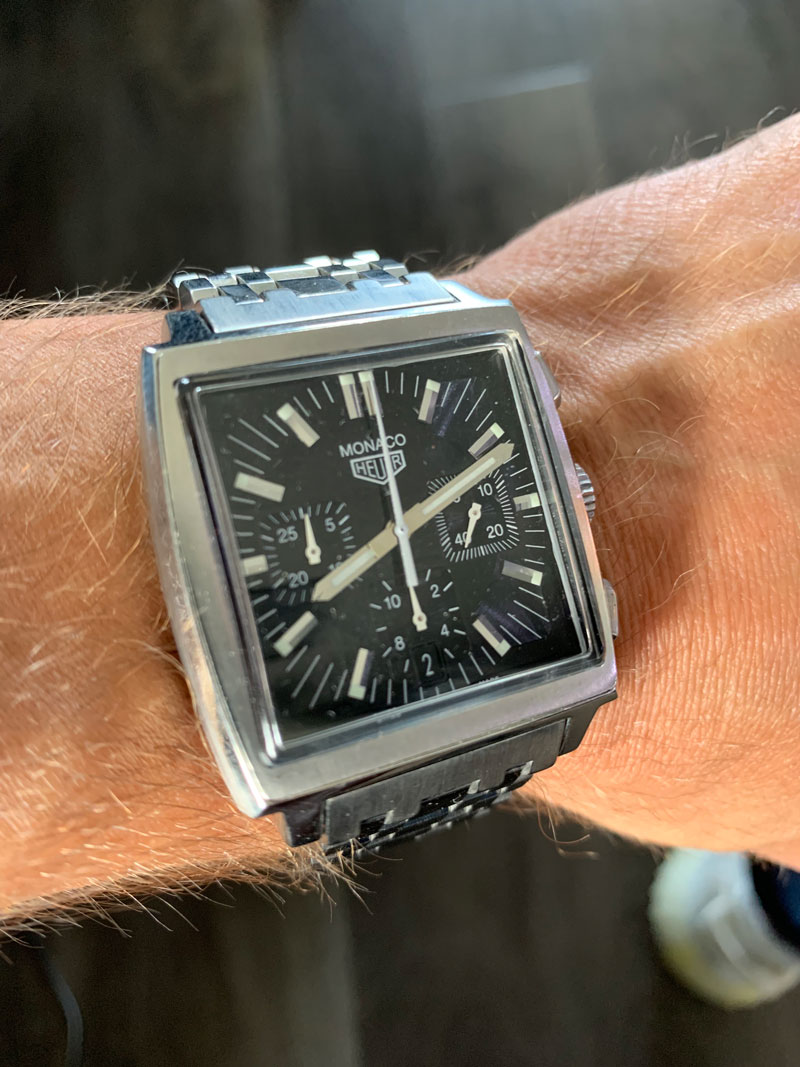 Featuring the 3 Best Tag Heuer Watches for Luxury Race Watch Enthusiasts.
All of the watches featured in this article are available for sale at Raymond Lee Jewelers in Boca Raton.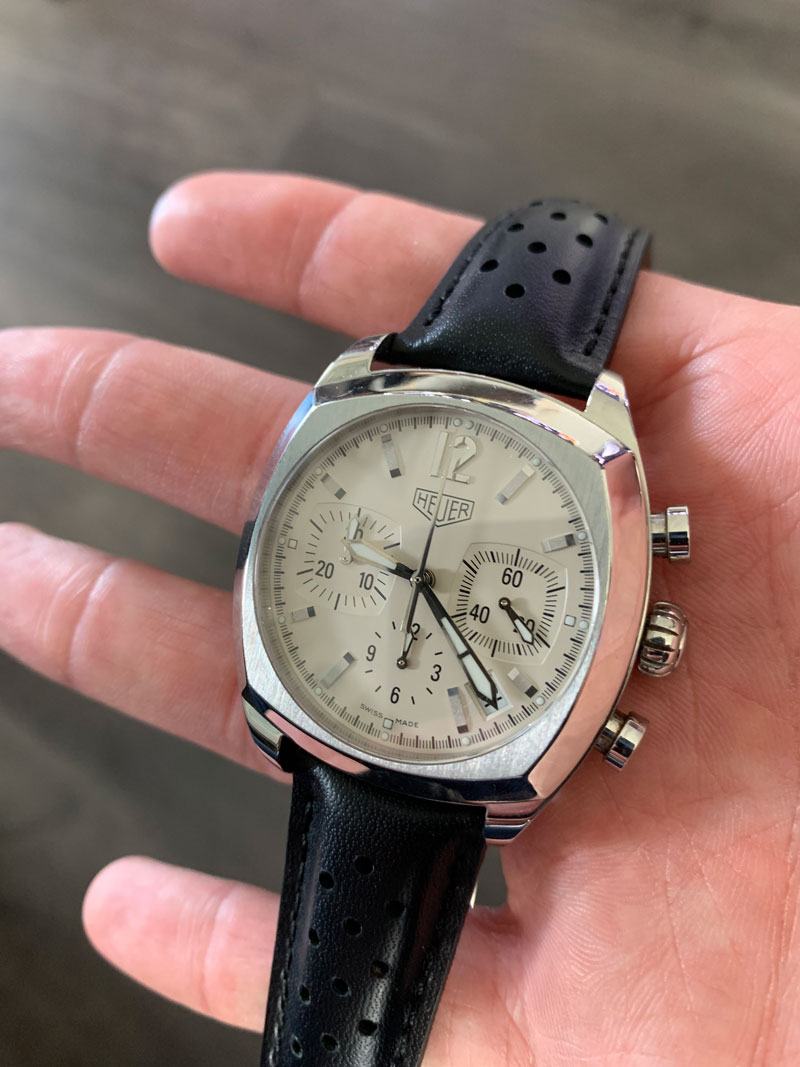 TAG Heuer is a Swiss luxury watch brand and manufacturing company that was founded a long time ago.
Long like…
1 year before the inauguration of Abe Lincoln as the 16th president.
2 years before USA saw its first paper money.
3 years before the Emancipation Proclamation…
It was 1860, 159 years ago to be exact.
So, you already know…TAG Heuer has a very rich history. They have stood the test of time and remained victorious through it all.
World Class Horology and Watch Design
TAG, which is an abbreviation for Techniques d'Avant Garde, has been known for their innovative chronographs and overall revolutionary watchmaking since day one.
Moreover, they have roots in, and a strong passion for, automobile racing. This has formed the basis of many of their watch creations for the entire duration of the brand's evolution.
With such incredible antiquity, it is no wonder that watch enthusiasts are drawn to TAG Heuer watches.
But it's not just adept watch critics who love TAG.
TAG Heuer receives admiration from everyday people to racecar drivers to celebrities alike. You have massive celebs like Daniel Craig, Leonardo DiCaprio, and Pierce Brosnan who are outright avid fans of TAG's wonderful timepieces and legacy.
Put simply, anyone who knows what a watch is (I know, slightly condescending) recognizes TAG as one of the greats in watchmaking. They have some of the world's finest watches and horology inventions after all…
So, on that note, we want to pay tribute to this well-respected brand by reviewing 3 of the most popular race watch TAG Heuer lines of the now and yesteryear.
While everyone may know TAG, not everyone knows the finer details of their extensive selection of watches. Therefore, we hope this can help people out there who are deciding on their next Swiss luxury watch purchase…or better yet, next TAG Heuer purchase.
Now, let us be clear that with so many remarkable watches available by TAG, this wasn't an easy choice to make and it, of course, is up for debate.
Nevertheless, we have narrowed it down after some careful thinking, and a little personal preference…
So, without further ado, here are the top 3 BEST TAG Heuer watches for luxury race watch admirers. 
TOP 3 TAG Heuer Watches
Note: The watches featured in this article are available for sale at Raymond Lee Jeweler. We will link to the full listing after discussing each model in depth.
1. TAG Heuer Carrera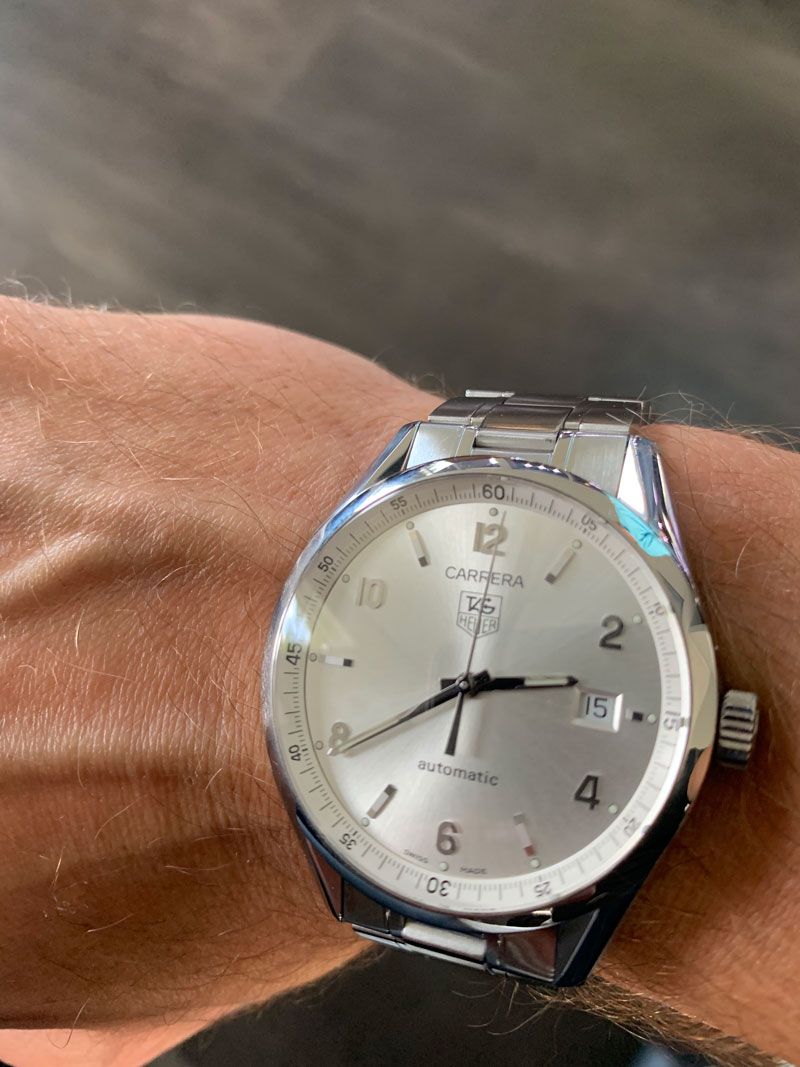 Carrera watches are easily the most popular in the entire TAG catalog. In fact, if there was one collection that could define the company as a whole, we believe it would be Carrera.
Not only are the designs superb, but the history of the Carrera line is fascinating too.
History
The first Carrera was introduced in 1963. It was designed by Jack Heuer, CEO and great grandson of the founder of TAG. The watch was created for racecar drivers and the name was inspired by the legendary race called the Carrera Panamericana. The Carrera Panamericana race was infamous for its dangerous track, which took the lives of 27 drivers in a span of 5 years.
Jack found beauty in the name and he wanted to address a need for the brave motorsports pilots who risked their lives for entertainment and the pride of winning. He wanted to give them a minimalistic yet luxurious watch that was perfectly legible, reliable, precise and instrumental in measuring time and average speed during a race…and he did just that.
The TAG Heuer Carrera watch became the ultimate racing watch. Carrera watches have unmatched durability and shock resistance, AND chronographs with sublimely useful bezels. Moreover, the watches are beautifully crafted with a clean and charming design. It's a tool watch that racecar drivers can be proud of both in function and aesthetics.
Production
The TAG Heuer Carrera was in production from 1963 to 1982, at which time Jack Heuer removed himself for the CEO position and the Carrera went into exile. 14 years later, in 1996, the Carrera was re-launched at Monza, re-emerging as a legendary watch. It was none other than Jack Heuer who made this happen, and the world thanked him for re-launching his watch. It is now the most celebrated watch in the history of TAG…
There is much more to the story of the Carrera and Jack Heuer, but we will save that for another post.
Now, we want to introduce you to our current favorite TAG Heuer Carrera, reference WV211A.
TAG Carrera WV211A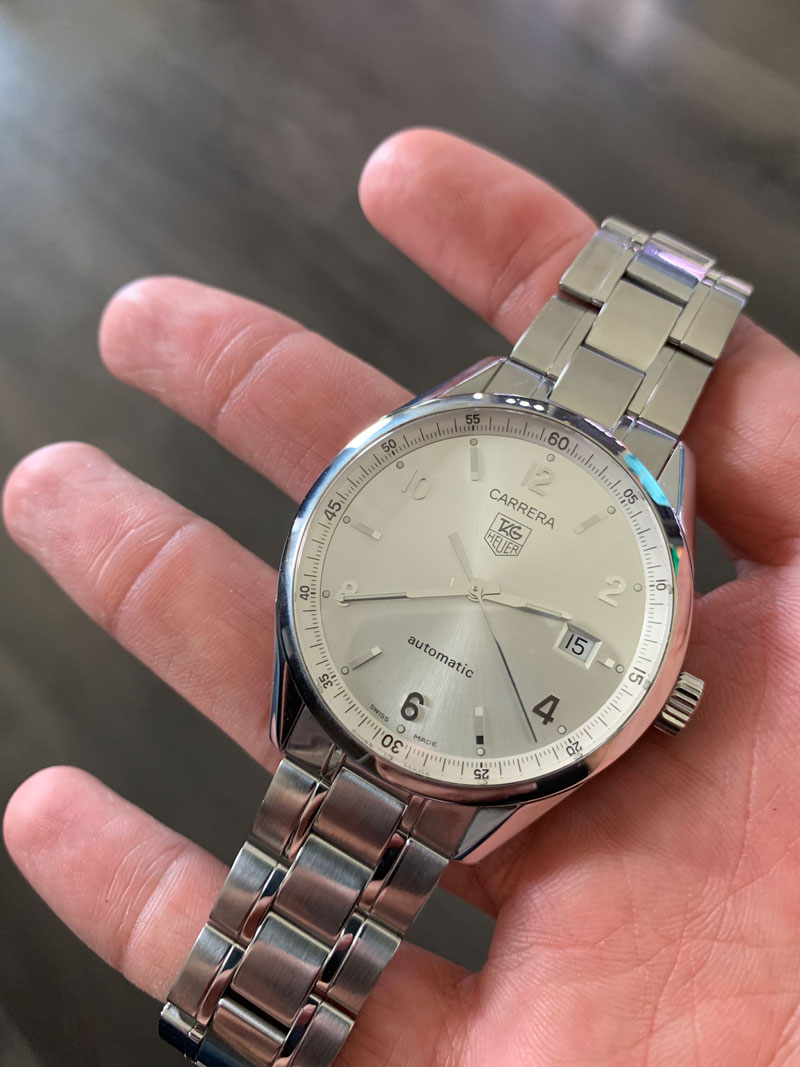 The TAG WV211A Carrera watch is crafted from stainless steel. It has a 39mm round case with a smooth bezel, an impeccably uncluttered silver dial with a date window at its 3 o'clock position, and a solid stainless steel bracelet polished to perfection.
This watch is sleek, sophisticated, professional and undeniably luxurious. It's an excellent timepiece made for both business and pleasure.
The case is simple. It is round, exquisitely finished, and it employs only a screw down crown on its flank. It's proportioned beautifully, taking up the right amount of wrist real estate, which allows the elegant dial to become the highlight of this watch.
A classic no-nonsense dial.
Underneath the scratch-resistant sapphire crystal rests the silver dial, which features luminous baton hands and hour markers, large Arabic numerals, and a minute track encircling the outer rim. It's minimalistic but it pops in such a remarkable fashion.
Wrapping this all together is a triple-link stainless steel bracelet that is comfortable, secure, and never pinches skin or pulls hair.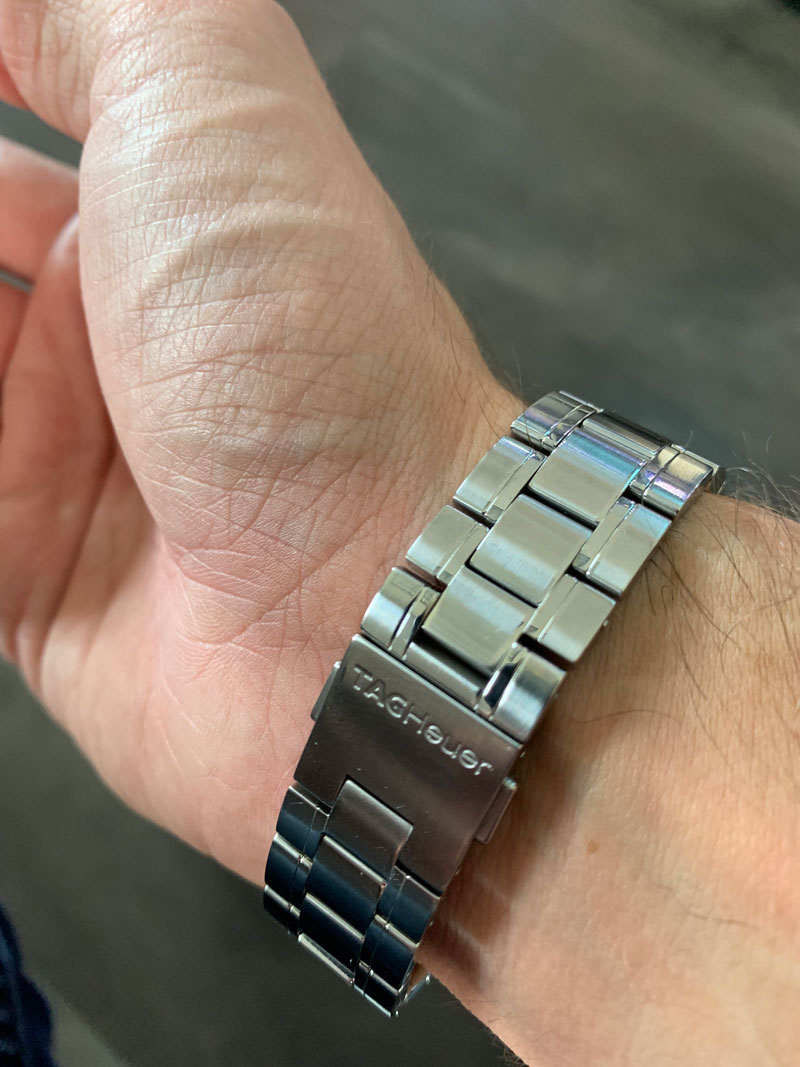 Moving to the inside of this watch…
If you flip the watch over and look at its case back, you will see an exhibition window, which gives you a peek at its Swiss-made automatic movement. As with all Carrera models, the precision meets some of the highest industry standards. Moreover, the movement has a 42-hour power reserve so you can take it off for the day and pick it back up without having to reset the time.
What's more, the watch is water resistant down to 50 meters (165 feet).
All in all, This Carrera watch is flawless, modern and utterly technical. Plus, it is relatively inexpensive. It's one of the best watches money can buy and it won't break the bank when doing so. In our opinion, a luxury stainless steel watch of this caliber is a steal.
If you are interested in purchasing this watch, you can view our full listing here: TAG Heuer WV211A
2. TAG Heuer Monaco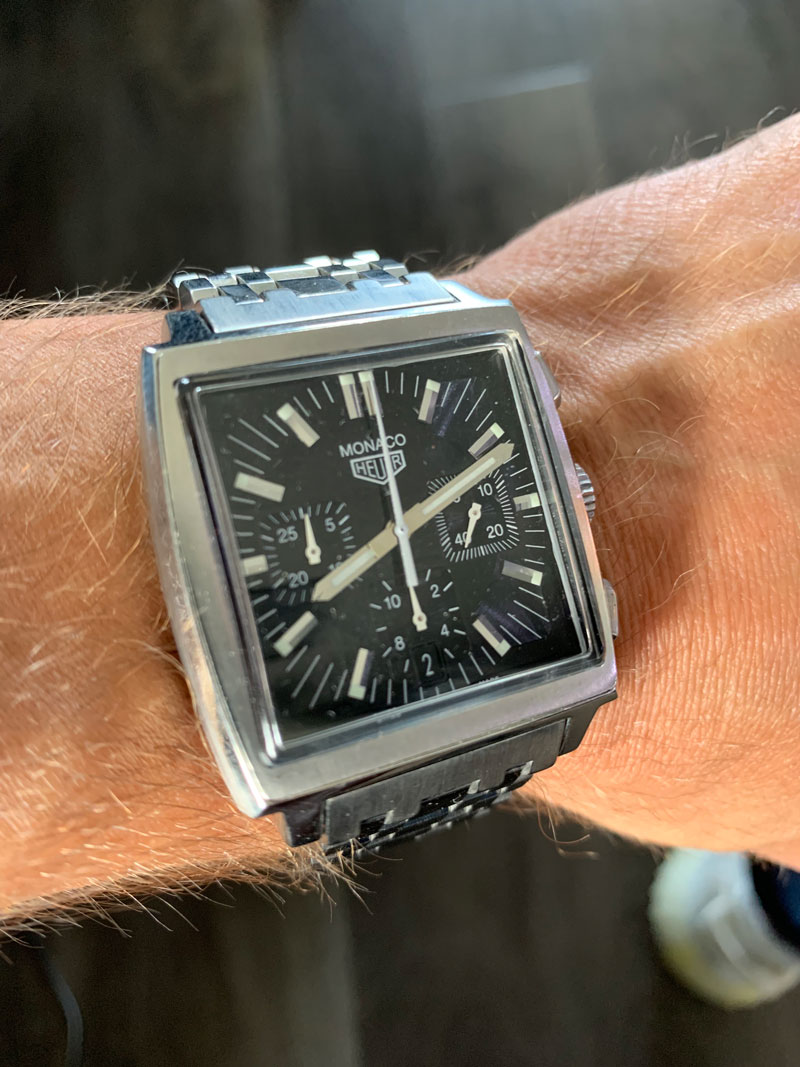 Monaco is another one of TAG's most celebrated watches. The Monaco is a timepiece that can tell us a lot about TAG Heuer's design philosophy. It represents much of what TAG stands for, such as boldness, uniqueness, and innovation.
History
As the name implies, this watch was made for the world of motorsports.
The Monaco line was inspired by the illustrious F1 track with the same name. It was so well received that Steve McQueen wore it in 1971 during the Le Mans.
When you think of tool watches made for racing, the Monaco should surely be on that list.
However, that's not to say people who don't race cars won't desire to wear a Monaco, because they do. Big time. This has been made clear by the numerous replicas and fakes that take shape in the TAG Heuer Monaco. Only watches with worldwide popularity, such as the Rolex Daytona, will be bombarded in this same respect. Maybe "respect" isn't the best word, but it proves, undeniably, that this is a high-end watch that people want and need.
Production
The Monaco was introduced at the same time in Geneva and New York on March 3rd, 1969. Again, legend Jack Heuer was the one who named this watch following their partnership with Monaco Grand Prix, which still resides to this day.
The Monaco made a bold move by being the first square water resistant watch with an automatic chronograph in the history of Swiss watchmaking. This watch went against the norm of aesthetics and tradition with its big, square case. It made a statement…but the people only modestly accepted this statement watch. This lead to the Monaco being cut from production in 1975.
In the late 90s, TAG Heuer became interested in the heritage of their collections. This sparked their "Re-edition" movement, which focused on producing new Monaco watches, along with other past models.
What a smart move this was as it ended up being a huge success. This time around, the people fell in love with the Monaco. It's almost as if people finally caught up with the forward-thinking style of the Monaco. What's more, the re-edition Monaco had new technology that changed not only the heart of itself but the heart of the people too. It's hard to deny beautiful aesthetics and innovative horology.
All we can say at this point is, thank you TAG for embracing your heritage because the new Monaco watch is one of our favorites.
So, with that, we want to feature a specific reference of the Monaco, the CS2111.
TAG Monaco CS2111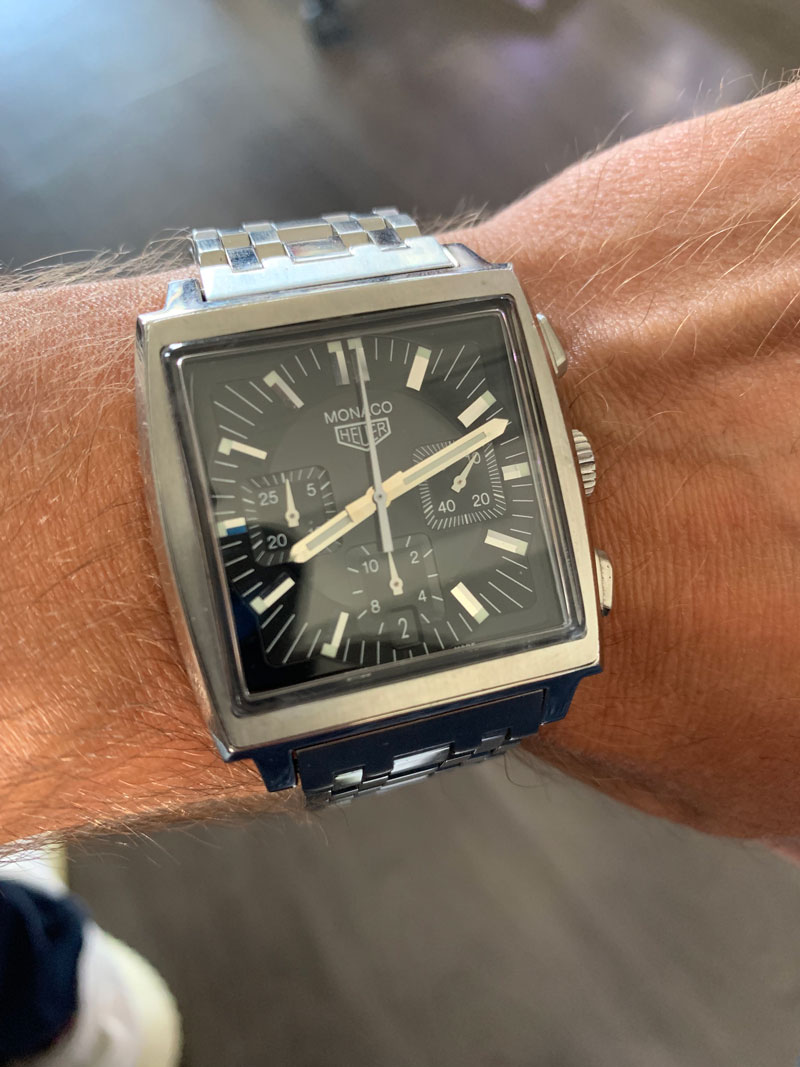 The Monaco CS2111 has the same case shape as the original but it has a completely new dial design and the "Heuer only" branding.
The Monaco CS2111 is sculpted from stainless steel. It has a 38mm square case that wears larger than a typical 38mm diameter watch, yet it is still proportioned perfectly for the wrist. The finishing on the case is superb, and the same goes for the wide stainless steel bracelet. The bracelet is a 7 link bracelet, which is not something you see often. In fact, it's entirely original. The bracelet is marvelously fitting for the watch as a whole. It adds to the uniqueness and boldness of the watch and offers a very substantial feel.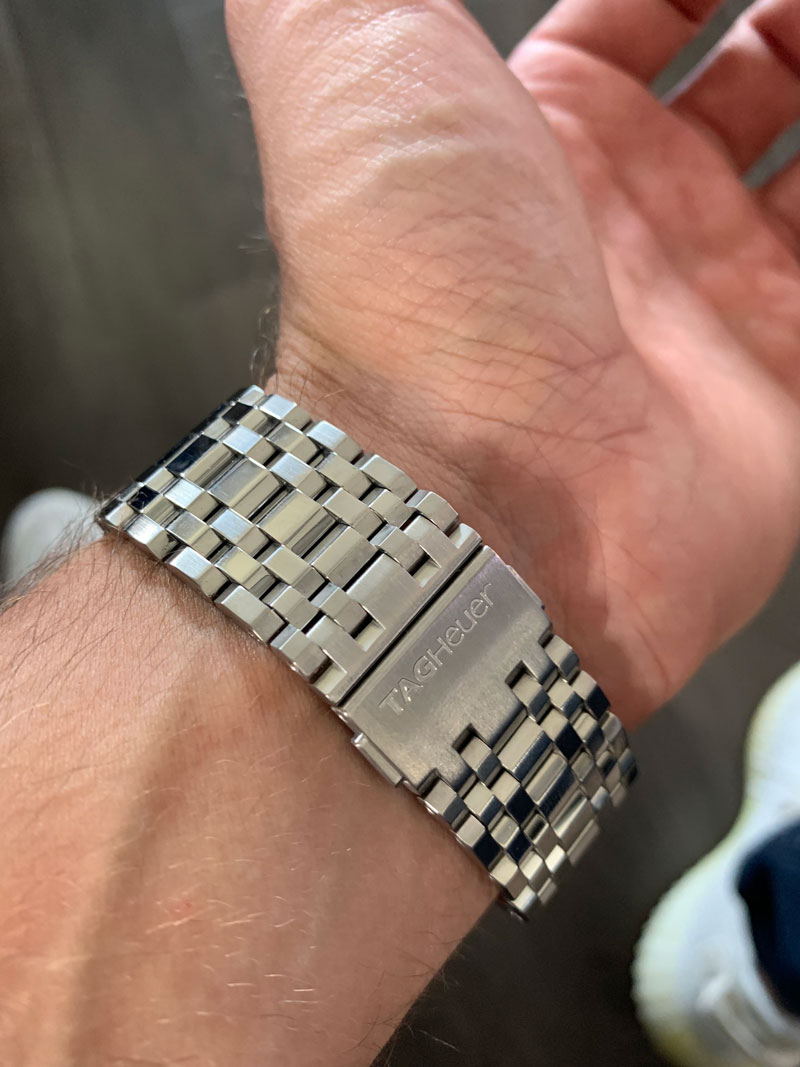 The dial is compact, but thanks to a brilliant design, it is also tremendously legible. Everything from the minute track, to the thick hands, to the powerfully luminescent hour markers, and most notably, to the three square subdials stands out exquisitely.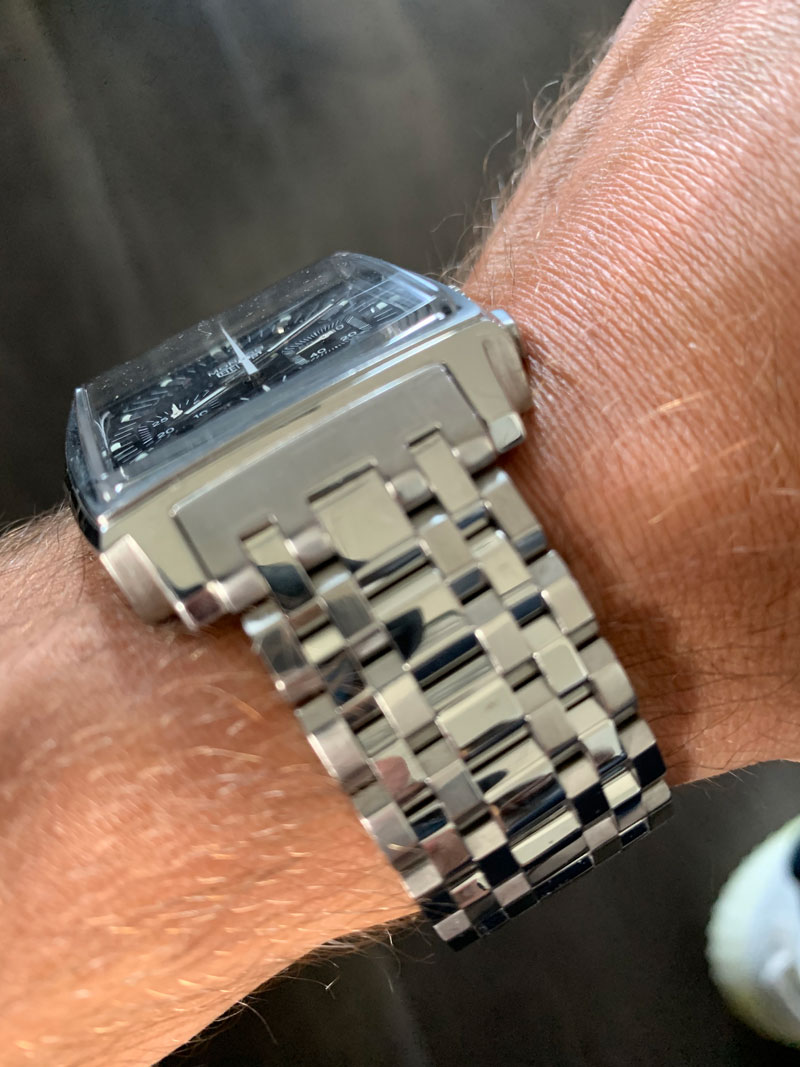 The CS2111 was so well received that TAG ended up adding it to their catalog permanently, under a new reference (CW2111) with some small changes.
And with that, the CS2111 is now a rare and valuable find and an instant classic.
If you are interested in purchasing this watch, it is now for sale at Raymond Lee Jewelers in Boca Raton. You can view our full listing here: TAG Heuer CS2111
3. TAG Heuer Monza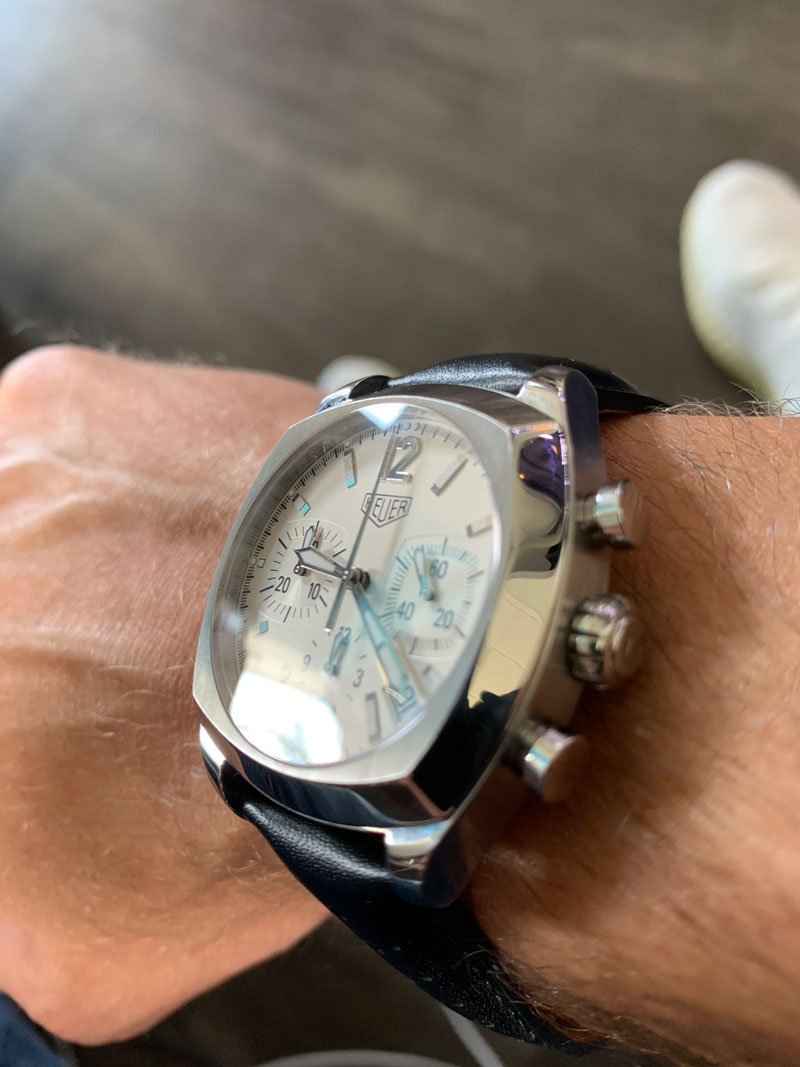 Now, we want to feature the Monza, a race watch that doesn't make most 'best Tag Heuer watches lists', but is unequivocally impressive in design, technology, and history as well.
History
In the 1930 and 40s, pillow shaped wristwatches were not exactly unique. Rolex, Panerai, and TAG Heuer each had a model with such shape. For TAG, it was their monopusher chronograph manual winding timepiece, which was released in 1930. That watch already bore the name of the well-known Italian racetrack – Monza.
However, it wasn't until many years later, in 1975, that TAG Heuer introduced the first "official" Monza. The Monza was dedicated to racer Niki Lauda for coming in 3rd place at the Italian Grand Prix at Monza in 1975.
At this time, the watch was equipped with a full chronograph, self-winding machine, yet, it had a considerably different design.
Production
The TAG Heuer Monza had a short production run, only being produced until 1978.
Fast forward a few decades to 2001, and with TAG paying homage to their heritage with the re-editions, two of which we mentioned above (Carrera and Monaco), the Monza was reborn under the same name. But this time, they used the same pillow shape case as its long lost grandfather from the 1930s. Thus, this re-edition was a bit confusing for those who didn't know to look back further than 1975.
The re-edition Monza was phased out just after 5 years – another short-lived production run for the Monza.
However, in 2011, TAG did a re-edition to the re-edition Monza, which was set to only 1911 pieces. It made waves for Monza fans, with its white dial and historicizing Arabic numerals filled with lume. This dial had the same design as the 1930s Monza, and of course, the pillow shaped case.
5 years later, in 2016, Monza released a new Monza, again. Same pillow shape case, but this time they used the dial design of the 1975 Monza.
The Monza re-edition's heritage can be a bit ambiguous, but it doesn't take away from the history if you know the facts, and from a pure horology standpoint, the watch is incredibly well designed. Not to mention, it has state-of-the-art movement technology.
TAG Monza CR2111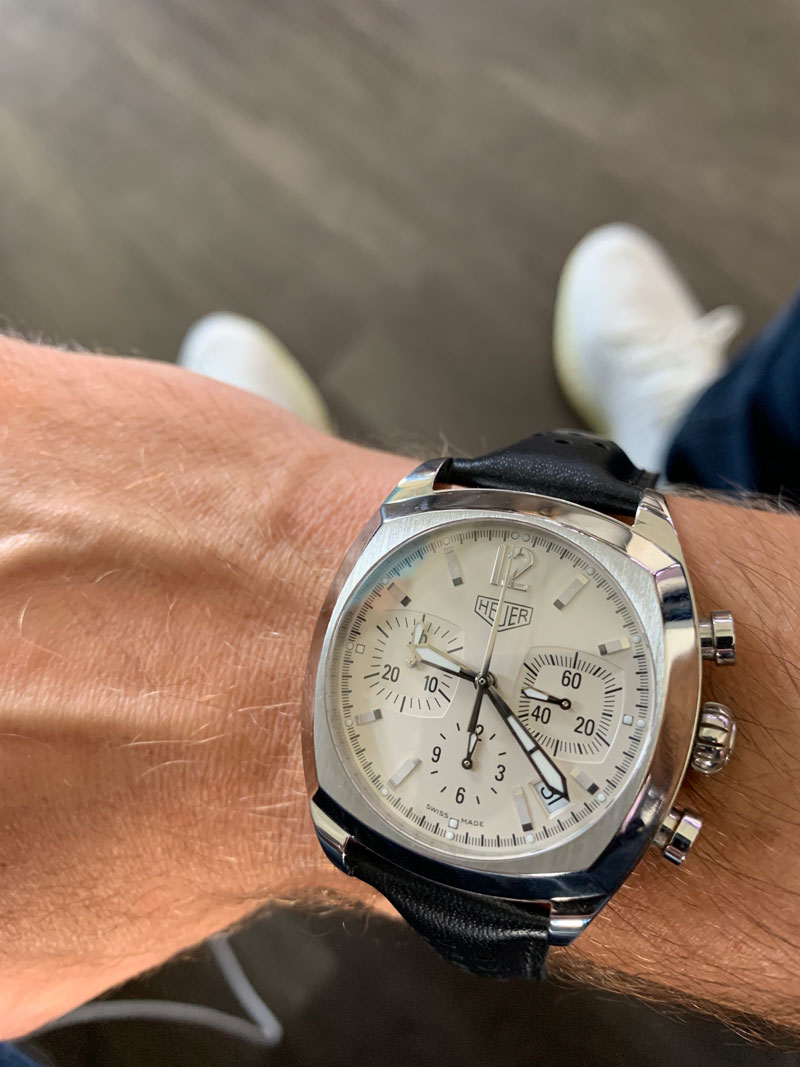 Our favorite Monza, in particular, is that of the 2000 re-edition, the Monza CR2111.
The TAG Heuer Monza CR2111 was the first of the re-editions. It came in a white or black dial and it didn't have the Monza name on the dial, or even a TAG Heuer logo, it only had the wording "Heuer", as you can see in our picture.
We have the white dial version. Needless to say, it has the classic pillow shape case in stainless steel. The case measures in at 38mm in diameter. It has a high polished finishing, which makes it luxuriously shine on the wrist. On the case flank, you have a crown and two pushers, which control the quick chronograph functions.
A dial with history.
The dial has a lot of action going on. It has luminous hands, which include the three subdial hands. Speaking of the hands, these are a completely original design to the Monza, and we really appreciate that. Moreover, this watch has a sweeping seconds hand.
The 60 second and 30 minute subdials are shaped the same as the case. However, the 12 hour subdial is round, offering a nice contrast and classy symmetry, as it complies with the same round shape of the dial.
Around the edge of the dial, you have the minute track and hour markers. Some baton-shaped, some small and square, and only one Arabic numeral (the 12 o'clock), but all filled with everlasting lume.
All in all, the dial is impeccably legible and very well thought out. After all, the dial design is essentially 90 years old.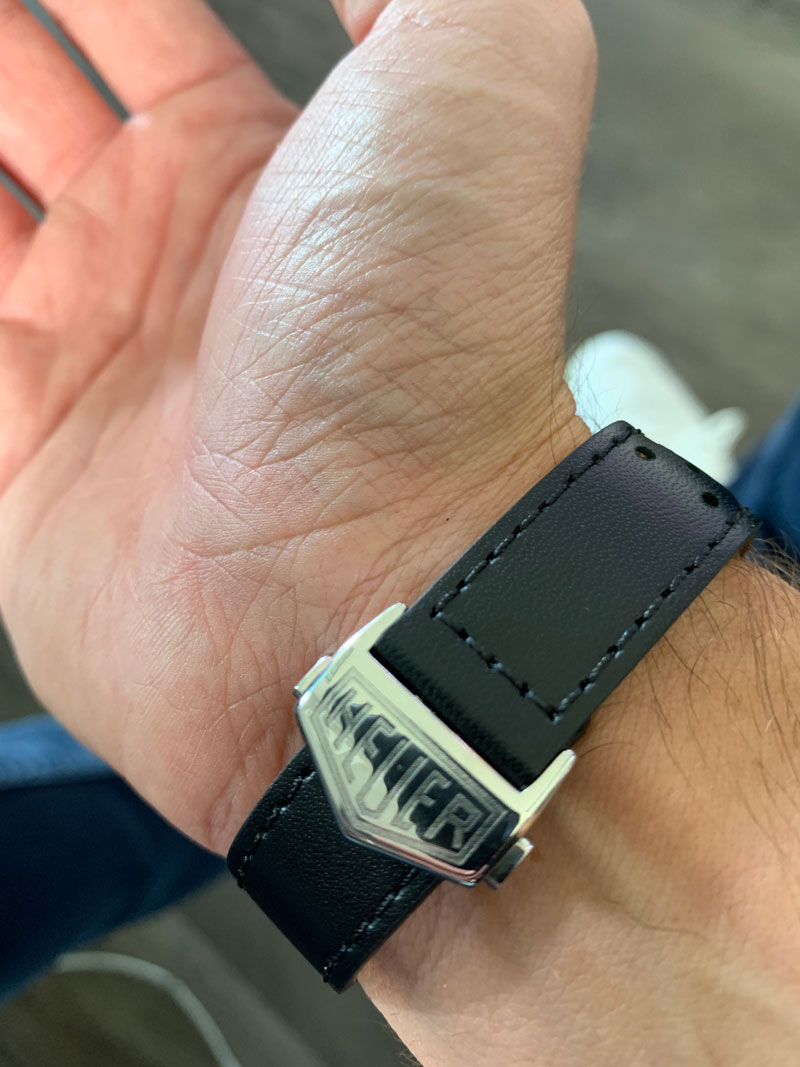 The dial and case design goes extremely well with the black leather strap. It's all just so perfectly proportioned and extremely comfortable on the wrist.
If you admire this watch as much as we do, you can view the full sales listing here: TAG Heuer CR2111
Final Note:
There is so much more to TAG Heuer, so this post is only a small snippet of this incredible company's offerings and history.
If you are interested in seeing more TAG Heuer watches, you can find our full selection here: TAG Heuer Watches For Sale
Don't hesitate to contact us if you have any questions on the sale of our pre-owned watches.
About us – Raymond Lee Jewelers
Raymond Lee Jewelers is Boca Raton's most recommended sales and service centers for luxury watches, diamonds, and high-end jewelry. Our business is family owned and operated. We have over 30 years of experience selling fine certified luxury watches and in that time we have built an unparalleled reputation for fair, quality dealings in South Florida.
Our goal is to meet the needs of our customers at our Boca Raton retail store and online, and to provide our community with the best possible experience. We combine value, quality, and cost with the remarkable ability to meet and understand the needs of the people we serve.
If you live in Boca Raton, please feel free to drop by our showroom anytime to see what we have to offer!
We have an extensive collection of luxury watches from iconic brands like Rolex, Audemars Piguet, Patek Philippe, Hublot, Omega, TAG Heuer, and many more.
Raymond Lee Jewelers' Showroom in Boca Raton, Florida:
2801 N Federal Hwy, Boca Raton, FL 33431
Our hours of operation are:
Monday-Friday – 11 am to 7 pm
Saturday – 10 am to 5 pm
Sunday – 12 pm to 5 pm
Feel free to contact us if you have any questions about the pre-owned TAG Heuer watches featured in this 'Best Tag Heuer Watches' run through.