Buying used luxury watches for men – 5 tips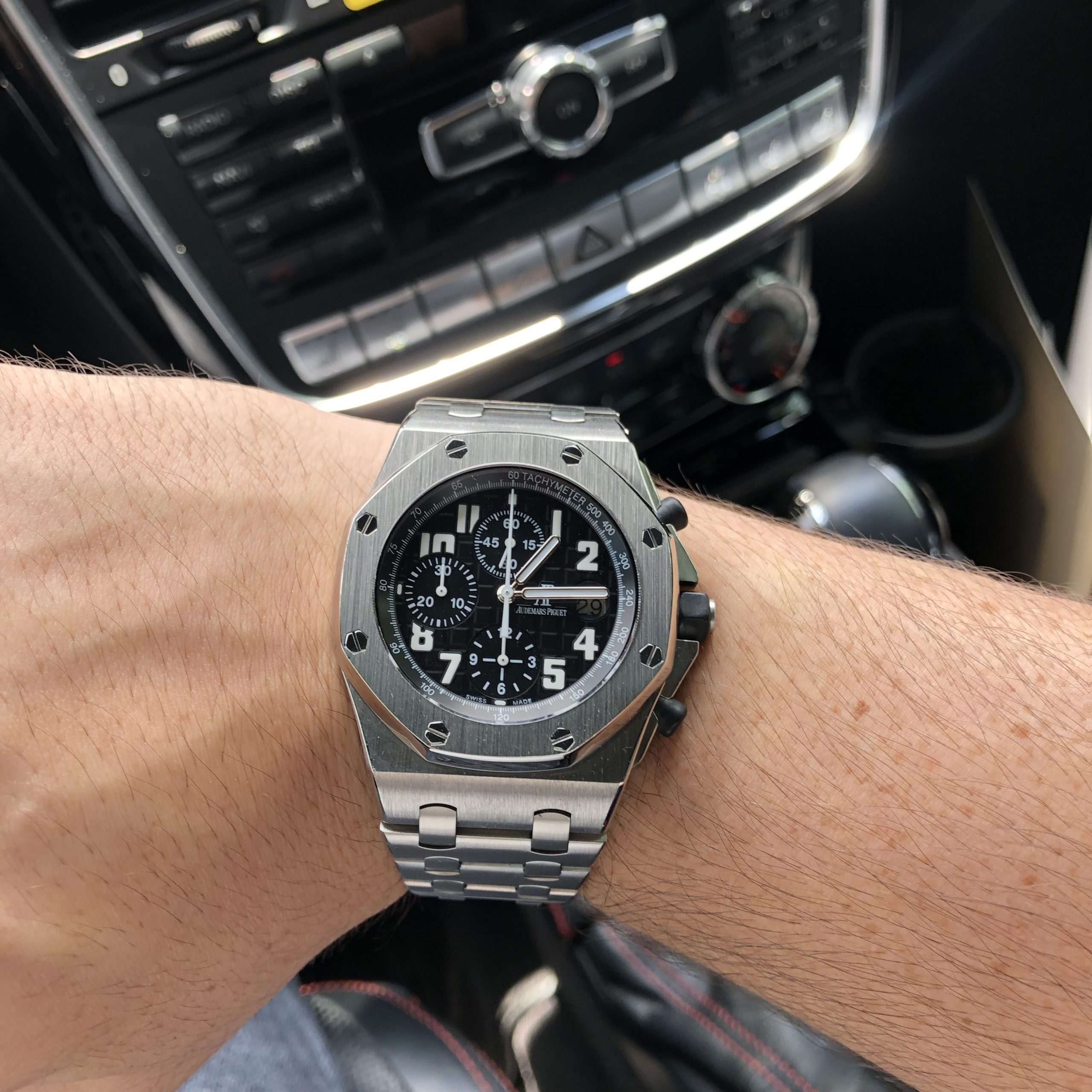 Luxury men's watches are the type of purchase that one makes either because they are a collector or they are a budding collector. There is no two ways about it really. When it comes to luxury accessories like fine timepieces you are bound to get hooked no matter what. These are time pieces full of history. Abundant in detail and in careful consideration. The watches that we carry here at Diamonds by Raymond Lee are the leaders in the world. Designers from luxury brands like Rolex, Patek Phillippe, Audemars Piguet and Cartier. Each and every one of the pieces we carry have abundant history and weight behind them as well. These are master pieces crafted using not only the finest materials in the world but also by some of the world's greatest craftsmen too. Used luxury watches are one way of getting into the game or staying up to date.
Whether it is because you are looking for that limited edition piece that is no longer manufactured or are price savvy and looking for a high quality well maintained used luxury watch. We carry a wide range of men's luxury watches to cater to all of our refined clientele. Our brands are the absolute epitome of fine watch making and collecting. Further, all of our watch experts and craftsmen are intimately aware of the inner workings of these time pieces. They know and love this industry working to educate and further expand it over time. They work with collectors all the time and we compiled 5 tips from them on buying used luxury watches. Here is how you can go about your own purchase of a vintage or used luxury watch. So you know how to pick the right used luxury watch for your a collection of your very own.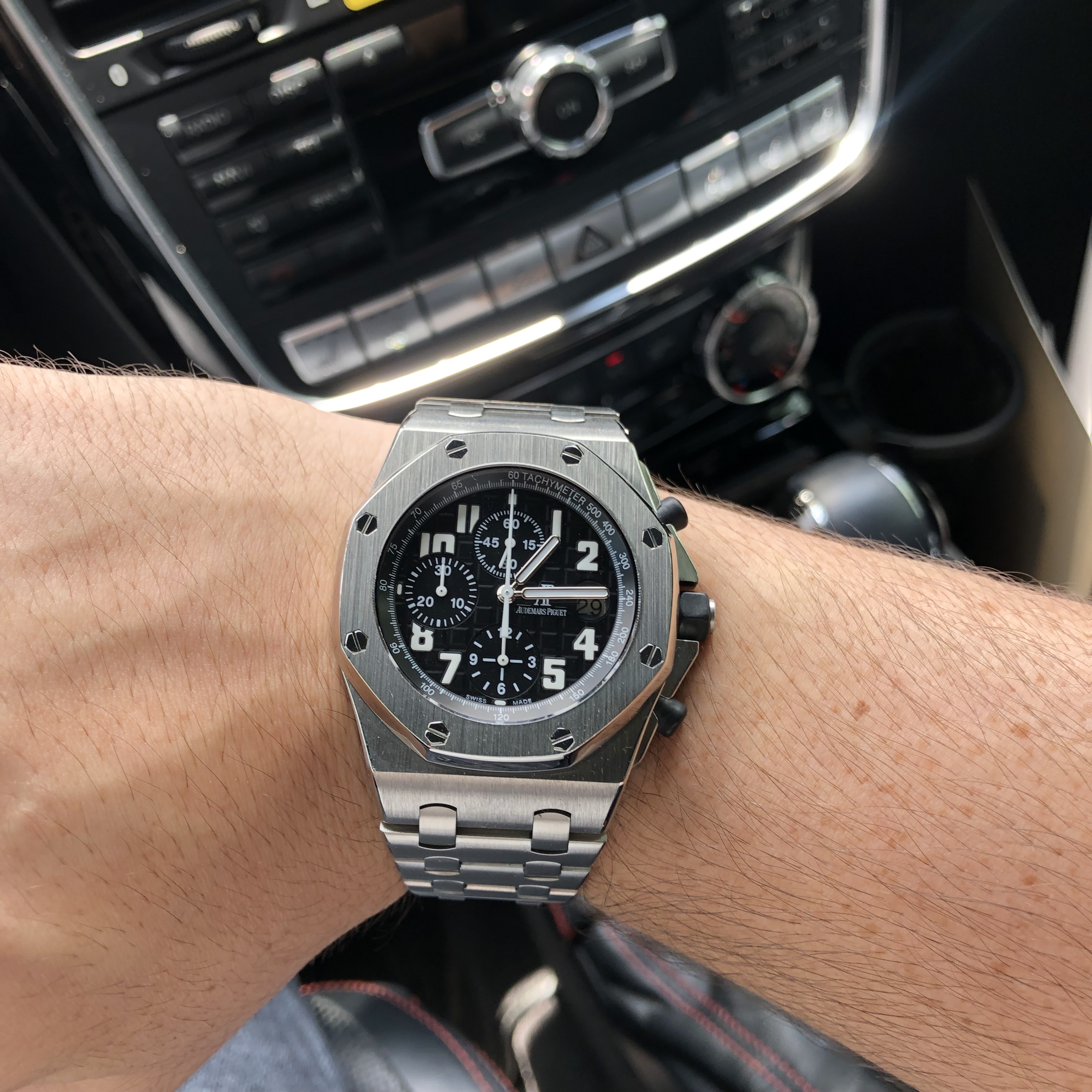 Here is the scoop on what you need to know when buying a used luxury watch. The most important being what you are buying.
What luxury watch brands should you buy used?

Are you buying a vintage or limited edition time piece?

How has the watch been maintained?

What comes with the watch?

How are you paying?
It all starts with the brand that you are choosing. Next you need to have a look at the specifics behind that used watch. Is it one model prior to the latest? Or perhaps it is a limited edition vintage piece. This can get complicated we suggest digging in deeper. Then you need to analyse the specific item in question that you pretend to buy. What condition is it in? Has it been maintained properly? A used luxury watch can significantly lose value if not maintained properly. Further comes the question of whether or not the watch comes with its surrounding equipage. Mainly the original box, papers and bracelet. Finally something worth considering is the option to finance the watch you would are thinking of buying.
Used luxury watch brands to buy
When it comes to what brand of luxury watch you should buy there is no question. The world's most renowned luxury brands are the best. They are the leaders both in the creation of the watches as well as in retaining or increasing in value. Here at Diamonds by Raymond Lee we carry a wide range of used luxury watches for men. That includes some of the best like Rolex, Audemars Piguet, Patek Philippe, Cartier, and Breitling among others. These are exclusive time pieces that are mostly still crafted by hand. Each of these companies have a strong and abundant history. Generally made in Switzerland, the world capital of watch making. Further, they are also the watch brands pushing the boundaries of what is possible. Producing watches that are far more advanced technologically than any other brand. They push the limits and forge ahead breaking the boundaries of what's possible.
From incredible innovations when it comes to materials and to complications they are masters of the internal workings of fine watches. Meanwhile they also reserve for themselves the titles of greatest designers. As they indeed reach high with their sleek and inimitable style and aesthetics. Instantly recognizable and power houses in and of themselves these are the watches that set the trends and styles. Now knowing which brands to buy when purchasing a luxury watch can be tricky if you are comparing only fine high end brands. Pre-owned luxury watches tend to be from the top brands. This is not only because of the exclusivity and thriving time piece and collectors market. But also because of the manufacturing's excellent quality. A watch can be less than a vintage and still be a score difficult to match. That's why we recommend purchasing exclusive watch brands when it comes to luxury watches.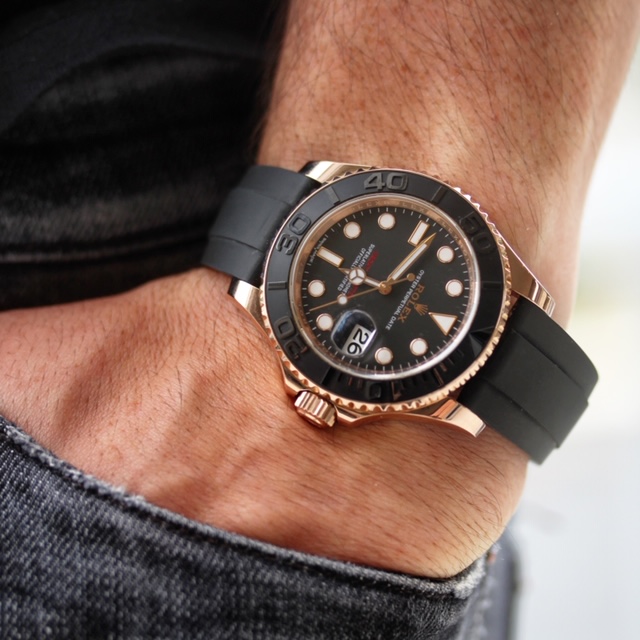 Know what you are buying – vintage, limited edition and more
When it comes to what watch you are buying there are a couple of differences. First of all, vintage pieces can be complicated. They may not function as reliably as limited edition or discontinued contemporary editions. Further the machinations and movements are also of a by gone time and therefore not as advanced. That being said vintage watches bring with them the allure of the designs of that era. Any watch over 30 years old can be considered a vintage and so generally carry traits of that era. The vintage pieces are more susceptible to damage as the materials might not be as advanced as modern ones. For example the use of plastic instead of scratch resistant sapphire. Therefore it's important to look at what you are buying the watch for. Is it a specific model that strikes your fancy? Or are you looking for a unique watch that's resistant?
Depending on what you are looking for a limited edition contemporary watch may be better suited than a vintage. Or vice versa.
Care and maintenance – quality of the watch in question
Another crucial point when buying used or pre- owned luxury watches is the question of care and maintenance. How was the watch cared for by the prior owner? Was it a daily use? Are there visible or significant signs of wear or damage? These are important to note as they do affect the value of the watch. Even finding out if a watch has been over polished is very important as well. These details are also why it is important to have someone you trust to ask questions. They can guide you on why a certain watch may cost more or fetch a higher resale price than another. Further, the maintenance of luxury watches is crucial to keeping them functioning at optimal conditions. In order to continue their powerful precision movements a consistent level of care is required.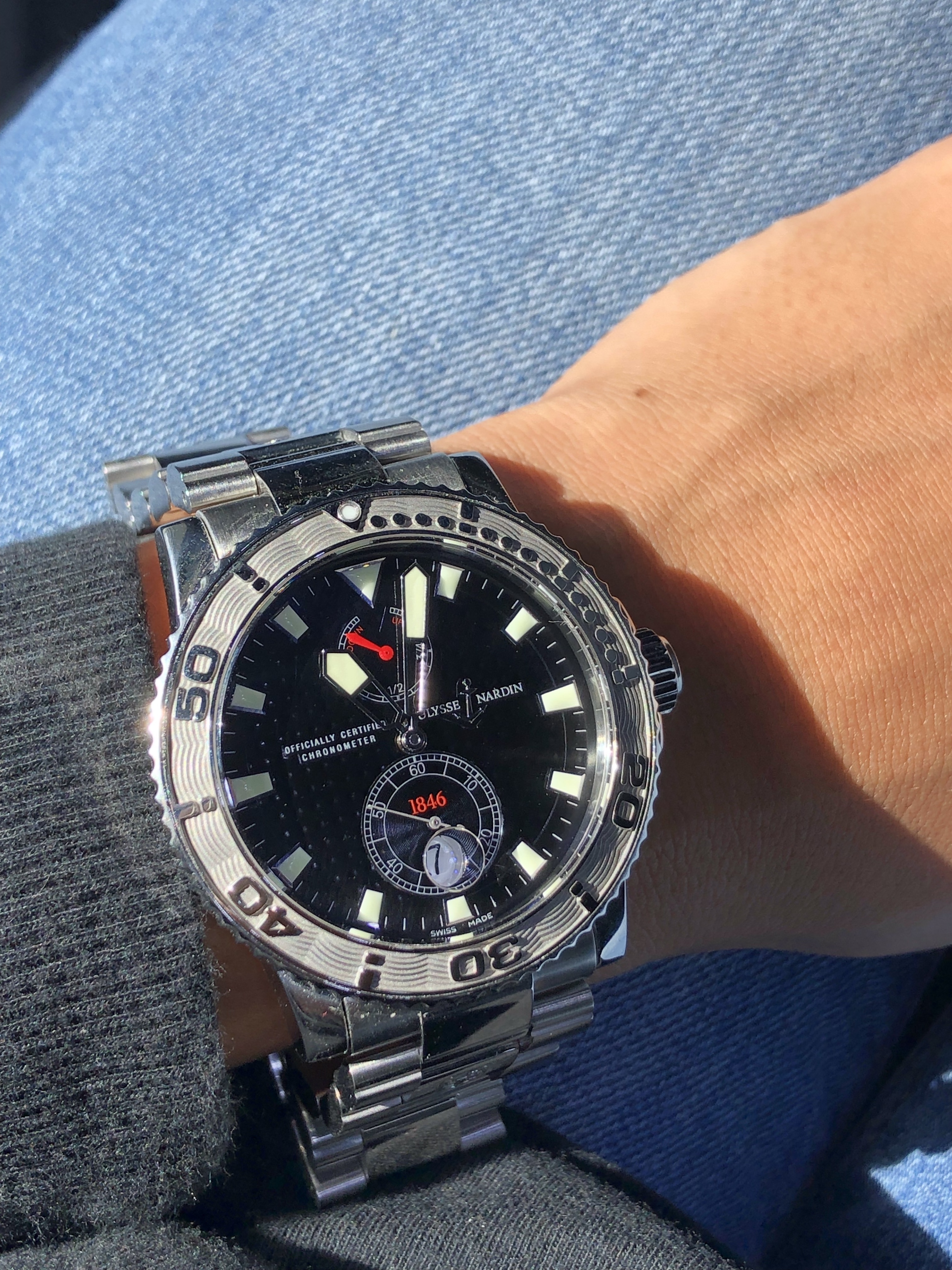 More than the watch – what to look for with it
Now when it comes to a watch that is in mint condition and does not have any significant damage or issues with it the next question you should ask is what comes with it. And we do not mean insurance or other more contemporary additions. We are talking about where that watch is coming from. First of all does this watch that you are buying still have with it its original papers? These documents tend to come with a newly purchased watch within the box.
They are the proof that this fine luxury time piece is legitimate and of the quality that it claims to be. Now it is not a total deal breaker if the watch does not come with documents – as long as you can trust the person from who you are buying from. Trust is extremely important because you are trusting that they bought the watch from a reputable source and that they have done their due diligence. To ensure that the watch is made and was maintained in fine quality. Further even if the papers are missing you should look to see if the watch has been authenticated proving that its origins are pure. Generally speaking in the watch comes in the original box it also helps raise its value and price as the collectible is deemed more complete and therefore more desirable. The actual watch itself is just one small part of the equation. The accompanying documents, box and bracelet also play a key role.
The used luxury watch bracelet
Now the bracelets on used luxury watches can be changed. It is important to note if it has or if it is still sporting the original brand bracelet. This is because the brand bracelets come with their insignia and other information inscribed in them. It is yet another way to ensure authenticity and therefore real value. Many of the luxury brand bracelets like Rolex come with their very own special traits and features too. For example the Jubilee commemorative bracelets are valued higher and sought after. Thus a used luxury watch with a distinguished fine bracelet may fetch a higher value, specially over time.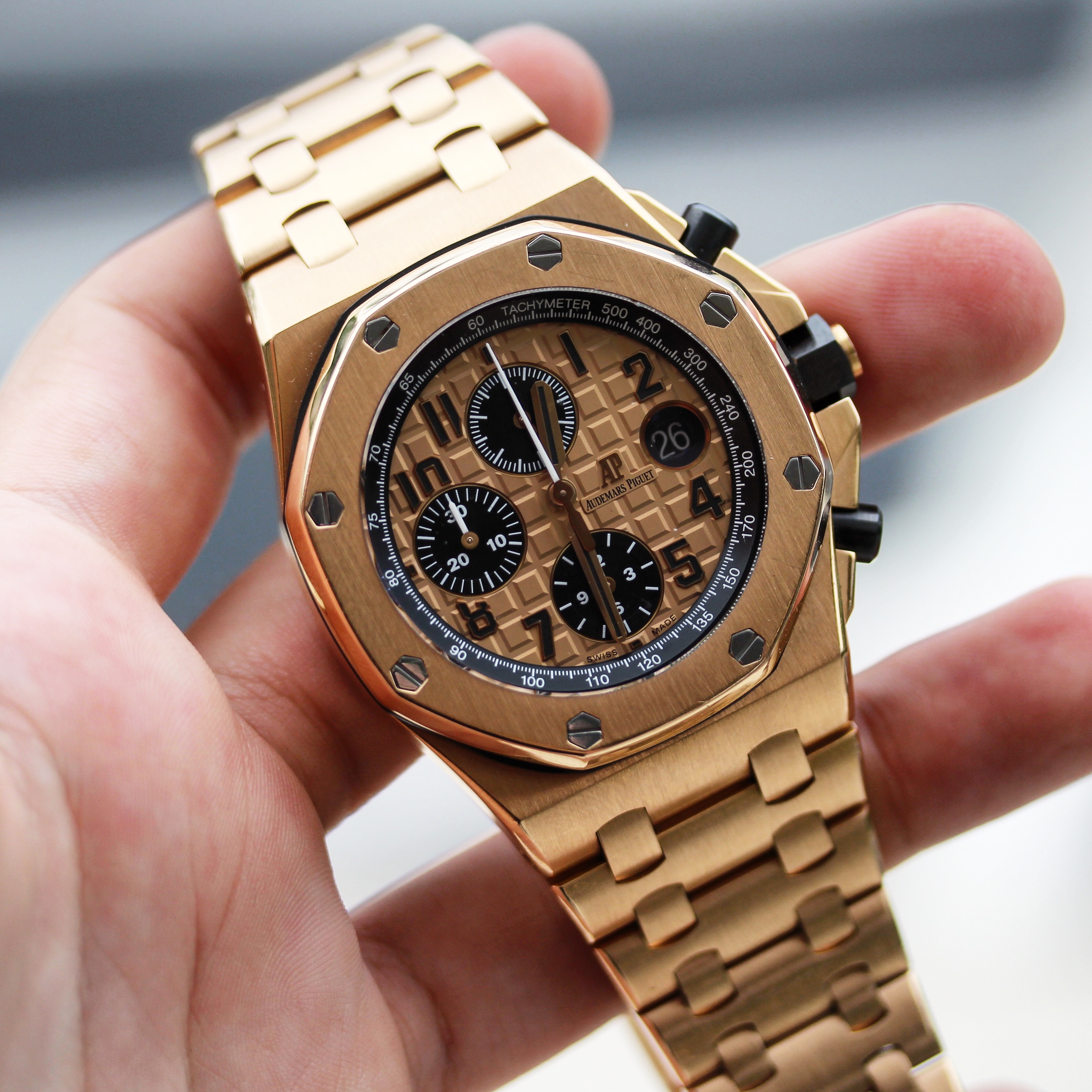 Luxury watch Financing
When it comes to how you are paying for a luxury used watch things can get very interesting. Since the used luxury watch market is quite different from the new watches there is a different take. Further, because of the value and prices of luxury watches there are different kinds of options available. Just like a piece of fine jewelry a fine watch can actually be financed. You do not have to pay in cash up front. Even though the watch in question may very well be a pre – owned time piece. In fact you can finance your luxury watch purchase depending less on what you are buying and more on what your financial situation looks like. Just chat to our loan specialist about the options available to you.
There could be more room for flexibility than you think. With fine watches and other collectibles the rules are not so stringent when it comes to what you can do with your piece. Excellence, transparency and exclusivity remain of high importance and in high demand. However, it is not necessarily a closed market. Financing your purchase of used luxury watches with companies like Affirm can help you get liquidity. Further we offer special 0% financing for some in store purchases. Our flexible payment options require only 5 steps to get approved and start paying for your used luxury watch.

Where to buy used luxury watches near me? Diamonds by Raymond Lee in South Florida
If you want to buy used luxury watches with confidence then Diamonds by Raymond Lee is the place. We have been in the business for over thirty years providing our clients with some of the finest watches in the market. We have abundant experience in both sourcing and testing the time pieces. So you can be sure that any purchase you make will be of the best quality and value. We have the latest technology and equipment for our watch experts to rigorously analyse and test each and every time piece that comes through our door. Beyond our in house services our team also procures fine watches across the world. Sometimes even across the oceans. That is how we curate such a large selection of fine luxury watches.
Including limited edition and vintage pieces that are difficult to find. Always from the best in class watches and fine luxury pieces. Also we cater to a specific and refined clientele so we keep that in mind. It is why we include very unique pieces in our collection. Including bespoke and modified fine luxury time pieces. These are some of the only watches in the world that feature diamond and fine jewelry additions.
You can trust the Diamonds by Raymond Lee quality and commitment. We work tirelessly to provide you with a superior level of service and ensure you are happy with your purchase. From the moment you find us we are here to welcome and help you find your dream time piece. It is one of our specialties and passions. Locating and cultivating a deep knowledge of each one of our watches. Undoubtedly the place in South Florida to buy and maintain your luxury time pieces here at Diamonds by Raymond Lee we are a family company. Together for the better.