A luxury lifestyle look is one that is always not only a perfect pairing but also timeless. The world's most renowned brands like Cartier and Audemars Piguet watch are excellent examples of luxury lifestyle accessories that transcend the ages and styles. Fads and trends will come and go. However a true luxury lifestyle stays far longer. There is no doubt that the ways in which you pair luxury lifestyle accessories truly helps to make them pop to their full glamour. On this week's search for luxury lifestyle pairings we are having a look at mens watches on sale. These are all luxury timepieces from world renowned brands. Specifically though we are focusing on Audemars Piguet Royal Oak Offshore watches. Paired with a real beauty, one of the jewelry world's foremost houses – Cartier. The Royal Oak Offshore watch and Cartier bracelet pairing is a stunning combination. Let's see offshore and Cartiers.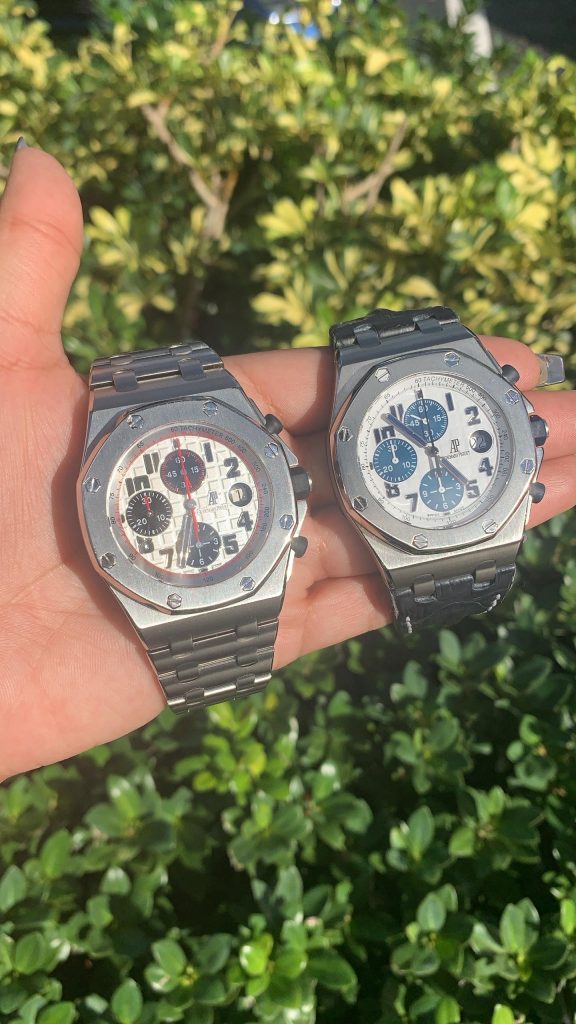 With anything that we do at Diamonds by Raymond Lee though you know there are going to be some diamonds involved. How to elevate an already incredible pairing of fine luxury jewelry and incredible masculine power watch? Diamonds. Iced out these two are some of the more incredible items ever to hang together. An arm party you can see from quite the distance. It is all about the glitz the shine and of course the glamour. Each of these pieces on their own warrant an incredible eye catching recognition. However once you ice them out and pair with some of the most stunning stones in the business it is a whole different ball game. No longer an item to wear it becomes the foremost piece of your outfit. Who said that your luxury accessories can not be the ones to truly make and transform your look – from head to toe.
Mens watches on sale: Audemars Piguet Royal Oak Offshore collection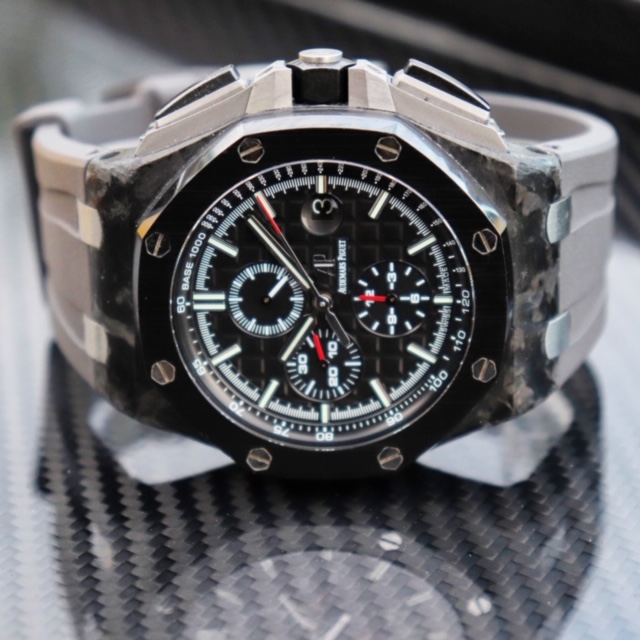 Our wide ranging curated collection of luxury items at our two conveniently located show rooms in Boca Raton include a huge number of AP Royal Oak Offshore watches. We have them in a series of styles, sizes, editions and of course diamond options. As the premiere destination in South Florida to buy mens watches on sale we make sure to always bring you the latest and the greatest. It is all about the finest and the top of all of the luxury lifestyle accessories. Starting us off on this week's look at some of the mens watches on sale from Audemars Piguet at Diamonds by Raymond Lee let us check out some of the Royal Oak Offshore stainless steel case watches. Each with their own little tweaks and turns to make for a one of a kind luxury watch. Large, masculine and incredibly unique design is what these watches are.
The Audemars Piguet Royal Oak Offshore watch is a stunner from one of the youngest and yet most striking new luxury watch brands on the market. While many of the traditional brands like Rolex, Patek Philippe and Breitling have been around for much much longer AP stormed into the luxury time piece industry. With the instantly recognizable octagonal bezel and eight exposed accent screws this is not your grandfather's watch. A totally different and incredibly industrial look the Offshore is the version that took that classic look up a notch. With the larger size and more sportive style the Offshore is a powerhouse. The tappisserie dial then edges it further into a delicately designed and masterfully finished piece. Hand crafted and incredibly detailed the AP has a stunning amount of finely refined details that truly set it apart. Some special editions which we will go into a bit later on.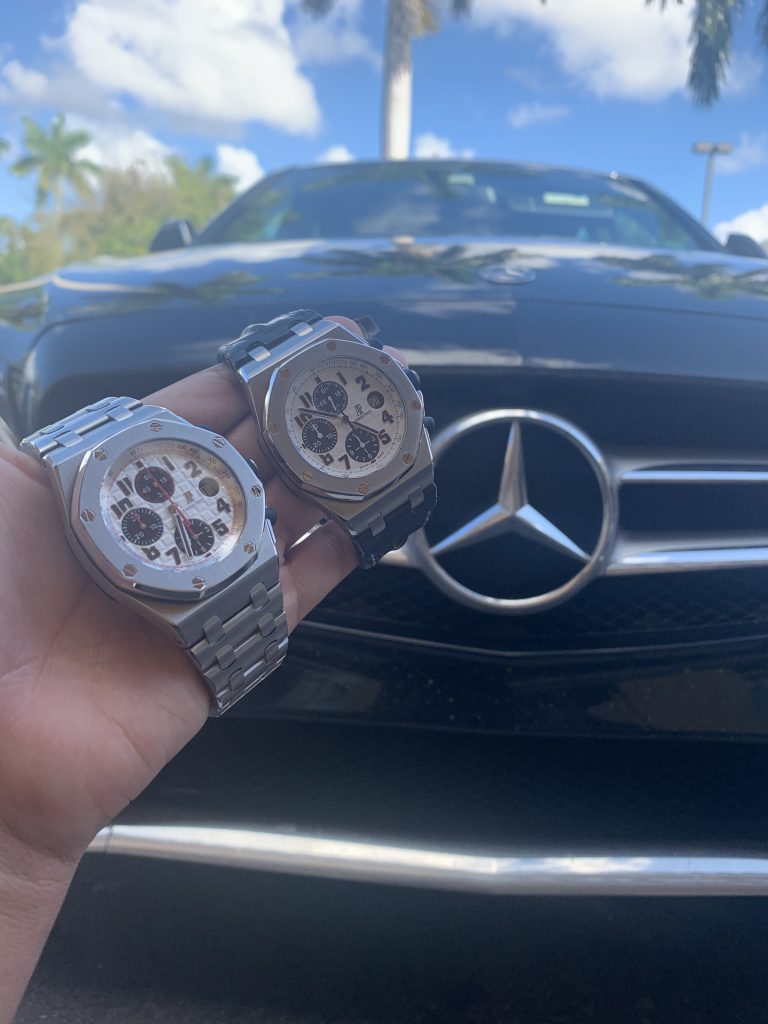 This stainless steel watch has a white Mega Tapisserie Chronograph Dial with blue sub dials. To match with the blue sub dials it also features an Audemars Piguet factory navy blue leather strap complete with a stainless steel fold over clasp. An automatic watch it also has rubber clad stoppers and crown. The brushed stainless steel bezel paired with the classic navy and white colors make for a classic beauty of a modern watch.
Then there is this much more sportive version of the Offshore. Also a stainless steel watch it has a black rubber clad feature on the bezel as well as the crown and pushers. A skeleton back makes this particular 26400 a true beauty allowing you to see all of its inner workings. The chronograph dial has black detailing as well as three black sub dials. To continue with the rubber clad theme the strap is also a black rubber classic to this Offshore sportive style.
Special edition and iced out AP Royal Oak Offshore watches
Now a really and truly special version and edition of the AP Royal Oak Offshore watches are the ones from special and limited editions. As well as of course the unique and one of a kind diamond studded versions. These can be crafted for their very own look and feature precious gems and stones.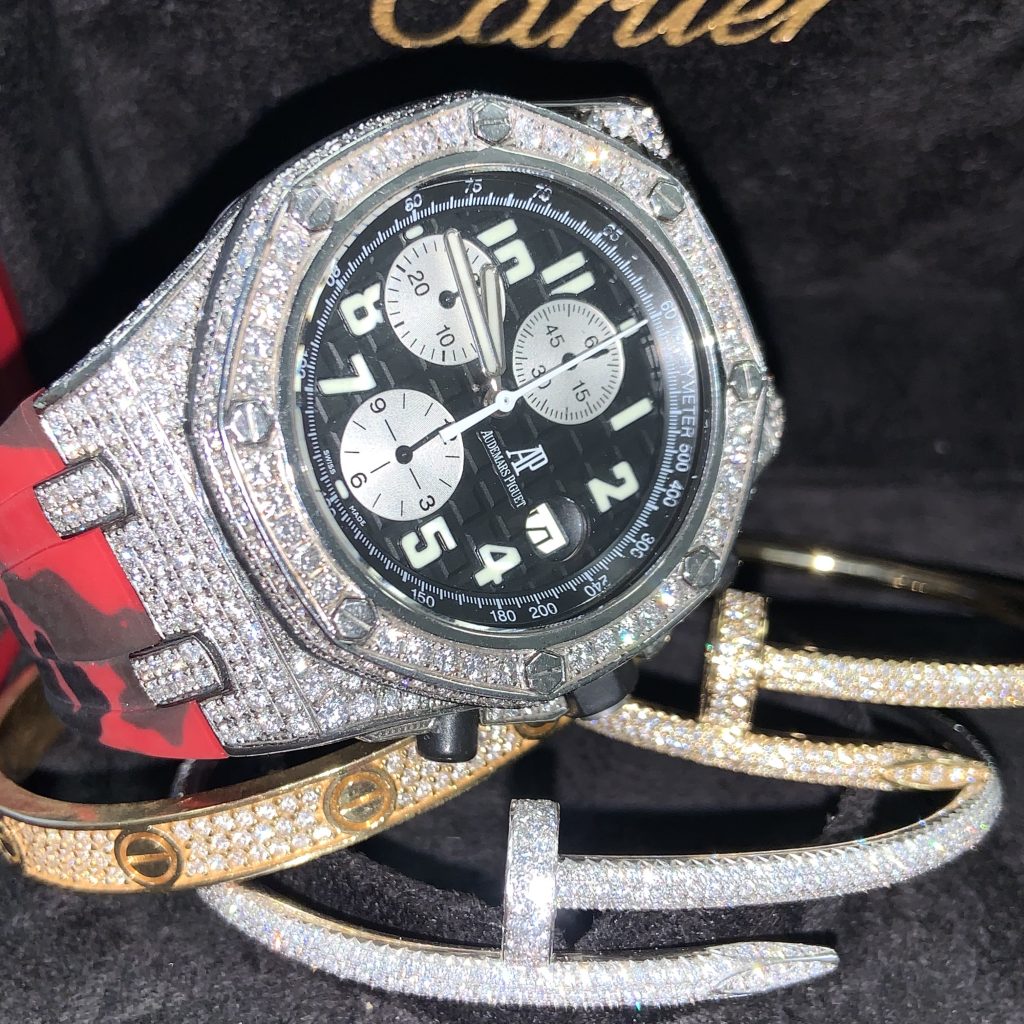 The panda is a 10 (almost 11) year old model. Released in 2009 it features a brushed steel case. One of the most iconic Offshore watches it has a speed automobile racing inspired dial. It has a gorgeous silvered to white tapisserie face. On the dial there are Arabic numeral hour markers which are also luminescent. This incredible series is discontinued. An exclusive special edition there are not a lot of places where you can get your very own to add to your collection. The unique rubber strap on this Panda version of the Offshore makes it a particularly recognizable edition of the Offshore.
Interested in the Panda AP Royal Oak Offshore stainless steel watch? Get this exclusive look on our site!
Another incredible version of the Royal Oak Offshore is ofcourse iced out. We love diamonds and could not do a feature on these watches without including an all diamond iced out version. In 18 carat rose gold this watch has got diamonds everywhere. On all parts of the case – from the lugs to the dial. Sparkling bright against the unique color of the rose gold metal this watch is a stunner. Paired with a black rubber clad bracelet the contrast truly catches on.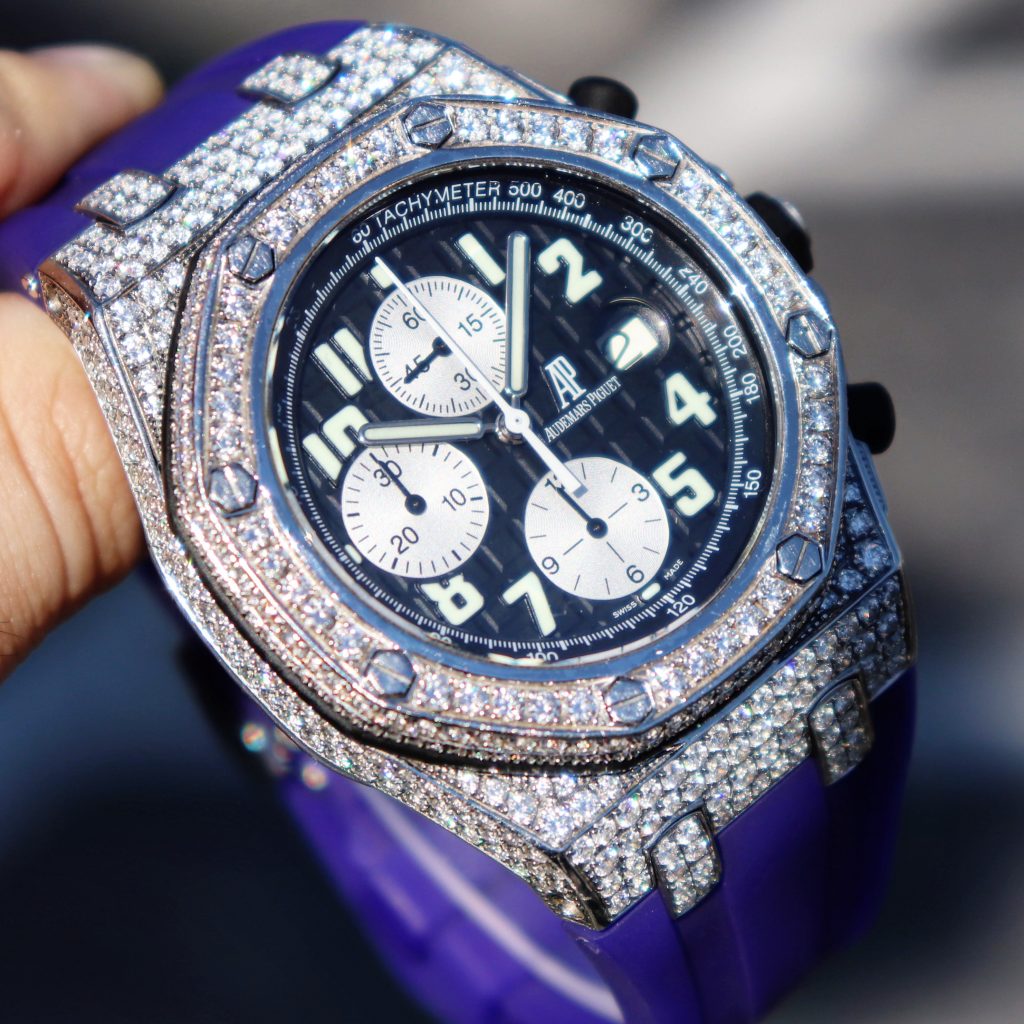 Pairing men's watches on sale: Audemars Piguet Royal Oak Offshore watches with Cartier bracelets
A stunning look is a pairing of two greats into one absolutely fabulous look. With an Audemars Piguet Royal Oak Offshore and a Cartier bracelet you are sure to stun. The classic and iconic jewelry brand so famous from their old time beginnings paired with the new and the innovative. The cutting edge and striking modernity of the Offshore watch. This pairing of AP Royal Oak watches and Cartier bracelets is a perfect balance of the old and the new. Traditional style and modern flair perfectly paired for a luxury lifestyle look that declares the way you roll anytime you walk into a room.
Cartier Bracelets
The Cartier bracelets have been a symbol of the French luxury jewelry brand for a long time. Even longer than the Audemars Piguet watches have been around really. Since 1847 the Cartier name has been synonymous with the outstanding luxury designs and ultimate quality in gold jewelry. With diamond accents and frosted pieces they bring that timeless look and style right into today's day and age. Take the two iconic bracelet styles that we are pairing with the Royal Oak Offshore watches this week: the Cartier Love bangle and Juste Un Clou bracelet. These two are enigmatic styles of the brand and instantly recognizable for their shape.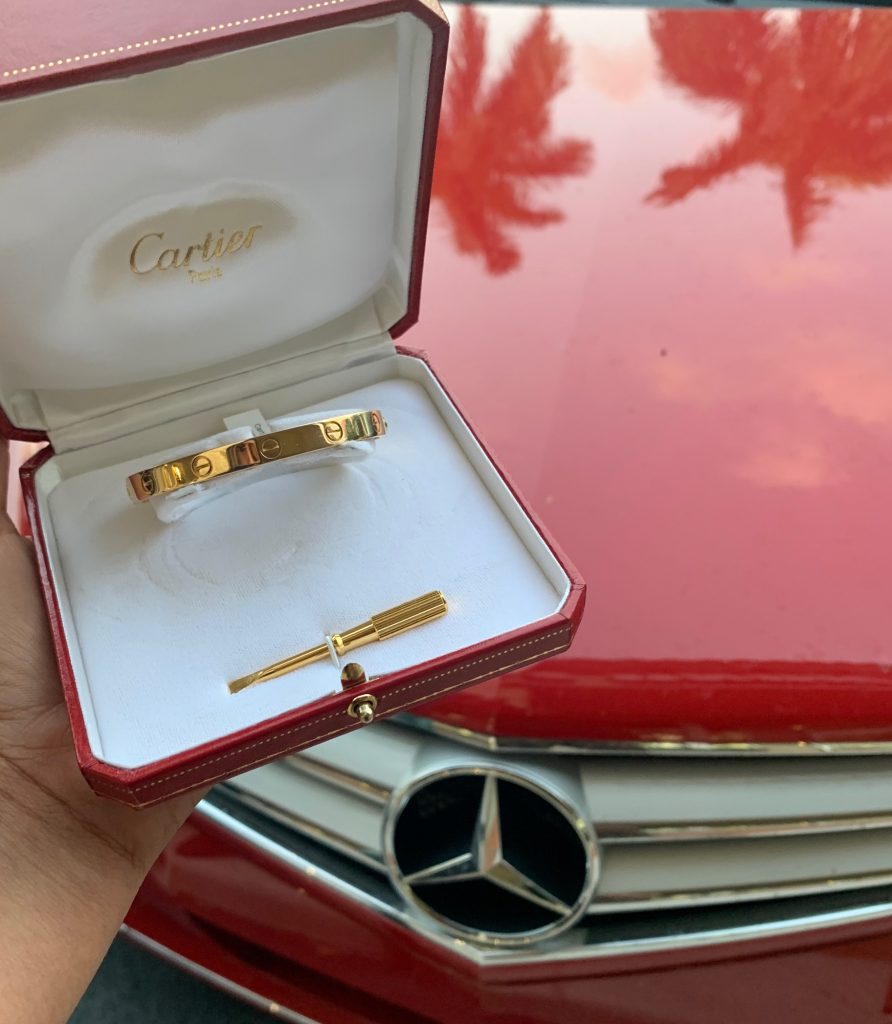 First the Cartier Love bangle. This beauty in 18 carat yellow gold is the old style of the bracelet. Although there are so many fake Cartier Love bracelets around you can tell by a few details in the bracelets whether it is real. However it is important to know that Cartier did update the design to change the closure mechanism since the old style (like this one) has a small loose screw that you use to open and close it. The only difference in the new ones is that it no longer completely comes away. Meaning you can keep it secure when opening and closing.
Either way the iconic exposed screw style is a perfect match for the exposed screws of the AP Offshore watch.
A classic and arguably most found on the market. The Cartier Love Bangle comes in a variety of different golds including 18 carat yellow, white or rose gold. The traditional yellow gold design of the bracelet is a gorgeous nail shut bracelet. While there is an update design that particularly deals with this unique closure mechanism the style stays the same.
These gorgeous bangles come with diamond studded options as well. Including individual larger diamonds where the accent screws are or all along the length of the bracelet for an iced out look. Speaking of which we love an iced out option.
An incredible design that is instantly recognizable. The juste un clou Cartier 18 carat yellow gold bracelet is a fine example of timeless classic jewelry design. A single nail what juste un clou stands for – takes the nail that is such an icon of the Cartier jewelry brand and elevates it from an accent detail on the traditional Cartier Love bangles and turns it into a wrap around bracelet of its very own. This particular 18 carat yellow gold nail bracelet is completely diamond studded. That is the Diamonds by Raymond Lee way after all. Sparkling, stunning and a tour de force all on its own.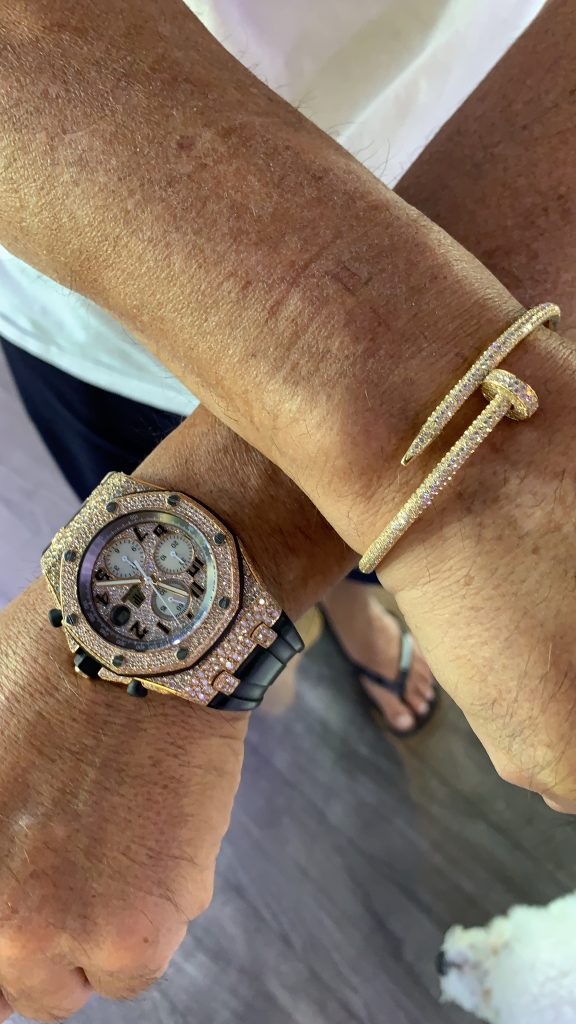 Luxury lifestyle destination Diamonds by Raymond Lee has Cartier, diamonds and luxury men's watches on sale
For all of the best luxury lifestyle accessories for your own personal collection visit us. Our two conveniently located show rooms are in both East and West Boca Raton. So wherever you are make a trip down to our stores and our experts will be ready to welcome you. And bring any and all of your questions that you may have because these guys are all about the knowledge. Having worked in the industry for decades they bring it all to our family owned business. We have been operating as the premiere destination in South Florida for diamonds, gold jewelry, luxury watches and generally all of the best luxury lifestyle accessories that we can offer. For a comfortable experience where you can feel confident in your purchases, no matter the occasion. Just as passionate about watches as we are about cars our team are also obsessed with symbols of love.
Whether that is bridal jewelry, an engagement ring or wedding rings, anniversary bands or just because we have it all. From the world's best bridal designer jewelers and the leading diamond producers we source it all. Come say I do to the ring of your dreams or have our team help bring your dream ring to life with custom jewelry creation services! Our expert craftsmen can create stunning pieces at our state of the art in house workshop. Outfitted with the industry's best equipment and cutting edge technology there is no doubt that we can help you craft a singular style piece for your loved one. If you already have a watch or jewelry item that you would like to upgrade or transform though we also offer services for that! Our acquisitions team buy luxury designer jewelry and watches on our premises as well. Schedule a chat with a buyer.
Find us nearby in one of two locations in Boca Raton, Florida
Email: in**@di******************.com
West Boca Location: 22191 Powerline Road #12b, Boca Raton, FL 33433
Hours: Monday-Friday 10am-6pm | Saturday 10am-5pm | Sunday Closed
Phone: 561-990–4977
East Boca Location: 2801 N Federal Hwy, Boca Raton, FL 33431
Hours: Monday-Friday 11am-7pm | Saturday 10am-5pm | Sunday 12pm-5pmPhone: (561) 623-8205