Know Your Diamonds: Square Cuts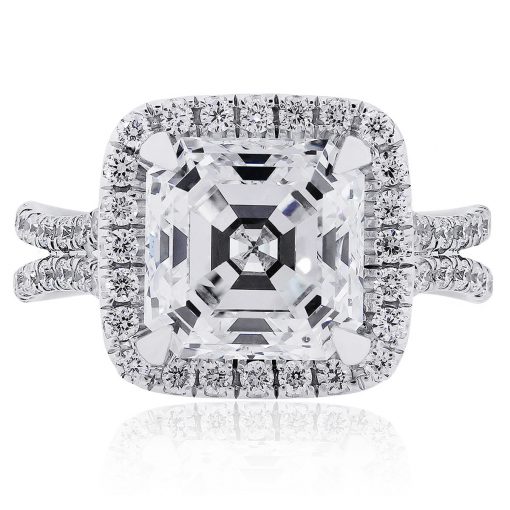 Choosing the perfect square-cut diamond is a great choice for any accessory. We most commonly see this cut in rings, but you can use it in other contexts as well. Square diamonds look great as stud earrings. They also look wonderful in bracelets and even on watches as accent stones. The great thing about these cuts is that they are timeless and classic. But they are also versatile. That means that they look great with a wide array of different types of fashion.
Square diamonds are actually a fairly broad category. There are different kinds of cuts within this category and it can be really helpful to know the basic differences when choosing a gemstone. There is a good reason that these cuts continue to be so popular – they offer clean lines and a really elegant profile. But each cut offers its own unique properties and looks. What will work best for you will depend on your taste and style. It helps to know what you are looking for in a diamond, as this will help you narrow down your search. We hope that this guide provides you with the information you need to make a great decision.
The Allure of Square Diamonds
Square diamonds have long been a favorite and for many good reasons. These cuts offer a symmetrical stone that has really clean lines and a classic profile. People like these stones because they offer classic and timeless looks. There are many styles that come and go, but some are able to stand the test of time and continue to look great. The square-cut diamond is definitely one of these types. And it doesn't matter what type of square diamond you choose, it is going to be classic and timeless. This makes it a pretty versatile cut. It looks great with pretty much any type of fashion. And, since it is classic, you never have to worry about it going out of style.
The other great thing about square-cut diamonds is that they look great with accent stones. Whether you want more diamonds as accent stones, or you want to pair your diamond with something a little more colorful, we know you will love the way the cut offsets the accent stones. Square cuts are great in that they offer symmetry and some offer a good balance between sparkle and fire. We offer a huge selection of diamonds and make it easy for you to do a diamond search to find the perfect stone for you.
Princess-Cut Diamonds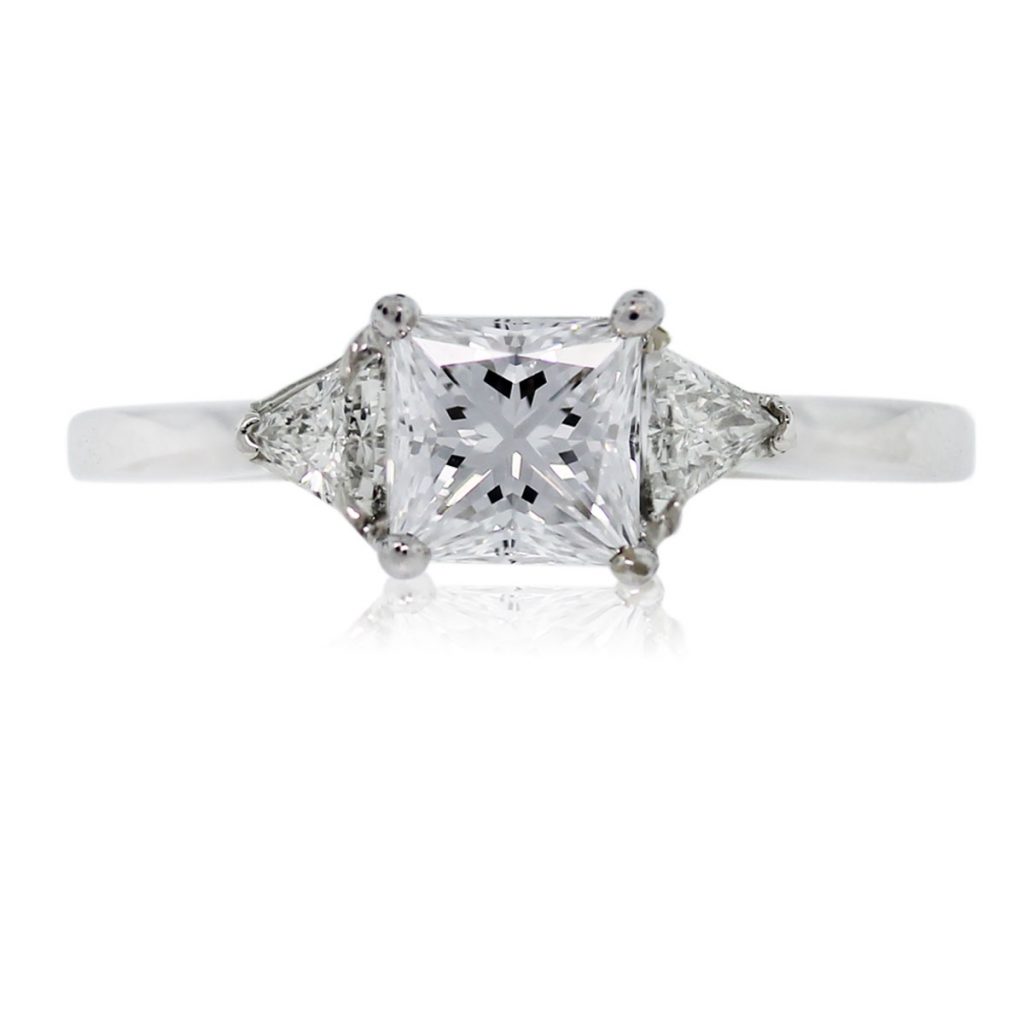 The princess-cut diamond is one of the most popular types of square cuts. It is a simple and elegant cut that is truly classic and timeless. This cut is a favorite for use in engagement rings because it is so elegant and classic. This is a truly square-cut diamond. One of the things that distinguish this cut from other square cuts is that it has pointed edges.
The pointed edges of this cut give it its symmetrical shape. This cut is known for its fire and also has some good sparkle. Fire refers to the rainbow-like hues diamonds give off when in the sun. This shows off the depth and quality of the stone and gives it a unique look that is hard to beat.
Of course, the stone also features a lot of sparkle and shine, though not as much as brilliant-cut diamonds. While you will most commonly find princess-cut diamonds in a square cut, you can also find them in rectangular cuts as well.
Many people like this cut for its looks and value. This cut costs less per carat than round-cut diamonds.
Emerald-Cut Diamonds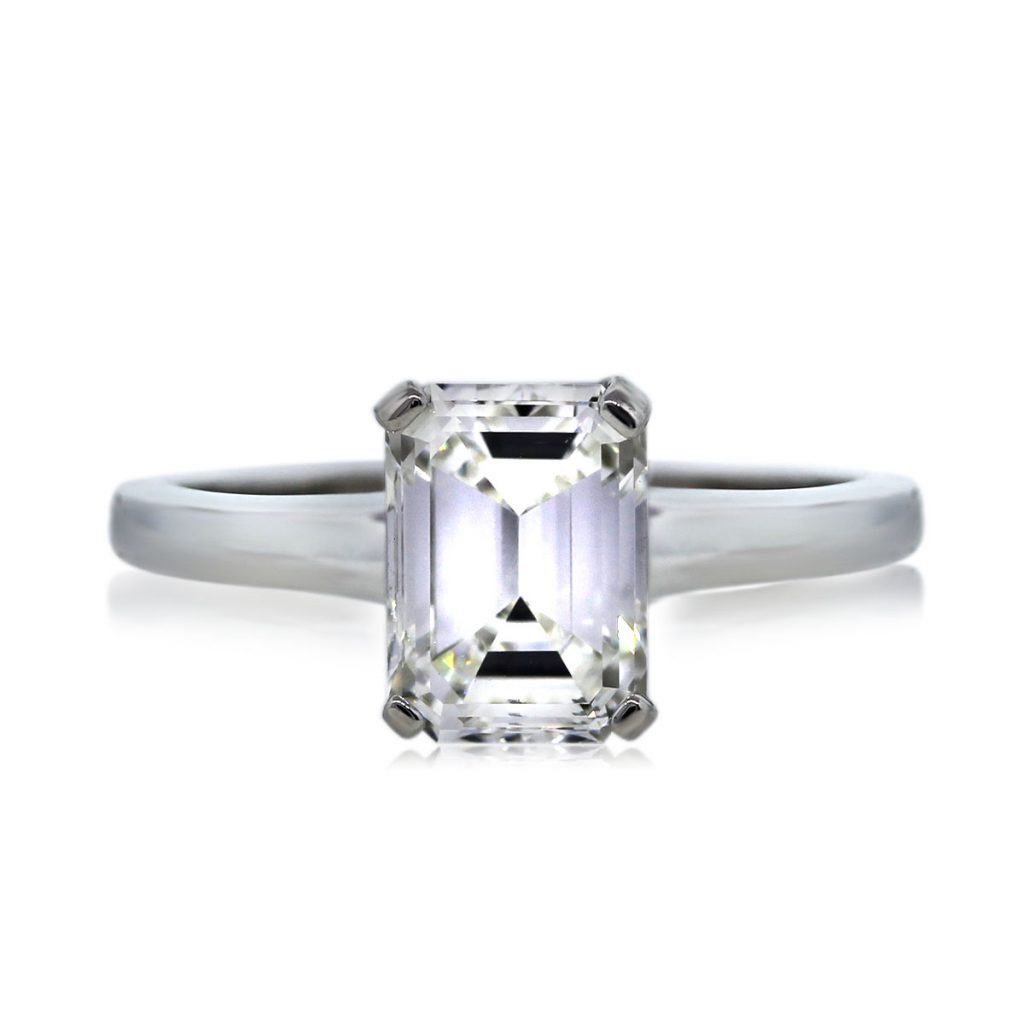 The emerald cut is another popular square diamond, though this is one that is also often found in a rectangular shape. This is a really old type of cut. It dates back to the 1500s. As the name implies, this was a cut that was meant for the emerald. It was a process that reduces the likelihood of chipping or damaging the stone while working on it.
Over time, this cut began to be used on other gemstones as well, most commonly the diamond. This has always been an elegant and unique diamond cut. It saw a real heyday in the 1920s as many liked to use this in Art Deco-style jewelry. But the thing about this cut is that it can look great with vintage and classic looks as well. This is why some people choose this for a unique engagement ring.
It has the stunning symmetry that the square diamond is known for, but this cut is also a bit different from other square cuts. The cut features fewer cuts than many other styles. It has step cuts and a flat top surface. This means that any flaws or imperfections within the stone may be readily apparent. For this reason, it makes sense to prioritize quality over size.
Cushion-Cut Diamonds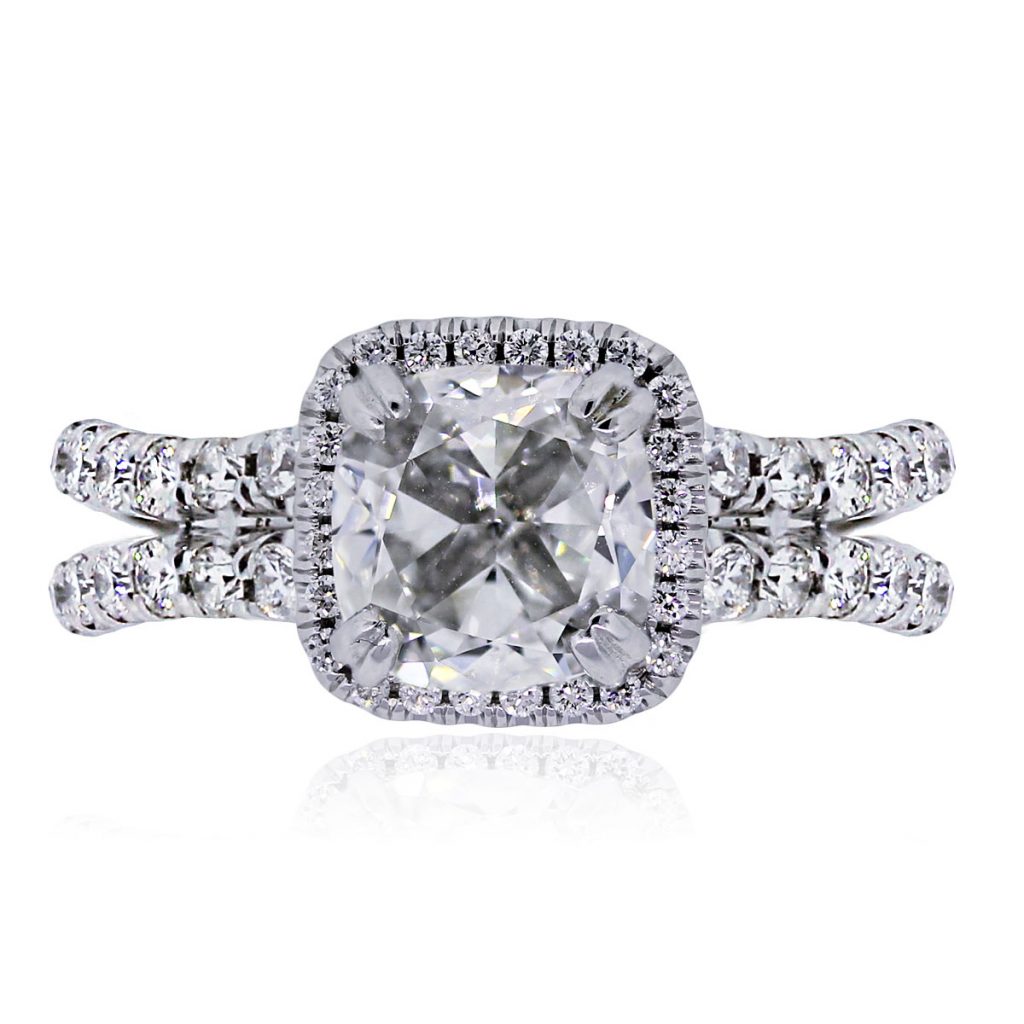 Cushion-cut diamonds are one of the most popular square cuts. It is unique in a lot of ways. It has features of both a round and square cut, without being fully either. If we are being technical, it is a combination of an old mine cut and a round cut. What this gives you is a square shape that features rounded corners. This softens the edges of the stone.
It gives you a square-cut diamond that has a ton of sparkle and shine. Since it has rounded corners, it has a pillow-like appearance, which is why they call it a cushion cut. This is a really elegant and classic cut. While we see it most often in vintage or classic styles, this cut will also look great with modern or contemporary looks as well.
This is an affordable cut that makes it a great choice for those who want something elegant that won't break the band. Since it is a timeless and classic cut, many people love it for use in engagement rings. But it looks great in many different settings, from earrings to bracelets. There are a ton of facets on this stone, which allow it to reflect a ton of light. This is what gives the stone its classic sparkle.
Asscher-Cut Diamonds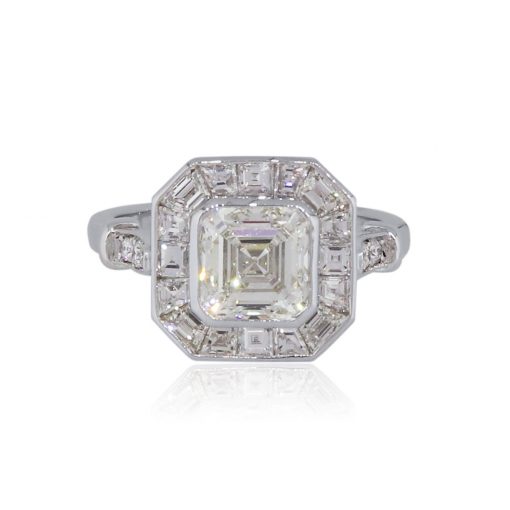 The Asscher-cut diamond is a square-cut diamond that is less well-known than many of the other cuts we have looked at here. It has a lot of similarities with the emerald-cut diamond, but it is only found in square shapes. Emerald-cut diamonds are often found in rectangular shapes as well. This is a really great cut for those who love vintage classic looks. 
There are very strict parameters with this cut. It will have either 50 or 58 facets and a width ratio of 1 to 1.04. These facets allow it to give off a little sparkle, but fire is what this cut is really known for. It has a high crown and shows a lot of depth. Many people love the mirror effect this stone can have in the sunlight.
It is a great choice for an engagement ring and looks stunning in classic and vintage-style jewelry. This isn't a cut you see every day. It saw its first introduction in the early 1900s and was popular during the Art Deco movement.
Radiant Square Diamonds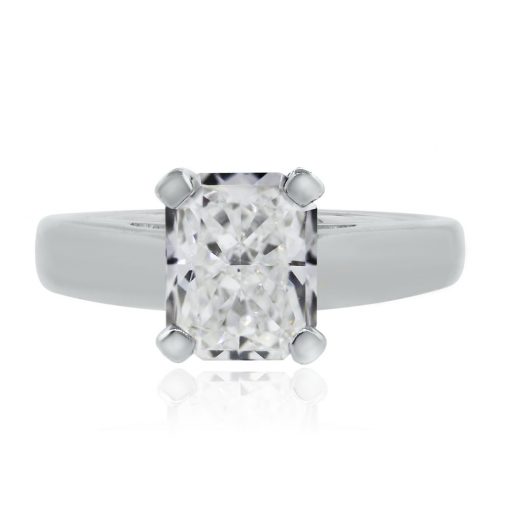 The radiant cut diamond is another popular and elegant type of square diamond. Like many of the other cuts we look at here, you can also find this in a rectangle. Whether you prefer the symmetrical square or rectangle is really a matter of preference. Apart from the shape, these stones are made in the same way. 
While not as sparkly as a brilliant-cut diamond, the radiant diamond is known for its sparkle and shine. When it comes to square-cut diamonds, this is one of the sparkliest diamonds you can find. It is known for its versatility and durability. It is a strong cut that can withstand the rigors of daily wear.
This is a fairly new cut, seeing its first introduction in the late 1970s. It features 70 facets cut into the surface of the pavilion and the crown of the stone. These facets are what allow the stone to reflect light and give it that beautiful sparkle. You can also see the fire in this stone, but the sparkle is most definitely at the max. The only cut that offers more sparkle is the brilliant cut.
A lot of people like this cut for engagement rings, earrings, or necklaces. It gives off that sparkle we crave but still shows its quality.
Versatile Cuts
The square cuts that we look at here are all classic and elegant styles. While they have different parameters and different numbers of cuts and facets, they all feature an elegant shape and high style. Any of the cuts we look at here would look great with classic or vintage looks. They also look great with Art Deco and other unique styles. But the thing about these classic stones is that they look great with pretty much anything. You can easily pair any one of these stones with something more bold, more modern, and eye-catching. The choice really is yours.
Many people love the versatility of these cuts. They look good with almost anything. One of the reasons people like these cuts for engagement rings is that they can stand the test of time. Since the styles are classic, they are always in fashion. And, as your style evolves over time, these stones will still look great, whatever your style. For a ring you will be wearing every day, this is of great quality. But it looks great in a large number of different contexts, not just engagement rings. 
Your One-Stop Shop for All Your Jewelry Needs
At Raymond Lee Jewelers, we take style, quality, and elegance very seriously. We only stock the finest and rarest pieces in our stores. Over the years, we have been able to cultivate a reputation as one of the finest jewelers in the Boca Raton area. We offer a great selection of some of the rarest and most elegant high-end jewelry around. Our buyers have a ton of experience and connections, which allows them to source the rarest and most beautiful pieces from various places around the world. This is why you have the peace of mind that anything you buy from us is going to be of the highest quality in terms of design and materials.
We also offer other jewelry-related services as well. Our jewelers can provide a comprehensive range of jewelry repair services as well. Whether you need a ring resized or you want an old piece of jewelry reworked, we have the skills to make it happen. And, if you have something particular in mind that you just can't find, we also offer custom jewelry design services as well. Our experienced jewelers work closely with the client using the latest computer technology to turn their dreams into reality. 
In Closing
Diamonds come in so many shapes and sizes that they can be pretty intimidating at first blush. But it really doesn't have to be. We want you to be as informed as possible so you can choose the best diamond for your taste and style. With so many choices out there, there is no reason to settle on something "meh" when a little research can help you find something "wow". Square-cut diamonds are an incredibly popular type of stone. They have clean lines and a really elegant and classic profile. The thing is, there are actually quite a few different types of square cuts.
Here, we look at some of the most popular square-cut diamonds and discuss the differences between the cuts. We hope this guide gives you the information you need to guide your diamond search. Any of these diamond cuts will look great with a huge range of fashion styles. Square-cut diamonds look great in engagement rings, earrings, necklaces, bracelets, and more. It is a popular cut because of its classic look and feel. The cuts we feature here boast fire and brilliance that makes these diamonds even more elegant and beautiful.