Rolex Daytona Leopard: Keeping the Skin, Telling the Time
Wanting something high-end doesn't mean we don't want something unique and there isn't much that fits this bill quite like Rolex Daytona Leopard.
Here is one highly unique version of a popular line of watches the company makes. It is a line of watches that, as the name implies, takes its inspiration from the world of racing. The Daytona has long been a fan favorite. Especially among those who want something high-end, but still sporty and masculine in design.
That is exactly what you get with a Rolex Daytona watch. And with the version we feature here, you get an 18-carat gold, elegant, and eye-catching version of this popular watch. It has a ton of personality and is a great option for those who appreciate quality and elegance.
Also, it's a timepiece that stands out from the proverbial crowd. There is the sporty design that makes this such a popular line of watches, but the addition of the leopard print bracelet, dial face, and unique gemstones, really sets it apart.
Rolex: Symbolizing Luxury
When we think of fine watches, chances are Rolex is one of the first brands that comes to mind, and this is for good reason. The company continues to earn its reputation as one of the finest watchmakers in the world.
They have some of the most advanced and cutting-edge internal mechanisms. More so, they make timepieces that can withstand some of the harshest elements. This is all the while looking like luxury, high-end timepieces. Rolex means quality, inside and out.
From the earliest days of operation, Rolex would work closely with scientists and those who work and play in the most extreme environments. The company would make watches that can withstand such elements as deep water, high pressure, and magnetic fields.
This quality is what allows them to become the watch of choice for many who work in more extreme environments. But they would never turn their back on quality design.
While the watches need to serve their function, they also need to look good while doing it. Since its inception, the company has striven to make the best-looking and finest-quality watches in the world. Their iconic design and the elegant crown logo allow this brand to be easily identifiable on sight.
These are sophisticated, elegant, and high-tech watches that beautifully combine form and function into one of the most stunning timepieces on the market. While many of these watches are built for extreme environments, anyone can enjoy the style and quality of one of these watches. Whether you want one of these watches for a statement piece for special occasions or as part of your signature looks, it is hard to go wrong with a high-end watch.
The Daytona Watch Series by Rolex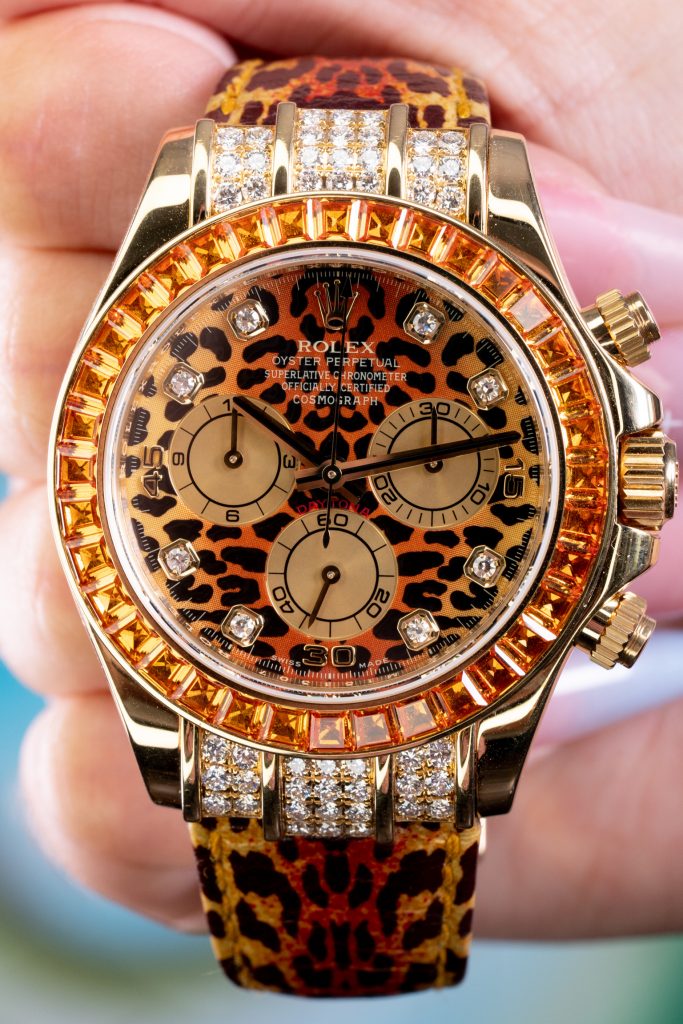 The Daytona by Rolex is also often dubbed the Cosmograph Daytona. This is a watch that features design elements that make it perfect for endurance racers. It features a tachymetric system. This is a set of three measurements that display on the dial.
These measurements allow racers to determine their lap times, as well as their overall racing position. It is these features that gave the line of watches its namesake. These are watches that are made for precision calculation where it is needed most.
The watch also features high-end design elements that make it a durable, tough, and reliable watch. A racer needs a watch that is not only reliable but can also withstand the elements as well. It features an internal automatic, self-winding mechanism. This means you never have to wind the watch by hand to ensure it keeps accurate time.
These watches also look as good as they function. They have a sporty, masculine profile that has clean lines.
The Rolex Daytona Leopard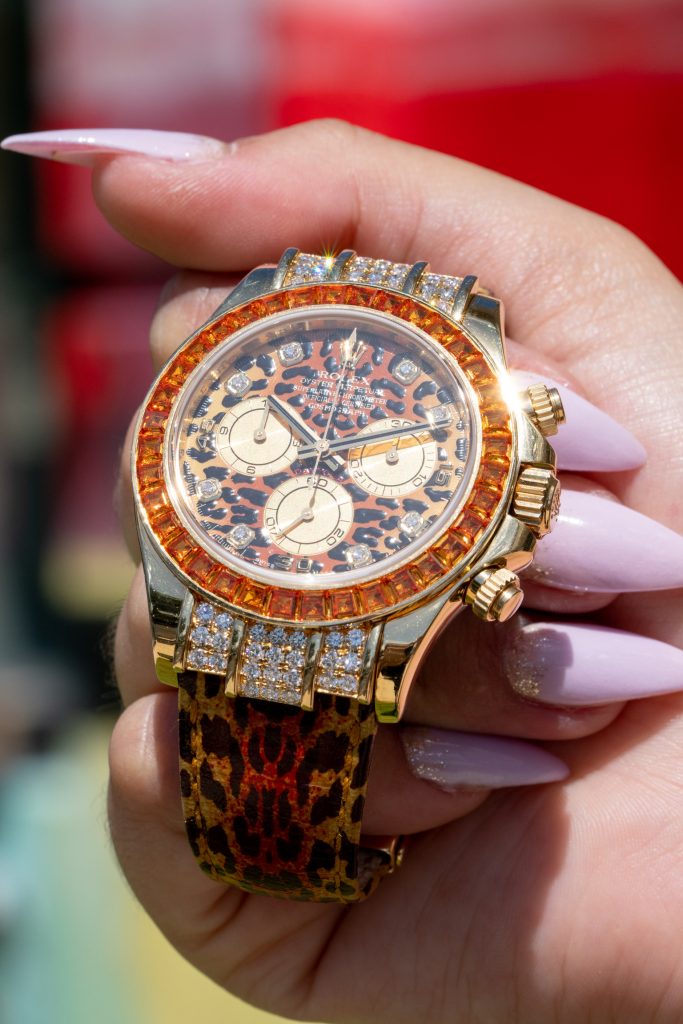 The Rolex Daytona Leopard watch has all the design elements that make the Daytona such a special and unique timepiece. Like all models within this line, it features the internal workings and dial features that make it the perfect watch for the endurance racer. From the tachymetric system to the large face design that makes it easy to read, this is a racer's watch.
However, some people want something a little different and a bit more eye-catching, and Rolex always delivers. This version of the Daytona is incredibly unique. First and foremost, the bracelet of the watch has a leopard-like look and feel. This gives it an edgy look that sets it apart from other models within the Daytona line.
The dial of the watch features high-grade diamonds. These are small, round-cut diamonds that will sparkle and shine in the sunlight. Additionally, you will also find diamonds on the hour markers of the watch, giving it a little extra glamour.
The bezel of the watch features high-quality orange sapphires. These are in a square-cut shape and encircle the entirety of the bezel. They give the watch a warm color and a bit of extra shine.
Finally, the face of the watch also features a leopard-like print that is on the bracelet of the watch. What you get is a durable, high-end timepiece that features Rolex quality and a truly one-of-a-kind design. It looks unlike any other model in the Daytona line and is perfect for those who want to make a unique style statement.
Into the Rolex Daytona Leopard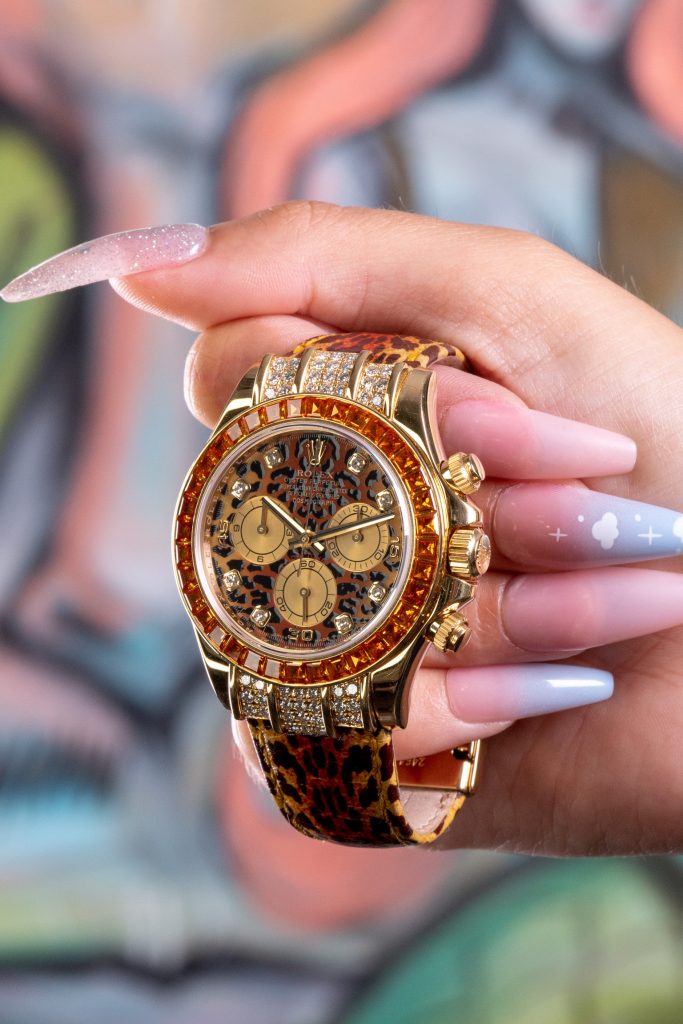 As we mentioned above, the Daytona line of watches all features the tachymetric system that makes it such a great watch for endurance racers. The dial provides all the information a racer needs to determine their lap time or the overall time of their race.
Also, the internal workings of the watch are some of the most cutting-edge mechanisms and movements on the market. And like many Rolex watches, the movements that feature in this watch are unique to the company. They hold a patent on all of their internal mechanisms.
So, with this watch, you get some of the most cutting-edge technology available in a wristwatch. And, of course, all Rolex watches feature Swiss-born craftsmanship and engineering.
However, the Daytona Leopard has some additional features that set it apart from the other models within this line. Many of the models in the Daytona line are demure and subtle watches. They feature high-quality metals and the best possible design. But they are a bit unassuming in appearance. Some of us want something a little bolder.
With the Daytona Leopard by Rolex, this is exactly what you get. You get all the elements that make a Daytona such a fine and cutting-edge watch, but it has a few design twists. The high-grade diamonds and rich orange sapphires give the watch a sparkle and shine that it wouldn't otherwise have. The sapphires also give the watch a bit of color, but not so much as to draw attention from the entire outfit.
Not only do these watches feature fine gemstones, but it also features a unique bracelet and dial. Both the bracelet and dial have a leopard-like pattern that gives the watch a bold and stunning appearance. This is a great watch for the trendsetter and edgy dresser.
Telling the Time in Style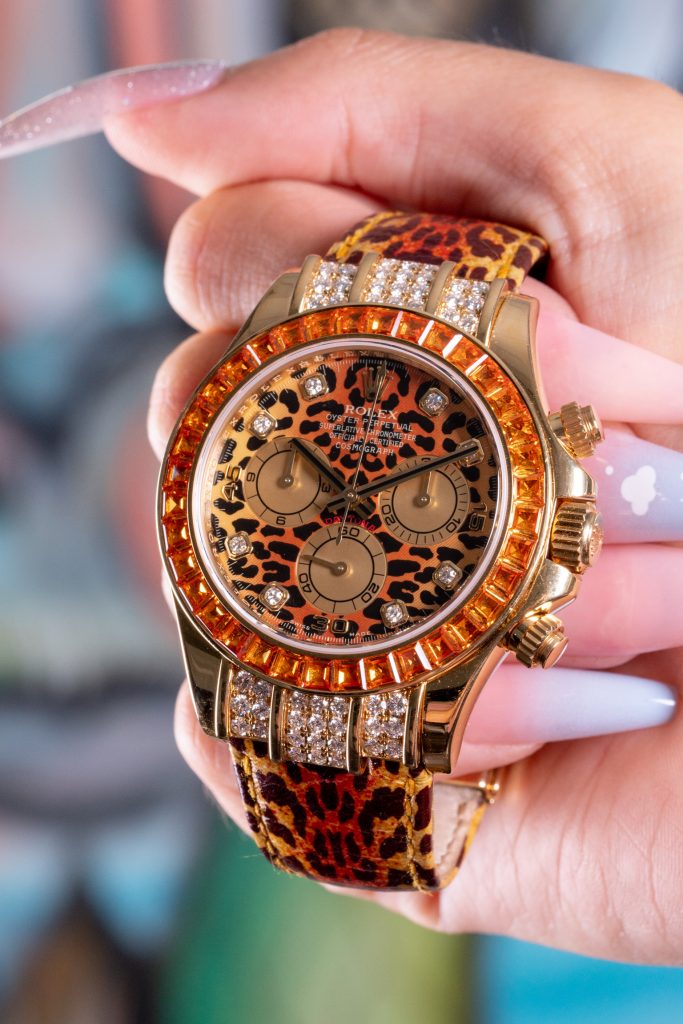 A Watch for Every Occasion
Alt-Image: Daytona Leopard for every occasion
Many accessories are highly specialized. What this means is that they are made for a certain occasion. Just think about those over-the-top diamond necklaces that feature multiple layers of huge, sparkly diamonds.
As gorgeous as this piece is, it doesn't go with a lot of different types of clothing. I mean, you wouldn't want to wear one of these necklaces with casual wear to the grocery store. This means it doesn't have a lot of versatility. Not that we shouldn't have these special pieces, but something is appealing about a versatile accessory.
There is no accessory as versatile as the humble wristwatch. It is available in so many different types and styles that you can easily find one to fit even the most unique of tastes. And the Daytona line by Rolex is no exception. Within this line of watches, you will find classic, traditional, and understated pieces, as well as those that feature the highest quality gemstones and precious metals.
A watch looks great with so many different types of clothing and for almost any social occasion. You can easily pair a quality wristwatch with a formal suit or a business suit for a day in the office. But on the flip side, you can also pair a good watch with something casual or even sporty.
The same watch that can go with you for a night out with the boys can also give you that professional and put-together look for a day in the office. There aren't many accessories that can go from day to night, from casual to formal, quite like a Rolex Daytona Leopard watch. This makes them one of the most versatile accessories out there.
Beautiful and Sophisticated
One thing you can count on from all Rolex watches is that they are stunning to look at. As much focus is put on the look and feel of the watch as goes into the internal workings of the watch. All Rolex watches are made for comfort and quality.
These are watches that you can wear all day, day in and day out, and they will continue to look and operate perfectly. These are comfortable watches that won't pinch or pull the arm as some watches are wont to do.
Not only are these comfortable watches, but they are also some of the highest-quality timepieces you can find anywhere in the world. Rolex has patents on a number of different elements. From internal mechanisms and movements to bracelet styles and materials, the company makes a lot of its parts in-house. And these are parts that many other companies seek to imitate.
But there is no replacing the original. Nothing beats a Rolex watch. All Rolex watches are elegant and stylish. They feature top-of-the-line design and craftsmanship. A lot of attention is focused on the look and feel of these watches.
The Daytona Leopard by Rolex features only the highest quality materials and is some of the most elegant and stunning watches on the market today. Rolex offers a wide range of options, meaning you can find something that perfectly fits your needs and style. From classic and traditional designs to stunning, bold, and eye-catching pieces, Rolex has something for everyone.
Cutting-Edge Craftsmanship
You don't have to work in an extreme environment to appreciate a durable and reliable watch. One of the things that Rolex has long been known for is its dedication to precise design. They are one of the most innovative watchmakers and they continue to earn this reputation.
The company is always looking to come up with something better, something more precise, something more reliable, and this shows in all their watches. While it is easy to love Rolex watches for their high-end design and elegant materials, you can also love them for their cutting-edge engineering and craftsmanship.
Rolex is always looking to create mechanisms and movements that are more precise and reliable. This is why they work with so many people whose jobs take them to extreme environments. They will then create a timepiece that can withstand these unique elements.
After much testing and refinement, these features make their way into all Rolex watches. If you appreciate fine engineering and cutting-edge technology, a Rolex watch is a great option. You get something that is on the cutting-edge of watchmaking technology, as well as an elegant timepiece that will look great with pretty much anything you might think to pair it with.
Conclusion
Some design twists on the Rolex Daytona Leopard make it a great option for the bolder ones among us. The watch takes its name from the leopard-like pattern on the bracelet and dial of the watch. Additionally, the watch also features high-grade diamonds and rich orange sapphires on the bezel and dial of the watch. This gives it sparkle and shine unlike most models within this line.
This model is a great option for those who want something unique and stylish, but with quality and elegance, they can trust. You really can't beat the Rolex if you want something that combines form and function so elegantly and stylishly.