Round-cut Diamonds in Three-stone Rings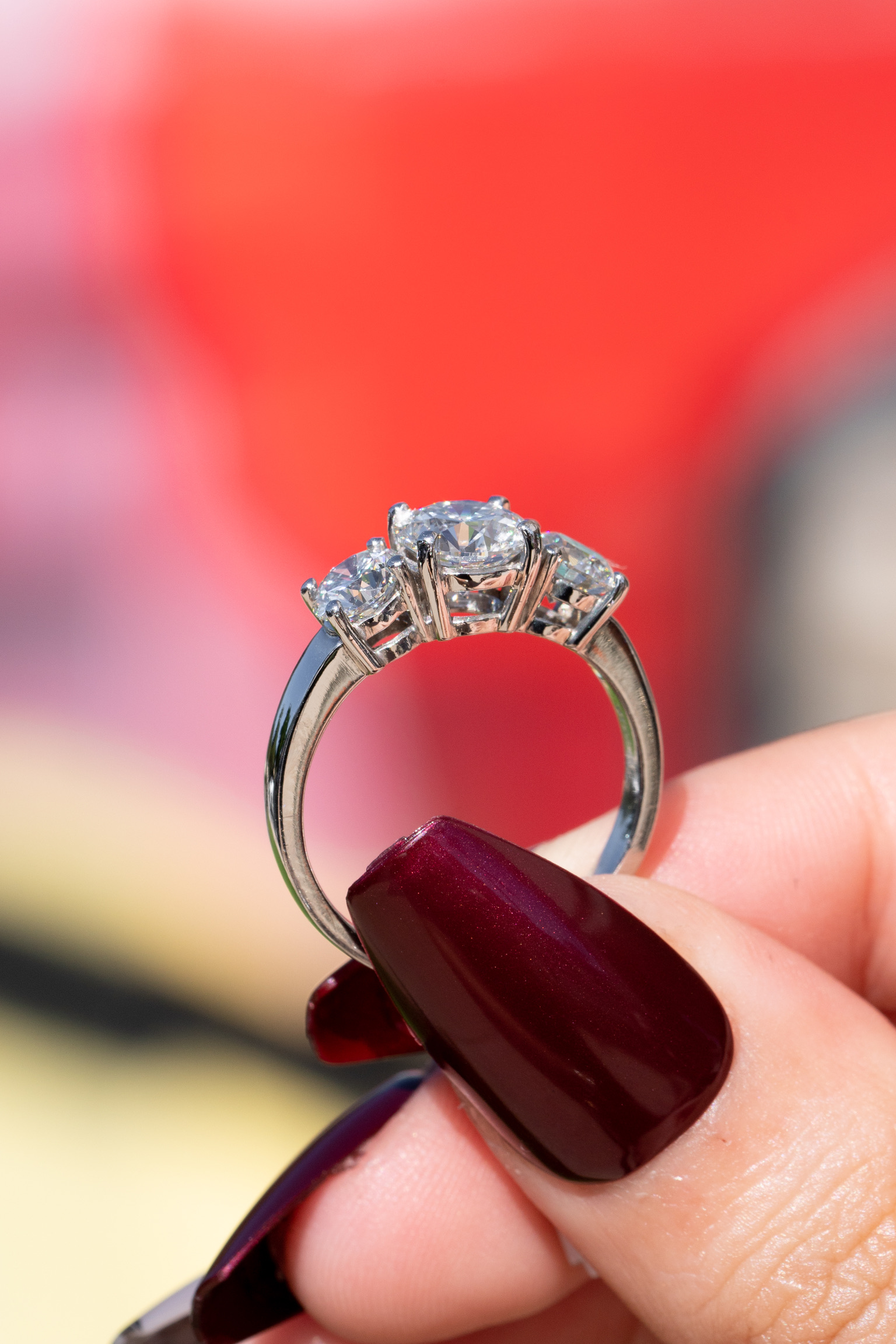 We live in an era where three-stone rings are all around us. In what seems like a spike, this style massively gained momentum in the last few years. And when it features round-cut diamonds? It is such a sight to behold.
Moreover, that it was Meghan Markle and Prince Harry's engagement ring in 2017 further makes this ring a favorite. You can either call it a three-stone ring, a 3-stone engagement ring, or a trinity ring. Whatever name you call it, it remains one of the most famous engagement ring styles globally.
So, it is no surprise that, ever since then, the round-cut diamond bond with three-stone rings kept growing in fame. Presently, it is a wildly preferred option among intending brides. Also, our focus here is the round-cut diamonds in three-stone rings.
Time to Pose that Big Question
Now, you are no longer searching for that perfect half. Finally, there is that one person you want to spend the rest of your life with. At that point, you must ask the big question.
However, it is simply compulsory that you first search for the best engagement ring for the occasion. You need to do this to prepare for that big question.
The engagement ring you need is the one that will showcase and embody the loving bond that you share with this person. You need an engagement ring that will convey all the memories you have had with your partner over the years.
Also, you need your engagement ring to show the recent moments you are continually experiencing. Finally, the ring should indicate a bright future that lies ahead of both of you. A future of love and various shades of happiness.
To do this right, (which you must) round-cut diamonds in three-stone rings present the ideal choice for you. This does not get rid of the fact that you might want to change your decision. Probably, the solitaire ring comes tempting thanks to its uniqueness and special perks. You might even want to do it differently.
In that state, remember this. Particularly, the three-stone engagement ring's rise in fame is not by chance. It is its prestigious symbolism and relevance that made it possible.
If all of these do not quite convince you, read through this text to find out all the details you need to know. This article contains every necessary information on the three-stone diamond engagement ring.
Introducing The Three-stone Rings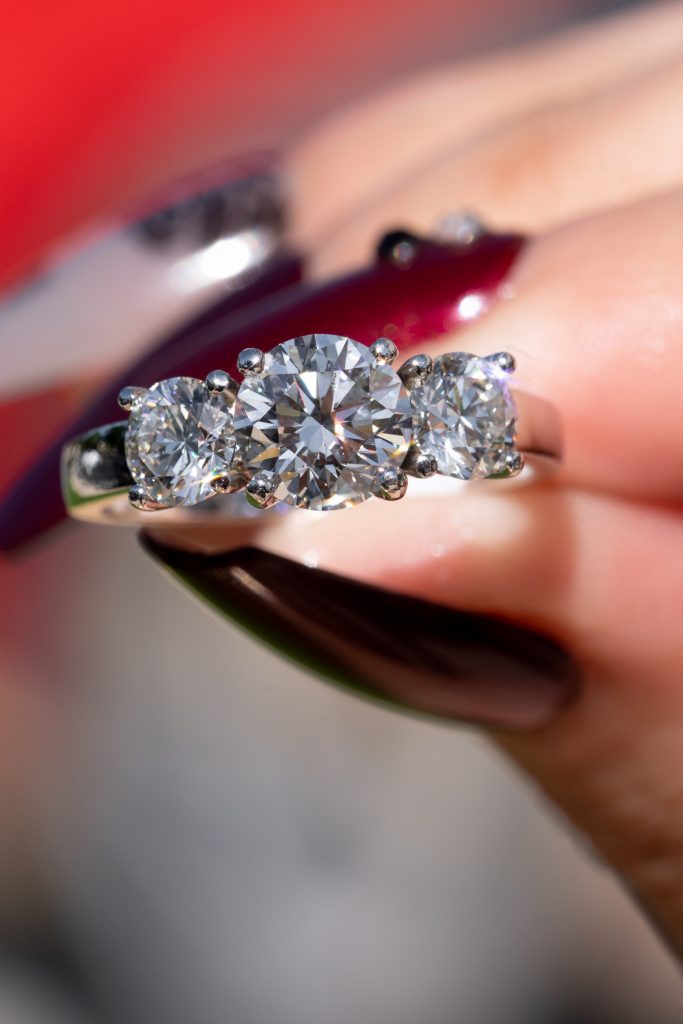 In the past, several jewelers created different blends of varying diamonds to make one ring. Yet, when we consider all of the designs generated, the three-stone ring remains the simplest of them all. Plus, this ring style is the only one that got all the acceptance and recognition the rest didn't get.
Moreover, the three-stone engagement ring setting existed since the 17th century. Ever since then, this ring style remains that one ring setting with a story to tell.
For some couples, this ring style signifies fidelity, friendship, and love, or father, mother, and child. Another section of this population concludes that the three-stone engagement ring depicts the Holy Trinity.
Simply put, three-stone engagement rings come with three diamond stones present on a single ring. Also, these three-stones are products of a huge center diamond flanked by two negligibly tiny diamonds on the flanks.
Note that all these three-stone rings use a similar mounting. Plus, they all come in the same shape and cut. In addition, you have options as regards the band of the ring. The options are:
Yellow gold
White gold
Platinum
Rose Gold
Three-stone Rings as Engagement Rings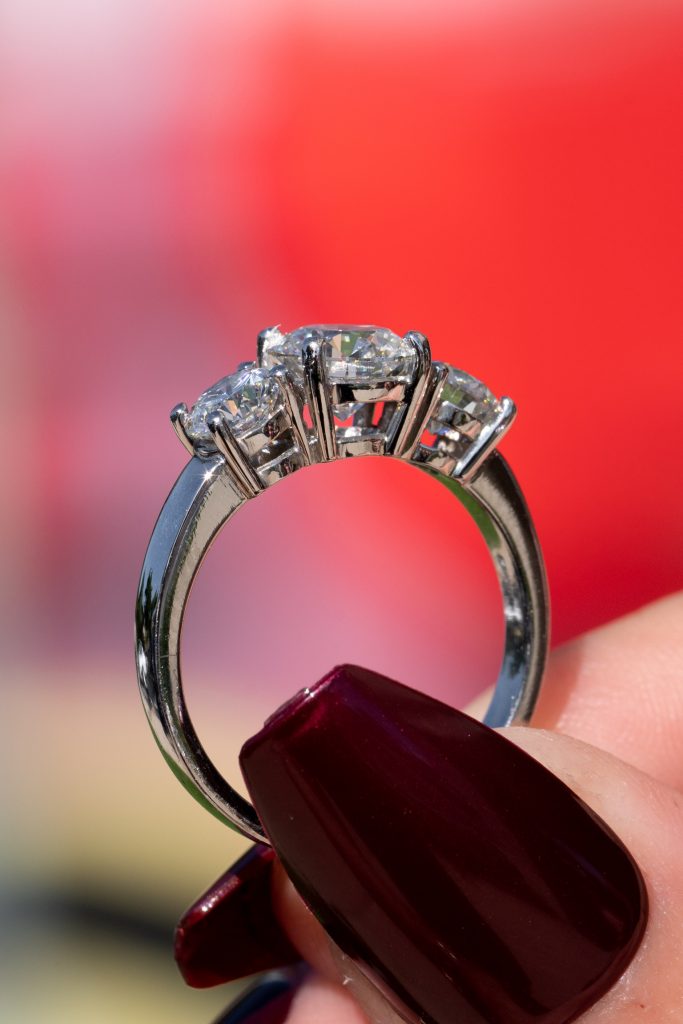 As the name implies, three-stone rings display three gemstones or diamonds on the band. These diamonds or gemstones come in a very close setting.
This closeness is to exemplify what we mentioned earlier. That the three-stones stand to signify the transition from the past to the present and the future.
Meanwhile, note that several three-stone engagements ring headline three diamonds. However, others might come with colored gemstones on their band. These colored gemstones might be rubies or sapphires depending on the designer.
More so, various couples go for gemstones that carry a unique meaning understood by the bride or groom. You might see gemstones represented by birthstones or gemstones of a specific significant color.
It might be wrong to say that three-stone engagement rings are as popular as solitaire engagement rings. Nevertheless, this ring style is soon gaining ground as regards popularity.
This is the style for couples that desire an engagement ring that gives the chance to pass a personal message.
Introducing Round-cut Diamonds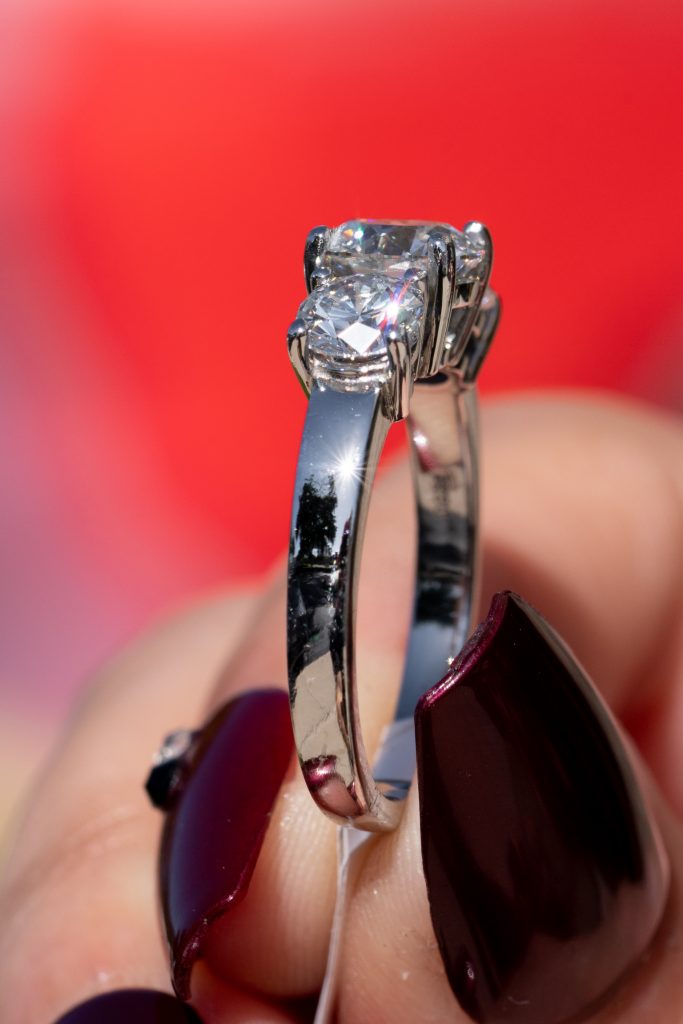 Archduke Maximillian of Austria introduced the world to the first diamond engagement ring. Of course, the ring he used was not round at the time.
It was in 1477, and Maximillian's betrothed was Mary of Burgundy. He proposed to her with a diamond ring. After this, diamond engagement rings became recognized among many. And the tradition of buying a diamond ring for engagement gained even more pull.
Gem cutters began to mix diamonds with other stones to enhance their beauty. Stones like precious metals and enamels were quite popular then too. These stones added brilliance and more fire when the gem cutters mixed them.
While the brand was growing, cutters designed the ring in the shapes of flowers. And this gave birth to "Posey rings." Time went by in the Edwardian era. And, the cutters still maintained the style of mixing diamonds with other stones.
The fact that diamonds proved to be durable in 1947 drove the narrative that "A Diamond is forever," (a phrase coined by De Beers). By extension, people associate marriage with a forever commitment.
When De Beers opened a mine in Africa, diamonds became even more popular. And of course, it meant other people had access to buy it too. Although, the demand for the diamond ring was not always high. In 1930, a decline in demand spurred De Beers to a marketing campaign. With this campaign, the company could increase sales in three years by a 50 % increase in sales.
There have been more inventions around the diamond engagement ring ever since. The cuts have especially stolen the shine as many designs have been created. One of which is the Round-cut Diamond ring style.
Into the Details of Round-cut Diamonds
The round-cut diamond in any three-stone ring consists of 58 facets that divide the stone into the top and bottom half. As of today, they are the most popular cut of diamond engagement rings. And of course, their popularity is one of the features that give them an edge over other rings.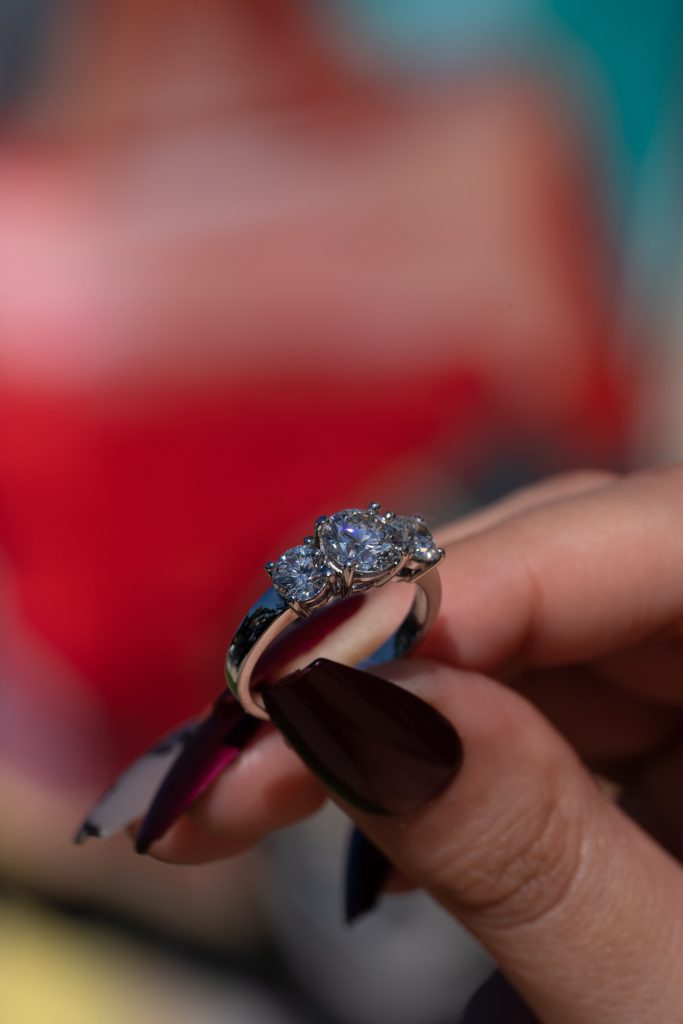 It is such a beautiful thing to know that you can find the diamond ring that suits your style when you need it. You could decide to go for rose, yellow gold, platinum, tungsten, or white, and you would not have to worry. There is always a big chance of getting the exact color and type of metal you want with a round diamond ring!
Aspects to Consider When Shopping for the Best Round-cut Diamonds
Alt-Image: round-cut diamonds in three-stone rings
Given the appeal, we understand if you want to get a round diamond engagement ring. But, before you get it, it is important to check out some things. There are many things to consider before buying your round diamond engagement ring. Some of these things include:
The world is now set so that it has become easy to make a sub-standard version of everything. Even diamonds! So, before choosing the round diamond, Gthe IA (Gemological Institute of America) must have approved it.
If GIA certifies the diamond you are about to get, you'll get what you bargained for. If not more.
Getting certified by AGS (American Gem Society) is also something you should aspire to. Being certified by both gives it an ultimate pass for originality and brilliance.
Colors will always play a vital role where necessary. And it is not about to stop with the round diamond ring. The color of your diamond ring determines titsbrightness, brilliance, and beauty. You must check if any of these elements mean anything to you. When it comes to color for a round diamond engagement ring, you do not need to aim too high. A color I or J is fine. The diamonds' colors will reflect the fire and brilliance regardless.
Many people now determine the originality of a diamond by how clear it is. Some other styles and types of rings need a thorough check to determine clarity. A round diamond engagement ring is not as demanding. As long as it is eye-clear, it is in an ideal state.
Round diamond rings are unique in many ways. Unlike some other diamond rings, the carat sizes affect how big or small the ring is. So, ensure to check out the carat sizes and be certain they want to wear them. It is safe to say that you give what you
One thing is sure about the round-cut diamonds; they will sparkle. The rate at which it shines and stands out among others depends on proportion.
The proportion of your round-cut diamond is important. You want to make sure the cut of that ring is perfect, or at least excellent,before you buy.
The highest you should ever aspire to when it comes to depth is 62.9%. Anything above that, you have crossed the line. Are you looking for the perfect depth percentage? 62.5% sounds right for a round diamond ring.
As much as the proportions and angles of the cut matter, the size also matters. If it is too big, you may not get the perfect color or clarity. So, you need to ensure that the size is within the range. And, of course, the right one to enhance sparkle, fire, and brilliance.
Arranging Three-Stone Rings
In addition to our explanation earlier, the stones may come in exact sizes. However, most times, the center stone comes as the biggest of them all.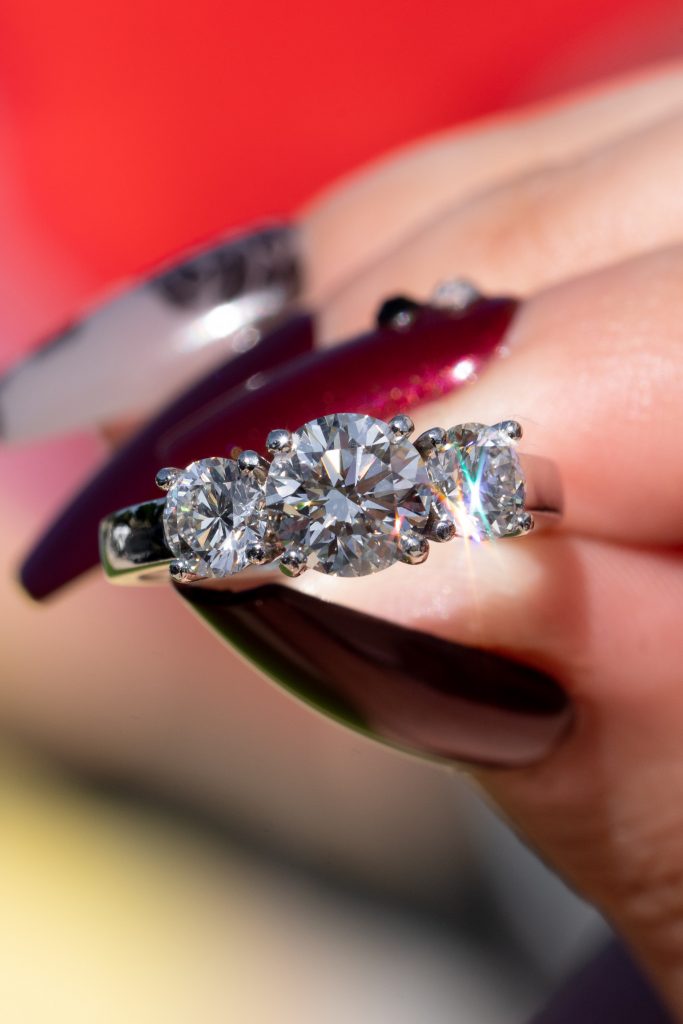 Additionally, most three-stone settings utilize colored gemstones to appear on the sides. And diamonds appear on the sides of the ring setting. Besides, you have the liberty to design three-stone engagement rings with any kind of precious stone you like. Check out your options above.
Similarly, you can combine a three-stone style with a different kind of setting. You might want to try the channel setting or the pavé design.
In all, the endless possibilities provided by three-stone rings make them a preferred option for engagements. A three-stone ring generally has a single center diamond. This single diamond then features other gems of exact sizes or lesser on both sides.
Matching Your Three-stone Rings with the Best Wedding Band
Here are a few ideas to match your three-stone rings with the perfect wedding band.
Thin pave bands will always be a perfect option to add more glow to your ring. Oftentimes, jewelers customize pave bands to any chosen thickness. This is to match it with a three-stone set ring.
Channel or Brilliant Cut Set Bands
The metal rims of these bands come with a bright glow. They can flawlessly fit with your three-stone engagement ring. This is abecausethe metal gives an additional edge.
For this variety, jewelers set each diamond on a bezel metal. This bezel metal keeps the diamond in the perfect position.
Ensure the wedding band is in perfect match with the shape of the diamond at the center. To do this properly, a band with similarly shaped stones is perfect. Now, you can fit the actual three-stone appearance again.
Conclusion
For centuries now, three-stone rings continue to warm the hearts of couples. In recent times, this ring style is now the chic choice for most couples. All you need is an elegant pick. And by featuring round-cut diamonds, you get the best of your three-stone rings. With that, you'll own an engagement ring with timeless significance.