Karl Lagerfeld never fails to impress us. On July 24, he excited us once again when he launched his Olympics-inspired line at Selfridges.
Lagerfeld attended an exclusive party at the London department store that evening to kick-off his exclusive shops within the store.
A womenswear space popped-up on the third floor, where the capsule collection of clothing and accessories sold underneath the banner labeled "Team Karl."

 The Team Karl collection includes limited edition T-shirts produced in collaboration with design agency I Love Dust, including one of the designers, in his trademark suit and sunglasses, preparing to throw a discus.
Notably, Team Karl, Selfridges will exclusively begin selling the second season of Lagerfeld's Karl line.
Therefore, if there were an astounding garment and accessory torch to pass, any of Karl Lagerfeld, the creative director of Chanel's's wondrous creations would own the torch. Or, if his creations were Olympians, they would make record-breaking time and execute a triple axel combination impeccably.
When it comes to looking effortlessly chic, Karl has designed an abundance of breathtaking accessories that can be exclusively found in one of Boca Raton, Florida's famed jewelry store's: Raymond Lee Jewelers.
Meeting the gold standard, look like a star and epitomize a look by one of the greatest fashion houses around the world with accessories that deserve world-wide recognition.
Chanel J-12 Ceramic with diamond bezel 38mm H0969
Totally modern, this watch can be envisioned on a woman that enjoys a plethora of compliments. Like a magnet, this watch will attract people towards it thanks to its stainless steel bracelet, locking fold over clasp, white dial, automatic movement and scratch resistant sapphire crystal. The watch's sophisticated vamp will give such an attraction that you might ever want to take it off.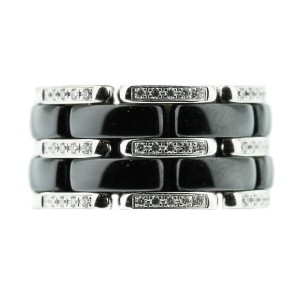 Chanel Ultra Ring Large Version in 18K White Gold, Black Ceramic and Diamonds
Unmistakably awe-worthy, become one of the lucky few to own this exceptional ring. When it comes to rings, this watch rules supreme with its retail price at $6100 and it's Raymond Lee Jeweler price of $5495. This rare find is truly intriguing and well designed, ideal for the style aficionado in mind.
Chanel J-12 H1709 Ceramic and Diamond Pave Men's Watch
This eye-catching men's watch is like no other. Chanel watches never lack in wow-factor and this watch with a black and pave diamonds dial demonstrates how to look dapper. Thus, this striking watch makes a fashion forward statement while maintaining its authentic appeal.
Images Courtesy of Raymond Lee Jeweler and I Love Dust