Choosing the perfect wedding dress is the most important fashion decision at a wedding, however choosing cute and bridesmaid dresses is also important. If you can take the time to coordinate the jewelry and shoes of each bridesmaid your wedding will have an extra touch of style. It may be your special day but all of your best friends should bring a little sparkle to the party – here are the hottest ways how to style bridesmaids jewelry
Bridesmaid Jewelry That Adds Sparkle to a Wedding.
Pearls, a strand of pearls for the bride and complementing pearl necklaces for each of the wedding party is lovely and if done creatively can be interesting.
Necklaces and earrings that subtly match the color scheme.
Bold necklaces in different designs. A seemingly plain choice in bridesmaid dresses can be vamped up with bold necklaces that do not all match but clearly go together.
Play with colors. Gemstones come in a variety of tones, and colors. And if you do not want to go traditional plastics are in style right now. Bold neon pieces can be a fun addition to your wedding style.
Art Deco is making a comeback (did it ever leave). And jewelry trends showcasing this style are stunning this year. If your wedding has a traditional style, then heritage type jewelry may be just what brings everything together.
Statement Necklaces do just that, they make a statement. Match the colors or the design but not both. If you dare, for fun let each of your friends go crazy choosing their favorite statement necklace within a group you set up and see how they complement the dresses you picked out.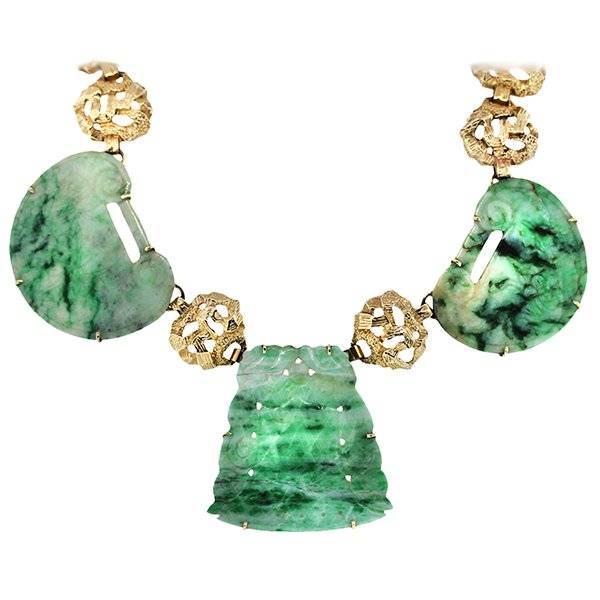 Brooches can be a whimsical way to add elegance to your wedding party. There are many traditional and modern designs that are simply stunning. Be carefull not to get one that is too heavy though as not to tear the fabric of the lovely bridesmaid dresses. If you do find a brooch you enjoy that is too large for a dress, consider pinning it on the flowers for on in a more secure area of the dresses such as at the waist.
The jewelry for the bridesmaids can be given as a gift, loaned, or they can purchase it themselves. A stylish bride will dress her friends for her big day in dresses that both reflect her personal wedding style and attractive enough that they will likely want to wear the whole get up again.
Do not overlook earrings and rings, if you chose a very bold necklace then opt for a more subtle set of earrings. Rings, if any, should be understated.
If you do not want the bridesmaid's jewelry to be a part of your wedding style, yet still would like to give your girls a momento for the day there are many options for sentimental pieces to show you care and commemorate the day. A birthstone pendant, or a brooch for each girl is ideal and cost friendly.
Related articles