When you start the search for the perfect piece of fine jewelry, you need to make sure that you pick out a piece that's going to reflect you and your personality. In order to do this, we've put together a list of tips and tricks to help you along the way.
With any piece of jewelry, it's important to consider your skin tone when choosing a piece that you want to reflect your personality. Different pieces of fine jewelry go better with different skin tones and vice versa. 
Pale and fair skin tones. If your skin is more pale or fair, you may want to consider white gemstones. White tends to bring out a goddess appeal while bright colors pack a stronger punch to the senses. 
Medium skin tones. Now if your skin is more of a medium tone, calm colors will work best for you. They display sensibility don't tend to clash with each other or the color of your skin. People with these skin tones should consider colors like shallow-water blues, serene yellows, sunset oranges, and ashy grays.
Dark skin tones. Red and white together are some of the best colors for darker skin tones. This is because of the contrast that they create. You could also consider an azure blue which would work wonders on the eyes of a person with a darker tone.
The next thing you want to consider is your face shape, which makes it a little trickier. There are many different face shapes (Oval, square, round, diamond, heart rectangle, etc.) to consider when you are trying to compliment someone's personal style. 
Here are some ideas to consider for each face shape:
Hair color also plays a crucial role in learning how to compliment your personal style with fine jewelry. Let's look at a few different options for your hair color.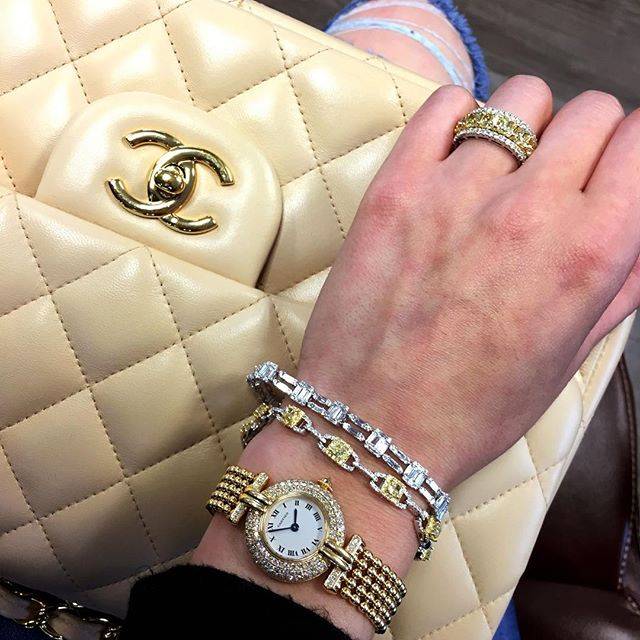 It wasn't too long ago that purchasing fine jewelry only required a little bit of work. These days there is more to consider and research and there are many more options for you to choose from. That's why the process of choosing your jewelry can seem more difficult than it actually is. With more to choose from, we want the process to be more fun and exciting for you.
That's why our team of diamond advisers are here to assist you in picking out a piece with ease and confidence. For commonly asked questions, please visit our FAQ page. 
If you liked this post be sure to follow us on Instagram, Facebook, and Twitter for more fun posts.
We are located in southern Florida in the city of Boca Raton. We proudly serve Boca Raton and the surrounding following areas: Palm Beach, Fort Lauderdale, Miami, Broward, and Miami-Dade. Stop by and talk to one of our experts about buying a piece today.
Not sure where to begin when it comes to picking out the perfect piece of fine jewelry? Learn more about diamonds and rings in our education center. If you're looking for further information Chat online, or even email one of our customer service advisers at in**@di******************.com.