Hot Review: Audemars Piguet Royal Oak Tourbillon in 18k Rose Gold
Presenting a hands-on, in-depth review of the Audemars Piguet Royal Oak Chronograph Tourbillon in 18k rose gold.
If you are interested in this watch, please contact us for pricing and availability. The watch is in perfect condition as you will see from our featured images below.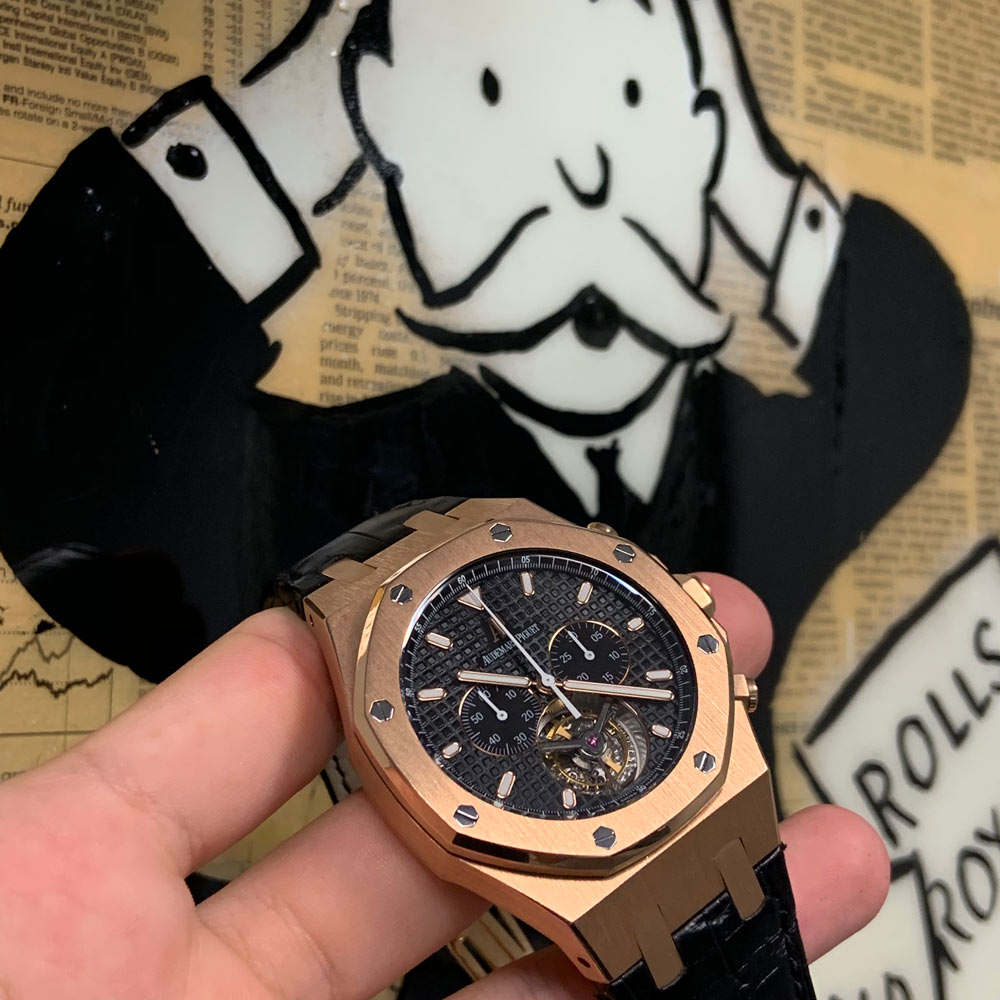 Today we are taking a closer look at the Audemars Piguet Royal Oak Chronograph Tourbillon in 18K rose gold on a leather strap. The reference number for this AP Royal Oak is 25977OR.OO.D002CR.01 (rose gold/black dial/black leather strap).
So, in this post, we are going to be reviewing the AP Royal Oak Tourbillon's functions as well as some of its design features.
The AP Royal Oak Tourbillon Chronograph ref. 25977 was released 17 years ago (circa 2002), and is now one of the most highly coveted watches from the haute horology legend, Audemars Piguet.
It's a masterpiece of a watch that combines two superior complications, the tourbillon and the chronograph.
Be advised, this particular AP watch is made for those with spending power as it wears a heavy price tag of around a quarter million dollars.
Audemars Piguet Royal Oak Chronograph Tourbillon Review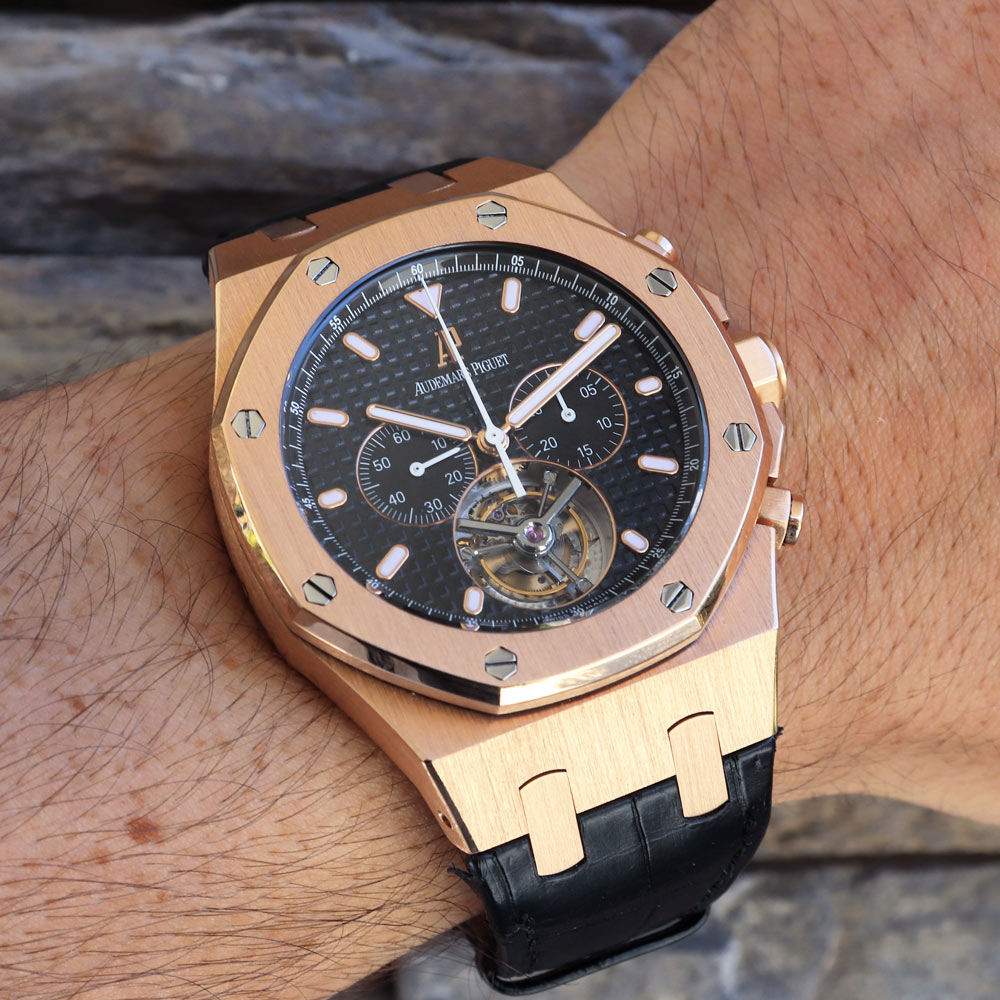 Believe it or not, this is not an Offshore. This is an Audemars Piguet Royal Oak Tourbillon Chronograph.
This watch is an absolute masterpiece, externally and internally.
Between the Tourbillon, the Chronograph, and the overall wonderful design with intricate details and superb finishing, this watch has it all.
That's not to mention the prestige that comes with AP, and more specifically, AP Royal Oak. It's an aesthetic that is recognizable even in silhouette. People will see this watch and know that's a Royal Oak. So there's no chance of anonymity here….
There's also not a great chance that you will find anyone wearing this particular model, reference 25977OR. Overall, the exclusivity on this Royal Oak reference is extraordinary.
18K Rose Gold Case
This AP Royal Oak Tourbillon has a case that is made of 18 karat rose gold.
The case is 44mm in diameter and it has a thickness of 12.9mm. So, this is an oversized watch with a ton of wrist presence. In fact, the 44mm dimension doesn't do justice to just how big this watch is, especially when comparing to other Royal Oaks. It's colossus on the forearm. From lug to lug across the wrist it is 58mm in diameter. Therefore, we'd say that this watch is perfect for a wrist of 16.5 inches in circumference and above.
The finishing is beautifully contrasted with satin brushed polishing on the top, and high polishing on the beveled edges.
What's more, this watch has never been refinished. All of the finishing is factory and all of the character lines have sharp creases. We can guarantee you that the finishing job on this exquisite Royal Oak took hours upon hours.
It has a sapphire crystal on both the front and back of the case. Moreover, the back of the case has an exhibition window that displays the entire manual winding movement.
The watch is water resistance to 20 meters (65 feet), which is enough for typical water play, but not at all mindblowing when it comes to sports watches.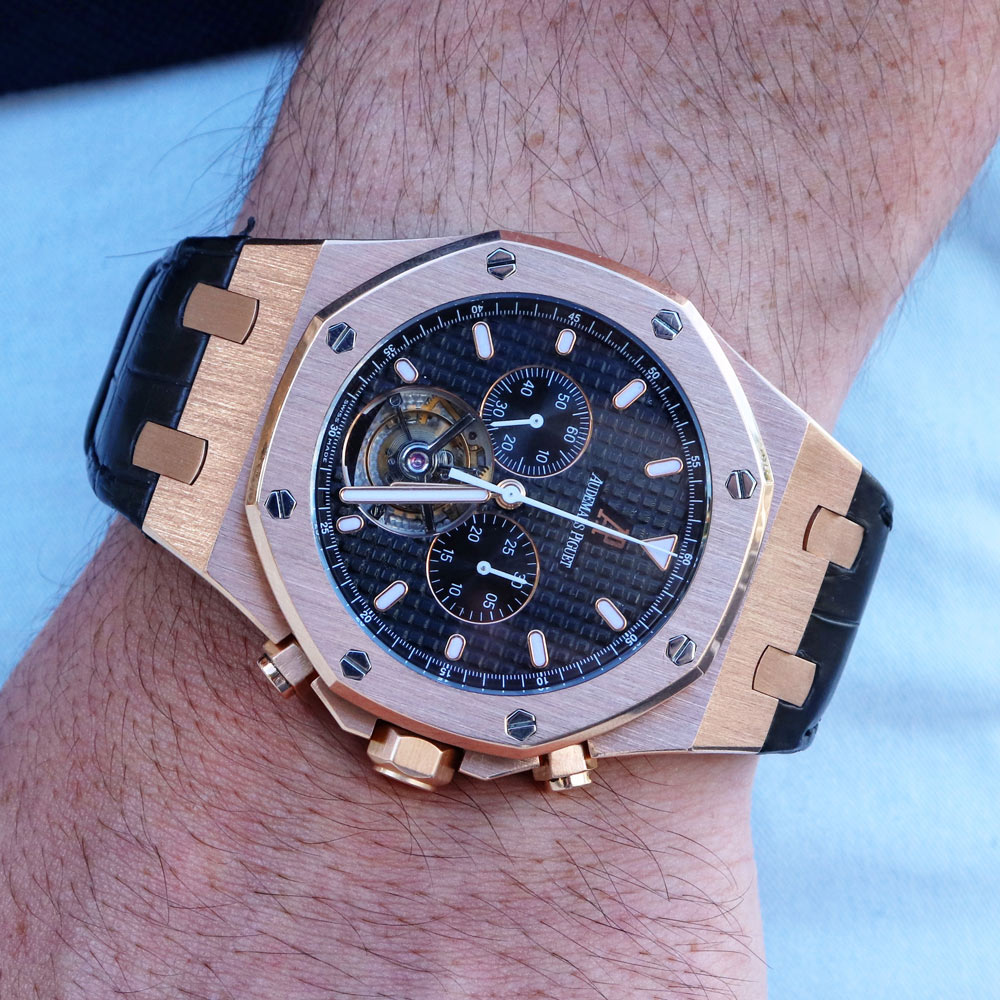 Classic Octagonal Bezel
The bezel has a classic shape that instantly lets you know this is a Royal Oak. It has an octagonal shape with slightly rounded edges that give it that immaculate charming, ergonomic look.
The bezel is made from 18k rose gold, and is finished with the same marvelous technique as the case – satin top with high polishing on the edges.
The 8 hexagonal screws meet at every corner of the bezel and they are high polished so they stand out – It's the signature touch to a Royal Oak bezel.
Black Crocodile Leather Strap
The watch strap is hand stitched and crafted from genuine crocodile leather. And, it features a large square scale pattern.
The crocodile leather is extremely comfortable and feels incredibly secure. Moreover, it easily forms to the contours of an individuals wrist.
For those who aren't familiar with crocodile leather's special qualities, it should be noted that it is one of the rarest and most expensive exotic leather skins. It requires a high level of craftsmanship to produce the leather hide, so it is often only used in very high-end luxury items. Crocodile leather is more luxurious in appearance and feel. Furthermore, it has more strength and durability. Not to mention, it has a completely unique texture that makes it easy to differentiate from other leathers.
Deployment Buckle
The Tourbillon has a deployment buckle that comes with the AP folding clasp.
The Audemars Piguet clasp looks and feels supremely well made. The finishing on it is done to perfection, even on the backside of the clasp which will be folded over and unseen when the watch is being worn. You can immediately tell it is of the highest standard. Its construction took careful deliberation to achieve the utmost dependability.
Tapisserie Black Dial Dial
So the dial is fairly simple in its composition…
The Audemars Piguet Royal Oak Tourbillon has Royal Oak's iconic Grande tapisserie dial. Tapisserie dials have a wonderful patterning that resembles that of a waffle (for a lack of a better resemblance).
This tapisserie shouldn't be confused with the Royal Oak Offshore's mega tapisserie. This one is closer to the traditional petite tapisserie.
It's rich in texture and it doesn't have a stamp like many of the Offshore's. For this particular reference, the tapisserie dial is black.
Additionally, it has rose gold applied hour markers with a luminescent coating, and the Royal Oak hands are rose gold with a generous lume filling as well. But that's not all the rose gold, the AP logo and the chapter rings are rose gold. And finally, the seconds hand is white and makes for easy legibility.
The dials functions feature constant seconds and chronograph minutes. And at the 6 o'clock you'll see it is skeletonized to allow for viewing of the tourbillon's rotating cage. The tourbillon is one of the most impressive aspects of this watch. It provides a good amount of visual spectacle and it helps to anchor the dial.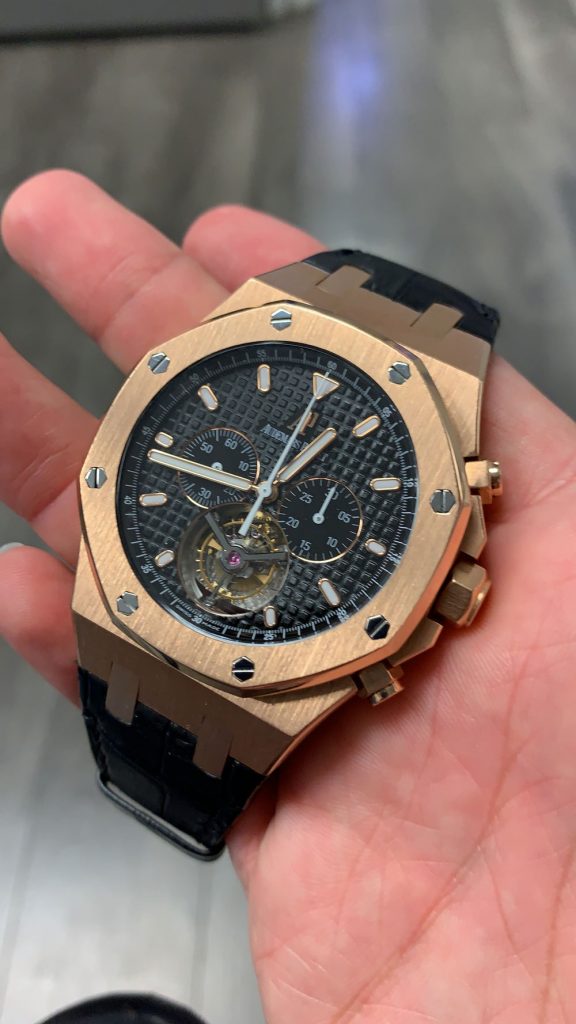 Chronograph
The Audemars Piguet Royal Oak Tourbillon has an integrated chronograph with a column wheel chronograph movement.
On the dial, you have a 30 minute sub-register. The 30 minute counter is very effective as it is fit with a functional device that allows a semi-instant jump of the chronograph minute hand within a half second interval.
To start or stop the chronograph, you press the top pusher. The bottom pusher resets the chronograph.
Tourbillon
A Tourbillon is one of the most expensive and complicated functions in watchmaking. The Tourbillon aims to counter the effects of gravity on the watch mechanism by mounting the escapement and balance wheel in a rotating cage. This helps negate positional errors when the watch is stuck in a static position.
The titanium tourbillon rotating cage is viewable through the skeleton view on the dial, just above the 6. The titanium cage helps minimize the rotating mass.
It's a one minute tourbillon, beating away at 21600 vibrations per hour. It features a free spring balance so it can be regulated exactly and withstand typical bumps, vibrations, and other daily encounters that occur to the wrist.
You will see that it is constantly rotating and spinning. This effect is exquisitely eye-catching and visually stunning. There is something almost mesmerizing about it. It's a wonderful touch from AP to allow it to be seen from the front of the watch when viewing the dial.
What's more, they went all out with the finishing on the tourbillon. It has a beautiful black polished cage, continuously rounded with tri spoke composition and a flattened black polished tourbillon bridge mounting the tourbillon on the dial side.
Calibre 2889 Movement
So this AP Royal Oak is powered by a manual wound AP calibre 2889. The watch features a tourbillon, which can be seen through the opening at the 6 o'clock. It also has a running seconds subdial at the 9 and a 30 minute register at the 3 o'clock.
The movement is fully visible thanks to the display case back. Viewing the calibre 2889 is a real treat from the eyes.
You can see that the movement is executed in the highest tradition of Valley de Joux finishing and structure. The calibre 2889 is a fully integrated 72 hour power reserve, 3 hertz, column wheel, lateral clutch, that is astonishingly gorgeous in its detailing. Furthermore, it is adjusted in five positions like a chronometer. With 25 jewels and close to 300 parts. Its mainplate and bridges are made of nickel silver, so it is extremely resistant to oxidations and it can maintain absolute stability.
Observing it in motion by using the pushers is and running the chronograph is downright pleasing.
On this one, you are undoubtedly paying fair money for what is beautiful and immaculately finished.
Every detail matters…
The Cote de Geneve are exactly aligned across the bridges, all of the chronograph levers and horns are handsomely satin finished and straight grained on the top and mirrored in the flanks, and all of the screw heads are black polished.
Not to put down other AP watches, but what you will find here in regards to the finishing and detailing goes far beyond watches like the AP 3120 and the Royal Oak 15400. Unlike the mass produced Audemars Piguet calibers, this one is completely executed by hand, not machine.
Audemars Piguet Royal Oak Tourbillon Rose Gold – On The Wrist
As mentioned, due to the slenderness of the Tourbillon, it wears slightly smaller than other 44mm AP watches. On the wrist, it looks more like a 42 or 43 millimeter. However, it still offers a lot more acreage than your average sports watch.
All in all, the Audemars Piguet Royal Oak Tourbillon is the perfect combination of "edgy" and "sporty". It's an incredible timepiece that takes many of the best features from AP's past and present, making it a highly coveted "holy grail" for Royal Oak enthusiasts and iconic watch collectors.
Audemars Piguet Royal Oak Tourbillon in Rose Gold For Sale Now at Diamonds by Raymond Lee in Boca Raton
We are currently selling the Audemars Piguet Royal Oak Tourbillon in Rose Gold at our retail location in Boca Raton. The watch is completely original and is in excellent condition. Moreover, it comes with the original box and paperwork.
So, if this timepiece interest you, please contact us or come check it out at our showroom firsthand. We look forward to hearing from you.
Other Audemars Piguet Royal Oak watches that are for sale at Diamonds by Raymond Lee: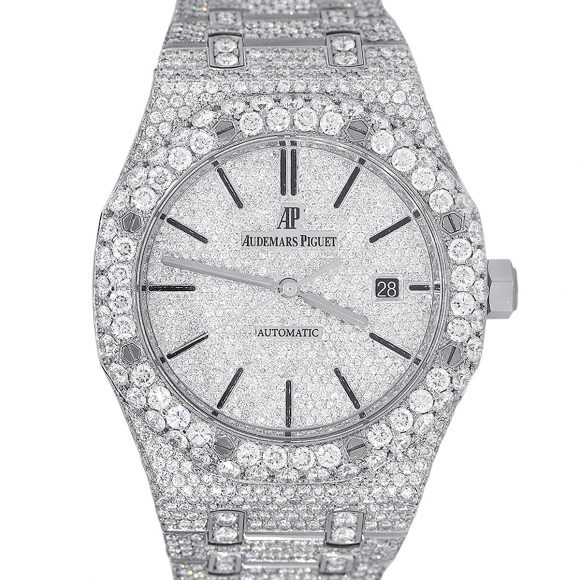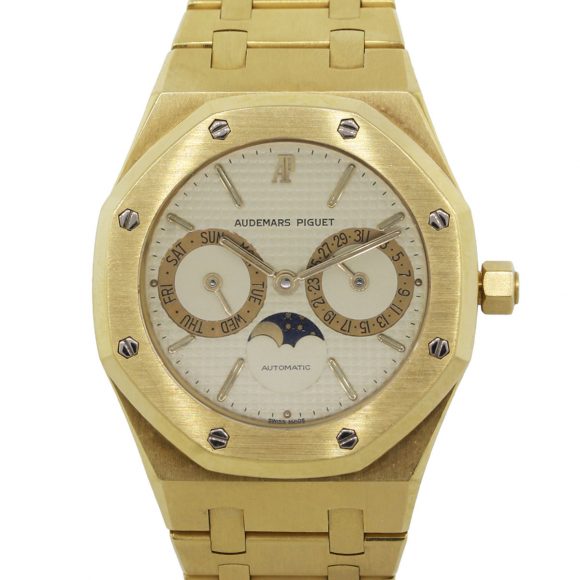 Want more Audemars Piguet Royal Oak Reviews:
Review of the AP Royal Oak 15400
Please feel free to leave a comment below with your thoughts on this AP Royal Oak review (ref. 25977OR.OO.D002CR.01) or if you have a request for us to review another Audemars Piguet reference.