Review: Audemars Piguet Royal Oak Diamond 15400ST Watch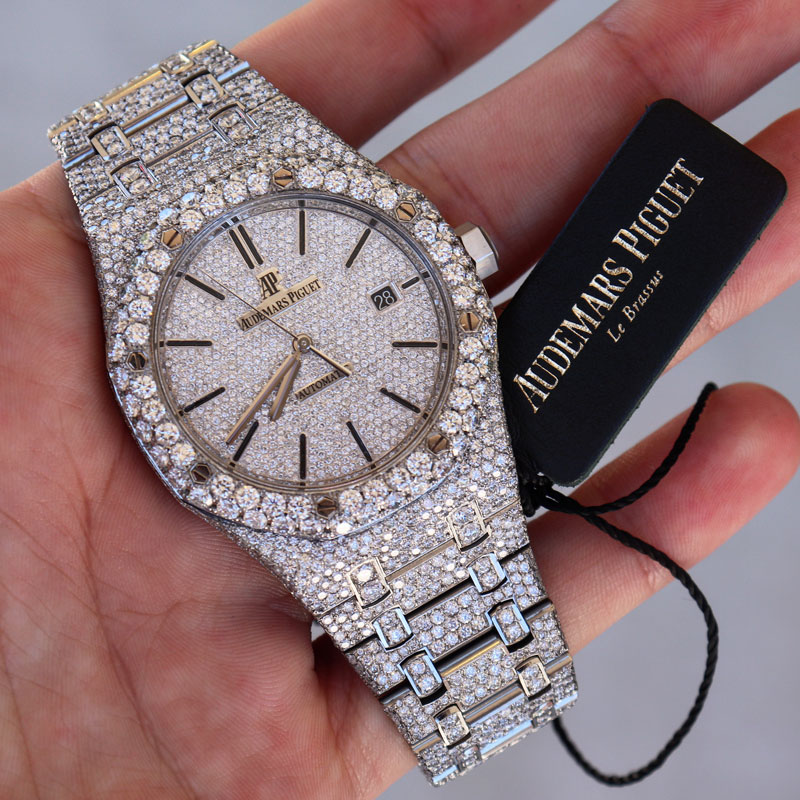 Today we are reviewing an Audemars Piguet Royal Oak 15400 41mm bespoke full pave aftermarket diamond watch.
The Audemars Piguet Royal Oak 15400 Diamond watch featured in this article is now for sale. You can purchase it online here from Diamonds By Raymond Lee or at our showroom in Boca Raton. If you want to learn more about this iced out AP Royal Oak, continue reading.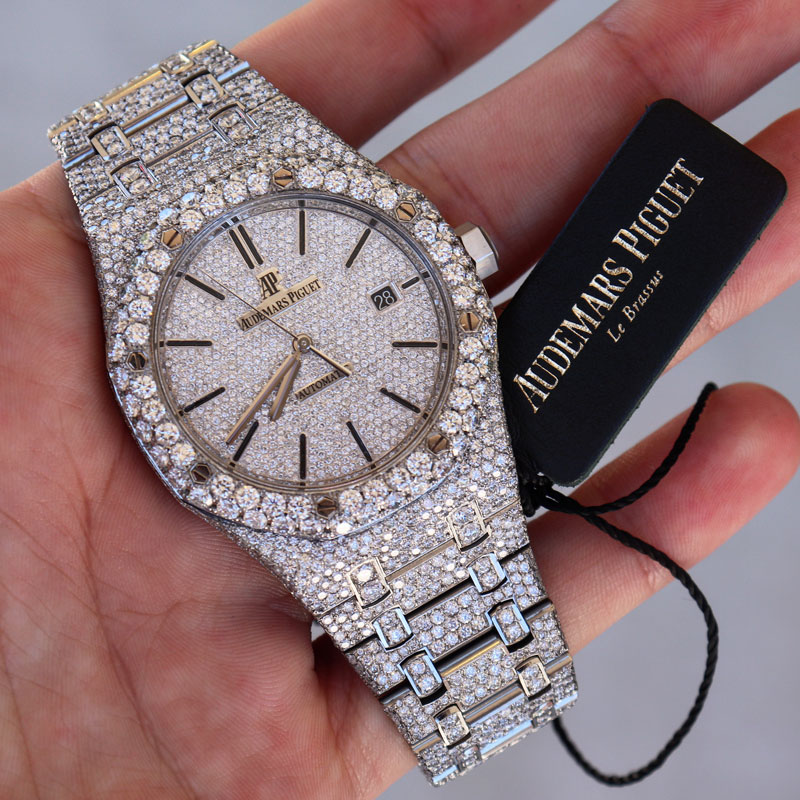 Before we get into the nitty gritty of this particular watch (which we must say has remarkable elegance in all of its "loudness" and glory), let's talk about the Royal Oak collection, and, more specifically, the Royal Oak 15400.
The Royal Oak Collection
Royal Oak is one of Audemars Piguet's most iconic collections. They are instantly recognizable…even ones smothered in gorgeous natural diamonds.
The first Royal Oak was introduced in 1972. It was immaculately designed by world-renowned designer Gerald Genta.
Genta also designed the Patek Philippe Nautilus around the same time, which you can recognize by its striking similarities to the Royal Oak.
Royal Oak watches are probably the most coveted of all of AP watches. Watch enthusiasts have been raving about Royal Oaks since day 1. Most people regard Royal Oaks as understated yet marvelously luxurious.
Throughout Royal Oak's illustrious career, it has seen over 100 different variations, but it has always remained true to its core design. The design is still as flawless as it was 47 years ago.
You could compare Royal Oaks to the Air Jordan 1s (even though the pricing would be more like Yeezys). They've used different materials, different colors, but no matter what, you will always recognize it and it will always remain a classic, stylish, can't-go-wrong purchase. The difference with Royal Oak is, shoes are shoes and watches are horological machines, so with time (no pun intended), the Royal Oak has made improvements and refinements to remain state-of-the-art and on-trend, such as upgraded in-house movements and increases in the size of the watch to meet the desire of the contemporary wearer.
Royal Oak has sported references at sizes of 33mm, 36mm, 37mm, 39mm, and in 2012, Royal Oak introduced the largest ever of its designs, the 41mm ref. 15400.
Royal Oak 15400
For Royal Oak, the 15400's 41mm case diameter is considered "over-sized", but when wearing it, you wouldn't notice a huge difference from the 39mm unless looking at the dial directly. But that doesn't mean it's a small watch. In fact, it wears pretty large.
The dial on the 41mm Royal Oak has more real estate, making the charming dial pop more than ever.
As for its thickness, the watch is still quite compact, so it can easily slide under a dress cuff.
The size of the AP 15400 is appropriate with the time, and those with a slightly larger wrist will be pleased with this enlargement. That said, anyone who wears a 39mm with good proportions could also wear the 41mm in a flawless fashion.
Royal Oak 15400 Discontinued
Now, as incredible as the Royal Oak 15400 is, it is now discontinued after its 7 year production run. At the end of 2018, AP made way for its successor, reference 15500ST.
We think of this as a good thing, because this means reference 15400 is on its way to vintage status. The Royal Oak 15400 has been one of their most popular designs of the past couple of decades after all.
So, without further ado, let's introduce the watch of this exclusive review – The Full Pave Diamond Royal Oak 15400ST.
Royal Oak 15400 Diamond Flooded Watch
This watch has a total of 20 carats of VS diamonds covering the bracelet, case, bezel and dial – You could say it's made for the rich and lavish.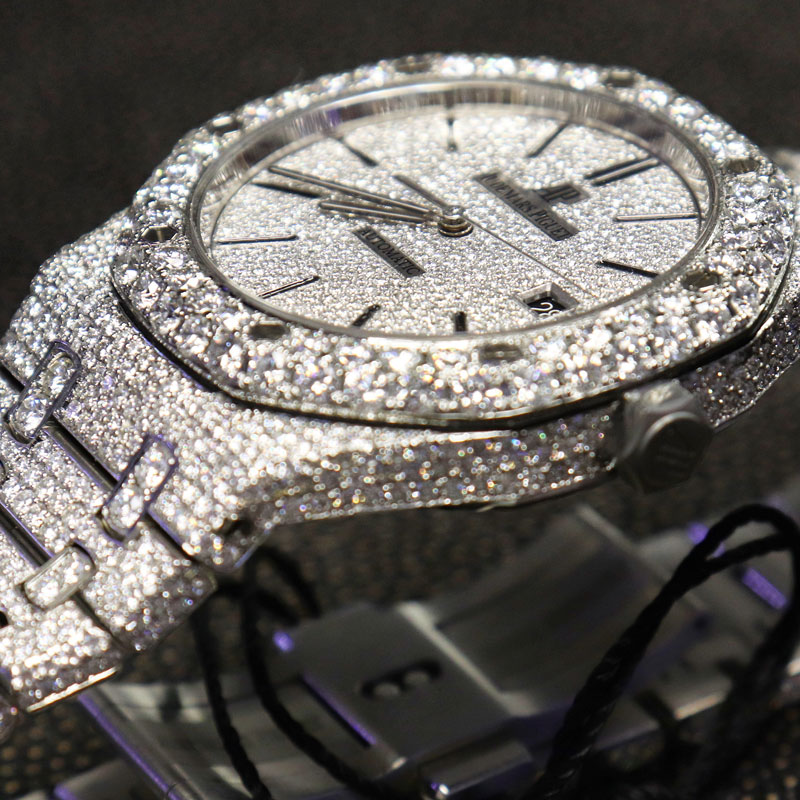 41mm Full Pavé Diamonds Case
The case measures 41mm in diameter, which is a 9 to the 3 measurement, but just like the 39mm Royal Oak, it wears larger.
In our opinion, it wears more like a 42 or a 43, and some even call it the Mini Offshore.
Here are some of the dimensions to give you some more perspective:
Lug to Lug: 51.6mm
Ridge to Ridge Outcropping (which is the part of the bracelet that connects to the case that can't move): 54.3mm
That said, the watch is considerably slim at 9.8mm and the case back is flat so it offers first-rate comfort.
In terms of good proportions on the wrist, we'd say a wrist as small as 14.5cm in circumference to a wrist as big as 16.5cm in circumference will do well with this size.
Now, let's talk more specifically about this AP Royal Oak Diamond watch as it is going to be a rare find in the Royal Oak world. Most companies wouldn't dare customize a Royal Oak in any way, let alone entirely engulf it in pave diamonds…BUT, Diamonds By Raymond Lee has enough bravado to do so, and we won't think too much about what the purists have to say.
Now that we have that out of the way…
Nothing on this case was safe from a flood of diamonds, with the exception of the crown.
The skill that went into setting these diamonds is unparalleled. You won't find a single fault in the setting of the diamonds on this watch.
It's hard to tell from the pictures but the diamonds are perfectly flush. So, even though the watch as a whole pops out at you with remarkable shine, it still has its wonderful ergonomics. The same goes for the bezel.
Iconic Octagonal Bezel Customized with Pave Diamonds
Here we have Royal Oaks more-than-iconic octagonal bezel.
This AP Royal Oak 15400 has the proportions and design of the 70s but the flavor of 2019. The bezel is enveloped in diamonds, minus the beautifully polish bolts, and as you can see, we used larger diamonds than the rest of the watch to make the bezel pop. Again, the ergonomics of the bezel goes unscathed thanks to absolute precision when setting each diamond in place.
Fully Customized Pavé Diamond Dial
Now, moving into the dial, which is typically the main attraction of the Royal Oak. We say "typically" because when a watch gets submerged in diamonds, the whole thing is in the spotlight.
Nevertheless, we must say, this dial is still the highlight for us. It has amazing contrast.
First, the black hour markers are slightly raised, so they stick out gracefully.
Then you have the date window which has white numerals on a black background. The date window is pretty small, not taking up too much property, thus, it's there when you need it and blends in when you don't. This also means…more diamonds…
Next, you have white gold hands which are polished impeccably, making them perfectly pronounced and easy to read.
You have the AP branding just below the double baton index 12 o'clock hour marker and it reads "automatic" just below the center of the dial.
All in all, the watch is extremely straight to the point…with the exception of hundreds of diamonds.
Regarding the diamonds on the dial, we used very small brilliant cut diamonds (same cut as the rest of the diamonds but much smaller). Not only does this give a remarkable juxtaposition from the dial to the bezel to the case, but it also sort of keeps its intricate tapisserie appearance.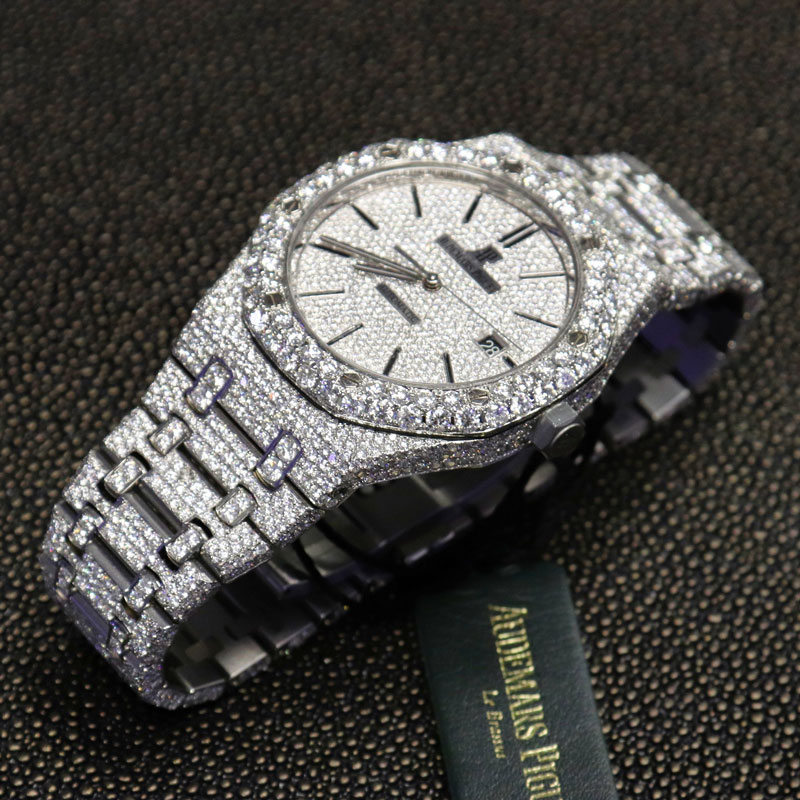 AP's In-House Caliber 3120 movement
Behind the dial, we have AP's in-house caliber 3120. Of course, as with all Royal Oak watches, all we have to do is flip it over and look through the caseback to get a clear view of this higher horology movement.
Through the exhibition caseback you can see a 22 karat rose gold winding rotor. The winding rotor is engraved with the coat of arms of the AP families.
Note: Audemars Piguet has been independent since 1875, and they are the oldest company in the Swiss watch industry still under the control and direction of the original founding families…
So, back to the essential virtues of this movement. It is an engineering masterpiece, and again, you can see this for yourself through the caseback. It has a smooth bi-direction winding, unlubricated highly efficient ceramic rotor bearings, screw-secured hairspring stud on a powerful full balance bridge, and to top it off, it has a 60-hour power reserve, so you can take it off for a long weekend and put it back on without needing to reset the time and date.
All in all, the Royal Oak 15400 has a magnificently durable, reliable and precise movement, which showcases this company's incredible ability to create unequivocally high caliber watches.
Diamond Covered Bracelet & Claps
The Royal Oak 15400ST has the same bracelet as its predecessor, ref. 15300ST. However, it uses an upgraded, double deployant clasp instead.
When opening the clasp, you can see that Audemars Piguet pays strict attention to detail. Each arm of the deployant clasp is polished and fashioned with Audemars Piguet dark gray logo inlays. Overall the clasp is made spectacularly well and of the highest quality, offering the utmost security on the wrist.
Moving onto the bracelet, you can see and feel the same rigorously high standard of quality applies. The bracelet is burley, giving the watch more weight while also allowing it to keep a sturdy structure.
The design of the bracelet is meant to be exactly that, a bracelet, so it has that jewelry-esque look to it, especially when paved with diamonds.
The pavé diamonds on the bracelet are the same size as the case, with the exception of the intermediate plot links, which use the same diamond size as the bezel. This was done to create the perfect juxtaposition throughout the entire watch.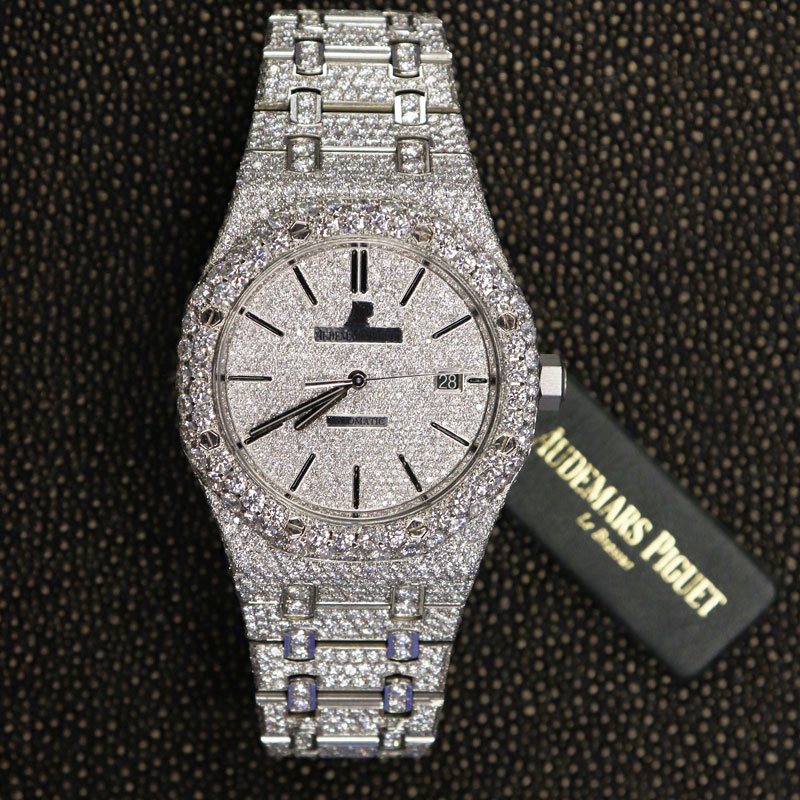 Royal Oak 15400 Diamond Watch On the wrist
You might be wondering, "is this watch comfortable?" Well, the answer is YES. The bracelet was made with the perfect spacing so it never pinches or pulls hair and the ergonomics of the case don't create any pressure points on the wrist. This is the kind of watch you could fall asleep with and have no discomfort.
When wearing this watch, expect to shine as the light reflects off of the hundreds of diamonds. This light color and brilliance of this watch makes it ideal for summertime, yet take it out in the winter and you can be as icy as the weather.
If you like a watch that never goes unnoticed, this is the one. It declares "spending power", yet the flush look of it as a whole allows for a surprisingly low-key look for such a blinged out watch. Usually "low-key" and "full pave diamond" are two words that don't go together, but with this one, we think it has some merit. Nevertheless, it is still an utterly lavish timepiece. There is no denying that.
It's not for everyone, but for the bold, this is a watch that you will be able to wear with a fresh tee or suited up to a party. It's ready for all occasions.
Overall, when it comes to wearing experience, we give this watch a 10 out of 10. It has a rich swagger to it that boosts confidence even when confidence needs no boosting.
Royal Oak 15400ST Pave Diamonds Watch For Sale
You'll be hard pressed to find another Royal Oak Aftermarket Diamond watch customized to perfection like this. The detailed pave diamond design was expertly done, thus, the diamonds create a flush look throughout the entire watch and they won't ever fall out.
If you are interested in this watch, you can see and purchase this full pave aftermarket diamond Royal Oak on our website or at our Diamonds By Raymond Lee showroom in Boca Raton. The watch comes complete with box and papers.
See our full sales listing of this pre-owned Audemars Piguet 15400 Royal Oak Stainless Steel Diamond Pave Watch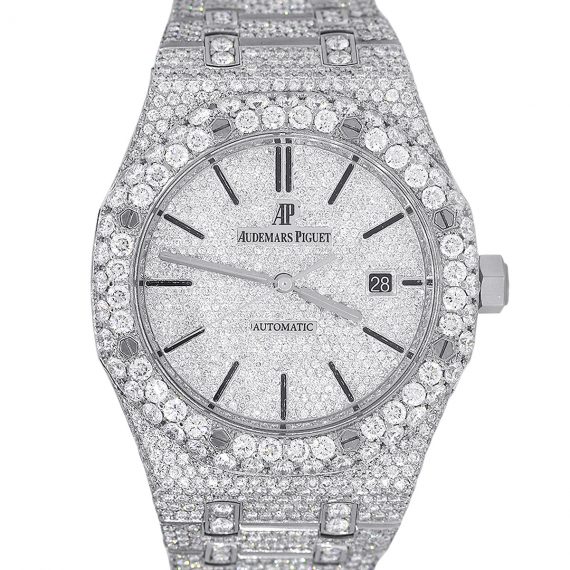 Diamonds by Raymond Lee
Diamonds By Raymond Lee is Boca Raton's most recommended sales and service centers for watches, diamonds, and high-end jewelry. We have been satisfying South Florida's insatiable need for diamonds for over 30 years.
In that time, we have built a solid reputation for fair, quality dealings in South Florida.
We buy, sell, customize, appraise, trade and offer collateral loans on estate jewelry and luxury watches.
Our goal is to meet the needs of our customers both online and at our retail store in Boca Raton. We aim to provide our community with the best possible experience and exclusive high-end luxury products.
We have an extensive collection of luxury watches from iconic brands, such as the Holy Trinity – Audemars Piguet, Patek Philippe, and Vacheron – Hublot, Omega, and many more. Moreover, we have one of the largest collections of Rolex watches in South Florida.
Overall, we combine value, quality and cost with the remarkable ability to meet and understand the needs of the people we serve.
If you live in Boca Raton, please feel free to drop by our showroom anytime.
Diamonds By Raymond Lee Showroom in Boca Raton, Florida:
2801 N Federal Hwy, Boca Raton, FL 33431
Our hours of operation:
Monday-Friday – 11 am to 7 pm
Saturday – 10 am to 5 pm
Sunday – 12 pm to 5 pm
Feel free to contact us if you have any questions about this pre-owned AP Royal Oak 15400ST Diamonds Watch.