Luxury Timepieces: Audemars Piguet Men's Watch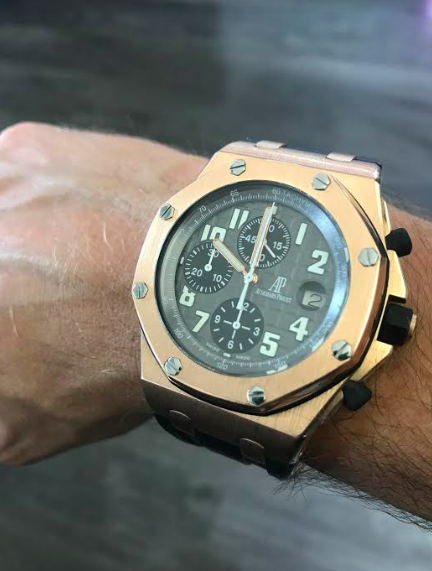 The Audemars Piguet brand was founded in 1875. Like most luxury timepieces in the world, these are Swiss made. Established in Le Brassus, Switzerland by Jules-Louis Audemars and Edward Auguste Piguet, the brand began crafting wristwatches. They are recognized as being the very first to ever create a repeater wristwatch, which was unveiled in 1892. From there they took off creating a series of Royal Oak Collection luxury watches. An Audemars Piguet men's watch is the accessory that needs no other pairing. Unique and luxurious it is the timepiece that stands alone with its exquisite design. Audemars Piguet is one of the world's most renowned luxury watch brands for men. With a rich history and strong partnership with athletes, they have established themselves as leaders in the Swiss made luxury watch industry. Here we have showcased a few of the Audemars Piguet luxury timepieces we currently offer.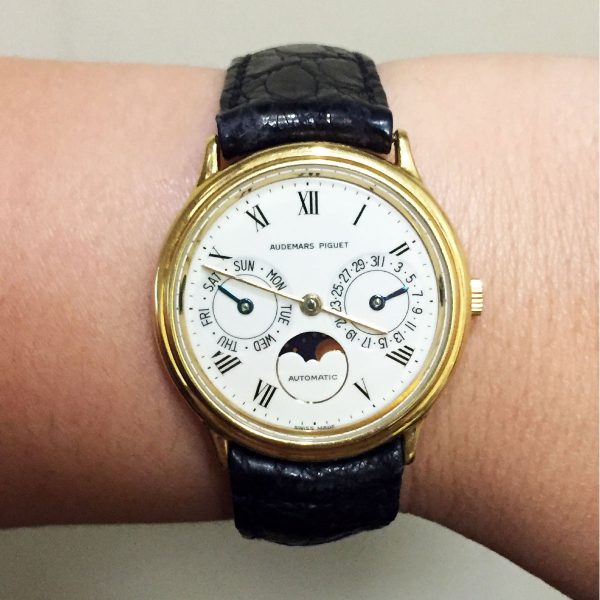 First is this classic 18k yellow gold casing day-date moonphase watch featuring a black leather bracelet. It also has a gorgeous cream dial with gold sticks, Roman Numeral hour markers, and an annual calendar. This 1986 automatic watch has a traditional round casing and smooth fixed bezel.
History and Tradition
The two founders of Audemars Piguet were already experienced watchmakers when they decided to launch their very own brand. Audemars created complex watch movements for other Swiss luxury timepiece brands. Meanwhile, Piguet worked on the mechanisms for regulating watch movements. The two joined together to bring unique design and master craftsmanship together. Piguet headed sales and operational management. Meanwhile, Audemars handled the production of the timepieces and technical features. Over the decades the company grew and has currently become one of the most unique and successful Swiss luxury watch manufacturers in the world. However, they continue to be family owned and operated making them one of the very few now a days.
This strong bond to history and tradition can be seen in the designs and watches that Audemars Piguet continue to create. Also, from the very beginning complications have been at the heart of this company's masterwork. Overall, they set the standard in Horlogerie traditions. Of course, this heritage is matched by their continuous innovation. The Royal Oak collection for example, its traditional complications and mechanisms are matched with an exquisitely unique design. It has an octagonal bezel with eight hexagonal screws. All in all, it is a luxury timepiece that brings together a tradition of excellence with superior design. As a leader of firsts in the world of Horlogerie Audemars Piguet never ceases to innovate. Here we have a vintage wristwatch and a series of the Royal Oak collection timepieces from our curated offerings.

Another, incredible 18k yellow gold Audemars Piguet men's watch on a leather strap is this vintage watch. It features a silver dial and minimalistic black stick hour markers and hour and minute hands. Also, this watch features a smooth fixed bezel and manual wind.
Royal Oak Collection
First, in 1972 Audemars Piguet changed the world of Horlogerie. They launched the Royal Oak collection of men's luxury watches. These were the very first stainless steel high end sports watches available on the market. Further, it was not just the unique design and bezel. Also, stunning is how thin the watch's casing is. Then the thinnest self winding movement in the world it set the stage to become an iconic watch. And that it did. Instantly recognized globally the octagonal bezel is a symbol of craftsmanship and style. Further, it is the preferred style of some of the world's most successful actors, singers and sportsmen. As you will see below Audemars Piguet capitalises on this preference by developing strong relationships with these unique persons. Another, reason for the Audemars Piguet excellence is this ability to bond with the men who embody their sense of tradition, innovation and style.
Rapper Jay Z and actor Patrick Dempsey have both worn Audemar Piguet's Royal Oak collection watches. Also, a range of famous golf players, tennis players, and artists. Further information is below on all their incredible partnerships and sponsorships in the world of sports and the arts. However, first here are a select few Royal Oak collection Audemars Piguet luxury watches for men. Starting with the 30 year celebration design for the Royal Oak collection all the way through the Royal Oak Quantieme to the Royal Oak Offshore.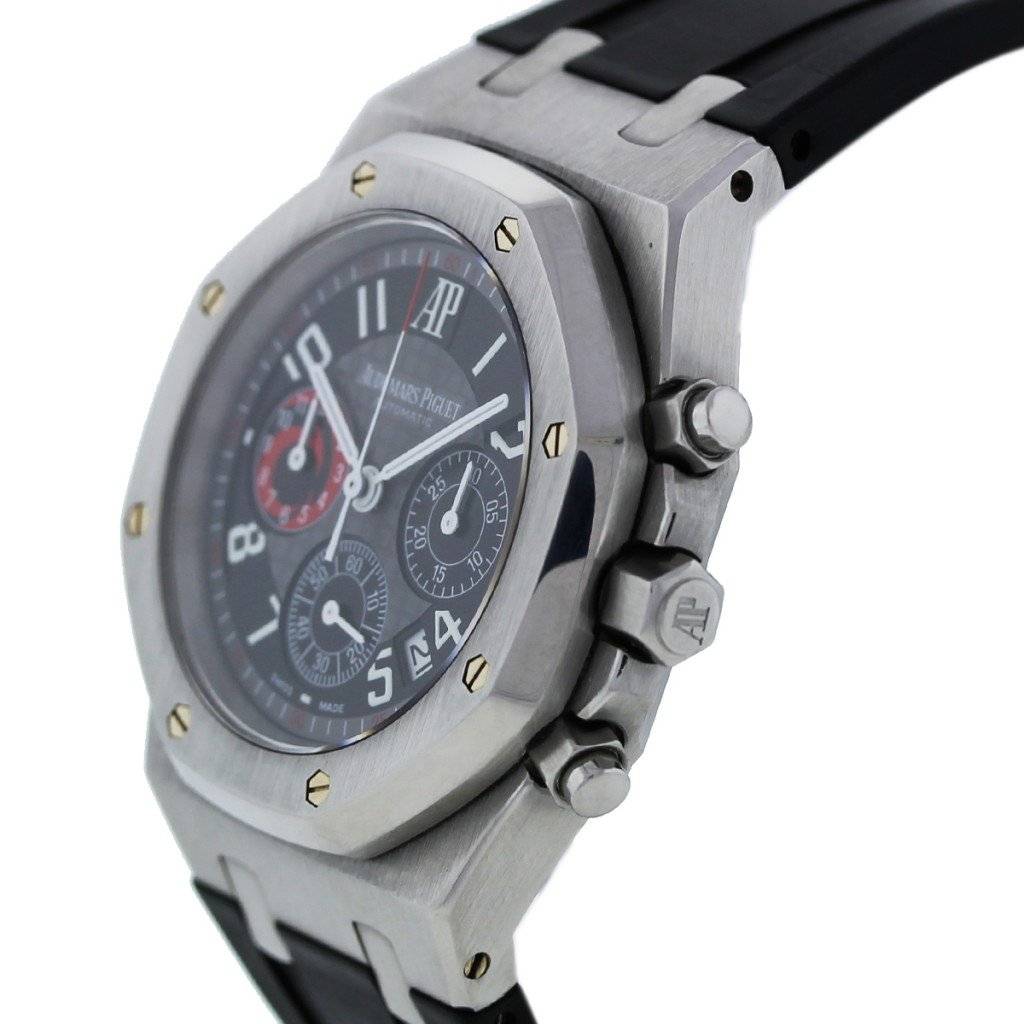 First, is this Royal Oak 30th Anniversary Alinghi City of Sails Audemars Piguet men's watch. This is a 39mm stainless steel commemoratory watch. The black dial has a gray Hobnail (waffle) center. Further, the dial features three subdials including a red Alinghi subdial. The hour markers are Arabic numeral and the hour and minute hands are luminescent. Also, it features a limited edition black rubber strap bracelet. Furthermore, the watch's unique style and features are inspired in the Americas Cup sailing competition. Another unique feature of this watch is the 40 hour power bank and 37 jewels.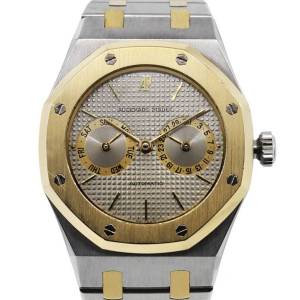 Another, incredible Audemars Piguet Royal Oak watch, this one is a day and date dial timepiece. It features the grey Hobnail (waffle texture) dial and two subdials each with a gold outer ring. This two tone watch has minimalistic gold stick hour markers and hands. Also, the bracelet is a matching two tone yellow gold and stainless steel pattern. The bezel is the traditional octagonal fixed bezel but in gold.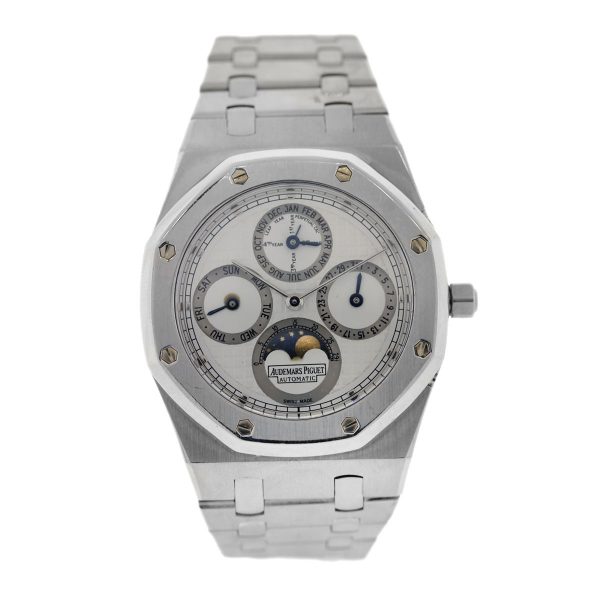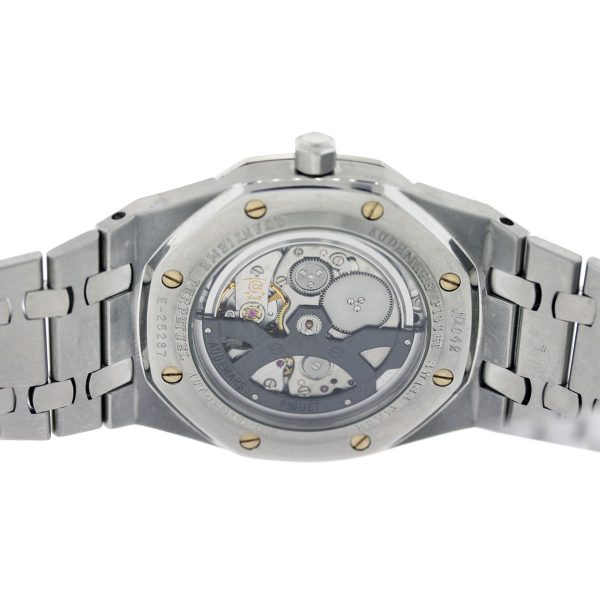 Next, is a Quantieme Perpetuel automatic Royal Oak watch. This incredible piece features a skeleton back so you can see the amazing complications included in this timepiece. It is a stainless steel watch with some unique platinum features. Including, platinum inner links on the bracelet, and the bezel. The dial is a very interesting feature of this watch. It is a cream white chronograph dial including moon phases and three other subdials. Each one of these features the perpetual calendar, date, month, and year. It has no time markers on the phase giving a clean look. Although it has four subdials it is still a minimalistic design.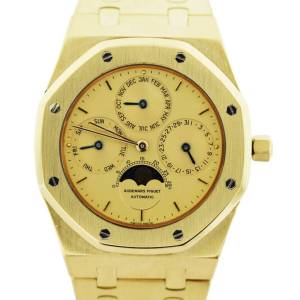 Also, a Quantieme Perpetual this 18k yellow gold Audemars Piguet chronograph watch for men is a monochromatic beauty. The yellow gold dial features the four subdials that include moon phases, day, date, and month. It has additional gold stick time markers and gold hour and minute hands. This analog watch has a matching gold bracelet that features a fold over clasp.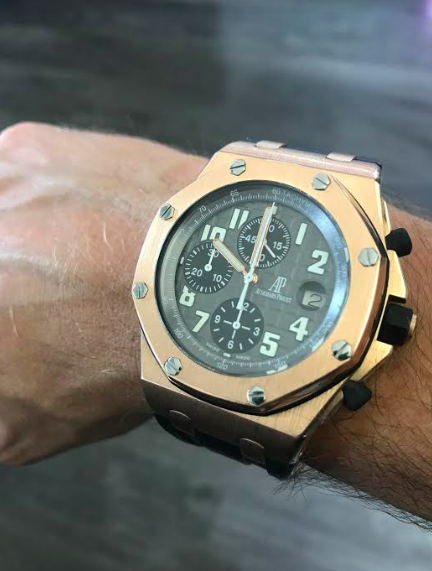 Last but by far not least, an Audemars Piguet Royal Oak Offshore 18k rose gold men's watch. This stunning 42mm watch features a unique rose gold casing and bezel with a strong contrast dial. The dial is a black waffle design with three black subdials. It also features Arabic numeral hour markers in white and matching features in the subdials. There is a date window at 3 o'clock and a chronograph functionality. The hand and dial markers are luminescent and the strap is a unique black rubber strap with a deployment clasp. Another, unique feature of this watch is the black rubber and steel screw bezel (not pictured above) that can be removed for a more uniform look.
Also, this sportive watch can be worn up to an incredible 100 meter depth and remain water resistant. So whether you are enjoying a dive or at the golf course, this is the sportive man's choice.
AUDEMARS PIGUET and GOLF
Another incredible achievement of the Audemars Piguet company is the strong relationships they have built. Over time they have crafted unique and powerful timepieces. These watches have been worn by men of excellence. Many of the golf masters have chosen the Audemars Piguet watches for their timepieces. It is the powerful precision and undeniably beautiful design of these watches that they rely on. With each and every stroke of the club and at every pace of the game world class golfers trust Audemars Piguet. Some exceptionally passionate players that have over the years bonded strongly with the brand have even become ambassadors. The ambassadors are representatives of the companies commitment to excellence and innovation, to power and discipline in pushing all limits. Here are some of the PGA and world's very best golfers that have over the years become ambassadors of the Audemars Piguet brand.

Audemars Piguet Golf Ambassadors
An ambassador embodies the true meaning behind a brand's ideology. These are the men that not only sport a luxury timepiece brand like Audemars Piguet's watches but lives their ideals. Of course these men are the very best in their fields. They push to win. Also, they push themselves to succeed. Further, they do not accept failure as an option. It is this commitment to excellence and elegance in execution that makes them the unique leaders they have become. Also, each one has their unique manner of expressing this power and strength. The unique and extraordinary personality of each one is what makes these men the chosen ambassadors for Audemars Piguet. From Patrick Cantlay, a former World Number 1 amateur, through Bud Cauley, to Darren Clarke, one of the world's most well known golfers. These are the exemplary men that represent the history and tradition behind Audemars Piguet.
Partners in the World of Tennis
Along with the incredible golf ambassadors Audemars Piguet has also build wonderful relationships with incredible athletes in the worlds of tennis and equine racing. In the world of tennis they have aligned with women who master the sport the likes of Serena Williams. Not only known the world over she has become a symbol of achievement and powerful precision. One of the men who partners with Audemars Piguet from the tennis world is the incredible Stanislas Wawrinka. They like the inimitable Serena Williams have taken the tennis world by storm and used their grit and creativity to climb to the top. As excellent and superior players they do not accept anything less than the absolute best both on and off the court. That is why they have been the ones to represent Audemars Piguet to the world.
Sponsoring the Queen Elizabeth II Cup
Beyond tennis, Audemars Piguet has also been a top sponsor at incredible sporting events, including the Queen Elizabeth II Cup. A symbol of the racing world this celebratory Cup that began in 1975 has been hosted by Audemars Piguet year after year. Since 1999 at each one of the races some limited edition pieces are also unveiled. An exclusive event and men pursuing excellence is the ideal location for the launching innovative and exclusive designs. Their support of the race is true to tradition and leading in powerful precision and speed, just like their luxurious timepieces.
THE ARTS and AUDEMARS PIGUET
Another incredible demonstration of Audemars Piguet's devotion to excellence and superior creativity is the partnership with the arts. In the art world they are involved with commissioning artists to create unique experiences and visual crafts that embody the spirit of Audemars Piguet. They do this through the iconic and world renowned Art Basel show. At each yearly event they showcase incredible pieces and innovative designs. Also, they are partners with the Bolshoi theatre. This icon of Russian excellence and opulence actually inspired an Audemars Piguet watch.
Our Raymond Lee Jewelers Promise
We at Raymond Lee Jewelers pride ourselves in offering superior service to each and every member of the South Florida community. For the past three decades, we have been in South Florida offering a unique curated collection of luxury timepieces, jewelry, and diamonds. Our commitment to excellence and superior quality drive what we do each day. From the brands we choose to carry to the events we host our aim is to provide a comprehensive selection and experience. We hope to continue serving you for the next three decades, with the same superior service and personalized attention.