60 Minute 60% OFF Store-Wide Sale at Raymond Lee Jewelers (9/21/2019)
We've got great news! Raymond Lee Jewelers is having the biggest sale of the year…better yet, of the decade! We are talking huge savings on breathtakingly beautiful diamond jewelry and highly coveted Swiss timepieces.
This is a sale that can't be missed…
We are offering a 60 Minute 60% OFF Store-Wide Sale on Saturday, September 21st, 2019 from Noon to 1 PM.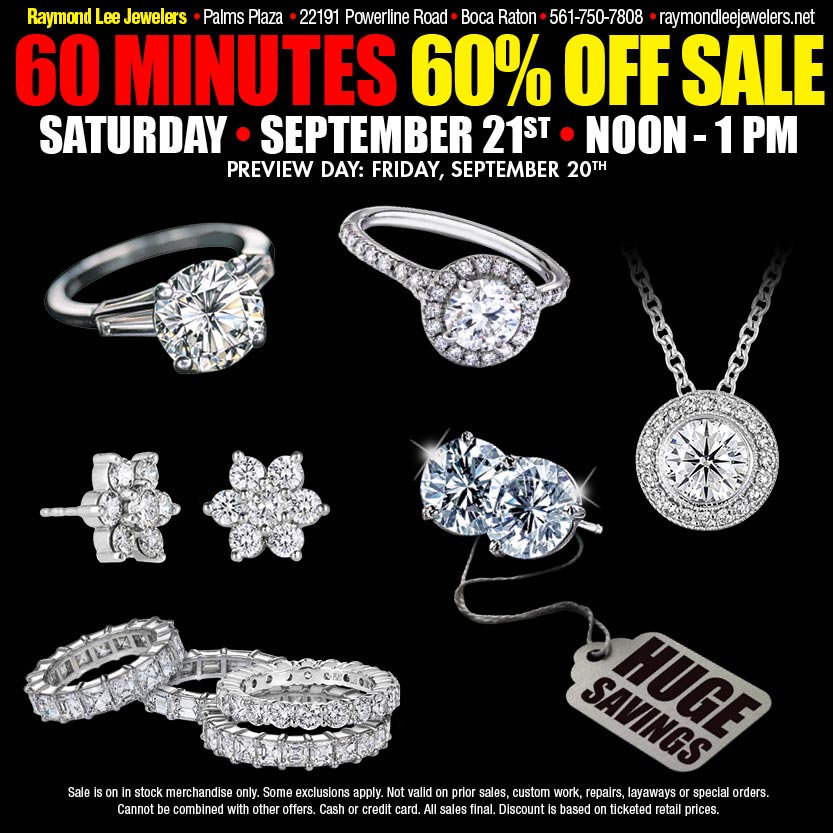 Do you have a jewelry or watch wishlist that you've been dreaming about?
From diamond earrings, rings, and necklaces to colored stone jewelry and luxury watches, we have a wide array of amazing pieces at a discount that can't be beat. You will never find a deal on fine luxury jewelry and watches like this again, so make sure you get to Raymond Lee Jewelers on the day of the sale!
Don't allow yourself any regrets because this is literally the sale of a lifetime.
We are here to give you the details so you can be the first to know about it. Read on to learn all about this massive sale.
60 Minutes, 60% OFF Store-Wide Sale
Date: Saturday, September 21st, 2019
Time: Noon to 1 PM
Location: Raymond Lee Jewelers – Palms Plaza, 22191 Powerline Road, Suite 12B, Boca Raton
Phone number: (561) 750-7808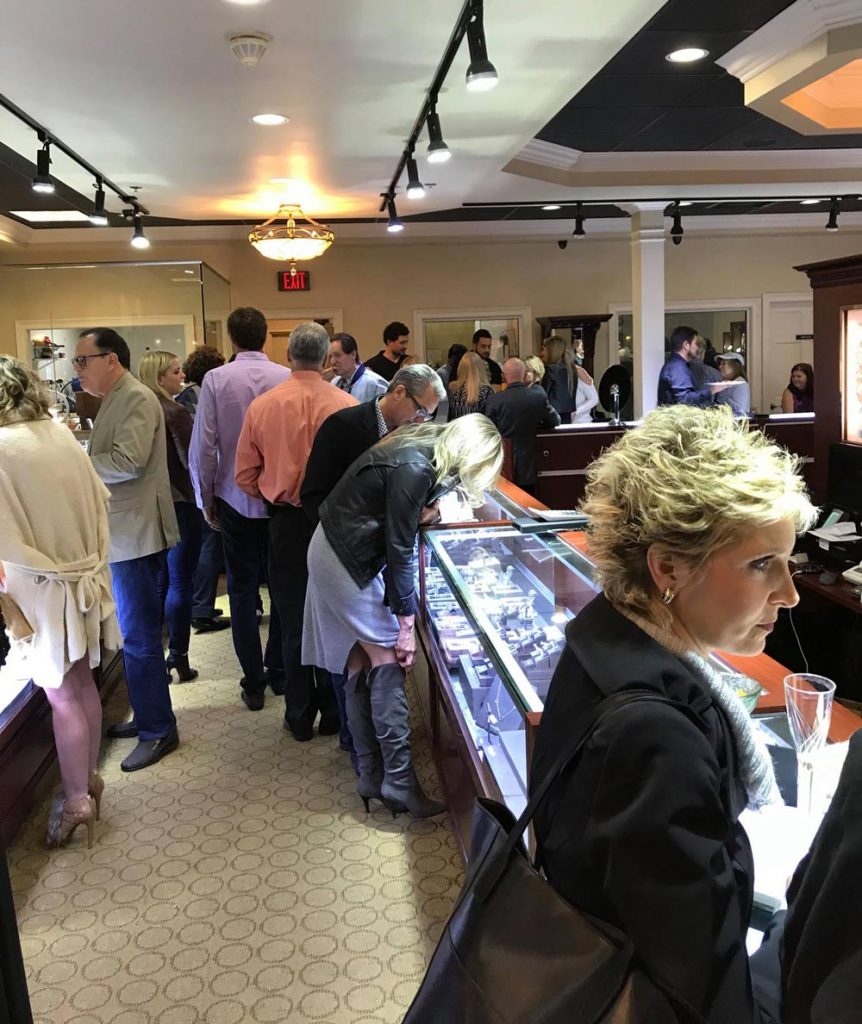 What's on sale?
This is a store-wide sale, so you will find everything you can imagine.
If you know Raymond Lee Jewelers, and you've been following us on Instagram and Facebook, you already know the incredible luxury pieces we have to offer.
Our sale features a very exciting collection of platinum and gold diamond jewelry, colored stone jewelry, designer pieces, luxury timepieces, semi-mounts and wedding bands.
Event Rules:
Anyone in line between Noon and 1pm on Saturday, September 21st is guaranteed admittance to this 60 Minutes 60% OFF SALE.
Disclaimer: "Sale is on in-stock merchandise only. Some exclusions apply. Not valid on prior sales, custom work, repairs, layaways or special orders. Cannot be combined with other offers. Cash or credit card. All sales final. Discount is based on ticketed retail prices."
Who Will Benefit From This Huge Sale At Raymond Lee Jewelers?
Men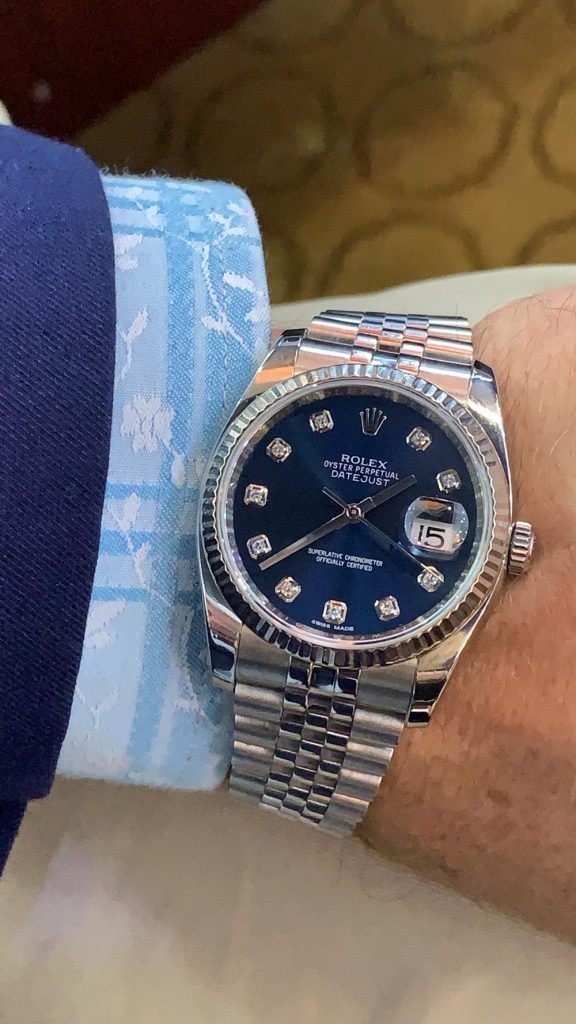 Have you been thinking about getting yourself a high-end Swiss timepiece but you've yet to pull the trigger on which is the best investment for your watch collection? Maybe you are also thinking about getting your wife a gift that she will never forget…or maybe you are a man on a mission, looking to propose to your girlfriend and solidify your love by getting down on one knee.
In any and all cases, come to Raymond Lee Jewelers and actualize your aspirations with a piece that is 60% better than even your highest expectations!
Women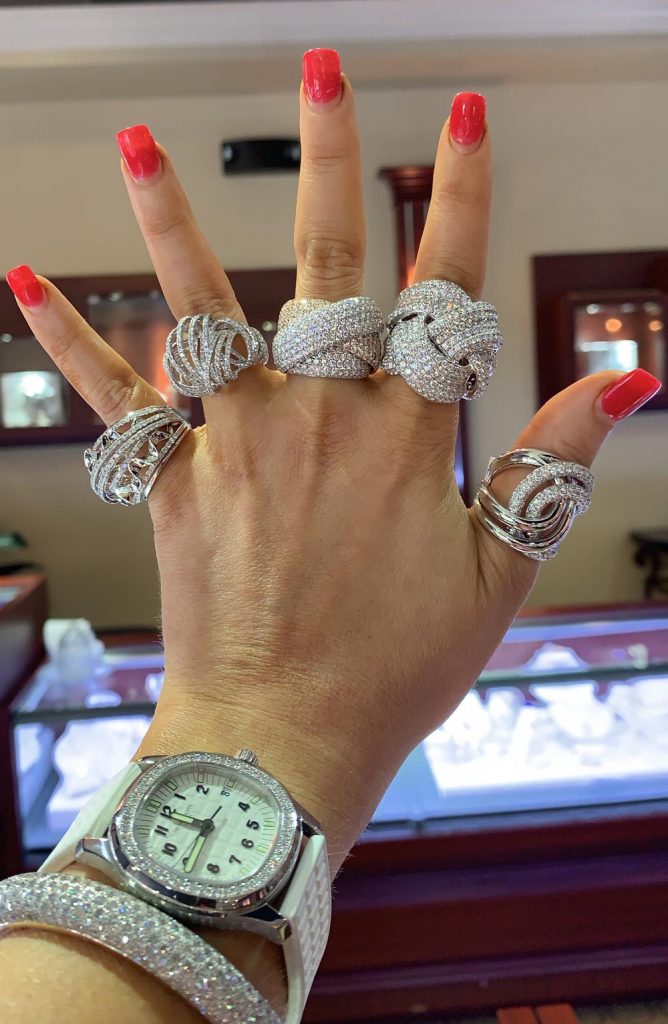 Do you want a diamond ring stack that will shine brighter than the rest? Have you been considering some colored stone jewelry to show your uniqueness and creativity? If the answer is yes, you are going to be very pleased with our sale…
But what if you have other inclinations? Maybe you want a Rolex that will impress men and women alike…or maybe you want to help your man pick out the perfect engagement ring.
No matter what you want, when it comes to fine jewelry and luxury watches, Raymond Lee Jewelers has it all. And at a sale like this, you won't be drooling just over the beauty of the piece, you'll be gushing over the price as well.
It's a rare thing to get 60% OFF jewelry and watches that have a heavy price tag. We are happy to offer this to our clients, but this is a sale that you won't be seeing again anytime soon…
So, the time and chance is now to get the best deals on diamond jewelry, engagement rings, wedding bands, precious gemstone jewelry, and luxury watches. We are talking heirloom pieces and collectible watches that will be passed down to your kids, and their kid's kids.
Preview Day:
We know, 60 minutes is not a lot of time to decide on diamond jewelry that deserves to be celebrated and cherished for generations to come…even with 60% OFF.
That is why we are giving everyone a "Preview Day" on Friday, September 20th. During this preview day, you will be able to look around our showroom for the jewelry and watches that catch your eye. Take pictures, ask questions, and then take the night to sleep on it so when the sale comes on Saturday, you can get in and purchase your dream jewelry and/or watch without thinking twice.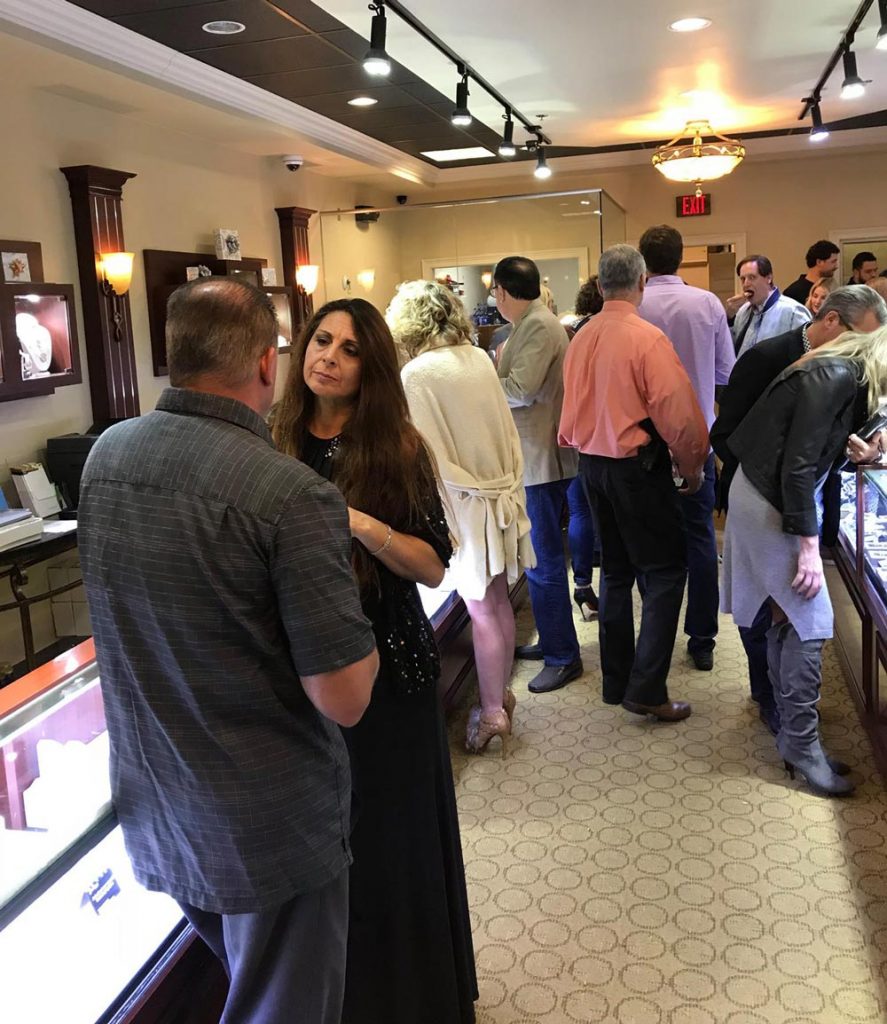 For our VIP Clients:
We are allowing our VIP clients to come in on Monday, September 16th, to "pre-shop". As a respected premium client of ours, we want to give you the opportunity to get your hands on the pieces you desire first.
Snacks:
We will be offering light snacks on "Preview Friday" as well as Saturday during this monumental sale.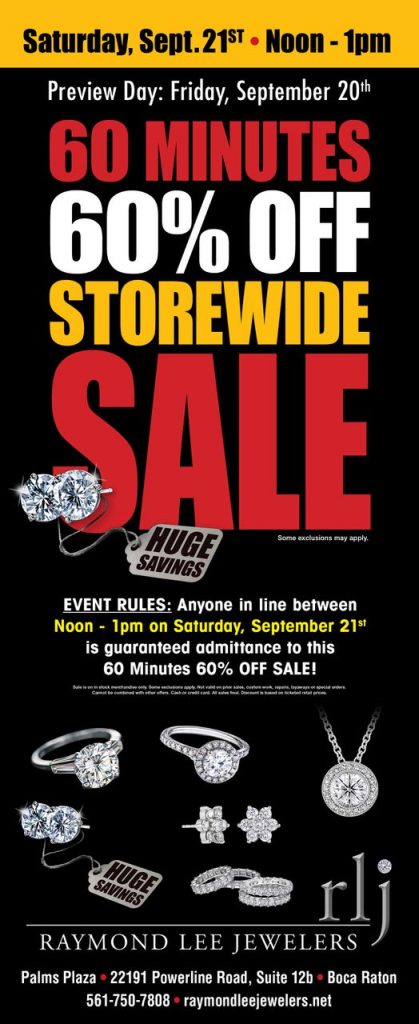 60% OFF Sale at Raymond Lee Jewelers
Now, let's have a closer look at the extensive collections that you can find at Raymond Lee Jewelers.
Below are some of our favorite things that we have on sale…
Diamond Jewelry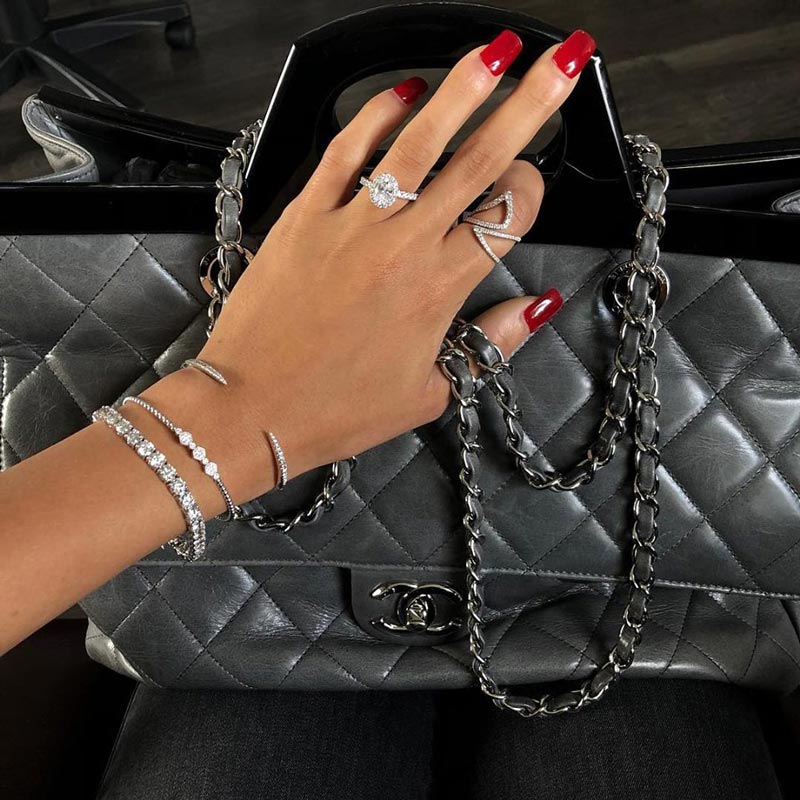 Come to Raymond Lee Jewelers to see our collection of vintage-style, contemporary, fine diamond jewelry. Our diamond jewelry takes timeless aesthetics and combines them with the perfect modern touch. We have everything from special occasion pieces to styles that can be worn every day. Our diamond jewelry designs create a sense of volume, movement, and sensual fluidity. They tell a story of passion, love and diamonds.
We have luxury diamond jewelry in the form of earrings, necklaces, solitaries and pendants, bracelets, cuffs, and rings. Each collection is handcrafted to perfection and available in a range of diamond colors and precious metal.
Our diamond jewelry for ladies balances forces of elegance, modernity, and femininity. For men, our diamond jewelry is a ray of light that clearly state "confident masculinity". We have exclusive limited-edition pieces, both minimalist and highly intricate. So, you can show off your new diamond jewelry knowing that you are truly one-of-a-kind.
Colored Stone Jewelry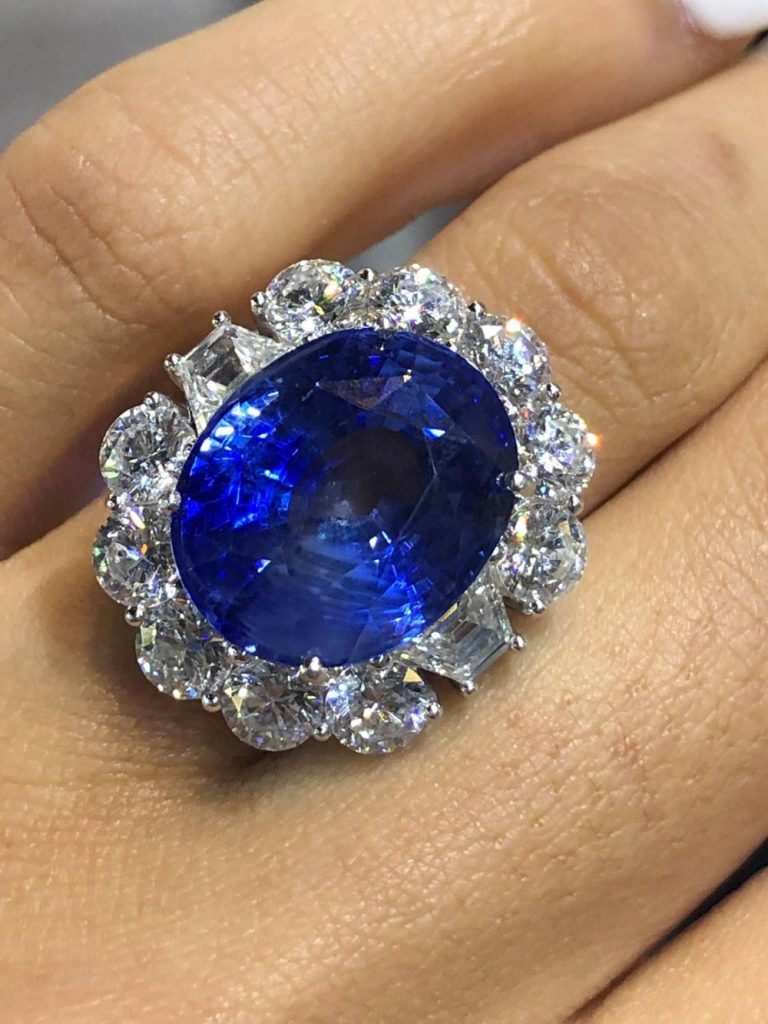 Discover a rainbow of vibrant gemstone jewelry at Raymond Lee Jewelers. From stunning precious gemstones (sapphires, emeralds, rubies) to the most radiant semiprecious gemstones, you'll easily find a colored stone piece that suits your style.
Colorful Gemstone jewelry is a great way to enhance your everyday attire. A pop of color from gemstones is all you will need to brighten up anyone's day, especially your own.
We have all-time favorites like sapphire pendant necklaces, emerald rings, ruby bracelets, and more unique eclectic statement pieces like amethyst rings, citrine earrings, and the always trendy turquoise jewelry. You can try on pretty much any precious gemstone in the form of whatever jewelry you are looking for right here at our showroom in Boca Raton.
What's more, we have a wide variety of fancy colored diamond jewelry, such as fancy yellow and fancy pink diamond jewelry.
Whether it's for spring, summer, fall or winter, there is surely a color stone jewelry piece with your name on it.
Designer Jewelry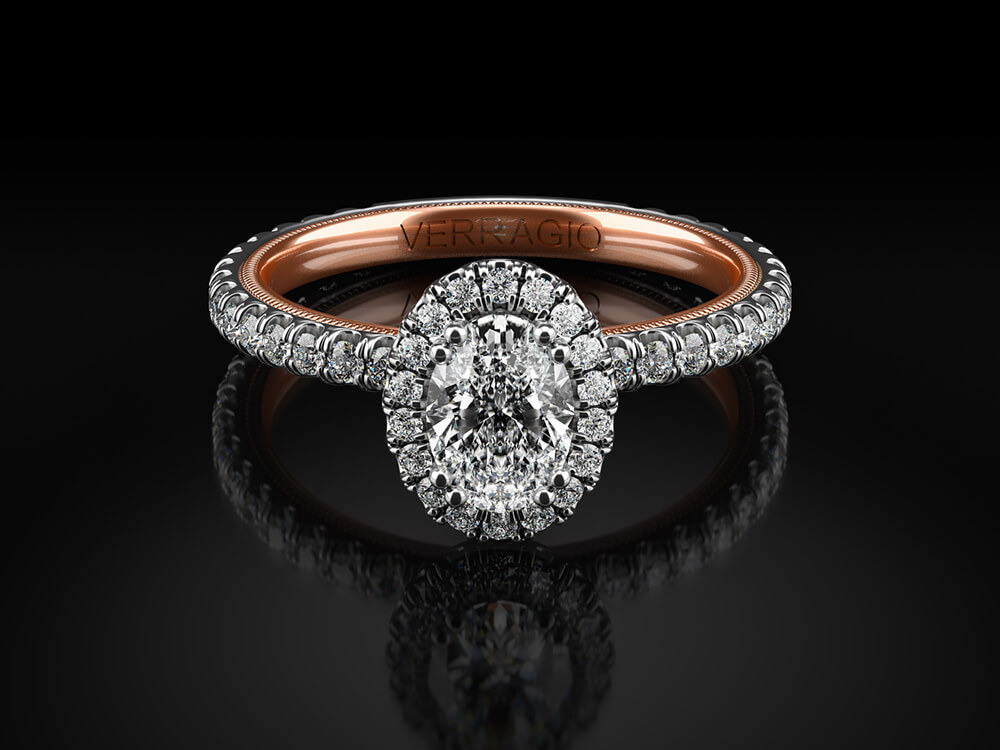 Our extensive collection of designer jewelry consists of timeless models that were formed by pure inspiration, innovation and consummate craftsmanship.
Our wide range of beautiful jewelry crafted by world-renowned designer brands are made for any occasion. Whether it's for an evening reception, casual get together, prom, wedding, or simply everyday wear, there's something for everyone.
Every piece in our collection has been carefully chosen. Designer jewelry at Raymond Lee Jewelers will definitely add character to any wardrobe.
If you are looking for a gift for a loved one, there is no better option than a precious and truly unforgettable designer piece.
Luxury Timepieces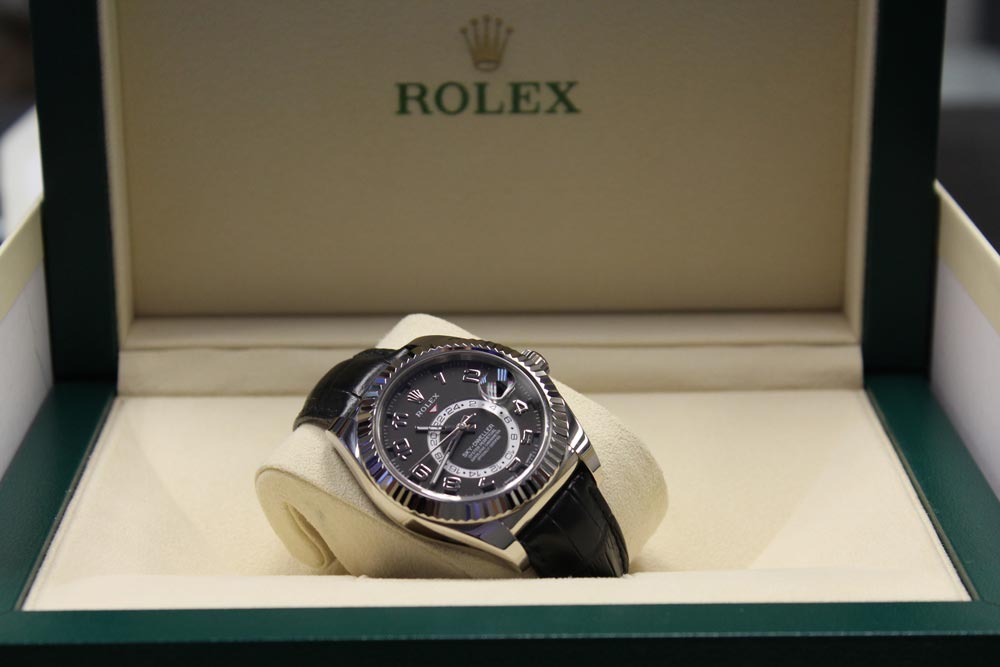 Raymond Lee Jewelers has one of the largest collections of Rolex and luxury watches in all of South Florida. We pride ourselves on being an industry leader in luxury watches.
Not only do we offer the best in high-end watches, but we also have the most competitive prices because of our purchasing power. That coupled with our store-wide sale makes for unbelievably good prices this coming September 21st.
Every man and woman should own a classic stainless steel sports watch. But, if you want something a little more lavish, we have that too. We are talking pure gold (white, yellow, rose) luxury watches and diamond flooded watches that define the word "drip".
Don't hesitate to come in to discuss our luxury timepieces and try one on so you can see how it looks and feels on your wrist.
Semi Mounts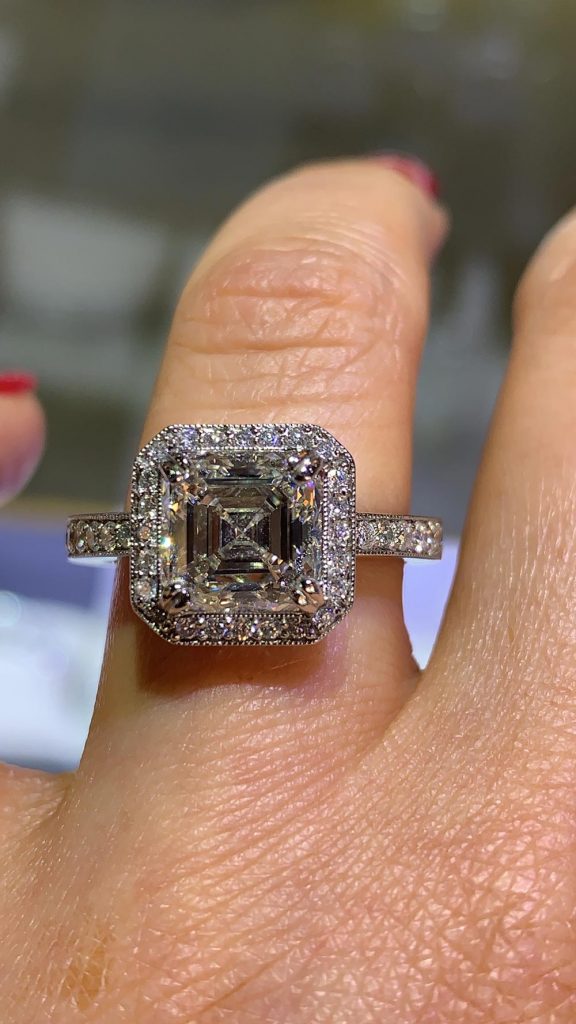 The appearance of a setting is just as vital as the centerpiece diamond! Our showroom has hundreds of beautiful and original semi-mount rings to choose from.
Semi-mounts are finished ring settings that simply need the diamond to complete it.
This means that you can choose from the plethora of loose diamonds we have so you can create a finished engagement ring that has a centerstone exactly as you envision.
We have beautiful semi-mounts ranging from $500-1000 as well as semi-mounts that are well above $1000.
If you are seeking a minimalist band that accentuates a center diamond, we have you covered.
If you want a semi-mount with complex designs, twisted bands, intricate, vintage-style motifs, we have that too.
Our options for settings are plentiful – solitaire, halo, bezel, channel, tension, cluster engagement ring.
From our simple and sophisticated bands to our most ritzy and bold, there is a perfect engagement ring waiting for you to make the statement you've always wanted.
Wedding Bands & Eternity Rings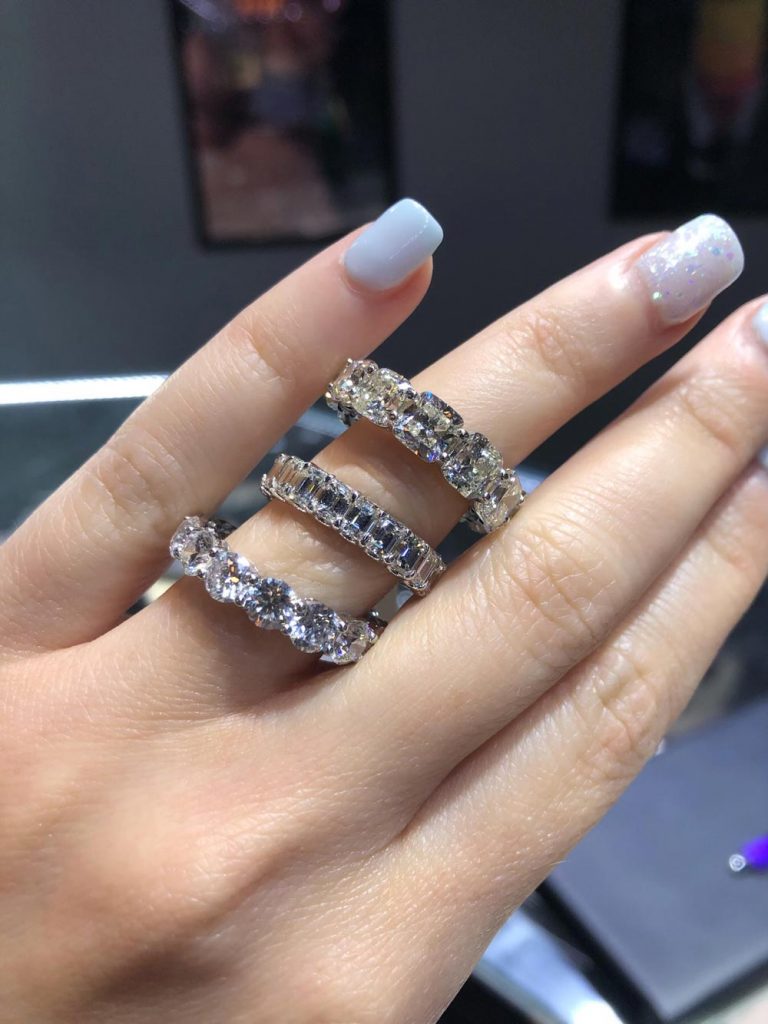 Is your wedding day around the corner? Well, then it's time to starting thinking about wedding bands! On a special day that marks the rest of your life, it's important to get a wedding band that you will always cherish and celebrate.
Raymond Lee Jewelers has a high-end selection of diamond wedding bands and eternity rings that will complement your engagement ring flawlessly.
Whether you want something traditional or extraordinary and out of the box, we have a multitude of styles and sizes to select from.
We have platinum, white gold, yellow gold, and rose gold bands, and you can choose from round brilliant diamonds, cushion cut, radiant, and more.
For men, we have classic wedding band styles made from gold, platinum or silver. We also have more contemporary styles like titanium, cobalt, ceramic, tungsten and bands studded with black or white diamonds…
Selecting a wedding band is one of the most pivotal moments in your relationship. So, it's crucial you find a piece you love. A wedding band represents eternal love and it should also match your personality and style. With the never ending options, there is certainly a unique piece for each and every man and woman.
We guarantee you'll find your perfect wedding band at Raymond Lee Jewelers.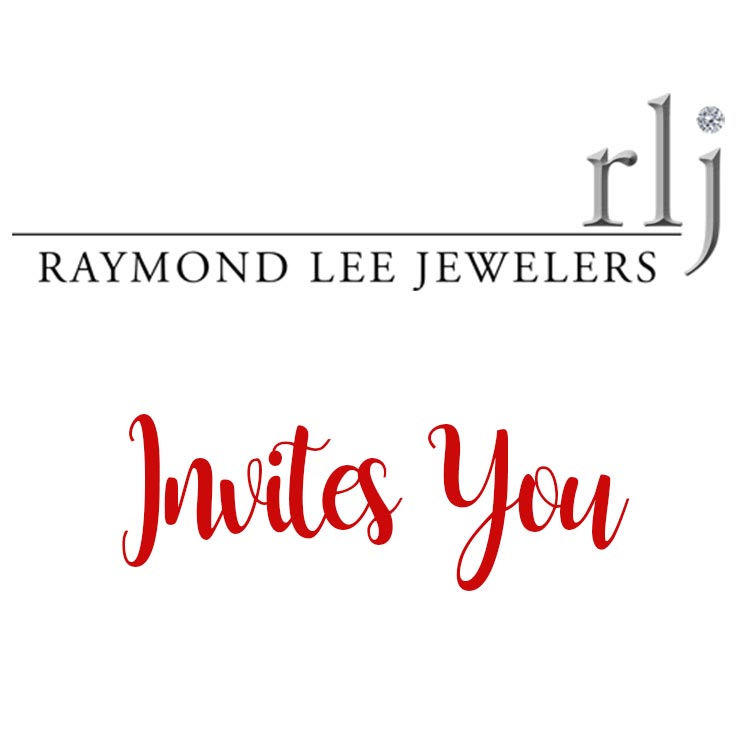 60 Minutes, 60% OFF Store Wide Sale!
Get the diamond jewelry and luxury watches you've been dreaming of this September 21st, 2019 at Raymond Lee Jewelers!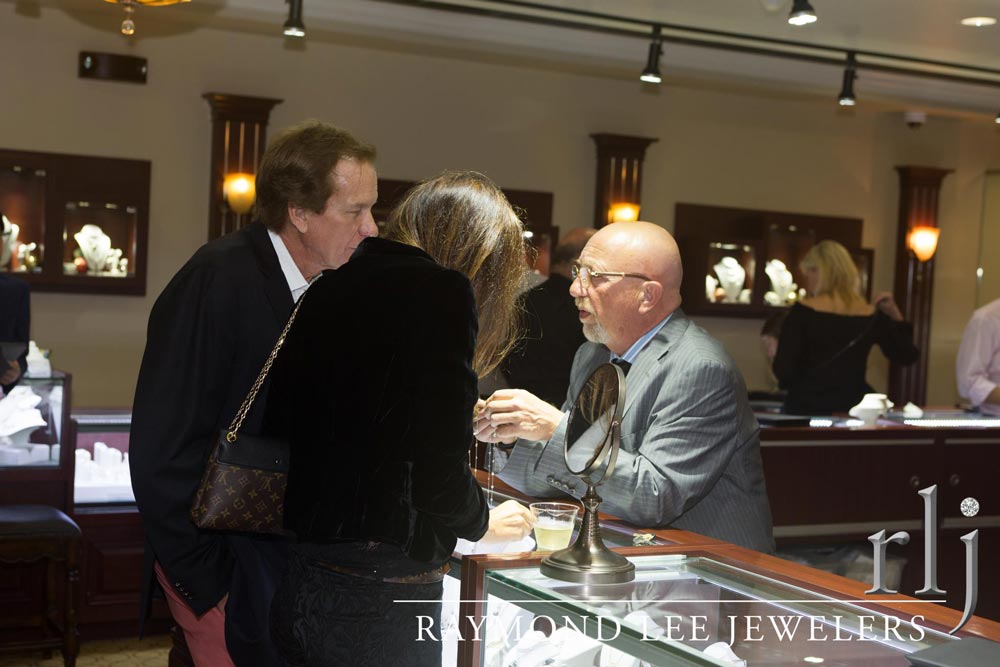 Feel free to contact us if you have any questions about our sale or collections of jewelry and watches. We look forward to hearing from you.