Henri Daussi Engagement Rings That Will Blow Your Mind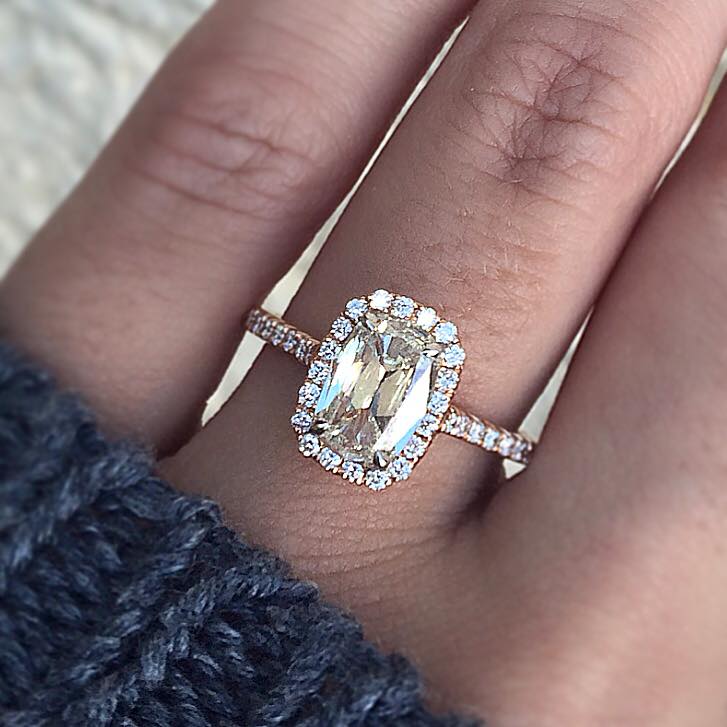 Henri Daussi engagement rings only exist because of excellence in cut. The eponymous Henri Daussi Loots became known as one of the best diamond cutters in the biz because of his excellent work with heart shaped diamonds. Today though, HD is all about the cushion cut.
Cushion cut diamonds are the second most popular in today's bridal world, coming second only to round brilliant diamonds, which have been on top since the emergence of the modern round brilliant in the early 20th century. Cushions now have even topped the princess cut, which reigned in the late 1990's and early aughts. Cushions also trump the other fancy shapes like oval, marquise, emerald, radiant and asscher.
Related: How to take care of your Henri Daussi Engagement Rings
And before this huge surge in popularity, Henri Daussi was perfecting not only the classic cushion cut, but engineering their own special cushion cut diamond – the Daussi Cushion Cut. Every Daussi cushion is a variation on the traditional cushion cut, completely unique unto itself. They are cut to appear between 10% and 30% larger than the typical cushion cut, thanks to elongated portions, proprietary facet patterns, and a larger table. How Daussi manages this without sacrificing fire and brilliance is their trade secret.
Related: Top 10 Henri Daussi Engagement Rings
Of course, HD will also build the dream setting for your diamond, regardless of where you bought it or its shape. Because it's true that all Henri Daussi engagement rings are crafted around your choice of center diamond, whether you choose that from HD or your local jeweler, or you have a family heirloom just begging for a modern classic setting courtesy of Henri Daussi.
And today we want to show off a few of our favorite Henri Daussi cushion cuts.
This beautiful rose gold halo engagement ring is one of our favorites. Crafted in warm, 14 karat pink gold, the delicate setting holds .33 carats total of round brilliant accent diamonds. The center stone is a breathtaking candlelit cushion cut with a warm L color, an impeccable VS2 clarity, and 1.13 carats of stunning cut.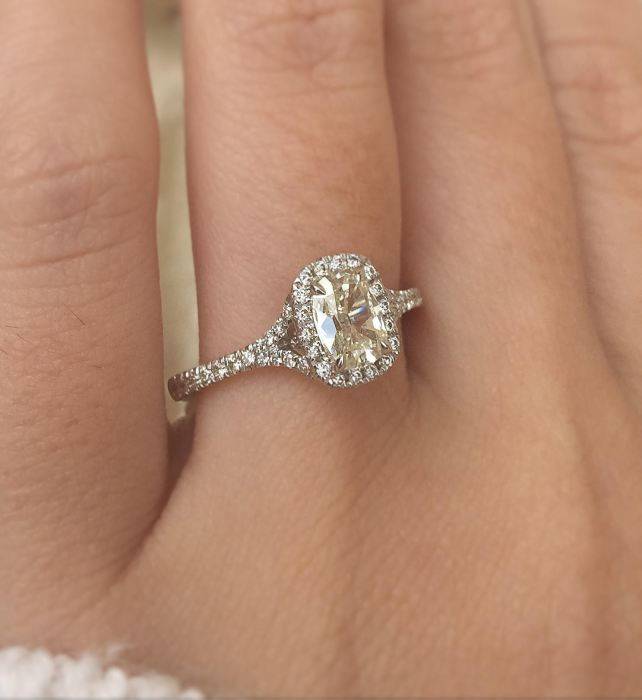 This stunning combo features one of our favorite Daussi settings, a gently flared split shank halo. The engagement ring features .26 carats total of round brilliant accent diamonds set with a .70 carat cushion cut center diamond. We complemented the warmth of the center diamond with a vintage inspired rose gold Henri Daussi wedding ring – this pretty sculpted band, for just $700.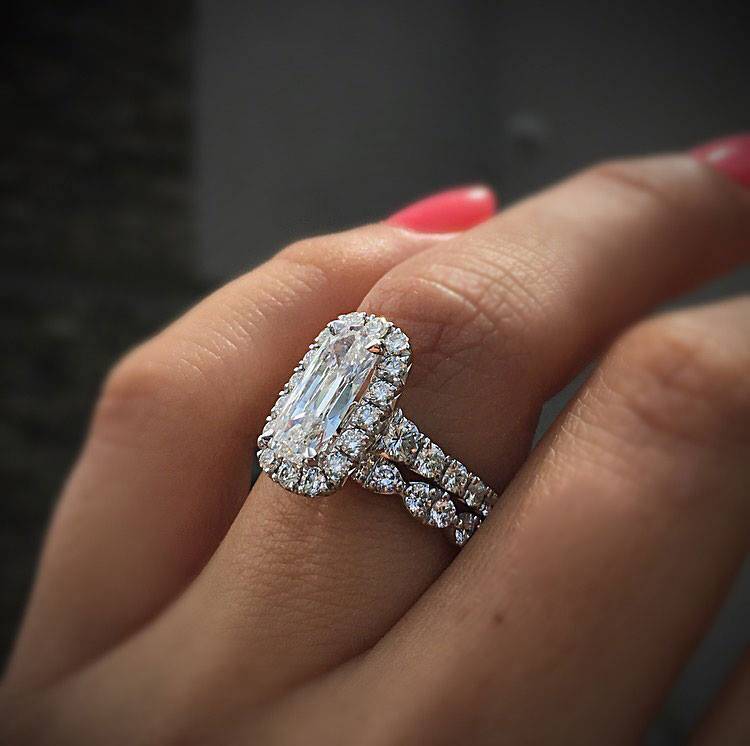 Here, we want to show off what Henri Daussi engagement rings do best: they stop you in your tracks. No other line we carry boasts more completely fresh and unique looks, and this elongated cushion cut diamond is a great example. The center stone is 1.5 carats of J color, VVS1 clarity certified by GIA. We love that Henri Daussi chose to cut it with such a dramatic length to width ratio, and the setting style jumps from beautifully classic to striking by hugging the diamond's stretched out curves. The rather large round brilliant accents add another 1.10 carats of diamonds to the ring, and here they're set in 18 karat white gold. We couldn't resist adding a large diamond wedding band to complete the look.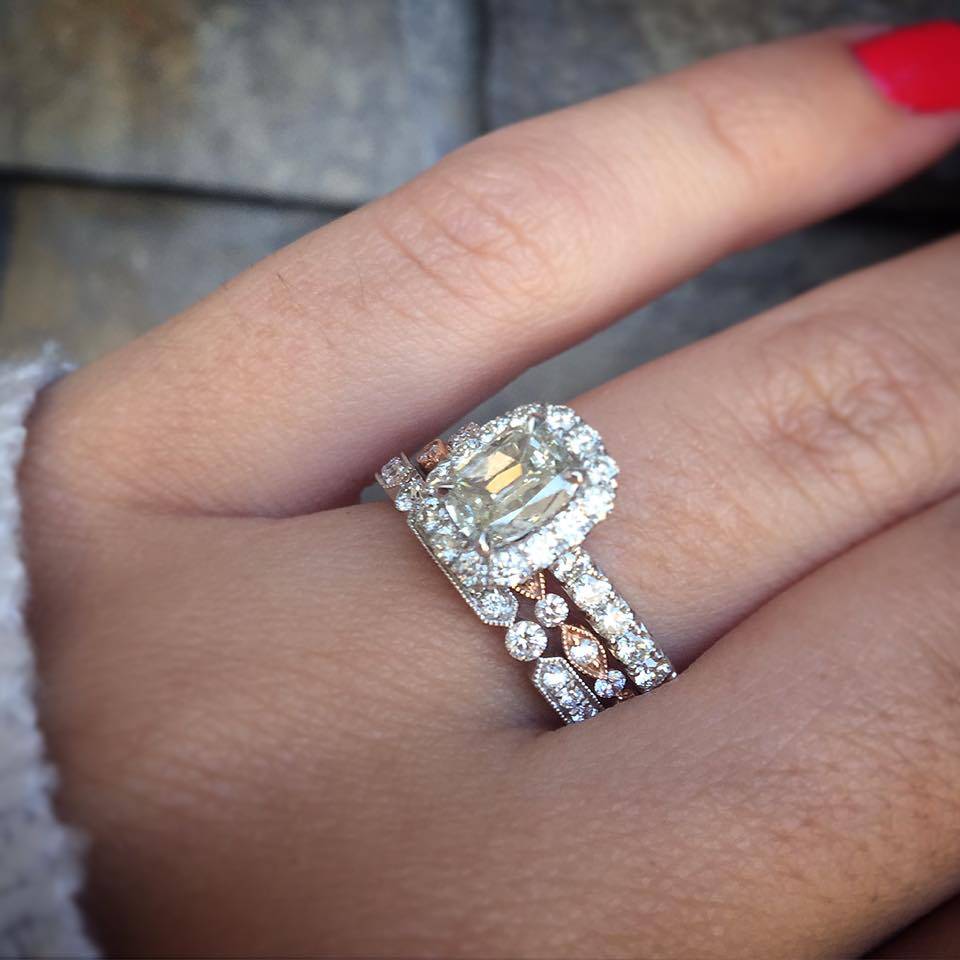 Finally, we have one more stack to show off. We paired a cushion cut halo setting, featuring a .83 carat cushion cut center stone and .42ctw of round brilliant accents, with the same beautiful rose gold wedding band featured above. But this time we added this geometric .25 carat diamond band to round out this awesome textured stack. Perfection!
Are you as smitten with cushion cut Henri Daussi engagement rings as we are? Follow us on Pinterest for even more!