Fully Built 1978 Datsun S30 Z – Mods & Background Story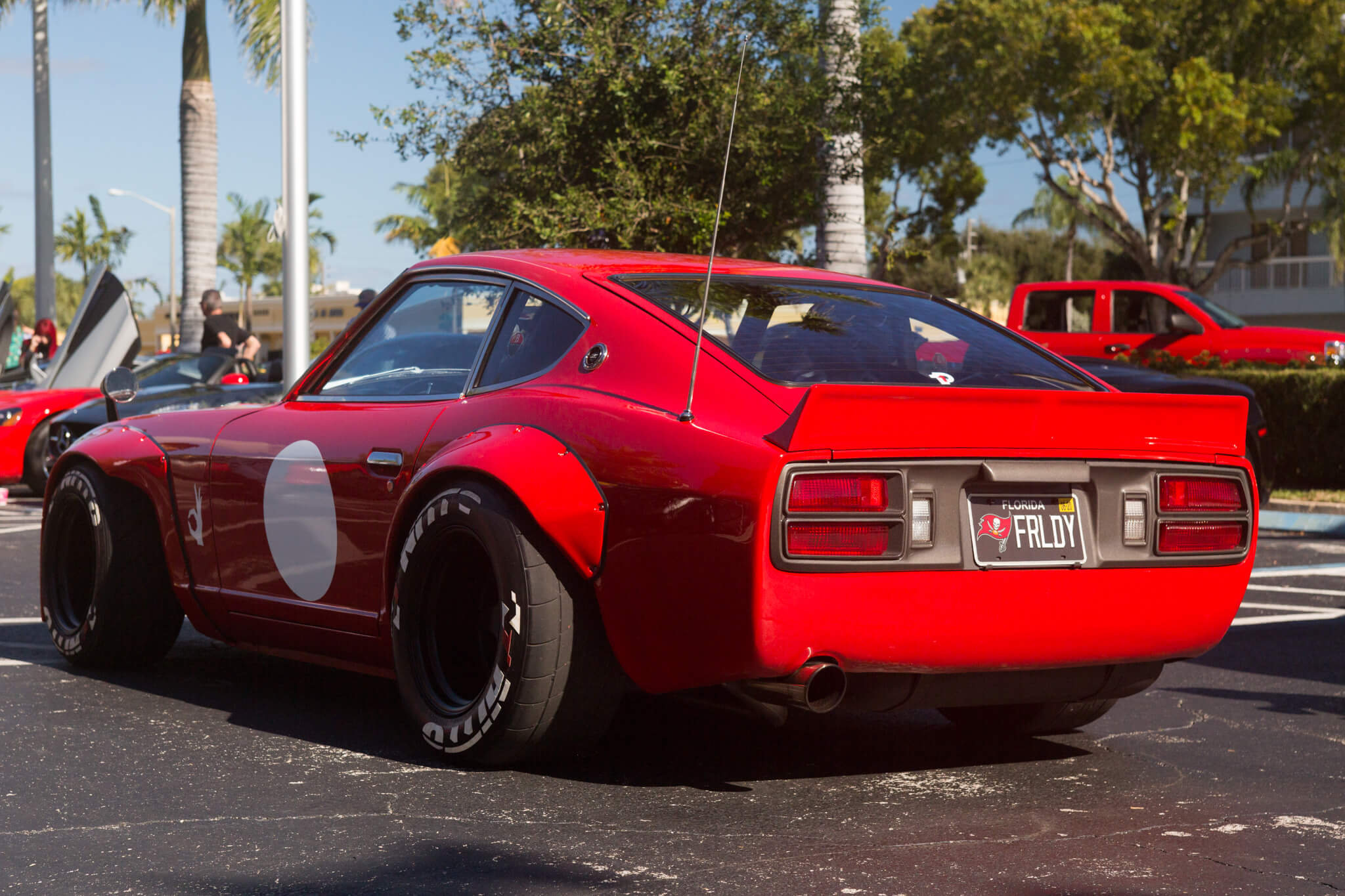 Last week we recapped our Diamonds and Donuts Toy Drive Car Show benefiting the Boys and Girls Club of Broward County. From exotic supercars to fully-built, heavily-modded imports of various JDM cars, there were so many astounding vehicles that showed up. Not to mention tons and tons of toys for the kids. In that recap, we covered some of the most fascinating cars, however, we left one special car to be desired…
That car is the feature of today's post. It is a fully built '78 Datsun S30 Z…aka the Nissan S30 and Nissan Fairlady Z (depending on the market) – This is one of the craziest builds we've ever witnessed, so we are excited to share his story and the car's bountiful mods with you all, on behalf of this Datsun S30 Z's owner, Javier A. Bassi of South Florida.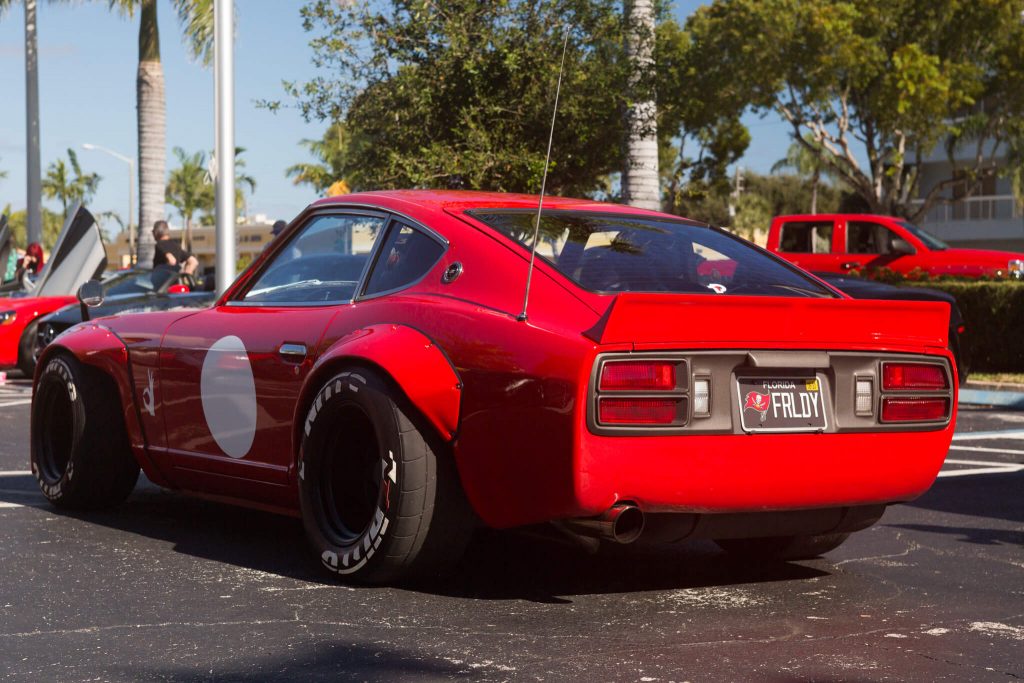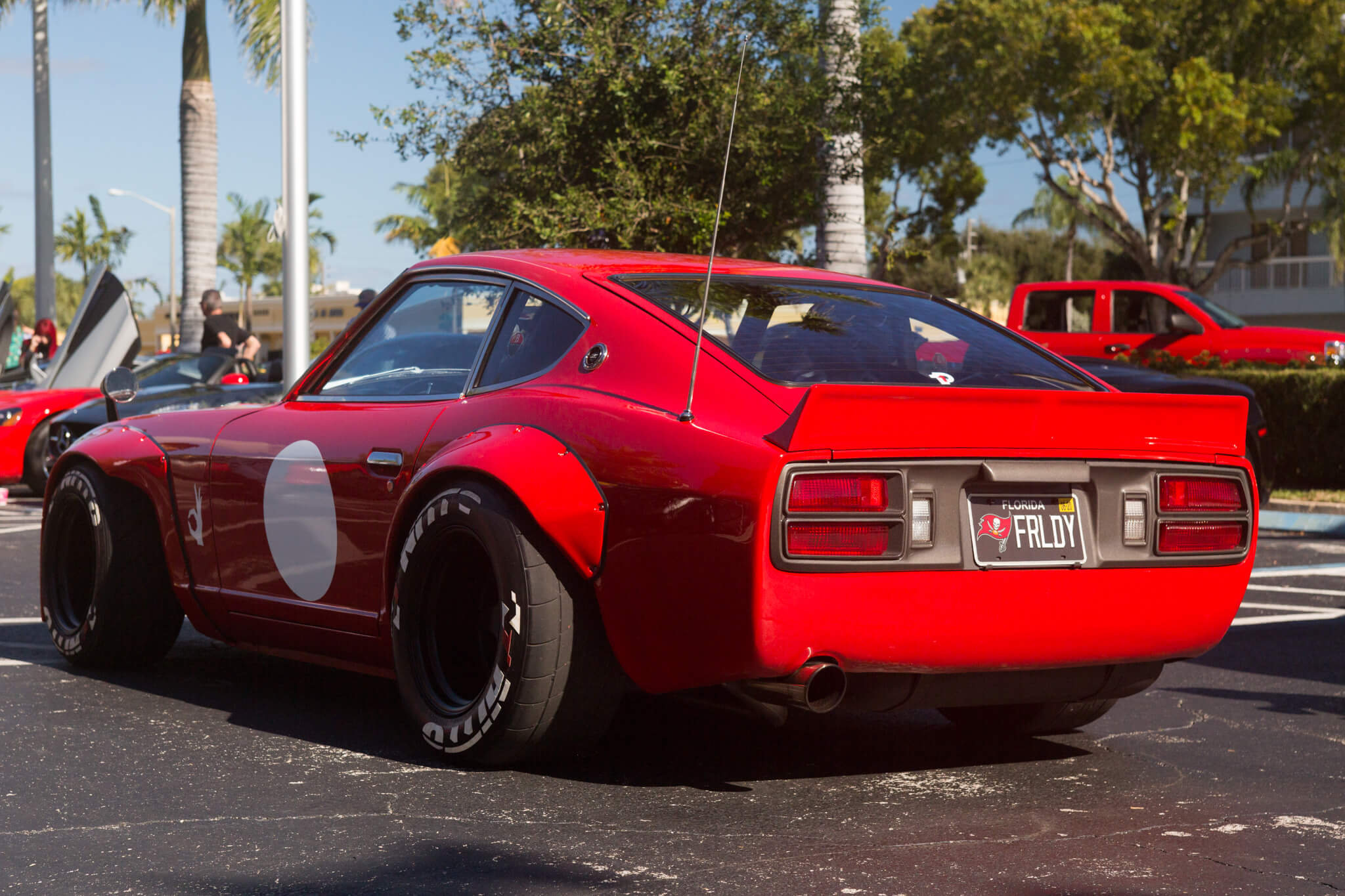 Story of THIS 1978 Datsun S30 Z
Before we get into the incredible specs of this S30 Z's build, let us give you a brief history of how it came to be in the current owner's possession…
The car originally belonged to Javier's cousin's ex-father in law who lived in New Jersey. When his cousin was still married, his wife would always tell grand stories about her father's car, the Datsun S30 Z. It was clear to Javier that this car was cherished and very special to their family. So much so that even when a movie producer asked to put his S30 Z in a film, he couldn't accept because he didn't want anyone touching his car. He was extremely meticulous about his car. Understandably, it was one of his prized possessions.
She would say how the car always caught everyone's attention in the neighborhood they lived in. It was simply captivating. Javier palpably felt that this car was not only special to her father, but it was also treasured by her.
Over the years, Javier kept hearing about this car, which only made him revere it more. In fact, he started to covet it.
Eventually, he asked if her father would sell it to him. However, her father had no such desire.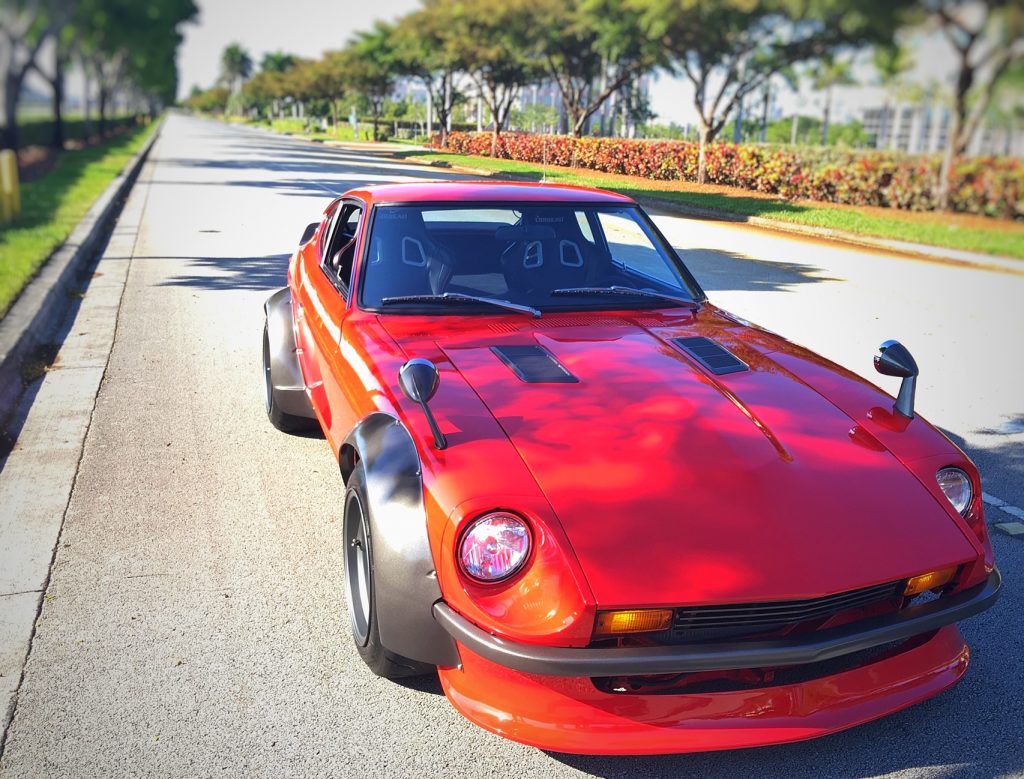 Persistence in the car collector world is key
Javier didn't give up, though. He persisted, and her father stuck to his guns…
That was, until April 2015, when her father finally accepted. He agreed to sell his Datsun S30 Z to Javier.
Why?
Well, being that her father was an avid collector of cars, he eventually ran out of space, and knowing that Javier deeply yearned for the Datsun S30Z, he did the gratitude of selling him one of his most cherished vehicles.
Javier heard the good news, so he immediately grabbed his phone and called him.
Her father told him, "I'll ship the car to you, you pay two ways. If you don't want it, it comes back to Jersey. If it doesn't come back to Jersey, we credit you the return amount for shipping the car".
So, the car was shipped down to Miami shortly after. Javier fell in love with it immediately. Empirically. And needless to say, it never left Miami again.
Javier said, "It definitely had to stay in Miami, so he flew down here and we made the deal!".
Here is something that really blew Javier's mind…
The deal was, Javier would pay him half of what he was asking, and the other half would be financed over 6 months at 0% interest.
"Who does that? No one…I'm so lucky" stated Javier.
Dream cars do come true.
Well-Kept & Original
The car was extremely well-kept, and undoubtedly well cared for throughout all its decades of existence.
And although Javier really enjoyed the originality of the car for a while, he had to put his signature on it he said. So, he started doing research on wide–bodies, wide-wheels, fat beefy tires and more.
However, the engine had to stay. It was low miles, had plenty of power, and it drove like a beast. Ergo, no swap necessary. Plus, the original engine keeps value on the car. In fact, it significantly increases it over time.
So, now that you know how it was acquired, let's talk about all the mods Javier has done since first purchasing this beauty.
Profusion of MODs – Datsun S30 Z
Javier spent a copious amount of time researching, and he put immense effort into modifying his new Datsun S30 Z to his exact likings. It took him over a year and a half to get it all done.
Here are his mods and how it became the fully built Datsun S30 Z that you see today
When he received the car, you could immediately tell it was always garaged, and it only had 60K miles on the clock. Moreover, everything was completely stock.
However, it did have a paint job. Its original color was sleek black…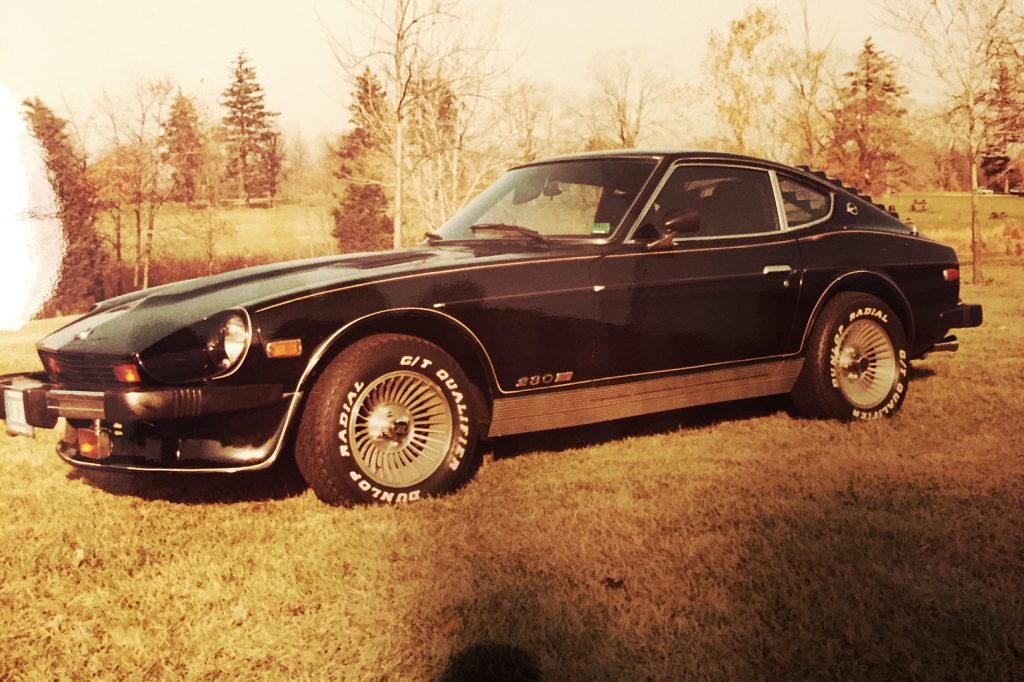 …but when Javier bought it, it was purple lilac. Here's a photo of how it looked when he bought it.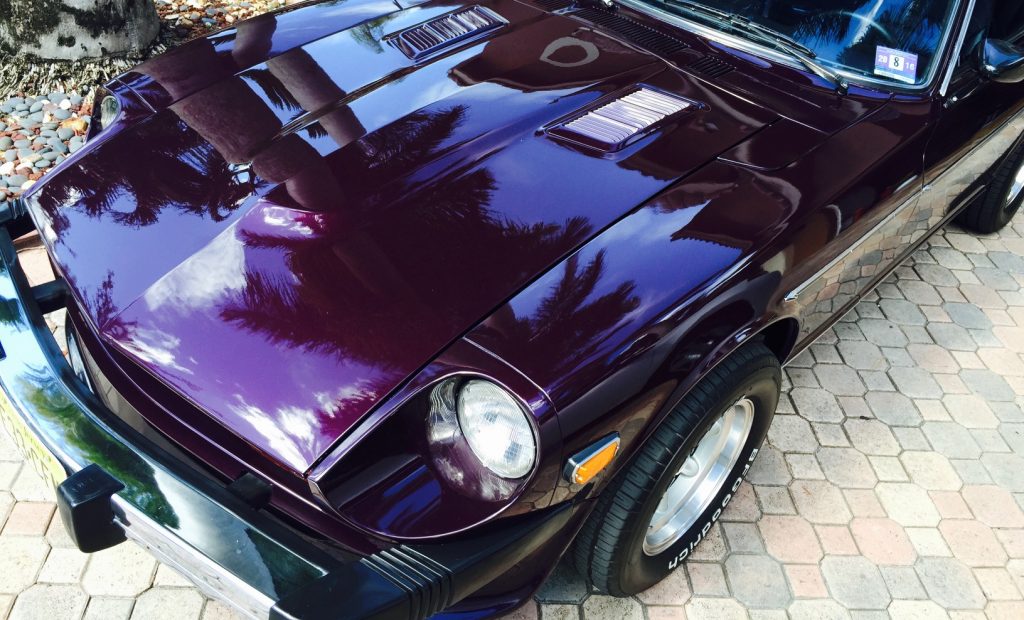 It didn't take Javier long until he made his first modifications.
He restored the car with a Marugen Shoukai Body Kit and he decided the car deserved a Rosso Mars Lamborghini Red paint job.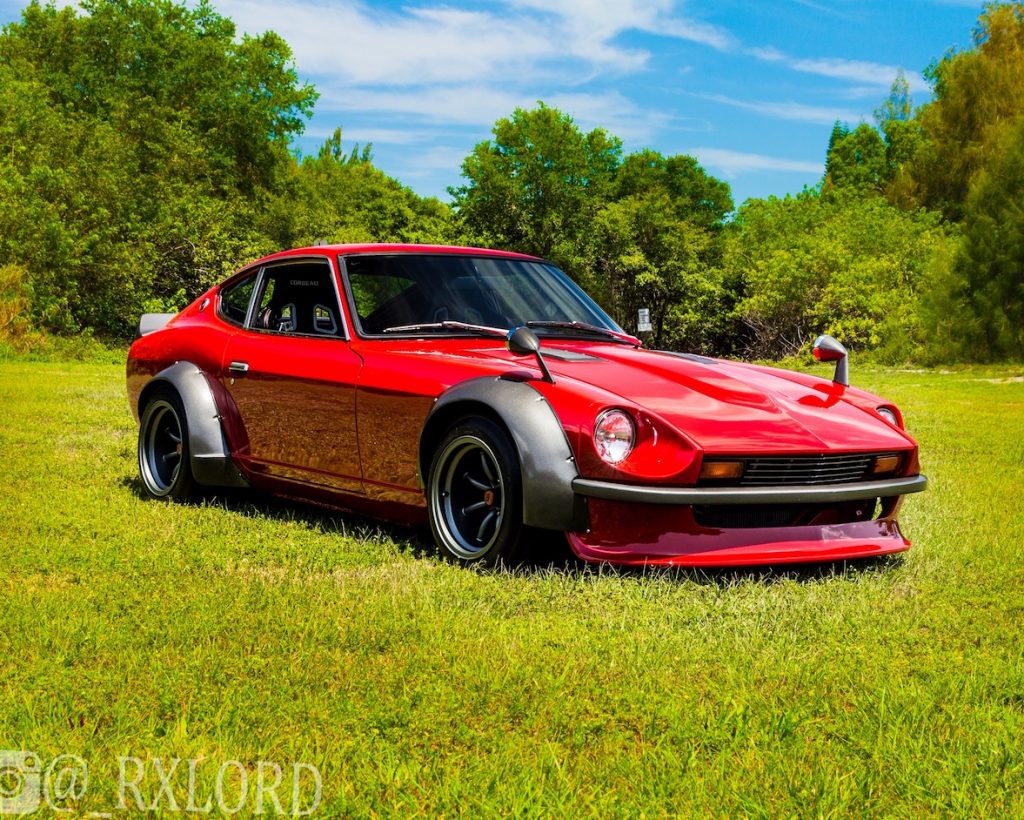 From here, Javier did various other mods to his Datsun S30 Z…
The original owner was very intrigued, so he actually flew down to drive it in its new, modified condition.
Here he is after coming back from a test drive. He absolutely loved it!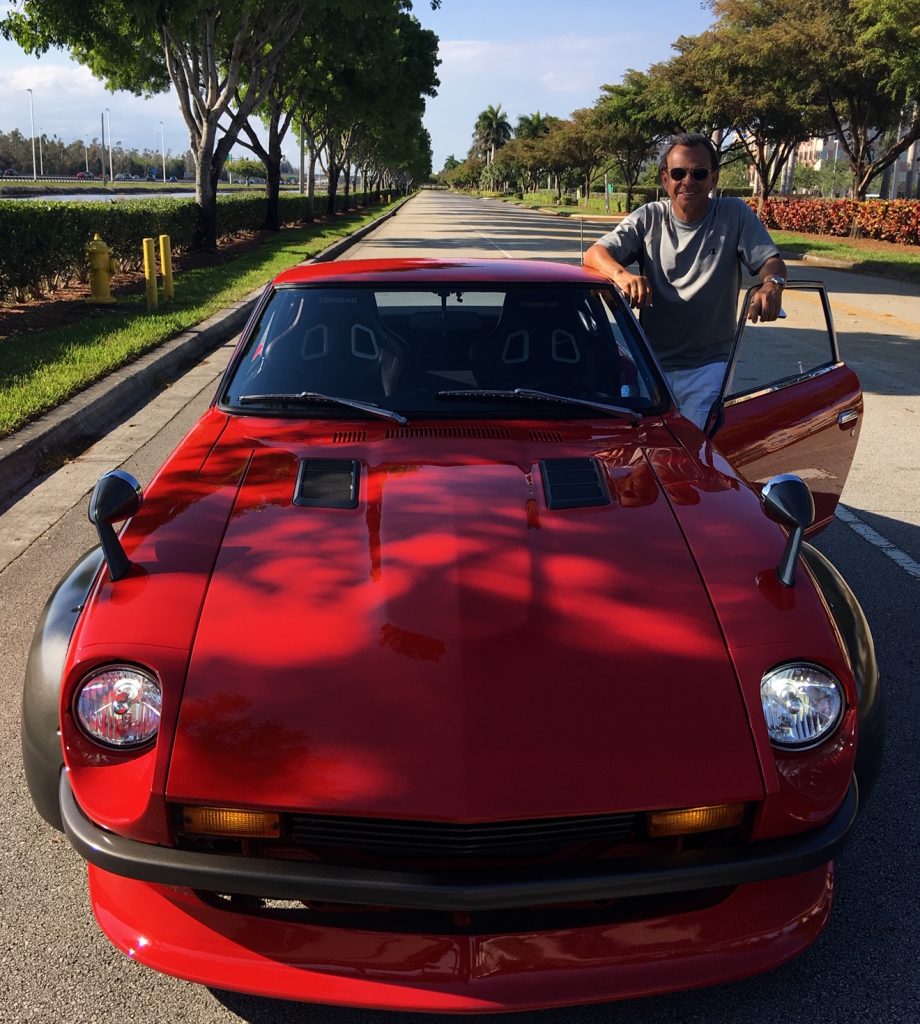 Body Kit Swap
Although the Marugen Shoukai body kit had its time in the limelight. It wasn't meant to be.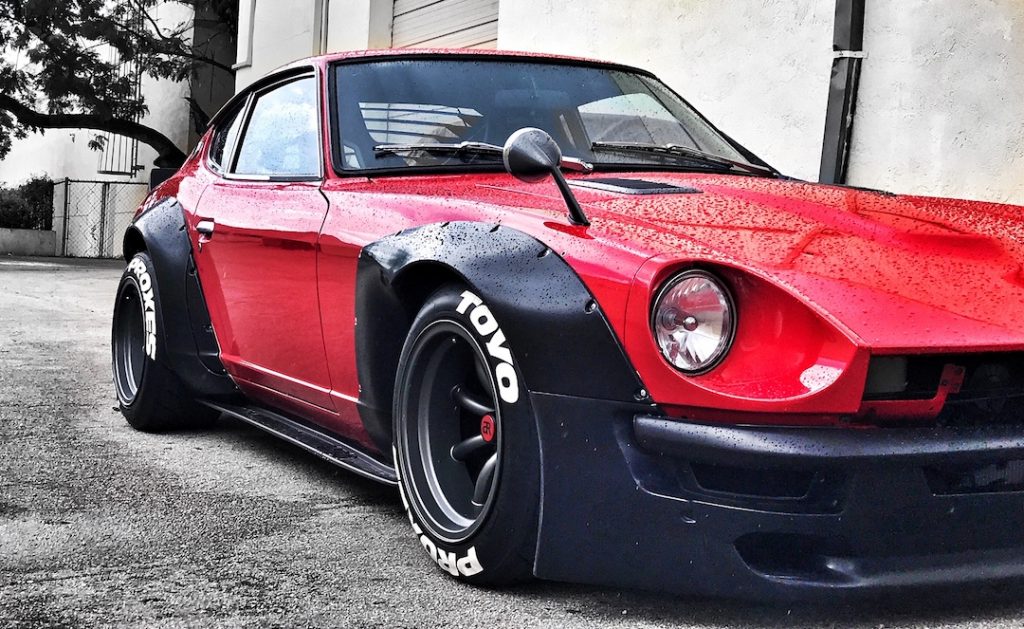 The Fast and The Furious
After Sung Kang (the actor who played Han in The Fast and the Furious) released his 240Z's build, which had a Rocket Bunny body kit with a GReddy exhaust, it was love at first sight. Javier really liked the design and how it stuck to the body lines. So, he immediately ordered it.
He ended up selling his Marugen Shoukai body kit to a local rusty fellow Datsun. It only took one day to make the sale.
4 months later Javier received his Pandem Rocket Bunny Body Kit, and then perfectly matched color.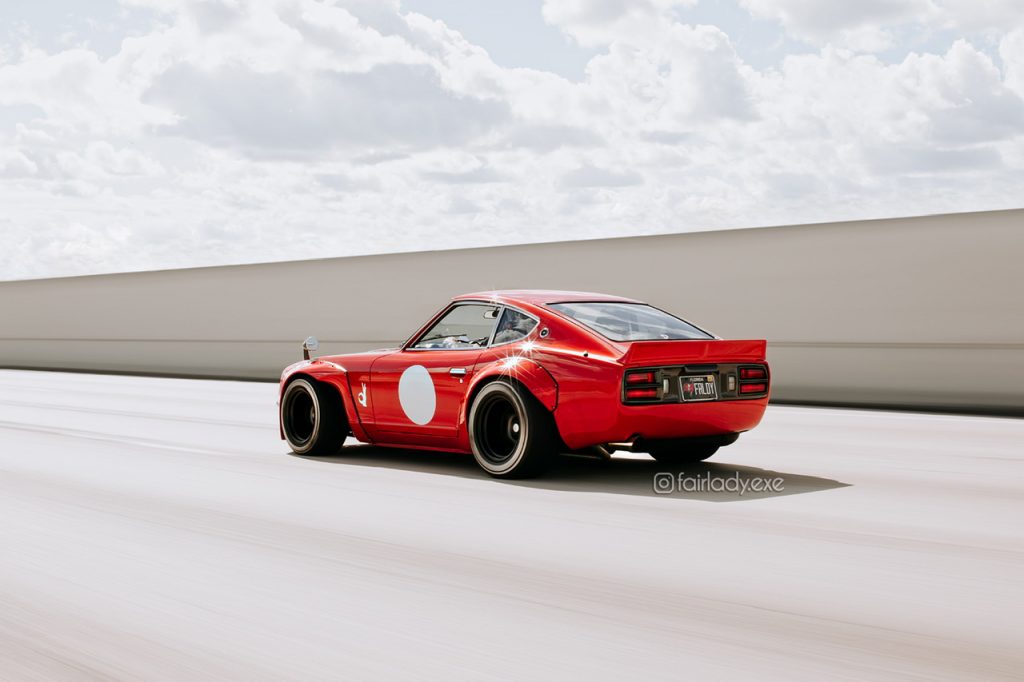 Pandem Rocket Bunny Body Kit
Pandem is the manufacturer and Rocket Bunny is the brand. It's a brand big in JDM circles. It's full wide body aero kit that provides the perfect flare, accentuating the S30 Z's body lines for a street style appearance. It is incredibly badass…
However, with bigger fenders comes a need for wider tires…
After having the Pandem Rocket Bunny body kit installed, he got concerned with the wheel gap it had at both the front and rear fenders. So, he started looking for deep dish wheels and big tires.
Who did he contact?
Work Wheels!
After placing the order, It took 3 months to finally receive the wheels. From there, Javier got started on playing with different tire sizes, so that he could fill the gap completely, making sure there was no rubbing and for a necessity of camber.
Ultimately he perfected it…
Deep Dish Work Meister CR01 Wheels with a 10.5 Square Set-Up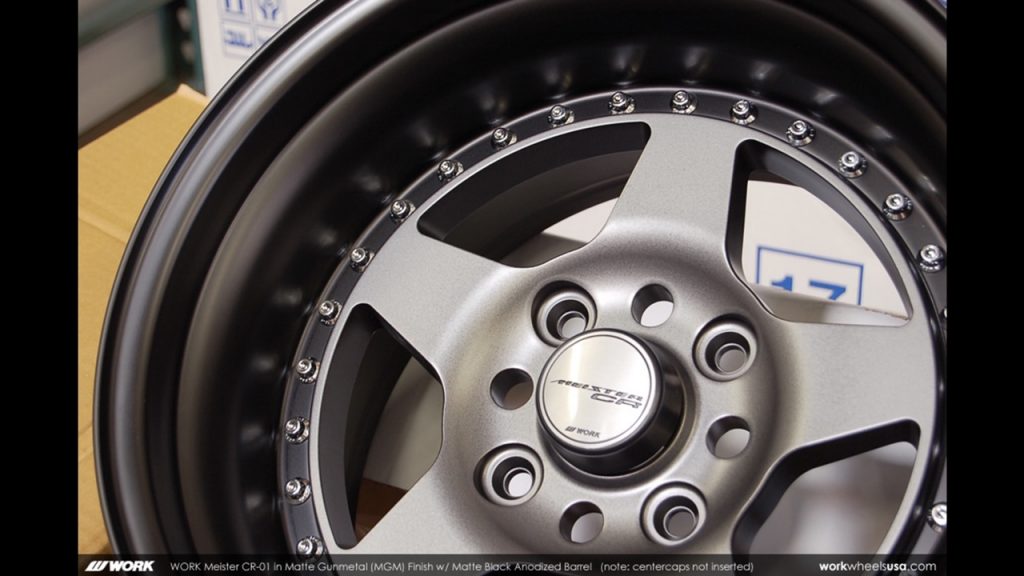 The Work Meister is a 3-piece wheel that brings a modern take to a timeless look. It's the quintessential look for retro racers like the Datsun S30 Z.
Other Mods to Javiers Fully Built Datsun S30 Z
Of course, that's not nearly all the work that went into this Datsun.
Here are the rest of the mods for his fully built Datsun S30 Z…
Interior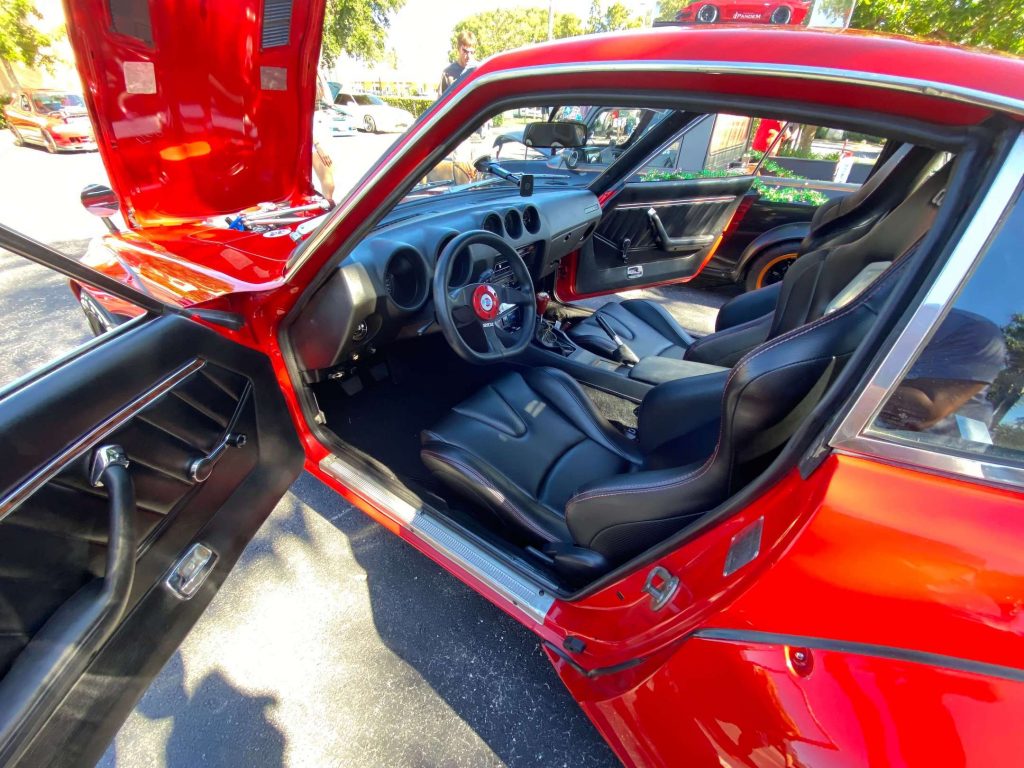 Sparco Racing Steering Wheel
Sparco is an Italian auto part and accessory company that specializes in steering wheels, among other car parts…and for racers, of course. Their performance steering wheels are iconic in the aftermarket customization world.
It's a clean, modern-looking, no-nonsense steering wheel that gets right down to business.
Power steering?
Forget about it. He said he couldn't take away from the 70's feeling of the car, so he left it with no power steering.
Corbeau Racing Seats
Corbeau racing seats have been around for a long time. They are considered the top of the line aftermarket seating for motorsport enthusiasts. They provide amazing comfort and support. Plus, they look superlative, especially these ones with red stitching. Everything matches impeccably.
More and more mods for this Fully Built Datsun S30 Z…
The car has a powerful stereo with 2 power plants. It is a Kicker car speaker with a Pioneer Bluetooth receiver. As Javier says, it's a "must". This thing bumps with unrivaled clarity. The best part is, this is a great value for the price.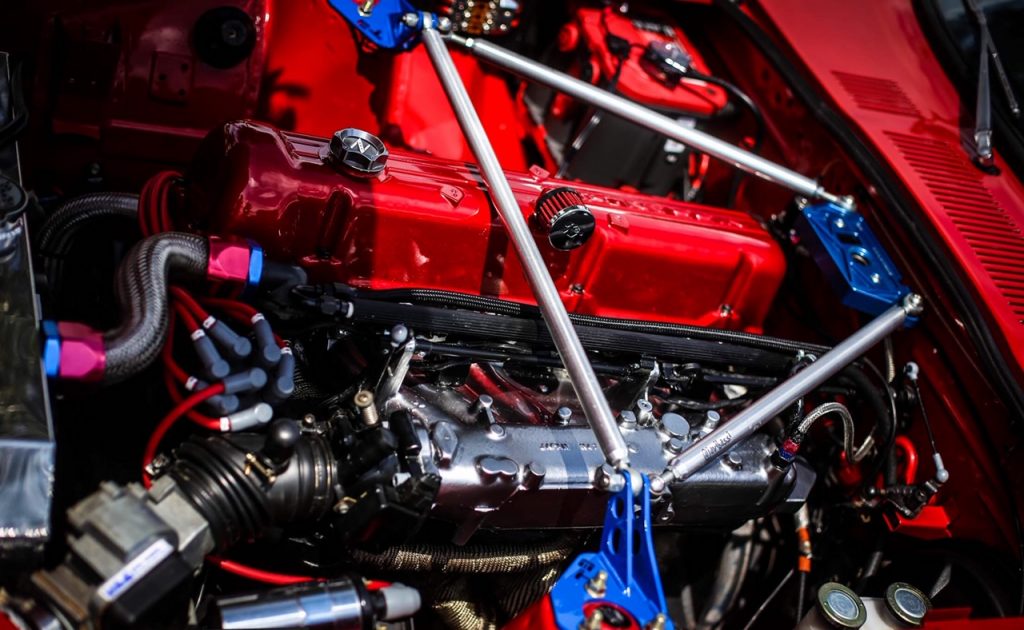 Underneath the Hood
There's a lot to list engine wise…
He has electric dual fans enclosed to a huge radiator. This keeps it running nice and cool. Air conditioning is a must in Miami, and this car is officially a Miami citizen now.
What's more, he fitted it with an engine wire truck, making sure no cabling showed in the bay, giving the engine a really clean look for when you pop the hood.
And, he equipped his whip with a 1000 Optima Gel Battery, which is known for having an extraordinarily long battery life expectancy. Only the best of the best for Javier's Datsun S30 Z.
Underneath the Body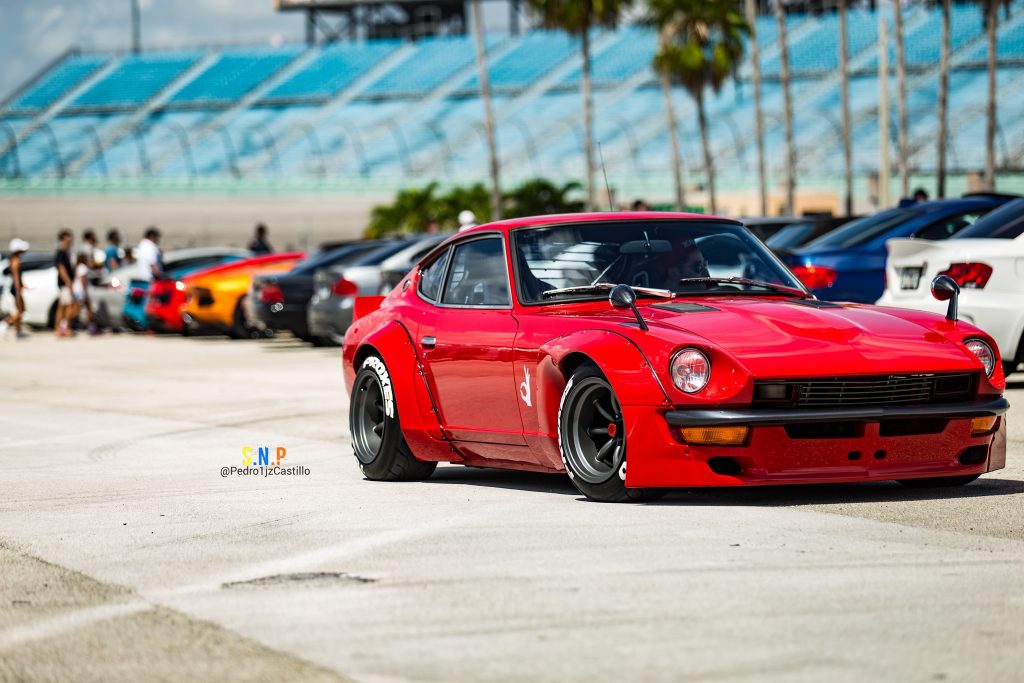 The Datsun S30 Z's mod continue underneath the car to improve both driving and sound.
He set the Techno Toy Tuning Reinforcement Bars as they provide support and cushion to the front and rear of the car.
Moreover, he got BC Racing extreme low coilovers – the go-to choice for drivers who want it all. Each coilover system is purposefully built and one-of-a-kind to each car.
He also got upgraded drums racing pads, which allows the car to handle a very high friction level and it provides the most powerful stopping ability available.
Sounds and Lights
As for the exhaust, he went for a straight piped exhaust, no midpipe or catback. So this car sounds incredible.
Lastly, he has classic projector headlights from Dapper Lighting, the most trusted name in classic car lighting.
Present Day
It's been 3 years since Javier completed the car and he has enjoyed every single drive. It remains garaged most of the time and is only taken out on special occasions.
When he does take it out, he gets all thumbs up and many compliments. Javier told us that this gives him a sense of accomplishment. It makes him smile and feel proud.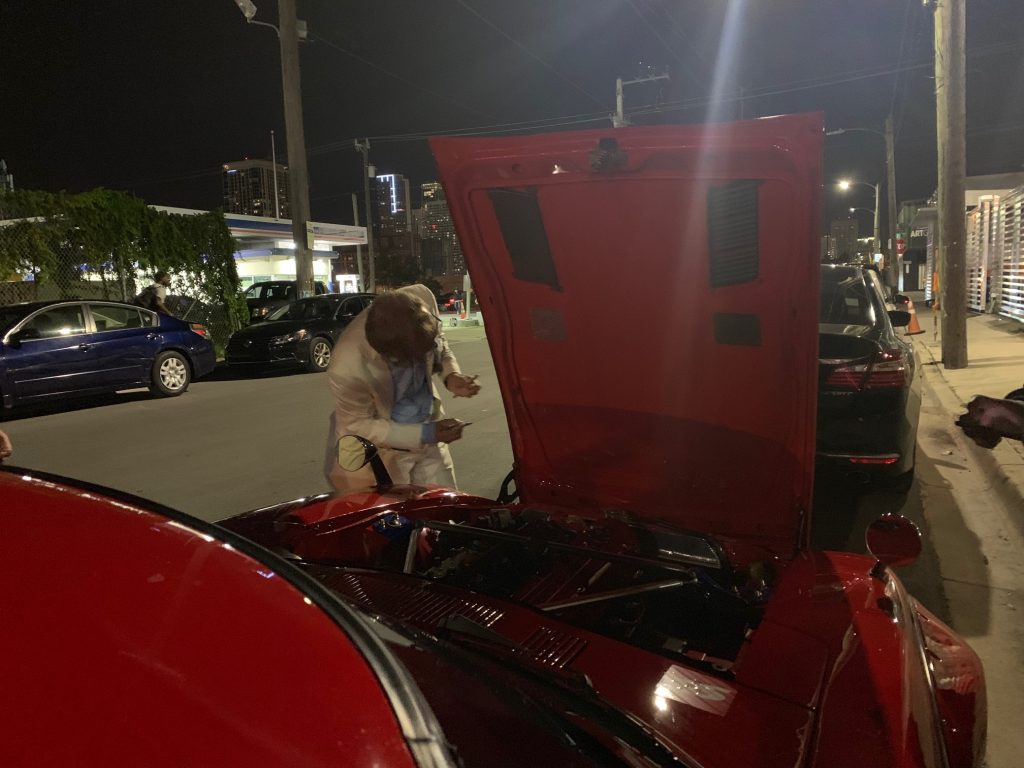 Trophies and Awards
His Datsun S30 Z has won several awards.
Recently he got 2nd car overall in Wekfest Miami. Wekfest has been around for over a decade. It provides a common ground for automotive enthusiasts to come together and share their experiences in an organized setting. Wekfest is a pure car exhibition and one that is worldwide, so it is a big feat to win this award.
He also had the car on display at Miami Supercar Rooms, where Javier met Mr. Pininfarina, and R35 Designer, Shiro Nakamura.
Shiro Nakamura was really impressed by the build, and he ended up singing his name on the underside of the hood! Nakamura is a legend, so this must have felt like a huge honor.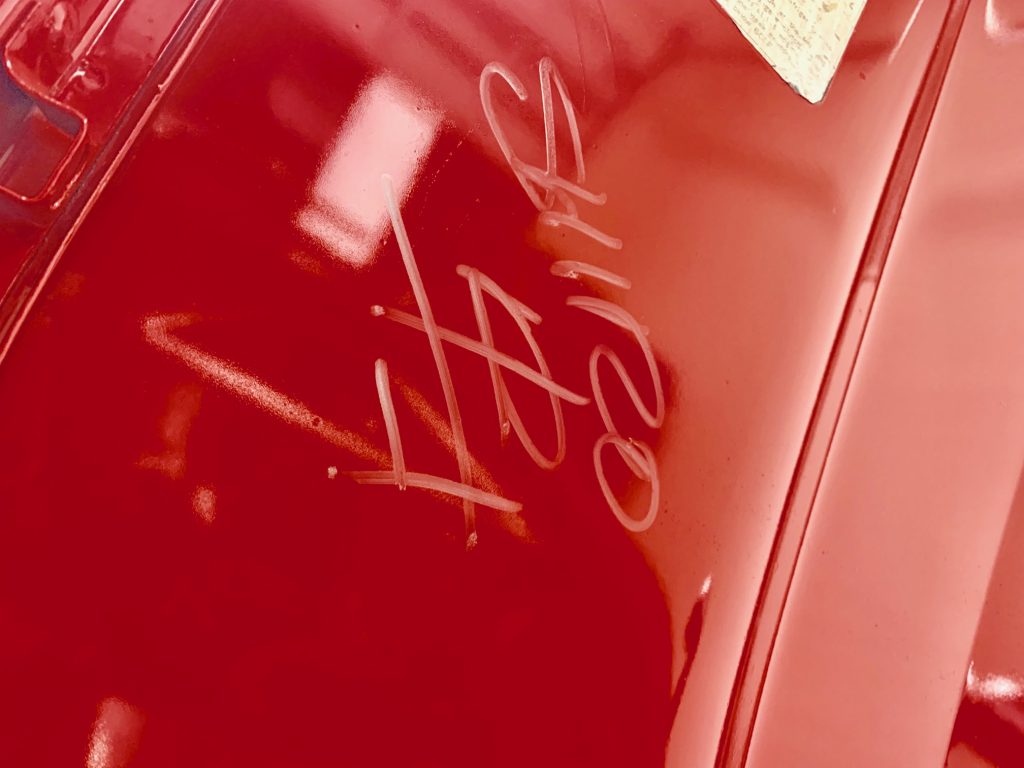 Shiro Nakamura
Shiro Nakamura was the Chief Creative Officer at Nissan, Infiniti and Datsun. He was known as a hands-on creative, and the people called him "Fingers". Moreover, he was the man behind the creation of the Dastun Fairlady Z.
He is now the Senior Vice President and Chief Creative Officer of Nissan.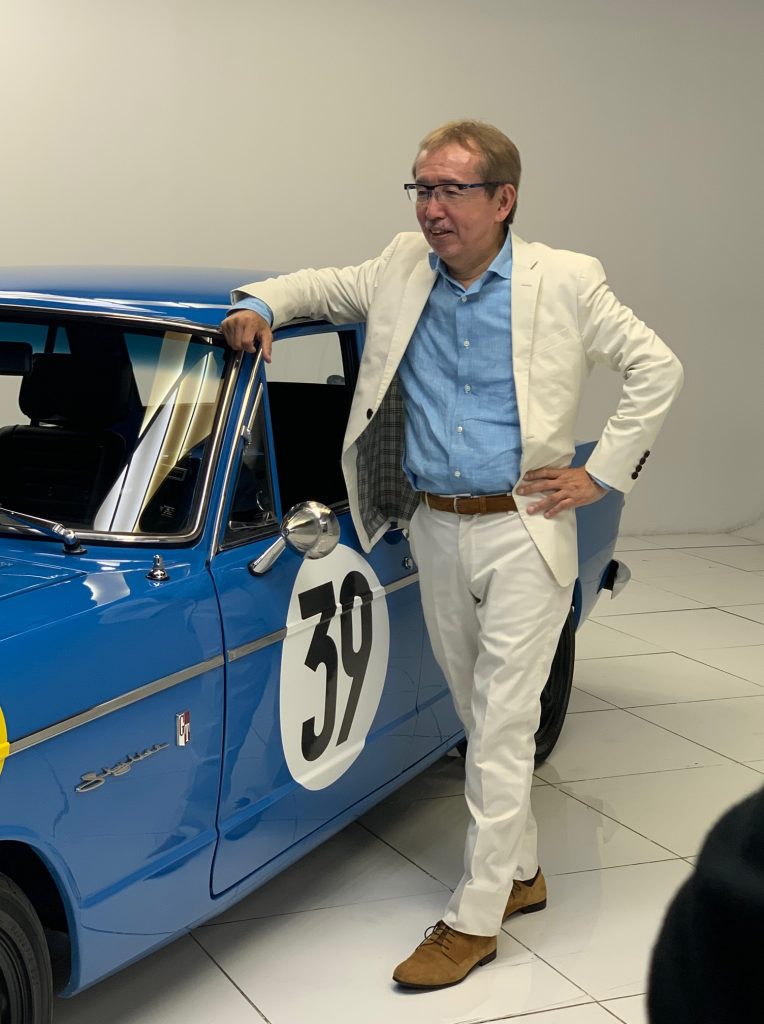 Diamonds and Donuts – December 2019
Javier made his first appearance at our Diamonds and Donuts Toy Drive Car Show at Diamonds By Raymond Lee. It was one of the main attractions at our Toy Drive Car Show event. Everyone was so impressed by his build and the overall condition of his Datsun S30 Z. It's a car that has such an imposing demeanor, even when surrounded by many other astonishing vehicles and heavily modded imports.
Javier told us that after the show, the original owner of the car (Rafael) was anxiously waiting for him (he ended up buying a house and moving down to Wellington FL) and he took the car out for a spin. Now, in its final, completed form (at least completed for now). And Rafael said…"Are you going to leave it here?" We guess not… 🙂
Want to see more incredible and dare we say CRAZY fully built cars?
Stay tuned for more. We will be releasing our high-end production Car Film soon (shot by Krispy Media). In it, you will see 3 fully built imports, among other awesome cars, each which we will feature in their own posts to give further detail on them. So we have a lot more interesting stuff coming for our car fanatic friends out there!
Share your thoughts on Javier's Fully Built Datsun S30 Z and his mods in the comments below.