Diamonds and Donuts Boca Raton Car Show | December 16, 2018 RECAP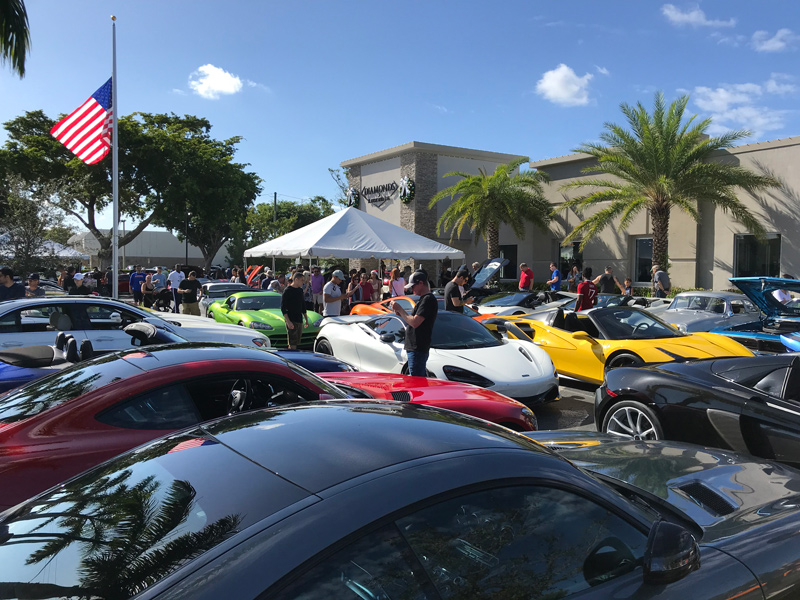 Diamonds and Donuts December 16th, 2018 car show is in the books, and it was another great one! Diamonds by Raymond Lee's parking lot was full of exotic cars from brands like McLaren, Ferrari, Lamborghini, Aston Martin, Porsche…to name just a few… and we had coffee, donuts, a BBQ, live DJ, Jewelry Giveaway, a massive crowd with a successful toy drive, and a whole lot of laughs, all topped off by amazing weather. Here is the recap to this months Diamonds and Donuts Boca Raton Car Show!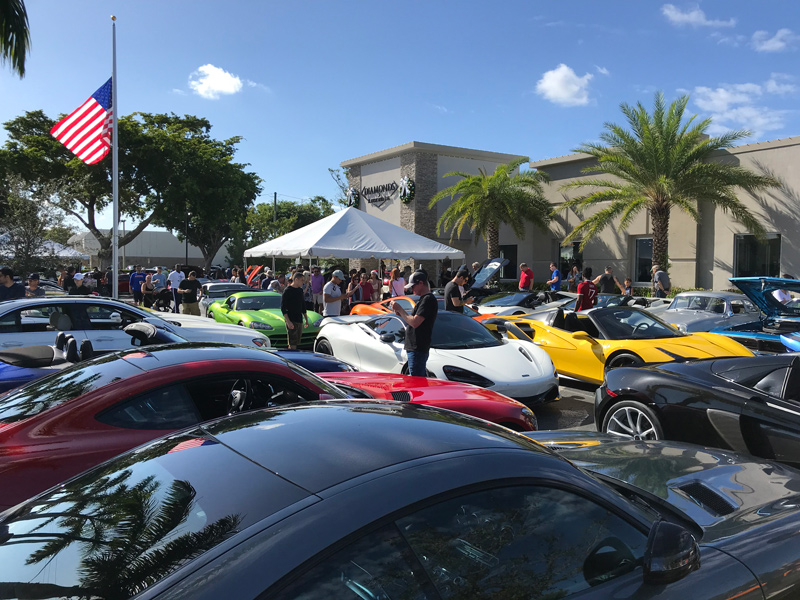 This past Sunday wrapped up a successful December Diamonds and Donuts car show. We had a fantastic presence of vehicles, as per usual, and another sold out BBQ. All of the proceeds from the BBQ went to the charity of the month – The Boys and Girls Club of Broward County – and we also had a toy drive which brought in thousands of dollars in new, unwrapped toys for disadvantaged children in the local area.
Our parking lot at Diamonds by Raymond Lee was overflowing with so many cars of different makes and models. We had exotics, classics, muscles, sports, luxury and custom cars side-by-side with auto enthusiasts, making for one impactfully great Sunday, and reminding us once again why Diamonds and Donuts is the premier car show in South Florida. Palm Beach Stand Up!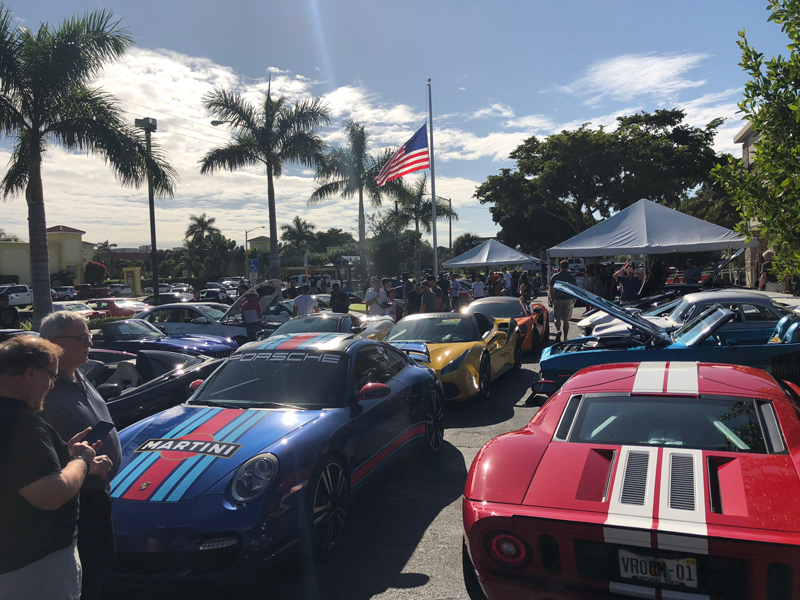 Charity – Toy Drive & Boys and Girls Club Donation
Our charitable efforts were very fruitful, with the Boys and Girls Club of Broward County being the benefit.
Apart from raising money for the Boys and Girls Club of Broward County, we also had a toy drive, which as you can see below was also a huge success. We need a moving truck to distribute these toys!
The fact that we have created an incredible event that sees some of the most exquisite cars on the planet and combined it with a charity that touches home means so much to us. It's something that we look forward to each month and we are excited to be able to continually spread the love moving forward. Diamonds and Donuts is one of our greatest achievements at Diamonds by Raymond Lee and we couldn't be prouder or more thankful for the success. We can only hope it continues to grow.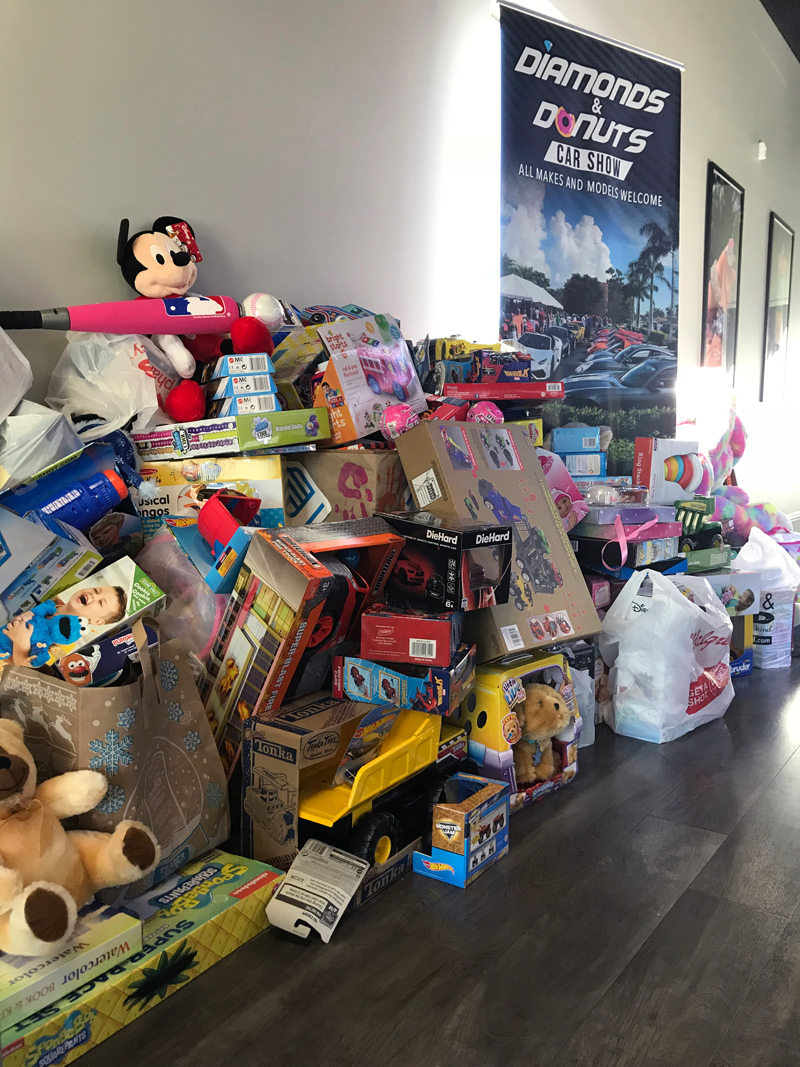 An enormous pile of toys we have received from all of our car show attendees.
It's time to rev up our engines and take a victory lap. Here are the featured vehicles and highlights from Diamonds and Donuts December 2018 South Florida Car Show!
2019 Chevy Corvette ZR1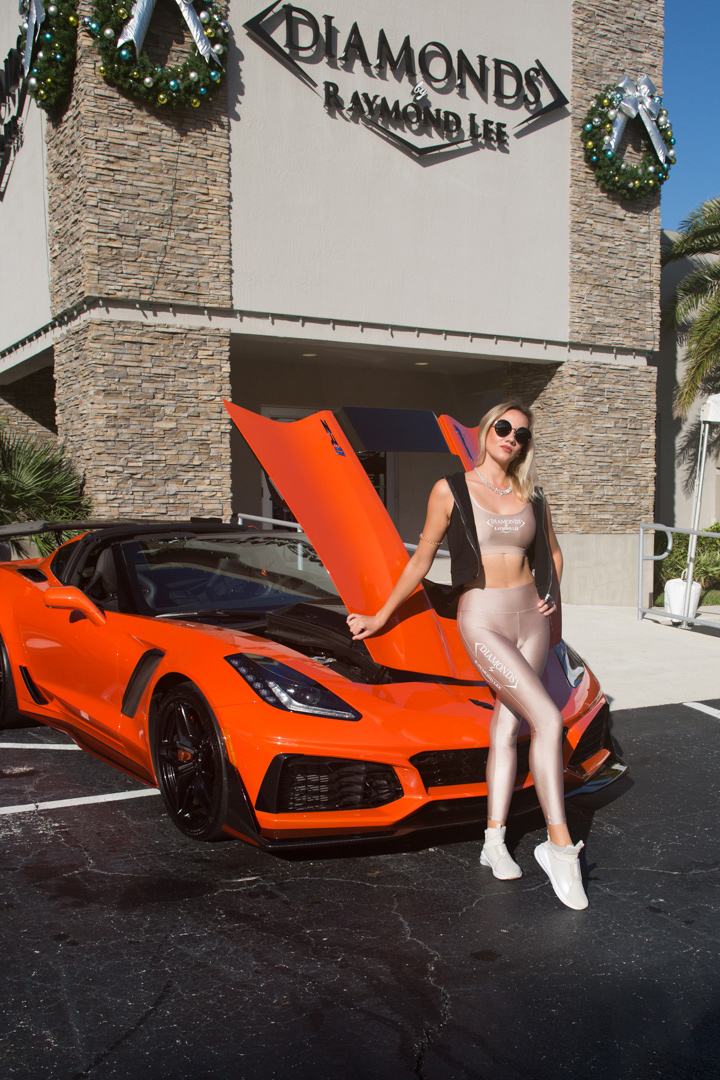 2019 Corvette ZR1 owned by @jnpaolini

The 2019 ZR1 has a starting price of $120,000. It is available in 755hp at 715 torque and hits a top speed of 212mph with an incredibly impressive 0-60 acceleration of 2.85 seconds. It's no wonder the ZR1 won Road & Track Performance Car of the Year.
Corvette states that "ZR1 has returned to the throne to push the Corvette legacy to its highest point ever. It's a supercar that's at once luxurious and overwhelmingly capable, delivering the icon's fastest, most powerful, most advanced performance in a production Corvette to date. Drivers, hail the new King."
"King" is a strong word, nonetheless, we can easily agree with boasting it as the "King of America-cars".
1970 Plymouth Barracuda Convertible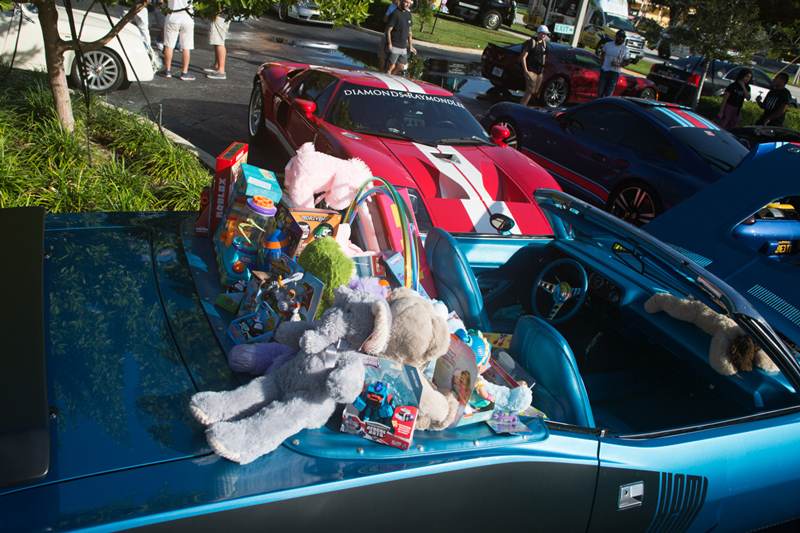 Believe it or not, the Barracuda doesn't come stocked full of Holiday Presents
We are proud to feature this gorgeous, Hemi-powered 1970 Plymouth Barracuda convertible. Not only is this car a badass, but it is also one of the most sought after and rare badasses in the Mopar culture. In fact, this is just how rare it is…
In 1970, fewer than 670 Hemi 'Cudas were built, and of those, only 14 were convertibles. So this car is just one of fourteen ever made.
Features only seen in the 1970 'Cuda are as follows: single Carter AVS four-barrel version rated at 375hp and 480 lbs-ft of torque, hydraulic lifters, 2.08/1.74-inch intake/exhaust valves, high-performance valve springs, pistons and connecting-rod bearings…just to name a few.
Let's just say it was an honor to have this 'Cuda at the show, full of toys for disadvantaged kids in the area…such a powerfully kind Barracuda.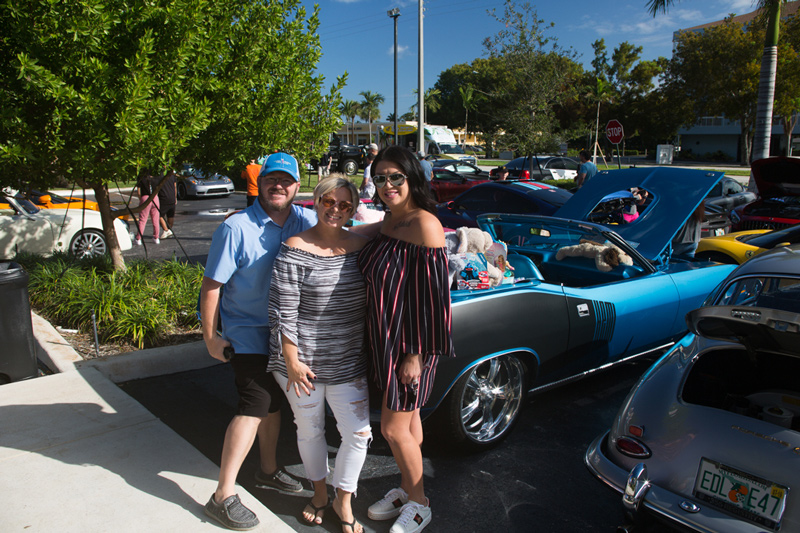 Pictured from left to right is @winfarnsworth, @juliaalbelli and @sarachristine____
Besides the three of these lovely people always being a strong supporter of Diamonds and Donuts and always bringing out 3 of their favorite cars – a 1970 convertible Plymouth Barracuda, a convertible Lamborghini Gallardo Spyder and Lamborghini Aventador Roadster (the latter of the two featured just below) – they also stuffed the back seats of the 1970 Barracuda with $1500 in toys!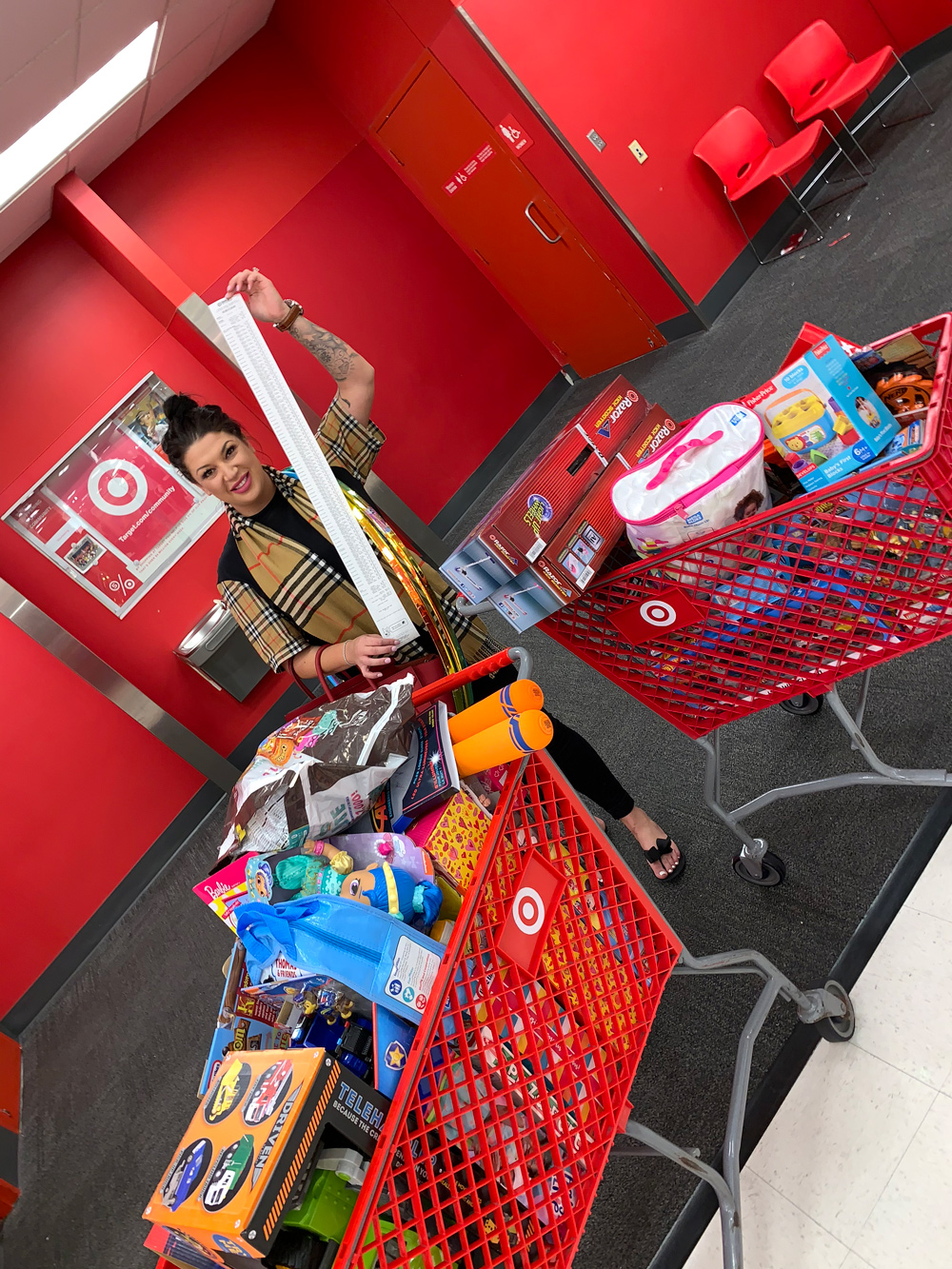 @sarachristine____ holding the $1500 receipt
Lamborghini Gallardo Spyder Convertible (middle in pic below)
The soft top Lambo Gallardo is one of the most iconic vehicles in the world. The production for Lamborghini Gallardo ran from 2003 to 2013, at which time Lambo introduced the Huracán. In the ten years of production, there were around 14,000 Gallardos built, which goes to show the massive demand this car had (considering the hefty price tag it wears). People want a car that lives up to the hype. And, that's what those who could afford it got.
If you like your supercars open-topped, then you will absolutely love this V10 engine Gallardo Spyder in perfectly crispy all-white.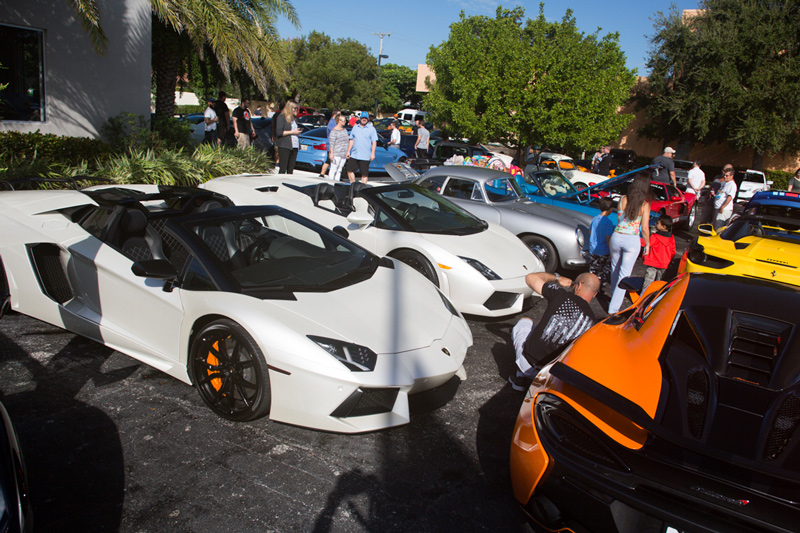 Lamborghini Aventador Roadster (seen above left)
Potentially one of the most illustrious cars in the history of Lamborghini exists the Aventador Roadster. A whopping 729bhp, cocked and ready, allows for a jaw-dropping, droll-pulling, 217mph speed…and that's with or without the top in place.
If you think it gets better than that, we'd love to hear your thoughts in the comments below. Either way, this is easily one of our favorite Lamborghinis ever made. The lofty $460,000 base price verifies our rightful love to it quite convincingly.
Dodge Viper ACR (Snakeskin Green)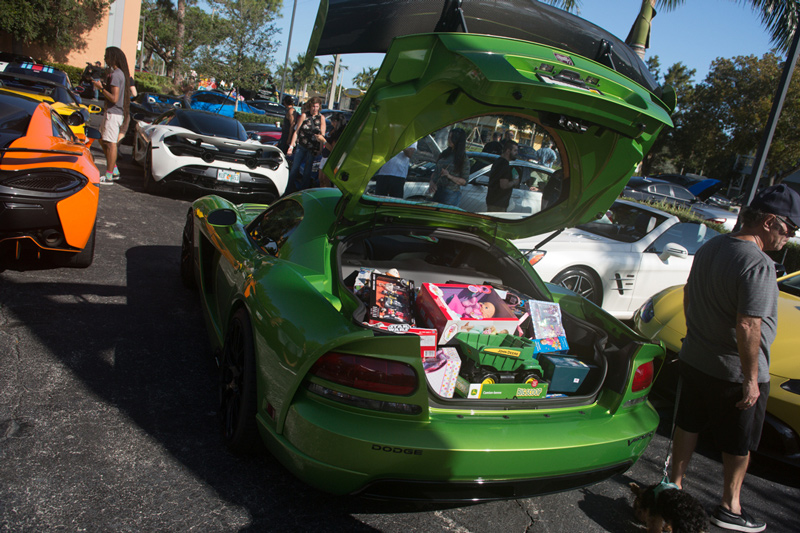 One of many other vehicles that showed up with their trunks stuffed full of toys!
Tim Kuniskis, President and Chief Executive Officer of DodgeBrand and SRT Brand asserts that "The Viper has always been more of a street-legal race car than a track-capable streetcar, and the new 2016 Dodge Viper ACR is the fastest street-legal Viper track car ever,"
The base price of the 2016 ACR was US$121,000. It came equipped with an aerodynamic body kit created from carbon fiber, which included a fixed carbon fiber rear wing and a new front splitter. When combined, this produces 1,500 lb of downforce around corners. This is the reason for it being the fastest street-legal Viper ever. It's all about the downforce. Although the improved downforce reduces straight-line speed due to drag, they've tested this on the track and it whips up the VIPER TA.
Aston Martin DB9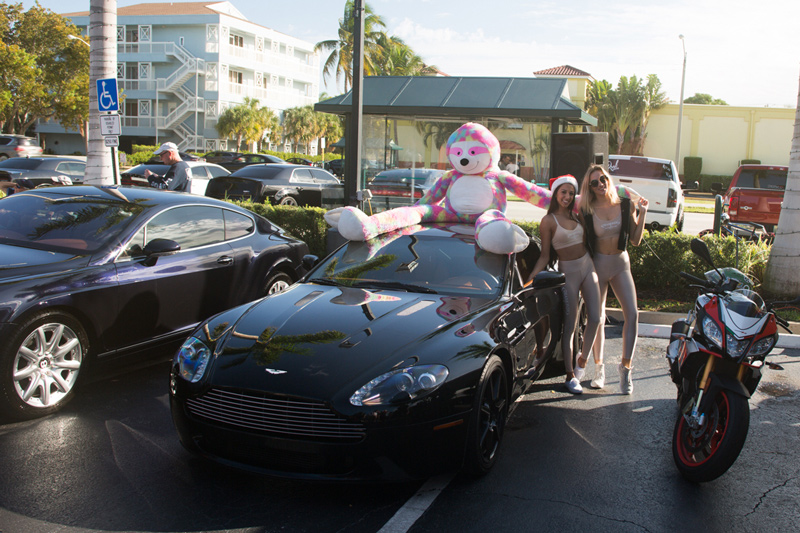 Aston Martin DB9 arrived with the hugest stuffed animal sloth ever!
The DB9 was designed by Marek Reichman and Henrik Fisker, both well known for designing luxury vehicles and is comprised mainly of aluminum. The car is innovation at its finest. The interior is made with fine leather and walnut wood, making it super luxurious inside and out.
The DB9 has a 5.9-liter V12 engine that reaches a top speed of 183 mph and a 0 to 60  sprint of 4.5 seconds. It's not the fastest car in the Diamonds and Donuts lineup, but it is one of the best ride and driving experiences as a whole. Most people state that it is one of the smoothest and most pleasurable riding experiences around…that explains why it costs the better part of half a million dollars.
McLaren 720s. This thing shoots flames!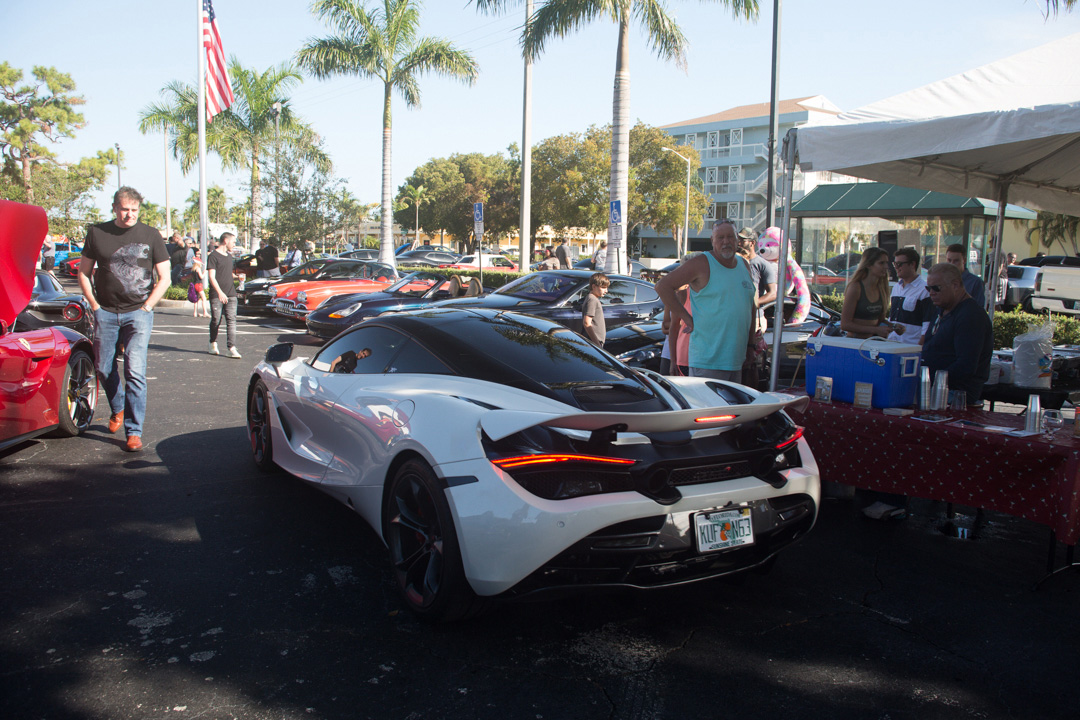 Owner @nickalbs
A McLaren that spits flames? Oh, YA! Have you ever seen anything like this? Neither have we, not until this past Diamonds and Donuts Boca car show at least. This McLaren 720S came in shooting flames, making the party hot, both literally and figuratively.
The flames are extremely fitting, considering this bad boy has a 710hp, 4.0L V8 engine that blasts from 0-60 seconds in just 2.7 seconds. Case closed, this thing is pure fire.
Flaming shooting provided by Excell Autosport right here in our hometown, Boca Raton, FL.
gif of the McLaren shooting flames
Holman Automotive Group brought out TWO Aston Martin Vantage's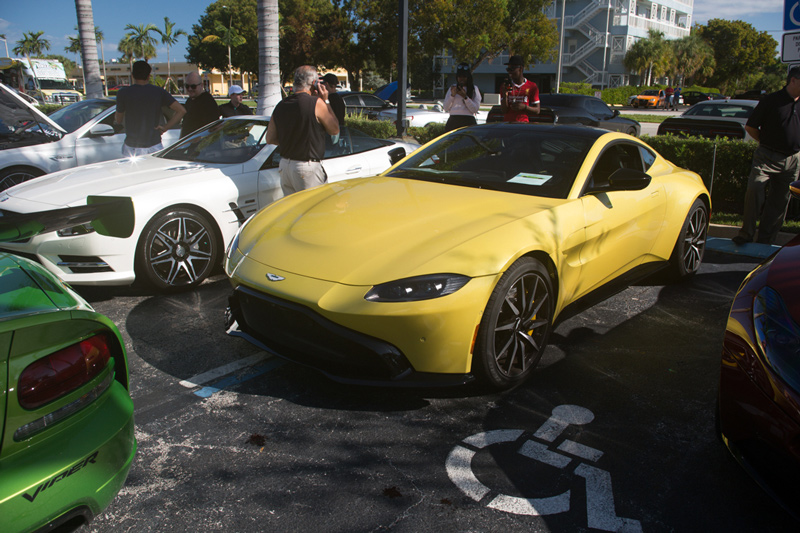 We loved this line so much from Aston Martin themselves that we had to quote it here, it truly explains it all:
"Vantage is raw and instinctive, unwavering in its singular purpose: to overwhelm the senses through its world-renowned design, agile performance, and dedicated craftsmanship. Its heart beats with a high powered 4.0 liter twin-turbocharged V8, producing that visceral Aston Martin roar. A rare breed and a statement of independence on the road, Vantage embodies all that is beautiful in our performance sports car range."
The Aston Martin Vantage has a base price of $150,000+, a top speed of 195mph, and it goes 0-60 in 3.4seconds. Interiorly, it's even more impressive and in a class of its own.
It's hard not to be envious of anyone who claims the Vintage as their "everyday" car. What an everyday car this would be.
Lamborghini Urus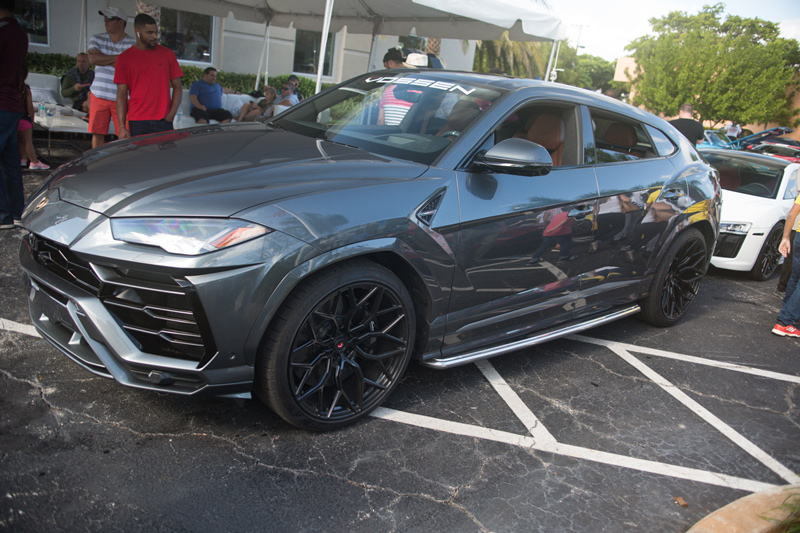 @lambo_laparl pulled up with his Lamborghini Urus on @vossenwheels
The Lamborghini Urus is like a combination of the finest sports car with the greatest SUV. It has the heart of a sports car with the body of an SUV. In fact, it's so unique that it's been labeled as the world's first "Super Sports Utility Vehicle". Innovation is nothing new in the Lambo brand. It's unique with its immense proportions, and it's clearly Lamborghini with its design, but most importantly, its unquestionably capable with its performance.
The Urus takes a V8 bi-turbo engine with a max power output of 650hp and an 8-gear automatic transmission, then pairs it with a 4-wheel drive setup and active tongue vectoring, therefore enabling it to be the best weight-to-power proportion in the SUV market. It reaches a top speed of 190mph. Can you name another SUV that can do that? I mean, this thing is almost as fast as a Huracan Performante! That should manage to put some things into perspective.
The Lambo Urus has a base price tag of $200,000, but this one wears a heavier tag than that. One of its upgrades are the custom Vossen Hybrid Forged HF-2 wheels which are undeniably off the charts.
McLaren 570S and Ferrari 488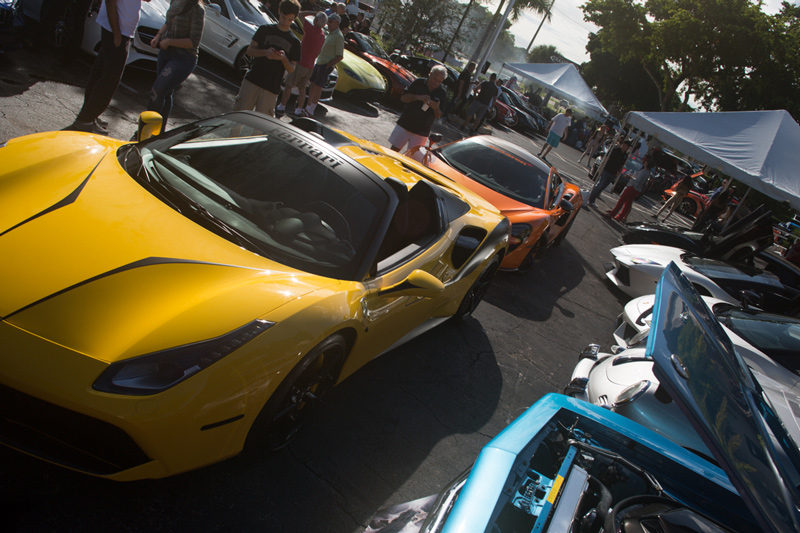 @caroline.gypsysoul's McLaren 570s and her husband's Ferrari 488. They always attend all of our shows and pull up together.
The Ferrari 488 has a starting price of just over a quarter million bucks, and rightfully so. It has a mid-mounted twin-turbo 3.9L V8 engine that has a ferocious acceleration up to 8,000rpm, making an impressive 661hp. The estimated 0-60 sprint is 3.0 seconds is in part due to the smooth seven-speed dual-clutch automatic transmission. Many people claim that the 488 is the single greatest modern automobile available in the world. It's hard to disagree.
The orange McLaren 570S has a retractable roof that can be lowered at speeds up to 25mph, a top speed of 204mph, and it goes 0-62 in 3.2 seconds. This is all made possible due to its 3.8 liter, twin-turbo V8 engine which generates 562bhp, or 570PS, thus its name the 570S.
The McLaren 570S's V8 runs via a seven-speed, "seamless shift" dual clutch auto gearbox, and has a power-to-weight ratio of 375bhp per ton. This allows this deliciously orange exotic supercar to whip from 0-124mph in a matter of 10 seconds. At just over $200,000, this is one of the more "attainable" McLarens on the market.
Lamborghini Aventador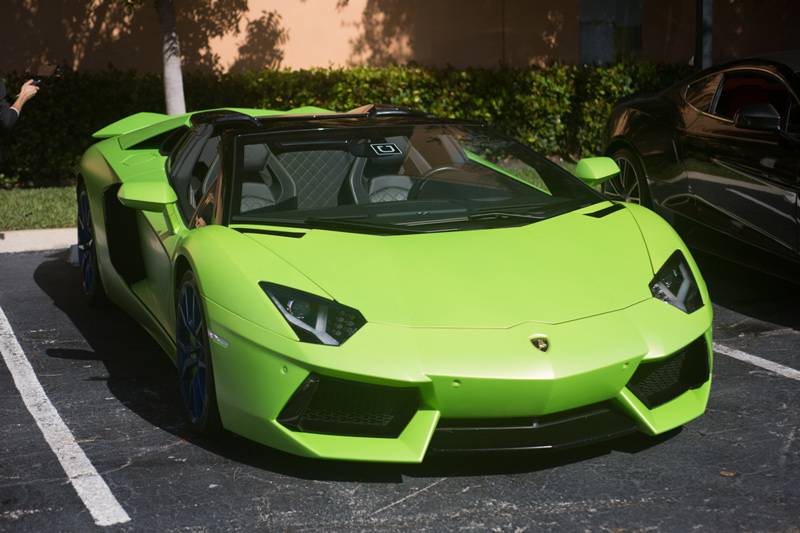 We have two Aventadors to feature today. Both equally beautiful and equally powerful, yet both unique in their own right.
The Lambo Aventador has a V12 engine, producing 690 bhp, and hits 0-60mph in 2.9 seconds. The price for an Aventador (without impressive upgrades and custom wraps, of course) is US$393,695.
It's shocking to imagine one of the most powerful supercars in the history of supercars being here by the double (in fact, it's a triple Aventador kind of day since the Roadster made its presence as well), but that's just how Diamonds and Donuts Boca Raton rolls.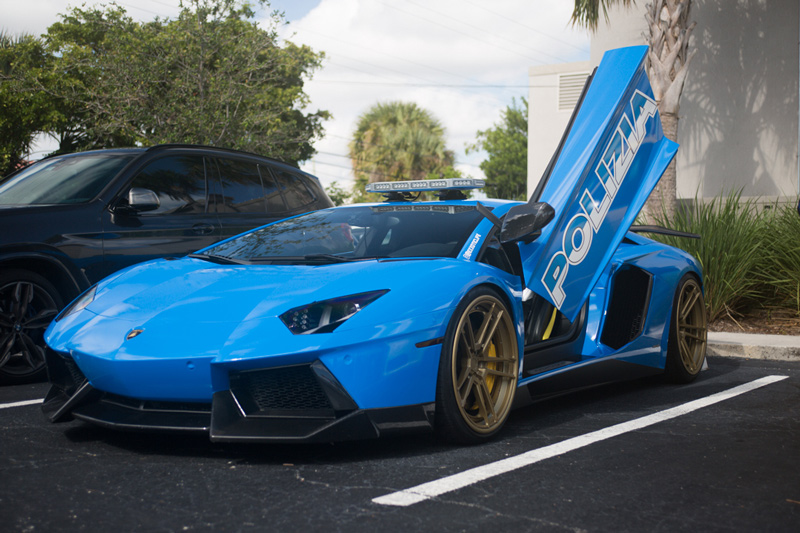 @exxoticlife pulled up with his Lamborghini Aventador that was dressed up as an Italian police car. Work was all done by @superiorautodesign
Porsche Panamera E-Hybrid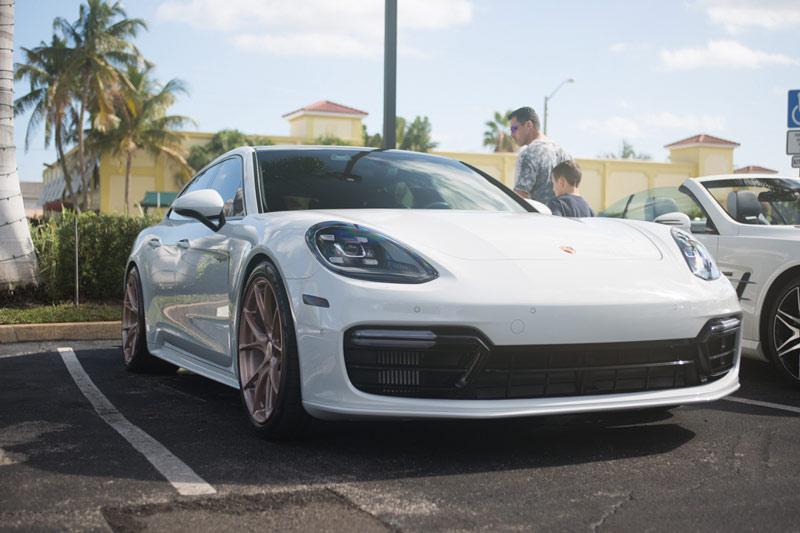 "The new Panamera. Courage changes everything. A vision is only ever as courageous as those who make it a reality." – Porsche
The Panamera is a reality for those who are willing to spend $100,000+ on it. It was also a reality for all of the Diamonds and Donuts attendees to behold.
This puppy draws more than 1.00g in all four directions. It has to be the quickest four-door in the game and is sure to slam the driver and all three passengers' heads into the backrest at the drop of a hat.
Champion Motorsport @championmotorsport is the boss who showed up with the Porsche Panamera E-Hybrid. They have it lowered on Champion Motorsport Forged RS74's. The wheels are designed by none other than Champion Motorsport too, and manufactured by Vossen.
We love Porsche and this one is one of the most marvelous ones we've seen in a long time.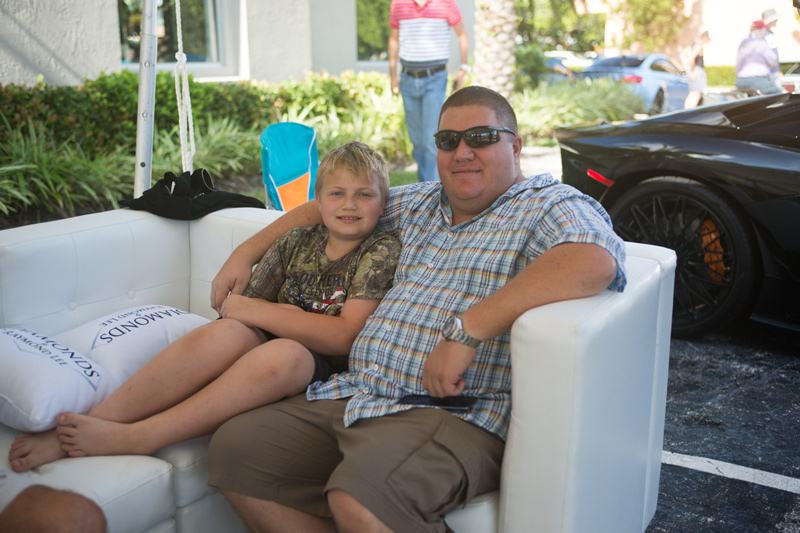 We also did something a little different this show and set up a tent and sectional leather couches for people to sit and enjoy the beautiful weather and cars that pulled up.
If you didn't see your car here in this post, just let us know at the next Diamonds and Donuts Boca Raton Car Show and we will be sure to take notes on your car so we can put up a nice feature.
Appreciation & Accolades to Diamonds and Donuts Boca Raton, South Florida Car Show Sponsors
We want to show our appreciation and accolades for all those who joined us at Diamonds By Raymond Lee on December 16, 2018, for our Diamonds and Donuts Boca Raton car show.
We are endlessly thankful for our community and all the organizations within that work with us, a lot of who do so on a monthly basis, to put on our fantastic South Florida car show, right here in Boca Raton, Palm Beach County, Florida.
Without all of you, this event wouldn't be possible. We are honored to spend time with you all each month and to be able to marvel at all of the incredible cars. It was an amazing year and we can't wait to continue on with this monthly Palm Beach car show tradition in 2019!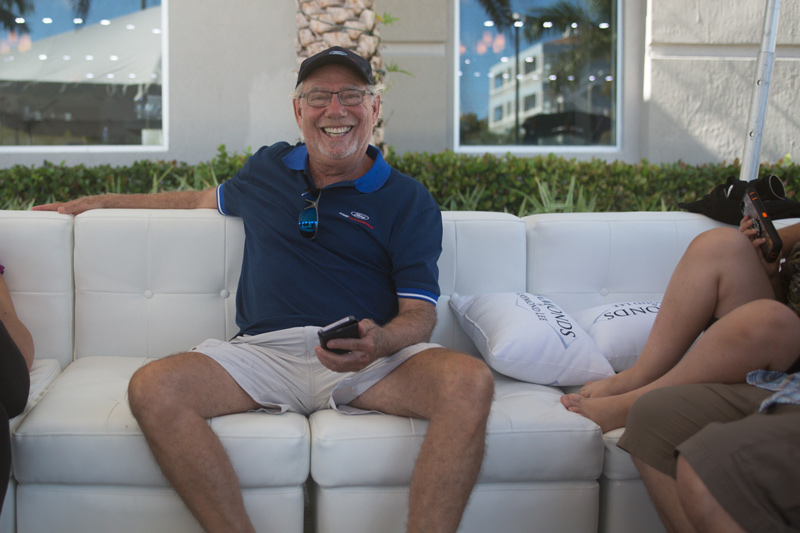 How to Join Our Next Diamonds and Donuts Boca Car Show
Diamonds and Donuts Car Show is completely free for spectators AND for anyone who wants to display their vehicle. Furthermore, we accept any make and model to join us at our car show. It's not all about exotics and classics.
If you just want to attend, without displaying a vehicle on our lot, then you can show up whenever you like during the event.
For those who want to have a spot on our lot for your car(s), we ask that you contact us in advance so we can secure your space.
Also, we would love local businesses to get involved, so please do reach out if you think that you have something to offer that would be a nice match for our car show.
RSVP for next Diamonds & Donuts car show here.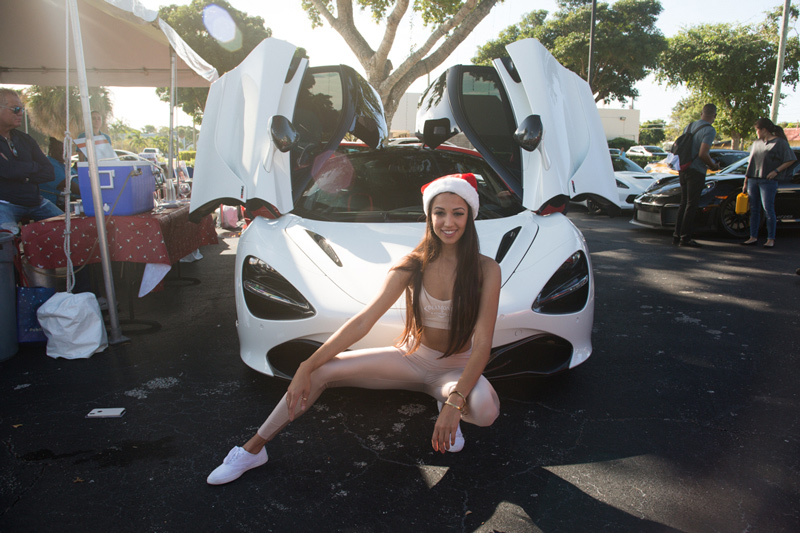 Next Diamonds and Donuts Car Show
The next Diamonds and Donuts Boca Raton car show is on Sunday, January 27th, 2019.
Come to Diamonds by Raymond Lee on January 27th, 2019 from 9am to 2pm for the next Diamonds & Donuts Boca Raton exotic car show. Enjoy breakfast, Charity BBQ, a jewelry giveaway, a live DJ, and all the amazing cars.
The BBQ runs from 11am to 2pm and all of the proceeds will be going to the charity we are benefitting – The BOCA RATON POLICE FOUNDATION!
Again, if you plan on joining, please RSVP here.