Men's rose gold watches are trending like never before. They have easily out done their yellow gold counterparts when it comes to the men's accessory of the moment. It is a fashion symbol of gentlemen who keep with the times and are not afraid to add a splash of modern color. There are even watches with unique colorful and patterned bands. For all of the popularity of rose gold when it comes to fashion we do not all know the formula. It is interesting to see how the rose gold ratio is defined. As we will see below there are a few different shades of rose gold. This is due to the ratio in the mixture of the fine metals. It also dictates the gold's strength and resistance. Since yellow gold is a soft metal when it comes to watches the alloy mix makes them extra durable and scratch resistant.
We are featuring three very popular men's rose gold watches. First the Audemars Piguet Rose Gold rubber clad with aftermarket diamonds. This exquisite piece has a unique case set with diamonds into 18 carat rose gold. Next, the Rolex Daytona watch also in rose gold. It has an incredible black dial. Further, it contrasts incredibly with the monochrome rose gold case and bracelet. Finally, the Audemars Piguet Royal Oak Offshore "the brick" model in rose gold. This featured watch is a marvellous piece. It has a skeleton back and the unique Audemars Piguet heavy weight brick bracelet. All three of these are very popular. They are the luxury fine watches currently trending with the rose gold men's watch style. Each with their own unique qualities they are all individually gorgeous. However, rose gold is still their calling card. We go deeper into this trend as well as each model below.
The Top 3 Men's Rose Gold Watches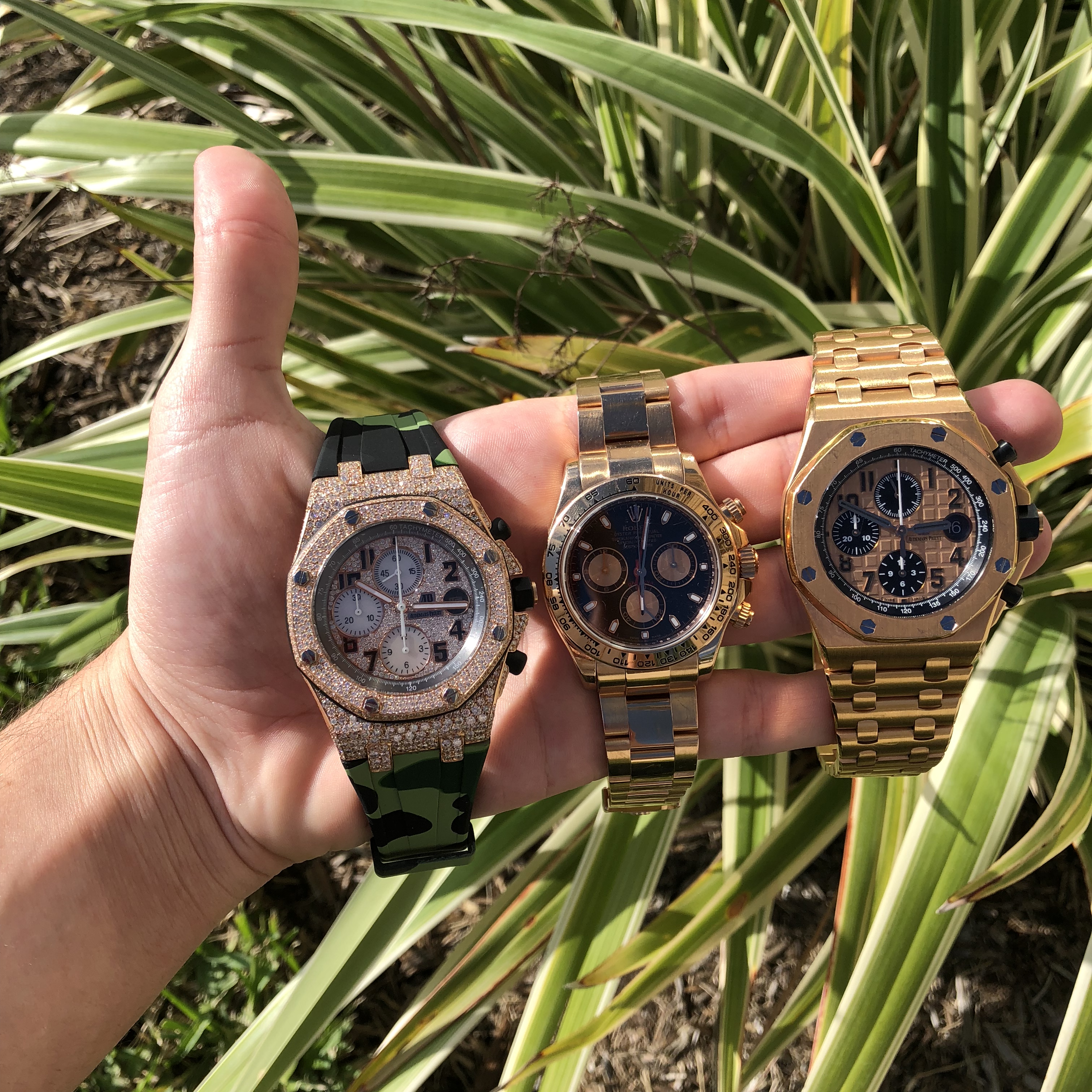 We have looked and searched the rose gold luxury watches for men on the market. The decision is final, for now. The top three rose gold luxury watches for men currently are two types of Audemars Piguet, the Royal Oak Offshore and "the brick" model, and the Rolex Daytona watch. All three of these are refined men's watches with an additional twist. Together they display the different tones and special features available when it comes to rose gold. Exquisite watches in their own right it is a color of precious metal that offers so much. When it comes to accent diamonds, interchangeable or unique straps rose gold is the perfect partner. Further, the alloy specific to these watches is one that offers both strength and beauty. Of course we would not expect any less from the likes of Audemars Piguet and Rolex. Some of the world industry's finest watch makers.
Now when it comes to the gorgeous rose gold color there is not just one recipe. Since rose gold is not naturally occurring but rather an alloy of different metals with copper. The copper is what gives this gold its unique tint and rose coloration. Since its a mixed alloy with copper and other metals like palladium it can be made to be much more resistant to scratching. Also it offers much more room when it comes to formulating a unique shade or color. Depending on the mix. There is a sliding scale so to say when it comes to rose gold. From the reddish rose golds to the almost pink rose golds. Master jewelers and the best in the field of Horlogerie have played with and defined some of the finest iterations of rose gold there are to be had. Of course these are part of our top three.
Audemars Piguet and Rolex Rose Gold Luxury Watches:
For our top three luxury rose gold watches we could not help but include not one but two Audemars Piguet watches. Also of course the crown king of luxury time pieces Rolex was not left behind. Audemars Piguet and Rolex feature their own unique versions of rose gold men's watches. All three in slightly differing tones of rose gold due to their singular alloy mixtures. Each one is geared for a specific style. From the highly personalized and iced out Royal Oak Offshore diamond studded watch to the unique range "the Brick" style Audemars Piguet. And of course the Rolex Daytona watch. All of these have different color and texture dials which makes a big difference when it comes to the tone and style of the watch. While some are monochromatic with a splashy dial others are a uniform look with unique featurettes.
Overall these are incredible picks for men's rose gold watches and some of the most popular ones as well. There are plenty more rose gold watches coming out as this trend takes over the luxury watch industry. But for now here is some more info on our favorite top three men's rose gold watches.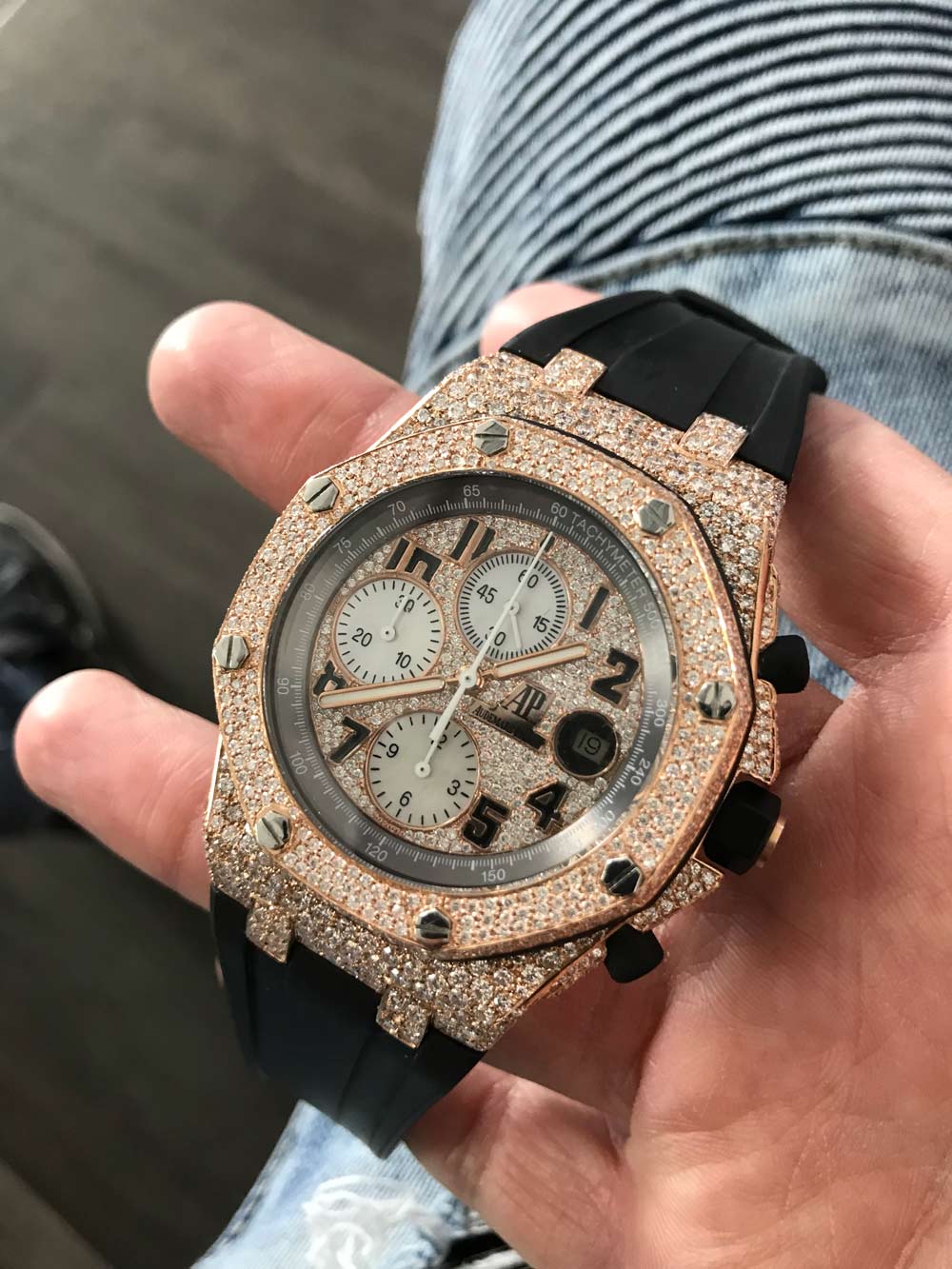 First in our top three rose gold luxury watches for men is an iced out Audemars Piguet 26178 Royal Oak Offshore in 18 carat rose gold. The tone of this rose gold watch is not too pink or light but rather a charming hint of rose mixed in. The three white subdials compare nicely against the rose and diamond studded dial. In a uniform color and texture the three row pave fixed diamond bezel boasts the eight accent screws that make the Royal Oak Offshore instantly recognizable. Further this sportive and highly masculine design get an edge with the rose tint and diamonds. While it is still a trend setting sport watch the rose gold gives it a flare for anywhere. Regardless of whether that is on a track, diving or out on the town this watch is a companion anywhere and everywhere. The personalization for this watch is unique.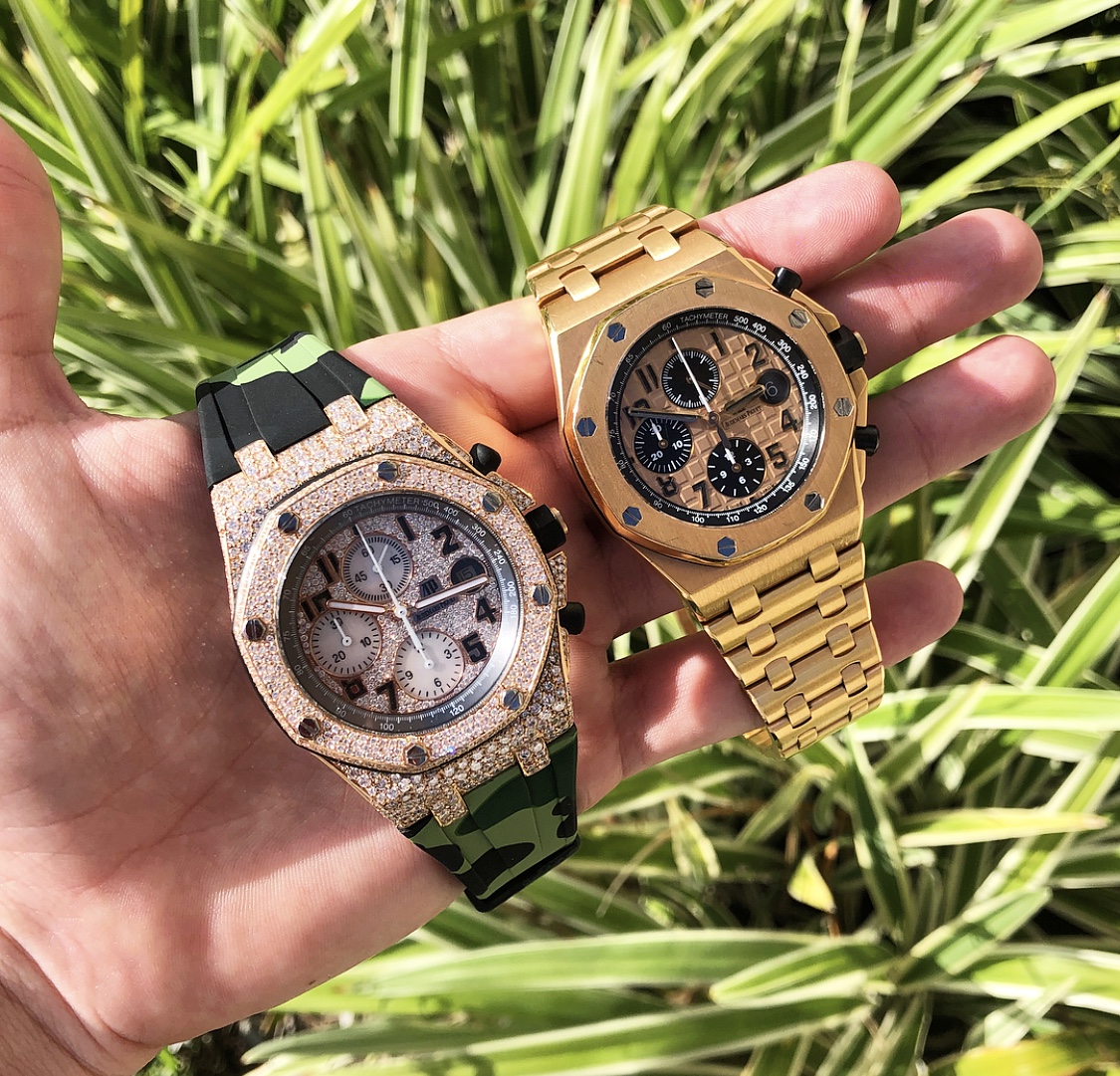 As you can see above the accent diamonds on this Audemars Piguet give it an additional shine. Not just from the glimmer of the round brilliant white diamonds. Also, because of the light reflection from the rose gold. More than from yellow or white gold settings the rose gold enhances the glittering shine. Further, this rubber strap is different from the original black band. It is a Horus aftermarket luxury watch strap in green camouflage pattern. This is a modern and trendy twist on a watch of the moment. While the rose gold and all diamond bezel, dial and case are unique in and of themselves the strap is just a touch more. Unlike the black rubber strap this one stands out more and can be swapped for several other colors and pattern styles. For more on these innovative straps read on here. There's no limit to how you accessorize.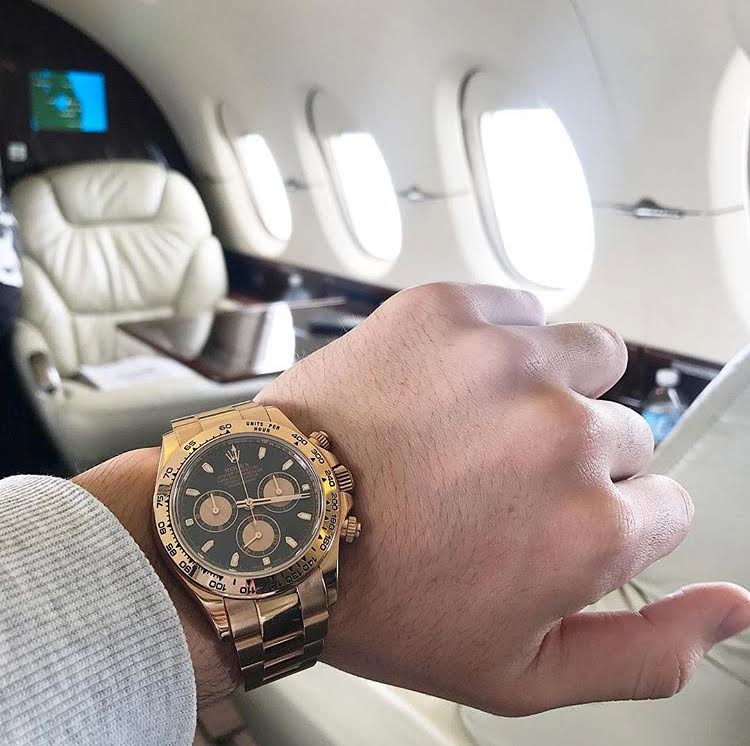 Second is the Rolex, king of luxury watches. This Rolex is a uniquely crafted 18 carat rose gold Daytona watch with a unique tachymeter bezel. It has a unique black dial because after all rose gold and black is a combo no one can find fault with. Also, the watch features a matching 18 carat rose gold Oyster steel bracelet. The rose tint bracelet give this watch a uniform monochromatic look much like the Audemars Piguet below. This original Rolex has a fixed rose gold bezel with the tachymeter engraves into the bezel. Further, the black dial features luminous hands and hour markers in a rectangular arrow shape. The three sub dials are engine turned for 12 hour and 30 minute registers, and constant seconds. Also the case is a comfortable 40 mm closed off with a Rolex classic fold over clasp. Furthermore, it also features patented Rolex automatic movements.
Unlike the Audemars Piguet above this one has a jewelry like bracelet. The Oyster bracelet in rose gold has the traditional triple links. These offer improved mobility and comfort with even the ability to extend and resize the watch. Also the tint of rose gold on this one is a unique tone. It is not similar to the Audemars Piguet shades because it has more of a light shade as compared to the coppery AP style. This lighter shade is a Rolex unique mixture in the alloy. Further it is much more striking with the black dial than if it were darker. This means there is additional contrast and a better visibility when it comes to the readings. The motor sport look of this watch is well served with the rose gold. It enhances the lighting fast spirit and is a unique tone not found in other popular luxury brands.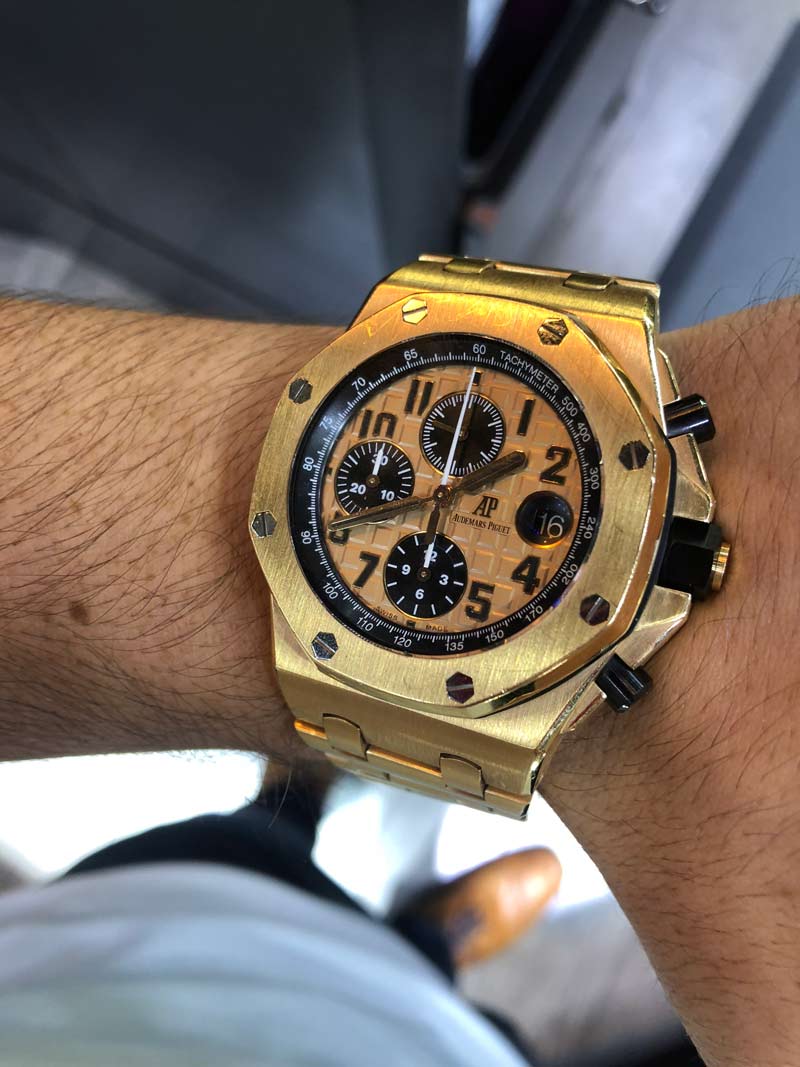 Finally, the watch quite unlike any other. The Audemars Piguet Royal Oak Offshore "The Brick". It is a watch model 26470OR.OO.1000OR.01. This heavy weight rose gold watch is still thin as can be staying in line with the Audemars Piguet brand lines. They pack a punch when it comes to powerful precision and incredible patented movements and machinations. We will see more of this when it comes to this piece's amazing skeleton back. This all gold watch has a monochromatic look. From the classic 1972 original Royal Oak Offshore hand polished rose gold bracelet to the fresh champagne tapisserie dial. This watch has textures and fine combinations that are absolutely mind boggling. The dial itself has a superb contrast between the rose gold and the white, black and gold accents. In the three sub dials and tachymeter scale surrounding the dial. Further, the bracelet, lugs and watch.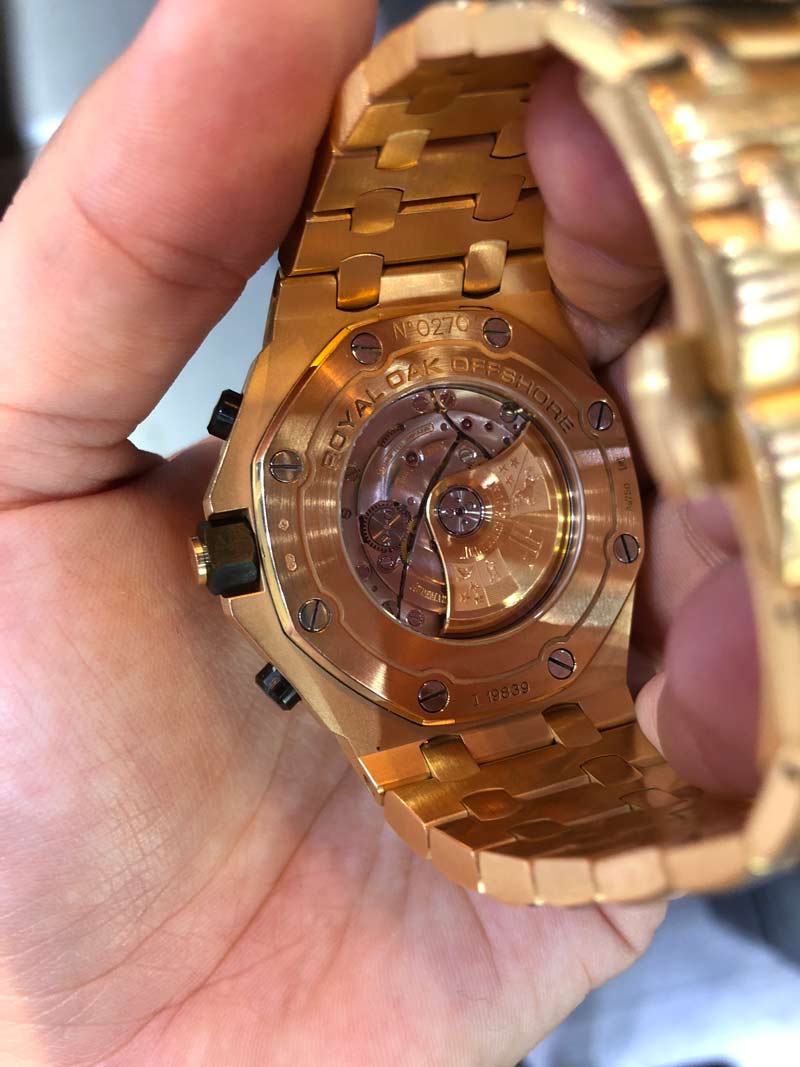 The bracelet is closely unified with the lug. This seamless look and feel allow for mobility and comfort. Unlike the usual rubber or leather straps this all rose gold bracelet makes for a unique jewelry style watch look. While the all gold bracelet is a fine piece of jewelry it is also heavy. Coming at around 350 grams it is a heavy watch even though the rose gold bracelet is thinner. When compared to the rubber strap that is almost 150 grams more of weight to carry. The cushion shaped case has the traditional Royal Oak Offshore eight accent screws. Although, this "the brick" model has an amazing skeleton back. It allows you to see all of the movements including the 22 carat fiery gold winding ruler inside. Further, this gorgeous touch gives you purview into the patented Audemars Piguet master craftsmanship, one of the world's very best watch makers.
Where to buy men's rose gold luxury watches? Diamonds by Raymond Lee in Boca Raton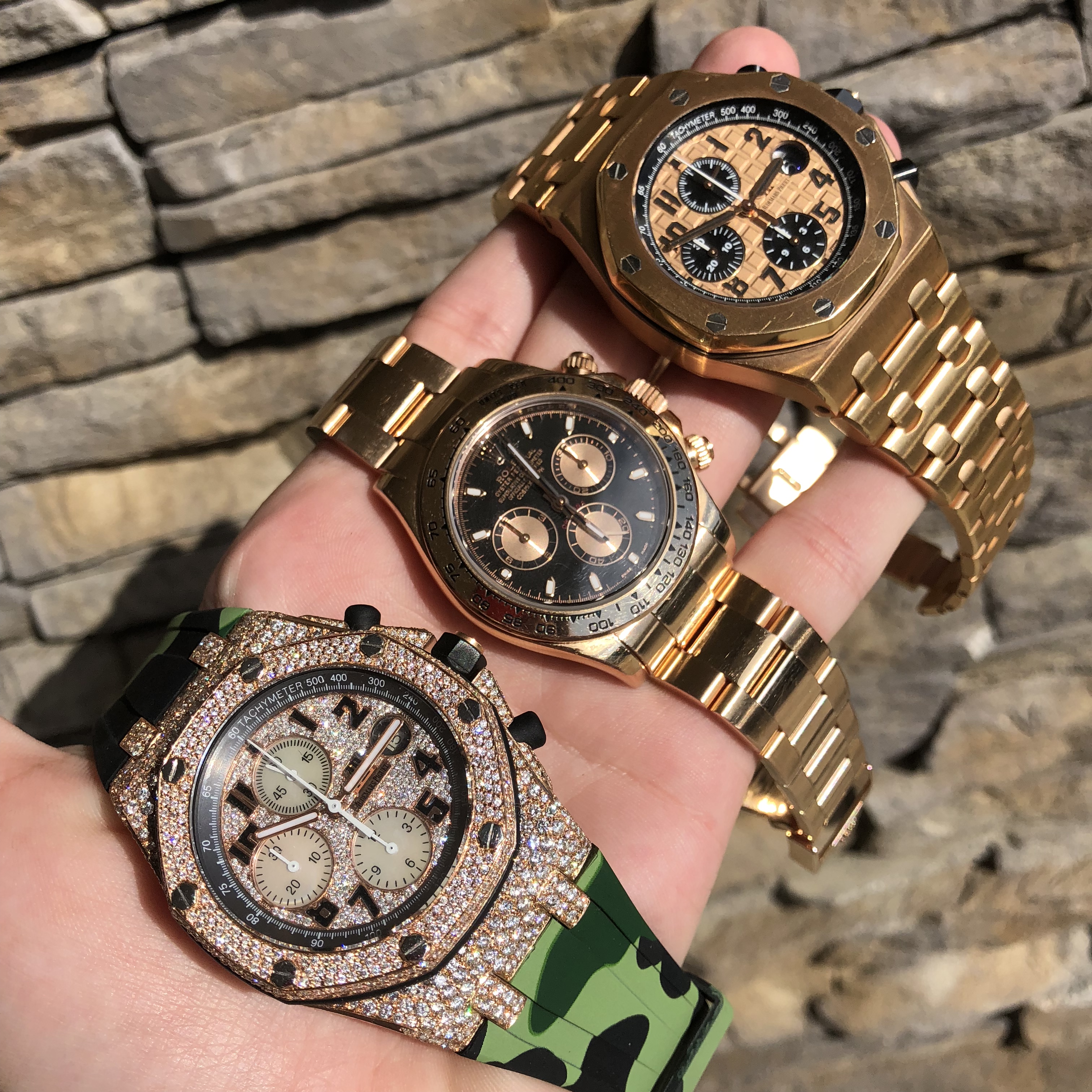 Are you interested in buying one of the watches above? We are Diamonds by Raymond Lee are here ready to welcome you into our Boca Raton store. At our finely designed location, we look forward to sharing with you some of the finest watches in our curated collection. From the classics to the modern rose gold and accent diamond watches we carry all of the finest luxury brands. Including the Rolex and Audemars Piguet time pieces you see here. We are committed to sourcing the finest luxury watches and unique limited edition pieces around. Always with something new for the gentleman who stands out. If you are looking for a place to cater to your fine watch collection look no further. We have a wide range that is constantly growing. Further, we also offer a range of luxury jewelry and fine watch services. All in one exquisite, conveniently located place.
Whether you are looking to add to your watch. Precious jewels or gems. Our master craftsmen can do that. Along with any alterations, services or repairs that may come up throughout the years. Our family has been serving the South Florida community for the past three decades. All this time our commitment to superior service and absolute quality has led us to build a community around us. We look forward to continuing to serve all of our clients and their families for the next three decades to come as well. Further, we value our time spent alongside our clients. It is why we host monthly events. To get to know you better and enjoy some incredible times. From powerful automotives during our exotic cars events to our classic Diamonds and Donuts day or Rose All Day. We treasure inviting all of you to visit our shop and meeting everyone everytime.