If you have been looking up the best South Florida Car Shows, look no further than the Diamonds & Donuts Boca Raton Car Show. Once a month, high rollers with extravagant cars gather on the lofty parking lot of Diamonds by Raymond Lee in Boca Raton to bring together classic and luxury supercars – like Lamborghinis, Ferraris, Rolls Royces, and McLarens – with the purpose of raising funds for local charities.
Diamonds and Donuts is one of the hottest South Florida car shows. We have Supercars, Diamonds AND Donuts. And when we say donuts, we aren't talking about tires or the maneuver. We are talking fresh, delicious DONUTS. Cars and Coffee and Donuts paired with Exotics makes for an extraordinarily sweet time.
Diamonds and Donuts Boca Raton car show makes it as if shiny cars aren't enough. This South Florida car show also exhibits the shiniest diamonds South Florida has to offer. You wouldn't expect anything less considering the show is put on by none other than the Diamonds by Raymond Lee team at their gorgeous luxury jewelry retail store in Boca Raton. To top it all off, this non-profit event has been highly successful in raising money for charitable causes, such as the Boys and Girls Club, as it did this past Sunday.
Diamonds, Cars, Donuts, and Charity? And it's a monthly thing? You better believe it – Only at Diamonds By Raymond Lee in Boca Raton.
Let's take a victory lap through this past Diamonds and Donuts Car Show: Recap.
Lamborghini Huracán LP 640-4 Performante
 @jill_n_allan_jarboe brought the Lamborghini Huracán LP 640-4 Performante. The StormTrooper Lambo commands a base price of over $300,000. The Performante's 5.2-liter V10 has been tuned to produce 631 hp and can top out at over 200MPH, going 0-60 in 2.90 seconds. We're we impressed by this supercar? Nah, flabbergasted.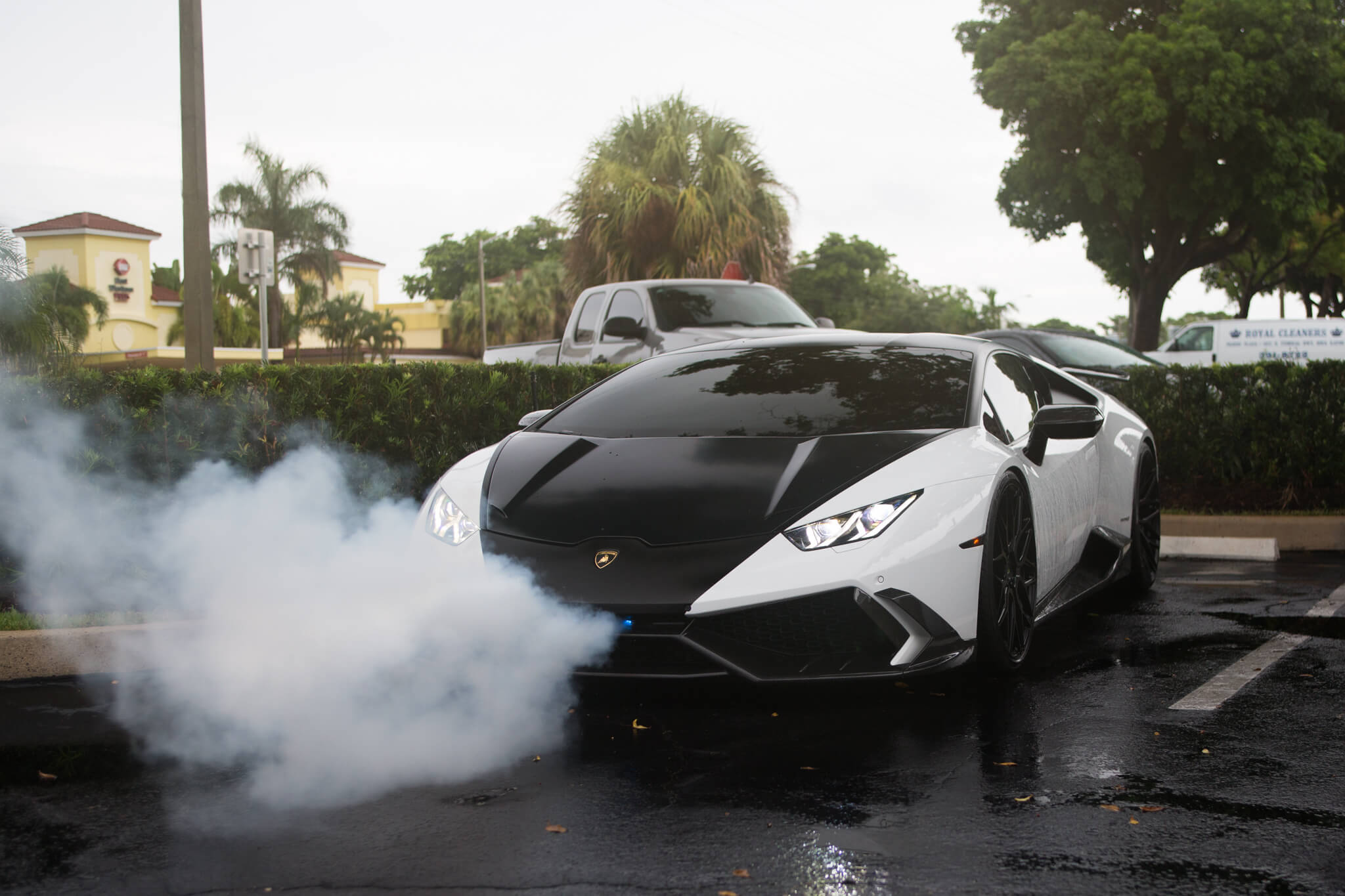 Ferrari 458 Speciale
@petfred showed up with his Ferrari 458 Speciale. The Ferrari 458 Italia Speciale has the world's most powerful naturally aspirated V8 engine, converting air and fuel at a rate fast enough to produce 598bhp at 9,000rpm. It offers 398lb ft of torque from an equally top 6,000rpm. Top speed is 210MPH and it goes 0-62 in 3 seconds. The design is impeccable. This sports car is utterly magnificent.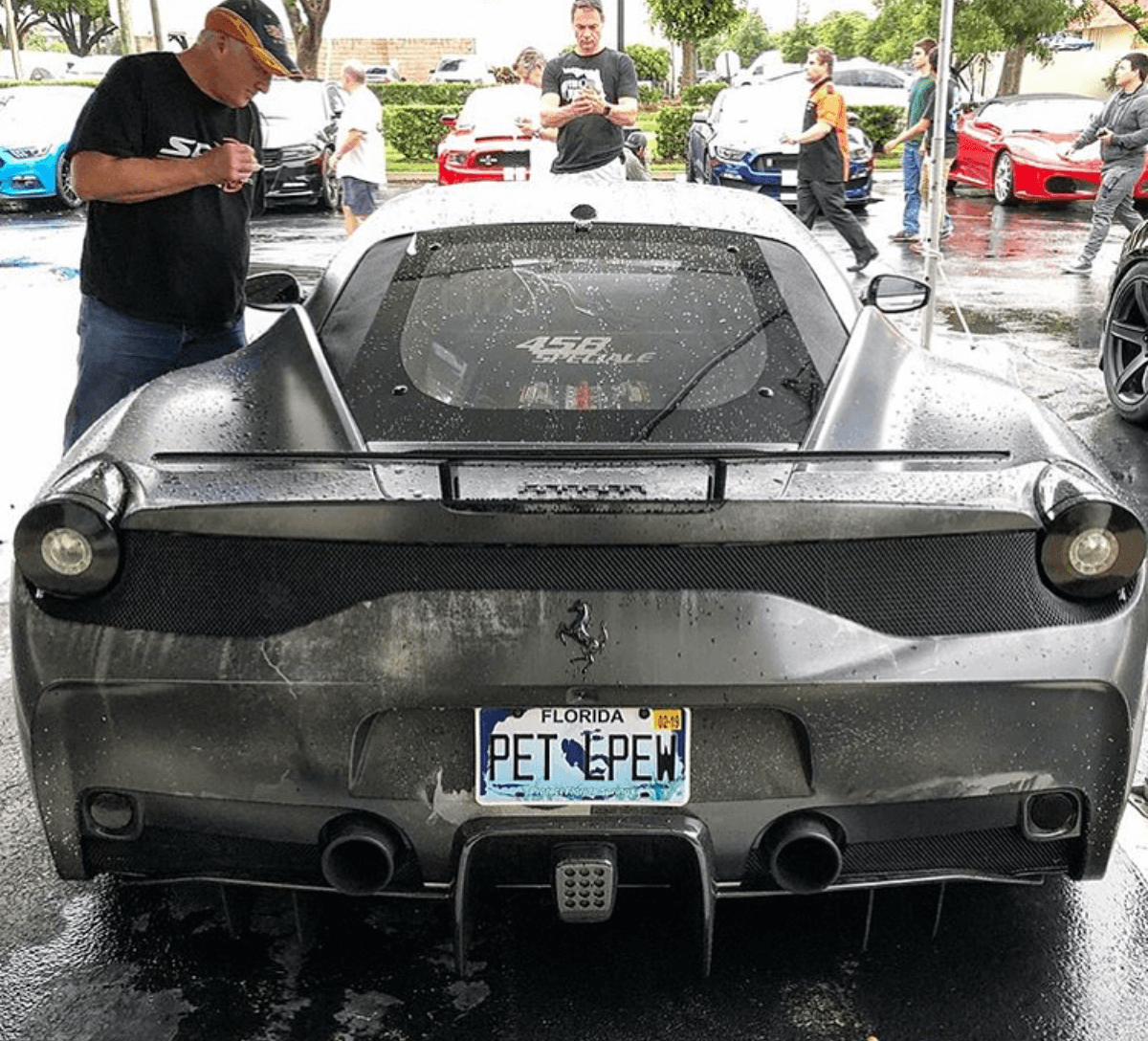 Rolls Royce Wraith
@grigio_bull showed up with a couple shades of grey. First, let's talk about his Rolls Royce Wraith which was beautifully wrapped by @wrapsociety_usa, tune and lowered by @renntech, with wheels and exhaust done by @signature.autohaus.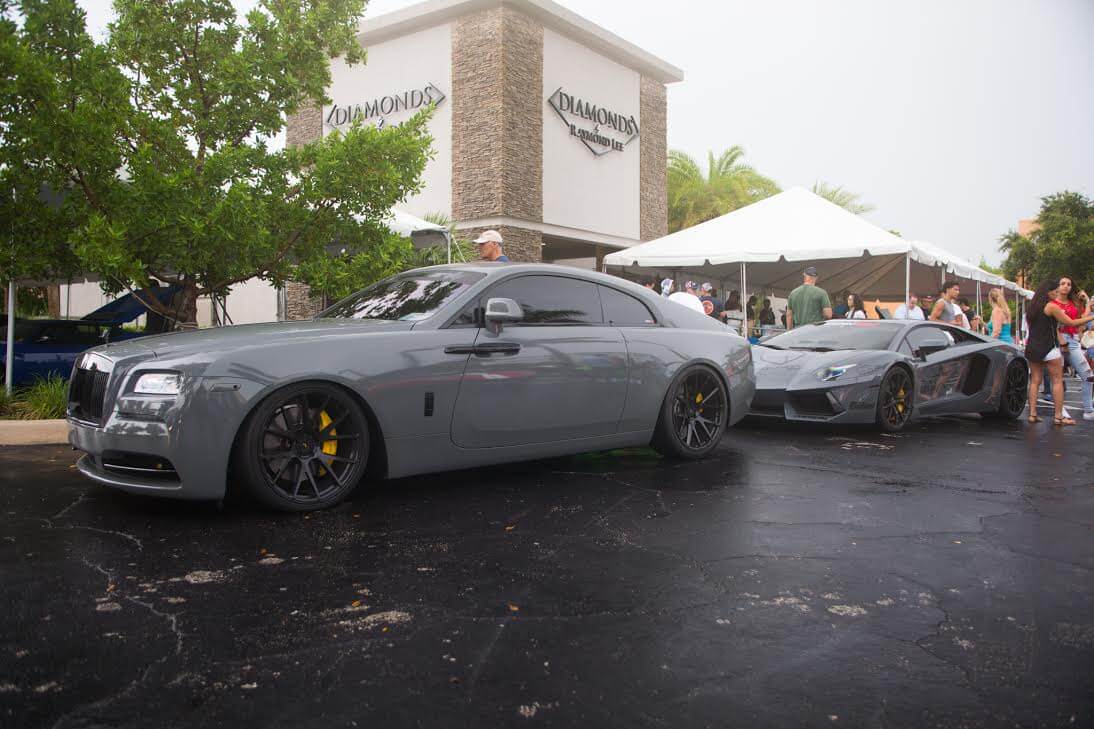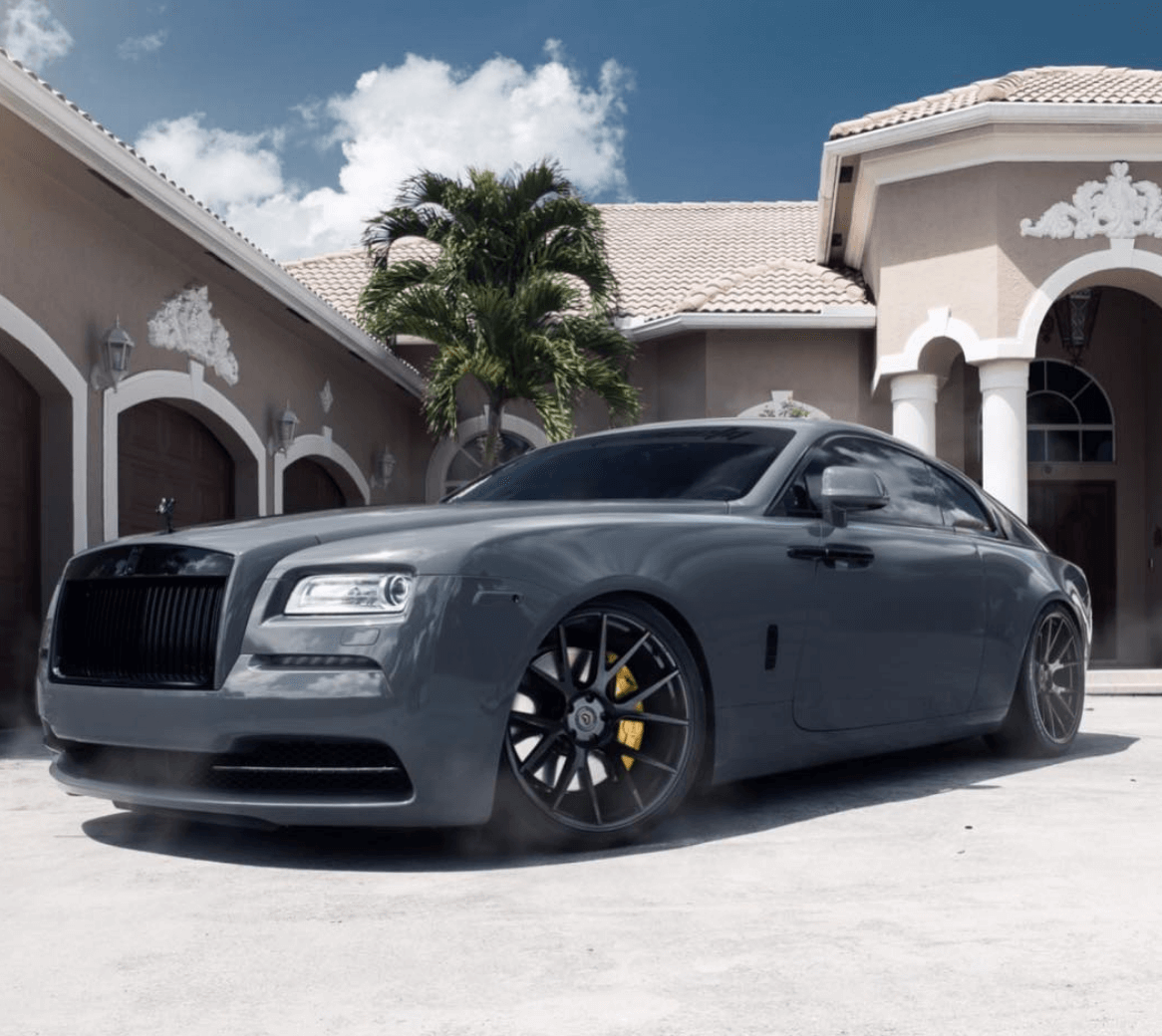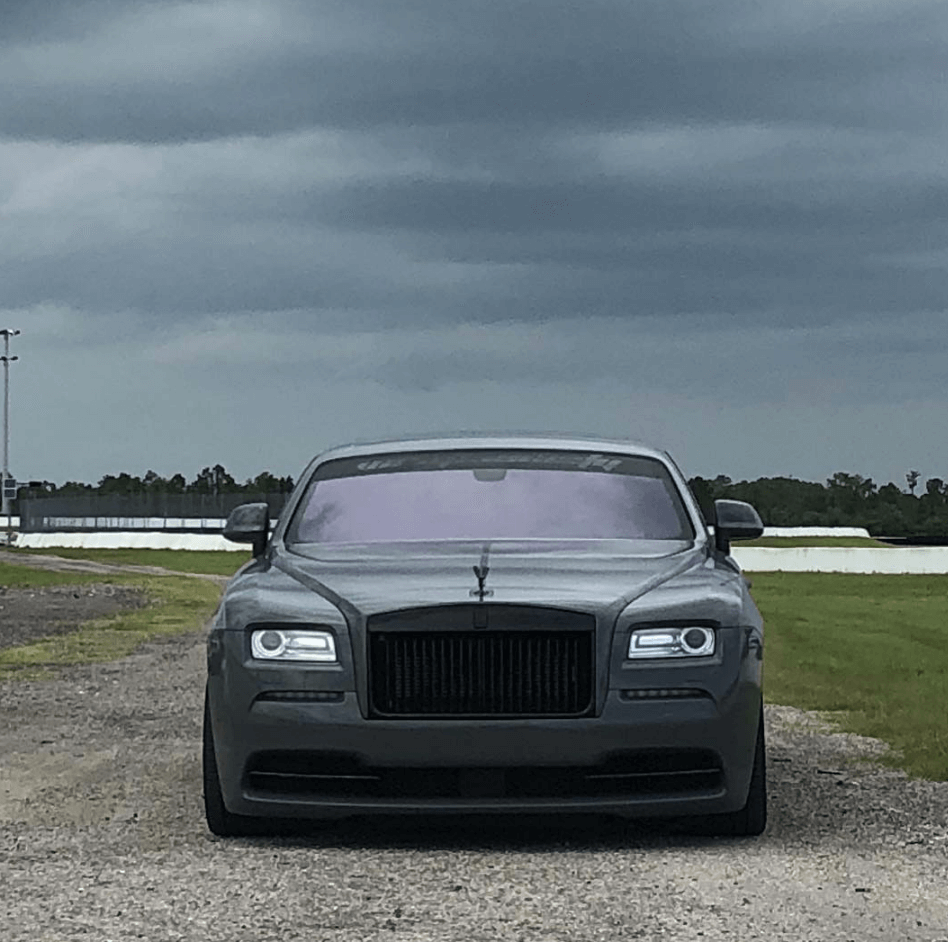 Check out this before and after: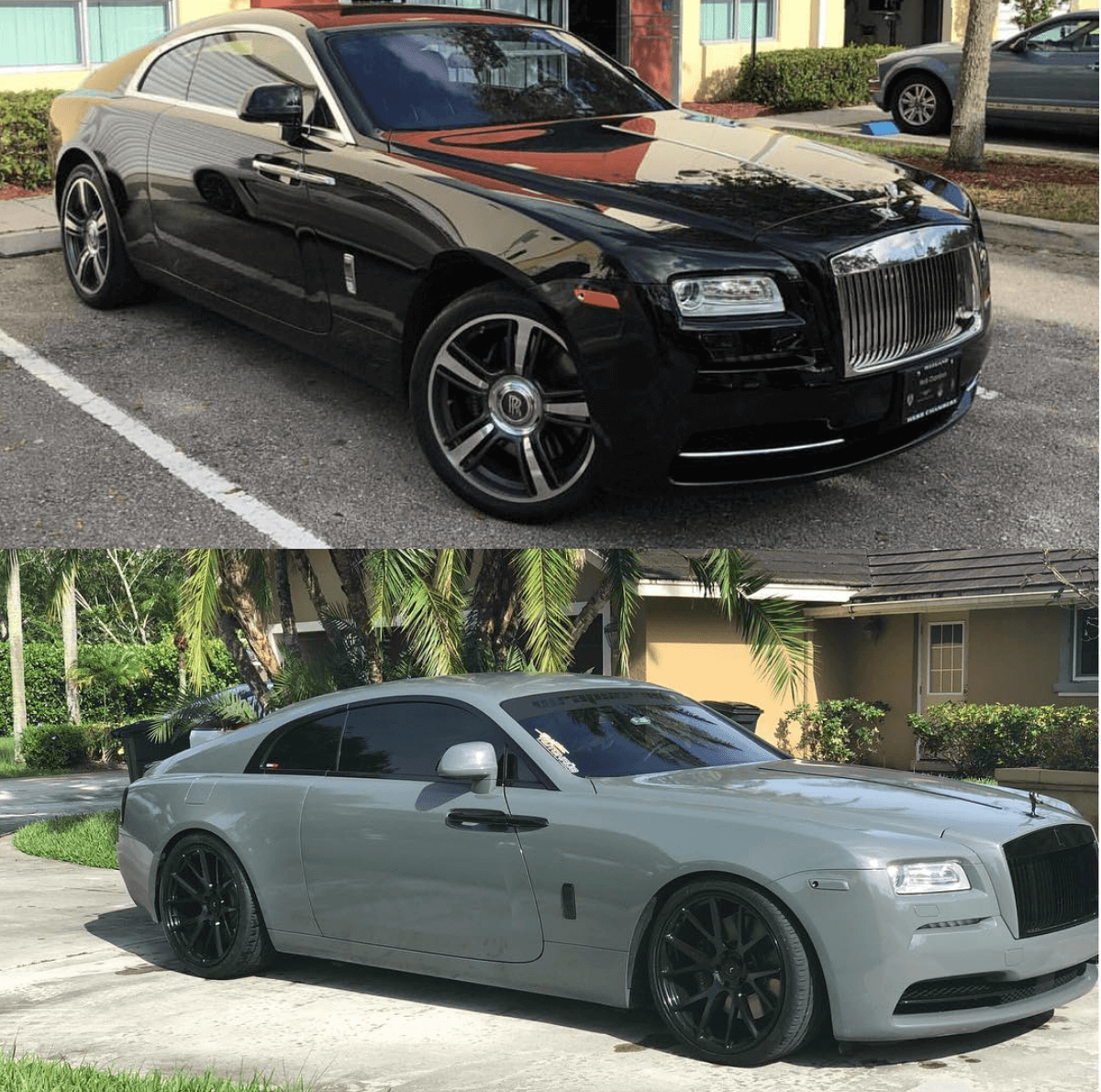 Aventador LP700-4 Coupe
What else did Mr. @grigio_bul bring to the show? Nothing less than an Aventador LP700-4 Coupe with game changer Vossen Wheels. You can catch this bull featured on @speedsuspects a few months ago generating over 2 million views simply for being awesome…oh, and cops too.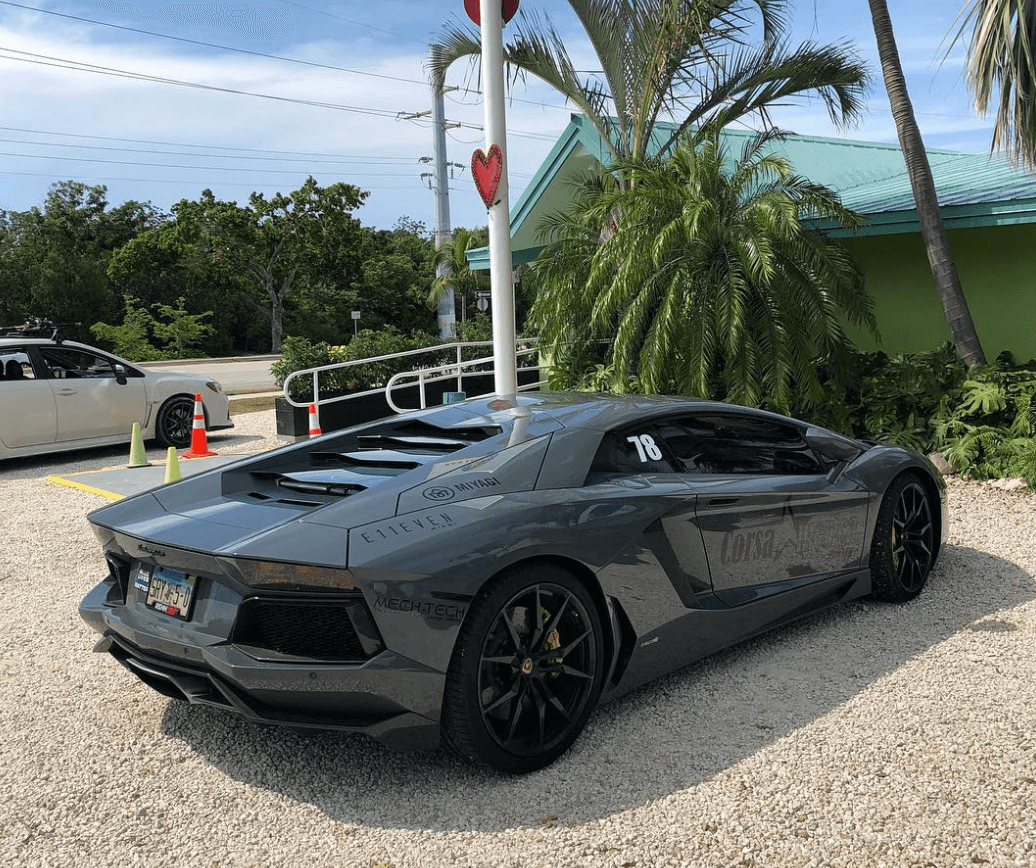 Thanks to @jasonyaco we got to gawk at the pearl yellow Lamborghini Aventador LP 700-4. The LP700 has a base price of around $400,000. This Aventador uses Lambo's new 700 PS (690 bhp) 6.5L V12 engine and can hit a top speed of 217 MPH (0-60 in 2.9 seconds). This Aventador also enjoys @anrkywheels from @wheelsboutique and @wheels_jon. Not much comes close to a Lamborghini Aventador, that V12 and most aggressive design is hard to beat.
That wasn't the only Aventador on display. @954_mr_xi had his Lamborghini Aventador on display with the scissors doors up for everyone to enjoy with astonishment. Her name is Bella, and she is SEXY.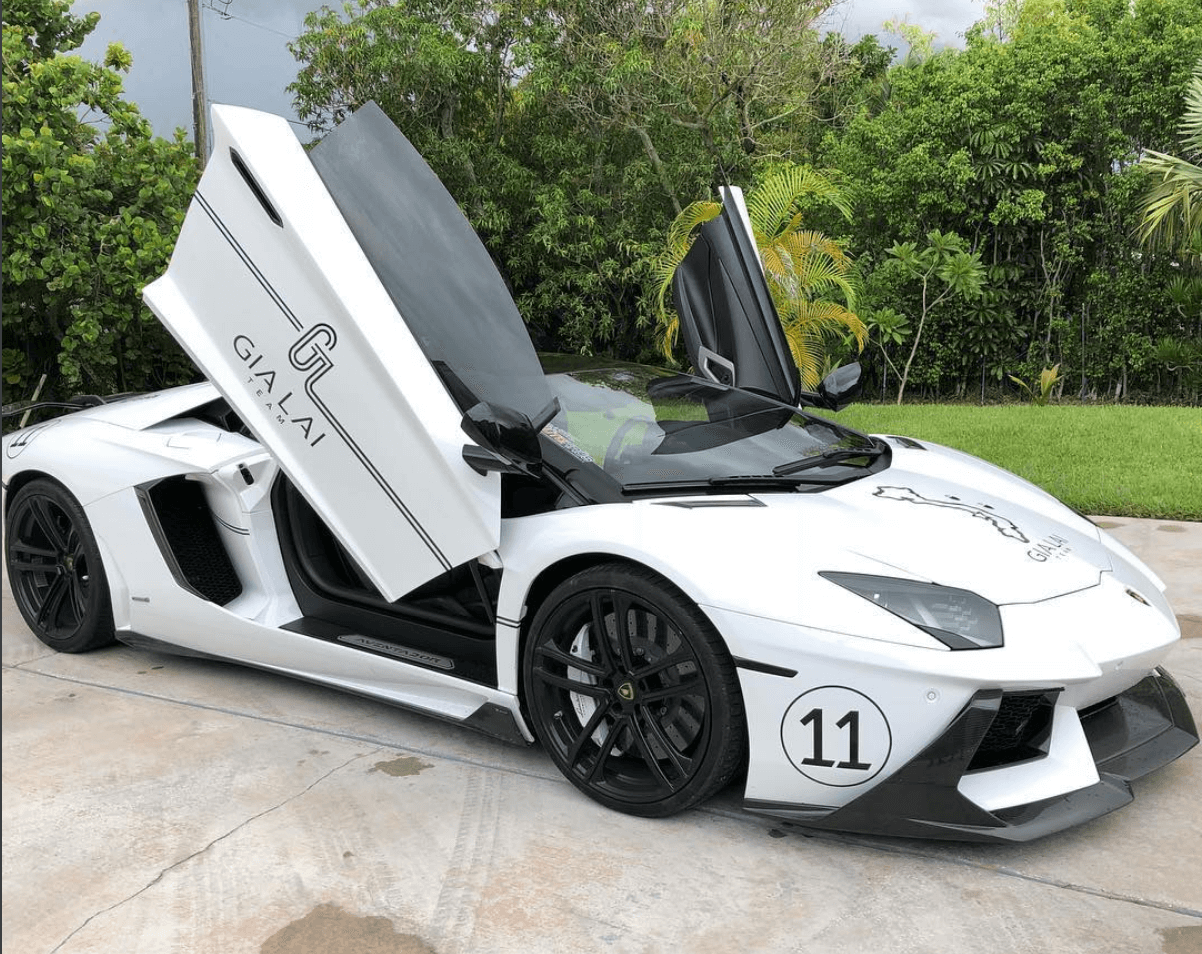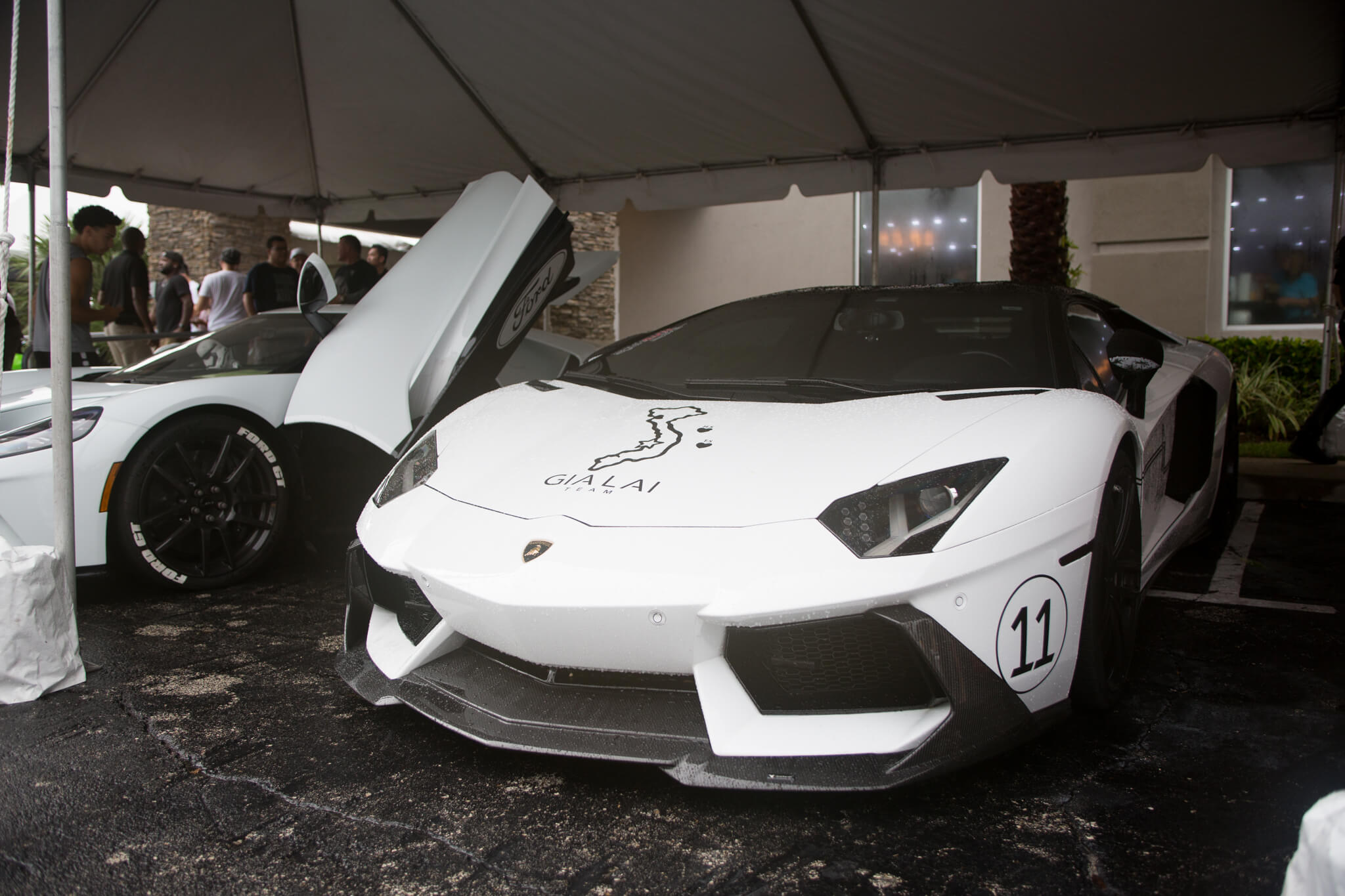 @exclusive_helicopters also rolled through with another Aventador. It's amazing how multiple Aventadors all met at Diamonds and Donuts considering there are only 5,000 of its kind, however none with a wrap like this by virtue of @morpheuswraps.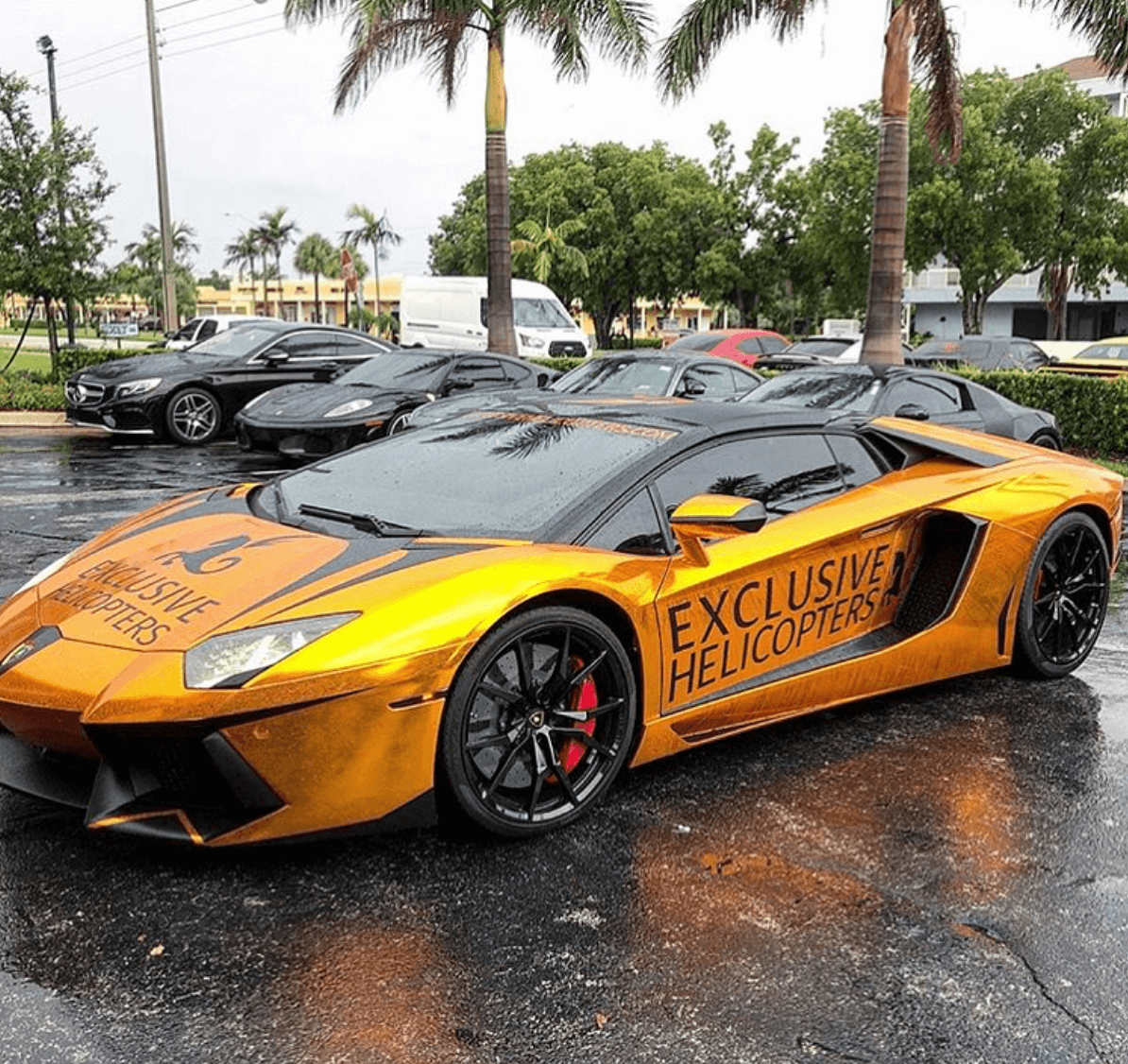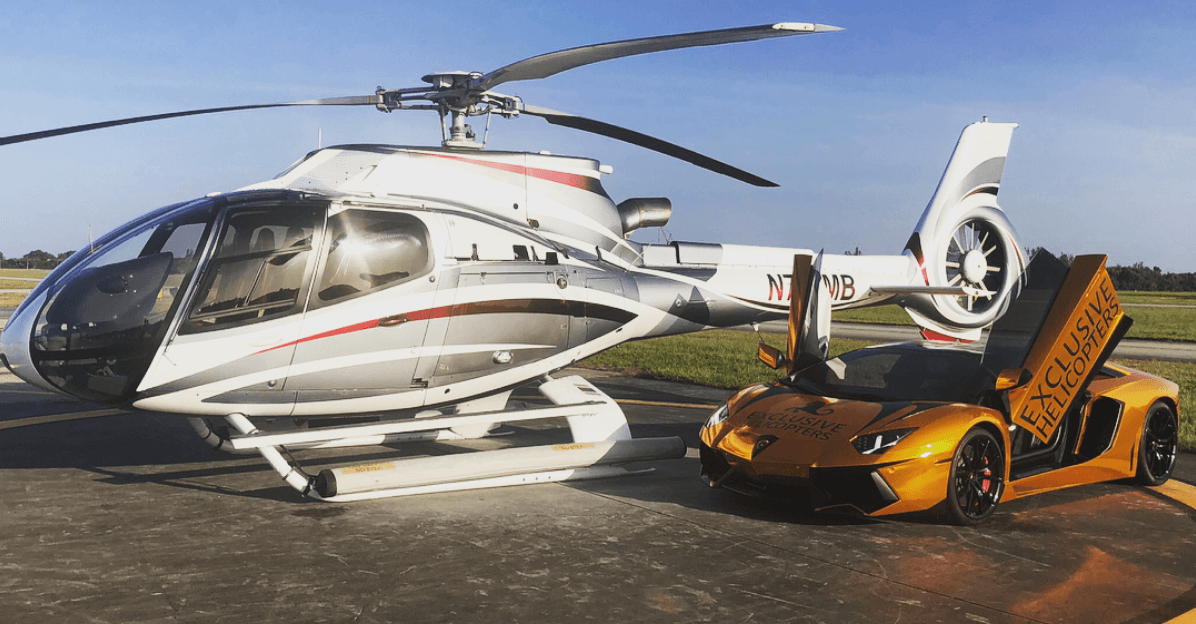 Check out Exclusive Helicopters to see how they transform helicopters into one of a kind masterpieces.
NEW Ford GT Twin Turbo V6
@stormy_56 revealed his NEW Ford GT Twin Turbo V6 which checks in at a whopping $450,000. The twin-turbo 3.5-liter V-6 employs a seven-speed dual-clutch automatic to route its 647 hp to the ground. A carbon-fiber construction, adjustable suspension, and active-aerodynamics elements add to the GT's awesome performance. Only 1000 will be built, which makes it even more of an honor to be in its rare presence.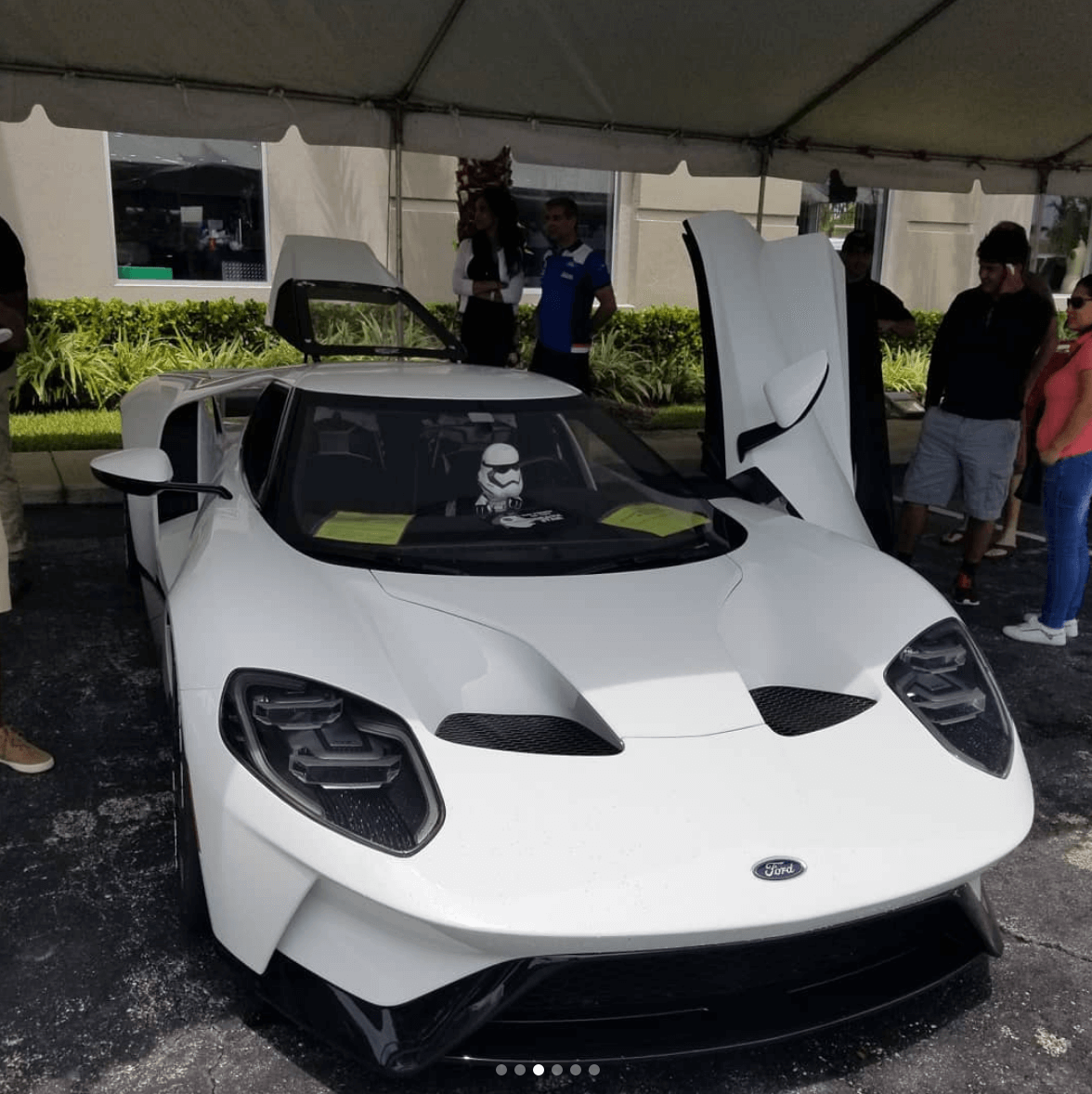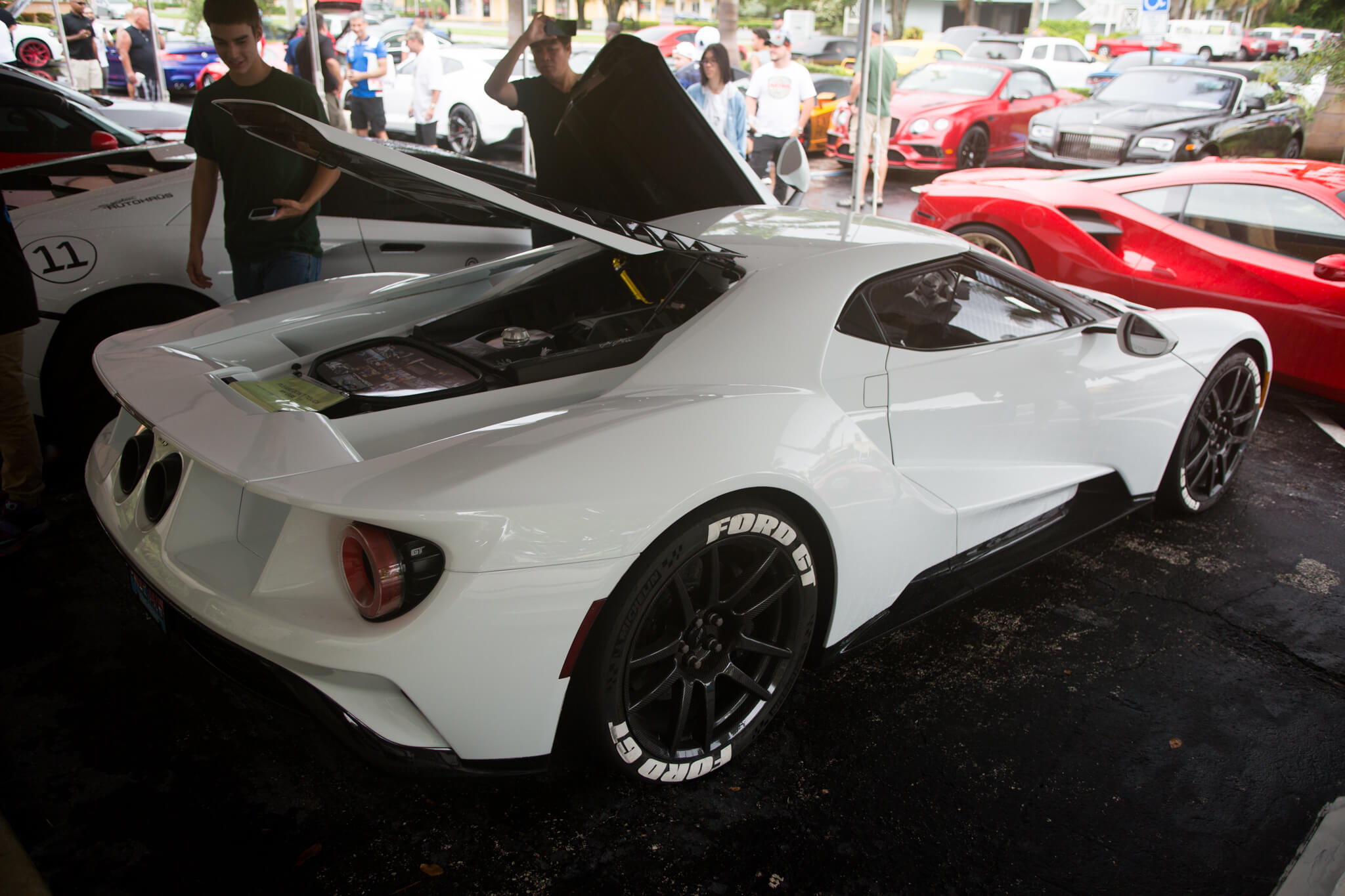 Black Badge Wraith
Out of the darkness came @holmanluxurycars and the Black Badge Wraith, the worlds most powerful Rolls Royce. This luxury grand tourer has a V12 twin turbo engine with 623 hp and 642 torques. This was an intense attraction and it's clear that nobody else does the automotive travel experience quite like Rolls-Royce.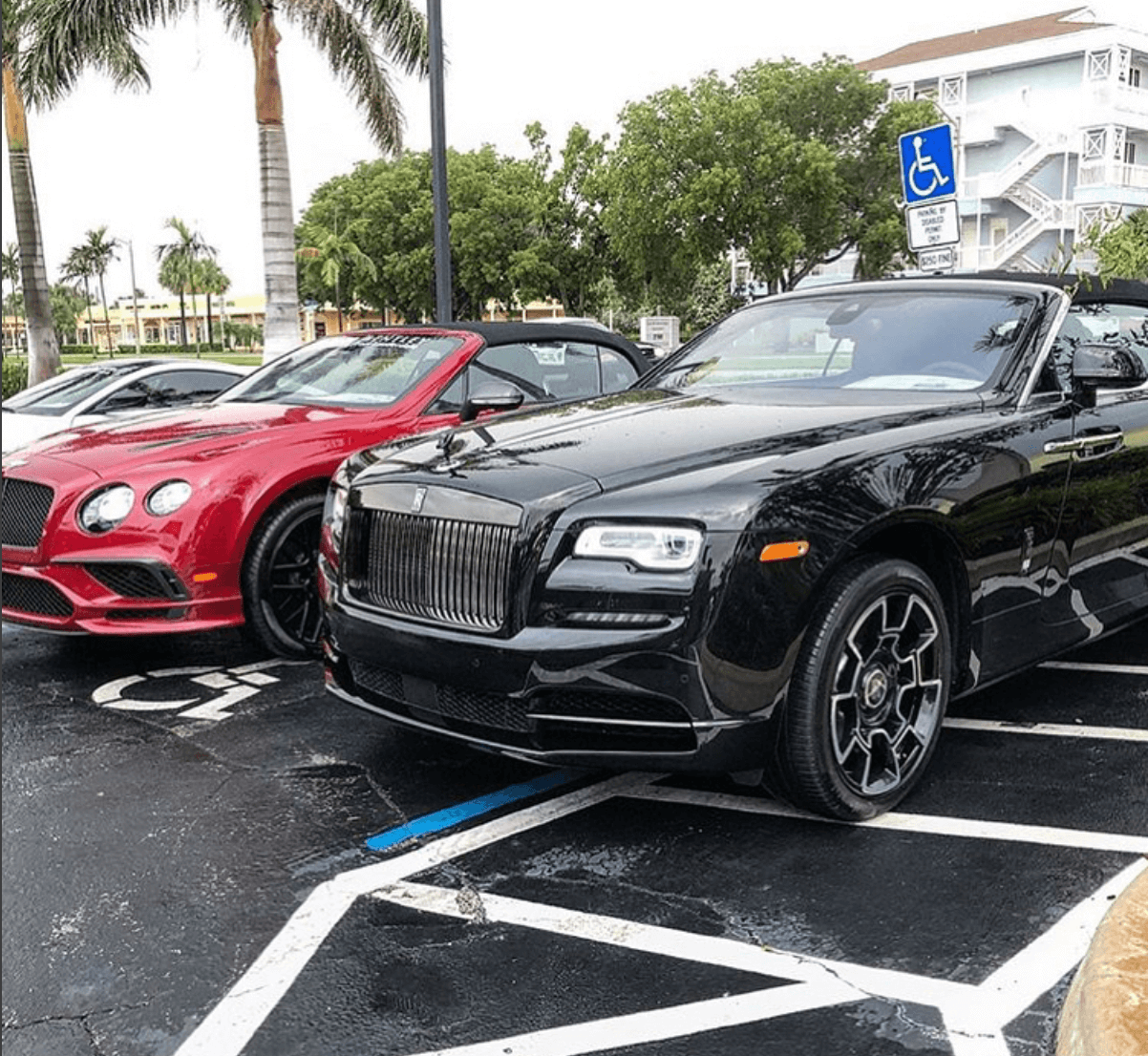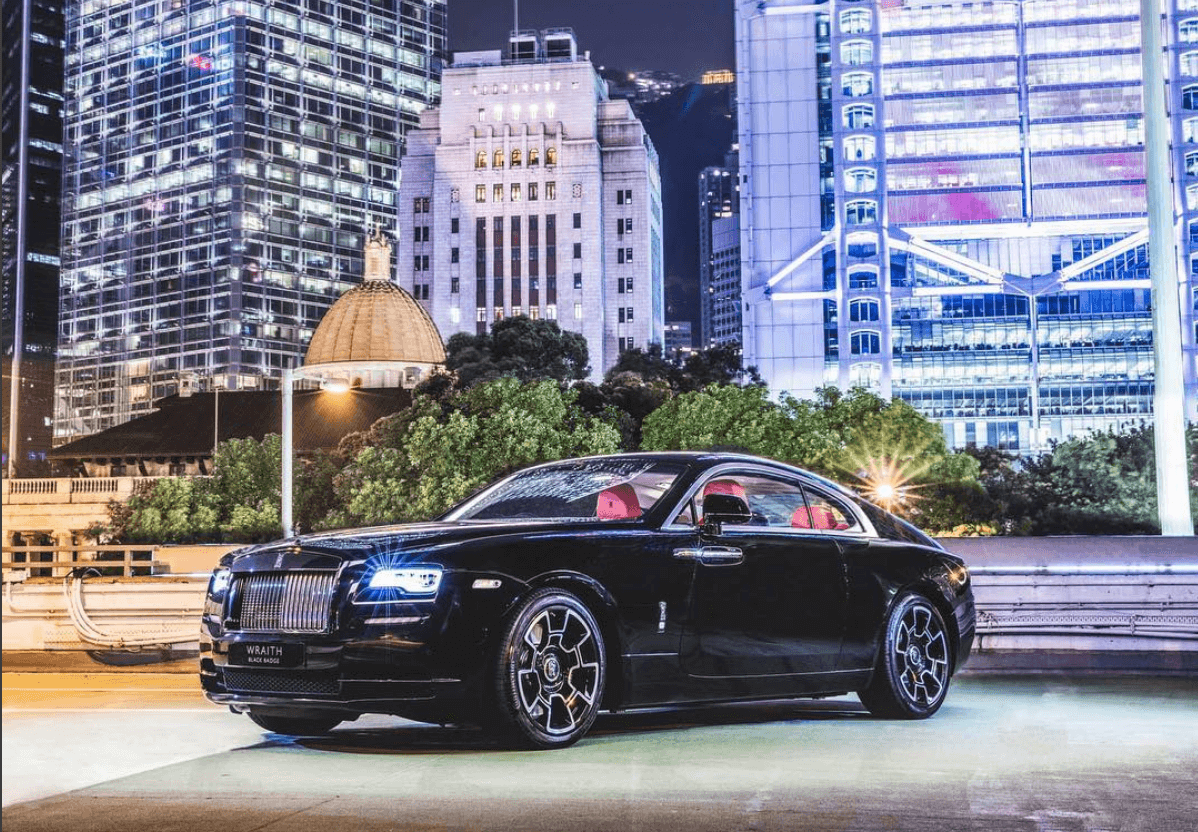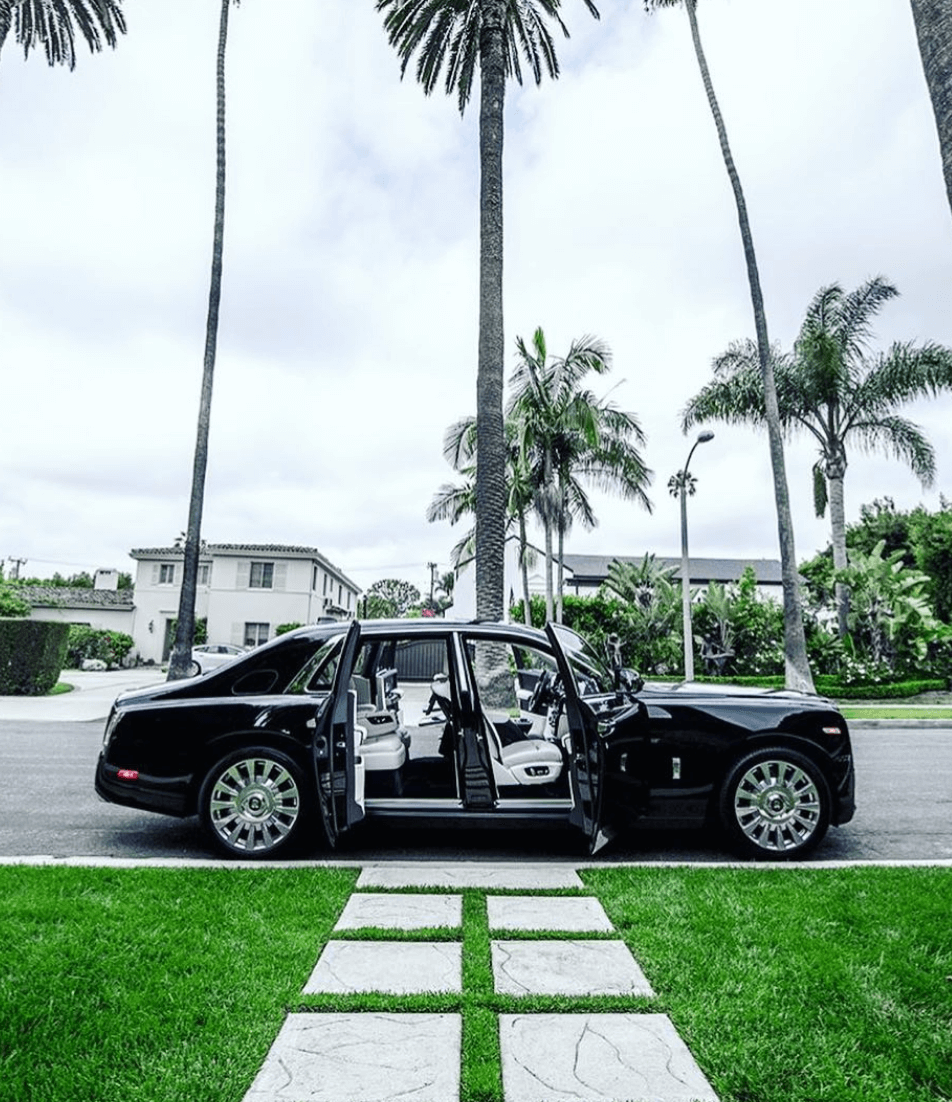 2019 Aston Martin Vantage
That's not all the @holmanluxurycars brought to the show. We got to lavish in the presence of their 2019 Aston Martin Vantage which has a price tag of US$149,995. Born a predator, the Vantage is raw and instinctive. It goes 0–62 mph in 3.6 seconds, reaching a top speed of 195 mph. It overwhelms the senses with its world-renowned design, dedicated craftsmanship, and agile performance. The high powered 4.0 liter twin-turbocharged V8 produces that innate Aston Martin roar.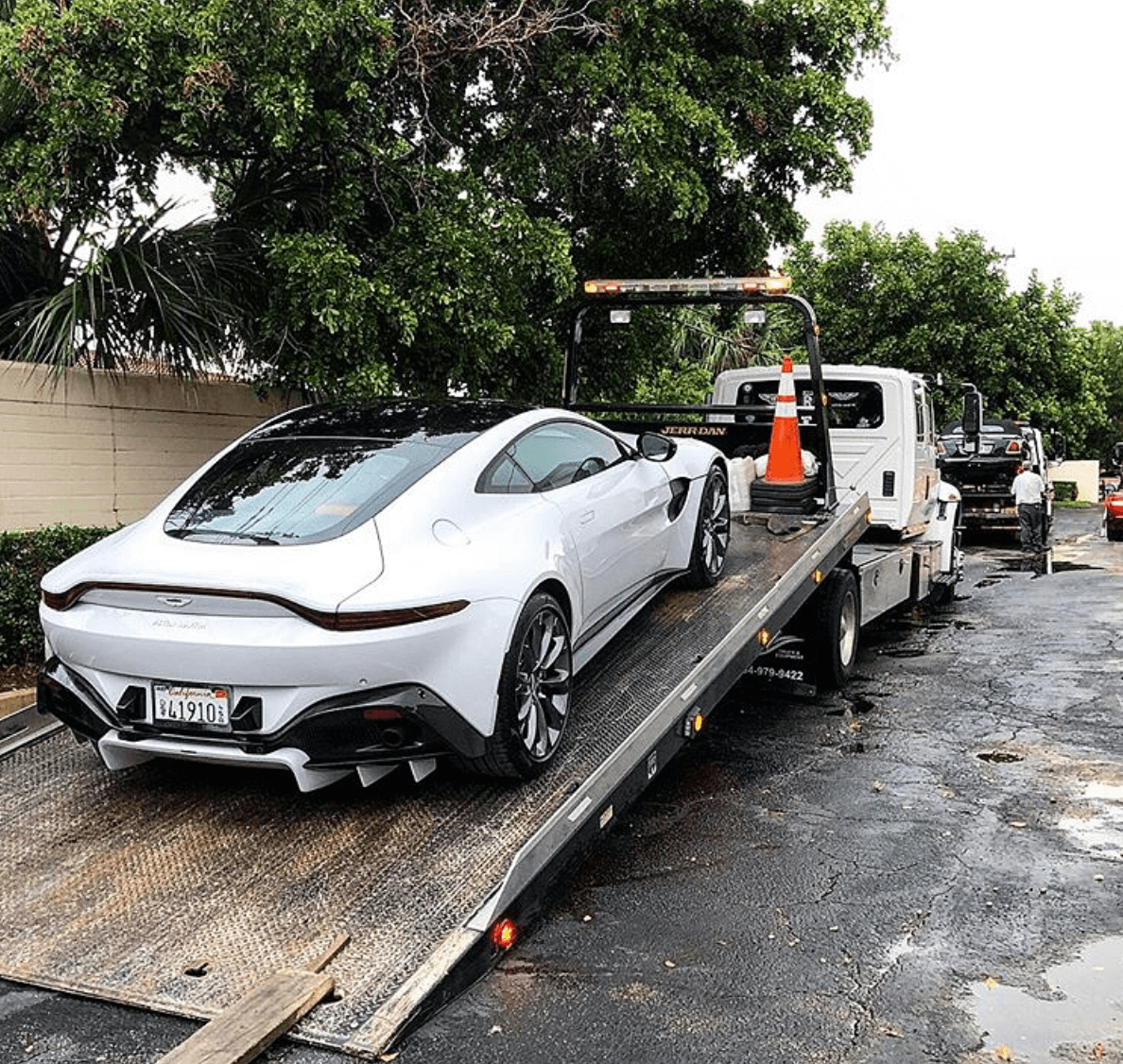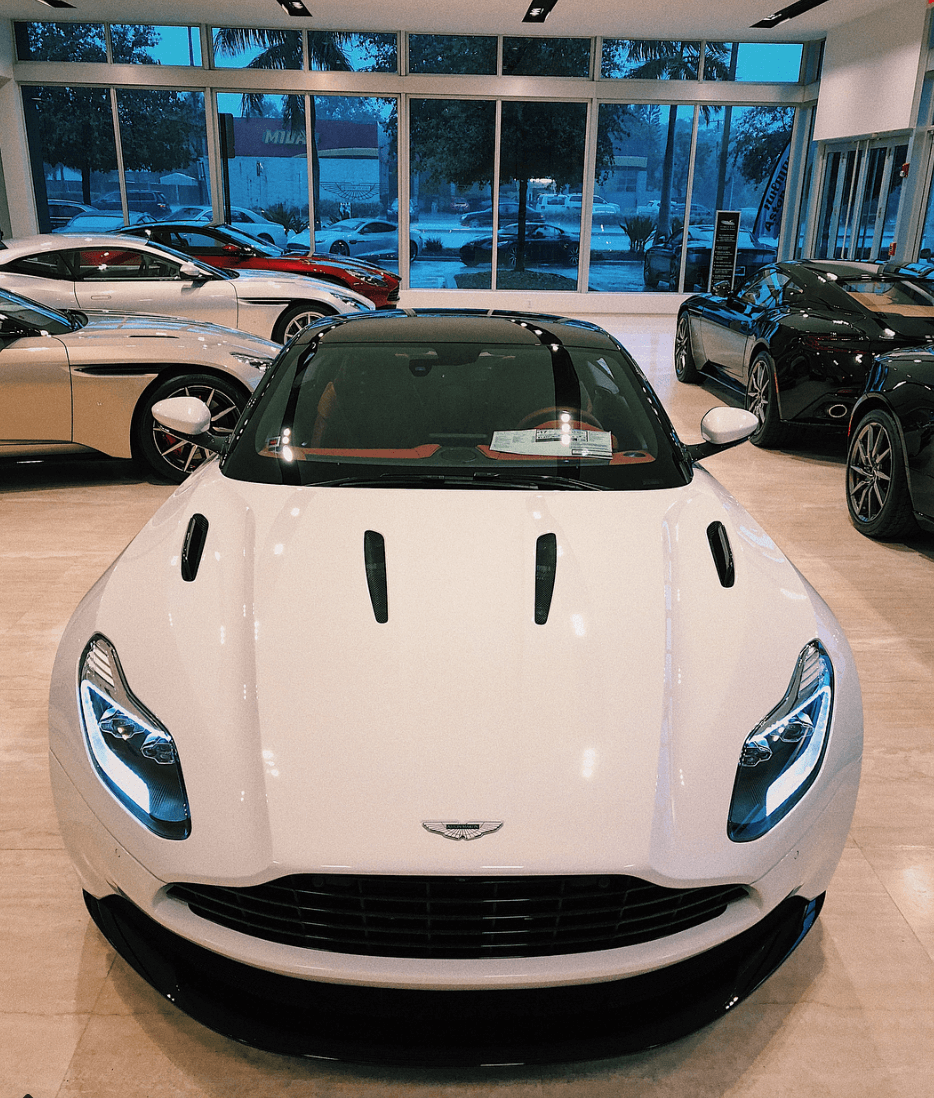 Green Lamborghini Huracans
Eyes were flashing green as not one but TWO green Lamborghini Huracans made their way in.
@fabio_icg rocked his Hurcan Performante which truly embodies the South Florida dream.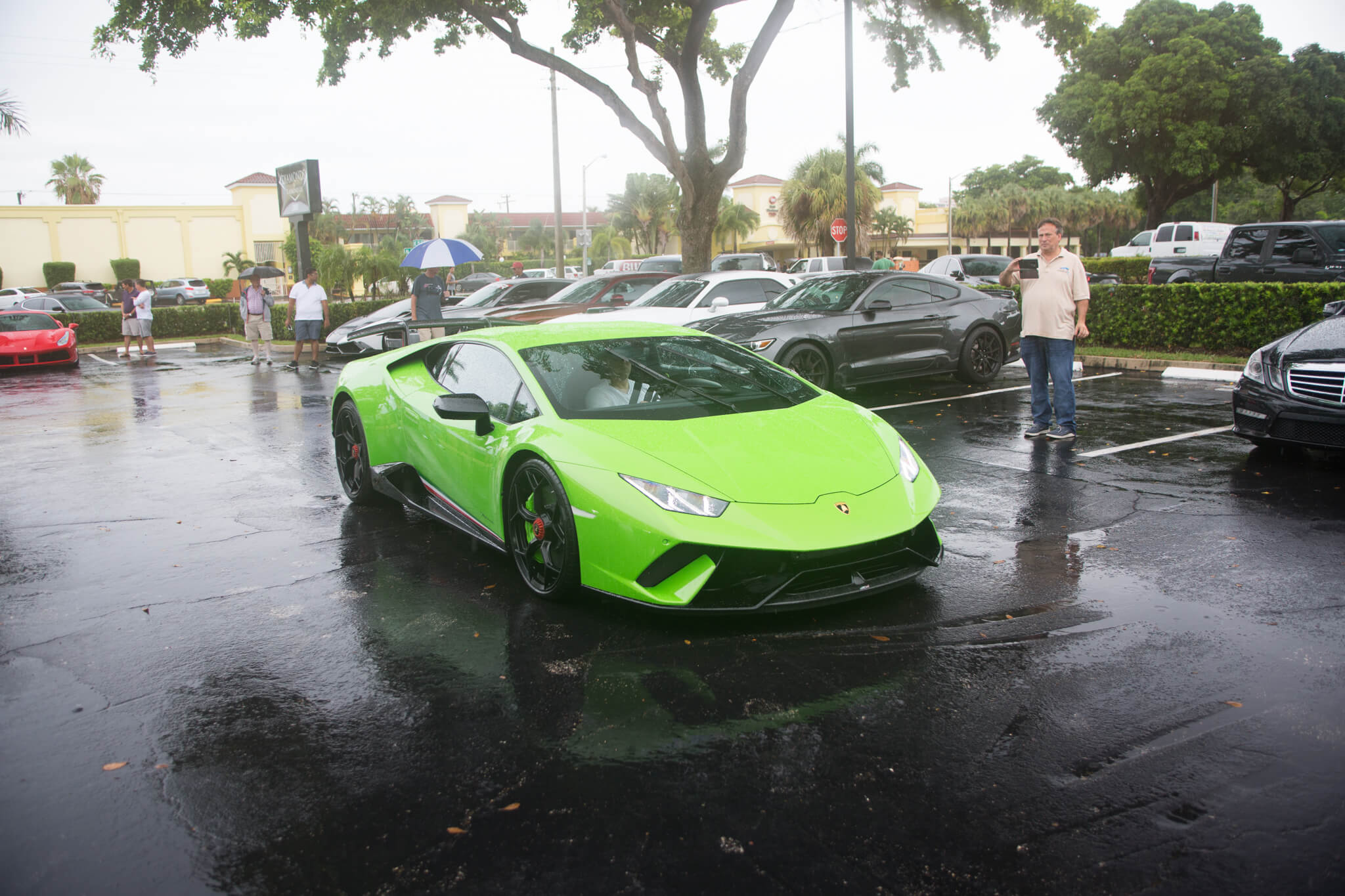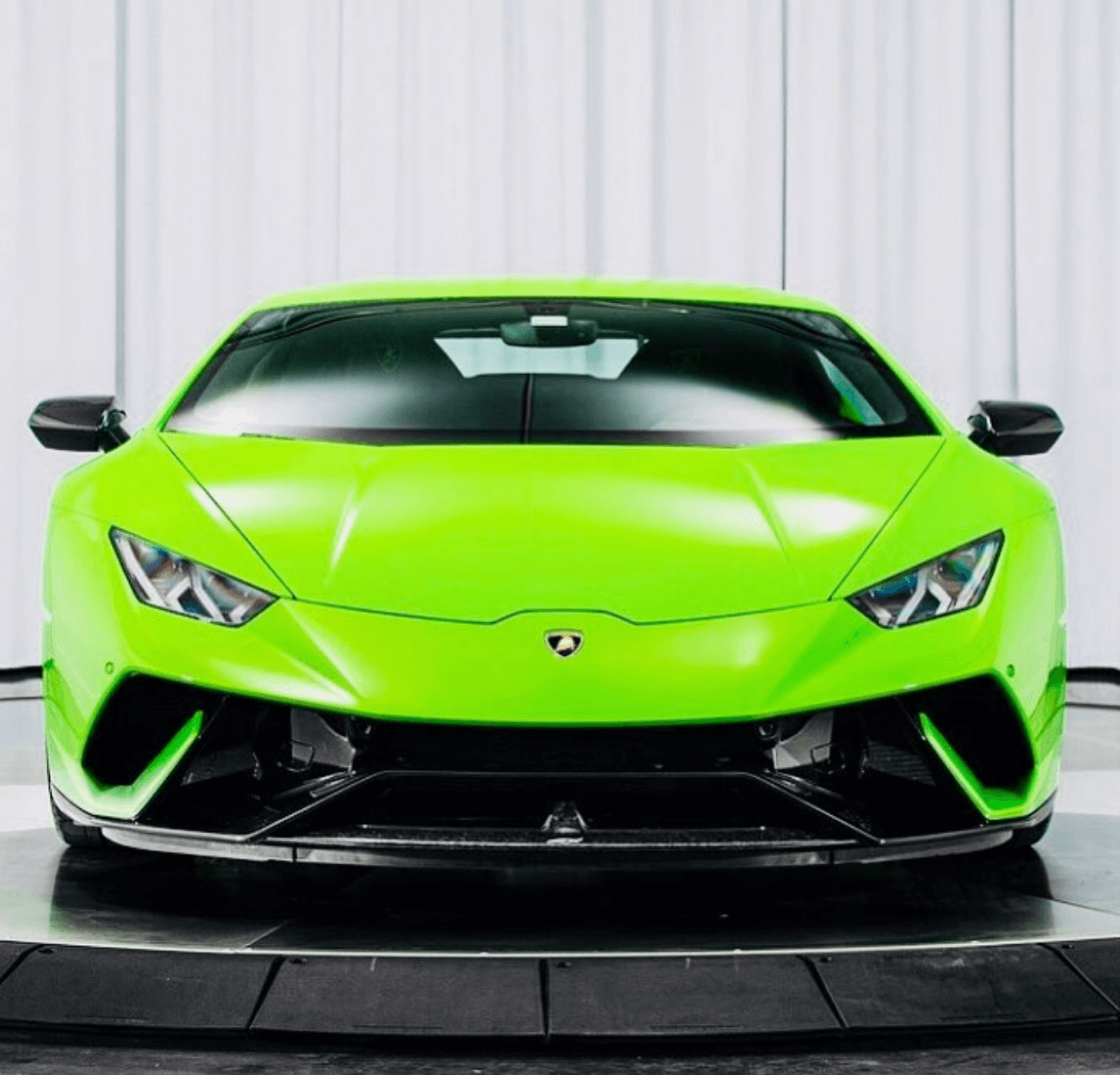 @gold_m11 had his Green Lambo with Velos Wheels (fire!) and a front splitter that makes for an unmatchably aggressive look. Seeing this supercar can only be described as love at first sight.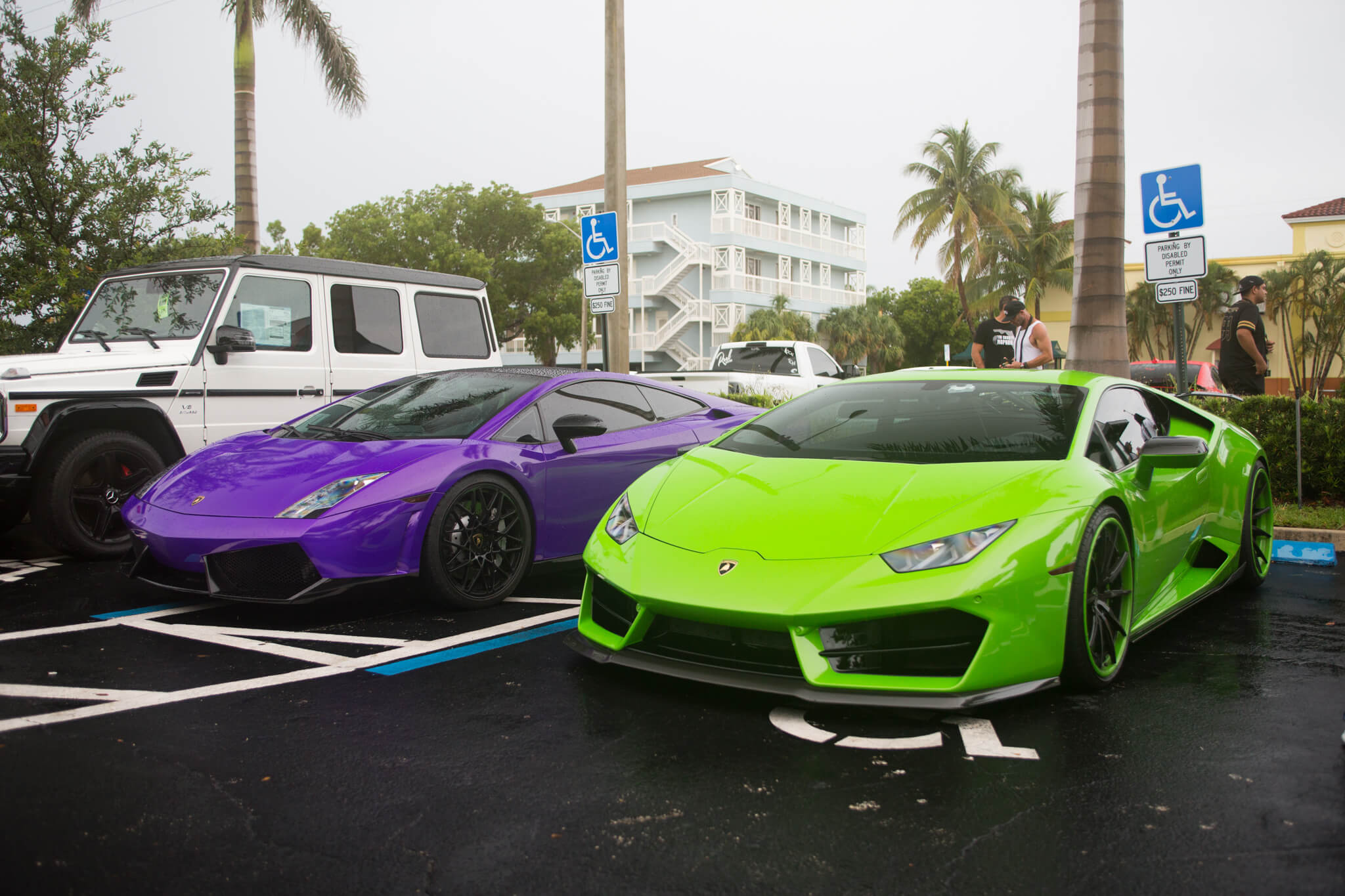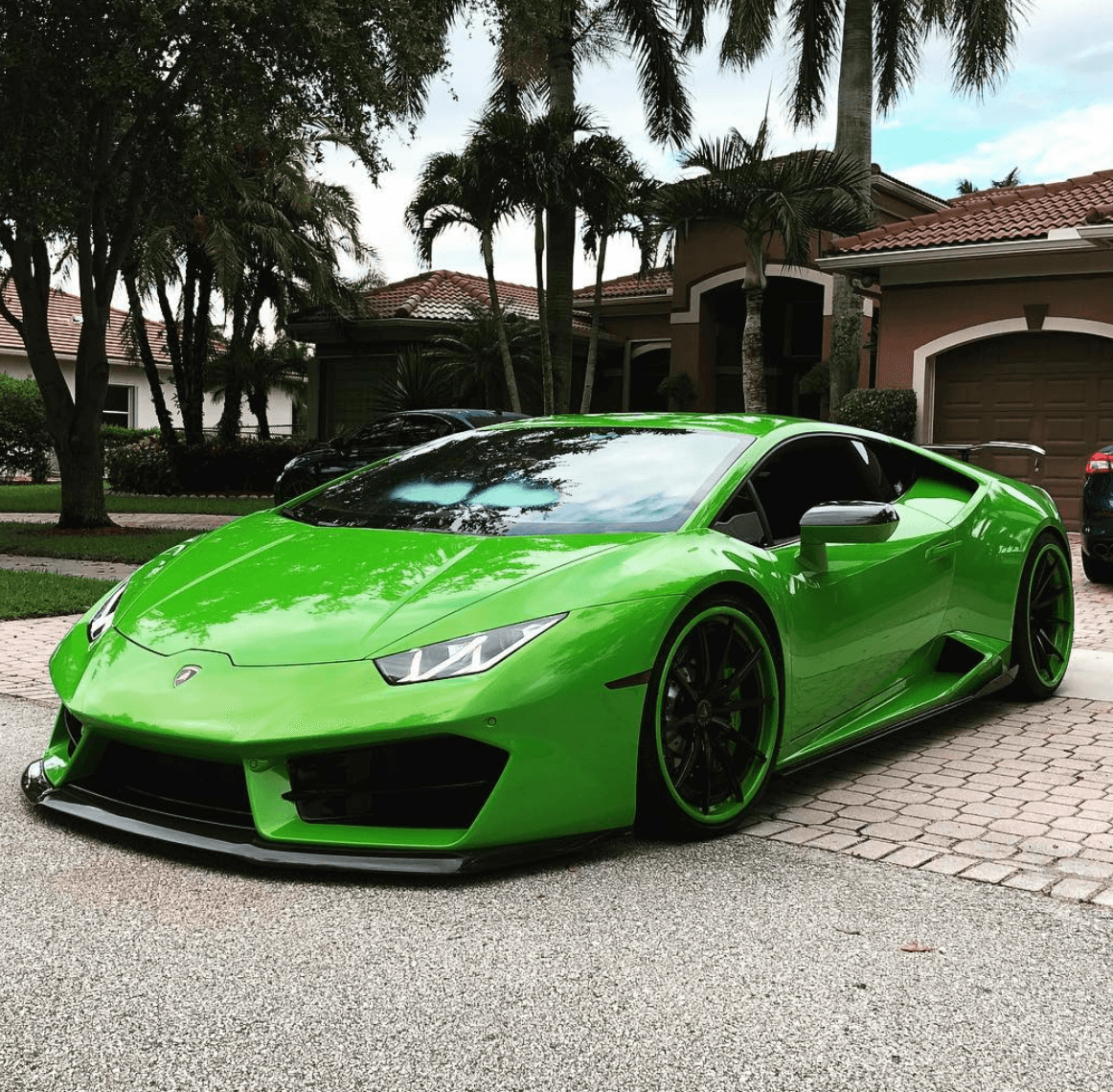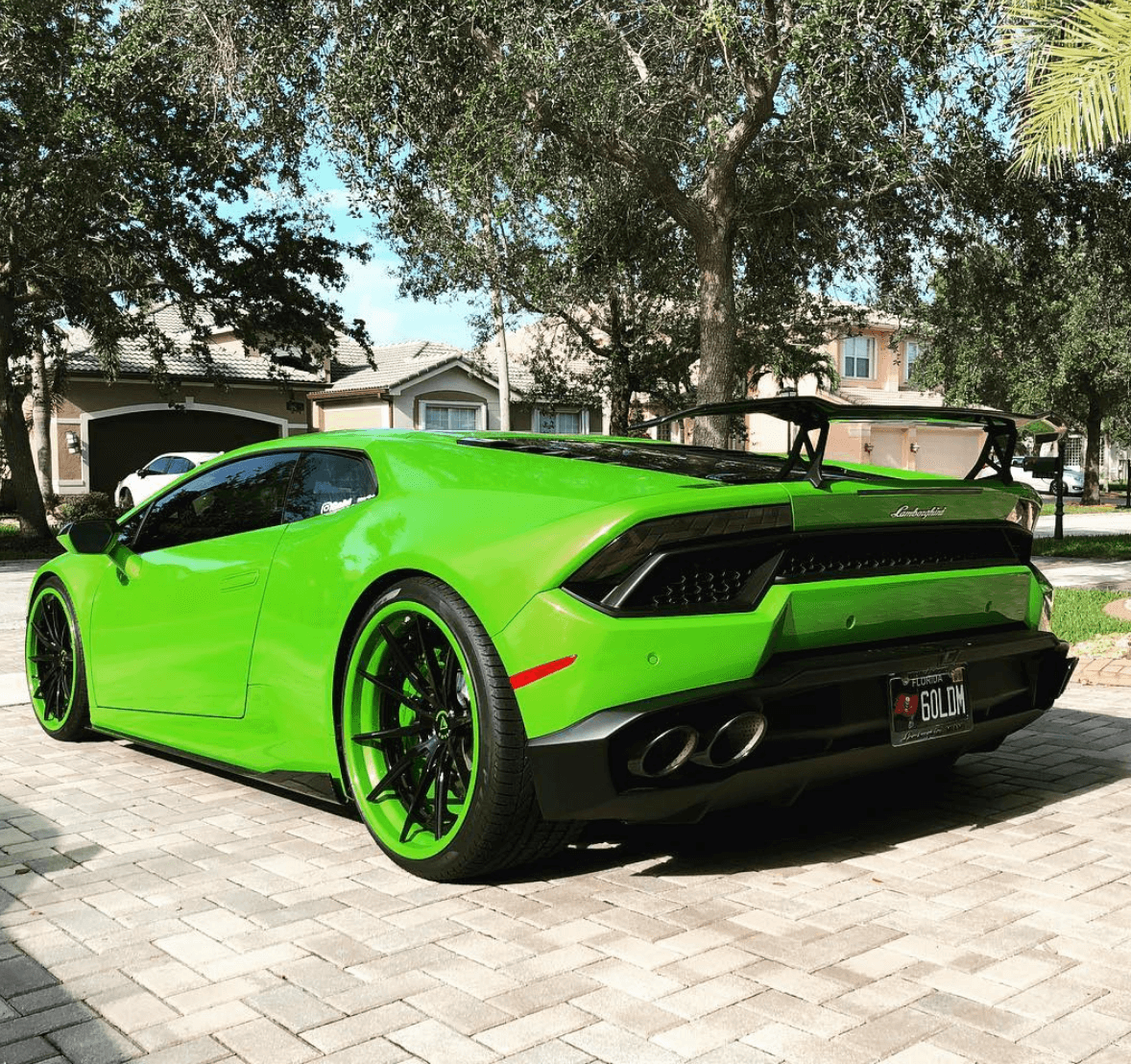 @signatureautohaus_collection & friends were at the show allowing us to explore the Mercedes-AMG GT sports car's performance, design and technology, not to mention the custom made Catless downpipes.
We captured this photo which gives spirit to our American pride – RED, WHITE AND BLUE.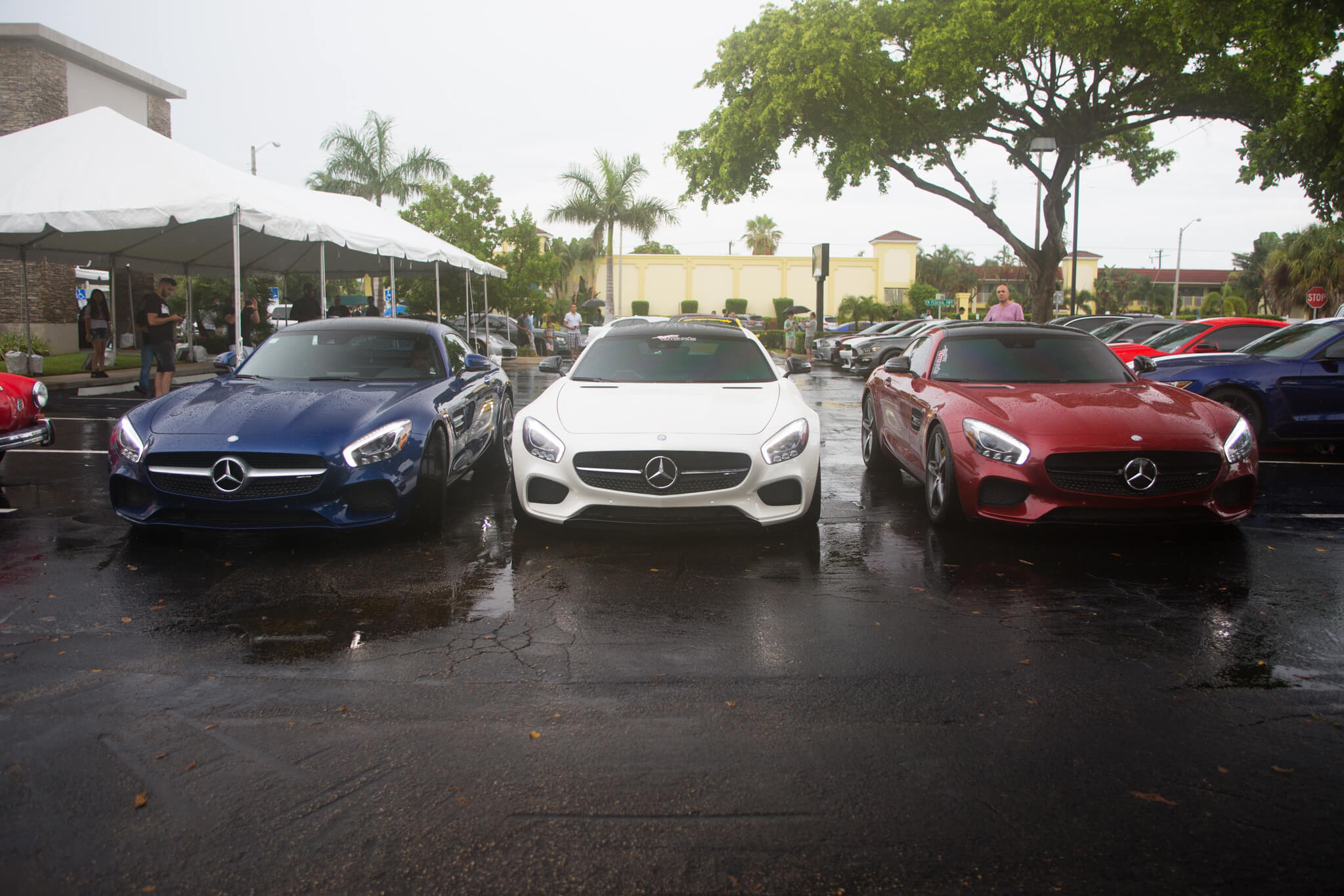 Lambo Gallardo LP560
@kilin_joke came through with his freshly wrapped purple Lambo Gallardo LP560. Lamborghini's first best-selling model with only 14,022 built throughout its production run. This has a base sticker price of $200,000. It is powered by an uneven firing 5.2 L V10 engine that produces 552 hp at 8,000 rpm and 398 lb⋅ft of torque at 6,500 rpm. This bull is aurally and visually thrilling (insert drool emoji face here).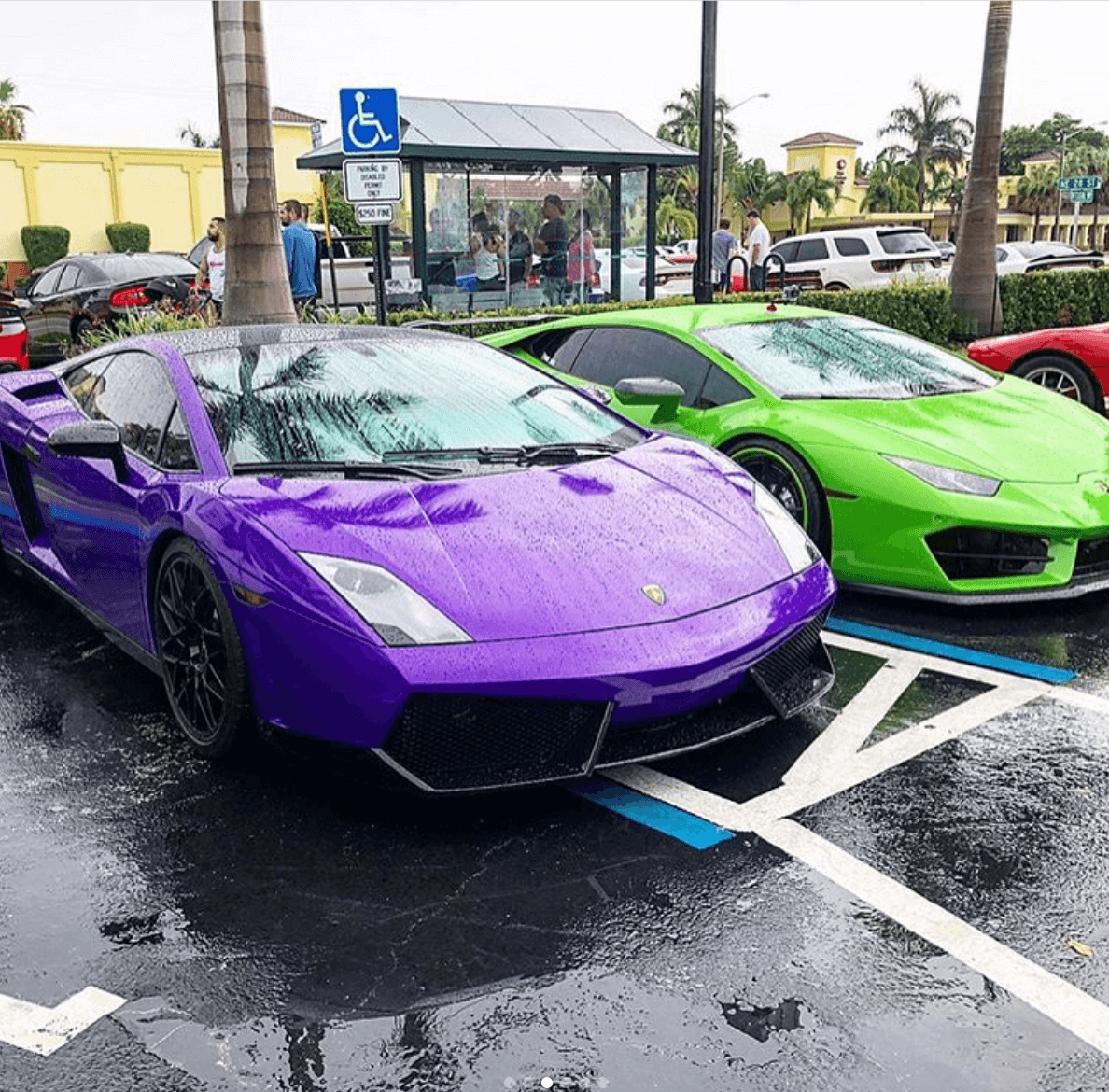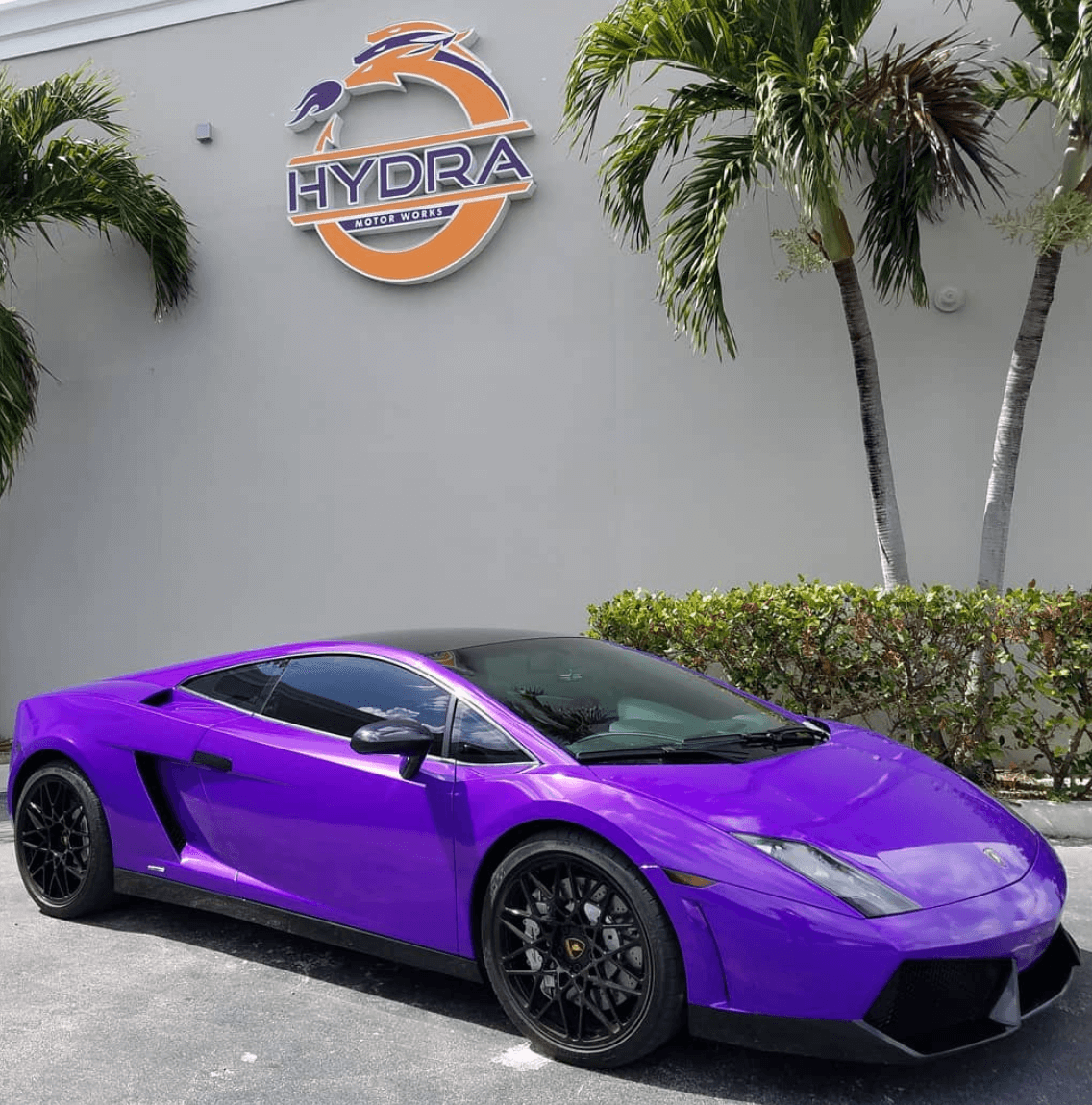 Mercedes Benz E63 AMG S W212
@seanhmcgregoh made his appearance in his Mercedes Benz E63 AMG S W212. Here is what Sean has to say about his perfect, everyday vehicle:
"Ever think about how crazy the concept of an E63 AMG is? These crazy Germans decided to take a heavy, long, midsize sedan and make it capable of being a track car by tuning the suspension and stuffing a giant, overpowered V8 under the hood. Sounds insane. But, they knew that, with the proper engineering, they could formulate the perfect blend of AMG Performance and Mercedes Luxury. They did just that. A car with enough power to make every day driving fun. A car that can be business by day and racecar by night. They were crazy enough to make something perfect against the odds. They made the perfect car to put a smile on your face every time you touch the pedal. Every. Single. Time."
Enough said, this Benz has it all.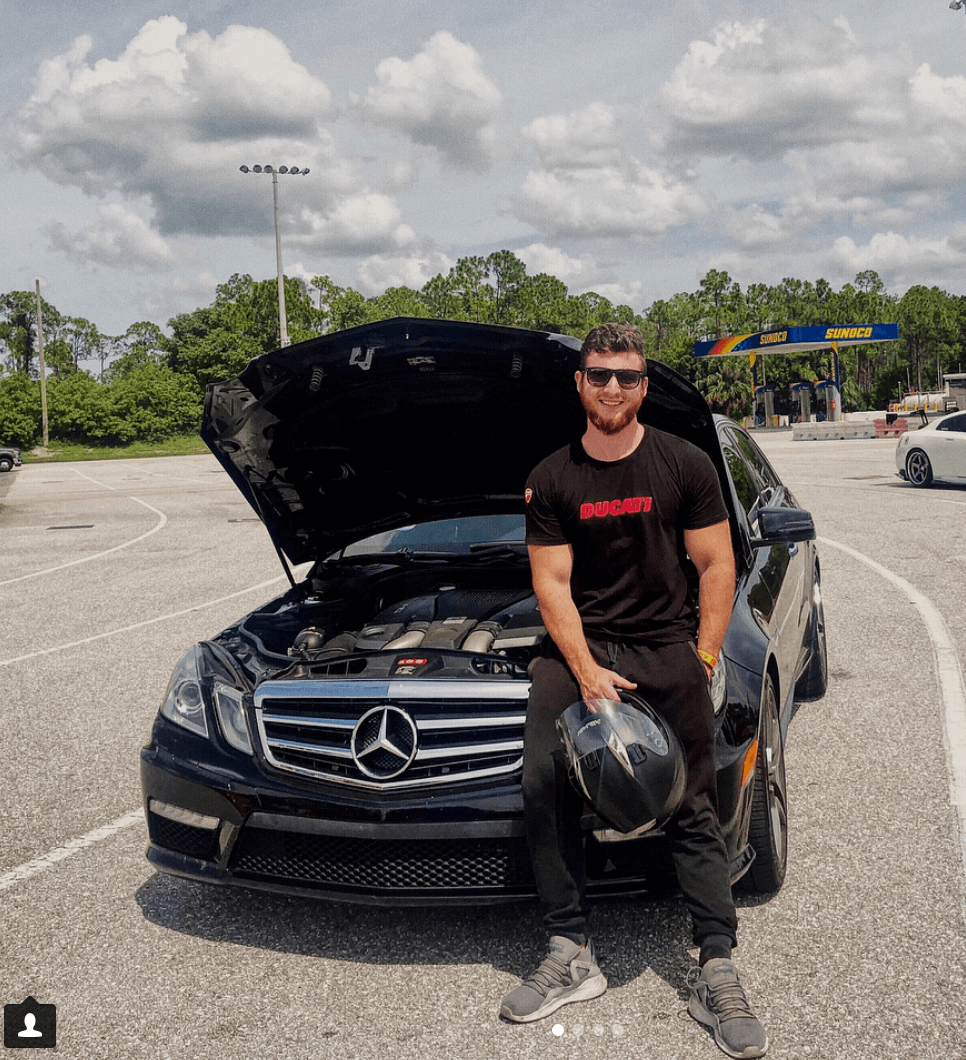 Dodges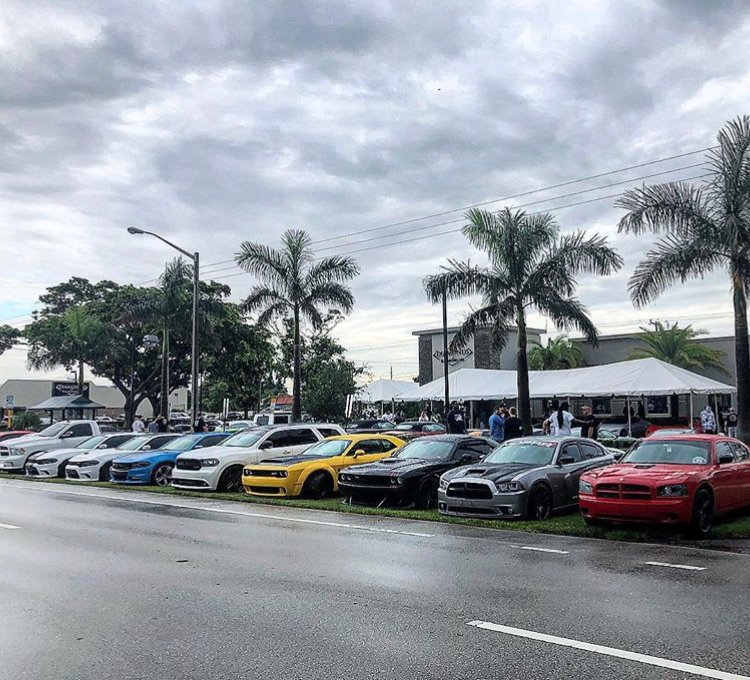 @tricountymopars with a whole gang of Dodges such as the incredible Demon, Hellcat, 2016 Charger SRT 392 Hemi, Dodge Viper 392, and Ram 1500 S/T Hemi. America at its finest.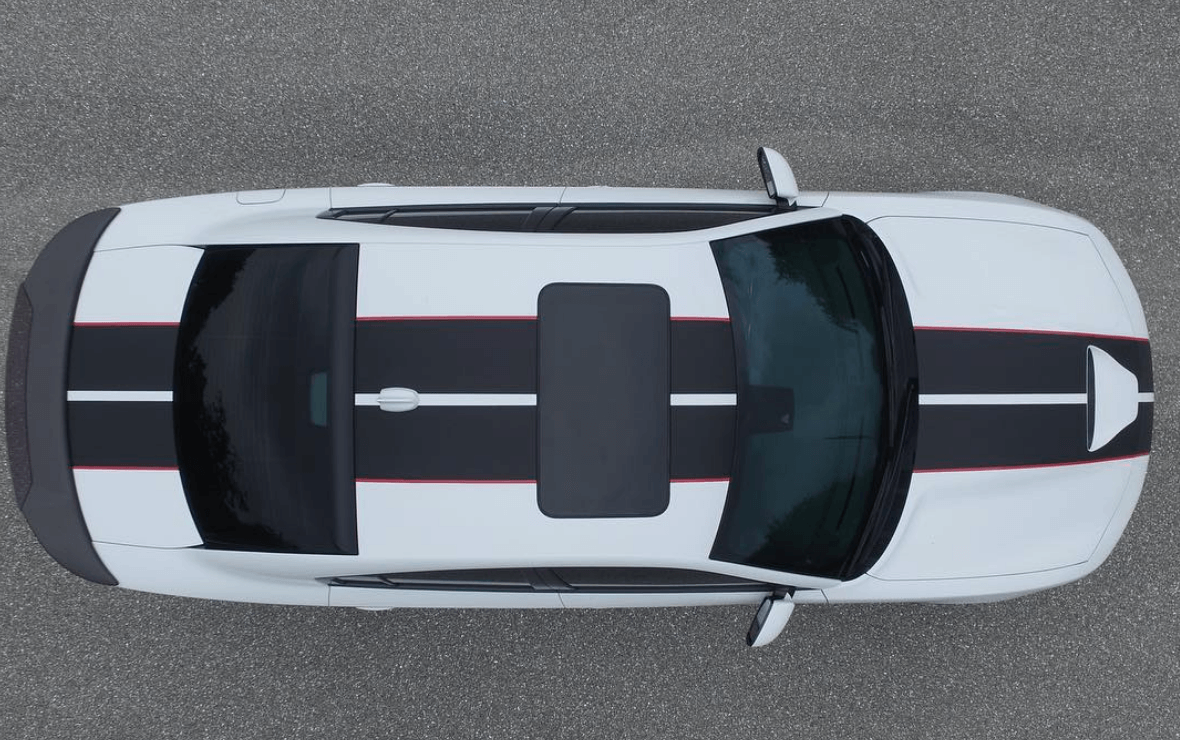 Although there were numerous other people with incredible cars and stories to share, we can't show them all. It was truly an amazing day.
We ask that anyone else who showed up with their car or just to support tags us on Instagram @diamonds_donuts and hashtags #diamondsanddonuts so we can find you.
History of American Car Shows & Diamonds and Donuts Contribution to South Flordia Car Shows:
American car shows have a deep history, with the first car shows appearing in the early 1900s. It makes sense that we, as Americans, have a deep love for cars. One of the first cars accessible to the mass population was the 1908 Model T made by Ford Motor Company.
Car shows evoke our nation's founding values of equality and freedom. You will find cars ranging from a few thousand to millions of dollars, however the owners, who are from all walks of life, will sit down and chat with each other for hours just BS-ing and picking each other's brains. The appreciation of different vehicles and viewpoints are always apparent and something that says a lot about American culture.
Many local car shows across America are free, such as the Diamonds & Donuts car show in Boca Raton, and they provide a communal attraction for people of all ages. People come to learn, teach, imagine, inspire, and aspire. The car community is known for being welcoming to everyone, no matter if you are a beginner or a connoisseur.
Diamonds & Donuts Car Show in South Florida
30 years after the founding of Raymond Lee Jewelers (and only a year after the Diamonds by Raymond Lee retail brand was formed), Diamonds & Donuts car show was inaugurated. Diamonds & Donuts' Charity car show started in April of 2017 in an effort to bridge the grandeur of collector cars and luxury diamond designers in an effort to support local causes.
Thankfully, it has truly been a hit here in South Florida. Diamonds & Donuts consistently draws a large crowd and an assortment of cars and diamonds that showcase the amazing art, luxury, and power that make up the automotive and jewelry industry. This has allowed us to successfully raise money for numerous causes that touch home for us and our community. We have made charitable contributions to our Local High School Marjory Stoneman Douglas in light of an awful tragedy, and for this past event, the Boy's and Girl's Club of Broward County to make sure kids in need have all the essentials when going back to school this year.
The ability to combine a fantastic and fun event with giving back makes our car show extremely valuable to us and we don't plan on stopping. The feedback has been incredible.





We have enjoyed cars from the likes of a Lamborghini Aventador, the fastest Lamborghini ever made stocked with a V12 engine; a McLaren 720S, which can reach a top speed of 212 MPH; a Ferrari F430, an Audi R8…just to name a few.
More about Diamonds By Raymond Lee:
It all started with Raymond Lee Jewelers, founded by Jeff Josephson in 1983. Raymond Lee Jewelers is a luxury jewelry, watch and diamond boutique in Boca Raton that was cultivated from strong family values, unparalleled professionalism, and tradition that never fades.
The perceptiveness of this family-owned business allowed them to recognize how the market was evolving due to newer generations reaching the age of proposals, engagements and weddings; Newer generations who have achieved success and were looking to make purchases on jewelry as their predecessors, Baby Boomers and Generation X, once did. Realizing this, they made a shift in their branding to meet the needs of younger clients. This is when the retail brand Diamonds by Raymond Lee was born.
The Dawn of Diamonds by Raymond Lee
With the additional brand came a new commercial building. Soon after, they were recognized as the leading authorized retailer of top designers supplying luxury jewelry and custom-made rings. In 2016, Diamonds by Raymond Lee was named South Florida's go-to jeweler for diamond engagement and wedding rings.
The Diamonds by Raymond Lee team is committed to reaching a broader, modern audience. Diamonds by Raymond Lee takes timeless traditions of the industry and combines it with a contemporary vision, which makes for a brand that can meet the wants and needs of high-end jewelry buyers of all ages. Diamonds by Raymond Lee still maintains it's original values by providing an authentic, intimate experience for any occasion.
Although selling jewelry is Diamonds by Raymond Lee specialty, that's not all they do. They also BUY jewelry, watches and rings from people who no longer want their valuable items; make trades for those who want a change; custom design jewelry and rings, provide written appraisals; and even help designers and entrepreneurs establish themselves in the industry with private label jewelry.
The well-rounded, adept business model and positive, philanthropic attitude has allowed Diamonds by Raymond Lee and Raymond Lee Jewelers to expand and grow in ways that prove dreams can truly come true.
Diamond Girls: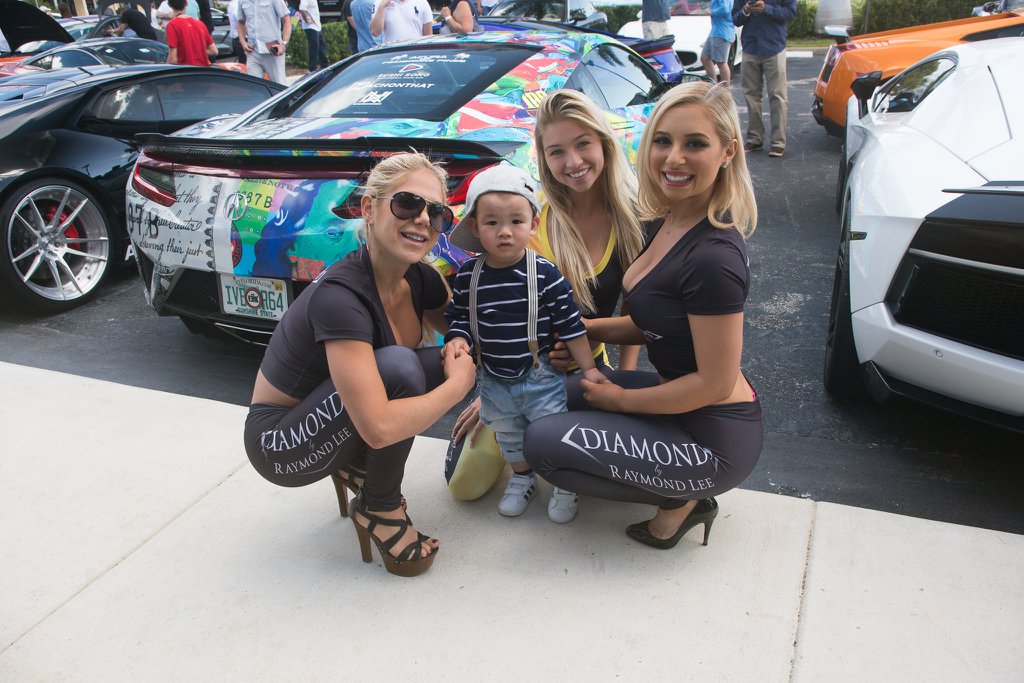 FOOD at the event: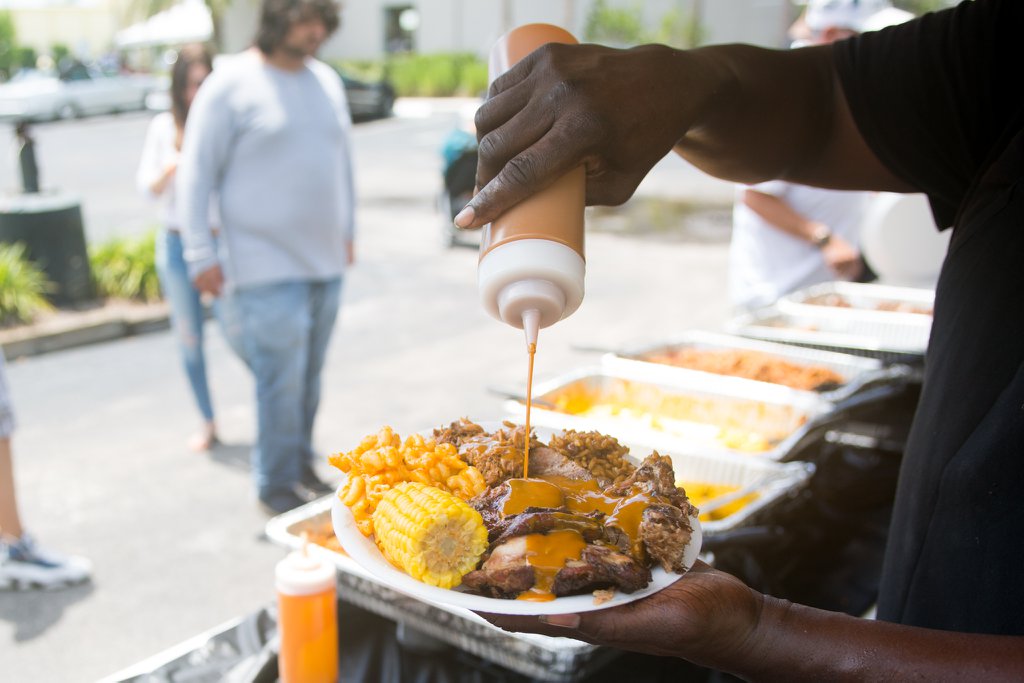 Back To School Supply Drive Success For The Boys and Girls Club of Broward County!
As with every Diamonds & Donuts car show, we bring deeper meaning to our community. Our July event benefitted the Boys and Girls Clubs of Broward County with a back to school supply drive. We can thankfully say it was a success.

Boys and Girls Club
If you haven't heard about the Boys and Girls Club, they are an organization that works tirelessly to provide children and teens with opportunities they may not have otherwise. The Boys and Girls Club of Broward County offers South Florida's youth a safe place to grow and learn. They give kids a chance to participate in life-changing programs that allow for character development, personal health, and mental growth.
With the past two events, it was our goal with the Diamonds & Donuts car show to help the Boys and Girls Club in any way we can so they continue to do incredible things for both the youth and the community of which they are members.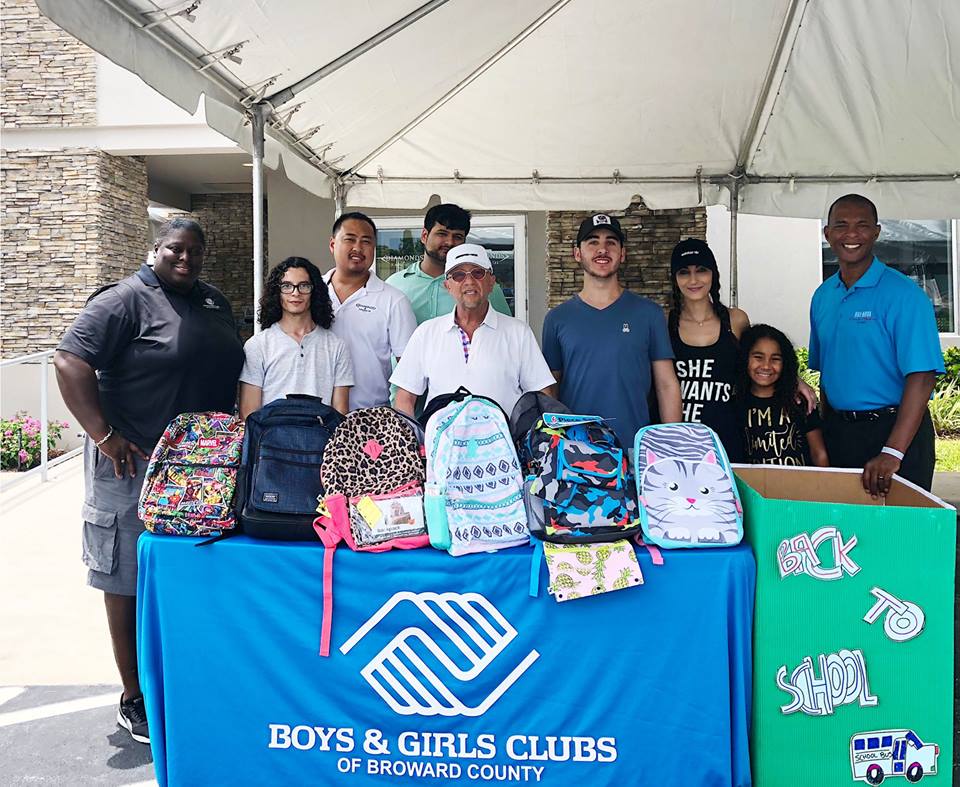 With that being said, this wouldn't be possible without YOU – Huge thanks to our sponsor, partners and all the participants that showed up.
Our appreciation and accolades go out to everyone who joined us at Diamonds By Raymond Lee on July 29th, 2018.
We are forever grateful for the people and organizations that work with us, many on a monthly basis, to put on this car show. Big shout out to the amazing food vendors, DJ Lite Bites, and all the fantastic local companies and car owners.
We also want to give a special thanks to the spectators, participants, and any passersby. You are an incredibly important part of what gives this event life.
Without all of your support and commitment, none of this would be possible. We love spending time with you all every month and seeing glorious, luxurious, exotic cars at our Boca Raton Event – Diamonds & Donuts Car Show.
Next Diamonds and Donuts Event – September 2nd, 2018.
Join us on Sunday, September 2nd from 9am to 12pm for the next Diamonds & Donuts car show. Enjoy breakfast snacks, BBQ, a jewelry giveaway, a live DJ and more!
The next event will raise money for Military Heroes Support Foundation. There will be all you can eat BBQ with a donation, and with that, wristbands will be sold during the event. If you plan on joining, please sign up here.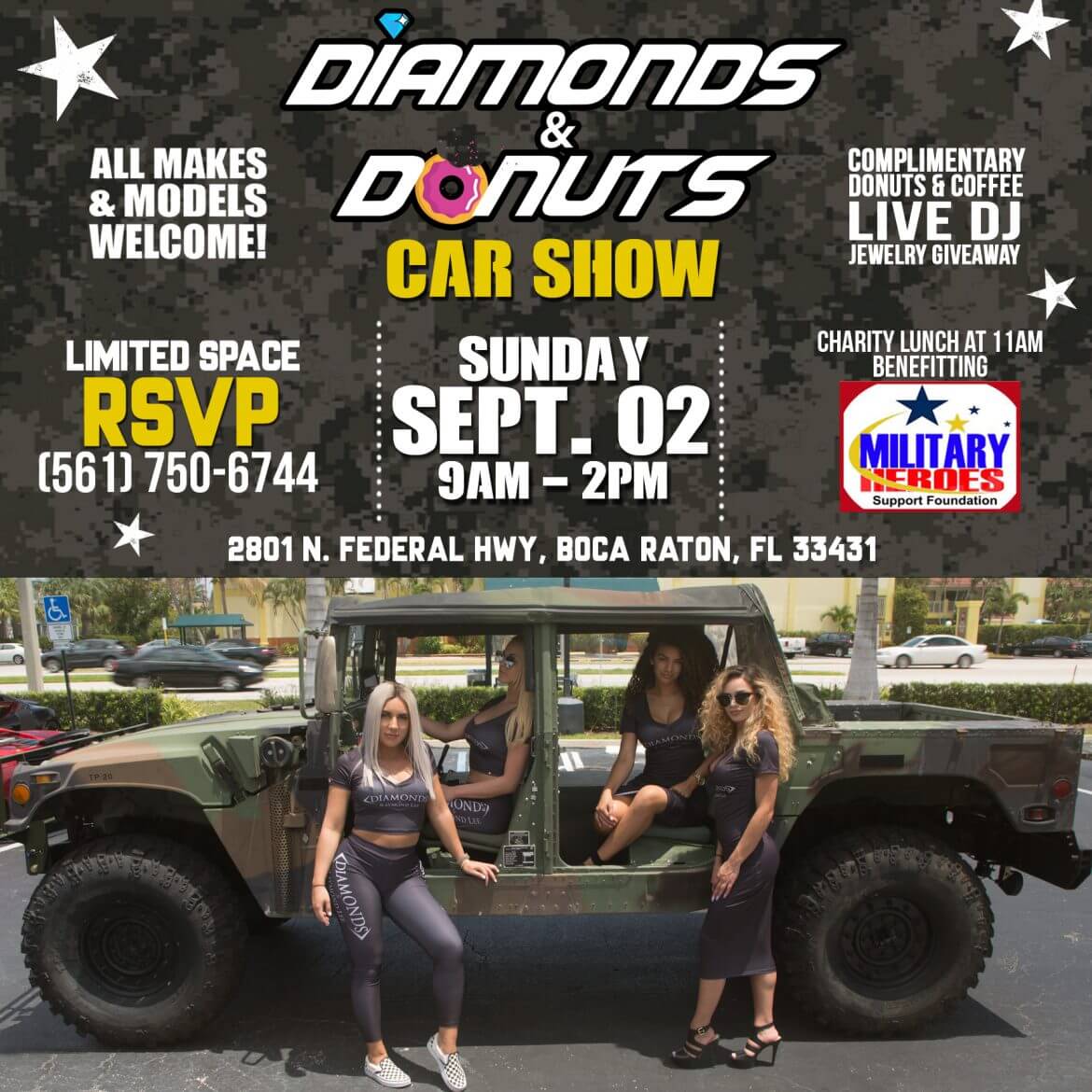 Who can join our car show? Everyone!
The car show is free for spectators and for individuals wanting to display their automobiles. It doesn't matter the make, model or price. We do require reservations to be made for those who want to display their cars, nonetheless everything is free of charge. Owners of the cars displayed at the event share their personal stories and amazing features of their cars. Everyone networks over a shared, common interest – cars, jewelry, and giving back to the community.
Guest are mostly residents of South Florida who hear about Diamonds & Donuts via word-of-mouth, the Diamonds by Raymond Lee Instagram which has shown to be a great place for the community to gather online and discuss the event and connect further.
We publish picture albums of each event on a timely basis, as seen in this post, to highlight the most noteworthy cars, our Diamond Girls, and our appreciation for the event and the community as a whole…oh, and donuts too.
Clearly, Diamonds and Supercars have decisive similarities, however this is the first event of its kind, and we have Diamonds By Raymond Lee to thank for that.
If you plan on joining the next Diamonds & Donuts car show, please sign up here.