First thing on a bride's mind when preparing for the big day may be the gown, the venue or any number of things. However, what can be more important than the symbol of your eternal love, the wedding band? It is the one piece of jewelry to be worn for the rest of your life and to represent your commitment to one another. There are so many styles, designs and modern new takes on wedding bands. A few things to take into consideration when shopping for your wedding band is the material you would like, for example platinum or white gold, yellow or rose gold, then of course if you want to add any stones. The stones can be anything from a single detail to an infinity band with stones wrapping all around the band.
Furthermore, if you want your wedding band to match your partner's there are a few design considerations to be taken. However, if you are each getting your own personalized style of the ring then bride's can opt for interlocking bands that are suited to their engagement rings. Also, there are stackable bands which are becoming ever more popular. These delicate bands often have alternating designs and may mix and match metals. Overall no matter what wedding band you choose it must only be one thing and that is yours. We at Raymond Lee Jewelers have supported couples in making their wedding and engagement jewelry dreams come true for the past 30 years. Additionally, we look forward to continuing for at least the next 30. While we discuss some of the important aspects of how to choose a wedding band we have included some of our favorite samples from our collection.
Material
The type of metal selected for a wedding band will first and foremost dictate the price. There are more expensive metals like platinum that are rare and extremely durable to softer materials like yellow or white gold. The thing to consider is firstly the color you prefer. Second, particularly if you would like a silver or white color how much maintenance is required. For white gold rings, for example, it is necessary to maintain them with rhodium baths. Since white gold does not naturally occur what jewelers do is create an alloy of yellow gold and other metals to achieve the color and finish it off with rhodium. Finally, certain metals cannot be resized in the case where you may need it expanded or reduced. There are also carbon fiber and even wood inlaid bands for gentlemen. Without further ado here are some of the solid metal bands we offer.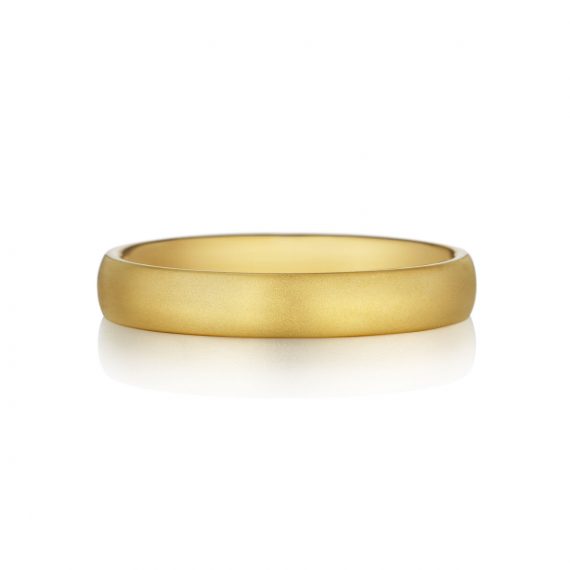 Understated and traditional a wedding band made purely of your chosen metal is low maintenance and timeless. One of the most common and recurring types of wedding band the yellow gold band is one that never goes out of style. It will not clash with other jewelry and can be maintained with relative ease with cleaning and polishing. This of course depends on each individuals usual activities and general nature of the ring. A designer band, this Henri Daussi is sure to last many, many years to come with no worries as to scratching. A band like this can also be resized throughout the years as needed.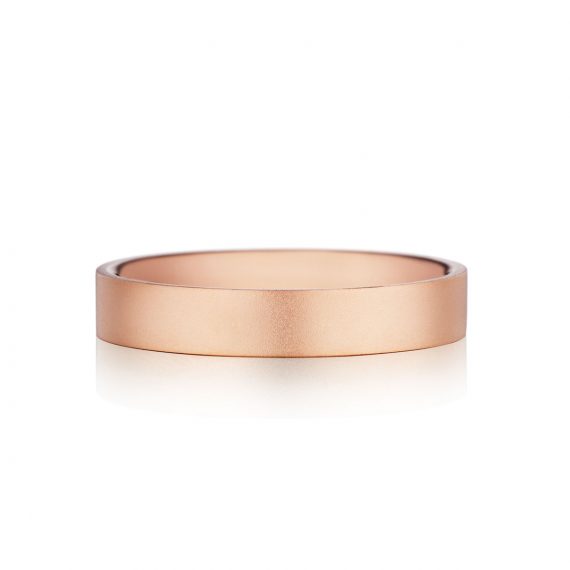 Another classic design this designer Henri Daussi 4mm rose gold men's wedding band keeps it modern with a unique use of rose gold. Most traditional wedding bands are yellow gold or perhaps platinum but this one carries a slight truly unique touch of rose. It also has a strongly masculine squared off shape. The edges have not been rounded out in order to produce a more geometric straight line shape.
Wedding Bands with Stones
Next one must consider if they want any stones in their wedding band. For some, they opt for a traditional brushed wedding band but more and more we see brides and grooms selecting special stones to add on. From a single sapphire or emerald to rows of diamonds the possibilities are limitless. Particularly for gentlemen, the wedding band options with stones are wide-ranging. There are simply understated bands with a few sparkles added into opulent multi-row rings featuring several different cuts of diamonds and colorful gems. It all depends on personal preference. A new popular wedding band option for ladies are the infinity rings. These do not just feature precious stones but actually have gems set the whole way around. Usually, these infinity bands are round brilliant cut diamonds. Below we have more about these, but here are some wedding bands featuring stones in our collection.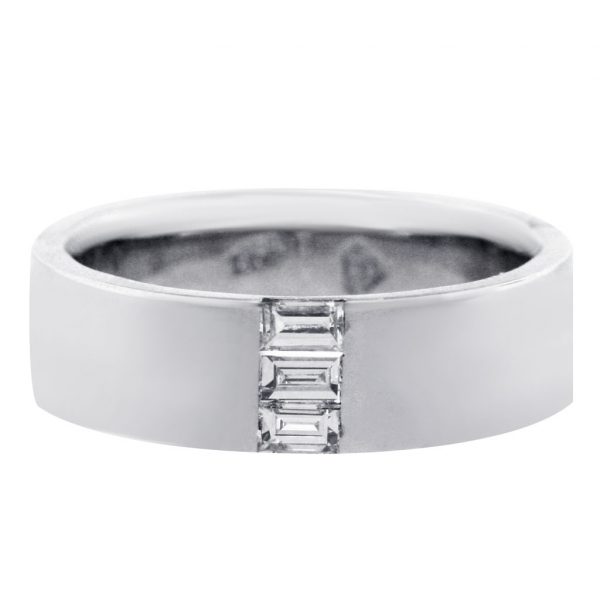 An understated white gold men's wedding band featuring three emerald cut diamonds brings a bit of sparkle to the traditional men's band. The three emerald cut diamonds are set horizontally stacked one on top of the other at the center of the ring. This offers space if an individual decides to add more stones in the future.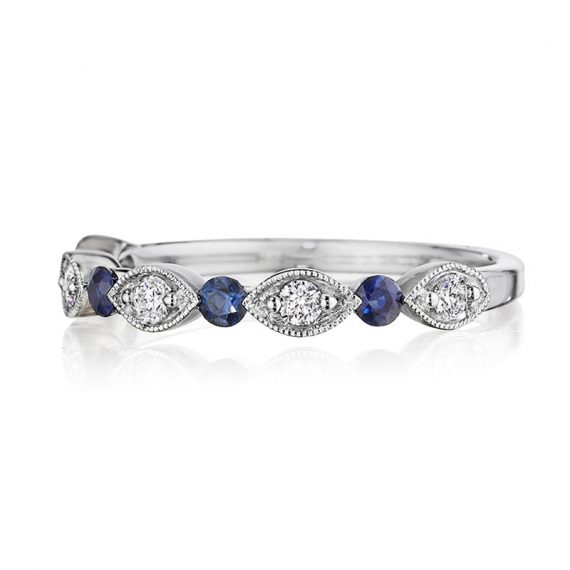 For the bride, this sapphire and diamond white gold band brings a bit of color and intricate design. A strong change from the traditional smooth metal bands above this ring is unique and finely crafted. A designer band this Henri Daussi 18k white gold ring has uniquely set diamonds interspersed with blue sapphires. This ring can also easily be worn with stackable bands and your engagement ring.
Matching Wedding Bands
For some couples their wedding band selection is matching rings. There are plenty of options in this instance and the only real question is one of which material to use. Generally speaking, couples selecting matching bands to go for the classic brushed set of rings. These can be yellow gold, platinum, white gold or even rose gold among others. To make these rings extra special inscriptions are usually added inside. Things like wedding dates, initials or messages inscribed within the rings make them personal and unique. Although the wedding bands match generally speaking women's bands are slightly thinner. This is both to fit with the engagement ring and for a more feminine style.
Infinity Wedding Bands
Another popular option for ladies wedding bands is infinity rings. These rings have intricately set diamonds or precious stones all the way around the band. Depending on the size of the stones and of course which stones and gems have used the price of these bands range widely. The glimmer and shine of these make them particularly popular. It is a refined and confident style of band that no matter how much it turns on your finger will always be sparkling. The name infinity band comes from the full circle of stones and of course, represents the love you share. An infinity ring for your infinite love.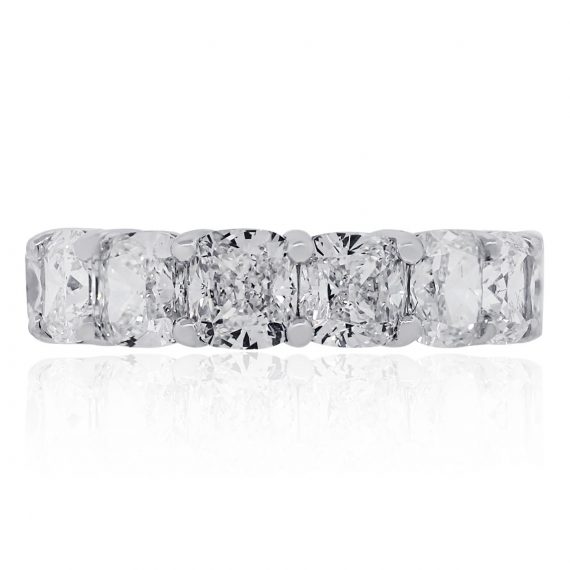 First is this gorgeous platinum 11.18ct cushion cut diamond eternity band. The large diamonds are set perfectly one next to the other so this band will sit on your finger comfortably while catching light from every angle. It has traditional cushion cut diamonds and platinum. Platinum being one of the strongest and hardest metals in the world makes this an extremely durable and hardy diamond infinity wedding band. It is sure to set your engagement ring's central stone to shine brighter than ever as it is surrounded by these gorgeous diamonds.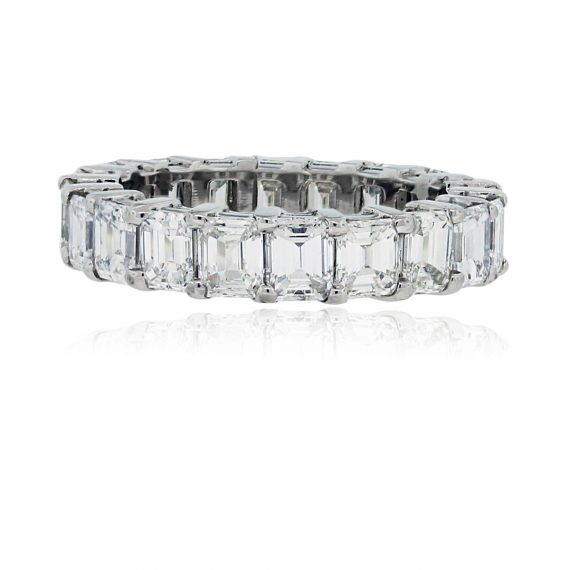 Another infinity wedding band option is with emerald cut diamonds. These are individually sculpted for a sleeker and more modern look. The geometric shape and smooth surface make for a comfortable wear. The 5.64ct diamonds are large and clear ensuring this band sparkles. A refined and imponent wedding band this ring is meant to be seen. It is large and most likely will not fit comfortably with several stackable bands. However it fits perfectly to any design of engagement ring.
Interlocking Engagement and Wedding Rings
An innovative type of wedding band is one that interlocks with your engagement ring. These tend to have unique shapes that conform to the engagement ring's central stone. The interlocking wedding bands generally tend to be worn with a third band. In most cases, these wedding bands have stones and quite often are infinity bands that interlock. Since these fit into the engagement ring most are purchased in sets or custom designed. The stones for these types of the ring really cannot be too large in order to interlock properly but it all depends on how intricate the design is, the shape of the engagement rings center stone and if the band will have stones.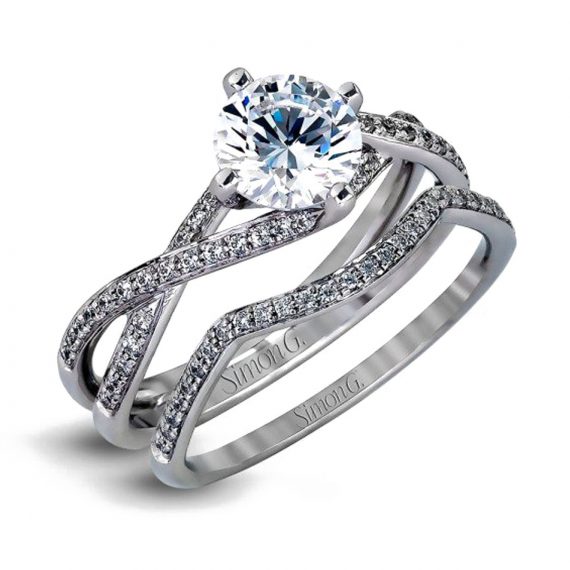 A designer wedding band and engagement ring set these are crafted to fit together perfectly. Featuring a slight curve at the center to accommodate the engagement ring's central diamond the wedding band follows the curvature of the engagement ring.
Stackable Wedding Rings
Another recent trend for wedding bands is thin, delicate stackable bands. These tend to be either in alternating designs or materials and gracefully come together. Beyond the traditional wedding band and engagement ring, stackable rings can be as many as you want. There are lovely combinations featuring diamonds and gems as well as different shades of yellow, rose and white gold.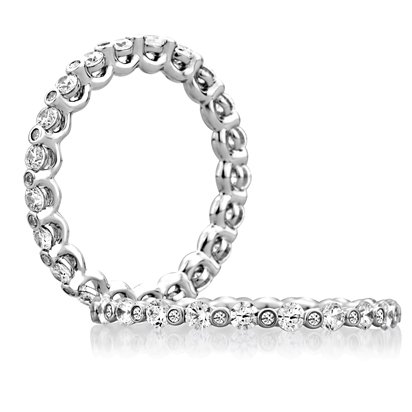 First is this intricately designed A. Jaffe stackable eternity wedding band. It features diamonds in two different types of setting interspersed with one another. They give the band a unique design and ensure it shines among others in your stackable set. The delicate features of this ring allow for it to be stacked with engagement rings, other stackable wedding bands and commemorative bands.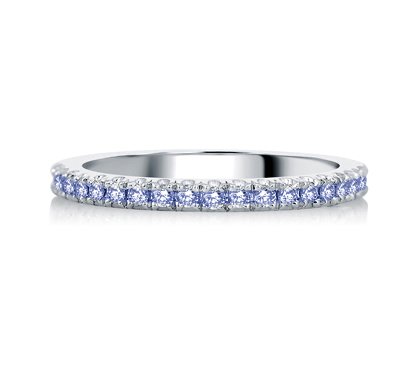 Another unique stackable wedding band this A. Jaffe blue sapphire eternity stackable band is a refined and colorful choice. It is sure to give your engagement and wedding band stackable arrangement a fun burst of colorful gems. Each blue sapphire is set perfectly centered maximizing brightness and fit. This band can even be worn as your something new and something blue for your wedding day.
Custom Bands
As discussed above there are certain rings that really must be custom made in order to fit into the desired design. For the unique interlocking or special order ring, we offer custom orders. Our master jewelers work with you in order to bring your dream idea to life. We confer with you at our gorgeous showrooms and produce a 3D drawing of exactly how your jewelry piece will look. The materials we use are only of the finest quality and we source our own diamonds and stones. Also, we rigorously test our final products to ensure quality. We want to create your dream wedding band, schedule a time to speak with one of our master jewelers today by clicking here.
Final Thoughts
Overall there is an infinite number of options for wedding bands but each one is ideal for a specific person. You must simply ask yourself what band would you truly want to wear forever. This special symbol of your love and commitment will stay with you always reminding you of that special day and relationship. Throughout the years your bands will need maintenance and may even require repair or the desired modification. For all of those needs, we at Raymond Lee Jewelers are happy to help. At our gorgeous showrooms, we will work with you so our master jewelers can craft and care for your bands for decades to come. Our work is in helping you're happily ever after long after the big day. Visit us or check out our full range online. Beyond custom and designer jewelry we also source diamonds and gems.