If you happened to visit a diamond jewelry store or do some research on diamond engagement rings, you might have come across the term' Diamond Accent, or 'Accent Diamonds.' These are one of the main features of a diamond ring, adding to its elegance and beauty. Diamond accents are small stones that circle around a bigger stone.
You should know everything about diamond accents, as these small diamonds can give your diamond ring a grand appeal, especially if you're buying it for a big event like an engagement or as a wedding band. To help you out, mentioned below is everything you need to know about diamond accents. Knowing about diamond accents can definitely help you choose the right one.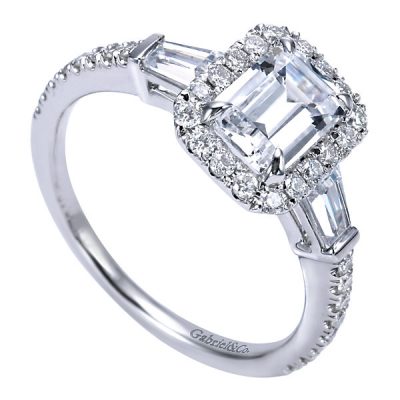 Diamond Accents around a Halo White Gold Diamond
What is a Diamond Accent?
A diamond accent, also known as accent diamonds, are small, simple cut stones that jewelers usually place around the main center stone of a diamond ring and other jewelry items. The purpose of these stones is to give a ring an exquisite and unique look. There are different types of diamond accents, from trillion cuts and round-shaped to trapezoids. Diamond accents are quite small, which makes them extremely delicate and decreases their visibility. These miniature diamonds do not come with full facets, making them normal-size stones.
If you're wondering whether or not a diamond accent is a real diamond? Yes, they are, as these have clarity, color, and carat weight grades – something that other diamonds share as well. The only difference you will find is a small size and that lack of proper visibility. These diamonds are mostly used by proper jewelers, who buy them at wholesale rates to make the perfect diamond jewelry. You may not be able to buy these individually. Read further below to learn more about diamond accents.
Types of Diamond Accents
Diamond accents come in three categories; Trillion Cut, Baguette, and Round small diamond shapes. Under each category are different centerpiece diamonds that flow with the price at a reasonable point. Mentioned below are the different types of diamond accents:
1.      Trillion Cut Diamonds
Trillion cut diamonds are triangular-shaped, so they're very different from other diamond accents that usually appear in round or rectangular shapes. They are quite distinct, and they add a lot of personality. Despite being so unique, they don't overshadow the main stone. Nonetheless, they're still able to keep up with the main diamond's mesmerizing features. Trillion cut diamonds naturally flow with the curve of a ring. Not to mention, they make the stone appear larger than other ones that weigh the same carats.
If you plan to get trillion cut diamond accents in your ring, then the best one to choose is a round brilliant or a cushion cut diamond. Though these would look good with radiant and princess cuts, they complement cushion cuts and brilliants more.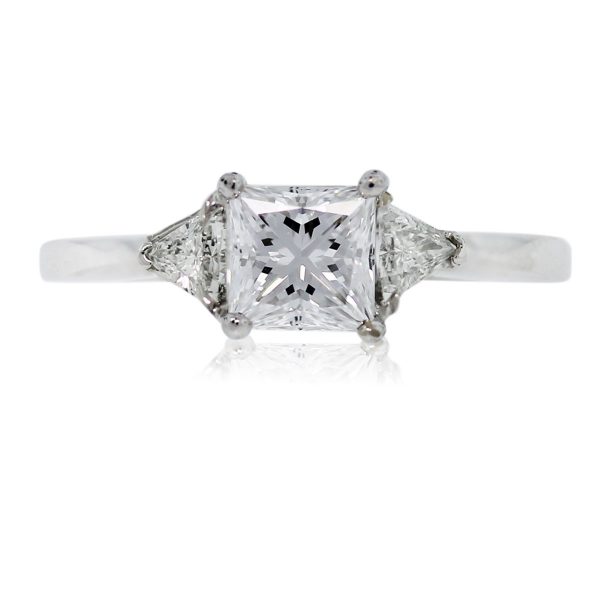 2.      Baguette Diamonds
Baguettes are fantastic diamond accents if jewelers need eye-catching shape and symmetry. These diamonds have a very traditional appearance and come in small carat weights. You can place baguette diamonds next to another side of baguettes for a double row of baguette diamonds.  These diamonds include a step cut in contrast to the other diamond shapes, such as the cushion cut and round cut stones.
Baguettes don't have much sparkle compared to other diamonds, but the other features of these unique diamond accents make them beautiful and unique in their own way. Baguette accent diamonds come in two different shapes that are also very popular:
·         Straight Baguette
Straight baguettes are rectangular diamonds with an equal width as a stone's length. These stones have a larger appearance than other diamonds with equal carat weight because of their substantial and unique size. The best part is that they add beautiful features to a ring by enhancing the symmetry.
Jewelers usually arrange straight baguettes with a large middle stone or place them adjacent to each other in one row. This helps the wearer achieve a grand diamond look. You can use straight baguettes with different diamond cut shapes like Asscher, round brilliant, and Marquise cuts.
·         Tapered Baguette
They come in structured rectangular shapes as one end of the diamonds is slightly wider than the other side. Tapered Baguettes keep the original look of the diamond alive by adapting to the design and providing a subtle classic style to the overall ring, just like in this platinum tapered baguette engagement ring setting. You will often find tapered baguettes in three-stone settings or a side stone. A great thing about these beauties is that they go well with all diamond shapes like emerald cuts, princess cuts, radiant cuts, and more.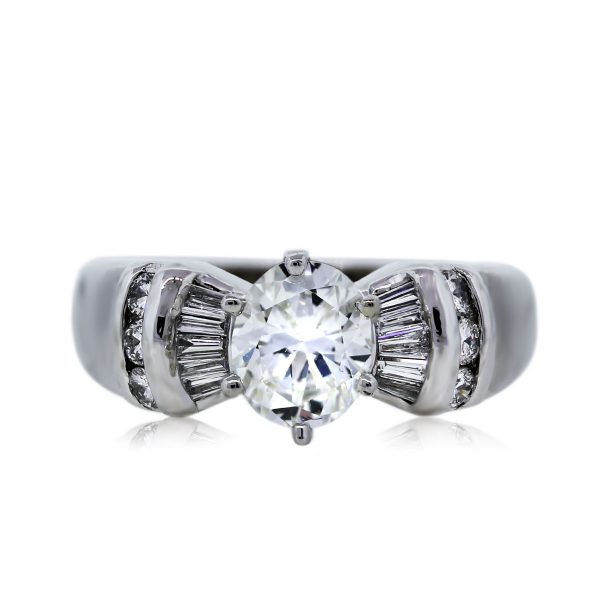 Small Round Diamonds
Small round diamonds, as the name implies, are simple, round designs that go well with all diamond shapes. They look best when jewelers use the three-stone or channel setting. These beautiful sparkly diamonds have numerous facets for a brilliant cut. For small round diamonds are cut into one-eighth main facets, but jewelers no longer use them to make jewelry.  There are three different categories of small round diamonds. They have the following nicknames:
·         Full Cuts
Full cuts have a carat weight of around 0.02-0.07 carats, and the name was used to differentiate full-cut diamonds from smaller ones, but jewelers no longer use them.
·         Melee
Melee weigh around 0.o08-0.18 carats
·         Stars
Stars weight 0.02 carats or less than that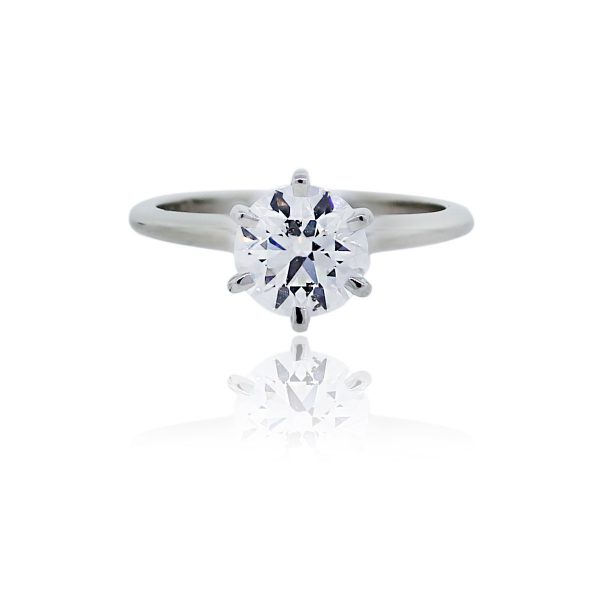 How To Choose The Right Diamond Accent Shape and Style
Selecting a suitable diamond accent shape and size to enhance your ring's main stone is no easy task. It is a stressful and confusing task, but with the right guidance, you'll be on your way to getting a fantastic finished jewelry product. Ideally, you can find a match by considering the main gemstone. You can select suitable accents based on their placement. Overall, you'll have to look at factors, such as the color and clarity, before the end result aligns with your expectations.
The Color
The color grade is one of the main factors you have to match your accent diamonds according to. Sometimes it is difficult to notice the difference in a color grade, such as between a G and H color grade. The prices may differ for both grades, but it's not possible for the naked eye to tell the difference between them. The center stone of your ring or jewelry should be colorless, as this way, you can contrast it with accent diamonds.  So, make sure to select accent diamonds that are at least three color grades lower than the center diamond. Keeping this factor in mind will make you feel like you're on track towards getting the perfect diamond accent jewelry.
Clarity
Just like the color, you can apply the same concept when looking for clarity in your accent diamonds. You can choose an accent grading 1-2 grades lower than that of the main middle stone. Preferably, it's recommended that you choose diamond accents that are clean to the eye, so you get a magnificent ring. If you choose a higher grade, you will simply end up paying more than required, and it's not worth it as you won't even be able to notice the grades. If your accent diamond weighs 0.02 carats or less, the clarity doesn't play a major role, but if this is the case, you can go 2-4 clarity grades down compared to the main gem.  When you are using small diamonds, you should be familiar with the term' diamond pointers,' as each small diamond carats have around 100 points.
Carat Weight
Most diamond accents weigh around 0.01-0.18 carats, according to the setting of the carats and your personal preference. If you choose a side stone or three-stone setting, you will want to choose accent diamonds that are half the size of your main stone. This is the only way you can achieve a balanced look.  Make sure that the diameters of the side stones are somewhat equal to the center stone table size, especially if you design a stone ring like this 14k princess cut diamond engagement ring. You will have to make a few calculations for preciseness, following the table size, by multiplying the center stones' dimensions with table percentage. For the best way to determine the ratio of the main stone and accent stone, use the outer diameter measurement. Or, you can use the carat weight to compare.
Diamond Accents Setting Style
In case you don't have enough information about the three-stone style mentioned in the above point, for the channel and pave setting, you have to use smaller accent diamonds. There are already many tiny stones in this setting.  Make sure to select accent diamonds that are no bigger than 1/6th of the center stone's size. You can also incorporate colored gemstones in the design to add some color to your jewelry piece. Colored stones are a unique way to give an extra touch and bring a subtle spotlight to the overall ring or any other piece of jewelry. You can use gemstones such as sapphire accents to give your jewelry a colorful appeal.
If you really want an exquisite accent diamond look, you should opt for small round accent diamonds as they can complement all ring settings, such as paved, side stone, three-stone, and channel. If your ring has thicker sides, small round accent diamonds can fill up the sides perfectly. This way, your jewelry will sparkle and glow even more. When coming up with a setting or design for your jewelry, it's important to consider your personal preference as the diamonds have to look good on you. Hence, select a style that will look best on your hands or neck, depending on the type of jewelry you're looking for.
The Cost of Diamond Accents
Diamond accents aren't as valuable as center stones, and most prices vary according to the carat weight. Hence, they aren't as pricey and valuable as you would expect them to be, even though they are equally sparkly and add a glamorous touch. Diamond accents become cheaper when you choose a lower grade, as some diamond accent categories come in grades that bring down the price.  As mentioned above, diamond accents are usually available for jewelers who purchase them at wholesale rates. Hence there are no individual customers for such diamonds. This is why diamond carats are priced per carat, so the average price would be around $300 per carat if you're going for a diamond accent with an average grade in both clarity and color. These prices could rise up to $1000 per carat if you select high-quality cuts.
No matter how much these accents are worth, they still are very beautiful. They are one of the main features of a jewelry setting that can help add that final glow to your jewelry.
The Takeaway
Now that you know more about diamond accents, it will be a little easier to select the right ones to enhance your jewelry's main gemstones. For the best rings and pendants with diamond accents in all different types, head over to Diamonds by Raymond Lee, the best in South Florida.