Top 5 Premium and Perfect Diamond Engagement Rings
As wedding season draws nearer, it's about time you ask your other half the big question with the perfect diamond engagement ring. If getting married has been on your mind for a while, you're probably stressing about the price of the ring and how you will arrange for the perfect moment when you get down on one knee. But, there is nothing to stress about, especially not the cost. There are different diamond engagement rings available that will suit your budget and the quality you want.
To achieve the right one, you must know how to buy the perfect one, as a lot of thinking goes into it. Mentioned below are the top 5 premium diamond engagement rings that will make your married life special. Also, find some tips on how you can buy the perfect one.
How to Buy the Perfect Diamond Engagement Ring
When buying an engagement ring, you're investing a lot, both financially and emotionally. This is why you should want your engagement ring to make your other half feel special and happy. There are a few things you have to keep in mind when buying the perfect diamond engagement ring. After all, this isn't an ordinary piece of jewelry. Mentioned below are few tips that will help you when purchasing a diamond engagement ring:
§  Pay Attention to the Diamond Cut
Every diamond has a different type of cut, which is what makes it different from the other. Since you're buying an engagement ring, you must choose a diamond with a unique and excellent cut. This way, it looks like it's for a special occasion. By choosing the wrong, low-quality diamond cut, you compromise on the diamond's appearance.
§  Go to a Renowned and Recognized Jewelry Stores
When in search of a diamond ring, you will come across many jewelry stores that offer some of the most exquisite diamond engagement rings. Nevertheless, quality and price are the main determining factors. For that, you need to shop from the best online jewelry store in South Florida, offering amazing customer service and a wide range of diamond engagement rings.
§  Must-Have Proper Certification
When choosing a specific diamond engagement ring, you must make sure it has a Gemological Institute of America (GIA) certification. This means the diamond is of top quality, meets all the grades that make up the four C's.
§  Check the Color and Clarity
Color and clarity are one of the two C's that make up the grading system of diamonds. Your aim is to go for a clean and colorless diamond, which means that there should be no visible flaws on the diamond. Your clarity grade should be around VS2, and color grade should range between F and H. If your diamond engagement ring meets these grades, you don't have to worry about your partner not liking it. These grades are what will make your diamond ring look precious and beautiful.
§  Take a Second Opinion
It's always best to get a second opinion from someone who has purchased a diamond engagement ring before or works in the jewelry business. With the help of expert opinions, there are fewer chances for choosing a poor-quality diamond ring. It certainly makes the entire buying process a little less stressful for you.
Top 5 Premium and Perfect Diamond Engagement Rings
1.      Tiffany & Co. Platinum NOVO Square Cushion Diamond Engagement Ring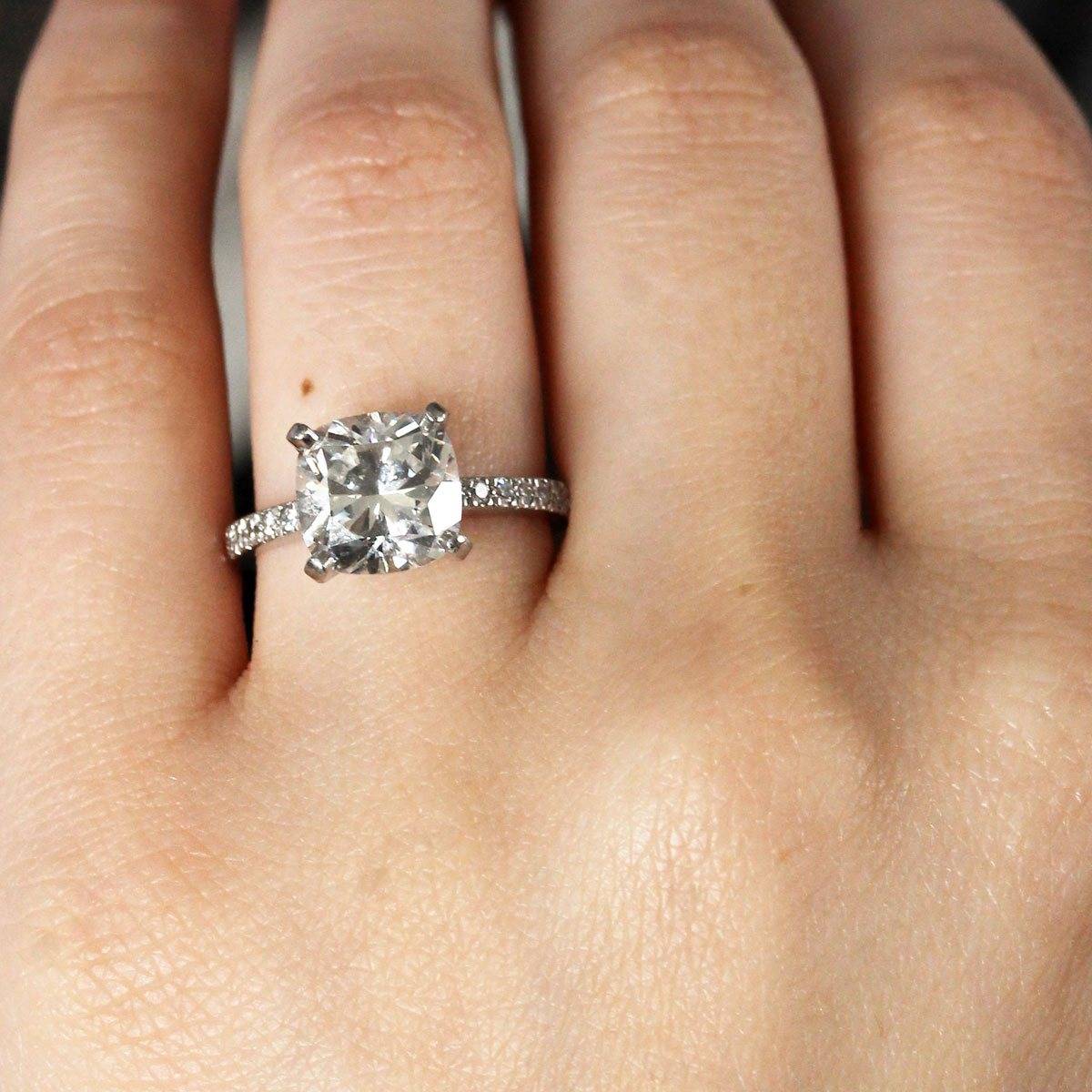 Perfect for an engagement ring, this platinum NOVO square diamond engagement ring is a true beauty. There is a lot to absorb once you see a fine sparkly ring in front of you because of its unique and mind-blowing appearance. It's just incredible! Again, Tiffany & Co. has inspired diamond ring lovers to take the initiative in such beauty that comes with so many advantages. This ring originally came for around $210,000, but the price has since dropped to 189,000.
If you purchase this from Raymond Lee Jewelers, it will cost you around $139,000, which is for a limited time only. The amazing thing about this astonishing piece of jewelry is that it meets all the 4 C's, which add to its enchanting beauty. The square cushioned diamond in the middle is a real charmer, as it's surrounded by a 0.16ctw diamond stone. This engagement ring consists of the finest platinum, as it weighs around 1 pound.
On the whole, this is a premium engagement ring that gives out major feminine vibes with its four slim prongs around the roughly square-shaped diamond. It's a mixture of modernized romance and beauty, which most Tiffany & Co. engagement rings tend to exude.
2.      Henri Daussi AMDSO76 4.2CT Diamond Engagement Ring
If you want an engagement ring with more prominence and thickness, then this Henri Daussi Halo Diamond engagement ring is what you need to check out. This ring has attributes that help bring out a woman's hidden charm. This halo diamond engagement ring includes a mixture of modern and vintage details, covering a sleek build. It comes with an 18k white gold diamond, which radiates a luxurious appeal.
The ring also comprises round cut diamonds all around the band, giving it more of a grand look. All the side stones around the halo stud have a good prong setting grip for an elegant yet fiery look. The main feature of this diamond ring is the side diamond studs, which is what makes this engagement ring stand out from the rest and is perfect for such a sensual and important event in your life.
The amazing thing about this diamond engagement ring is that it symbolizes your devotion and one-of-a-kind love for your other half. A diamond engagement ring that comes with a beautiful meaning, and jaw-dropping appearance, is something you cannot miss out on.  If you're not satisfied with white gold, you can buy this ring in rose gold, yellow gold, or platinum. This is certainly one of the most expensive engagement rings, priced at $191,871. So if you want to go big with the ring, this is the ring you should go for, and it's definitely worth it.  For any additional personal adjustments, you can contact Raymond Lee Jewelers or from the official Henri Daussi
3.      Tacori RoyalT HT2614 Emerald Cut Diamond Halo Engagement Ring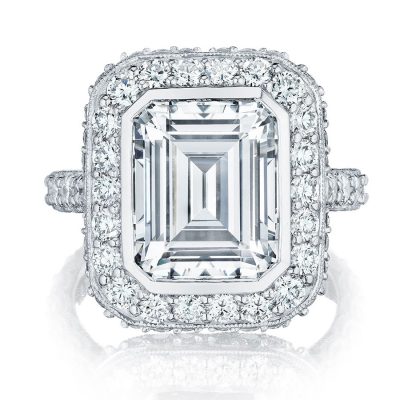 The magnificent Tacori RoyalT Emerald cut diamond halo engagement ring is quite the game-changer. It might just make your next romantic journey even more special. This flattering diamond ring comes with a cubic zirconia center stone with measurements of 10mm x 8mm. You can replace it with your favorite emerald cut diamond, beginning from a minimum of 3 carats. Once you reach the halo diamond, you will notice 1.77 cts of pave round cut diamonds that go over three-fourths of the band.
Every inch of this diamond engagement ring has incarnate diamond detailing, which makes it even more precious. On each side of the ring's setting, you will also notice a miniature milligram design. The Tacori RoyalT gives you a choice to choose your preferred metal. The options you have include rose gold, white gold, and yellow gold 18k. If you have a good close-up of the ring, you will see how it gives out a classic vintage touch and feel. These effects add royalty to your special moment and overall journey with your other half.
Raymond Lee provides some of the best diamond endearment rings from Tacori. What makes these types of engagement rings premium and perfect is the incarnate diamond detailing and vintage touch. Considering this for your proposal is sure to make the moment even more special. Your other half will feel like the most important person in the world once she sees this ring.
4.      EGL Certified 9.03K Radiant Cut Diamond Engagement Ring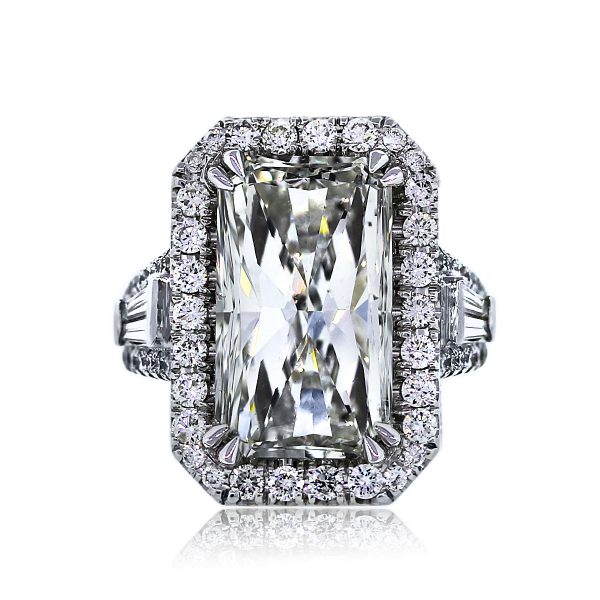 The EGL certifies radiant cut diamond engagement ring is another stunner and is probably the most suitable item in the Raymond Lee Jewelry collection if you want to go big when purchasing an engagement ring. The ring features a 9.03ct radiant cut diamond, with an F color ranking according to EGL standards. The clarity of the diamond is an S12, so it meets most of the four C's. Therefore, you can rest assured that the ring is of high quality.
Among the additional features of this diamond engagement ring, you will see 18kt micro white gold paved halo diamonds on the shank, along with tapered baguettes. Perhaps the real eye-catching features of this ring are the tapered baguettes surrounding the large main radiant diamond. These are set in a very elegant manner, adding grace and uniqueness to the overall look of the ring.
The best part about this ring is that it will look fantastic with whatever dress the wearer on. Regardless of the occasion, it adds an elegant flair to an outfit. From cocktail parties and weddings to parties and business events, this ring is perfect and will for sure bring all attention to you. If you look closely, you will also notice a cocktail ring feature centering on the diamond in the middle.
The original size of this ring is 7; however, you don't have to worry about it not being the right size as you can easily get it resized at Raymond Lee Jewelers. With such exquisite detailing and features, it's impossible not to consider this ring. After all, it will surely add some sparkle to the next big step in life you will take with your other half.
5.      Tacori RoyalT HT2613 Diamond Halo Engagement Ring Setting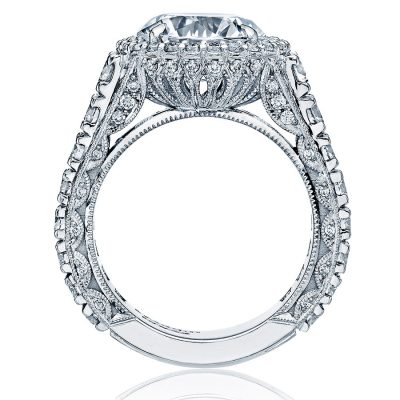 There is nothing more bold and beautiful than this Tacori RoyalT Diamond Halo Engagement ring, which radiates a burst of romantic charm because of its diamond-centered feature. The mini diamonds all around are a sign of luxury that instantly elevates the wearer's outfit. This ring features a halo-shaped setting that includes three rows of diamonds traveling all around the band. The round, beautifully cut diamonds around the band and halos are more than 2 carats. The diamonds appear in very beautiful motions. It's like they're creating a subtle flow as the diamonds start small and grow bigger as they get closer to the center stone.
You can choose your stone cut from options like cushioned, round, emerald, or princess cut. All of these start at 3 carats if you want to achieve a bigger diamond look. You also have the option to choose between platinum, rose gold, or 18k yellow gold.  What will really amaze you about this ring is the crescent feature, which brings out the uniqueness in this mesmerizing diamond engagement ring, along with the milgrain cut-out design, which appears right under the center stone.
The interesting thing about rings by Tacori is that they are easily customizable, and Raymond Lee Jewelers can help you do just that.  Whether the ring is for you or your significant other, it will look fantastic on the wearer, and will make the proposal one of your most memorable moments.
Final Words
Now you know the top 5 premium diamond engagement rings. It's time you start planning out which one would suit your other half the best and make the experience of marriage more special. Choosing an engagement ring is quite a big deal. Also, you would want to take all your time in choosing the perfect one that meets all the 4'Cs. These five rings are no doubt quite pricey, but they meet all the 4'Cs, which plays an important role in making an engagement ring look perfect and worth it. If you've already chosen your favorite one from this article, head on over to Diamonds by Raymond Lee; they offer the best engagement rings in South Florida.