Art Night featuring Kirstin Pavlick & Boca's First Wall Mural at Diamonds By Raymond Lee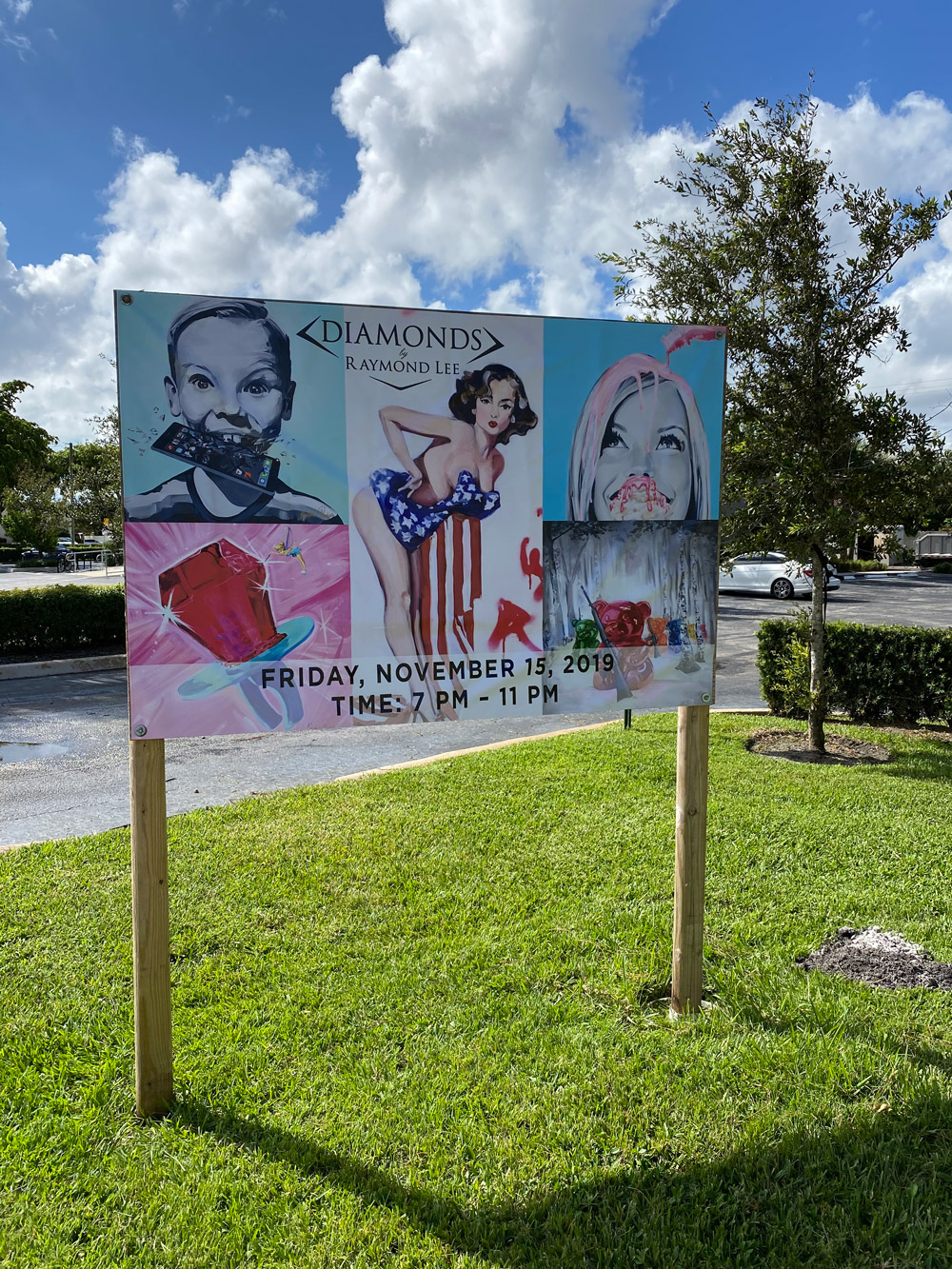 Do you love Art? Who doesn't, right? Well, we have great news for all the art lovers in Boca Raton and South Florida – This coming Friday, November 15th, 2019, we are throwing an 'Art Night' event at Diamonds By Raymond Lee in honor of our soon-to-be monumental, vibrant, on-brand wall mural created by local artist Kristin Pavlick.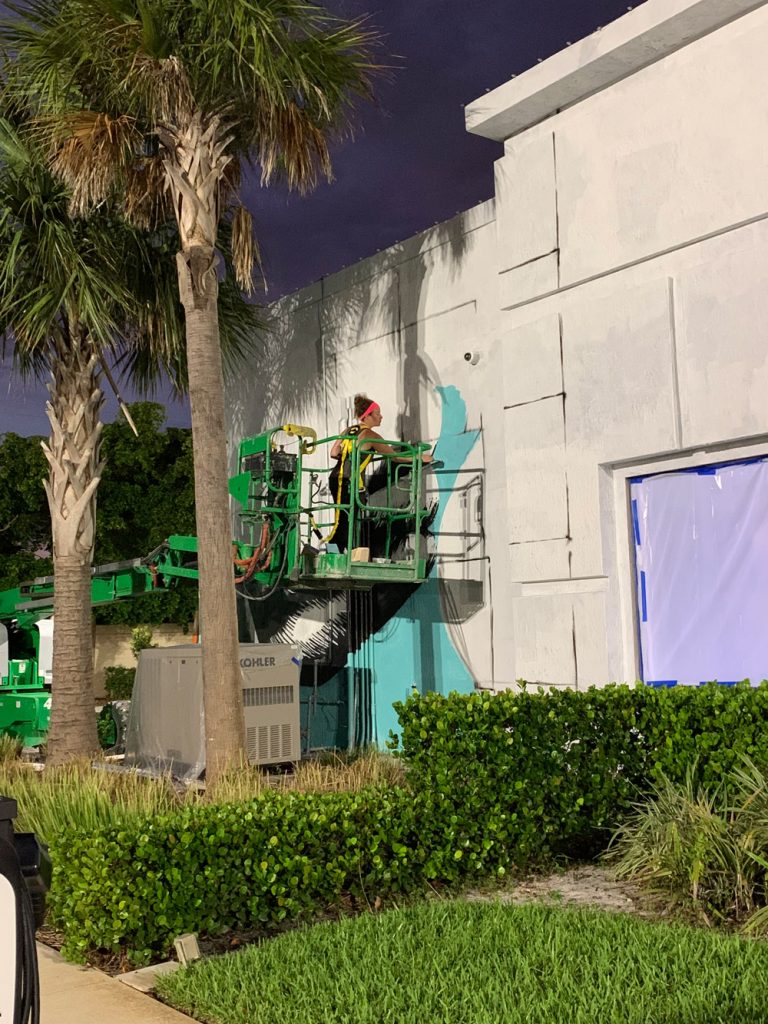 The immensely talented artist, Kristin Pavlick, will be completing part 1 of this large scale project, a huge hand-painted wall mural situated on the south side of our Diamonds By Raymond Lee showroom building. She will be doing this live, for everyone to see, this Friday.

This will be the first wall mural in Boca Raton of this magnitude. What's more, due to the placement of the wall mural, it will be visible from North Federal Highway, thus completely revamping the scenery of one of Boca Raton's most heavily trafficked roads.
Of course, we had to get this approved by Boca Raton's CAB (Community Appearance Board), which you can read about here. In short, they loved the idea, stating "That's gonna wake up that part of Federal!" And, to be frank, that is precisely our goal…
We hope our wall mural will inspire other companies in Boca Raton to do the same, in effort to produce positive effects in our community. If you look to Delray Beach, which has a major influence on the art scene in South Florida, you can discern how their spectacular wall murals have benefited the city in numerous ways.
So, to kick this off, we are throwing our first Art Night event this Friday, as Kristin Pavlick completes the first stage of the wall mural.
Art Night at Diamonds By Raymond Lee – Event Details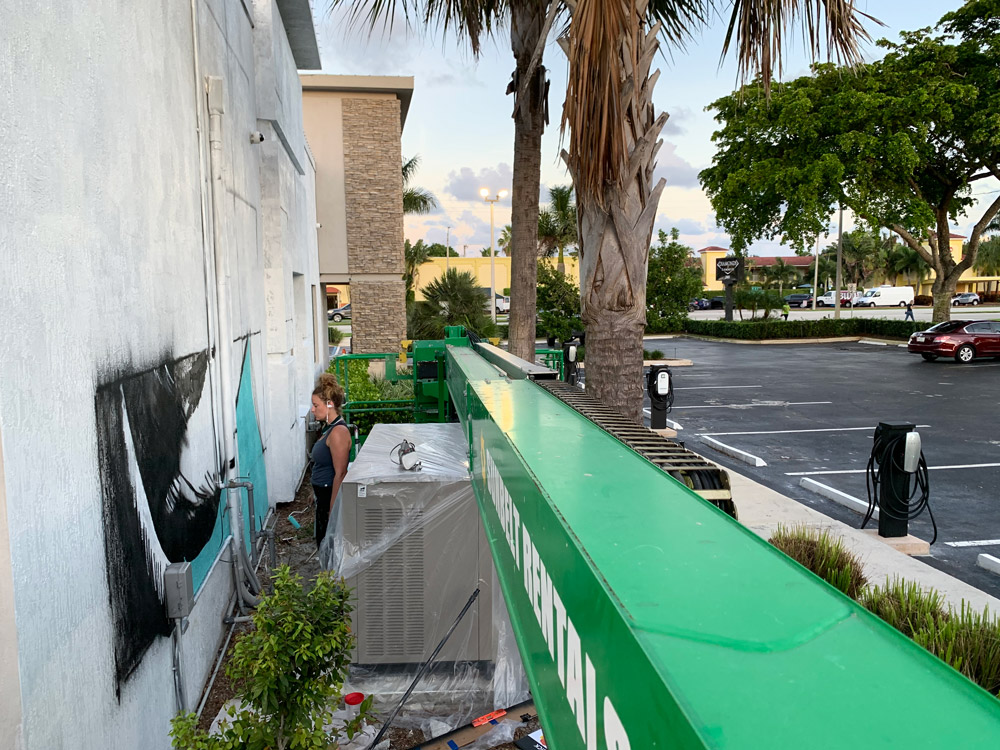 Friday – November 15, 2019 from 7pm – 11pm EST at Diamonds By Raymond Lee in Boca Raton.
During Art Night, Kristin Pavlick will be completing the first phase of Boca Raton's premier wall mural. There will also be other local artists at Art Night carrying out live art performances.
What's more, we will have live music, entertainment, and delicious food. Not to mention, our breathtaking fine diamond jewelry and luxury Swiss watches will be on display in our showroom.
The purpose of this event is not only to show off the beginnings of our stunning wall mural to be, but it is also to raise awareness for the significance of creative modern art. Furthermore, this Art Night event will be supporting the newly formed Art in Public Places Advisory Board in Boca Raton.
"The Art in Public Places Advisory Board reviews and recommends to the City Council policies, programs and actions regarding art in the public realm. The Board is made up of 7 members who are residents of the Boca Raton and have knowledge, experience, and interest in art."
Continue reading to learn more about Kristin Pavlick and the other local artists who will be creating unique artwork during the event.
About Kristin Pavlick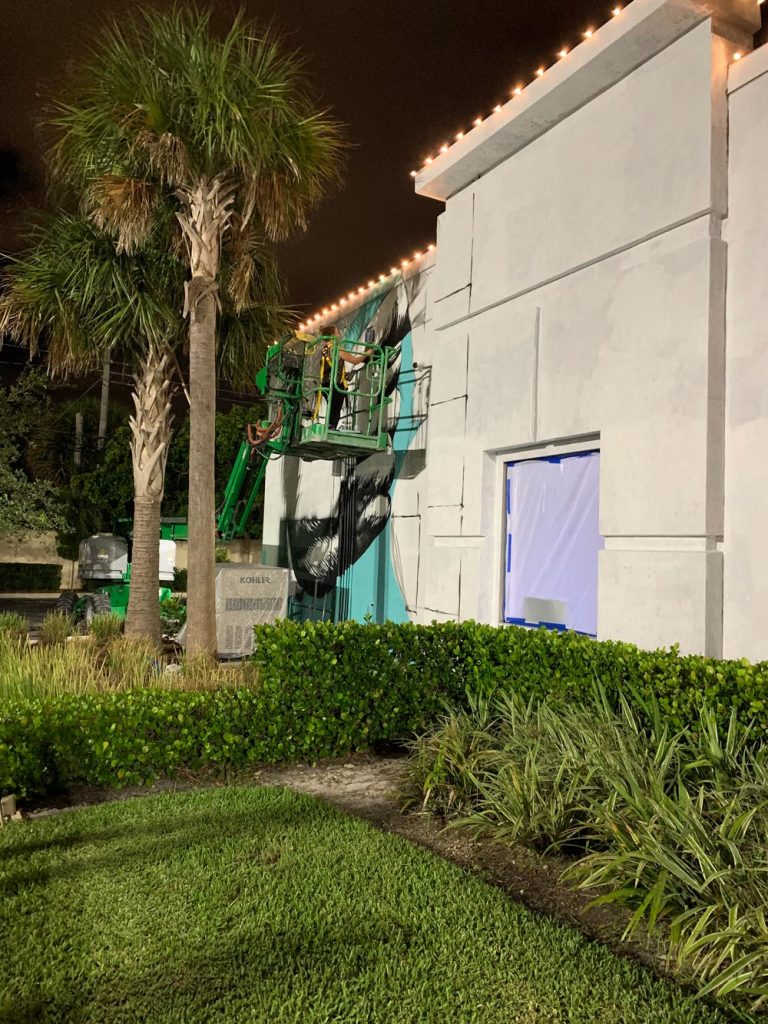 Kristin Pavlick is a highly-talented, seasoned, deep-rooted artist who specializes in hand-painted art with playful imagery.
Born and raised outside Philadelphia, Kristin has always been passionate about art and culture. She took this innate understanding of art and symbolization to the Ivy League school of Penn State University, where she graduated in 2005 with a B.S. in Art Education.
From there, Kristin took on the role of Art Educator at various Pennsylvania schools, and was the managing art sales consultant for a large cruise line.
In 2010, Kristin took an impromptu trip to Salvador Dali museum, where she became galvanized to set aside other obligations and begin devoting herself to painting independently as a self-sustaining artist.
Kristin currently resides in our neighboring city of Delray Beach, Florida. You can find her art spread across sunny South Florida, as well as numerous galleries and exhibitions around the country, both in the form of wall murals and large scale canvases.
Kristin Pavlick's Art
Taking inspiration from the visual culture that surrounds us, Kristin adds a twist of whimsical and mischievous artistry to her creations, with the ultimate goal of impacting the way we view our society.
Her riveting, animated paintings deeply touch the senses through the use of vibrantly dynamic and electrifying colors.
Let's have a look at a handful of distinct paintings that she's created over the years, all of which are available for sale on Kristin's website.
9 CRIMES SUGARCOATED Series
The following artwork is from Kristin Pavlick's '9 CRIMES SUGARCOATED' series.
Kristin Pavlick's 9 CRIMES SUGARCOATED series consists of 9 unique pieces made using acrylic paint on white canvases. We are now going to show you 4 of the 9 pieces from this particular series.
PINK'S PARTNER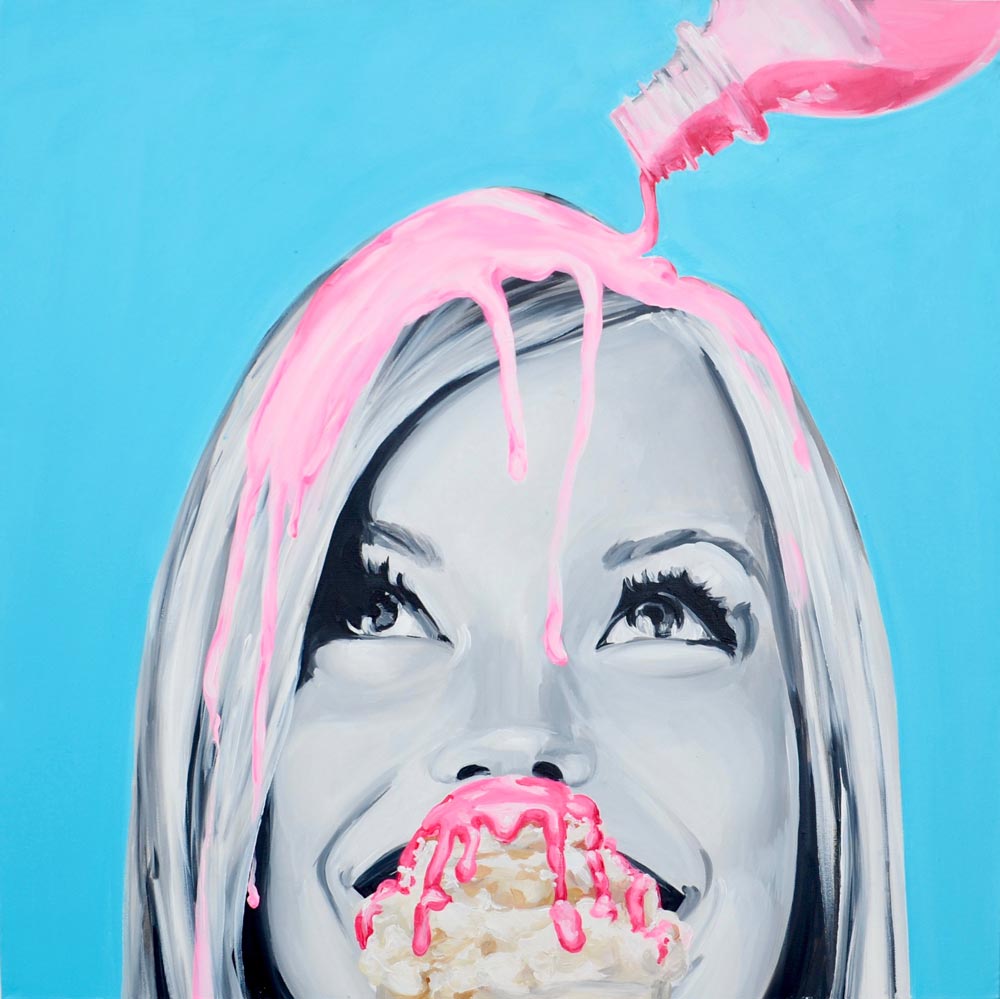 This is a custom image that was created for the newly refurbished and redecorated Double Tree by Hilton in Bloomfield, Michigan. The powerful acrylic piece stands 9 feet tall, and was installed along side other artwork painted by Kristin Pavlick.
Pink's Partner was also featured at a solo show by artist Kristin Pavlick in the White Box Gallery space in New York in 2018, along side other creations from the 9 CRIMES SUGARCOATED series, which we are about to show you.
#CONSUMED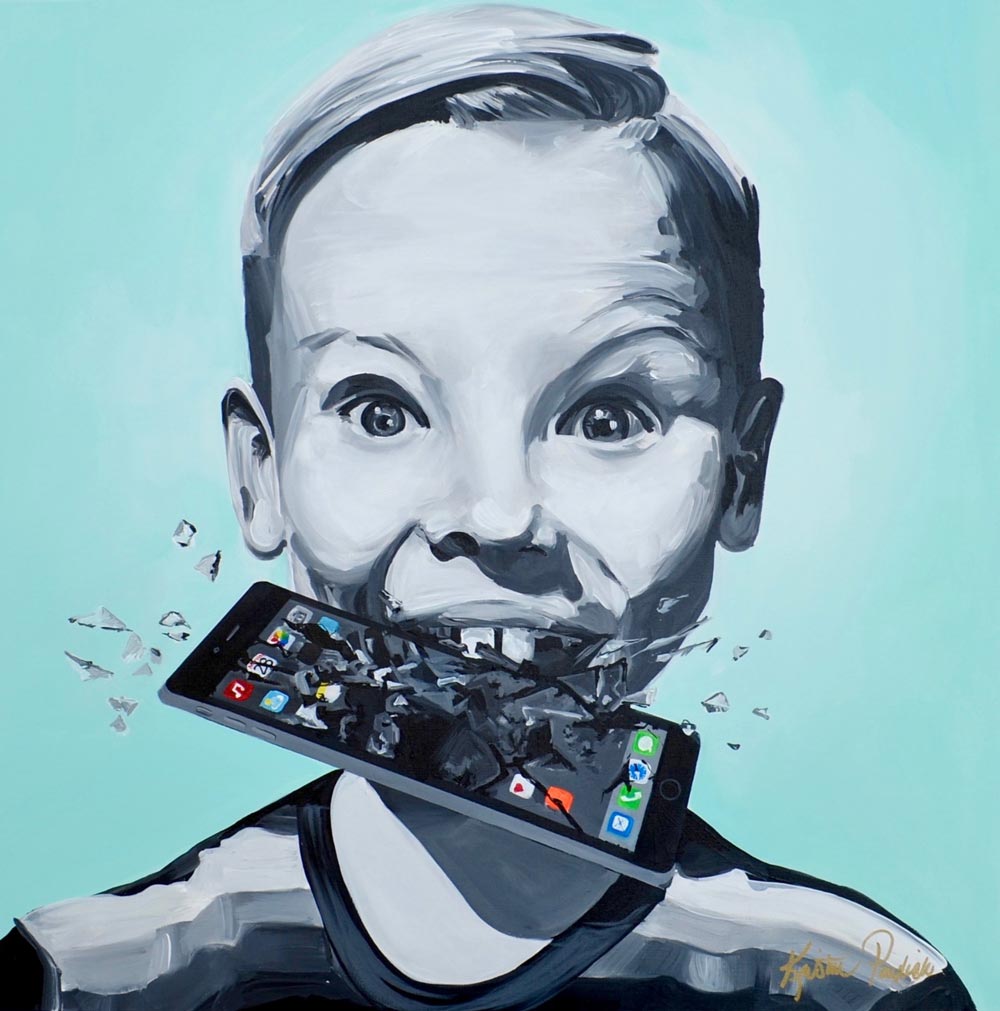 #Consumed is currently being featured at the Cornell Museum of Art in Delray Beach.
EVER AFTER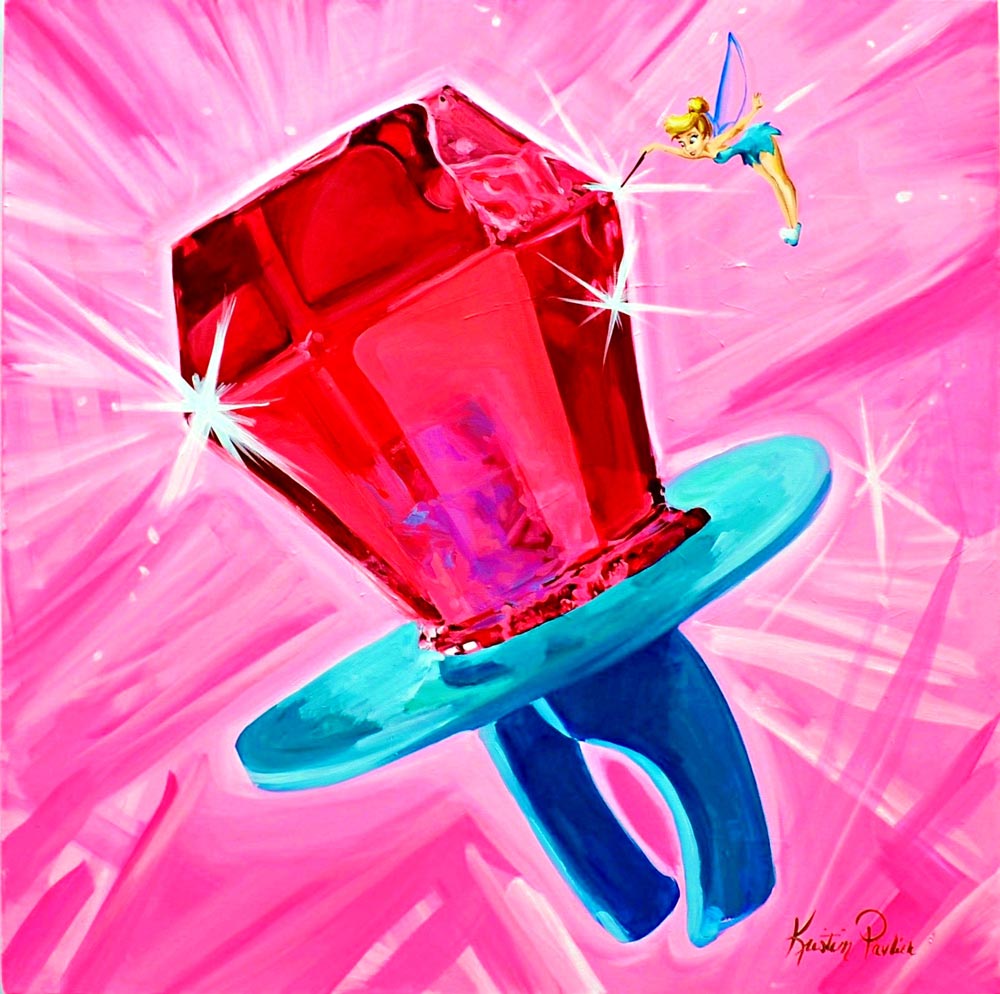 This painting was previously on display at the Juried Exhibition in JF Gallery West Palm Beach in July 2019.
It was also exhibited during the Self Titled Solo Exhibition at the Arts Warehouse in Delray Beach in June 2018.
THE RIGHT TO BEAR ARMS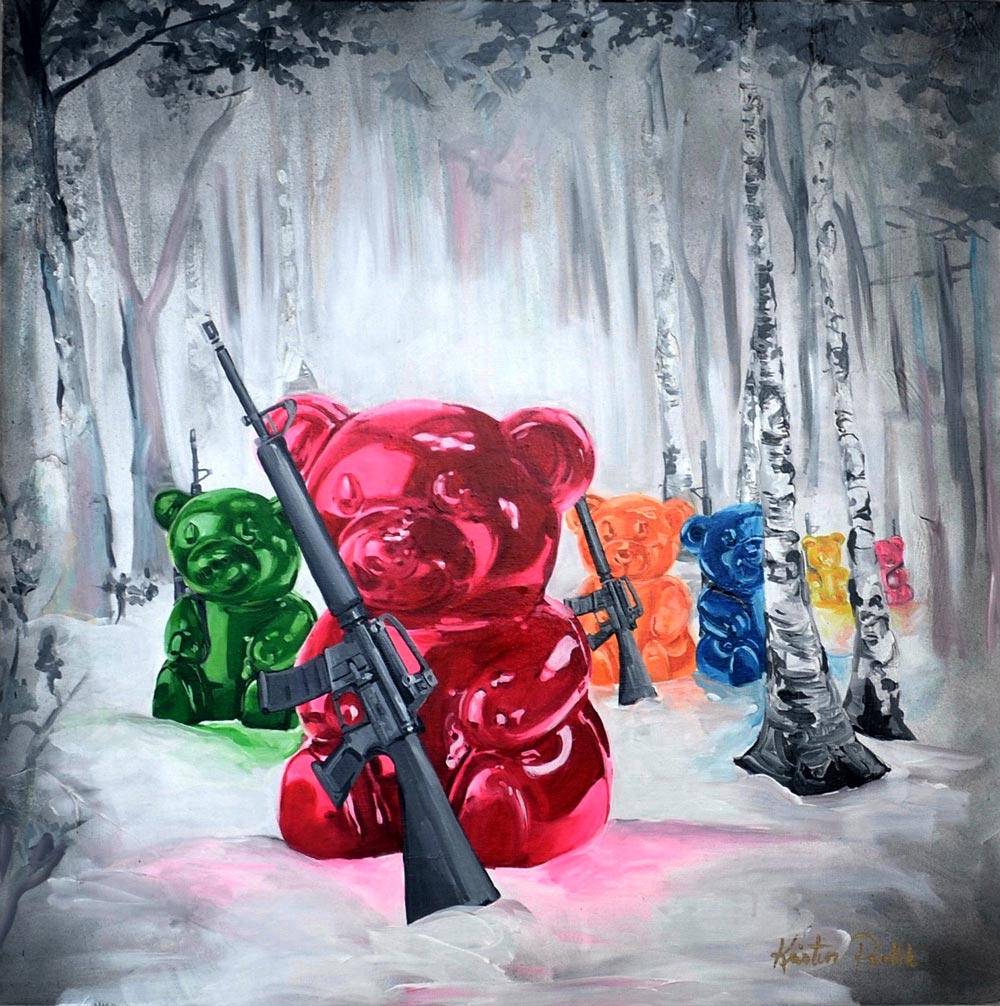 Inspiration and observations for the 9 CRIMES SUGARCOATED series by Kristin Pavlick:
"9 CRIMES SUGARCOATED: Kristin continues her exploration of visual culture questioning how much does it impact our decision making process? Through the marriage of disparate imagery, she presents 9 CRIMES that have been SUGARCOATED. Pavlick sees our visual culture as an intentional veil that separates us from the truth. Encouraging us to act upon a deeply reinforced value system that is imposed upon us. Kristin challenges you to look through the playful imagery to question if there is a blind spot in your decision making process, and just how much of our immediate needs act against our collective needs."
Most of the artwork above is available, as original art hand-painted by Kristin, on Kristin Pavlick's website. They sell for $3,500, and the canvas dimensions are 30″ (h) x 30″ (w) x 1.5″ (d).
AN AMERICAN GIRL Series
The following painting, which Kristin created using acrylic, latex, and spray paint, is part of her AN AMERICAN GIRL series.
I'M W/HER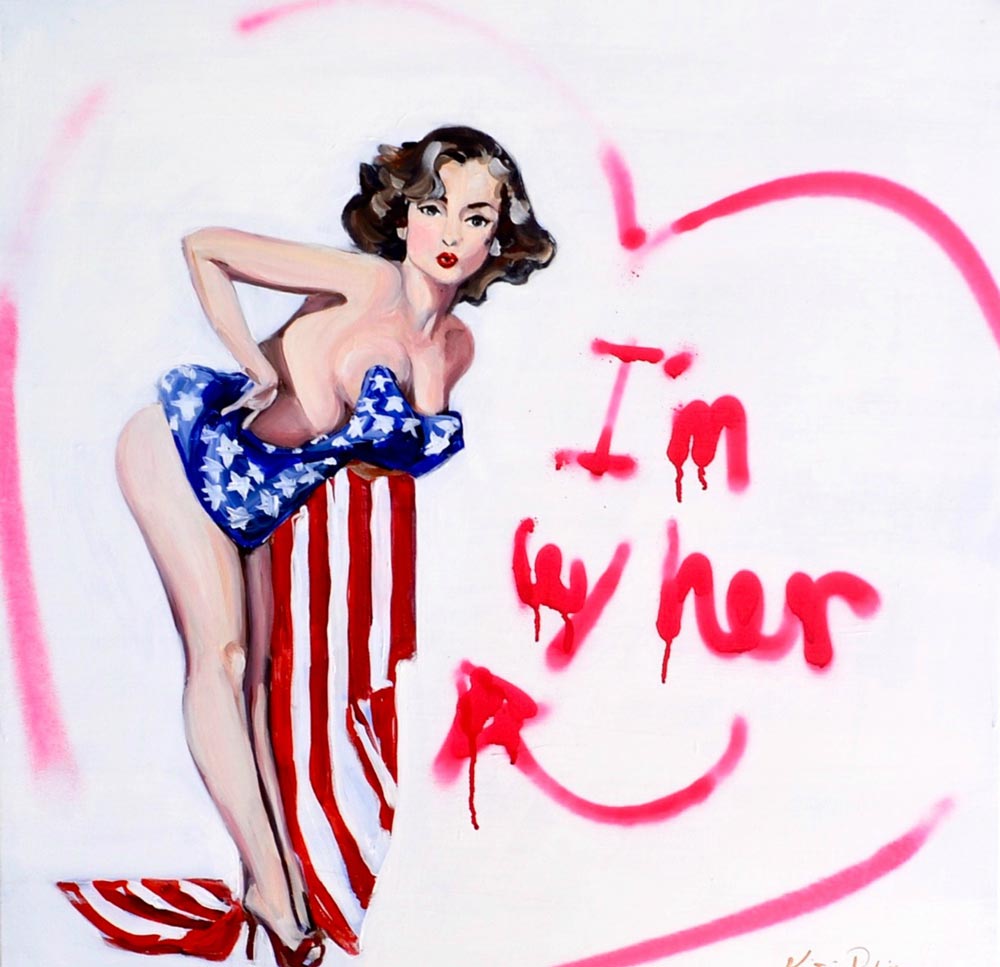 Inspiration and observations for the AN AMERICAN GIRL series by Kristin Pavlick:
"AN AMERICAN GIRL is intended to represent a snapshot of our visual culture. Where does 'it' end and where does our American Culture begin? The wide range of imagery is a device used to describe the speed, the overwhelming volume, and the diverse channels of media that submerges us in visual culture, every minute of everyday. Largely interested in the difference between the presented ideal vs our reality; I used the friction between what we 'see' and what we 'live' to create AN AMERICAN GIRL that asks "Just what is the collective impact of such imagery?"
An idea of what the Diamonds By Raymond Lee Wall Mural will be
The reason we showed you these particular pieces, which we've taken from a diverse manifold of creations by Kristin, is because the style of these paintings are similar to the Wall Mural that Kristin is painting on the south side of our Diamonds By Lee showroom building.
So, this should give you a good understanding of what's to come…

The wall mural is going to be stimulating, vivid, and relative to the culture and heritage of Diamonds By Raymond Lee.
THE WALL
Kristin Pavlick has already begun the initial stage of the wall mural. Here's a peek at what she's done up to now.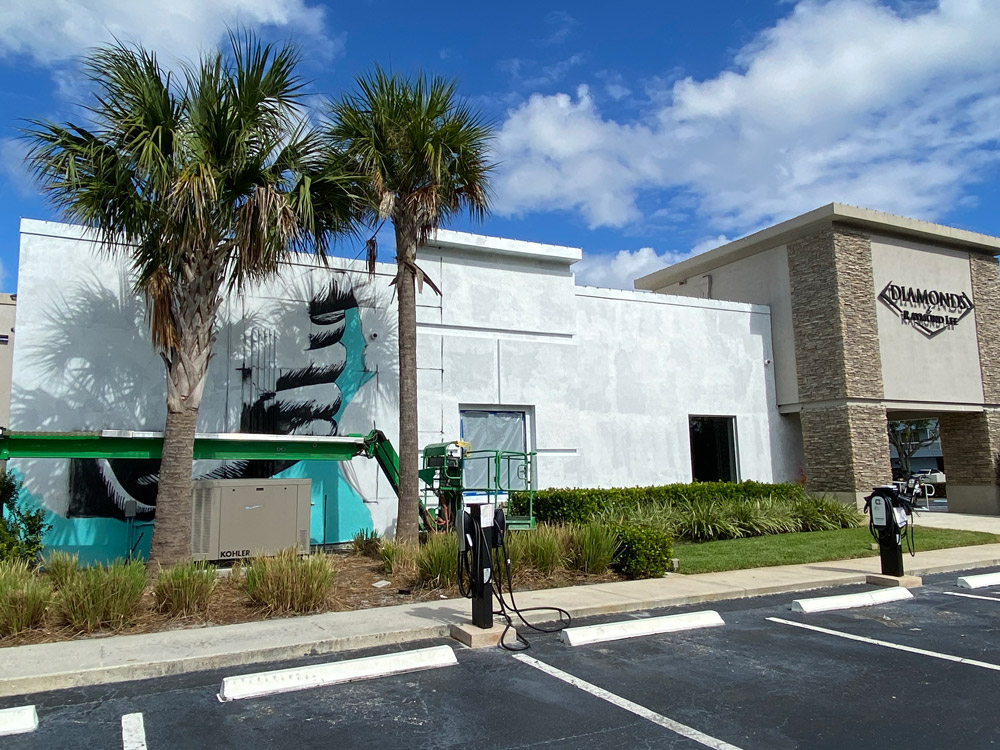 Kristin has been working on this colossal wall mural day and night this past week. After all, hand-painting a wall mural of this magnitude takes a tremendous amount of time.
Here is a photo of Kristin in her groove the other night.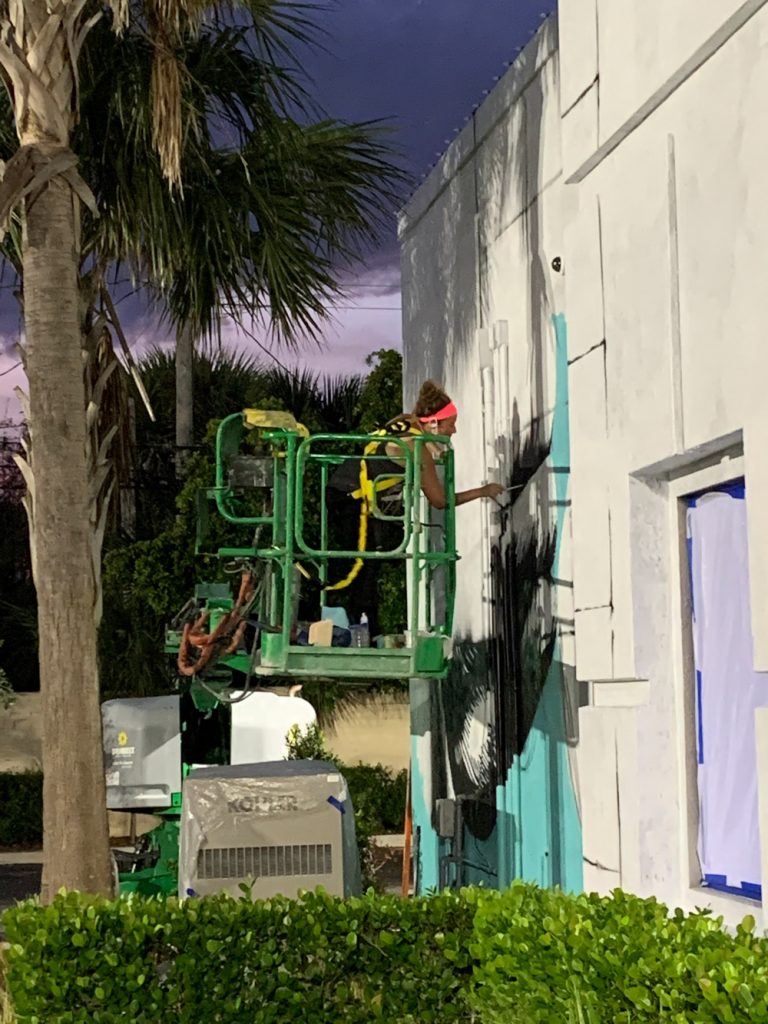 Although she is completing a large majority of this wall mural by hand with spray paint, she also wields a paintbrush for the finer details as she proceeds through her process.
In this photo, you can see Kristen explaining and illustrating to this young man what she's implementing on our wall. We could see the realization of this immense project illuminate before his eyes.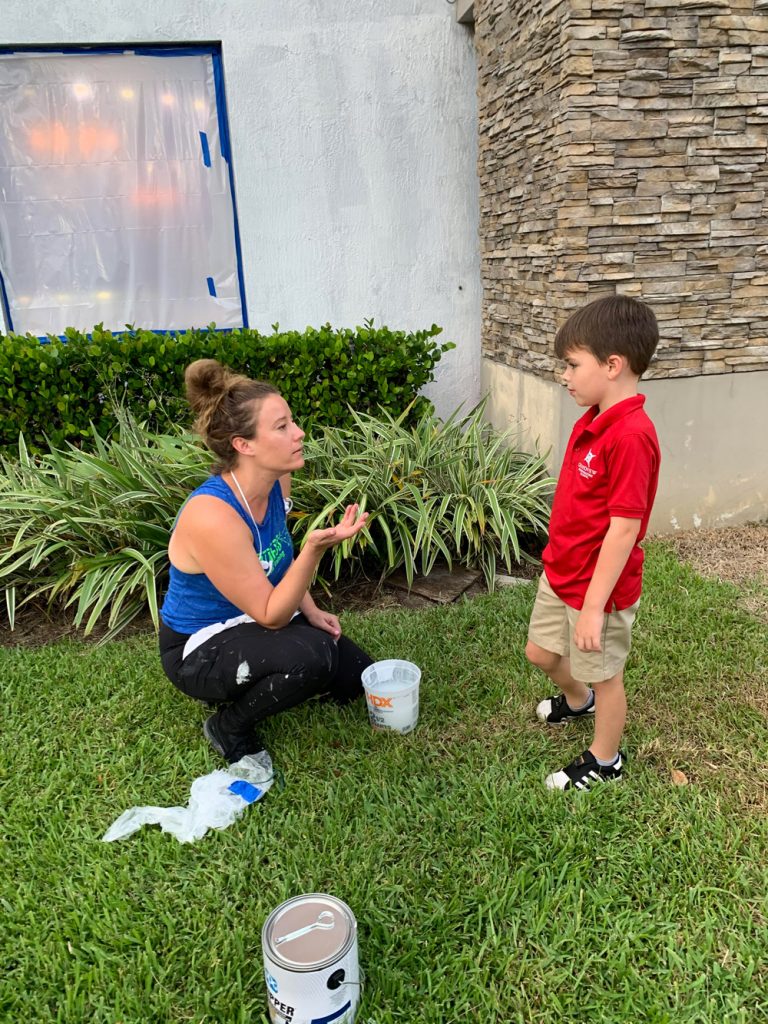 For every artiste and guru, there was someone who inspired them at some point in life…So, will these kids follow in Kristin's footsteps, someday becoming professional artists? Only time will tell. But it's clear with this picture, they've been inspirited…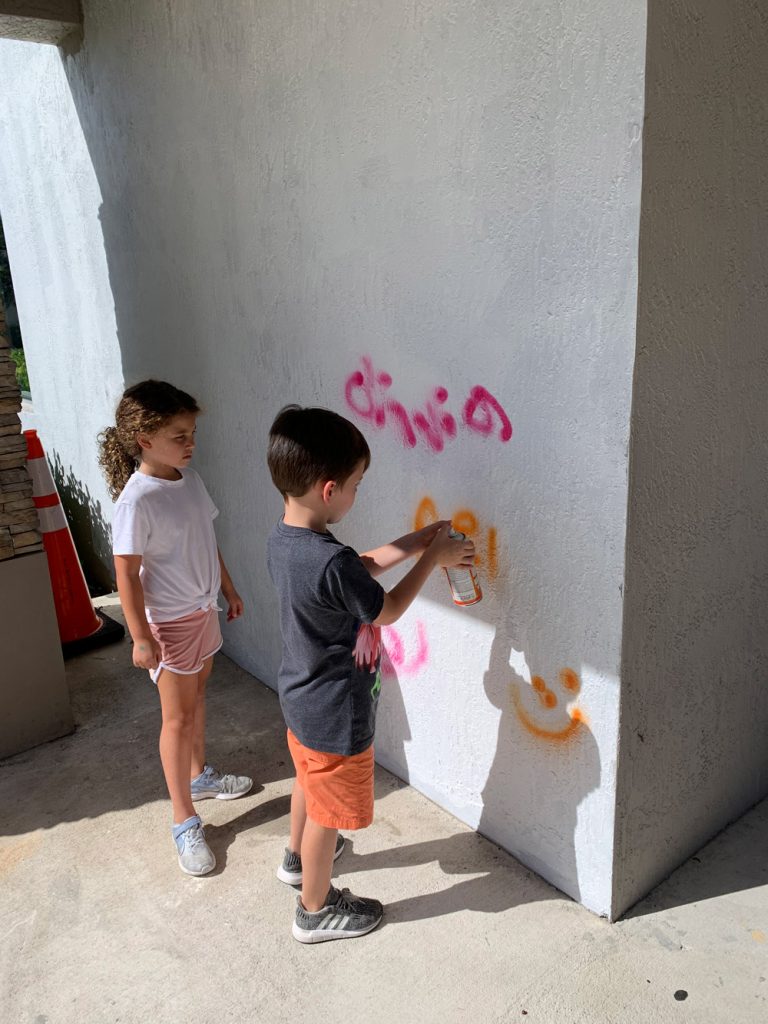 Here is the event banner in front our store. This can be seen on the main road of Federal Highway. As you'll notice, the banner displays the paintings that we introduced above.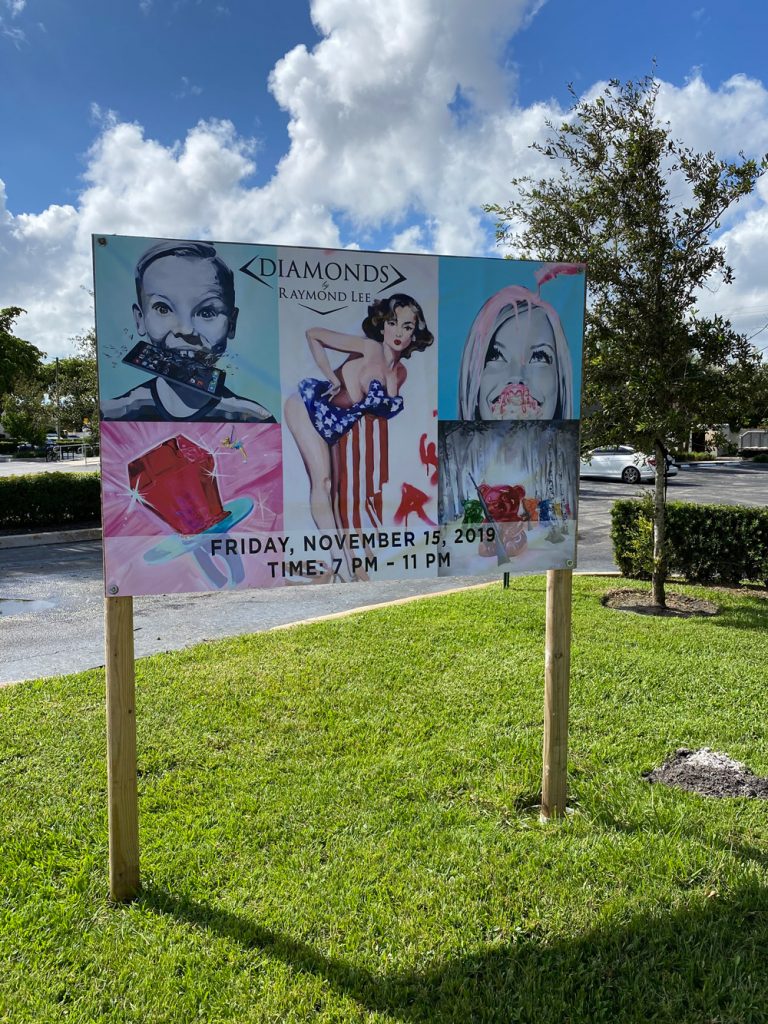 The completion of the first phase of the wall mural will take place this Friday at our Art Night event in Boca Raton. And you can be there to see it take place…
When Kristin finishes the first phase, we will all celebrate the start of our special wall mural. It's not often that you get to see an artist in their zone. Not to mention, see an artist fully elated as their masterpiece is coming to fruition. So you are definitely not going to want to miss this, especially if you have a love for art.
Live Viewing of Kristin in Action at Art Night in Boca Raton this Friday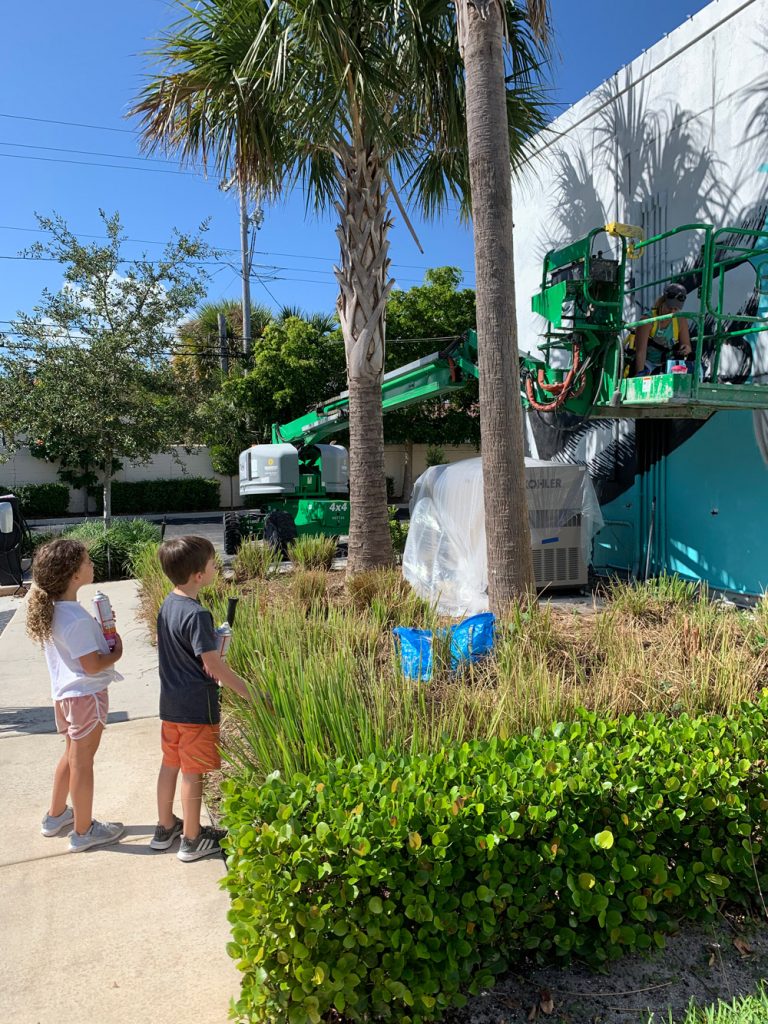 If you want to see this Wall Mural transpire firsthand, come to Diamonds By Raymond Lee this Friday at 7PM.
There will be live music, entertainment, food, and one of the most creative artists we know, Kristin Pavlick.
At Art Night, you will see Kristin in her element, as she creates a masterpiece and Boca Raton's first wall mural of this enormity.
What's more, there will be other local artists in attendance, working their artistic magic as well.
Other local artists that will be at Art Night in Boca Raton
We have two special guests coming out to Art Night at Diamonds By Raymond Lee in Boca Raton. They will be creating their own dynamic works of art.
James Trend Designs will be crafting a unique piece during Art Night in Boca Raton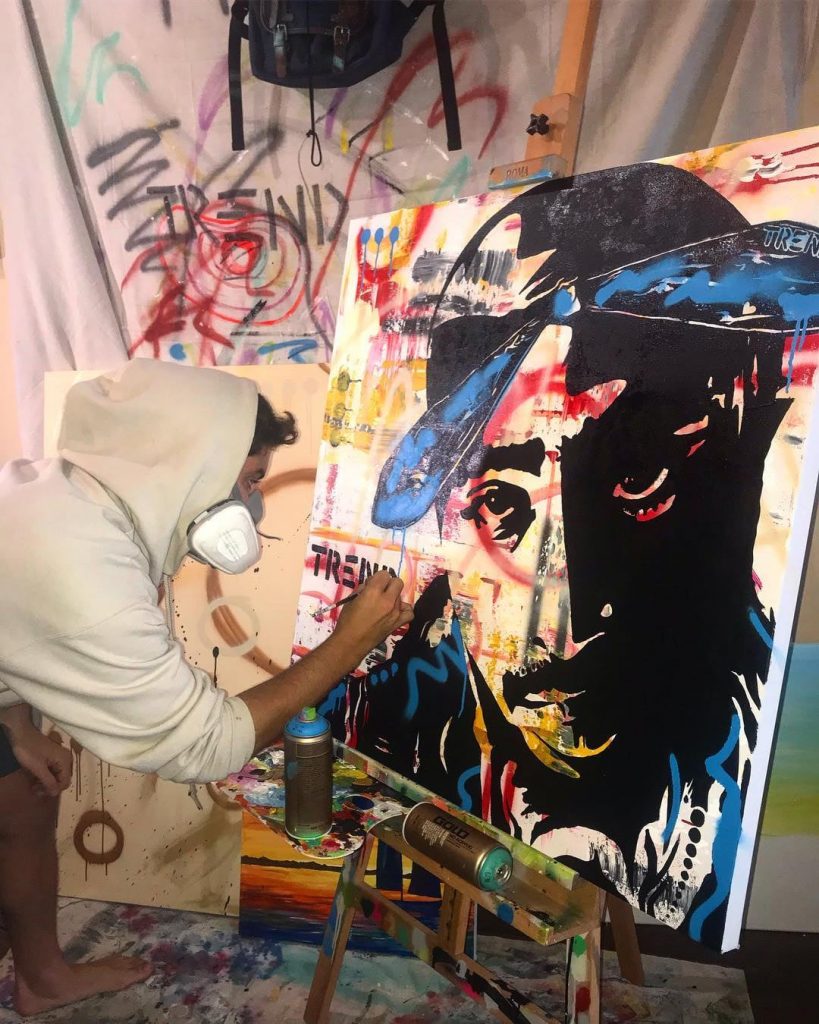 "Original designs for superior taste"
James Trend Designs is an upcoming, highly skilled and original artist who lives in Boca Raton. He creates all types of unique and symbolic art, many of which depict iconic popular culture of past generations. He's always testing out new styles and techniques. This is one of many reasons people here in South Florida can't get enough of him.

What's more, he has a heartfelt desire, or better yet mission, to encourage others to tap into their creative side.
All in all, we simply can't wait to see what he creates during Art Night this Friday.
You can see some of James Trend Designs creations on Instagram.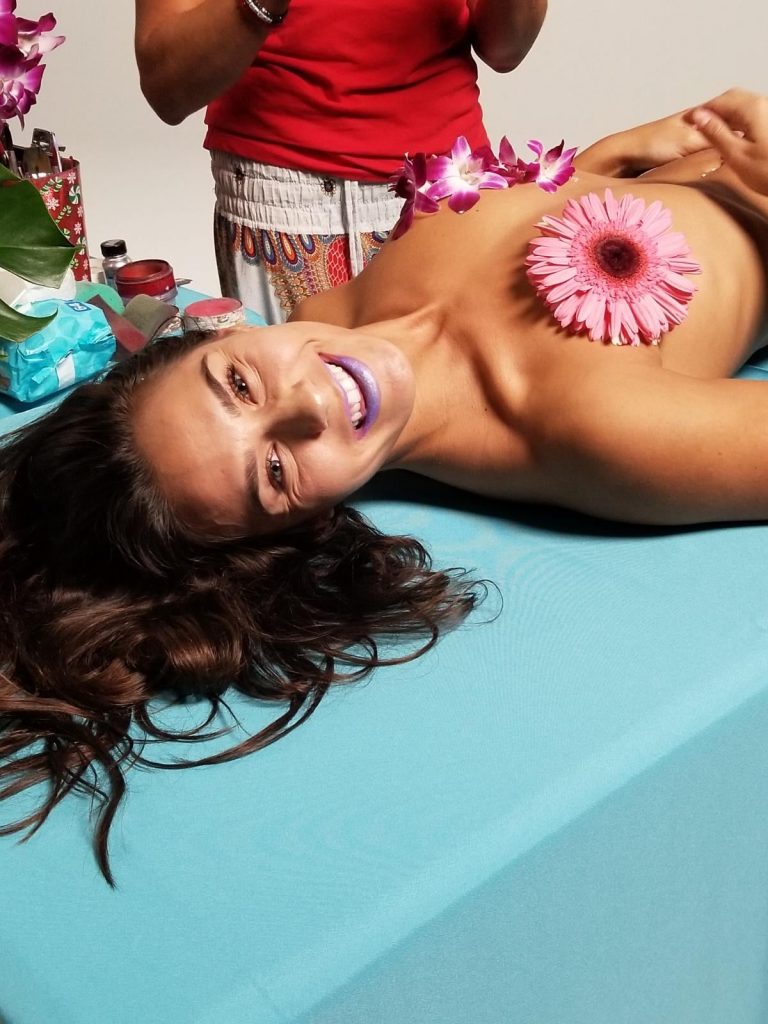 Capone Designs is a brilliant, polished, dexterous artist that specializes in custom airbrush, automotive, motorcycle, helmet, murals, and body paint art.
He will be performing body art on the incredibly beautiful and super fit TV host and model Janceece Sinclair (who is a good friend of ours). This will be taking place live. So, you definitely won't want to miss this. It's going to be sexy and something like you've never seen before.
Metro Wrapz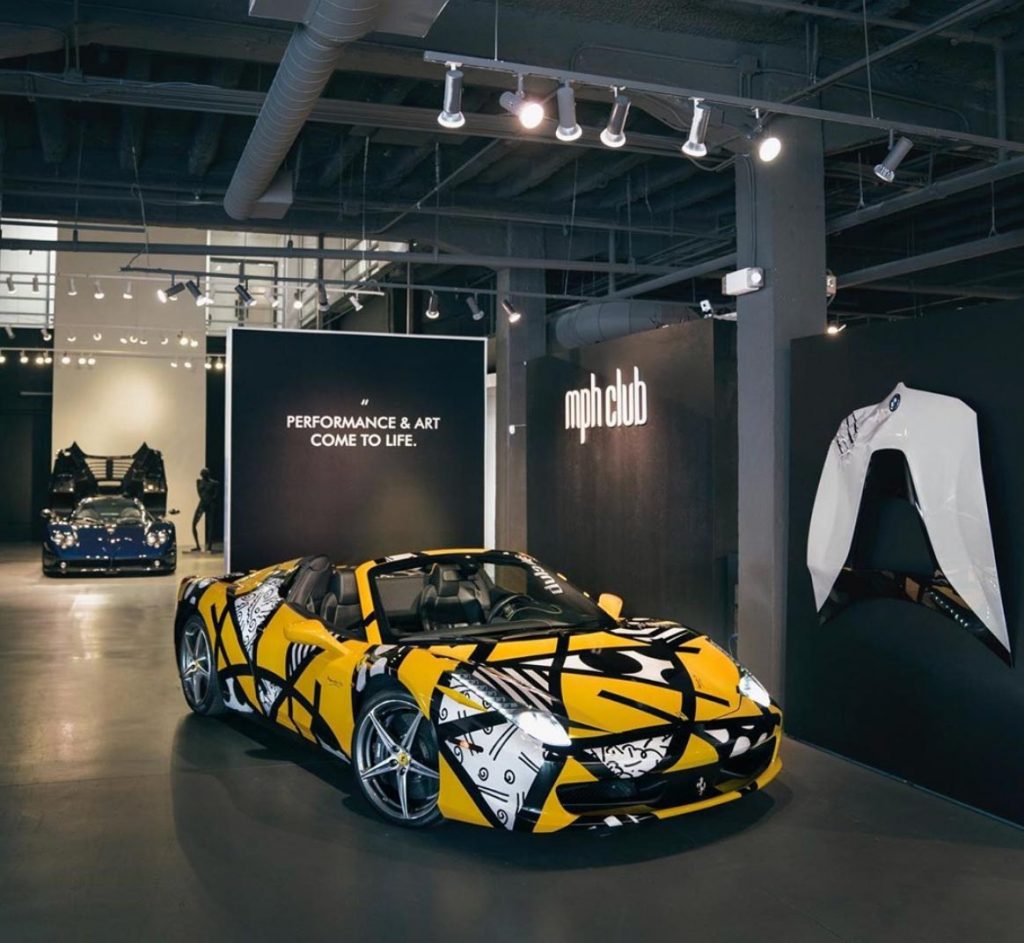 South Florida's premier vehicle wrap firm will also be at Art Night in Boca Raton.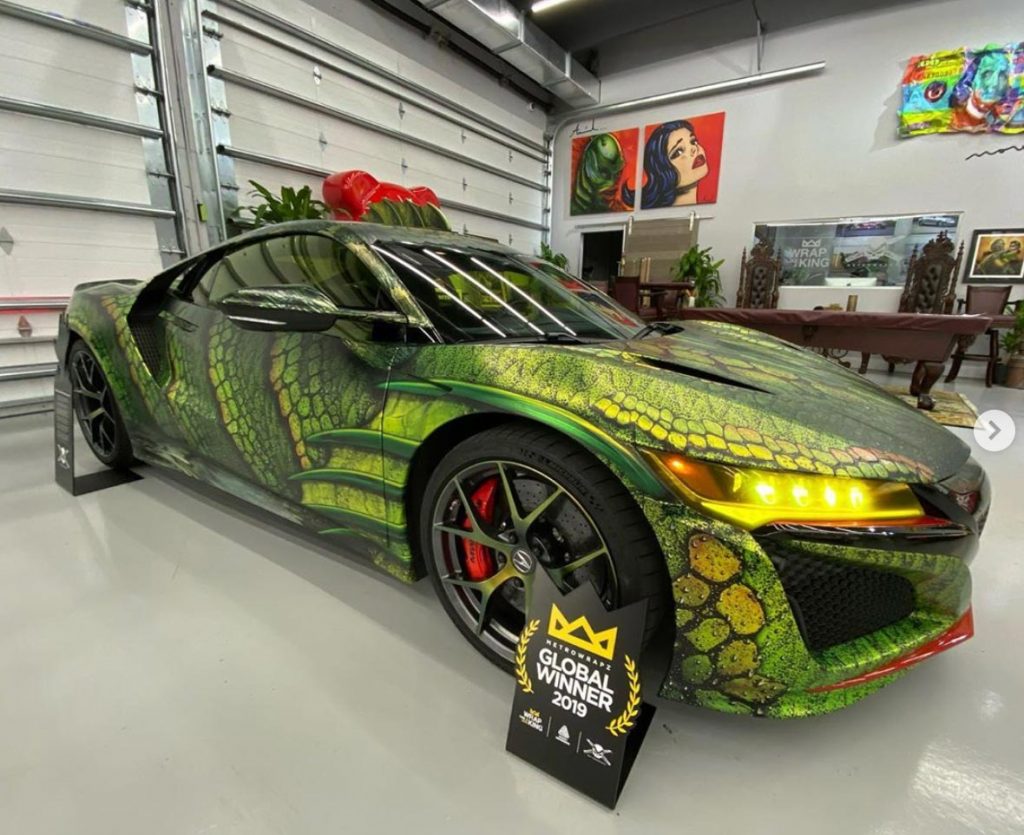 @metrowrapz creates astonishing, contemporary, à la mode designs that match the buyer's vision. They use the highest quality materials in the industry to produce flawless work-of-art on wheels.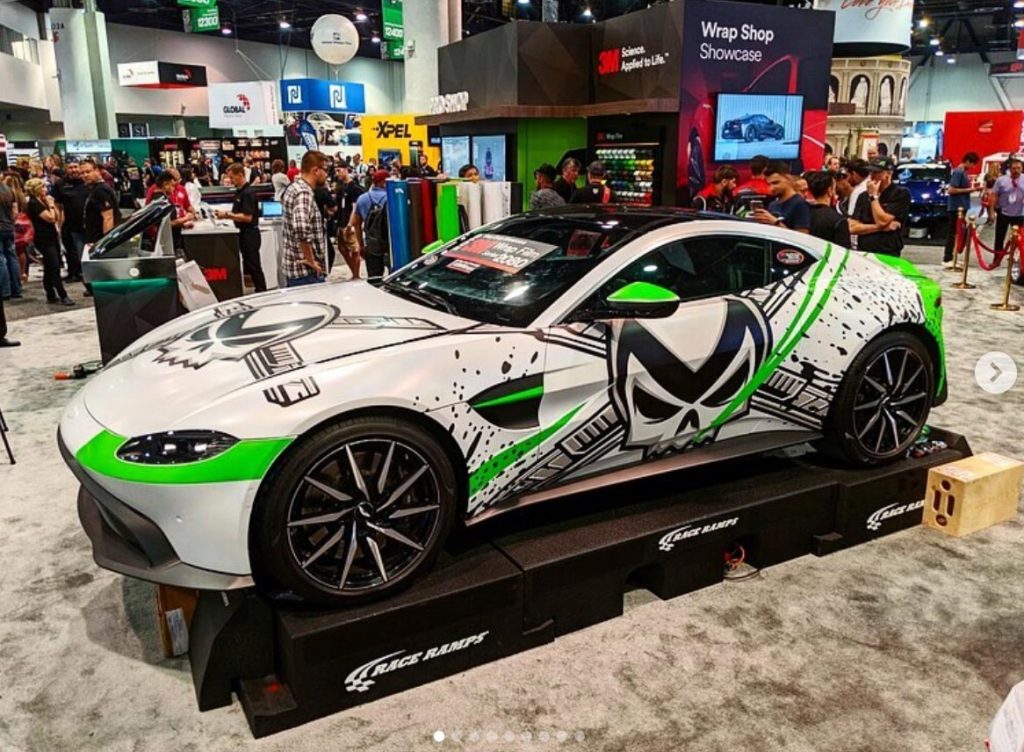 Metro Wraps is a back-to-back global winner of the the Avery Dennison "King of the Wrap World" challenge.
This Supreme Ferrari will be on display. It is owned by @luisr69.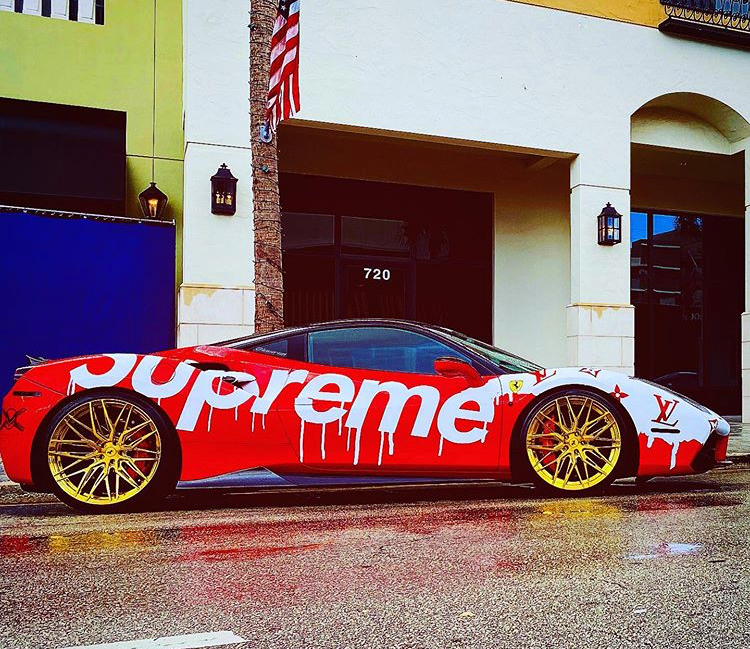 Needless to say, this is going to be great. We are super excited.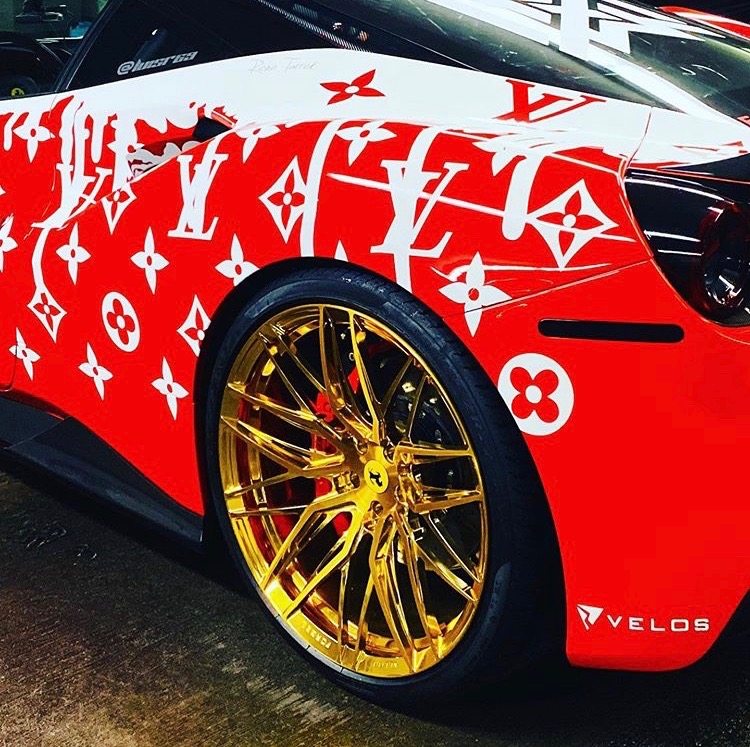 Diamonds by Raymond Lee
We will open up our showroom doors so everyone can have a look at our preeminent and wide ranging collection of fine diamond and precious gemstone jewelry and engagement rings…
After all, fine diamond jewelry and luxury Swiss watches are wearable fine art. And Diamonds By Raymond Lee has the finest jewelry and hottest collection of Swiss watches in all of South Florida.
Art Night will take place on Friday, November 15, 2019 at Diamonds By Raymond Lee in Boca Raton. The event will begin at 7 PM and it ends at 11 PM EST.
If you want to attend Art Night, please RSVP here.
We look forward to seeing you all there!