Why jewelry is the best gift for Valentine's Day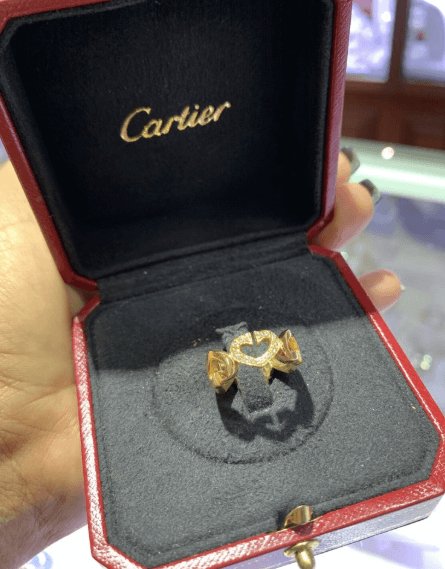 The day of love is coming up and it is coming fast. Valentine's Day is that 14 February, this year on a Friday, day to celebrate the ones that you love. For us the very best Valentine's day gift ideas are jewelry. Cartier jewelry like Cartier Love and Cartier Pasha pieces. Valentine's Day jewelry are the pieces that you know come from the celebration of all the joy and heart for one another. Why jewelry is the best gift for Valentine's Day? Check it out below.
What better way to put your love first this 14th of February than with diamond jewelry? From designer jewelry like Cartier jewelry and watches to white diamond dazzles we have options for you to choose from. Diamond jewelry for every taste and every age are available. So whether your Valentine this year is a partner, a parent, a friend, a child or yourself, we have got just the thing for you.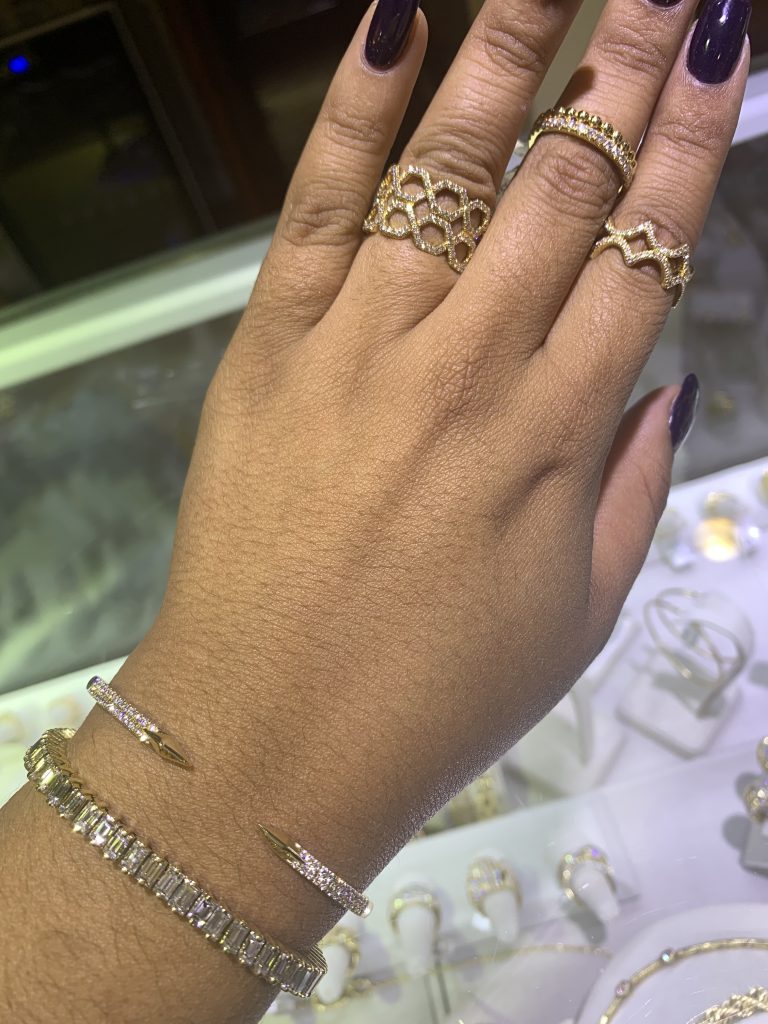 Come and check out all of our offerings and if you are interested in any of the Cartier jewelry we are showcasing here today just call one of our jewelry experts to secure it. You can reach us at (561) 623 – 8205 as well as drop by our store. We would love to welcome you to our store and show you some of our widely curated collection. Put a little Cartier Love into your Valentine's Day of love this year. It is a gift that will make the date that much more memorable for you and your loved one. Our prices on all of these fine jewelry pieces have also been discounted. So you get the best price and the best quality all in one. Let's get to it, here's 3 reasons why jewelry is the best gift on Valentine's Day (Cartier jewelry that is!).
Why jewelry is the best gift to give this Valentine's Day
When it comes to Valentine's Day you want to find a perfect gift. The one that says I love you. A gift of gifts that is so special. Is that why jewelry is the best gift? Well it fits quite a couple of pretty solid reasons if you look at it. The top 3 being that jewelry as a gift is:
Life long – there is nothing quite like giving a gift that will continue on. More than a piece of tech or a nice trinket jewelry is the ultimate gift. The fact that it is a life long gift is a major reason why jewelry is the best gift. It can be passed down and worn decades after it is first received.
Unique – there are not a lot of jewelry or fine watch pieces that you own several sets of. In general even if they are stackable or pairs and sets there will be small differences. Even if those are in the color of the metal or additional diamonds.
Close to your heart – jewelry is the perfect present if you want someone to think of you often. Worn close to the heart and generally easy to feel or see jewelry is the kind of gift that can easily bring back the memories of when you first got it.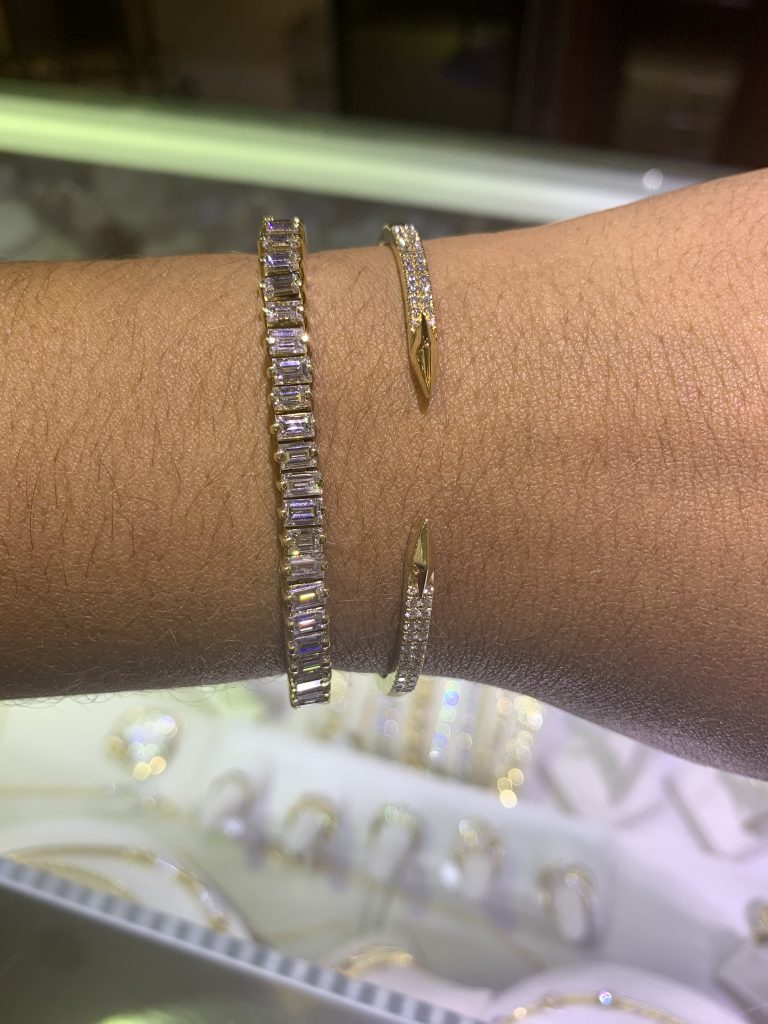 Whether you decided to treat yourself and get a piece of jewelry to enjoy or recieved it as a gift from a loved one. It is part of why jewelry is the best gift. A memento and reminder of the love and care with which it was chosen. There are few if any other presents that hit quite like it. For Valentine's Day and any milestone really jewelry is the perfect present to light up someone's day every time they wear it.
If you are interested in buying Patek Philippe Aquanaut watch or diamond bracelet featured here reach out to one of our experts at (561) 623 – 8205.
Cartier Jewelry
Nothing says I love you on Valentine's Day like the color red. Even more so when it is a little red box with the promise of surprise and delight like no other. We are talking about that iconic Cartier red box. You know the one. From a mile away a single glance can get the excitement going. What gorgeous jewelry piece is hiding just below? Here we have 3 amazing options of Cartier gifts that you can get for your Valentine this year. Starting off with the incredible Cartier Pasha de Cartier diamond bezel watch. This stunning time piece has also come down more than $15,000. It pairs incredibly with other white gold jewelry and of course diamonds. Beyond the fabulous watch we also have an icon of icons the Cartier Love range. So if what you are looking for is a ring there is more than one option.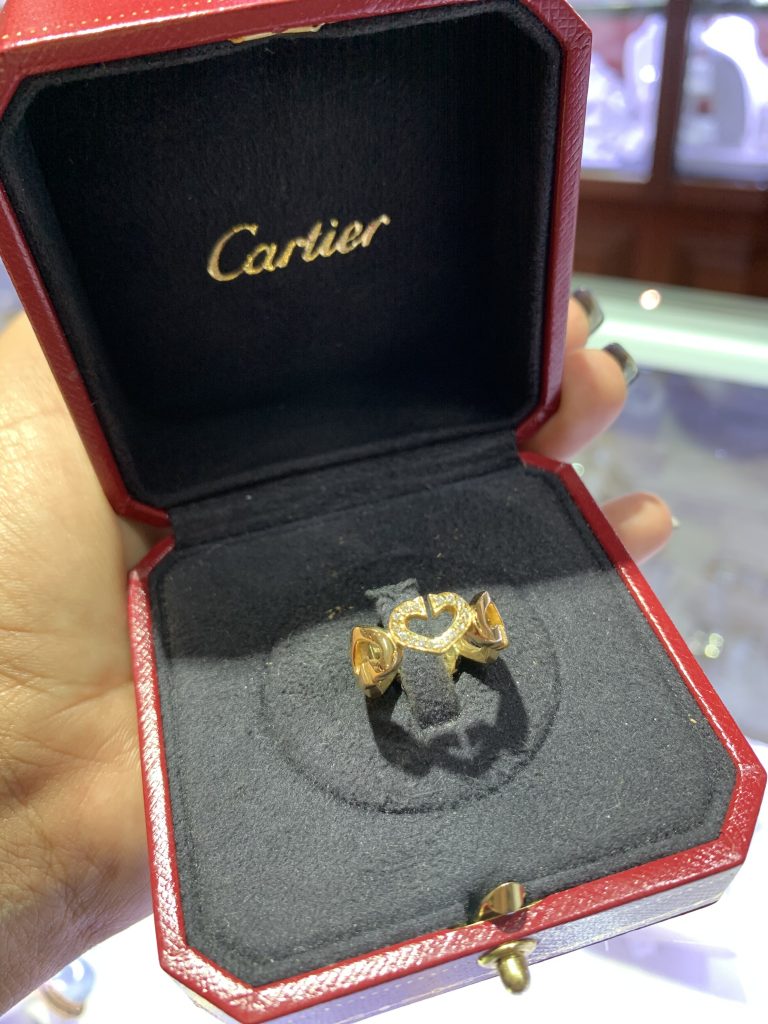 Cartier jewelry is just some of those pieces from the top brands in the world like Cartier are items that deserve to be bought in an atmosphere of comfort and luxury that they deserve. When you visit our store we know how to welcome you in. Turning that special occasion into something that is truly memorable. With over thirty years of experience in the industry we are passionate experts ready to help. A family owned and family run store serving our community is our top priority. That is why this Valentine's Day 2020 we are offering lower prices on all of the Cartier pieces below. As well as some special prices available in store only. Come and chat to us about how we can help you and your cherished ones celebrate love this Valentine's Day. Here are our top 3 Cartier jewelry and fine luxury watch pieces featuring this week.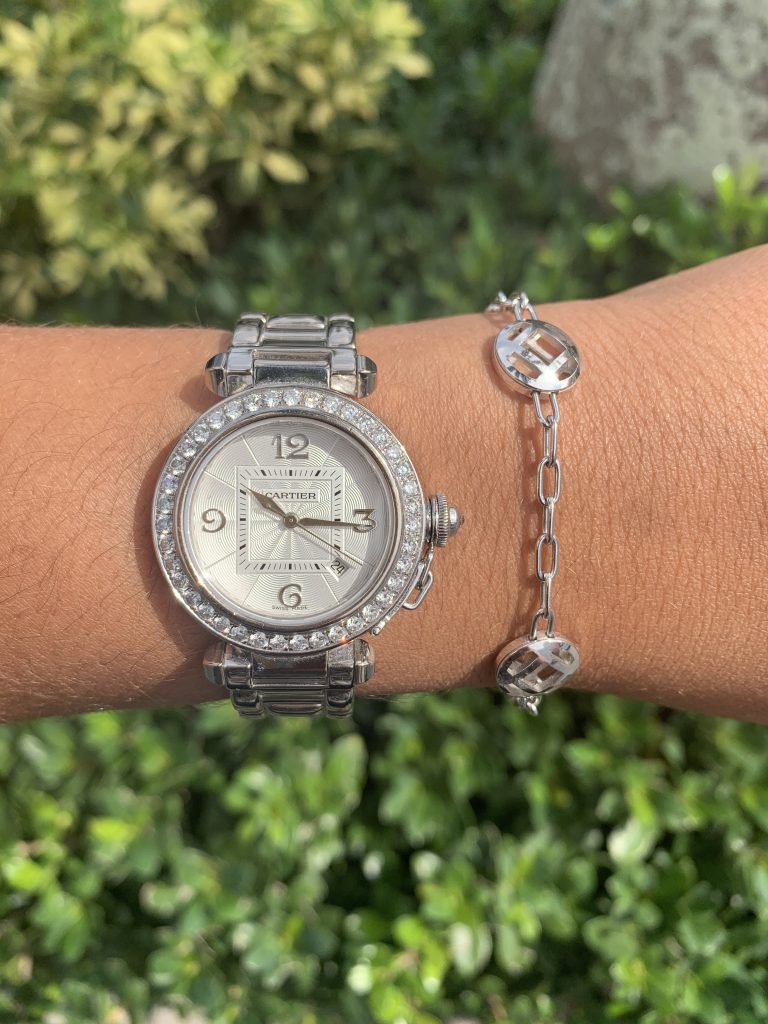 A diamond bezel 18 carat white gold Cartier Pasha watch is pretty incredible. Now in this condition at a price from $35,000 knocked all the way down to $19,995.00 you have got to know that it is all in the name of love!
Speaking of love we also have the iconic and oh so well known and loved Cartier Love collection too. An 18 carat white gold Love ring from $1,650 at $1,395.00 now. It is a beauty with a round cut white diamond surprise added in as well. A sparkly surprise in the well known Love collection exposed nail impression on the side of the ring it adds a little glam to this hard core modern.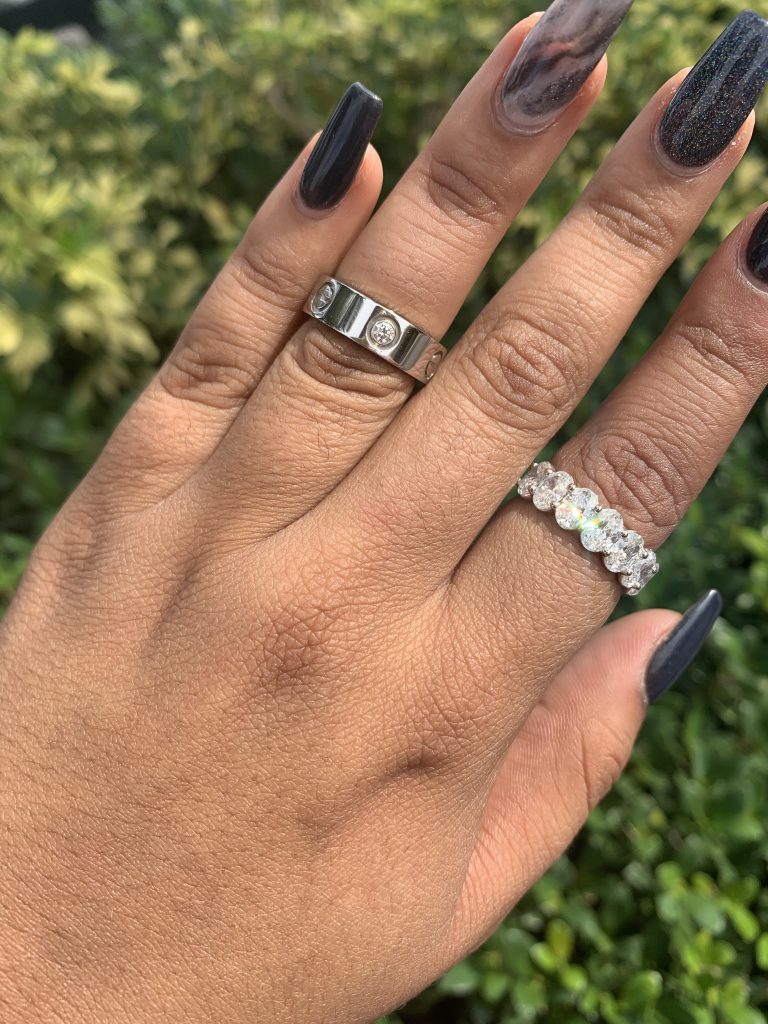 Finally the last of our favorite Cartier jewelry for this top 3 why jewelry is the best gift for Valentine's Day we have an 18 carat yellow gold ring. It is the one you see at the very top in the original Cartier little red box. This stunning and modern piece was retailing at $4,200.00 but is now going for $3,995.00 Truly an iconic piece of Cartier jewelry the hearts and symbols ring has a little surprise tucked on the side of it too. There are 0.06 carats of diamonds set into the heart shape of this heart and symbols ring.
A Cartier ring to give to your Valentine – specially if this year you are taking your love for yourself first. There is no going wrong with a diamond ring like this from Cartier.
If you are interested in buying Cartier Love jewelry featured here reach out to one of our experts at (561) 623 – 8205.
Jewelry beyond Cartier choices
From the Cartier Love bracelets and rings there are other options. Gorgeous diamonds and jewelry from beyond. In our extensive collection of fine jewelry and luxury lifestyle accessories we have other world class brands as well. Like Patek Philippe watches and private label diamond jewelry. All of our pieces that are available in our stores have been fully and rigorously tested by our master craftsmen and expert watch makers. There is no piece that our acquisitions team brings in that we do not thoroughly check through. For the last three decades we have been specialising in bringing you the absolute best. Both in experience and in quality. That is why we continue to hold up that promise. Below are two of our unique offerings outside of the Cartier jewelry specialty. Including some bling and sparkle that is timeless just like your love.
Patek Philippe is just one of those incredible luxury brands that are able to achieve a cult object status. Always new and modern their watch designs surpass what the usual standards are. This lovely Aquanaut Luce diamond bezel ladies watch is no different. A sportive yet seriously fine luxury piece features diamonds and a unique strap as well as dial face. Currently retailing at $22,500.00 it has come down from $29,995.00 Do not miss the chance to make this Valentine's Day extra special with this incredible piece of unique luxury life style love.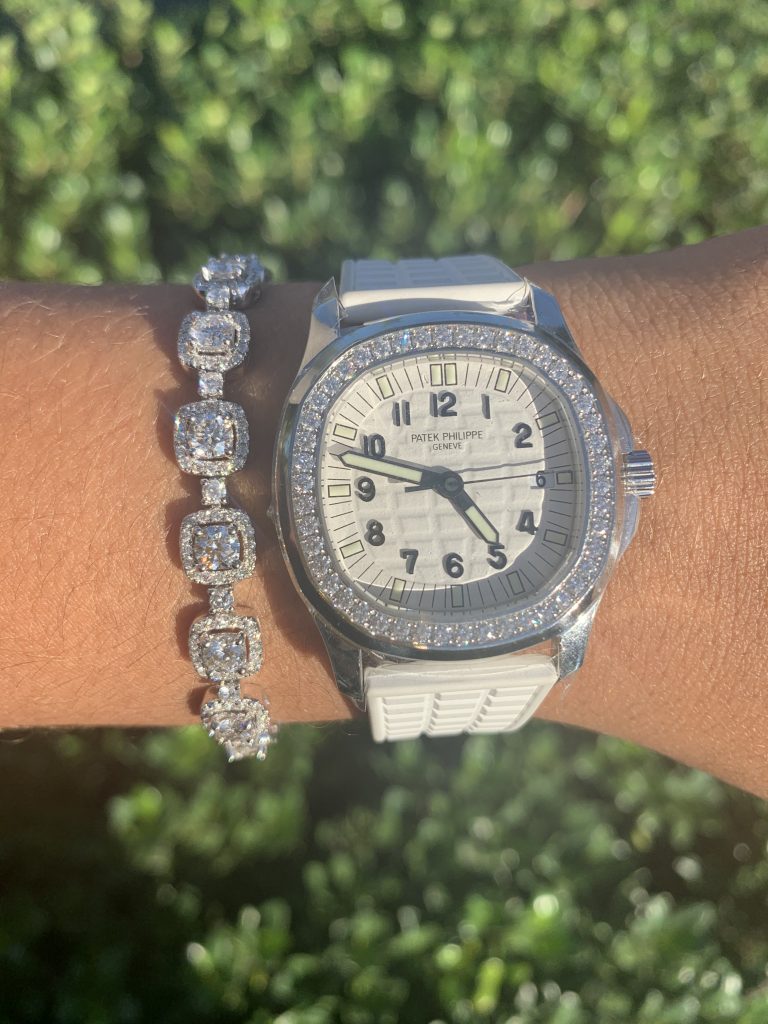 It pairs incredibly well with diamonds. Take for example this piece with the diamond bracelet pair. Bringing out the sparkle and shine from the diamond bezel this watch is a gorgeous set. Let us take a look closer at the diamond bracelet.
This 18 carat white gold bracelet featuring 5. 24 carats diamond bracelet was retailing for $21,558.00 but we have knocked that down to a $16,995.00 a Valentine's Day celebration of the possibilities of love. The modern and unique look of this diamond halo bracelet makes it so easy to wear. Whether with a watch, on its own or with an arm party that is guarantee to stun. The alternating sizes of the central diamonds as well as the smaller cut diamonds set surrounding them in the halos give this piece texture. It is easy to see why this bracelet is a winner for Valentine's Day gifts.
If you are interested in buying Patek Philippe Aquanaut watch or diamond bracelet featured here reach out to one of our experts at (561) 623 – 8205.
Where to buy Valentine's Day jewelry like Cartier? Raymond Lee Jewelers in Boca Raton
If you already know why jewelry is the best gift to give this Valentine's day then you just need to know when. There are only a few days left so make sure you come down to Raymond Lee Jewelers to get your gift! From Cartier jewelry like the rings and bangle bracelets from the Cartier Love collection to the unique watches that mark the special occasion like a Cartier Pasha watch we have it all. You can chat to one of our jewelry experts to find the perfect gift for your special someone. Beyond our wide range of Cartier gifts we also have a lot of fine jewelry for you to choose from. Whether that is a fine luxury time piece or diamonds all around. When you join us we can walk you through our extensive collection to find the one perfect fine jewelry piece for your 2020 Valentine's Day.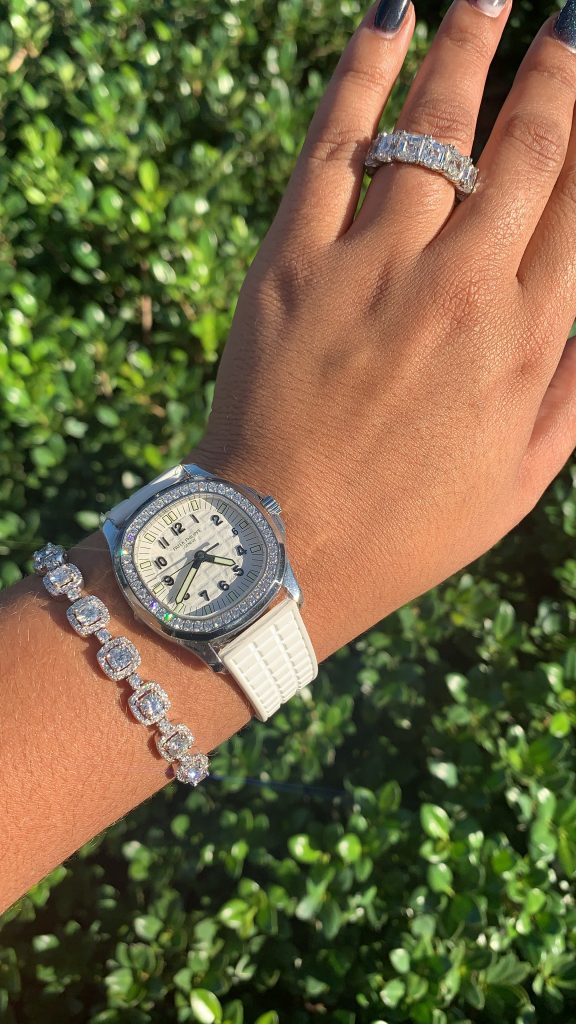 Otherwise a fantastic addition as a surprise for your Valentine's Day plans is to come to our store. You can enjoy a glass of our finest champagne or an ice cold local craft brew on the day of love. There is nothing quite like celebrating the love that you share by jewelry shopping. It is an experience in and of itself. Whether your Valentine this year is a partner, a parent, a child, a friend or yourself! Take the treat and come check out what jewelry we have to offer. There is something for everyone. We promise you can enjoy your time with us and find the perfect piece of jewelry to kick off or close up your Valentine's Day. If the surprise is what you are going for then drop by tomorrow to check out all of the options before the big day is here! We will be here.
Our contact details
You are welcome to just drop by our store any time. If you want to make sure we have an item in stock feel free to give us a call. We will check for you and make sure we have it ready for you when you arrive.
Address: 2801 N Federal Hwy, Boca Raton, FL 33431
Hours: Monday – Friday 11 am – 7 pm | Saturday 10 am – 5 pm | Sunday 12 pm – 5 pm
Phone: (561) 623 – 8205