What to expect in jewelry from $100 dollars to $100,000 dollars
Raymond Lee Jewelers and Diamonds by Raymond Lee are the premier jewelry stores in southern Florida. Located in Boca Raton, they offer the most extensive inventory of diamond jewelry in the area that appeals to every budget and every demographic. The warmth and graciousness of both the décor and the staff make clients immediately comfortable as they shop. Whether you want a unique item, an elegant one, stylish, traditional (or all of the above), whether you are shopping for a gift for a loved one or for yourself, the mission at Raymond Lee Jewelers and Diamonds by Raymond Lee is to guide you through their inventory to find the perfect piece of jewelry! Here's what to expect in jewelry from $100 dollars to $100,000 dollars as told by the experts of Raymond Lee Jewelers.
We've chosen a small sample of that inventory to give you an idea of the great variety of items and the wide range of prices available when you are ready to make your next jewelry purchase.
Under $500.00
Silver Diamond Ring
$125.00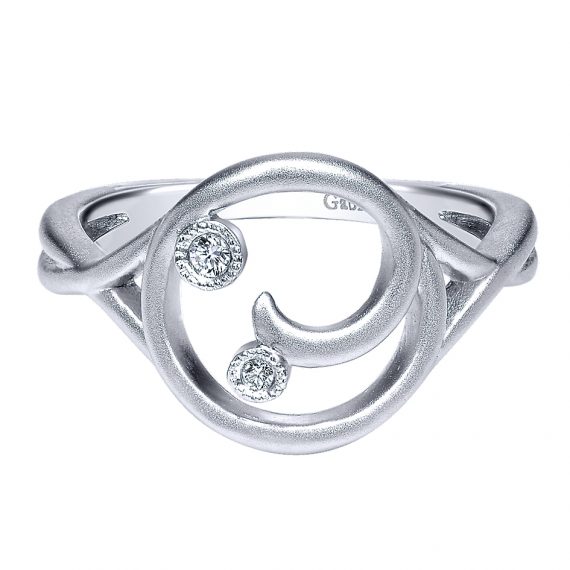 From Gabriel & Co.'s Contemporary Collection, this brushed silver ring twirls and swirls its way into a high-fashion statement on your finger. Unassuming and tasteful, this ring is decorated with two bezel-set round brilliant diamonds (0.03-carat, total weight) that appear to float within the sculptural design.
Diamond Midi Ring
$305.00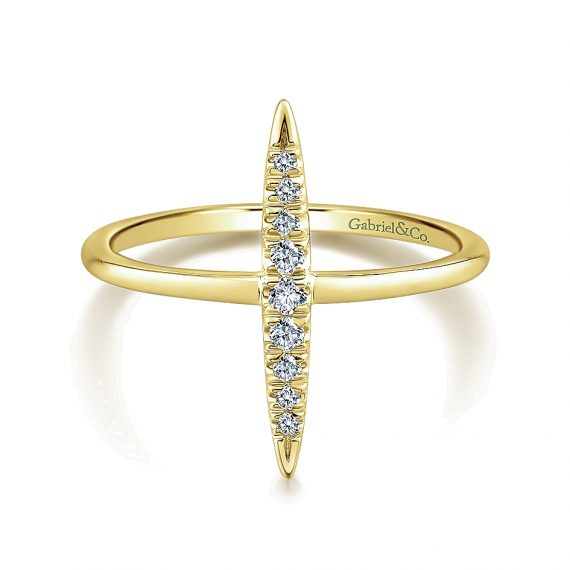 Midi rings (also known as knuckle rings) are worn mid-finger by the chic and the trendy. This stunning 14-karat gold midi ring is part of Gabriel and Co.'s Kaslique Collection that draws inspiration from the exotic Lebanese seaside resort of Kalik on the Mediterranean Sea. Round brilliant diamonds are remarkable for the many facets that enable them to gather in the light and reflect it back with a luminosity that intensifies the appearance of, in this case, the 0.70-carat total weight of diamonds. The ring is dramatized, as well as modernized, by the diamonds being nestled into a sleek and slender tapered bar.
Love Bracelet
$410.00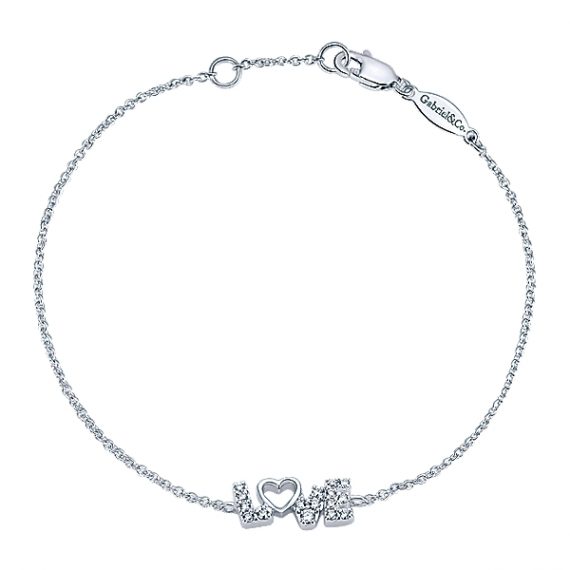 This delicate bracelet, also by Gabriel & Co., is representative of the meticulous craftsmanship and imaginative artistry of the Gabriel brothers. "Love" sparkles with 0.10-carat round brilliant diamonds that draw attention to a darling heart silhouette in 14-karat white gold. The finely wrought cable chain bracelet (conveniently adjustable for length) is also 14-karat white gold.
Under $1500.00
Diamond Straight Wedding Band
$1,240.00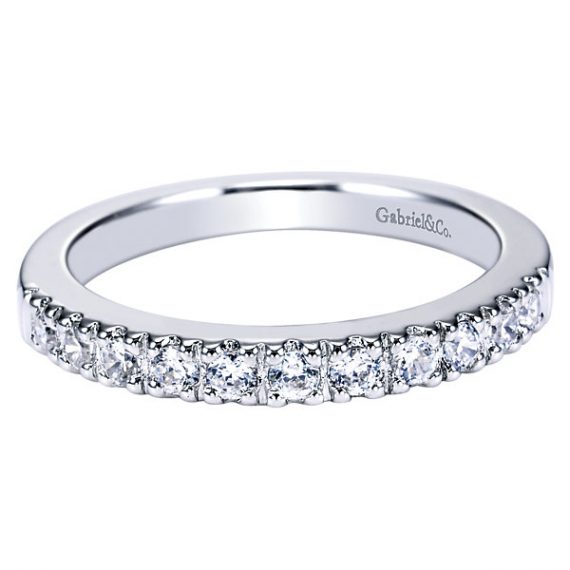 Gabriel & Co mastered the art of coaxing classic beauty out of every diamond they work with long ago, and it's very evident today in their bridal jewelry collections. This 14-karat white gold wedding band is adorned with a total weight of 0.33-carat of accent diamonds for a refined and timeless complement to your engagement ring.
Diamond Bow Tassel Necklace
$1,295.00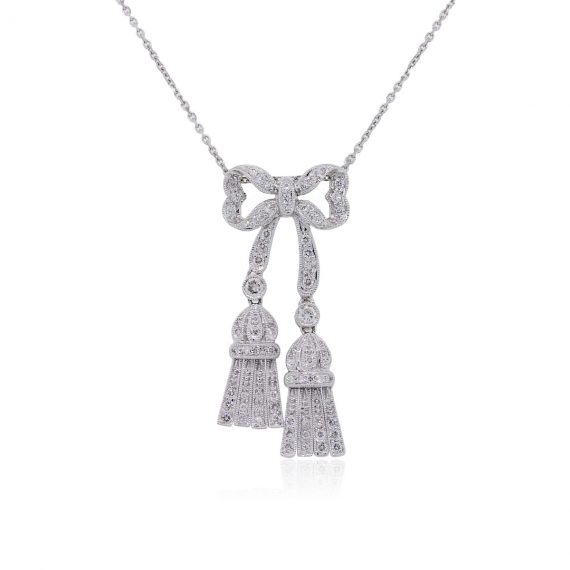 The bow is a remembrance of times past: the glorious "Gilded Age" at the end of the 19th century and the beginning of the 20th. It was a period of peace and prosperity, and bows (much the same as lace) were popular expressions of the elegance, opulence and romance of the era. This bow from our private-label collection makes that same statement.
The 1¼-inch-long tasseled bow glitters with approximately ½ -carat total weight of round brilliant diamonds set in lustrous 14-karat white gold. The necklace is 16 inches long and secured with a spring ring clasp.
Diamond Stud Earrings
$1375.00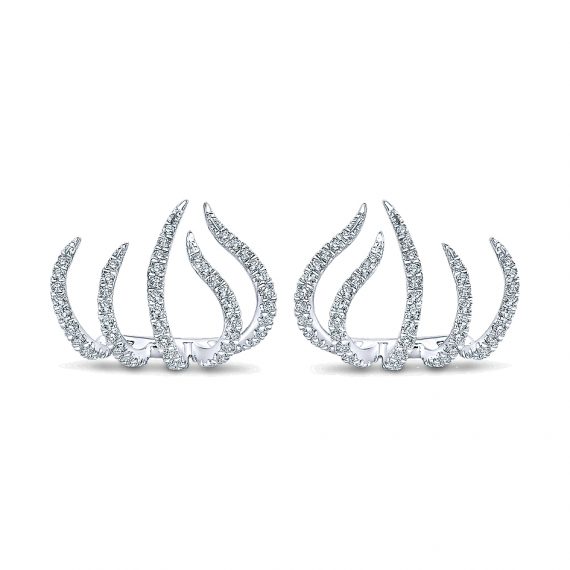 These earrings are another selection from Gabriel and Co.'s Kaslique Collection. The sensuous curves and sleek design are subtle enough to wear every day and yet become vivid accents when worn with your most formal attire. More than ½ carat of round brilliant diamonds embellish the 14-karat yellow gold setting.
Under $3,000.00
Diamond Fabled Collection Pendant Necklace
$1,650.00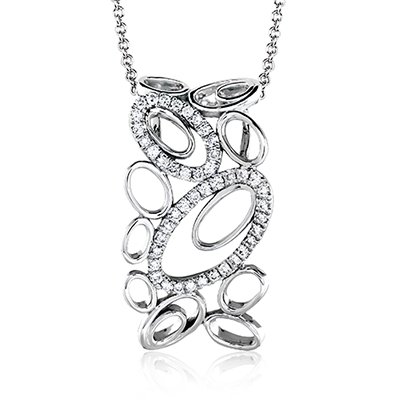 This pendant necklace by Simon G is mesmerizing. The interplay of 18-karat white gold ovals accented in 0.21 total carat weight of twinkling round brilliant diamonds is a stunningly elegant, yet contemporary, design. The chain is 17 inches with an additional 2-inch extension.
Simon G came to America intent on becoming an engineer. Instead, he found that he could use both his love of precision and his artistic talents in jewelry design and craftsmanship. He uses only top-quality conflict-free diamonds, and, unlike many jewelers, his diamonds are set with four prongs, not only to keep the stones secure but also to ensure that they are displayed to their best advantage.
Diamond Initial Pendant Necklace
$2,340.00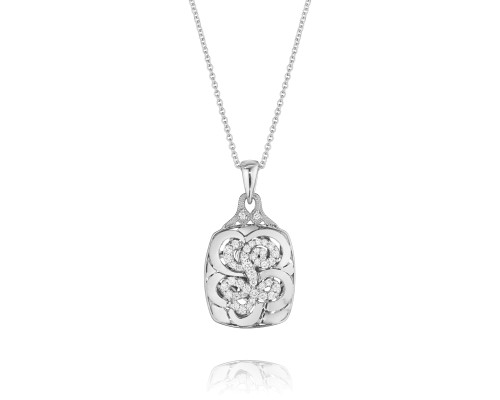 Tacori is known for the distinctive Old World flair and California "hipness" of its jewelry designs, as well as for the uncompromising execution. The initial pendant shown ("L") is created from a total weight of 0.21-carat round brilliant diamonds in a glittering, ornate script. This sort of intricacy is what turns items of jewelry today into timeless family heirlooms. The initial pendants are available in 18-karat white, yellow and rose gold.
Diamond Illusion Square Stud Earrings
$2,595.00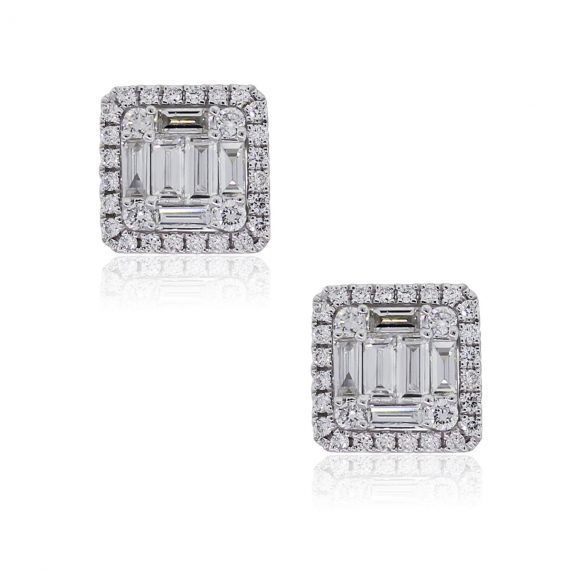 These 18-karat white gold earrings are part of the prestigious Diamonds by Raymond Lee estate jewelry collection. The total weight of the diamonds is slightly more than a carat: approximately 0.53-carat of round brilliant diamonds and 0.55-carat baguette shape diamonds. The earrings are quietly glamorous and versatile enough to wear for any occasion with any outfit.
The illusion setting allows you to experience luxury at an affordable price. The diamonds appear larger due to the white gold "platters" with ridges that catch and scatter the light as the diamonds gather and reflect it.
Under $5,000.00
Sterling Silver Promise Bracelet
$3,990.00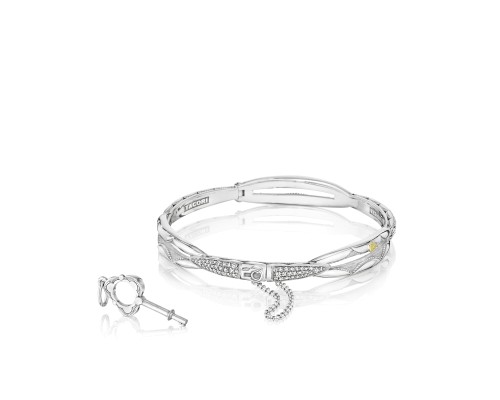 Fashioned by Tacori, the Promise Bracelet can be a romantic gesture, a symbol of lasting friendship or a reminder of a pledge you make to yourself. The sterling silver bracelet is adorned with a total weight of 1.50 carats of pave diamonds with the elaborate design representing the union of love, support and respect. Once the bracelet is fastened, only the holder of the Tacori key can unlock it.
Diamond Chandelier Necklace
$4,900.00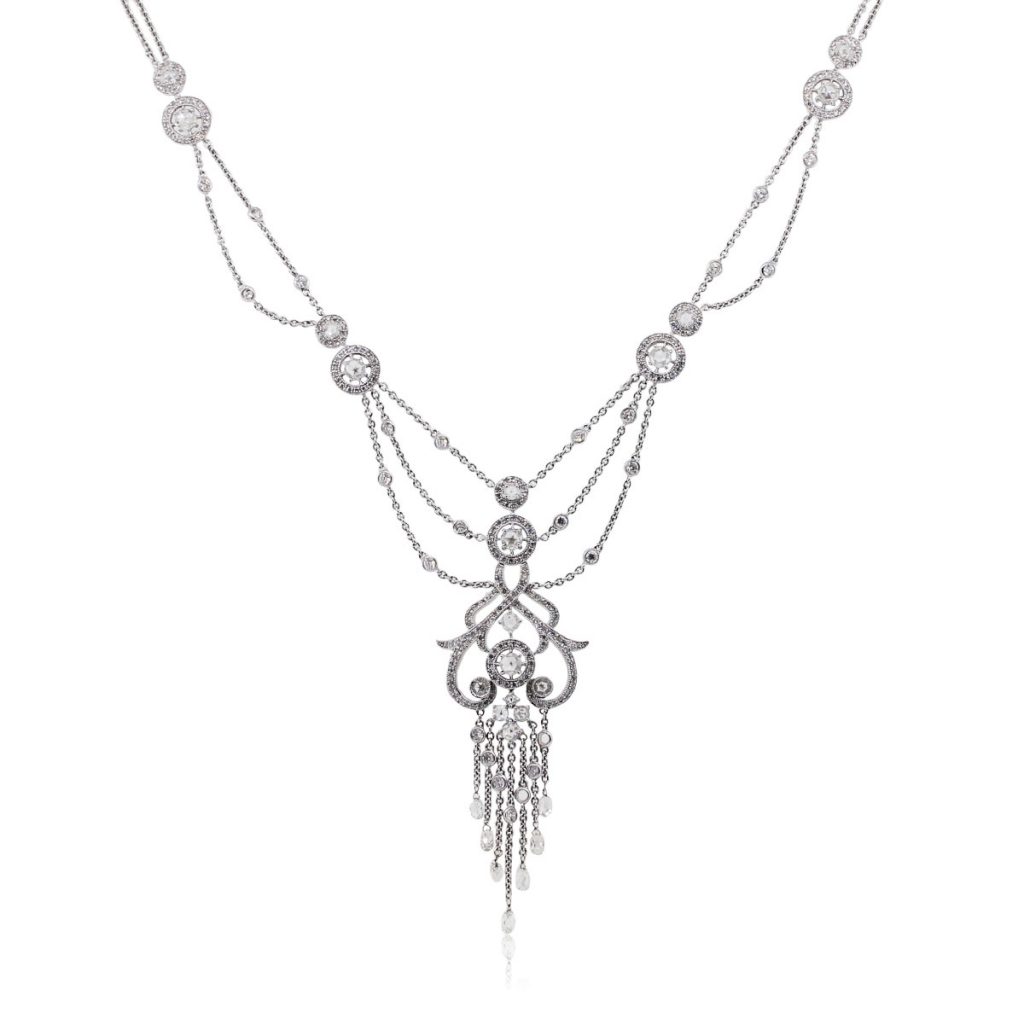 This 18-inch necklace conjures up images of bygone years when ballrooms were grand, castles were stately and ladies and gentlemen waltzed beneath crystal chandeliers. The Chandelier Necklace is part of our private-label collection. It is elegant and graceful with the vintage allure of rose cut diamonds. Popular from the 16th century to the 19th, rose cuts have fewer facets and, therefore, less sparkle. It is now the choice of the individual who does not want what everyone else has. Rose cuts are a distinctive and attention-getting addition to any item of jewelry, and they are particularly fitting for this Edwardian-like necklace.
Approximately 5 carats in total weight of round brilliants and rose cuts are set into a cascade of 18-karat white gold that makes quite a statement.
Under $10,000
Rose Gold Diamond Band
$5,400.00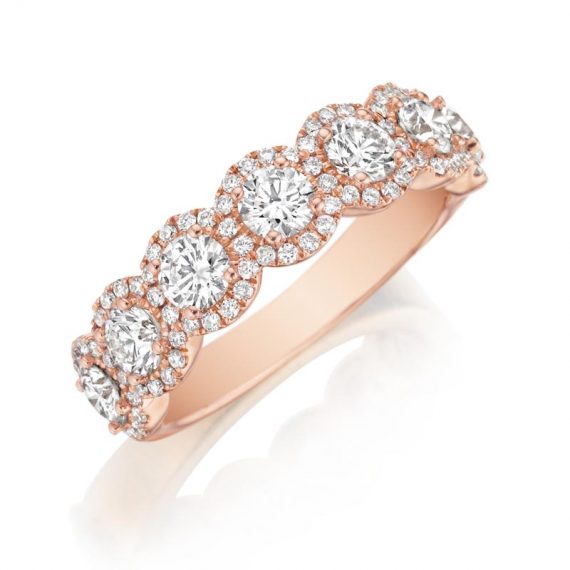 This traditionally styled Henri Daussi band contains seven round brilliant diamonds (total weight: 1.60 carats) set in prongs placed halfway through the band, enabling it to be worn with any engagement ring. It comes in both 14-karat rose gold and 18-karat.
The Henri Daussi company was founded in Antwerp, Belguim, the diamond capital of the world. It was then and remains known for cutting the world's most brilliant diamonds. Still family owned and operated, Henri Daussi is now headquartered in New York City and, as demonstrated in this ring, the company has retained the same passion for fine jewelry and expertise in craftsmanship and design as its founder.
Diamond Bangle Bracelet
$6,600.00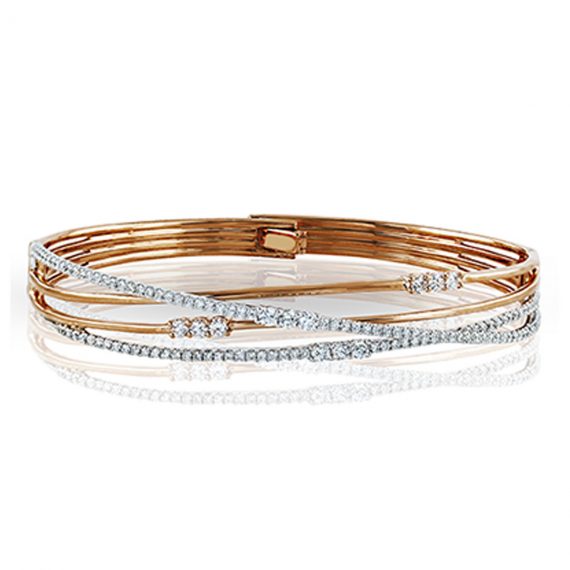 Here we have another example of Simon G's precision and artistry—and an extraordinary example it is. This creatively rendered rose gold diamond bangle bracelet is set with 1.48-carats, total weight, of accent diamonds set in an alluring and eye-catching twist. The bracelet is available in an 18-karat white and rose gold combination as well as a white and yellow gold combination. The beauty of accent diamonds is that they provide a refined sparkle, and this bracelet is easily worn every day.
Diamond Dice Cufflinks
$7,000.00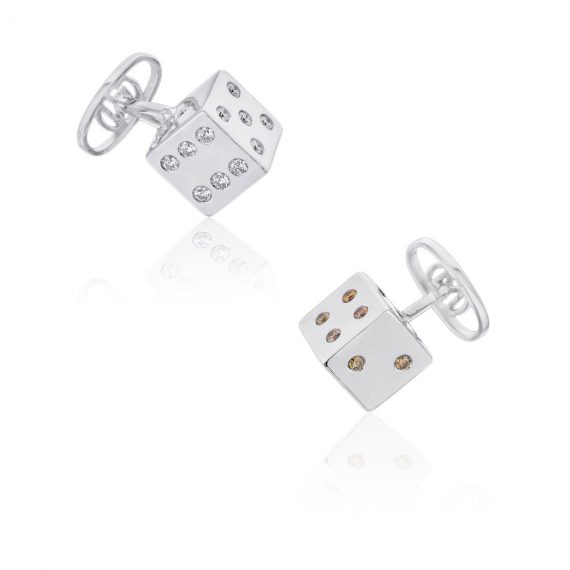 What a great gift for your guy the next time he "rolls the dice" with an exciting new venture! The dice are in gleaming 18-karat white gold with a total of 1.43 carats in round brilliant diamonds and earthy brown diamonds.
Gone are the days when brown diamonds were the "ugly stepsisters." With the "back to nature" trends in fashion and "champagne," "cognac" and "chocolate" replacing the less exciting "brown," these diamonds have increased in popularity and yet remain unconventional enough to make a statement and catch an eye.
Diamond, Sapphire and Ruby Freedom Flag Cufflinks
$7,200.00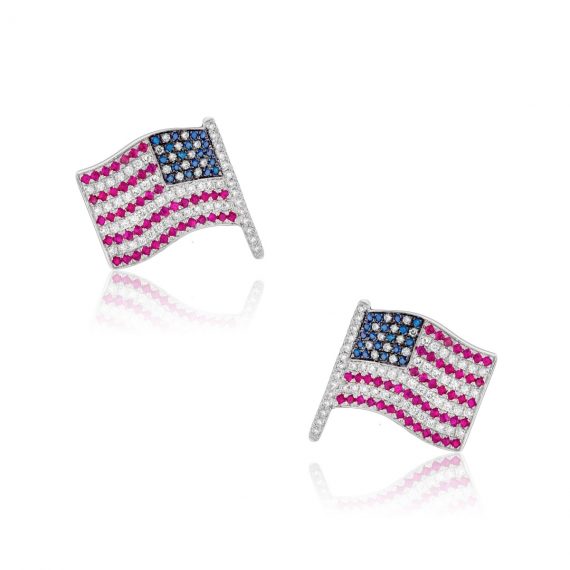 Calling all patriots, the Raymond Lee private-label collection has the ultimate expression of "God Bless America" in these 18-carat white gold cufflinks designed with round brilliant diamonds, round sapphires and round rubies: 0.94-carat, 0.21-carat and 0.85-carat, respectively and approximately. The flags will be lighting up your cuffs! The links measure .75 inch by .74 inch and come with fixed fasteners. They make a stylish addition to a blue or white French-cuff shirt for both men and women.
Under $15,000
Platinum Engagement Ring Setting
$12,290.00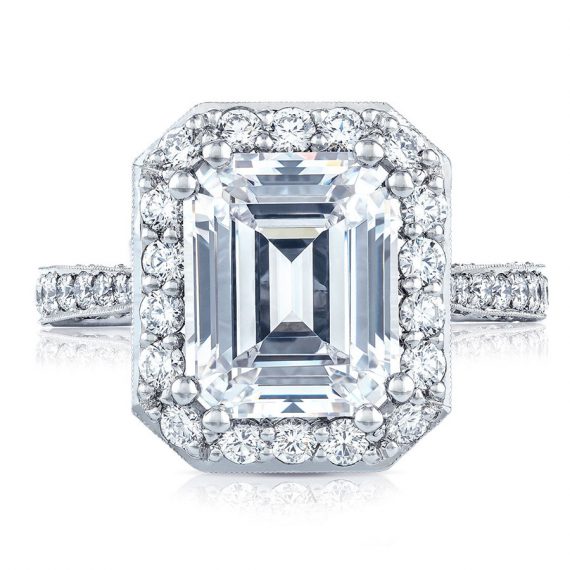 This exquisite handcrafted setting by Tacori is fashioned from platinum that has the advantage of never fading to yellow as white gold may. Platinum always stays white without needing to be re-polished or re-plated to keep it looking bright and shiny. Also, platinum is more durable than gold and the prongs holding your precious stones are stronger.
The round brilliant diamonds with a total weight of one carat will beautifully present the center stone of your choice from a variety of shapes and sizes (two carats or larger).
Fancy Yellow and White Diamond Bracelet
$13,995.00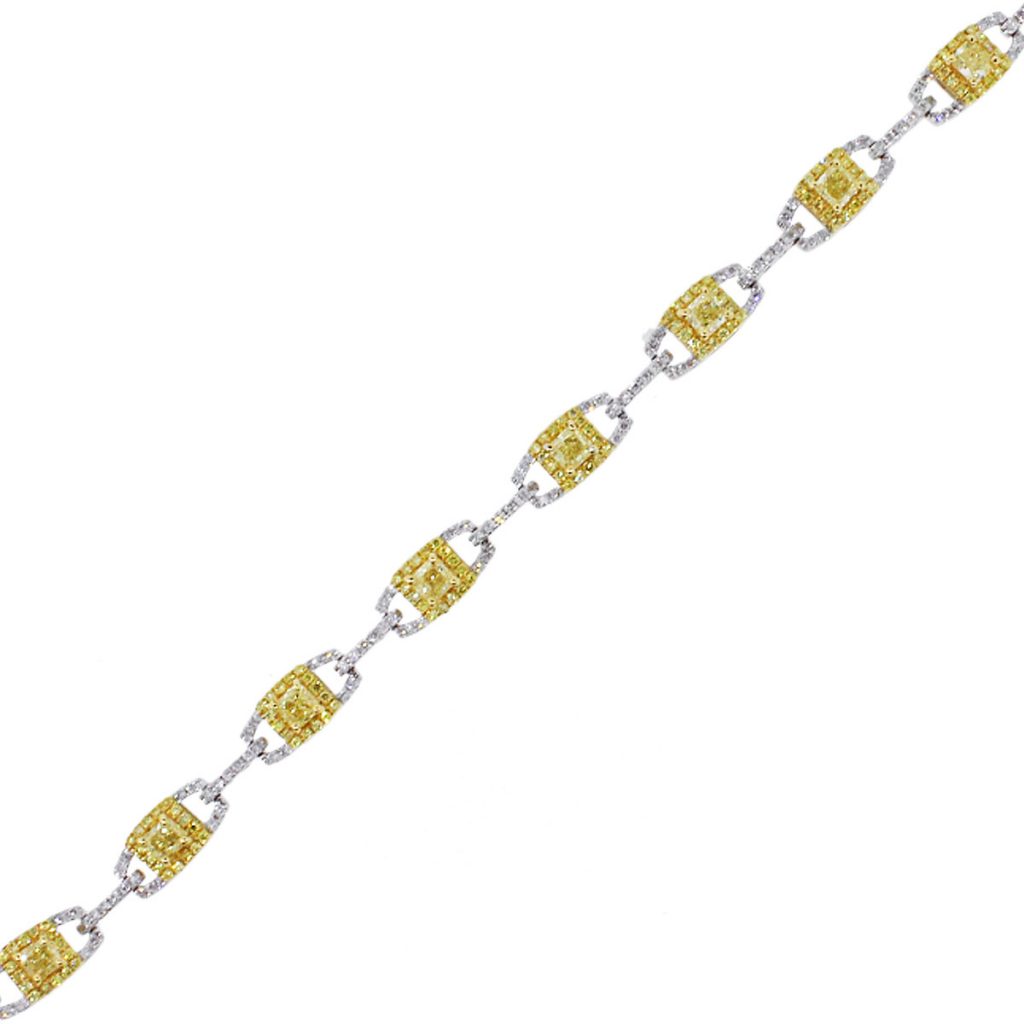 Yellow diamonds have become among the most favored of fancy colored diamonds. They are, in a word, magnificent! They light up this bracelet with warmth and joy and, perhaps more importantly, they look like luxury but are affordable. The design proudly displays the yellow diamonds with a total weight of 3.30 carats and the 0.86-carat white diamonds to their optimum advantage in the 18-karat white gold setting. The clasp is encrusted with diamonds for the bracelet to seamlessly encircle the wrist.
Diamond bracelets and yellow diamonds are two of the biggest fashion trends right now. You can enjoy both of them in this bracelet!
2.50-carat Diamond Stud Earrings
$13,995.00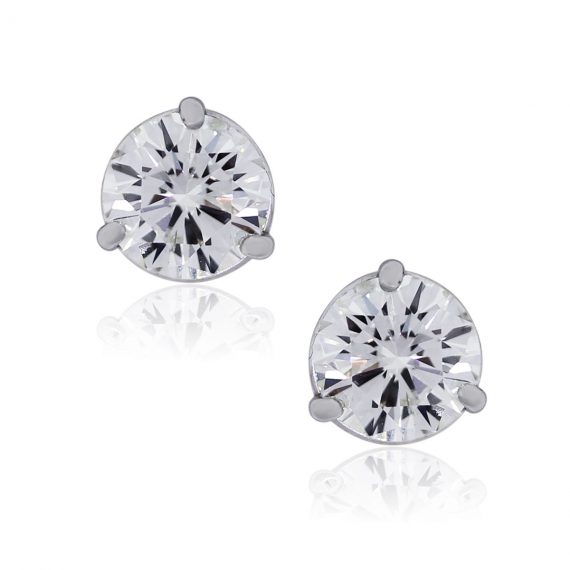 Stud earrings—on every jewelry lover's list. With these glittering studs from from the Raymond Lee estate collection, you can have a carat and a quarter on each ear—not too big, not too small. These matched diamonds are set in 14-karat white gold. They'll be secure and comfortable with the friction backs that hold the posts with a light tension and are easy to pop on and pop off.
Under $25,000
Henri Daussi Diamond Engagement Ring
$17,746.00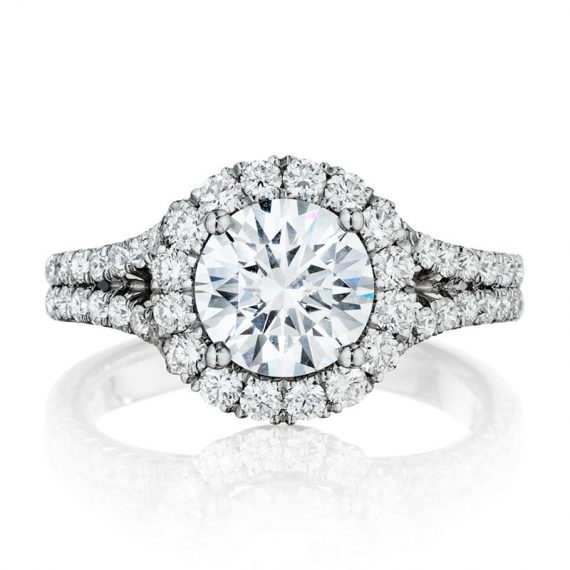 This is a spectacular engagement ring set in 18-karat white gold. The center diamond is a 1.11-carat round brilliant, and it is encircled with an enchanting pave halo of 0.86-carat total weight of accent diamonds. The custom-designed halo perfectly fits the center stone for a glittering display of light and sparkle.
Radiant Cut Fancy Yellow Diamond Ring
$19,995.00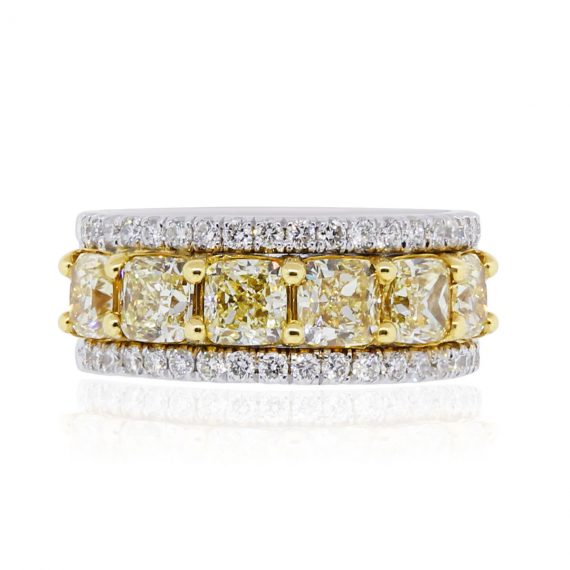 Another outstanding item from our private-label collection is this 18-karat white gold ring with more than four carats of fancy yellow radiant cut diamonds. It has a total of approximately a half carat of round brilliant white diamonds as well.
Radiant diamonds are vibrant and festive due to the complete brilliant-cut facet pattern applied to both the crown and pavilion. When the corner is cropped, the radiant becomes a beautiful bridge between the cushion and princess cuts. For that reason, radiants look superb when set with round diamonds, as in this ring, or with square diamonds.
Diamond Halo Engagement Ring
$20,878.00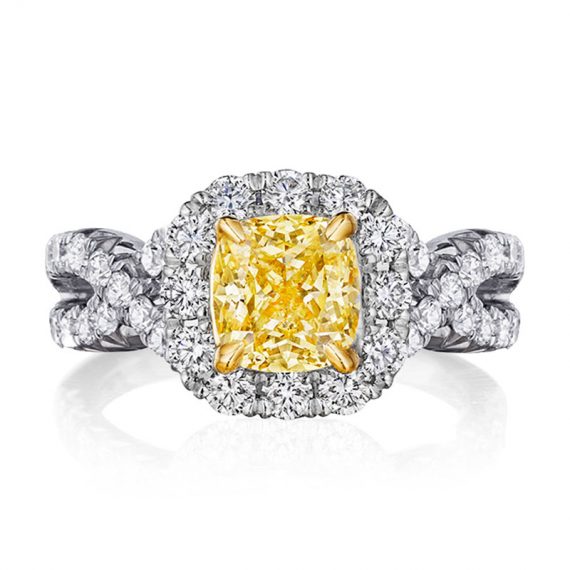 Here we have a fancy yellow cushion cut diamond (1.54 carats) as star of the show with a supporting cast of 48 pave round brilliant accent diamonds weighing close to one carat set into an 18-karat white gold halo. The designers at Henri Daussi miss no opportunity to enhance what is already stunning—they included a split shank!
Under $40,000
Diamond Scallop Necklace
$31,200.00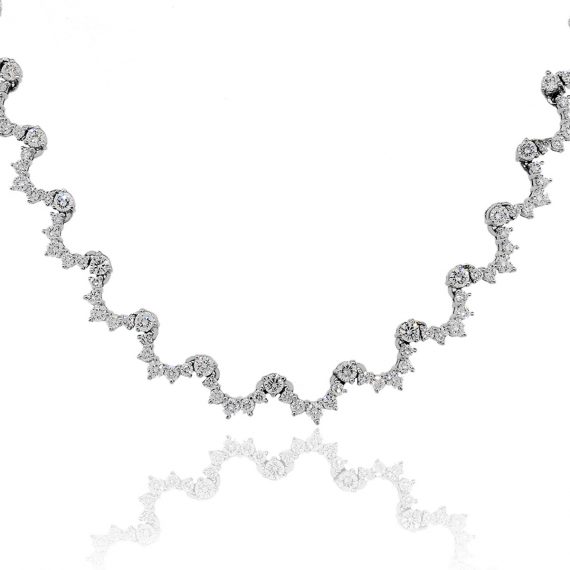 More than 10 carats of round brilliant diamonds glisten in the elegant and delicate lace pattern created in 14-karat white gold. This 16-inch-long intricately designed necklace makes an impressive addition to any outfit—from business to haute couture—and is part of the Raymond Lee private-label collection.
Diamond Tennis Bracelet
$37,500.00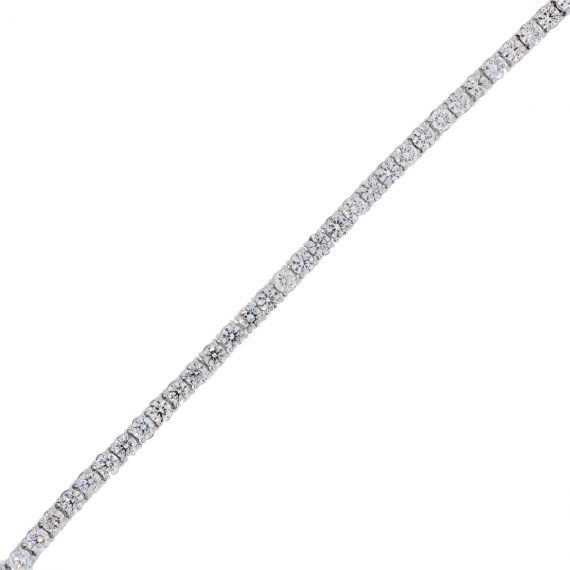 Also from our private-label collection, this tennis bracelet boasts more than 14 carats of round brilliant diamonds set into 14-karat white gold and secured safely with a tongue in box clasp. It's stylish, impressive and casual all at the same time.
Bracelets made up of a single row of small diamonds were known as "infinity bracelets" at one time. Then, about 30 years ago, Chris Evert's infinity bracelet fell off of her wrist during an important tennis match. Play stopped while she looked for it. The bracelets spiked in popularity and have been tennis bracelets ever since. The name works: the bracelets are sporty, lightweight and flexible. You don't have to worry about them interfering with your tennis stroke, golf swing or mixing up mint juleps, for that matter.
Under $75,000
Diamond Simon-Set Collection Bangle
$58,190.00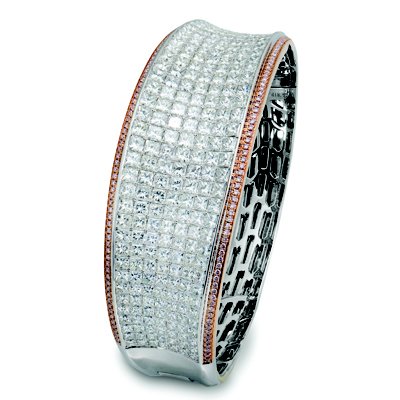 From the inimitable Simon G, this bracelet is traffic stopping! The slightly concave design holds seven rows of glistening princess cut diamonds, totaling close to 19 carats total weight, finished with two rows of 0.79-carat fancy yellow pave diamonds. The diamonds are set smoothly in luxurious 14-karat white or yellow gold. You can dress up any outfit for any occasion.
The princess cut diamond brings an edgy, modern look to the bracelet with its square shape as it closely produces all the fire and brilliance of a round diamond. When princess cut diamonds are paired with round fancy yellows, as in this bracelet, it's a "no holds barred" display of light.
You should also know that Simon G jewelry items are engraved inside with the brand and a unique serial number, therefore if someone finds a lost item, it can be identified and returned to the owner.
Heart- and Pear-Shaped Diamond Drop Necklace
$59,400.00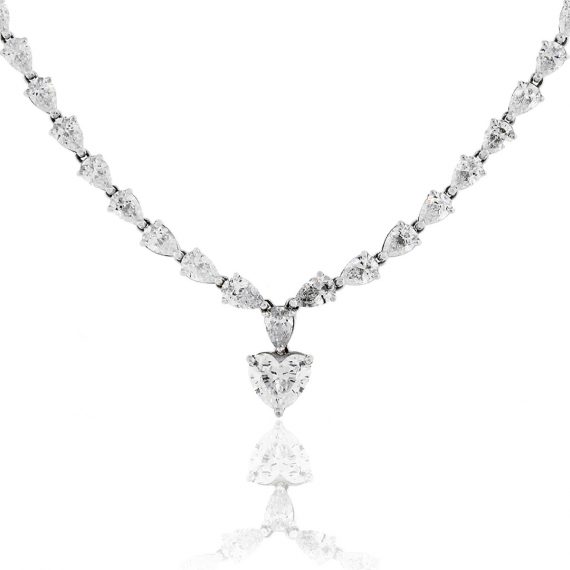 Sophisticated, elegant, incandescent. This necklace is all of those and more. It's the caliber of a diamond necklace you see on a red carpet. And we have it in our private-label collection. The 18-karat white gold setting displays more than 14 carats of graceful, decidedly feminine pear-shaped diamonds that lead to the bold statement encapsulated in a 1.75-carat heart-shaped diamond. The necklace is 18 inches long and is nicely secured with a tongue in box clasp.
Platinum and Diamond Tennis Bracelet
$66,825.00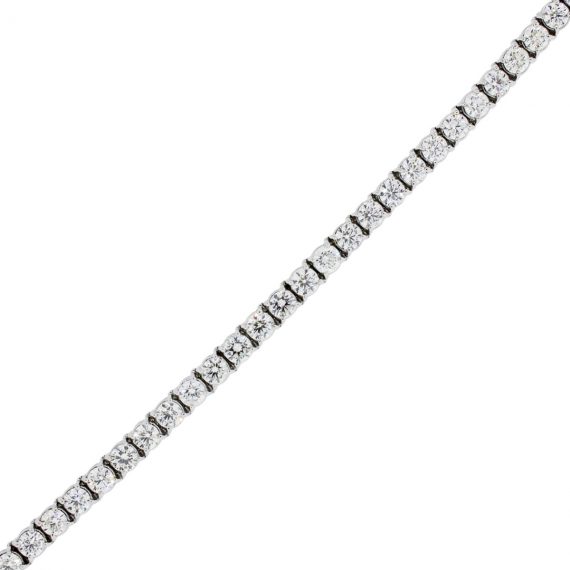 The tennis bracelet is now a staple of fine jewelry, and our private-label collection has the crème de la crème of tennis bracelets: almost 20 carats (total weight) of round brilliant diamonds will encircle your wrist in sparkles that rival a clear night sky. These diamonds are protected in secure prongs set in gleaming platinum. The clasp is a tongue in box with safety latch.
Under $150,000
Cushion Cut Diamond Eternity Band
$77,000.00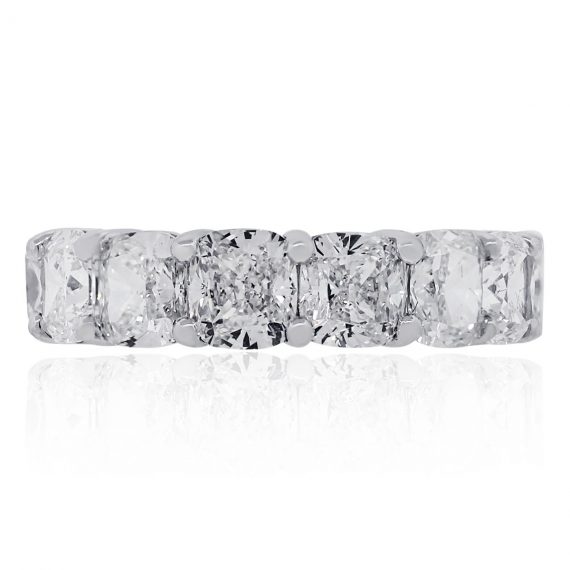 This diamond eternity band contains 14 cushion cut diamonds with a total weight of 11.18 carats. The shared prong platinum setting displays the perfection of the diamonds that retain the vintage appeal of the cushion cut. The ring is the ultimate wedding or anniversary gift or "right-hand ring."
"Cocktail rings" originated in the Roaring Twenties. Women had their own incomes. They frequented the speakeasies that invented the cocktail for them, and they could buy rings for themselves. Today, we call them right-hand rings that ladies buy to celebrate an accomplishment, an event or, simply, themselves. And this ring of beautifully matched cushion cut diamonds is about as celebratory as it gets!
2.15-carat Diamond Engagement Ring
$88,582.00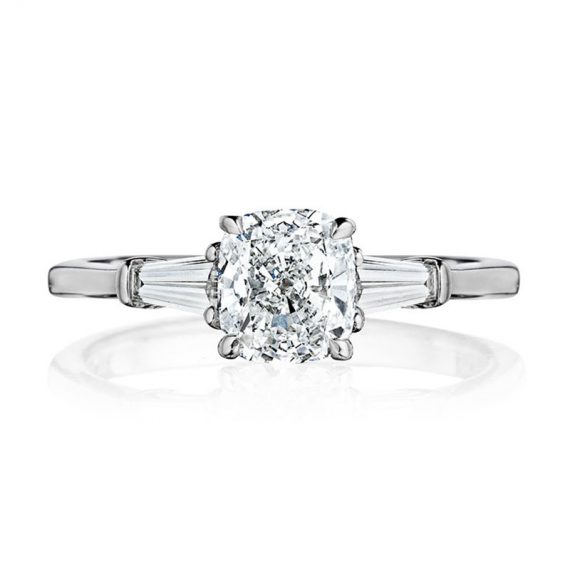 This 18k white gold cushion cut diamond from Henri Daussi shows trapezoid diamonds on either side. The center diamond is an internally flawless 2.15 carats, the step-cut trapezoids a total weight of 0.42-carat.
Cushion cut diamonds (aka pillow cut) are rectangular or square with the edges rounded, creating a softened effect. Due to advance cutting and polishing techniques, the cushion cut is back. While it retains the vintage look, it glows with fire as the ring catches the light.
Trapezoid cut diamonds are increasingly preferred as side diamonds over the traditional baguettes. With a larger surface area and four sides that slant outward, trapezoids amp up the sparkle factor.
Diamond Bracelet—76+ Carats
$109,000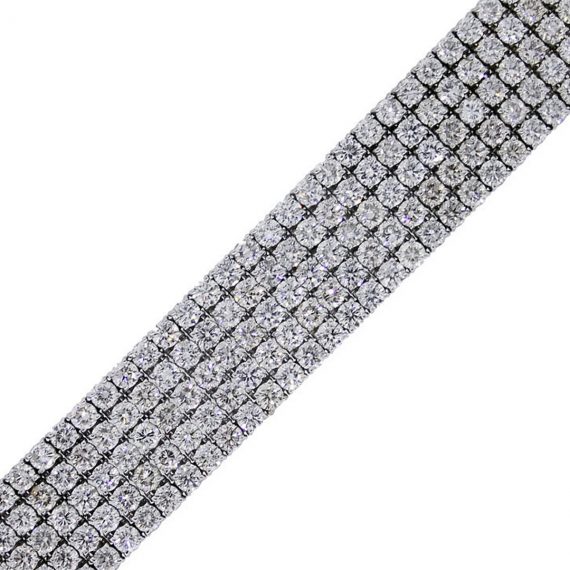 This 18k white gold bracelet of 76.41ctw is one of the most spectacular items in the Raymond Lee private-label collection. Two hundred round brilliant diamonds are expertly prong set in five rows within a polished 18-karat white gold frame. The bracelet is about an inch wide and is beyond impressive. The double tongue in clasp will make sure this fabulous bracelet is not going anywhere!