Verragio Engagement Rings With Jaw Dropping Profiles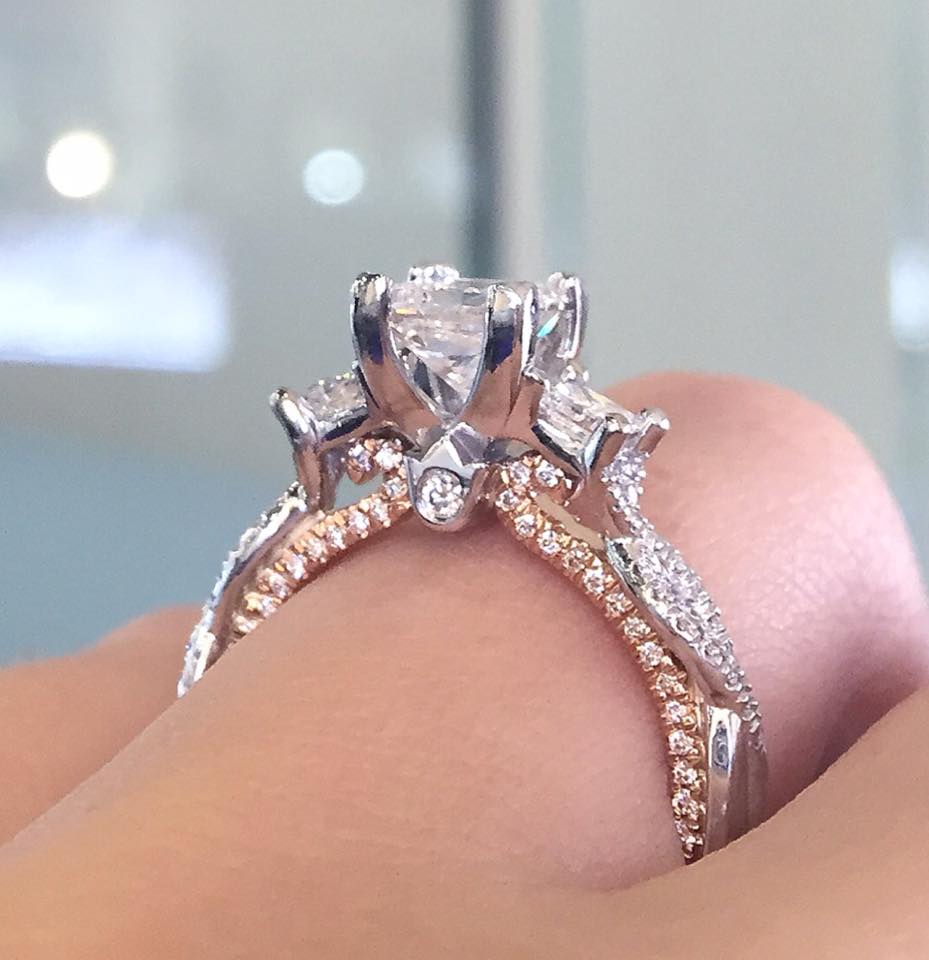 Verragio engagement rings are famous, first and foremost, for their feminine details.
The entire brand was built on the idea that a ring should be just as stunning as the woman who wears it. So every ring, regardless of which collection it belongs to, shows off those amazing Verragio details.
However, each collection has its own particular style:
Let's get the party started with this Verragio Venetian setting! This three stone ring features two larger round brilliant side stones on either side of the round brilliant halo center. The ring's split shanks embrace both side stones with a border of gorgeous shared prong diamond accents. You can see on the side angle the beautiful French beading, the intricate diamond scrolls, and a signature Verragio crown. This lovely ring comes in 18 karat yellow gold and rose gold too.
Speaking of rose gold, here's a soft square halo with Verragio's signature lace shank. It's from the Insignia collection and boasts .45 carats total of accent diamonds in the center halo, intertwined lace shanks, and beautiful scrollwork profile. Peeking out behind it is our fabulous Parisian setting. Also a lace shank, it shows off a different collection's side profile details and the beauty of different metal finishes on Verragio engagement rings.
Of course, you can always see mixed metals in the same Verragio ring! This Verragio Couture setting shows off how gorgeous it is when brides mix white and rose gold for their engagement rings. From the aerial perspective, this ring looks like a lovely, white gold three stone princess cut. But, like all Verragio engagement rings, there's more than meets the eye. And on the side perspective, you see the gorgeous inner border of diamonds set in warm rose gold.
This beauty from the Venetian collection showcases intricate scroll work and French beading to decorate its profile. The accent diamonds add .45 carats total to the ring's weight, and the lace shanks twist gently to the large side stones just waiting to flank the center diamond of your choice.
Here, we modified an Insignia ring with a lovely princess cut center stone. We love our Verragio engagement rings because they are SO easy to customize – in fact, one of our most popular rings of all time happens to be a custom engagement ring we built from three stunning Verragio rings.
Finally, this beauty from the Paradiso collection shows off this particular collection's unique interior profile design. Diamonds stud each wave of white gold to create breathing room on your finger and allow more light to interact with the 1 carat of accent round brilliant diamonds.
As you can see, Verragio engagement rings are stunning from every angle – click through on your favorites and admire these beauties from all their good sides in our online showroom!