As 2014 (quickly!) comes to an end, we've got our sights set eagerly on 2015. But we also don't want to neglect these last, magical weeks of the year. So we do want to wrap up our 2014 with some reflection, review, and plenty of sparkle. And normally we reserve all of our "best of" posts for the post-holiday countdown to New Year's Eve, but considering that we have so many people still shopping for the ultimate Hanukkah or Christmas gift, we wanted to provide some inspiration to all of those on the hunt for the perfect engagement ring. So we've combed through our Facebook, Instagram, Tumblr, and – of course – our Pinterest accounts to find the top 20 engagement rings of 2014 – hand selected or created by our expert jewelers, chosen by our social media team, and adored by the people, these are the best of the best, as decided by you, our fans and customers. So if you're still shopping, here's a great place to start. And a few reminders: if the ring you love is marked as "sold out", e-mail us, Tweet, message, call, whatever – we can very likely re-create it for you. If you fall madly in love with a Verragio setting, please remember that certain size diamonds, certain metal combinations, and other customizations require 4-6 weeks to complete. Same with Uneek, and slightly shorter with Gabriel & Co. And, as always, if you love 90% of the ring, but think it needs one little tweak, let us know. We're always happy to do custom work. And now, without further ado, our Top 20 Engagement Rings of 2014.
18k White Gold 3.57ct Cushion Cut Diamond Engagement Ring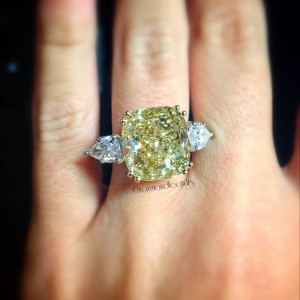 Platinum 10 Carat Fancy Yellow Cushion Cut Diamond Engagement Ring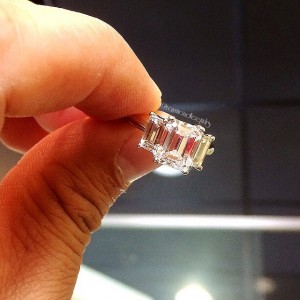 1.59 Carat Emerald Cut Three Stone Diamond Engagement Ring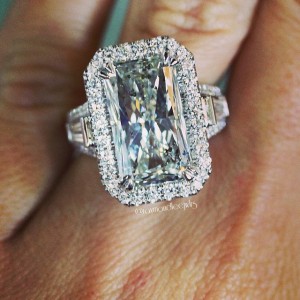 EGL Certified 9.03ct Radiant Cut Diamond Engagement Ring
Uneek Double Cushion Halo Engagement Ring Semi Mounting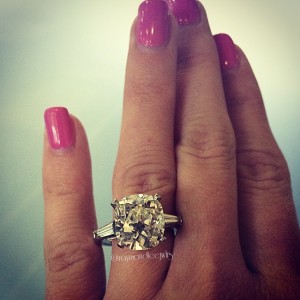 Platinum 6.14ct Cushion Cut Diamond Ring with Baguette Accents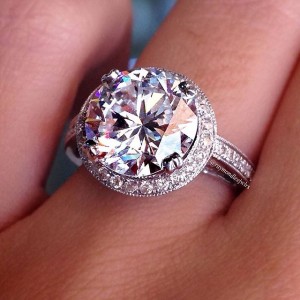 2 Carat Round Diamond Halo Setting Engagement Ring
White Gold GIA 1.07ct Round Brilliant Halo Set Engagement Ring
2.50 Ct Emerald Cut Diamond and Emerald Platinum Engagement Ring
4 Carat Emerald Cut Diamond Platinum Engagement Ring in Halo Setting
Platinum 1.53ct Round Brilliant Diamond and Emerald Engagement Ring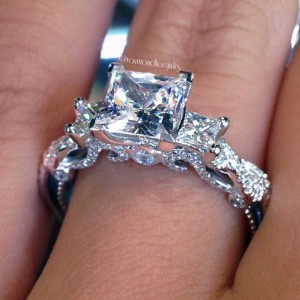 Verragio Princess Cut Diamond Ring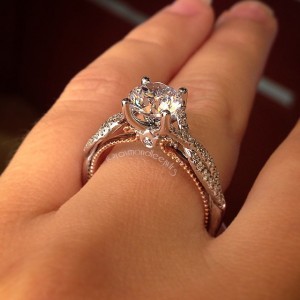 Verragio Two Tone Infinity Band Solitaire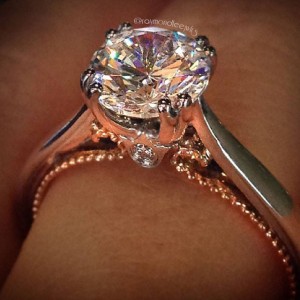 4 Carat Radiant Cut Double Halo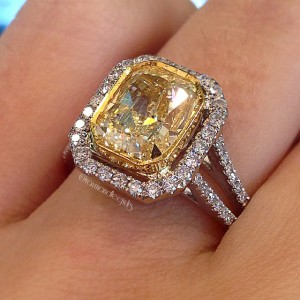 14.33ct Fancy Light Yellow Pear Shaped Diamond Engagement Ring
Verragio Venetian diamond setting
Finally, several of our Uneek engagement ring mountings set with larger than life diamonds.