Here at Diamonds by Raymond Lee, we spend our days assisting couples in selecting the perfect rings to symbolize their love and commitment for one another. We help design rings that capture each individual's unique style and personality. No matter what type of ring you're looking for, whether it be nontraditional or traditional style, we have the means to provide you with exactly what you want.
Are you on the hunt for the perfect engagement ring? Look no further. Today we're discussing the top 10 engagement ring trends of 2018 in efforts to help you find just what you're looking for in a ring. After all, an engagement ring is more than just a sparkle of affection. An engagement ring is a symbol of love, honor, and commitment. Whether you're more of a rose-gold setting type or an east-west style emerald, your ring should match your personality. That being said, there's no better time to explore your options than the present. 
Everywhere we look brides to be are becoming more and more adventurous with their style which includes their taste in rings. Now thanks to Pinterest, you can literally find your dream ring within seconds  (not going to lie, it actually helped us write this post – thanks Pinterest!). So essentially what we're getting at here is that brides today are opting for more unique, colorful, and more affordable options for engagement rings. And we wanted to be on board with that so that's exactly what we did. 
It's engagement season! (Here, every season is engagement season) And as they emerge upon us, we wanted to be one of the first to share the new engagement ring trends with you. We are loving these trends and we hope you do too! Below are 11 of the top engagement ring trends we expect to hold strong for the duration of 2018 and even the beginning of 2019. These rings are just brilliant.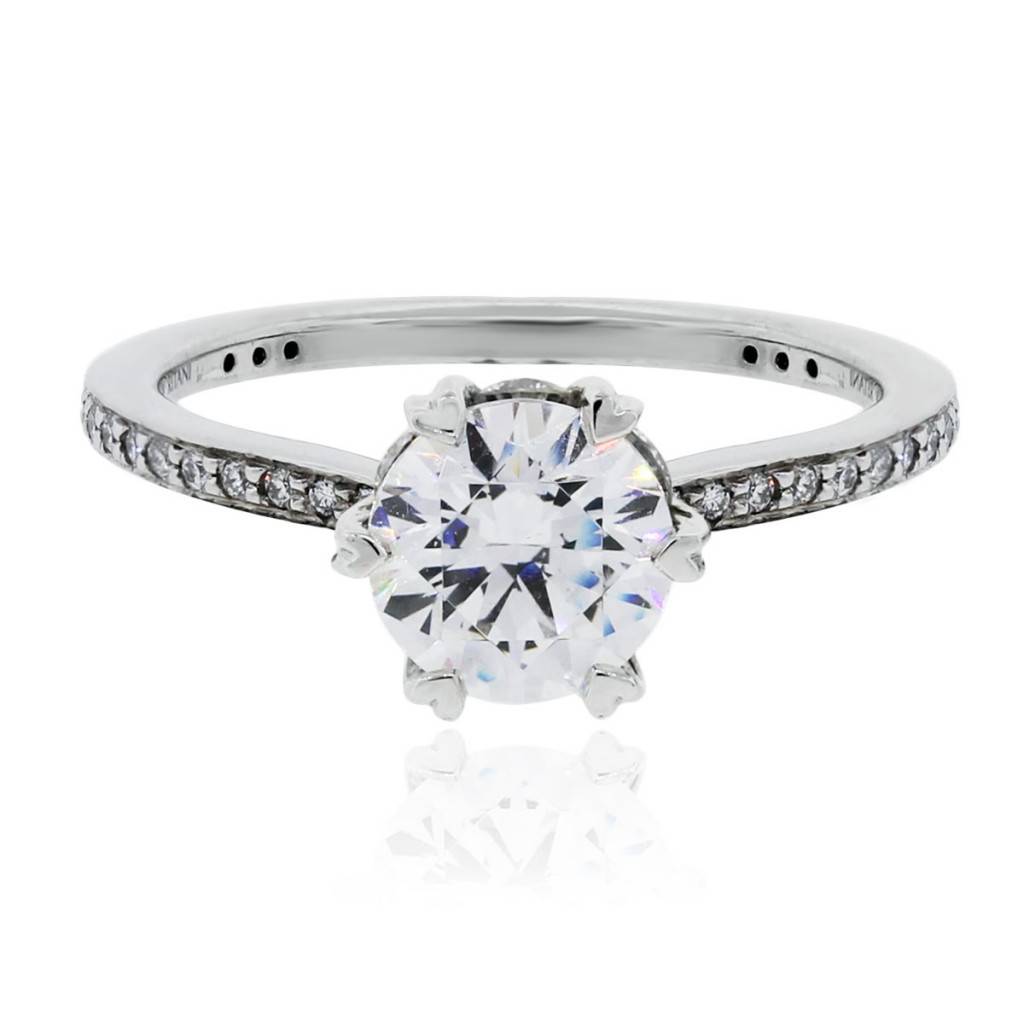 Solitaire Micropave Engagement Ring, Cost: $1,930.00
The first trend on our list is the accented ring trend. Although flashy rings may be a thing of the past, these diamond accented galleries are a thing of the future. Think Cinderella with a modern day twist. 
Shop more micro pave rings here.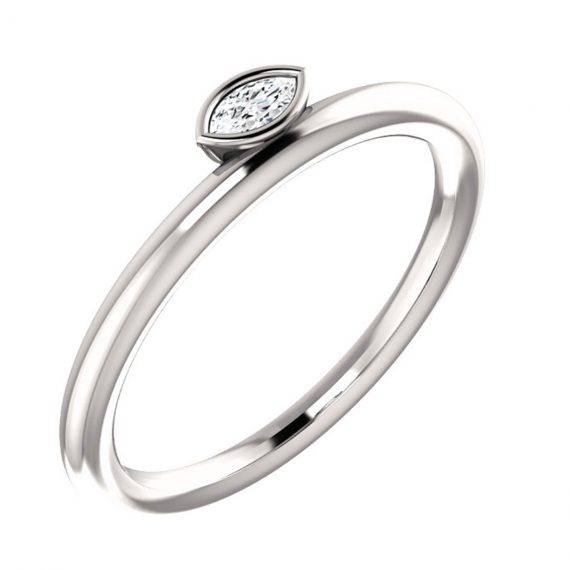 White Gold 0.07 ctw Diamond Asymmetrical Stackable Ring, Cost: $580.50 – $589.91
Many women today are opting in for the ultimate statement ring. And our second engagement ring trend of 2018 does just that. Asymmetrically designed engagement rings offer a nontraditional twist with custom designs and sleek elements. They look wonderful with elements like black rhodium, delicate and unique silhouettes, and colored stones like morganite or aquamarines. 
Shop asymmetrically designed engagement rings here.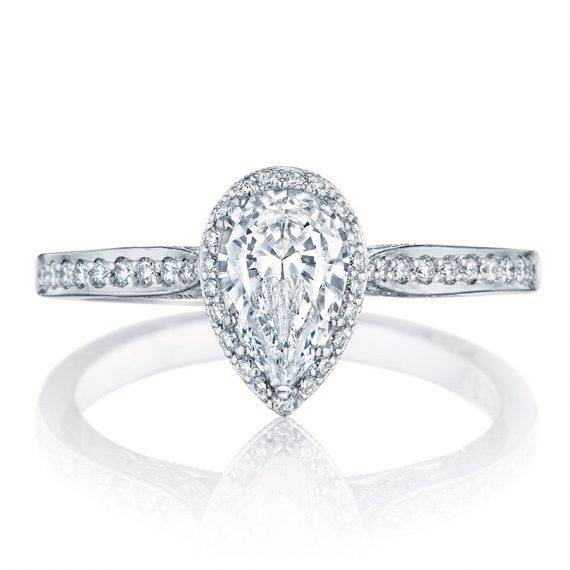 Tacori Dantela Pear Shape Engagement Ring, Cost: $3,340.00 – $4,250.00
Looking for a more non-traditional type of ring? A lot of brides to be are drawing closer and closer to these distinctive V-shaped chevron bands. Unlike traditional bands that fit evenly around the finger, these bands stand out with their own unique shape. Stacked against a chevron wedding band, this engagement rings will look brilliant. 
Look for Chevron Shaped Rings here.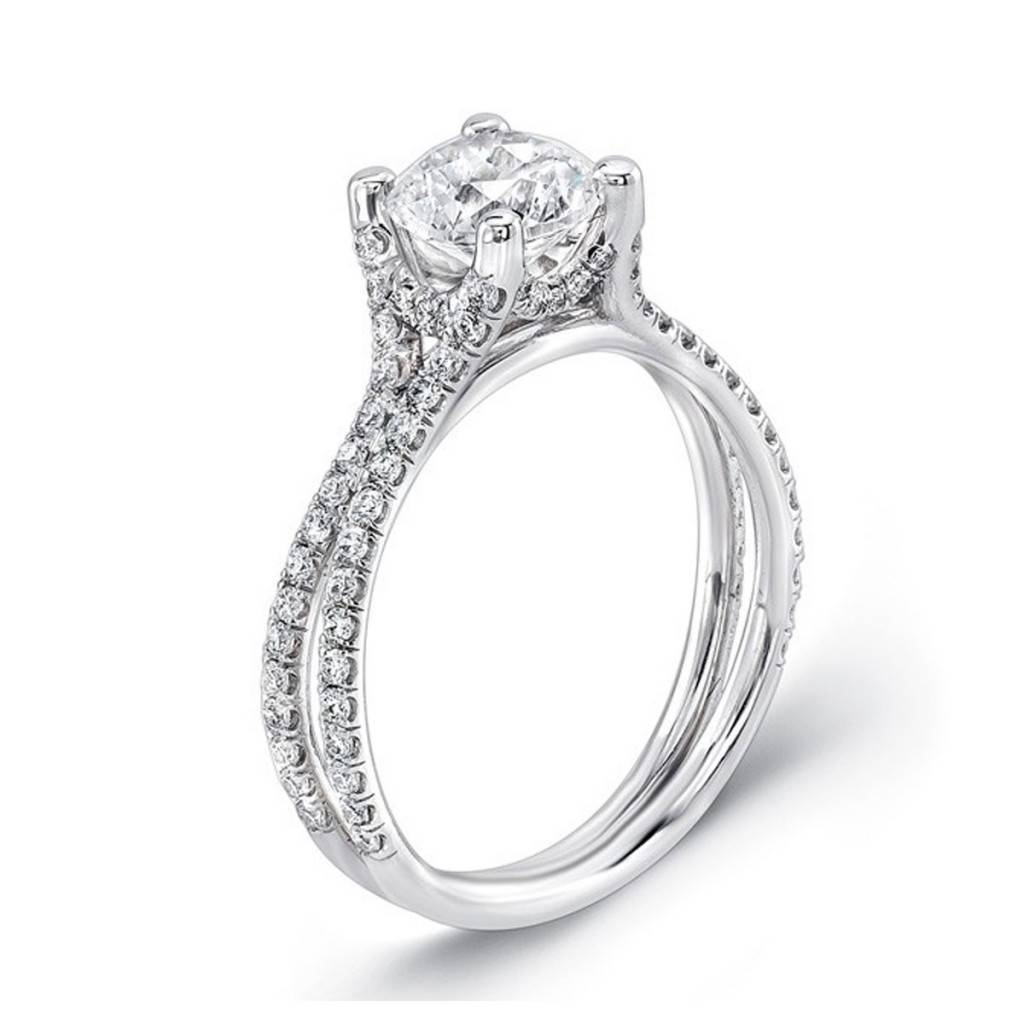 Uneek Diamond Solitaire Ring, Cost: $3,014.00
Those opting for a more thin and petite style ring should consider this delicate silhouette engagement ring trend. These rings feature uniquely designed accent diamonds that add a light but effective shimmer which really makes the center stone stand out. They're flashy without being over the top.
Search Delicate Silhouette Rings here.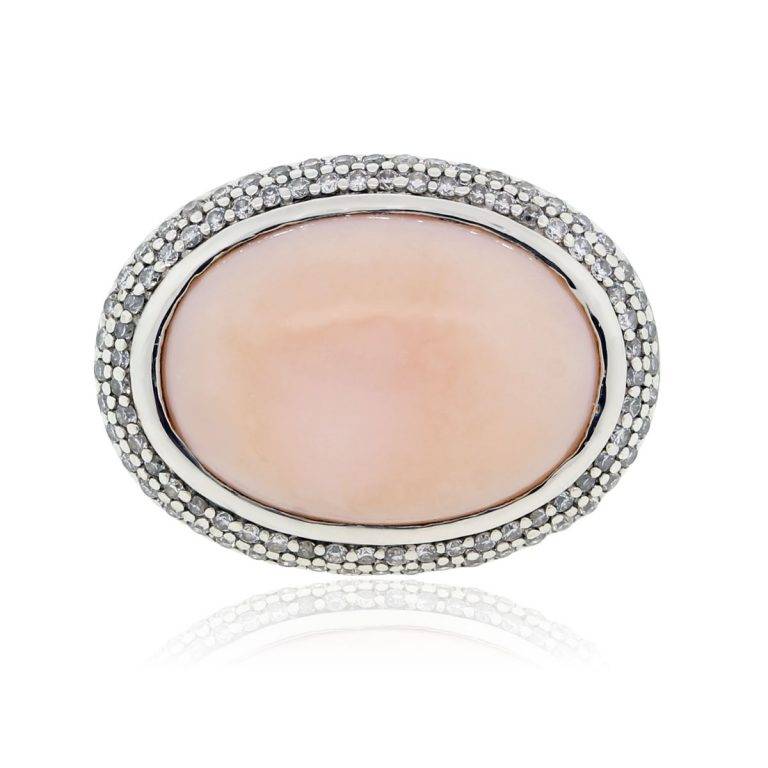 David Yurman Oval Peach Moonstone East-West Diamond Ring, Cost: $1,295.00
East-west style engagement rings really put a spin on your traditional engagement ring setting. Unlike a traditional ring which typically has a vertically placed center stone, these engagement rings have their stones placed horizontally on the band. This style of ring can be set with most diamond shapes including oval, emerald, marquise, and even pear-shaped.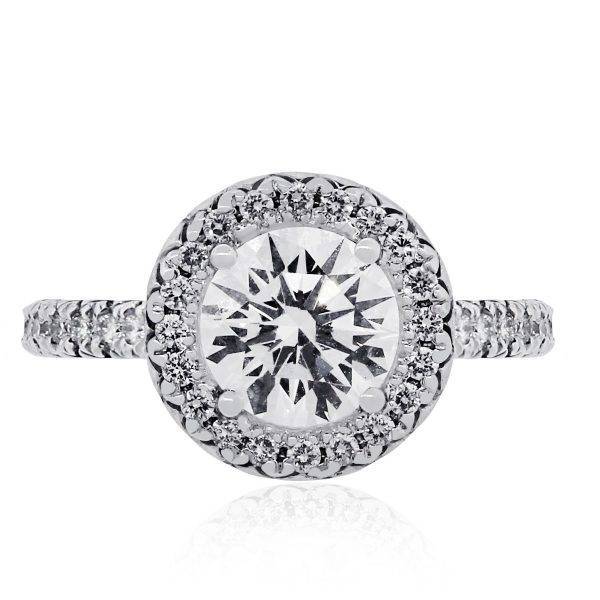 Another happening engagement ring trend of 2018 is the intricate diamond halo ring. Perhaps this is because of their romantic inspired vintage antique look. Or maybe it's because of their halo shaped accent diamonds that surround the center stone. These style rings often feature distinctive halo designs that are bold or even multi-dimensional. 
Find Halo Diamond Engagement Rings Here.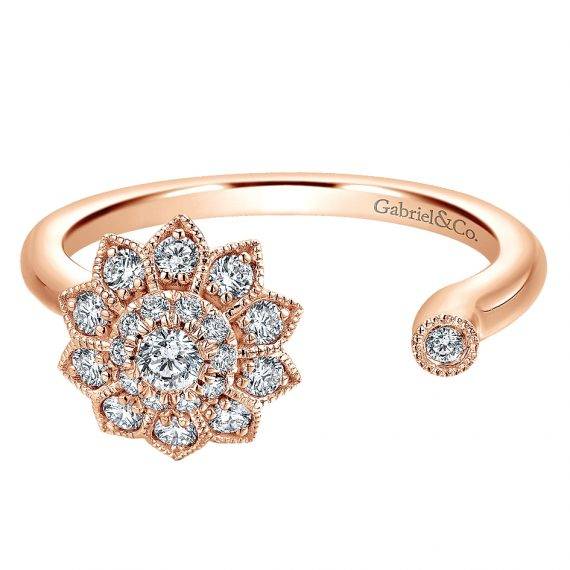 Pink Gold Diamond Flower Open Ring, Cost: $850.00
Open rings really give you an elegant twist on an engagement ring. They feature a two-prong setting with a small opening in the middle. They can be easily customized and they make great stackable rings for those who are looking to sport stackable bands.
Look for More Open Rings Here.
8. Oval Engagement Rings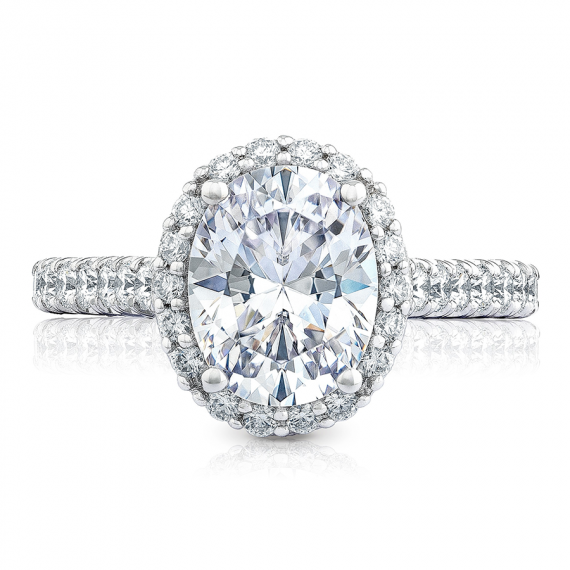 Oval Bloom Diamond Engagement Ring, Cost: $6,290.00 – $7,590.00
Right now oval diamonds are more popular than ever before. With their elongated shape, they offer just enough of a distinctive taste on the classic round diamond.  Another option that's really popular right now is inserting oval stones in a three-stone style setting. What can we say? Ladies love oval.  
Gabriel & Co. 18k White Gold Open Crossover Diamond Ring, Cost: $4,135.00
We are loving this sleek stacking rings trend! Brides everywhere have been stacking on the sparkle by adding multiple wedding bands to help complete their look. Little did they know, it would create on of the hottest engagement ring trends on the market!
Search More Stacking Rings Here.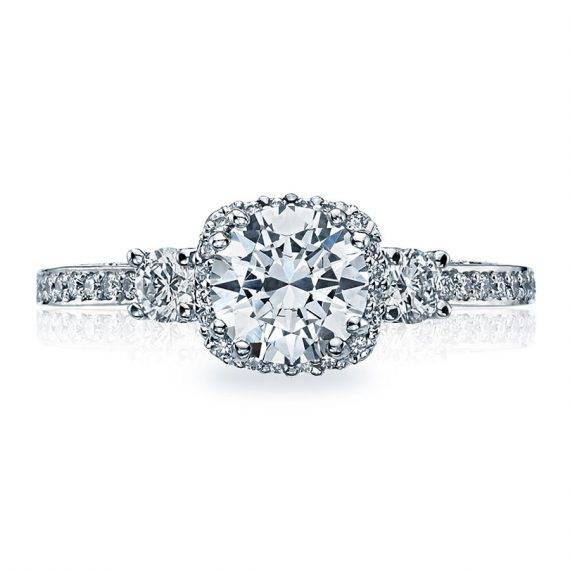 Tacori Dantela Three-Stone Engagement Ring, Cost: $5,600.00
You may be familiar with three-stone styled rings ever since Meghan Markle started sporting hers. It has surely given these rings a lot of attention. A three-stone style engagement ring is a classic and timeless look. Each stone is said to represent the couples past, present, and future together. So, brides who are craving an elegant yet sophisticated design, this might be the ideal ring trend for you.
Look For More Three-Stone Style Rings Here.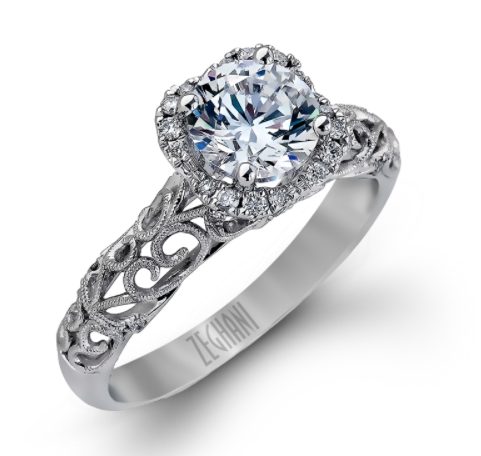 Zeghani 14k Rose Gold Filigree Diamond Engagement Ring, Cost: $1,200.00
If you're looking for a more casual style ring to fit in with your everyday apparel, a more understated style might be for you. Brides who gravitate toward this style ring typically opt out of the classic center stone look. These style rings use their band to stand out which results in a more organic and unique silhouette. 
Find more understated rings here.
To help us help you we did a little research. We wanted to see what the pros were saying about these new alternative trends. We wanted them to shed some light on the drift from past traditions to present traditions and how they correlate. So we got the inside scoop from a few fashion designers including Katherine Kim from KatKim, Gurki Basra senior buyer at Barneys New York, Vanessa Stofenmacher, founder of Vrai & Oro, and even Eva Zuckerman designer at Eva Fehren.
Katherine Kim claims that even she's noticed a recent shift in the center stone department. Where stone cuts that might have once been considered unusual for bridal jewelry, such as halo, marquise, and even pear shapes, are now fashionable.  She said, "I have seen more adventurous, modern, and exciting choices from our clients."
With a similar approach, Gurki Basra claims that "Brides aren't necessarily pulling away from tradition but more so are making tradition their own." Her experience at Barneys has taught her well. She also claims that among the top engagement ring styles that are shopped for at Barneys right now, there's a mixture of stackable bands, colored stones, open rings, mixed metal, and portrait-cut sones.
For those of you who are drawn to more unusual rings but might have a history of indecisiveness, Katherine Kim says "you can always reset your ring." "We have couples come to us to redesign their engagement rings for their 10-year anniversary," "It's a great way to achieve a strong, modern, edgy look without committing to an engagement ring that pushes you past your comfort zone." And we couldn't agree more!
Size Does Not Matter
"We're noticing that women are caring less about the size of the stone and more about where it came from," Says Vanessa Stofenmacher founder of Vrai & Oro. And we think she's right! Sometimes smaller can be better, and these trends prove that.  Increasingly and interestingly, brides everywhere are sourcing their rings from a variety of sources including estate sales, antique stores, and even rings passed down from generation to generation. We're seeing that a lot of the time, these future brides don't care for the biggest and the baddest ring. They just want something that reflects them.
"We're in a time where women can express their individuality with all of their choices, especially their jewelry," Says Gurki Basra. "We're seeing brides becoming less picky about sticking to one metal color and being comfortable mixing and matching."  These new trends can easily be described as an unexpected shift towards innovation, uniqueness, and craftsmanship instead of being described as traditional.
Basra also claims that "When you are picking something that is unique to you, that no one else has, or that perhaps you customize to your liking, it will remain a sound ring choice. You'll never feel like it was tied to a moment in time." She adds, "Ten years down the line if you want to go back to something traditional, it is always easy to reset the stone and have your ring look completely different and more traditional and classic."
Each of these trends is unique in its own way. Each is stylish, unique, and affordable which makes them suitable for any bride to be.  It wasn't too long ago that purchasing an engagement ring only required a little bit of work. These days there is more to consider and research and there are many more options for you to choose from. 
Throughout recent seasons we've seen a ton of brides-to-be showing a discerning taste for the avant-garde when it comes to engagement rings. With this on the rise, it also brings to our attention more unusual shapes, colorful stones, and unique settings. Now, of course, the classics will always be the classics. That's not going to change. But as you can see from these rising trends, we have a way of keeping our classic roots while adding a touch of innovation and flair.
These engagement ring trends are some of our favorite trends to date. Whether you're a traditional bride or a nontraditional bride, there's something here for you. From three-stone style rings to open rings, and more. And in the end, you got to here straight from the pros about what they think about these rising trends in 2018.
Did you recently get engaged and now you need a ring to make it official?
These are just some of the amazing engagement rings you'll find here at Diamonds by Raymond Lee. If you're having a hard time choosing the perfect ring for yourself or for your partner, consider making a trip to the store and having one of our experts help you. Our team of diamond advisers is dedicated to assisting you in choosing the perfect engagement ring with ease and confidence.
For commonly asked questions, please visit our FAQ page. During regular business hours, we can be reached by phone, email, or live chat. For after hour inquiries, please fill out our contact form and we will get back to you next business day.
Not sure where to begin when it comes to picking out the perfect engagement ring? Learn more about diamonds and rings in our education center. If you're looking for further information Chat online, or even email one of our customer service advisers at in**@di******************.com.

Areas We Serve
We are located in southern Florida in the city of Boca Raton. We proudly serve Boca Raton and the surrounding following areas: Palm Beach, Fort Lauderdale, Miami, Broward, and Miami-Dade. Stop by and talk to one of our experts about finding the perfect engagement ring today.