Why You're Sure to Love the Rolex 116610LN Submariner Black Dial Stainless Steel Watch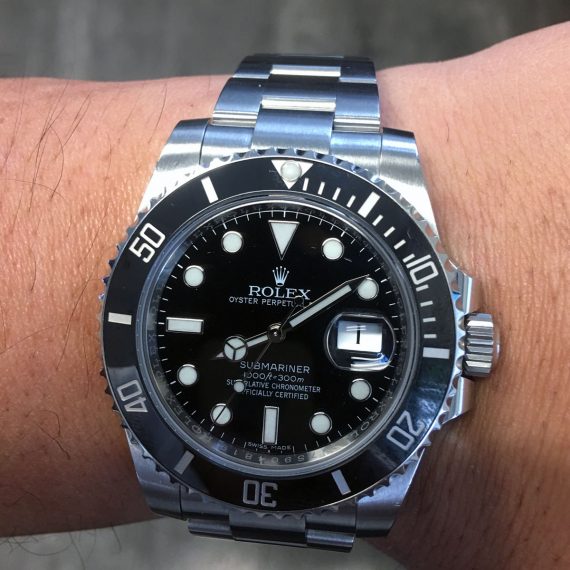 Why You're Sure to Love the Rolex 116610LN Submariner Black Dial Stainless Steel Watch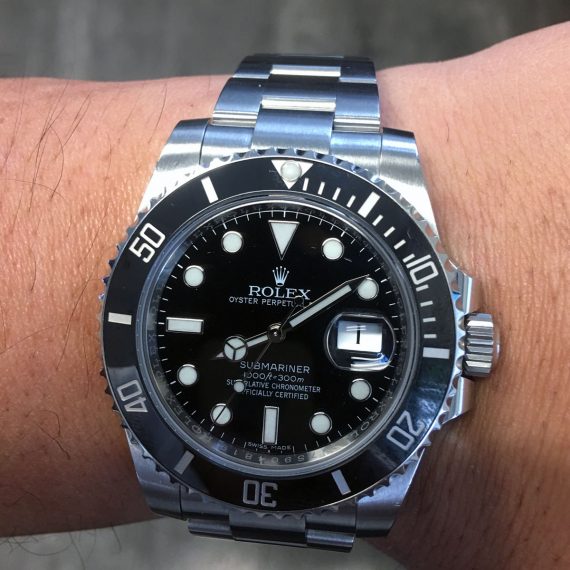 A great watch can be a real game changer. Functional and attractive, it can really set a person apart. Because a good watch is worn so often, it can serve as a unique addition to your identity. When in the market for a luxury watch, you know it has to be perfect. You want to find a piece that is reliable, distinctive and will stand the test of time. When considering these factors, you know you can't go wrong with a Rolex 116610LN Submariner Black Dial Stainless Steel Watch.
The Rolex Brand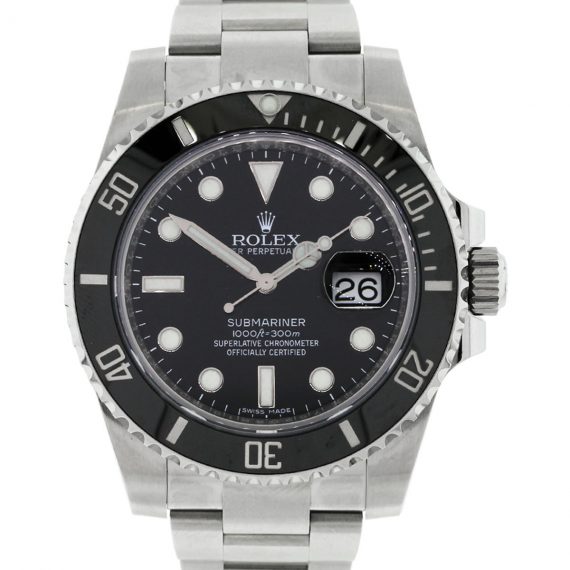 The Rolex brand has established itself as one of the top names in watches. This reputation has been building for many years. Although clever marketing plays a role in the brand's success, it is mainly its quality products that make it such a popular brand. It is known for its precision quality and reliability. It is also known or making watches with great resell values.
The Rolex watch company began in 1905. It began building its reputations as a brand leader by introducing the world's first water proof watch, the Oyster. It followed up by introducing one of the world's first self winding watches, the Rolex Perpetual.
Over the years the brand has become synonymous with success and luxury. Its watches are popularly worn by a number of celebrities. Rolex is known as a brand that keeps evolving, introducing new models and making improvement on its existing models on a regular basis.
A Rolex watch is unique to all other watches due to its hallmark characteristics like its screw-down case back. Other features like the crown, the bezel and the Cyclops lens lets everyone know you are wearing a Rolex. These are all characteristics that can be found on the 11610LN Submariner Back Dial Stainless Steel Watch. Find out about some of the great features of this sporty watch.
Characteristics of the 11610LN Submariner Black Dial Stainless Steel Watch
Model: Submariner: Submariner watches are a popular Rolex model. In fact, throughout the years, you can say they've become iconic. Features common to the Submariner include its distinctive dial, large luminescent hour markers and graduated rotatable Cerachrom bezel and solid link Oyster bracelet. Also notable is the watch's subtly redesigned Oyster case. The Submariner prides itself on staying in line with the original model which launched in 1953.
Stainless Steel Case: Stainless steel is a popular metal for watch cases. It is a quality metal that can be refinished quickly and easily. Often, it can be refinished back to 90-95% of its original condition. Oystersteel refers to the type of steel Rolex uses on its Submariner watches. These steels are commonly used in high technology and the aerospace industry. It's extremely resistant and offers an exceptional finish.
40 mm Case Diameter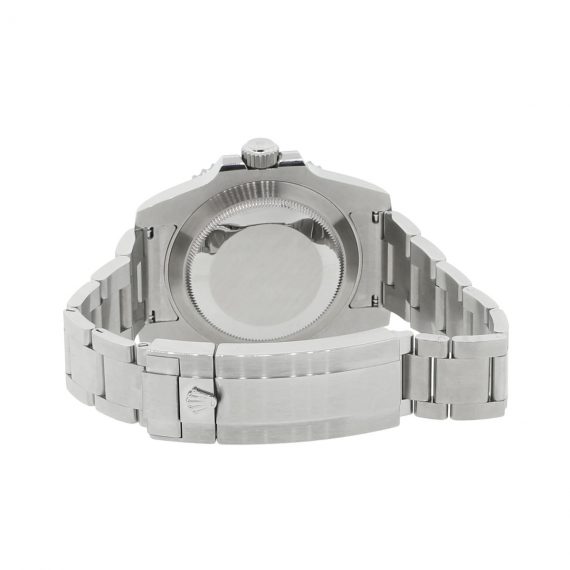 The case diameter determines how big the watch face will be. At 40mm, the case diameter for this model is bigger than most, but not oversized. This will be in keeping to the newer trends that are straying from oversized look. At the same time, the watch will be easy to read quickly and look great on an average sized wrist.
Sapphire Crystal: The crystal in a watch serves to shield the dial from water, dust and other external forces. The crystal can be made of many different materials including acrylic, mineral and sapphire. Sapphire is the most scratch resistant of the three. It helps to keep the watches looking fresh and new. It can also be coated with an anti-reflective coating that reduces glare and makes the watch easy to read.
Bezel
Black Ceramic Unidirectional Rotating Bezel: A bezel is a top ring on a watch that surrounds the crystal. The unidirectional rotating bezel is often found in diving watches and helps measure diving time. However, it can be a useful feature in any watch. Ceramic bezels are preferable to stainless steel because they are scratch resistant and nearly indestructible.
Dial: The dial of this watch is aesthetically pleasing with a black dial and luminescent markers. The date window is conveniently placed at the 3 0' clock position. The hour markers are fashioned from 18k gold which is tarnish resistant. Each watch is design and manufactured in house, ensuring customers will receive a quality product.
Oyster Bracelet: This style of watch strap was introduced in the late 1930's. It has three piece links and can be equipped with all types of Rolex clasps, which can also include the Easylink comfort extension link. It's extremely comfortable and features Glidelock which makes small adjustments easy.
Size: This watch will fit an 8" wrist, which is average for a man. The extension links can be added if additional room is needed.
Clasp: This piece features a fold over clasp. It unfolds into thirds to allow the watch for fit over the hand. It locks securely in place with a small latch hook type clasp and is resistant to accidental opening.
Movement Automatic
Automatic watches are wound automatically. This convenient feature is a natural result of the daily motion of the wearer providing energy to run the watch. The Submariner features 3135 automatic movement which ensures it is a high precision watch. It is fitted with a Parachrom hairspring which offers resistance to shock and changes in temperature.
Serial: Scrambled: A newer feature to Rolex watches is its scrambled serial number. While this might make it harder for the retailer and customer to tell the model and year of the watch, Rolex stands behind its timeless classics.
The Rolex 116610LN Submariner Black Dial Stainless Steel Watch in Review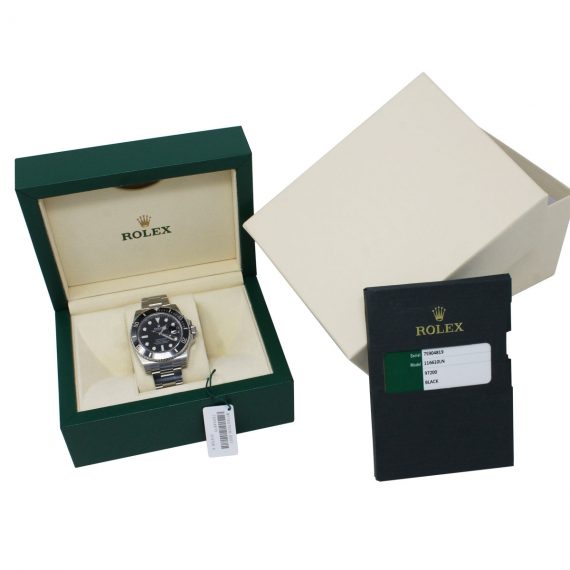 The popular Rolex 116610LN Submariner has been reviewed by some well known sources. Here is what these experts have to say:
Movement: In keeping with the Rolex reputation, this watch's movement is accurate, long lived and easy to work on. The movement contains in house made Rolex caliber 3135 automatic movements. It features Rolex's newer Parachrom hairsprings and have a power reserve of about two days. It is COSC Chronometer certified making for movement that is durable and mechanically sound.
Design: Being that Rolex, is known for it's water proof models, a watch called the Submariner should be all that and more. It was designed as a commercial diver's watch and has a water resistance on 300 meters.
The overall look of the watch is both sporty and professional. The dial is attractive and the black and white coloring provides contrast that makes it easy to read. Other factors that contribute to its readability are it's lumed hands that allow it to be read in the dark. The different style of its hour and minute hand and special character for the 12 o' clock indicator makes it easy to orient the dial when you are looking at the watch from the side.
Other attractive design features include the 18k white gold on the dial for the hands and hour indicators. The lumed features are blue toned, appearing white during the day. The size of the hands and hours have increased in size making for an easy to read Maxi dial. The overall consensus seems to be that the dial is legible and functional.
The Case:
Even though the Submariner has a reputation for being a tool watch, it is also a luxury item. Therefore, there are features that are meant to make it good looking as well as functional. These include its sapphire crystal which gives the watch an all over shiny appearance.
You can always count on Rolex's high quality metal, and the Submariner is no exception. The company uses brushed finishing which gives their watches an all over attractive polished look.
The rotating bezel can be turned by hand giving you the ability to line up the 12 o' clock point with the minute hand to time something 60 minutes long. While this is a great feature for divers, it can also come in handy when cooking or during other day to day activities, increasing the watch's convenience.
The bezel used to have an aluminum insert but a few years ago, ceramic bezels took over. These new bezels include engrave numerals and lume. Submariners have a single lume point at 12 o' clock. Being that is black ceramic the bezel is shinier than their aluminum counterparts, but also more durable and scratch resistant.
The watch is also extremely comfortable. It feels natural on the wrist and doesn't have the tall profile that many dive watches do. It is also versatile and looks good on most people.
The Bracelet: As noted before, the Rolex bracelet is a three link tapering steel bracelet. A tapered bracelet features lugs that get narrower toward the claps. This can help the bracelet to be more comfortable.
Because the clasp fold nicely into the bracelets, they offer a neater appearance and cleaner profile.
The bracelet also features a Glidelock adjustment system. With this system, you can easily micro-adjust the size of the bracelets with a few millimeters. This provides added comfort as your wrist naturally expands during the day. It can also help the watch to fit easily over clothing or diving suits.
Value:
While the Submariner is not Rolex's top luxury watch, it does cost a pretty penny. However, like all Rolexes, it has great resale value. Most owners can get back what they paid for their watches if they chose to sell. This is also good news for those who like to trade in their watches every few years.
Overall reviews note that this is a great classic model is worn for almost any occasion. It has a design that has held up to the test of time and continues to improve. Although the style has been copied many times, the original is still the greatest.
Style Advice When Wearing the 11610LN Submariner?
Because the Submariner is more of a sports watch, it is suited to casual occasions. However, the Rolex name will always be associated with luxury. Therefore, this watch can be worn for almost any activity, whether it's work or play. And its quality and durability means that you don't have to worry anything happening to the watch during strenuous activity.
Although the watch is a versatile sports watch, you may want to go for a more elegant style if you attending very formal occasions.
Where Can I Purchase the 116610LN Submariner Black Dial Stainless Steel Watch?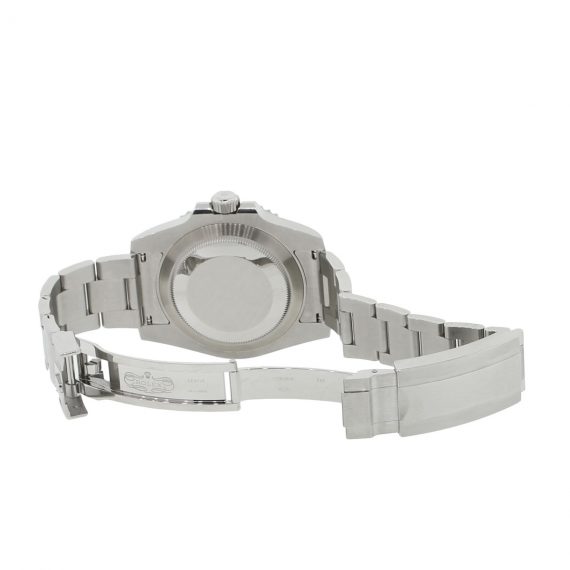 Diamonds By Raymond Lee has been a trusted name in jewelers in the Boca Raton area for over 30 yearS. You know when you come to their store, you will always get the help you need and the selection you are looking for.
When buying this watch from Diamonds by Raymond Lee, you are sure to get a Rolex box, papers and a one year warranty. Raymond Lee also sells the watch for a reasonable price.
Whether you are in the market for a Rolex watch, or any other item, Diamonds by Raymond Lee is the place to shop for jewelry. They have a knowledgeable staff, and a terrific selection which includes fine earrings, necklaces, rings, pins and more. Diamonds by Raymond Lee has the experience to qualify them as a trusted jeweler but is constantly updating to make sure they cater to the latest fashions and trends.
And, even if you are not located in the area, you can still shop Diamonds by Raymond Lee for fine jewelry. Their web site provides an easy and pleasant user experience.
The 11610LN Submariner is a great sports watch that is comfortable, versatile, durable and attractive. For the best buying experience possible, shop at Boca Raton's premier jewelers, Diamonds by Raymond Lee. Their terrific selection and knowledgeable staff can provide you with the knowhow to ensure you always have the best options in luxury jewelry.