Top 5 Engagement Ring Trends
Engagement Ring Trends 2012
The most timeless jewel in a woman's collection is her engagement ring. That isn't to say careful consideration shouldn't be applied in picking the best ring for that special someone to keep it stylish with the changing times. After all, this is a ring she'll see for the rest of her life. For a helpful push in the right direction, I've put together a list of a few popular engagement ring trends that are sure to stay in fashion.
Unique
Nothing says "I love you" more than a magnificent diamond surrounded by several tiny stones. If you aren't sure what to get for that certain someone, know that multiple stone engagement rings will make any woman swoon. We all remember the ring Brad Pitt co-designed for Jennifer Aniston. The round brilliant diamond was the centerpiece to a spectacular design symbolizing eternity. While your ring doesn't have to be as unique (or expensive), just know that a unique engagement ring is in a class of its own. You simply can't go wrong with this purchase.
Vintage 1.5 ct Diamond & Rose Gold Engagement Ring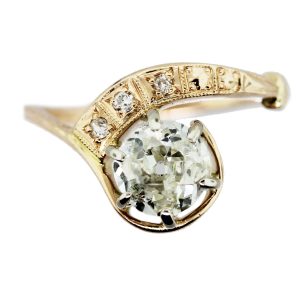 Halo Rings
Pull away from the conventional styles and find a more classic design in a vintage style engagement ring. Halo rings are a vintage display of love that won't go out of style. A beautiful halo engagement ring is this 14k white gold halo ring by RLJ. It's the kind of ring women will be proud to show off. If you're interested in other halo settings, a great post to look at is "5 Reasons Why Halo Engagement Rings Rock", where you'll find a nice selection of halo rings in Boca Raton.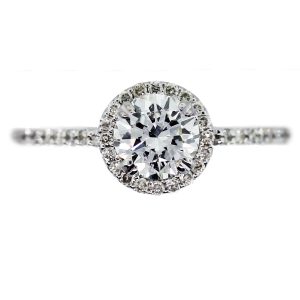 Classic Round Solitaire
There's no better statement of elegant simplicity than a ring with a single round diamond. It's another way to stay conventional, like the halo engagement rings, but never outdated. Celebrities with round brilliant solitaires include Fergie and Natasha Bedingfield. While Scarlett Johansson is no longer married to actor Ryan Reynolds, the solitaire engagement ring he bought her was pure magnificence. I love this 14k white gold round cut engagement ring. It will speak to the classic bride.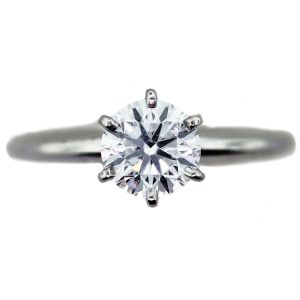 Fancy Colored Diamonds
Now that we've gone down memory lane with a few of the classics let's take a more non-traditional look at engagement rings. Although not as common as a white diamond, fancy colored diamonds are a big hit these days. A personal touch when buying a colorful diamond is picking your loved one's favorite color. I especially like the vivid yellow round diamond ballerina ring. It's a little drop of sunshine.
Princess Cut
One of today's most popular diamond cuts, the princess cut diamond is a square shape that has the look of royalty. Although a relatively new design, its increasing popularity suggests that the princess cut is a keeper. It was designed to sparkle with the same fire & faceting as its other brilliant cut cousins.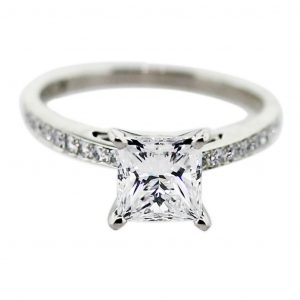 Which is your favorite?