1920s inspired wedding dresses, Art Deco inspired wedding dresses, and vintage style wedding dresses have ruled the bridal runways for just about a year now. And we are happy to report that this gorgeous trend isn't going anywhere anytime soon. Brides are looking to the past for modern takes on gilded age fashion. Maybe the streamlined silhouettes have something to do with is, maybe it's the beauty of a beaded wedding dress, but whatever the reason, Great Gatsby inspired, vintage style, beautiful wedding dresses are designers – and brides' – current favorite. Here are some of our favorite 20s style wedding dresses with perfect vintage wedding jewelry.
Yolan Cris "Almería"
We love the soft ivory tones of this lace, bead and tulle Yolan Cris Almería cap sleeve gown. The beaded overlay's precise attention to detail creates a stunning pattern reminiscent of Art Deco designs on a modern mermaid silhouette. This beautiful vintage diamond, gold and pearl bracelet mimics the beads' intricacy, while the pearls complement the ivory dress.
Badgley Mischka "Celeste"
Badgley Mischka's latest bridal collection as a whole shows tons of Art Deco and 1920's influence. This particular gown's silky, streamlined look is perfect for the modern, unfussy bride who still wants to bring the glamour. Enter the beaded accents. The belt and showstopping modesty scallop are pitch-perfect Art Deco. Because the beading is the center of focus on this dress, we like a simple pair of vintage earrings to complete the look. This 14kt gold pair's diamonds add enough sparkle to keep up with the gown, while the shape of the pearls perfectly matches the larger beads.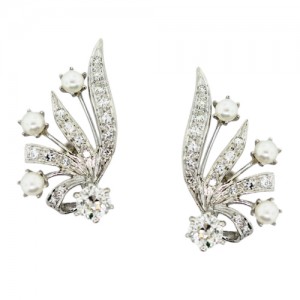 Temperley London "Honeysuckle"
When a designer selects one of her gowns to wear on her own wedding day, you can bet that it's gorgeous. Such is the case with the Honeysuckle gown. French lace drapes over soft silk with silver and crystal clear bugle bead embellishments. Sheer, flutter sleeves give the gown a bohemian sensibility that makes it the perfect choice for a modern vintage wedding dress. This vintage diamond, sapphire and platinum bracelet completes the chic look without competing with this stunning dress.

Va Et Vien Swirling Platinum Gown at BHLDN
From the silky deep v neckline to the flattering bias waist and knee high slit, this gown is pure Old Hollywood glam. The metallic beaded train is icing on the wedding cake, and this gown begs for Art Deco decadence. These estate Art Deco gold and diamond earrings make a big impact without being in the way, and are perfect for side swept curls or an updo.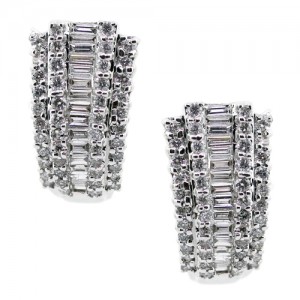 Anna Sui "Anguille" at BHLDN
Words can't do this Anna Sui vintage inspired 20s style wedding dress justice. The Art Deco patterned beading on the lighter than air chiffon fabric creates the perfect vintage look. When there's this much bling involved, you can either kowtow to the sparkle and add demure jewelry. Or you can meet opulence with opulence, and if you know us then you'll know we always choose the option with more diamonds involved.