Many women begin dreaming of their wedding day when they are little girls. From hair and makeup to the dress & accessories, wedding planning begins well in advance. As time passes, trends change and brides-to-be often toss around different ideas for their wedding to create a more up to date dream day. Let's take a look at the 2012 summer wedding jewelry trends. Hopefully with a little knowledge of what's in this summer, you will be able to choose the right accessories for your big day!
Bib Necklaces
Traditionally, wedding jewelry is kept simple so that it can highlight the bride and her beautiful gown. This summer, large bib necklaces are making a big statement. Paired with a simple up-do and a beautiful gown, this necklace adds drama to your wedding day attire. Vintage necklaces with soft, feminine details are the perfect statement piece to add to any gown.
Chandelier Earrings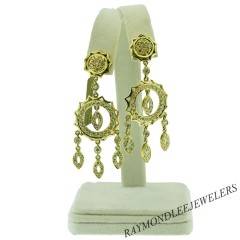 We also expect to see summer brides sporting beautiful chandelier earrings. Chandelier earrings create a statement when worn with an up-do and simple necklace. They add just enough sparkle to make any bride feel like a queen on their special day.
Pearl Jewelry
June is the month of pearls. After all, it is June's birthstone. Lace dresses have become a huge hit in the bridal world ever since the ever so beautiful Kate Middleton married Prince William in her gorgeous lace covered wedding gown. Traditionally lace and pearls have been a Southern woman's staple. Now you see lace and pearl jewelry paired together by women from around the world. We expect our beautiful summer brides to take full advantage of June's birthstone and look stunning in pearl jewelry of all shapes and color.