THE UNIQUE ROLEX DAY-DATE CLASSIC MASTERPIECE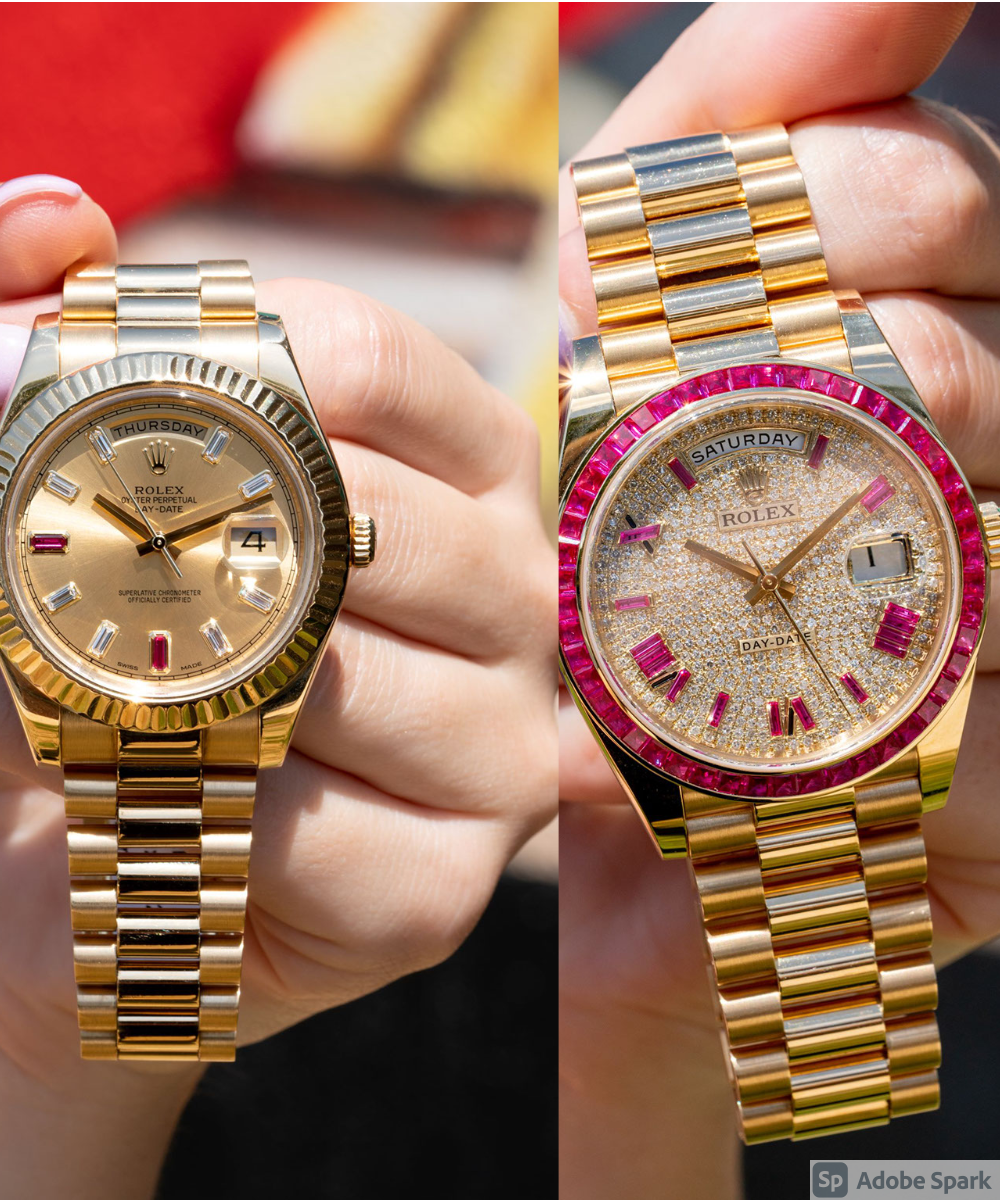 What will be the result of a careful blend of a Pearlmaster bracelet and a Day-Date? The answer is simple. You will get a one-time version of Rolex Day-Date Classic Masterpiece wristwatch!
If this is your first time hearing about this particular Rolex model, be calm because we have got you covered. Keep reading to find out all the details you need to know about this unique Rolex Day-Date Classic Masterpiece timepiece.
If you need a timeless timepiece, then this is the product for you!
The Rolex Day-Date Classic Masterpiece has an exquisite appearance and irresistible attraction. Also, this wristwatch is a product made entirely from platinum. The design of the wristwatch displays a Pearlmaster bracelet, gently drawn curves, and exquisitely vibrant features.
The Rolex Day-Date Classic Masterpiece is a notable presence on the Day-Date list of watches. In addition, the Day-Date wristwatches are a perfect expression of precious and luxurious watchmaking.
These wristwatches caption simply the most excellent materials. Some of these materials include platinum, gold, sapphires, and diamonds. These materials are used specially. Besides, they are not only perfect and beautiful but solid and dependable as well.
A few years ago, Rolex suspended the production and release of the Masterpiece series. That means that these lovely timepieces were only produced over a short period. Also, that means there were only a few pieces that were produced.
Therefore, pieces of these wristwatches are minimal. You will not always sight a Day-Date Masterpiece in any store, let alone the minimal Masterpiece reference 18946.
Thankfully, this product is available for purchase on raymondleejewelers.net. You can get yours there.
This wristwatch is rare, elegant, perfectly crafted, and lush. The Rolex Masterpiece 18946 is simply all you want in a luxurious timepiece. And with the addition of a MOP (Mother of Pearl) dial, this timepiece certainly lives up to its pedigree and the acceptance it enjoys.
However, continue reading to find out more details about this fabulous watch.
A Glimpse At The History Of The Rolex Day-Date Classic Masterpiece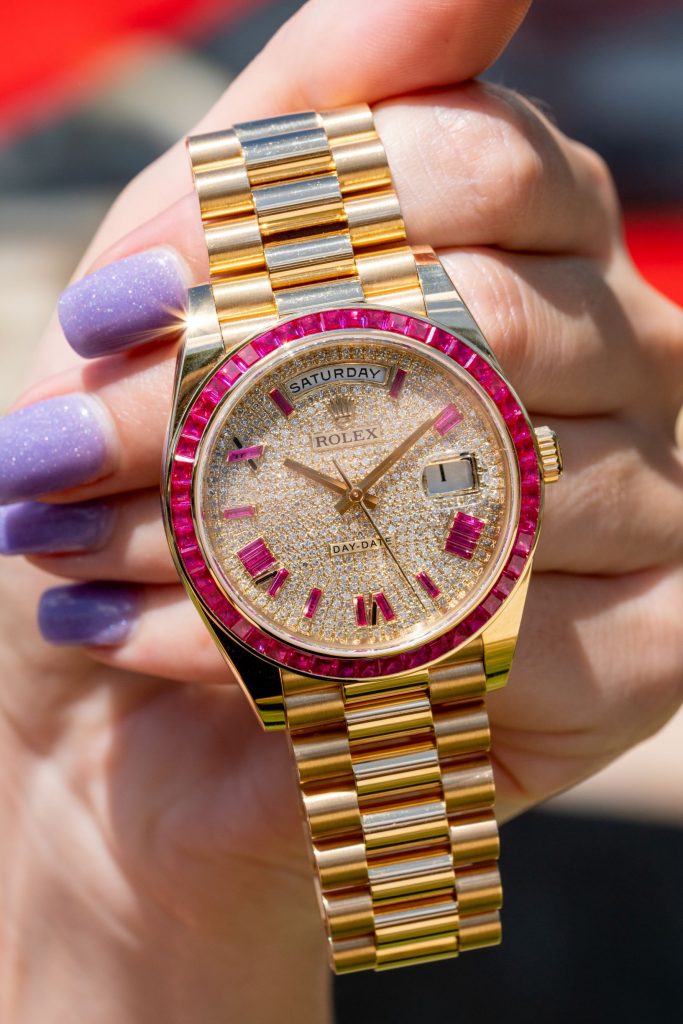 The whole history of this wristwatch simply captions how the Rolex Day-Date Masterpiece took inspiration from the Pearlmaster collection. Now that you know this let us proceed.
Again, it all began in 1992 when Rolex launched a spanking new model known as the Pearlmaster. This new wristwatch model was created as Rolex's high-end, jewelry-kind-of-wristwatch collection.
Pearlmaster watches are purely a product made from precious metals. These wristwatches are again always adorned with jewels. Likewise, the Pearlmaster collection captions a trademark style marker. And, that's the Pearlmaster bracelet.
This bracelet is a grandly detailed five-piece link bracelet that comes with a hidden Crownclasp. Judging based on curves, the Pearlmaster bracelet edges the Oyster bracelet in this regard. However, it even offers more strength compared to what the President and the Jubilee bracelets offer.
Interestingly, Rolex initially exclusively joined the Pearlmaster bracelet with Lady-Datejusts. In the early 2000s, the watchmakers launched fresh, special edition Day-Date timepieces matched with the Pearlmaster bracelet. The product of this blend was the watch referred to as the Day-Date Masterpiece.
The Unique Rolex Day-Date Classic Masterpiece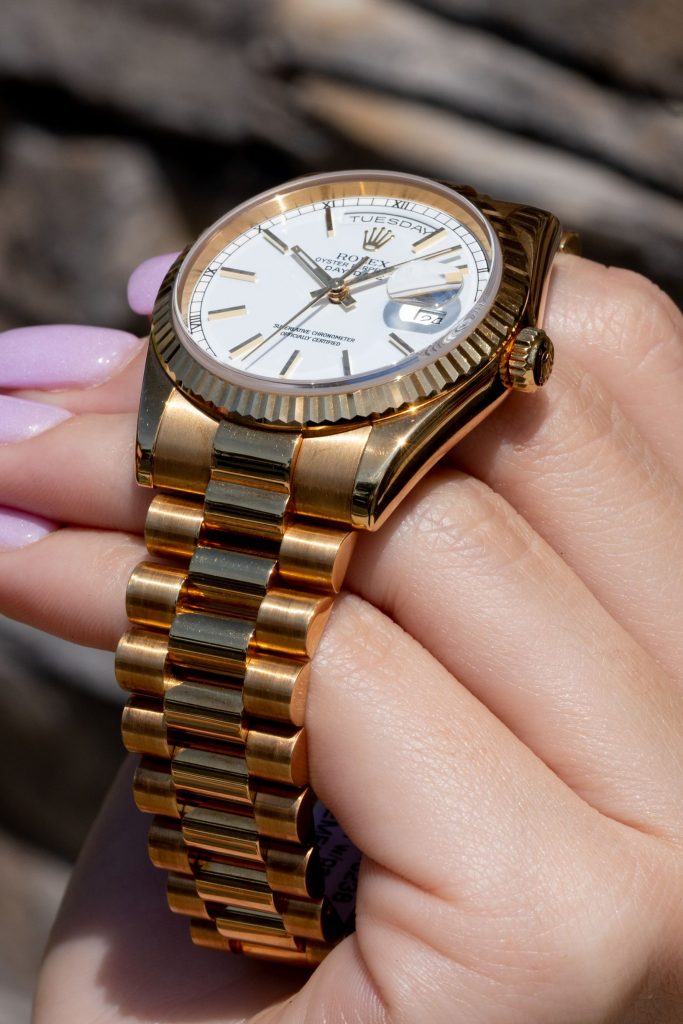 The unique Day-Date classic Masterpiece series stunned the entire community of watch lovers with the notable changes made. These changes include:
·         Case Changes
Firstly, the series paraded the hugest case the Day-Date had ever had. The 41mm Day-Date II and later went on to change this in 2008.
Additionally, cases of the classic Day-Date timepieces were always 36mm. And for the Masterpiece, the cases measured 39mm in diameter.
·         Bracelet Changes
Plus, the series came with a Pearlmaster bracelet. This is different from what everyone expected from the Day-Date timepieces (The Rolex President bracelet).
·         Luxurious Twists
No other Day-Date wristwatch can beat how luxurious this watch was. One feature of the Masterpiece stood out. And that is how Masterpiece watches all had embellishments like diamonds on the dial and in the bezel.
Also, many of them even headlined elegantly rainbow-colored MOP dials. To add to all of these, all these watches were only made using platinum or gold materials. These materials are products of Rolex's in-house special foundry.
In conclusion, the Day-Date Masterpiece truly enjoyed a fantastic reception from the beginning. Still, the collection was planned to take the form of a limited edition series.
Hence, not so much of it was made. Production of the Masterpiece series stopped in the early 2010s. Presently, these timepieces are now one of the most coveted after Day-Date watches all over the wristwatch community.
The Unique Rolex Day-Date Classic Masterpiece Reference 18946 Review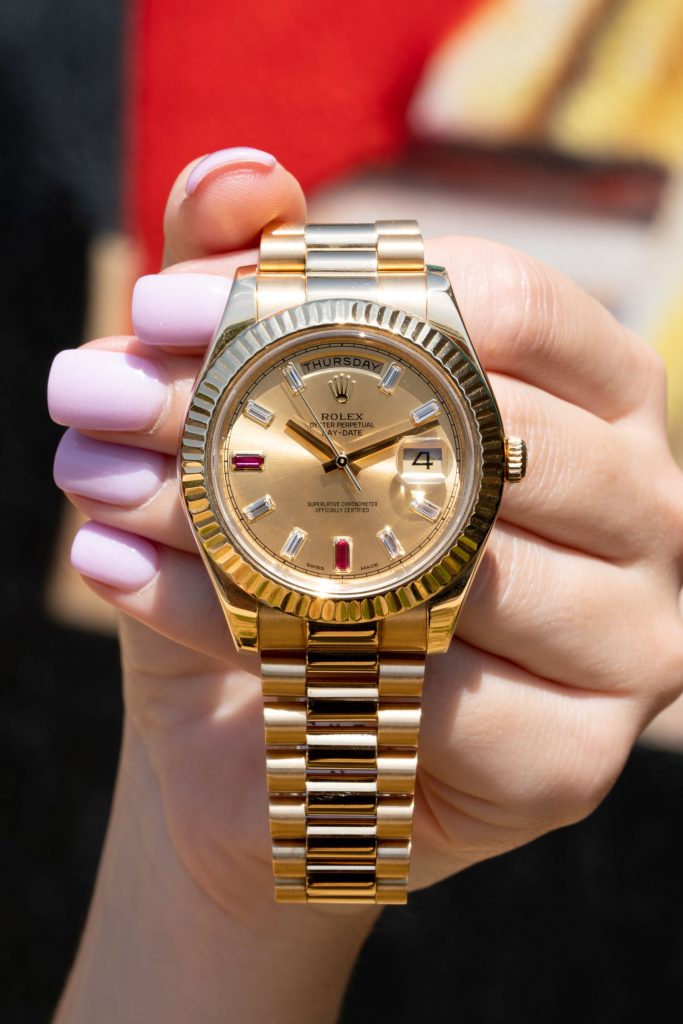 The Day-Date Masterpiece 18946 you see here is a platinum wristwatch. This timepiece is particularly a rare one. All the production for this watch happened only in the early 2000s.
The wristwatch parades 40 factory-set round bright diamonds. You can find them in the bezel. There is also a striking MOP dial that features diamond indices.
This watch comes with a stylish appearance that conveys the flawless blend of techno-industrial, luxurious refinement, and classic charm.
Furthermore, this timepiece is an outstanding product that is different, better, and beyond others of its kind. All you get from this piece is a sense of a unique feeling of luxury, classic style, and mechanical excellence.
Additional Information
Reference Number: 18946
Brand: Rolex
Model: Special Edition Day-Date Masterpiece
Gender: Men's
Size: Will Fit Wrist Size of 7″
Weight: 1 lb.
Case Material: Platinum
Case Measurement: 39 mm x 45 mm x 13 mm
Bracelet: Platinum Masterpiece Bracelet
Bezel: All Diamond FACTORY ORIGINAL Fixed Bezel
Dial: Silver Dial with FACTORY ORIGINAL Diamond Hour Markers
Clasp: Fold Over Clasp
Features: Hours, Minutes, Seconds, Day, and Date
Movement: Self Winding: Automatic
Crystal: Scratch Resistant Sapphire
Box and Papers: Comes with Raymond Lee Jewelers Presentation Box and 1 Year Warranty Card
Retail Value: $95,500.00
CASE
The Unique Rolex Day-Date Classic Masterpiece comes with a Platinum Oyster case.
·         Size Measurement
This case measures a total diameter of 39 millimeters. This measurement is sizably bigger than a regular Day-Date wristwatch or that of other exotic dress watches.
Furthermore, the case is even bigger when worm. Considering the size of the lugs, it measures 45.3mm. But, when you add the end links, then you will have a whole 53.9mm.
Note that the space between the lugs measures 20mm.
Besides, with a thickness size of 12.4mm, the case is somewhat slim. With this thickness, you get just the right amount of wrist presence, and you never bother about it disturbing. In addition, it can easily slide under the cuff of your dress. This is the only way this wristwatch is minimalist.
·         Design
You will surely enjoy the shapely and fluid design of this solid platinum case. This design is similar to that of the Daytona. Checking it from the profile view, you will see a case with a gracious curvature.
·         Polish
The Rolex Day-Date Masterpiece 18946 platinum case has no single brush finish. All you have is an entirely high polish. Furthermore, this brings out the exquisitely dramatic look of the watch with a flair of jewel-like elegance.
·         100 Meters Water Resistance
The level of water resistance is thanks to it being an Oyster case with a Twinlock double waterproofness structure. Even to as deep as 330 feet, it remains water-resistant.
With this, the Pearlmaster's high-precision movement is well-protected when involved in any water-related activity.
Conclusively, this case obviously has it all. You have solid protection, a huge presence, grace, proportion, and classic charm.
BEZEL
This sleek platinum bezel is adorned with 40 round striking diamonds. The clarity, color, and carats of these diamonds are top-quality, just as any Rolex product would be.
The diamonds that grace this Masterpiece are a product of thorough and extensive scrutiny. It is not only about how the sizing match, but the kind of radiance it also produces matters.
Besides, the arrangement of these diamonds in the bezel is made to perfection. You can be sure that they will stay in place all through their use.
Lastly, a profile view will reveal how beveled the bezel is. That way, the view of the diamonds is clear from every angle.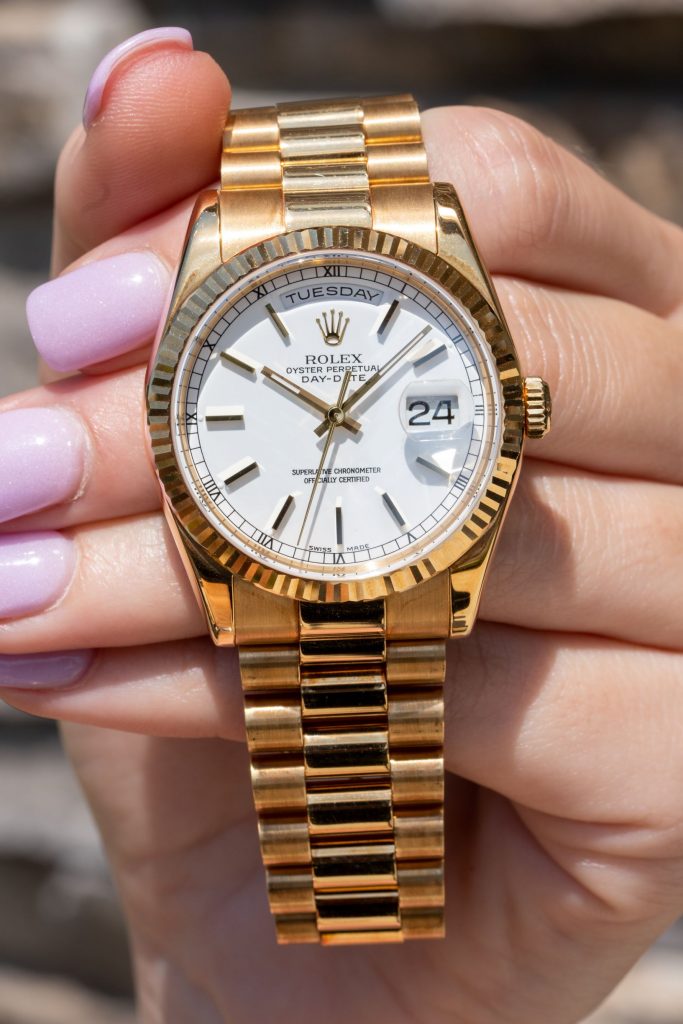 DIAL
·         Mother of Pearl Dial
The rainbow-colored Mother of Pearl dial rests elegantly under the resistant sapphire crystal.
Furthermore, pictures cannot show how classic this Mother of Pearl dial is in quality. The dial captions a wide variety of colors. You virtually have all the rainbow colors on your face when you turn your wrist.
Finally, just like any other classic Rolex MOP dial, the interior arrangement of the pearl simply showcases a pink undertone.
·         Diamond-filled Dial
The grandness of this watch's dial doesn't stop at the MOP dial presence. There is how the Rolex Masterpiece 18946 features ten diamonds on the dial too.
With the appearance of floating icebergs, you can see the grand depth of this lovely dial's profile.
White gold is the main constituent of the "life raft" above the base where the diamonds are suspended. The white gold envelops all the indices, including the date and day spectacle. Plus, the hour, minute, seconds hands, and the Rolex crown are all in white gold. You can worry less about it getting tarnished.
The only way to describe this dial is exquisite. Rolex's prestige at creating the best in-house dials is further confirmed.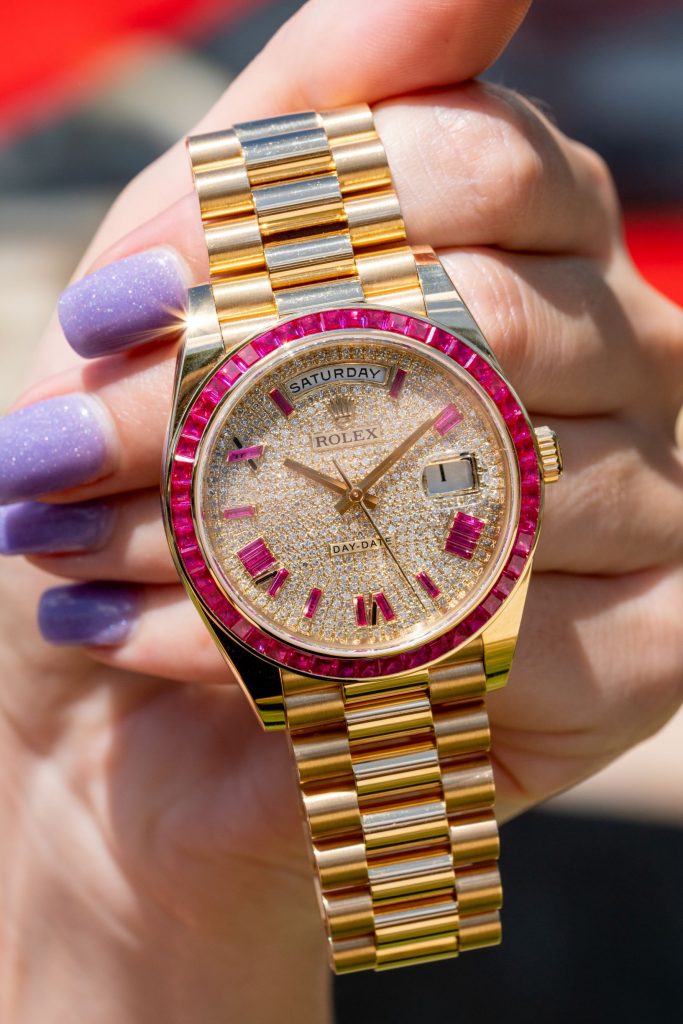 PEARLMASTER BRACELET
The Pearlmaster bracelet is not the kind of addition you find every time, even on a Rolex timepiece. Compared to the Jubilee, President, and even the Oyster bracelets, this is a rarer sight to behold.
The bracelet evokes a nearly industrial-like refinement. To describe it well is almost impossible.  We will only give it our best shot.
Imagine how a firm sheet of platinum would feel on your wrist; that is exactly how this Pearlmaster bracelet feels. With its wall-like solidity, you still have an amazingly adaptable, steady, and elastic piece.
Even as a dress bracelet judging by its five-link aesthetics, it still evokes a resilient solidity compared to other dress bracelets. Even firmer than an Oyster bracelet.
Regardless of this bracelet's vault-like texture, it stays graciously shapely and well-sized like other parts of this timepiece.
The linkage of each end links into the other like waves flowing through an ocean. Calmly, it is another sight to behold. This bracelet is a perfect fit for this classical timepiece.
·         The Hidden Crownclasp
The crown clasp is a basic snap-shut. This clasp is just as functional as it is elegant.
It is easily adjustable, thanks to its removable links. You can easily fix it using screws. You can also make use of the half-links to size it correctly.
In conclusion, the Pearlmaster bracelet is all you could want in a bracelet. You get the grandness, strength, uniqueness, and a top level of ease.
THE CALIBER 3155 MOVEMENT
You will see a green sticker on the back view of this watch (this sticker is no longer on recent Rolex watches). If you can get into the fluted case-back, you'd see a Caliber 3155 movement made by Rolex.
The movement is a dual quickset Day-Date bi-directional, automatic winding, and silent movement. Furthermore, the movement also comes with a 48-hour power reserve and eight beats per second timing. Thanks to the movement's double-quick set function, you can quickly change the day and date using stop-seconds or hacking.
Again, it comes with a five-position brigade over coil hairspring for adjusting it. This helps provide exceptional timing in any condition. It similarly employs a full symmetrical bridge and free-sprung index. This addition gives it that outstanding shock resistance.
Moreover, the icing on the cake is the movement's COSC chronometer certification.
In all, when you have the Rolex Day-Date Masterpiece 18946, this is what you have. A flawless water resistance, incredible accuracy, and high durability.
Lastly, the movement of this watch can be compared to the durable caliber 3135 found in the Submariner based on its basic architecture.
Conclusion
Generally, the Rolex Day-Date Masterpiece reference 18946 is nothing but a stunning timepiece. It comes with an immediately noticeable flair and the constant solidity of Rolex. The rarity and grandness of this watch can only be likened to that of Patek Philippe.
Furthermore, this watch is really an outstanding and unique watch from a powerhouse in the world of watchmaking.